A few short years ago, large shopping malls were few and far between, but Chengdu retail space has increased eightfold over the past four years. Several large shopping malls now boast comfortable environments with global brands and a variety of shopping and dining options. We sometimes wonder if the pace of development is sustainable, but the Chengdu market offers retailers a very attractive market whose buying power continues to increase. Many international brands report great success in the Chengdu market, even compared to the rest of the country, and there are no signs of this trend slowing down.
As a strategically located gateway and logistics hub for frontier markets in Western China and Southeast Asia, Chengdu has lots of potential.
Sichuan cuisine is one of the world's greats and Chengdu is one of the best places to eat it. We can enjoy all kinds of local delicacies from snacks to hot pot and Sichuan regional cuisines to private kitchens serving elaborate multiple course meals. We also have access to more and more quality Western and international cuisines in Chengdu. The 5 star Hotels bring seriously equipped kitchens and international chefs with professional training and experience. We've witnessed the 'chainification' of a couple of local western favourites like Peter's Tex Mex and Grandma's Kitchen. There are several other independent restaurants serving up delicacies from Australia, Belgium, Dubai, France, Germany, Italy, Japan, Korea, Spain, Thailand, Turkey, Vietnam, USA etc – you name it, it's here. One of the newest additions is a Portuguese restaurant in Poly Center.
The past few years and the near future, the city's retail scene has been utterly transformed by several huge new leisure and retail projects. Galleria, Yanlord Landmark, Lan Kwai Fong, Raffles City, Renhe, MixC, and TV Tower already became Chengdu landmarks.
Recently, some game-changers in the cities' retail scene opened up. Let's check out what's new in upcoming retail and F&B paradises, additions to the bustling urban lifestyle hub in this dynamic city.
IFS – Chengdu International Finance Square (成都国际金融中).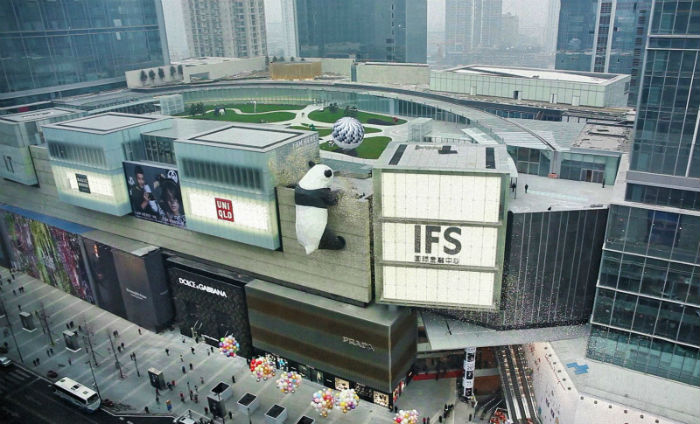 A 200,000 square meters mixed use project at the intersection of Hongxing Road and Dacisi Road, at the heart of the city's bustling business district. Home to brands like LV, Prada, Dolce&Gabbana, Salvatore Ferregamo, Valentino, Armani, A&F and Lane Crawford. Chengdu luxury shopping just got raised to a whole new level. Several F&B options on Floor 5-6, including Let's Burger and Stream Lounge.
Address: Hongxing Road Section 3 No. 1 成都红星路1号3段 Phone:  (028) 69396939
Website: www.cdifs.cn
Riding on the success of Taikoo Li Sanlitun Beijing, Chengdu is excited with the launch of Sino-Ocean and Swire Properties' Chengdu joint-venture retail project.
The project represents an open-plan, lane-driven mall, including 300 retail and food and beverage brands around the lanes, courtyards and plazas, located just behind IFS.
The architectural design of Sino-Ocean Taikoo Li Chengdu embraces the traditional Sichuan style with a creative modern approach. The retail centre will be conveniently accessible from the Chunxi Road interchange station of Metro Lines 2 and 3.
The shopping streets of Sino-Ocean Taikoo Li Chengdu feature a carefully crafted high-end brand mix including GUCCI, Cartier, Hermès, Versace, Chloé, Maria Luisa, I.T, Michael Kors, B&O, Stella McCartney, Hollister, Victoria's Secret and Leica. Quality culinary line-up includes popular restaurants like Din Tai Fung, Tasty, KABB, Blue Frog, Element Fresh, Grappa's and Wagas. Palace Cinema and Ole' Supermarket will offer their premium entertainment and lifestyle experience.
The retail centre is complemented by a 100-room intriguing urban hotel, The Temple House, and 42 serviced apartments, both managed by Swire Hotels, as well as a 47-story Grade A office tower called Pinnacle One.
ShuiJinJie 水锦界.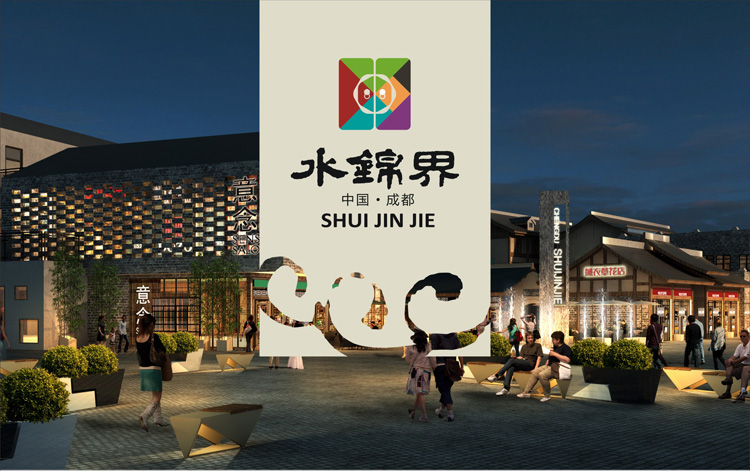 Located behind Shangri-La and Lan Kwai Fong, Shuijin Jie project is the preservation of a neighborhood full of traditional courtyard houses transformed into contemporary architecture with a variety of shopping, entertainment and leisure options. A nice new commercial district that brings a new international sensation to Chengdu.
Less than 100 spots, most of them F&B. Includes Hooters, Lenbach German Restaurant/ Bar, Rumba Latin Restaurant/ Bar, Wickermann German Restaurant/ Bar, among many others.
Address: Jinjiang District, Jinguanyi Street No. 1 (Behind Shangri-La Hotel and Lan Kwai Fong) 锦江区锦官驿街1号 (位于香格里拉和兰桂坊之间)
New Century Global Center


A mixed-use retail space which boasts the title of the "largest alone standing building in the world as measured by floor space". Lot's of office space & shopping, included a water park, Intercontinental Hotel (> 1000 rooms), ice rink, etc.
CapitaMall Tianfu
Opened in 2014, the eight-story mall houses key retailers including a cinema, ice rink, gym, book restaurant cum cafe and lifestyle supermarket. Surrounding the ice rink at Levels 6 and 7 are duplex restaurants for consumers to enjoy the sport while dining. The mall atrium also features a futuristic digital ceiling and lush greenery.
Address: No.388 Tianren Road, close to the South Train Station 高新区天仁路388号
Although there are concerns over high vacancy rates for some commercial properties in Chengdu, the market is hard to gauge as many retail upgrades are simultaneously taking place. According to a Q1 report by Cushman & Wakefield, over 1.5 million square metres of shopping mall supply will launch in the remainder of 2015, including developments like The Atrium phase 1, Sino-Ocean Land Taikoo Li phase 2, West City (西村), The One (same site as St. Regis Chengdu), Yintai Center and many others.
By Dieter Vanonckelen & Susan Johnson
Tags:
capitamall
Chengdu
IFS
li
Lifestyle
malls
retail
shopping
shuijinjie
swire
taikoo
urban