Chengdu is a great place to be, but we all need a change of scenery every now and then. If you ever find yourself wanting to escape the hustle and bustle of the city, check out these easy one day trips from the 'Du.
Day Trips to Leshan 乐山
**Update: Leshan Buddha under construction until end of April 2019**
Leshan is best known for its Giant Buddha, but there are also some nice parks and temples to see in the town. Set off from Chengdu as early as possible so you can explore the Giant Buddha scenic area at a leisurely pace. Leshan is about two hours away from Chengdu (depending on how much traffic there is on the highway). Bring your student card if you have one because it gets you 50% off the entry ticket price. Normal tickets cost 90RMB, student tickets (half price) cost 45RMB.
Once you actually make it to the Giant Buddha, you will have to queue if you want to walk all the way around it (the path is very narrow so it's a one-way system). The queue can get very long, especially at weekends so come prepared! If you'd rather not wait in the queue then you can still get a pretty good view of the top of the Buddha from either side of its head. After you've got your pictures of the big guy, spend some time exploring the temples and numerous shaded paths inside the park.
Until February 4 2019, however, the Buddha is under construction due to a cracked chest. Though it is still possible to visit, the Buddha will be under repair so not will not be fully visible or be open to close-range observation. Visiting before then will mean that you can watch observe the reconstruction process, however.
How to get there from Chengdu:
You can get a coach to Leshan from Xinnanmen Bus Station (take Metro Line 3 to Xinnanmen Metro Station). The coach costs 45RMB each way and leaves every 20 minutes until the early evening. You'll arrive at Leshan Xiaoba Bus Station and from there take the number 13 bus (13路) to Leshan Giant Buddha stop (乐山大佛). The coach back to Chengdu leaves from Xiaoba Bus Station every 30 minutes and the last bus is at 7pm.
You can also get a train from Chengdu East Railway Station to Leshan and back again, which costs 54RMB/65RMB (1st class/2nd class) each way, but they are much less frequent and if you decide to go at the last minute there might not be many tickets available.
Day Trips to Emei Shan 峨眉山
If hiking is your thing then be sure to visit Emei Shan National Park for its stunning views and challenging climbs. The hike up to the Golden Summit is certainly hard on the thighs but it's worth it for the amazing view (there's also a cable car up to the summit for more leisurely folks). There's a bunch of cool temples and monasteries dotted around the park (some charge a small entrance fee) and what's more, Emei Mountain itself is a UNESCO World Heritage Site.
For those of you on a tight schedule or wanting an easier hike, take the bus to Leidong Ping and start from there (the bus takes two hours from Baoguo Temple).  If you want to stay in the park overnight and hike to the summit to watch the sunrise, you can stay overnight at one of the guesthouses at Leidong Ping and start hiking early the next morning (take a torch with you!).
How to get there from Chengdu:
You can get a train from Chengdu East Railway Station to Emeishan for 65RMB/78RMB (1st class/2nd class). The new Emei Shan train station is about a 30 minute walk from the entrance of the park, and the station is also connected by bus to Baoguo temple, which is the departing point for buses going up Mount Emei and also the starting point for trekking.
As with Le Shan, you can also get a coach to Emei Town from Xinnanmen Bus Station (take Metro Line 3 to Xinnanmen Metro Station). The coach costs 48RMB each way and leaves every 20 minutes, arriving at Emei Town Main Bus Station.
Day Trips Flower Town 三圣花乡
'Flower town' as it's known locally is a group of villages that used to sell flowers, but have slowly become an ideal country-style getaway for city dwellers looking to experience the countryside, but still sleep in the comfort of their owns beds at the end of the day. The narrow, leafy roads make a welcome change from Chengdu's grey concrete highways and for a few hours you can get lost in the idea that you're really in the Chinese countryside.
There are plenty of little cafes, bars and restaurants where you can relax and enjoy the relative calm of the town, or alternatively rent bikes and cycle around to get an overview of the town's roads and alleys. Across from the Modern Art Musuem you can also, somewhat unsurprisingly, buy cheap flowers at the flower market.
How to get there from Chengdu:
Flower town is technically in Chengdu. The cheapest way to get there is to take the metro to Honghe Station and come out of exit A1. There are usually taxis hanging around the steet corner which you can take. Show the taxi driver the Chinese characters 三圣花乡 and try to negotiate the price of the ride down as low as possible (10-15RMB is a good price to aim for), or if you can, call an Uber or Didi (much cheaper).
Day Trips to Huanglongxi Ancient Town 黄龙溪镇
Huanglongxi is an ancient town with an impressive history that dates back to the Han Dynasty. Located in nearby Shuangliu County to the southeast of Chengdu, Huanglongxi is well-know for its natural scenery and ancient architecture. The town has seven ancient streets which were constructed during the Ming and Qing Dynasties.
Be sure to check out the many temples along the town's central street, or if you don't feel like walkign you can take a river cruise and admire the stilt houses and beautiful scenery around the town. Huanglongxi Town has been used as a setting for many Chinese costume dramas because of its natural beauty; you might even see a costume drama being filmed during your visit!
How to get there from Chengdu:
Take the bus from Xinnanmen Bus Station. Buses leave every 30 minutes until around 5pm. The journey to Huanglongxi takes about ninety minutes and it costs 15RMB each way.
Day Trips to Qingcheng Shan 青城山
Qingchengshan is an ancient 'cradle' of Taoism in China. The mountain area contains plenty of Taoist and Buddhist temples all along the paths that lead up to the mountain peaks. If you really don't like the large crowds of tourists, then start your walk at the back entrance of the mountain which is much quieter. The entrance fee for Qingchengshan on its own is 90RMB (half price with a student card) and the combined ticket for both mountains and Dujiangyan is 130RMB.
There are shrines dedicated to Daoist masters dotted around Qingchengshan, and it takes around 3 hours to get to Laojun temple at the summit of the mountain. The hiking trail at Qingchenghoushan takes around 8 hours depending on your walking speed and how many times you stop to take a rest, although you can reduced the time a little by taking the cable cars (80RMB return ticket for the cable car). The main attractions of the Dujiangyan scenic are the dams which form part of the namesake irrigation project which was first constructed around 256 BC.
How to get there from Chengdu:
You can catch a train from Chengdu North Train Station to Qingchengshan which takes 45 minutes and costs 15RMB each way. We advise buying tickets the day before you travel because they often sell out ahead of time.  At Qingchengshan train station, you need to take bus number 101 or 102 (101路 or 102路) to get to the start of the Qingchengshan walking trails, but make sure you check when you get on that the bus is definitely going to Qingchengshan, because some go the other way to Dujiangyan.
Alternatively you can get a bus to Qingchengshan from Chadianzi Bus Station which take about 1-1½ hours, which also stops at Dujiangyan bus station and Qingchenghoushan on the way. The buses leave whenever they're full – usually every 15 minutes or so. At the bus station in Dujiangyan take bus number 7 (7路) to Dujiangyan scenic area, or bus number 102 (102路) to Qingchengshan.
Sancha Lake
Visit the lake in Jianyang (the city where the new airport will be), around 40km from downtown Chengdu. Modern times are coming to this beautiful area with an Intercontinental hotel that opened up in May 2018.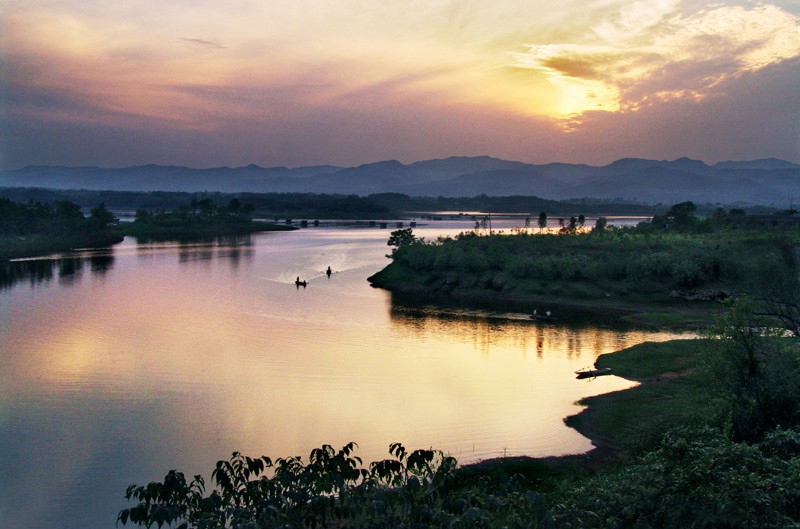 Xiling Canyon Water Rafting 西岭峡谷漂流
Situated in a 4A graded tourist area, Xiling Canyon is the highest rafting area in the Chengdu region. The course takes several hours to navigate, with drops of up to 100 meters along the way!
There are over 15 different rafting areas to choose from in Xiling Canyon, and the rafts can fit 3-4 people so bring your friends with you for an adventurous day out.
How to get there from Chengdu:
From Jinsha Station take the bus towards Dayi County Station which costs 18 RMB. From Dayi County Station take the bus to Xilingxueshan  for 7.5 RMB and get off at Yunhua Village.
Day Trips to Luodai Ancient Town 洛带镇
Roughly 20km away from downtown Chengdu, this old town is home to the largest Hakka population in China (90% of the town's population is Hakka), and this culture has been very well-preserved. Walking down the town's main street you can see some fantastic examples of traditional Chinese architecture.
Luodai has a Hakka museum and a spacious park dotted with teahouses. The four guild halls which date all the way back to the Qing Dynasty are also a must-see part of this charming ancient town.
How to get there from Chengdu:
As with most of the places already mentioned, you can catch a bus from Xinnanmen Bus Station straight to Luodai Ancient Town. Buses leave every 10 minutes until 6.30pm.
Tags:
around
Chengdu
Day
Flower Town
Huanglongxi
Leshan
Qingcheng
travel
trips
wonders