Jiuding Mountain Taizi Ridge Ski Resort 
九鼎山太子岭滑雪场
Address: Taizi Ridge Ski Resort, Jiuding Mountain Scenic Spot, Maoxian County
            四川省阿坝州汶川县至茂县213国道旁,九鼎山风景区青龙坪太子岭滑雪场
Opening Time: Monday-Friday: 9am-5.30pm, Weekends:9am-6pm
Tel: 18160027761
Getting to Mount Jiuding

  Taiziling Ski resort is known to have the best ski facilities near Chengdu and is around 3 hours drive from the city centre. You can rent a car or take a bus to get there: The bus leaves from Chadianzi Bus Station  茶店子汽车站 to Maoxian every hour and a half from 6am daily. Tickets are 83RMB.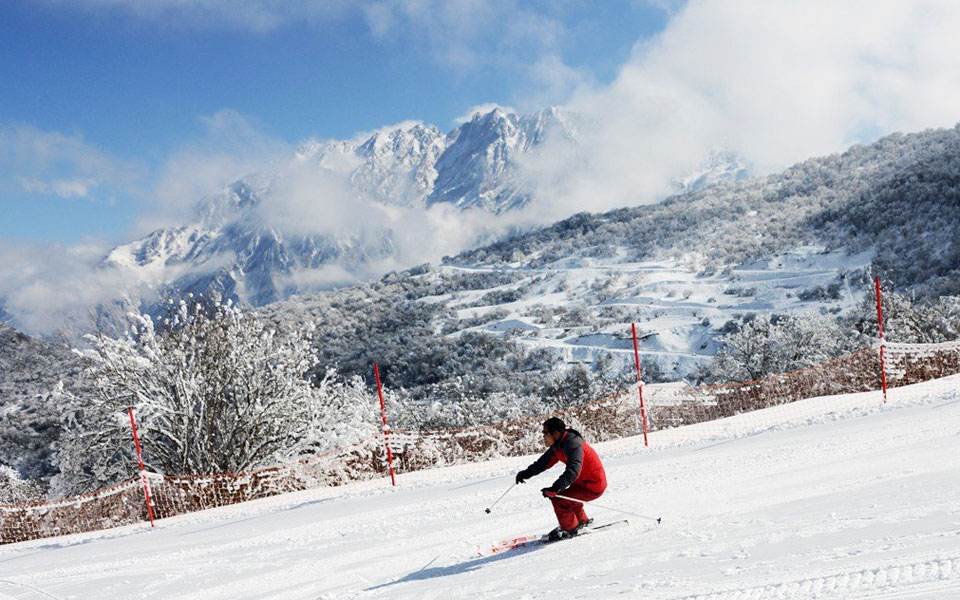 The bus will drop you at a petrol station at the bottom of Jiuding Shan 九鼎山. Then taxis or minivans will be waiting to take you to the top of the mountain for about 40 RMB per person. Near the top of the mountain you have to buy a mountain pass which costs 80RMB. Student passes are 35RMB.
Staying at Mount Jiuding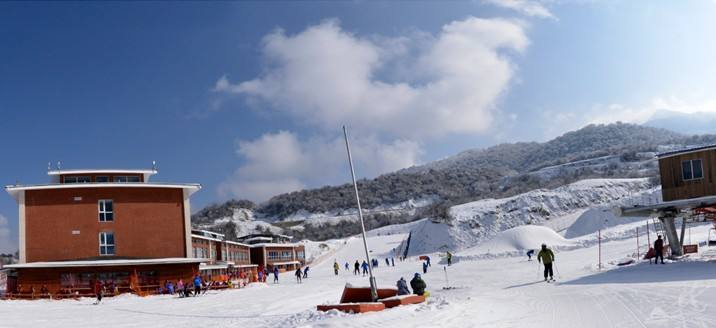 Heming Holiday Hotel
  The Heming Holiday Hotel 鹤鸣庄假日酒店 is located directly below the mountain and has a variety of restaurants, cafeterias, canteens and ski shops. Double rooms vary between 468 – 688 RMB and rooms that sleep up to 4 people cost between 880 – 1300RMB. Reservations can be made on Taobao. You can also stay at the nearest town at the Maoxian ErMa hotel 茂县尔玛酒店.
Ski-lift passes
Off peak
 248RMB for 1 day (booking on Tobao.com in advance)
360RMB for 1 day (purchased on the day)
Weekends and Holidays
500RMB for 1 day
Ski and Snowboard rental
Ski and snowboard rental is included in the price of your lift ticket.
A deposit of 800RMB is required and will cover any damage of rental equipment. 20RMB is charged for helmet hire, and helmets are mandatory if you want to ride the main chairlift.
Best Time To Go
The best snowfall occurs from November to March and Mount Jiuding usually has approximately 80cm of snow.
Emei Mountain Leidongping Ski Resort
(Emei Mountain Scenic Spot, Leshan City)
峨眉山雷洞坪滑雪场
Leidongping Ski resort is a well equipped resort with lots of facilities whether you are a beginner or a professional.
Sichuan's oldest ski resort in Leidongping park is a well equipped resort with lots of facilities whether you are a beginner or a professional – although it can get very busy, especially during holiays. The resort has an altitude of 2500m and covers ski feilds of almost 10 kilometers.
Getting there
By train – You can take a train from South Railway Station 火车南站 to Emei Train Station 峨嵋山站 which will take approximately 2 – 3 hours and costs 25 RMB. The first and last train departs at 7.17am and 18.53pm respectively.

High-speed train from Chengdu East Railway Station 成都东站 takes just one hour and costs 65RMB.
From Emei Train Station, you can take a taxi to Mount Emei Scenic Spot. This will take approximately 15 minutes and cost you around 20 RMB.
By bus – There are many buses from Chengdu North Railway Bus Station to Mount Emei Juizhu Long Distance Passengers Transportation Centre.
There are three levels of slopes – and there are also 3 snowboard trails, with heights of up to 120 meters.

Accomodation:
Because of the proximity of Emei's ski resort to nearby tourist spots, there are countless hotels and hostels available to book on ctrip.com and other booking websites.
Price
Access to the mountain is 80RMB per person. Skiing is then priced 50RMB per hour including skis.
Helmets, boots and other gear can also all be rented.
Best Time To Go 
Between November to March there is usually snow fall up to100cm (it depends on the snowfall. It is open 8.30am – 5.30pm daily.
Xiling Snow Mountain Ski Resort
西岭雪山滑雪场
Address: Leisure and Sports Area, the back mountain of Xiling Snow Mountain, Dayi County, Chengdu City
成都市大邑县西岭雪山滑雪场
Tel: 400-028-9695 ,  028-88309080,   028-88302036
Getting there
   There are mixed reviews about the snow coverage in Xiling Snow Mountain, so be sure to call ahead and check conditions before you travel. Buses run from Xinnanmen Bus Station 新南门车站, Chadianzi Bus Station 茶店子车站 and East City Bus station 成都东客站 to Xiling XueShan and take two to three hours.
This year the the region will hold the 18th Xiling Snow Moutain Snow and Ice Festival until March 1st – so a shuttle bus will run from Huanhua Hotel (75 West Section 2, 2nd Ring Road) in downtown Chengdu at 07:30, to the mountain, and will return from the spot at 16:30 daily.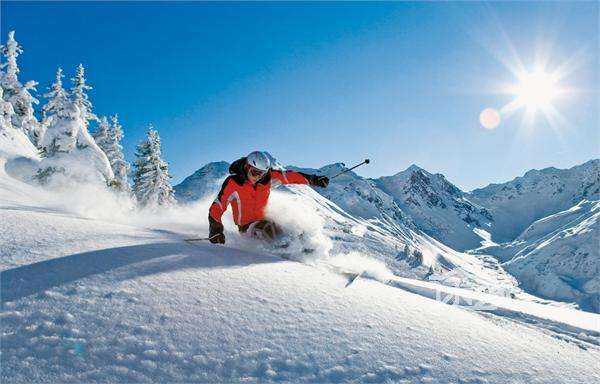 Some have remarked this resort is more like an amusement park with snow, than a place with serious ski trails: there are snowmobiles, games and sledges – along side more traditional skiing and snowboarding.
Price
Admission to the resort is 60rmb /person(Dec 1-14), 120rmb/ person(Dec 15-March 31), 160rmb/person(on New Year's Day  &  Spring Festival)  and other snow activities are priced individually.
Skiing is 120RMB/hour per person
or 360RMB for a day pass
Weekends and holidays are 160RMB/hour per person
or 400RMB for a day pass
Ski clothes rental begin from 50RMB per garnment. There is no need to book ahead as they have 2000 sets of skis and a fleet of 35-40 snowmobiles.
Best Time To Go 
There is 60-80cm of snow between December and March, and the opening hours are 9:00 – 17:00.
There are some night skiing options between 19:30 and 21:30 if you don't mind braving the dark.
There other options for skiing and other snow sports in Sichuan, such as Guangyuan Zengjia Mountain 广元曾家山滑雪场, Aba Bi Peng Gou 毕棚沟, Dujiangyan Longchi Forest Park 龙池国家森林公园, although the facilities aren't as good as those mentioned above. What is a good option if you are looking to hit the slopes is catching the new fast train to Xi'an for the weekend, where they have a some good ski resorts such as Cui Hua Mountain Ski Resort.
Tags:
Chengdu
Places to Ski in and around Chengdu
Places to Ski, in and around Chengdu
ski