Where to Watch Game of Thrones in Chengdu
After eight thousand years of standing between the Seven Kingdoms of Westeros and the lands beyond, the inevitable has finally happened…Game of Thrones nights in Chengdu are back!
In the nearly 20 months since the Night King and his ice dragon took down the Wall in the closing scene of Game of Thrones' season 7 finale, fans have made countless predictions about what's to come in season 8…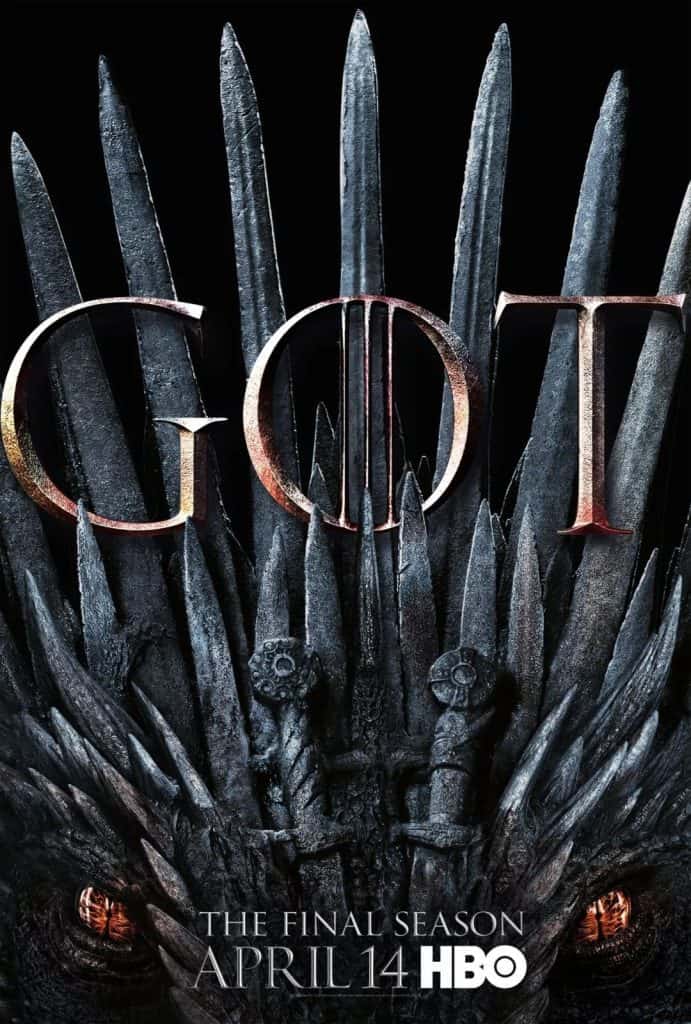 We've been combing through subreddits and poring through wiki pages to place our bets about how the story will end for Daenerys Stormborn of the House Targaryen, First of Her Name, the Unburnt, Queen of the Andals and the First Men, Khaleesi of the Great Grass Sea, Breaker of Chains, and Mother of Dragons…
Who do you think will take the iron throne? Comment below, and if you're correct at the end of the season, you will be entered into a prize draw to win a free cocktail for you and 2 friends at JING bar's epic Game of Thrones-themed cocktail night.
If like me, you're too afraid to watch it on your own, as it's sure to be the bloodthirstiest series yet, there are plenty of places screening it around town.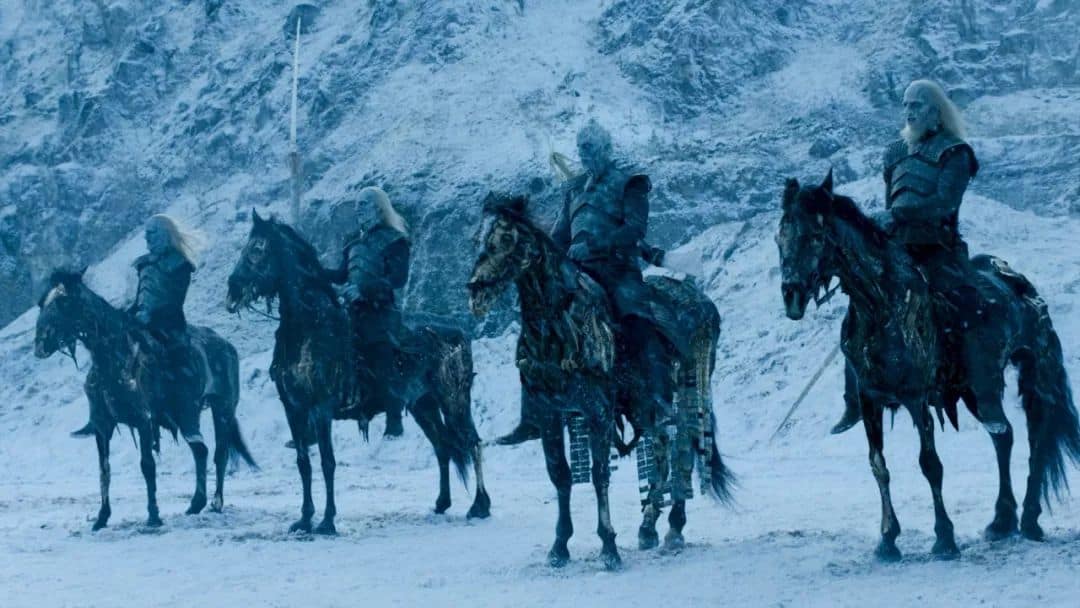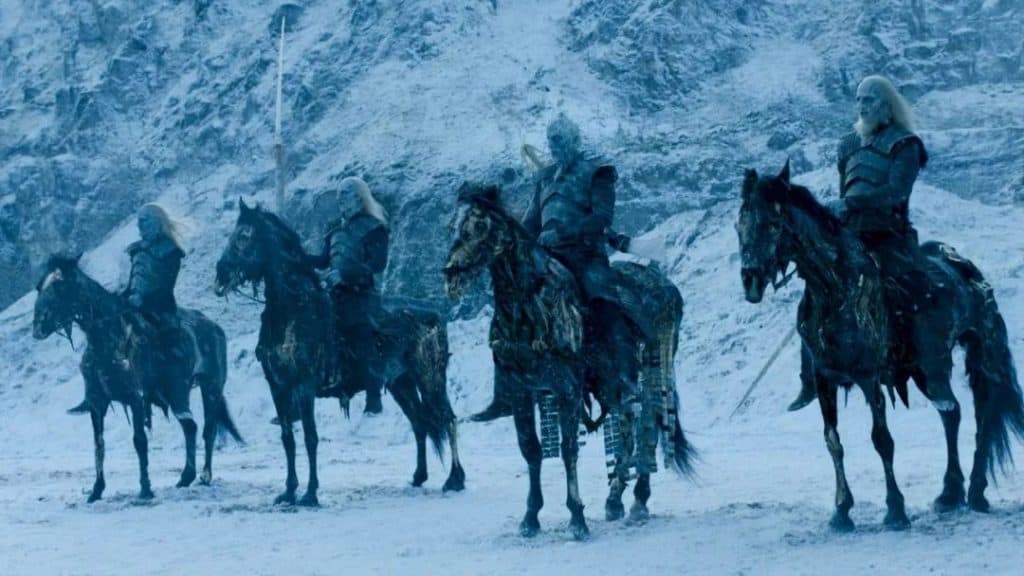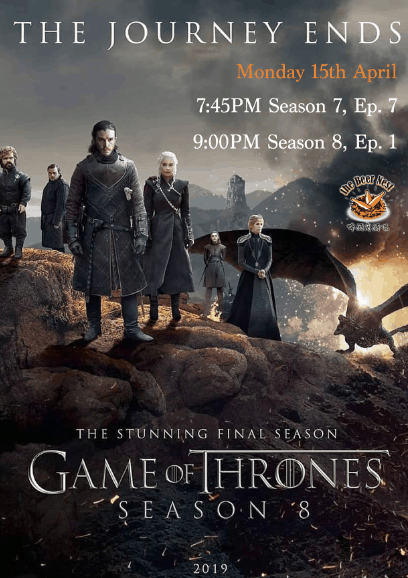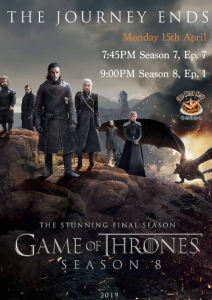 Showing last week's episode at 8 pm, followed by this week's at 9 pm (the previous episode may be shown earlier if it's a longer episode). You can order in food, and Munchwich and Uncle Z's pizza are nearby. Shown on a big screen. Chinese subtitles.
Address:
Jinxiu Road 34 – 7 (Across Poly Center Ping'an bank; close to Zongbei Peter's Tex Mex).
啤酒窝酒吧, 武侯区锦绣路34号附7号 (棕北国际楼下)
Tel.:
13730871837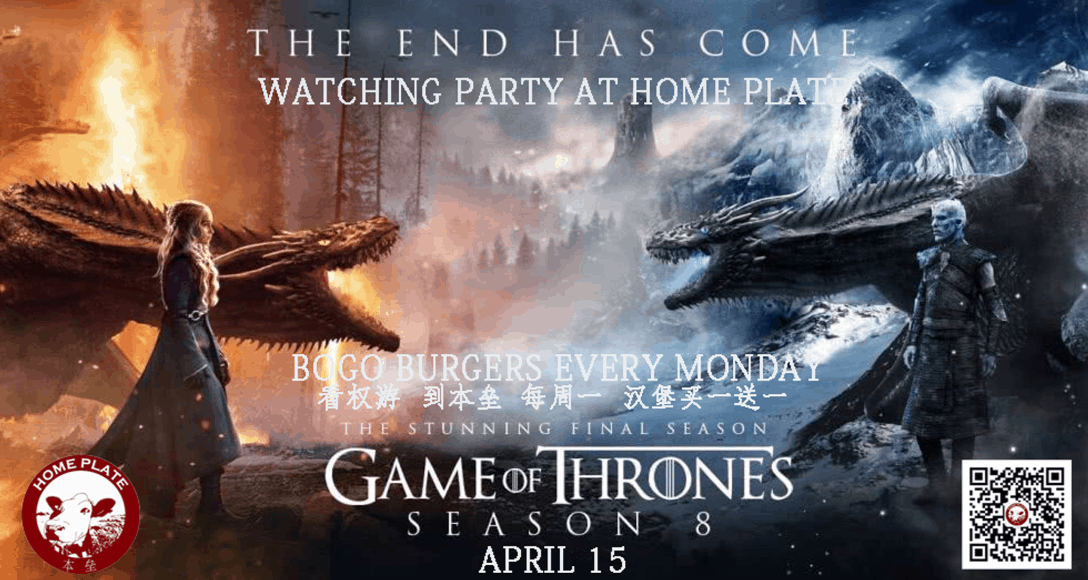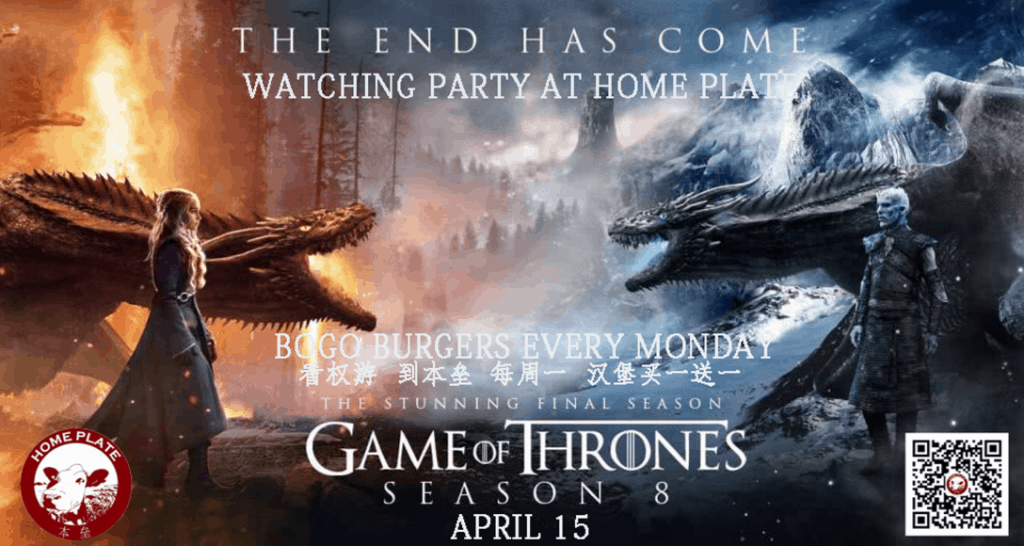 This week's episode will begin at 6pm. Mondays are also Home Plate's buy 1 get 1 free burger night. Dragons AND dinner served. Shown on a big screen.
Address:
Wuhou District, Ziwei East Rd. No. 54
四川省成都市武侯区紫薇东路54号
Tel.: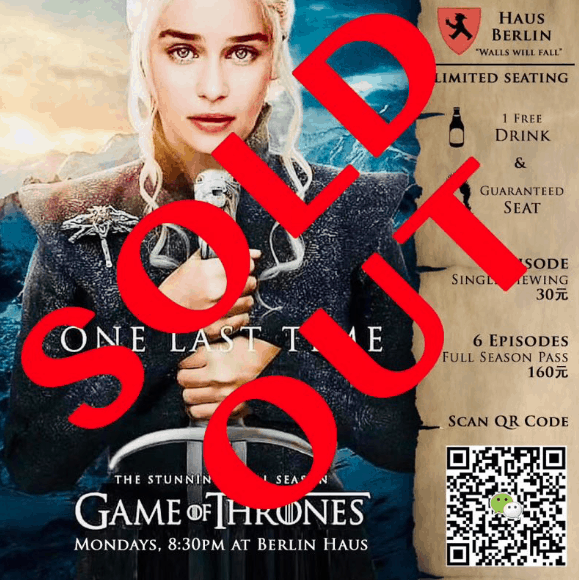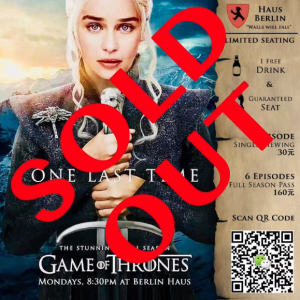 Berlin Haus have regular film screenings, and their Game of Thrones nights have sold out. Fear not, there's plenty of other kingdoms in Westeros…
Address:
1203, F12, A Soho Building, 60 North Kehua Rd., Chengdu
科华北路60号SOHO沸城A座顶楼1203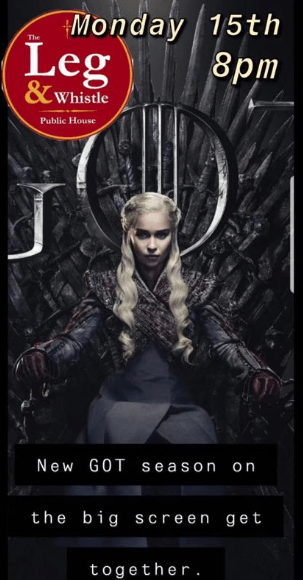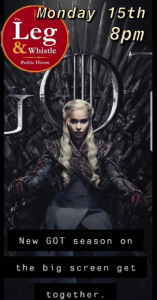 Although usually packed with footy fans, The Leg will welcome a different group of blood thirsty hooligans, every Monday from 8pm. Shown on several TVs and the big screen.
Address:
Ke  Hua Jie Chuan da Hua yuan (2F opposite Wowo)
科华街1号附19号(川大花园南苑农业银行2楼上)
Tel.:
18980986112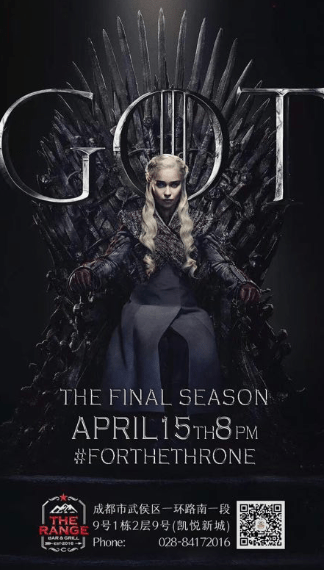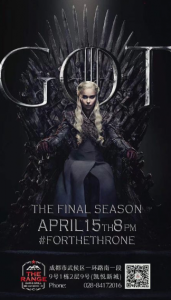 Home of serious GoT fans, The Range will show this week's episode at 8 pm. It also builds your own burger night, and 20% off bourbon, whiskey and scotch – so you can line your stomach before it gets gory…
Address:
Chengdu, Wuhou District, First Ring Road #9 South First Section Building 1. Second Floor Suite #9. (KaiYue New City)
成都市武侯区一环路南一段9号1栋2层9号(凯悦新城)
Maggie will screen this week's episode at 8:30pm. All Beers are happy hour price until closing.
Address:
锦绣路1号,保利中心C 坐7号
No 7 Building C, Poly Centre, No. 1 JinXiu Road, Wuhou District
Tel.:
028-85407066
This restaurant and bistro in Tongzilin will be screening this week's episode at 9 pm.
Address:
其心西餐吧
9-9 South Tongzilin Road, Wuhou District
(right next to Singapore Gardens)
桐梓林南路9号附9号
Tel.:
13916057095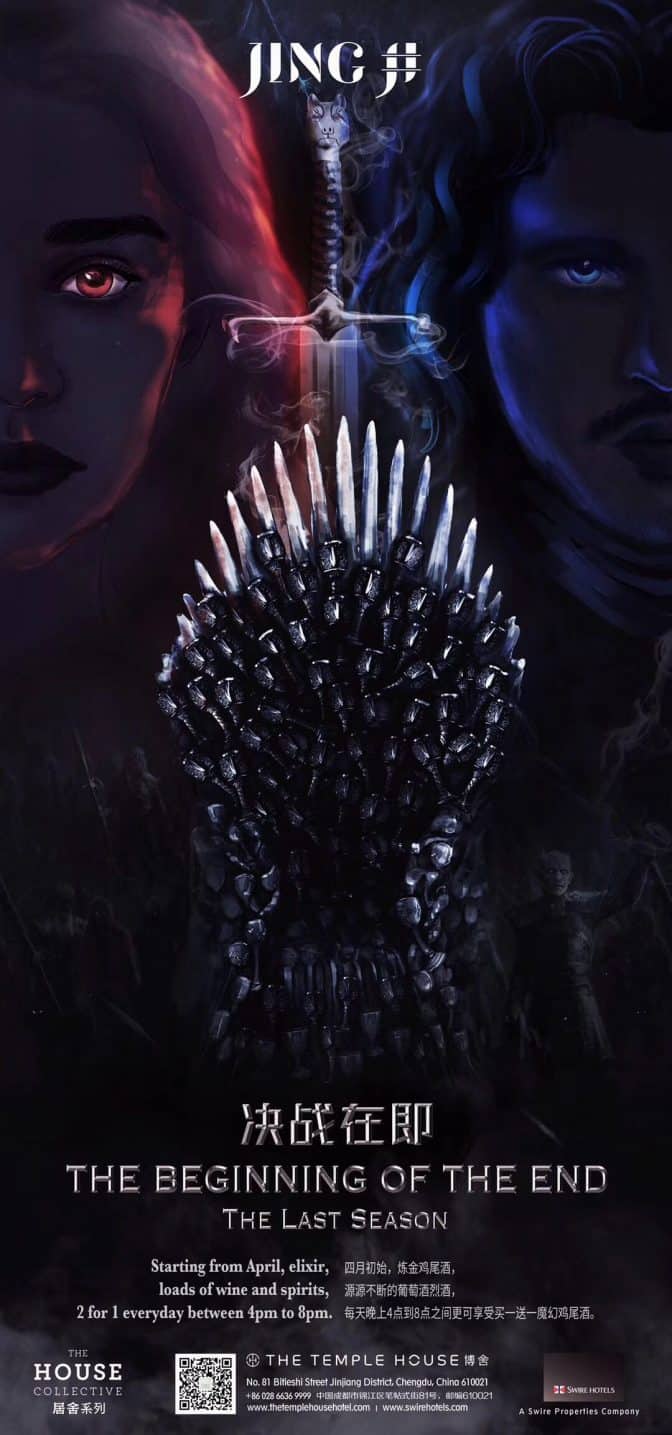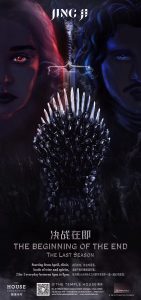 The Temple House's JING bar isn't screening GoT, but it's celebrating its return big time – their GoT-inspired cocktail night is every day from 4 pm until 8 pm, whilst the series is on. Sip out of skulls and iron chalices and try their artisan drinks inspired by your favourite characters. We liked the Mother of Dragons (Dark Rum, Dragon Will Tea Syrup, and Lemon Juice, Egg White).
The Temple House
Address:
81 Bitieshi Street, Jinjiang District
锦江区笔帖式街81号
Tel.:
028-62974192
Daily, 4-8pm
Special cocktails 2 for 1
Don't forget to comment below, who YOU think will take the iron throne. If you are correct, you will be entered to win 3 free cocktails at JING bar's Game of Thrones-themed night. The winner will be announced on May 21st 2019.
Tags:
Chengdu
movies