Where to Happy Hour in Chengdu
Chengdu brings about a fantastic array of bars with themes ranging from French Winehouses to german beer houses to award winning cocktail bars and everything in-between. An even better way to enjoy these bars is to enjoy some of the great happy hour deals they offer, below we have compiled a list of our favourite deals.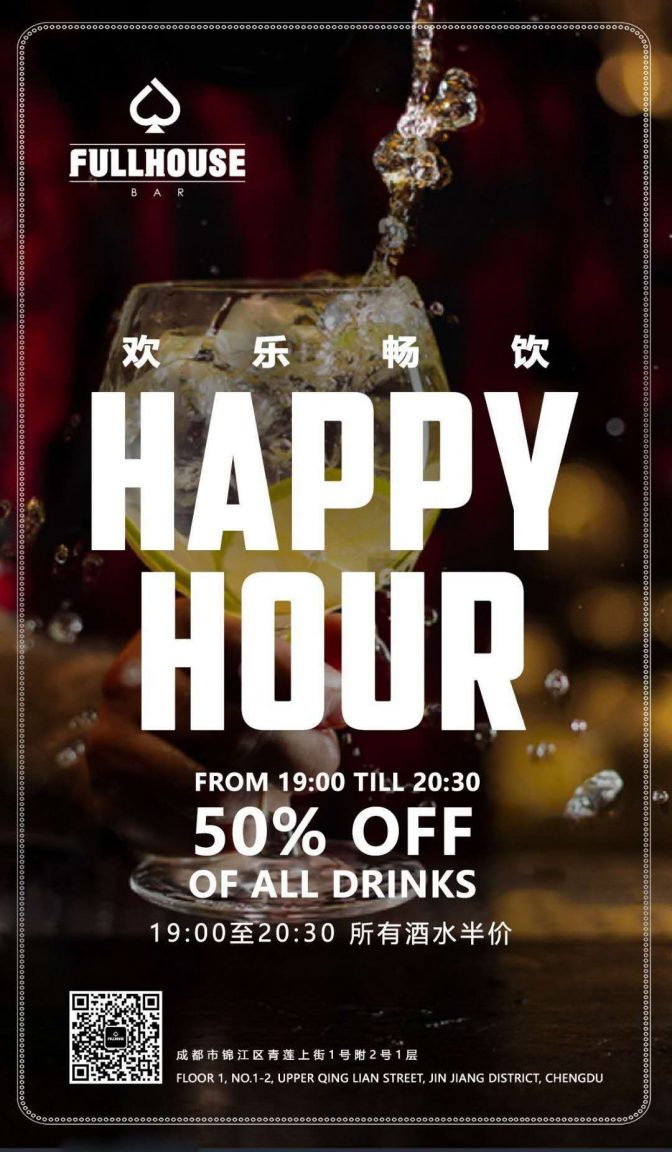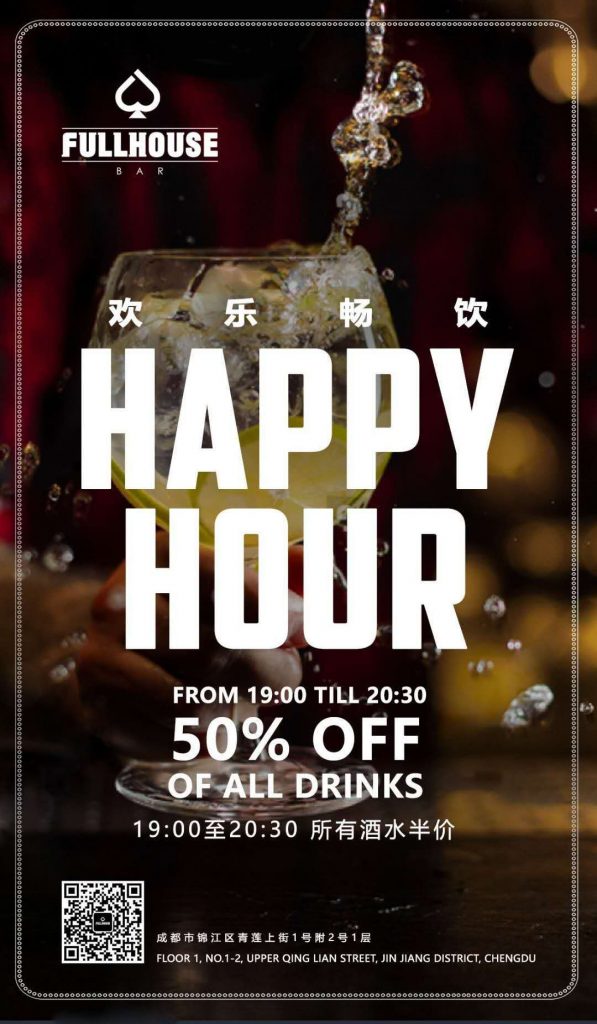 Check out one of Chengdu's most vibrant bars, Full House. Situated in Chengdu's Jin Jiang district on Upper Qin Lian street, this expat friendly spot has been a hit with expats and locals for good reason. With a fantastic array of cocktails, beers, spirits and much more, where better to enjoy yourself and get your night started. What is even better is the jaw dropping happy hour deals, which offer 50% off, with prices like these, this should be right up there on your radar when planning some post work drinks.
Deal
: 50% OFF All Drinks – The Deal runs from 19:00 to 20:30 Monday to Sunday
Monday – Mojito 1+1
Tuesday – Long island for 43rmb
Wednesday – Heineken beer for 20rmb
Thursday – Queens night – all mixers for 18rmb – ladies only
Friday – 10rmb shots with any drinks
Saturday – Sparking wine for 40rmb
Sunday – Gin&tonic for 35rmb
Address
: Floor 1, No.1-2, Upper Qing Lian Street, Jin Jiang District, Chengdu 成都市锦江区青莲上街1号附2号1层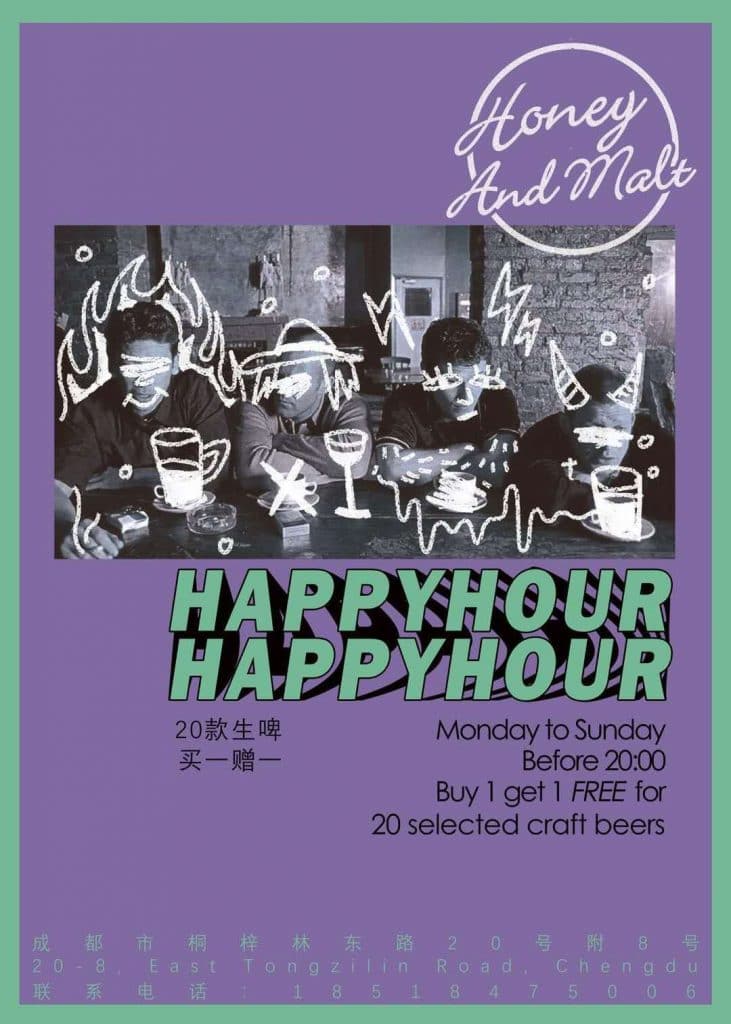 Based in the heart of expat friendly Tongzilin area, this modern craft beer bar offers over 20 different beers on tap. hey focus primarily on brews from NBeer in Beijing, Trip Smith in Guiyang, No. 18 in Wuhan, Bmax Brewing from Shanghai, Master Gao in Nanjing, as well as Harvest Brewery located right here in Chengdu. Walking in from the cool night air, the place felt immediately warm and inviting with a clean open concept and simple design. The sides were lined with wooden tables, and there was ample space to pony up to the bar, the walls lined with classic vinyl and record covers. American musician Papa Doc, picked away on an acoustic guitar and growled out some classic covers.
Deal:
Buy 1 get 1 Free for 20 selected craft beers, Monday to Sunday before 8:00
Address:
20-8 East Tongzilin Road, Chengdu, 桐梓林东路20号附8号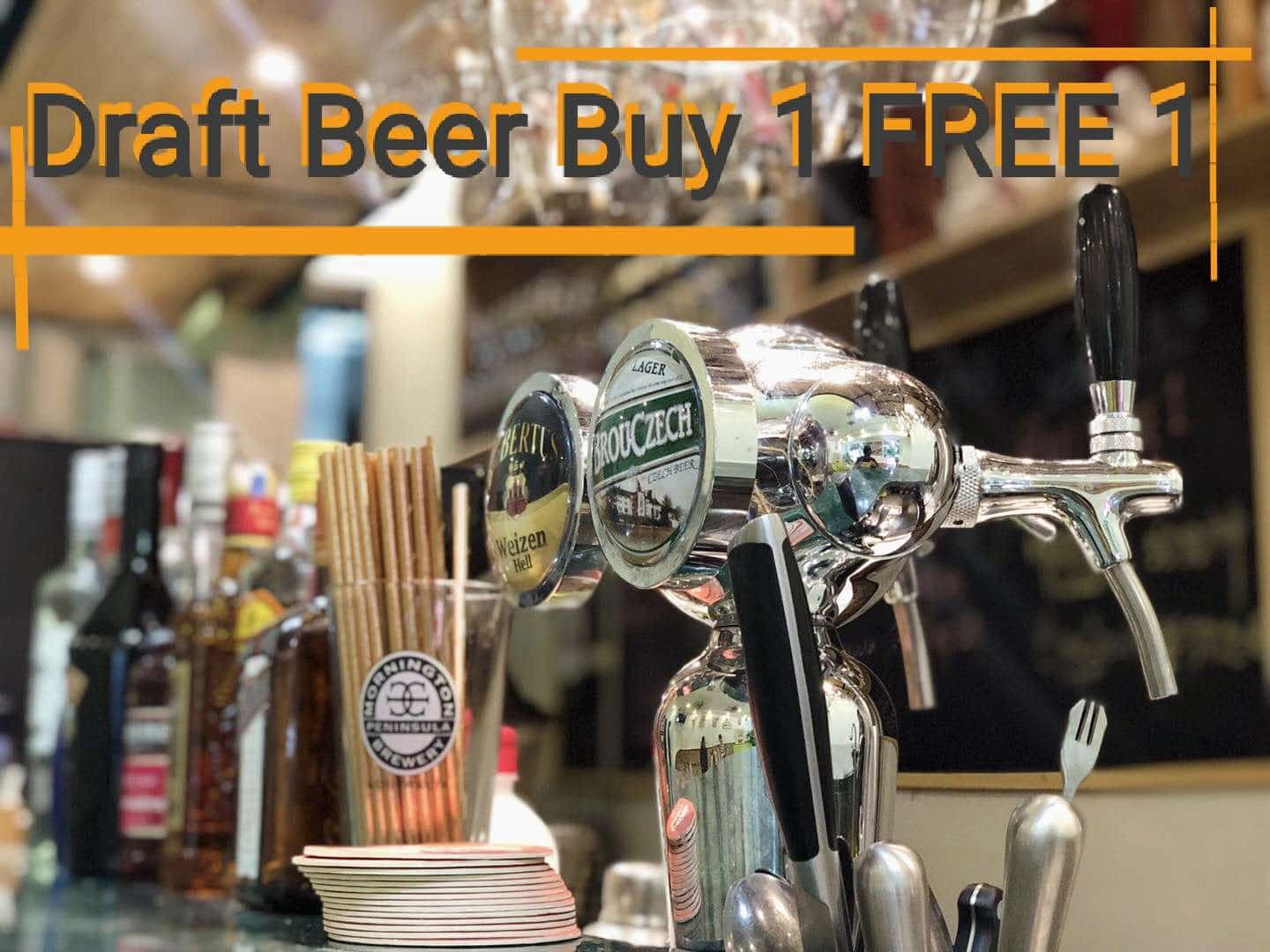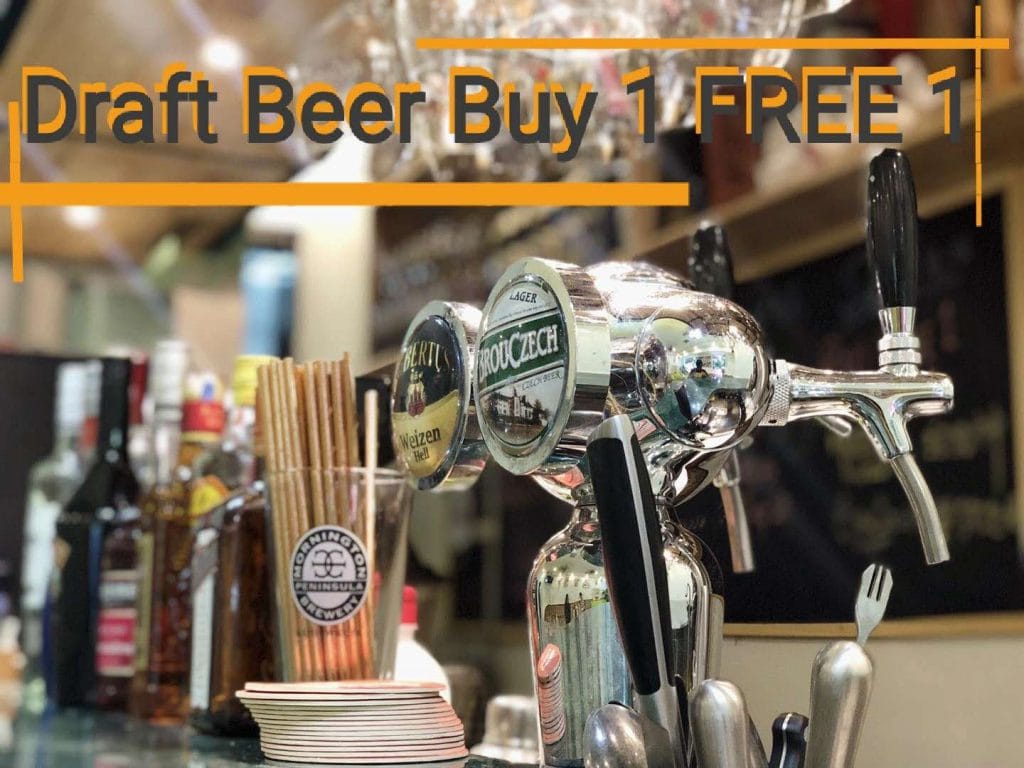 Diner Malaysian Restaurant was founded in 2014 and is the only Malaysian Restaurant in Chengdu that serves authentic Malaysian cuisine. It mixes it's South East Asian menu, full of laksas other Malay favourites, with creative British style western dishes (don't miss their fish and chips or English breakie). The restaurant was founded by the loveable Boon from Kuala Lumpur, who does dine in, catering and delivery. Selamat Datang – welcome! To go along with this delicious cuisine, enjoy some cheap draft beers during their happy hour!
Deal:
Draft Beer Buy 1 get 1 Free, 8-10pm Every Day.
Address:
No.9-19 Tongzilin Nanlu, Wuhou District (beside Singapore Garden's entrance)桐梓林南路9号附19,武侯区(新加坡花园小区旁边)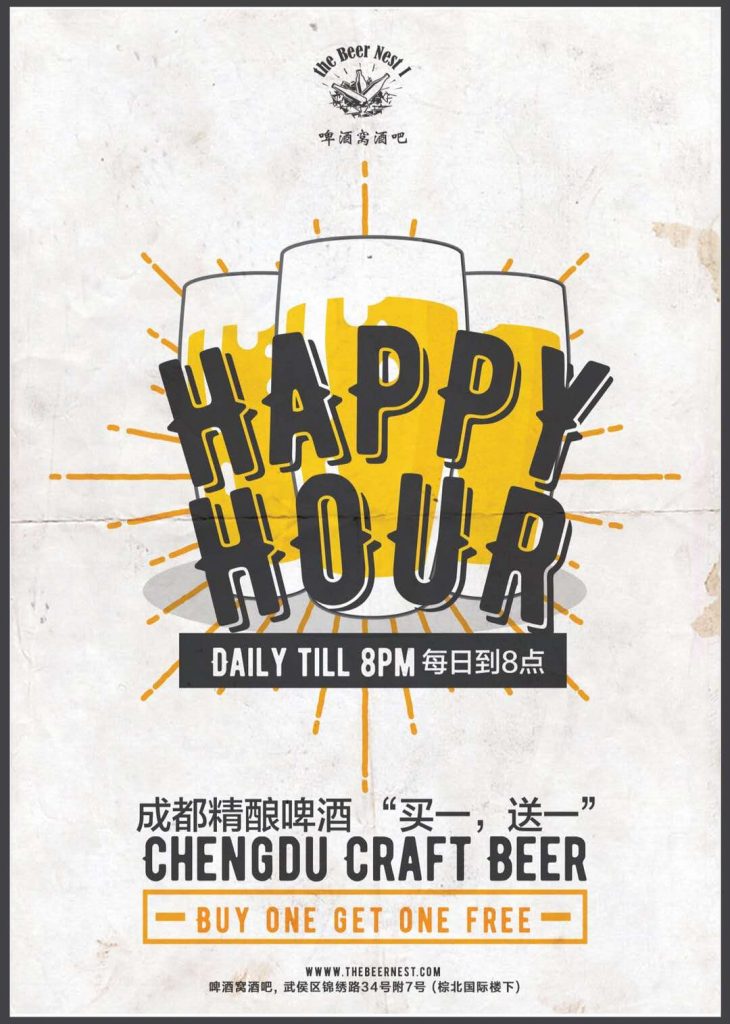 This cosy bar opposite the Poly Center was one of the first to introduce Chengdu to good beer and has become an iconic waterhole in the city. They show comedy, have beer tastings and have a great variety of locally made craft beer and other drinks.The little wooden clad bar is in the centre of the city, and promises a great atmosphere, good music, and is the perfect place to watch the world go by.Open 2pm – late.
Deal:
Buy One, Get One Free on Chengdu Craft Beer, Daily Till 8PM
Address:
Jinxiu Road 34 – 7 (Across Poly Center Ping'an bank; close to Zongbei Peter's Tex Mex). 啤酒窝酒吧, 武侯区锦绣路34号附7号 (棕北国际楼下)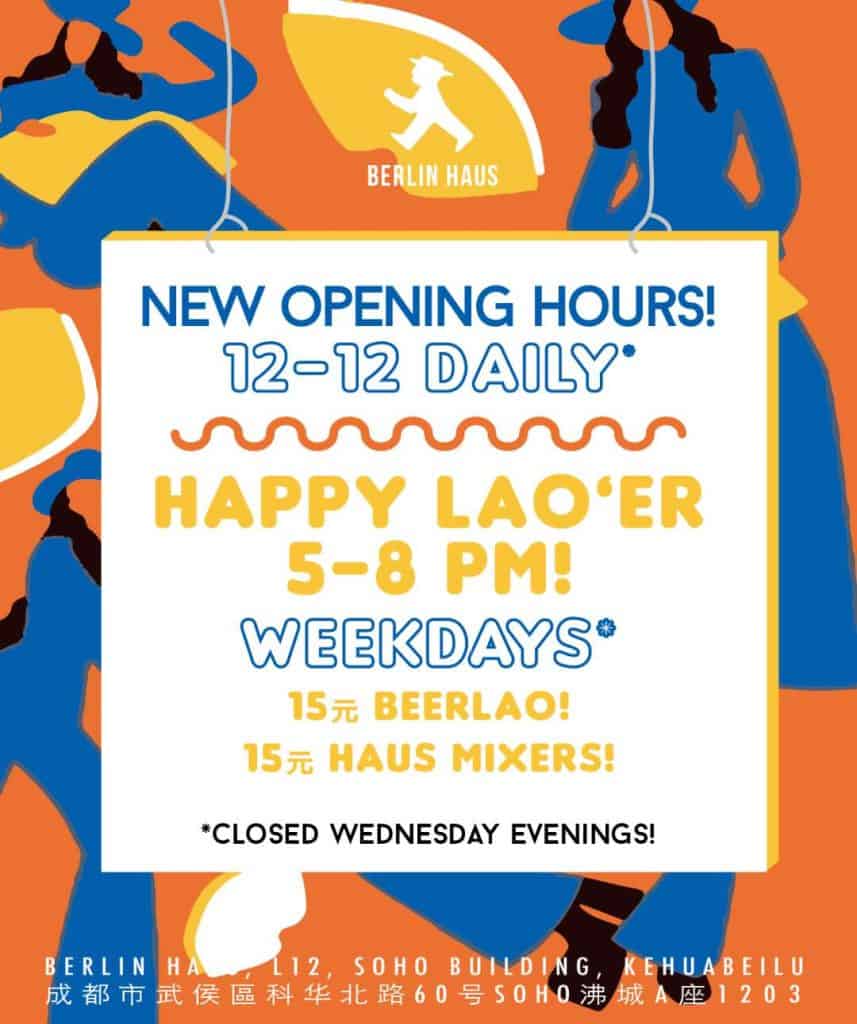 Berlin Haus is a cosy, german themed bar which brings the best of Germany to Chengdu. Among great food and drink this bar thrives at what Germany does best and that is beer! Even better with happy hour prices and brand new opening hours which range from 12-12 daily.*Closed Wednesday Evenings*Deals:
15 Yuan Beerlao, 15 Yuan Haus Mixers, Happy Lao'er 5-8pm WeekdaysAddress:
Berlin Haus, L12, Soho Buildings, Kehuabeilu 科华北路60号SOHO沸城A座顶楼1203
Tim's Barbecue has landed in Chengdu from Texas via Beijing, where it's been a popular destination for ten years. Their smoker produces sausage, pork ribs, brisket, and chicken, all which can be ordered as plates or combinations with a few sides; the sides salads and beans when we dropped in but their cornbread was not yet on the menu. That menu is pretty extensive for a small place, also offering a decent selection of Tex-Mex with burritos, chalupas, quesadillas, tacos, nachos, and fajitas. Other Western favourites such as pizza, burgers sided with hand-cut fries, and salads round out the menu. Tim's also serves up an all day American style breakfast with pancakes, eggs, or breakfast tacos stuffed with the smoked meat. Enjoy some happy hour priced beers to go along with the excellent food.
Deal: Frozen Margaritas and Beers Happy Hour price, daily 4-9pm. Beer 5-10 kuai cheaper, Margarita price will be 29RMB (regular price 43RMB)
Address:
No.7, Building C, Poly Centre, No.1, Jinxiu Road, Wuhou District, Chengdu Zip锦绣路1号,保利中心C 坐7号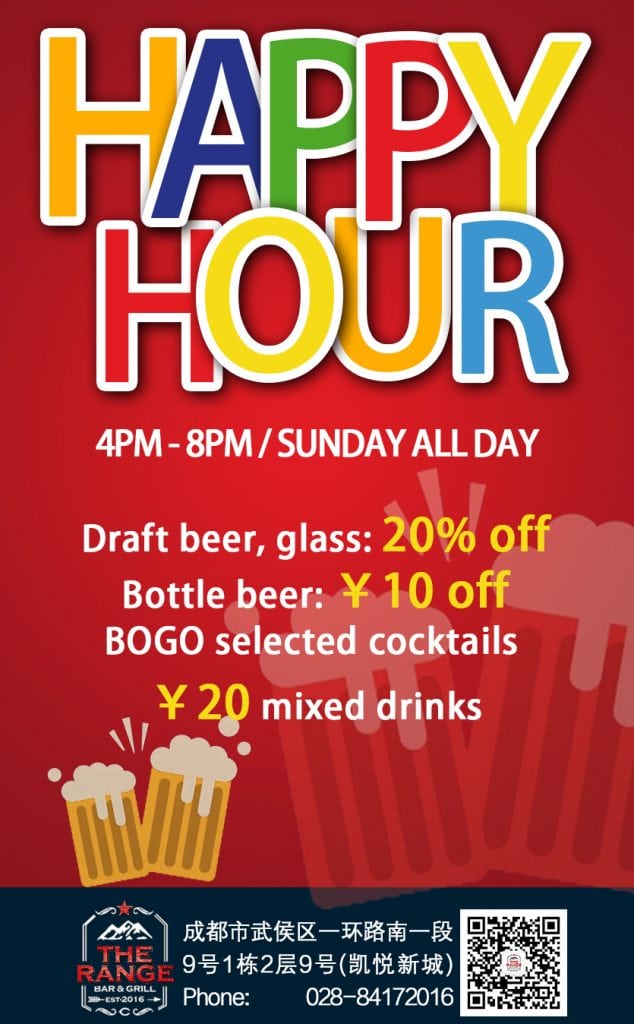 Deal:
Glass of Draft Beer: 20% Off, Bottle beer 10Yuan Off, BOGO selected cocktails, 20 Yuan mixed drinks, 4-8Pm Monday to Saturday, Sunday – All Day Long.
Address:
Chengdu, Wuhou District, First Ring Road #9 South First Section Building 1. Second Floor Suite #9. (KaiYue New City) 成都市武侯区一环路南一段9号1栋2层9号
Underground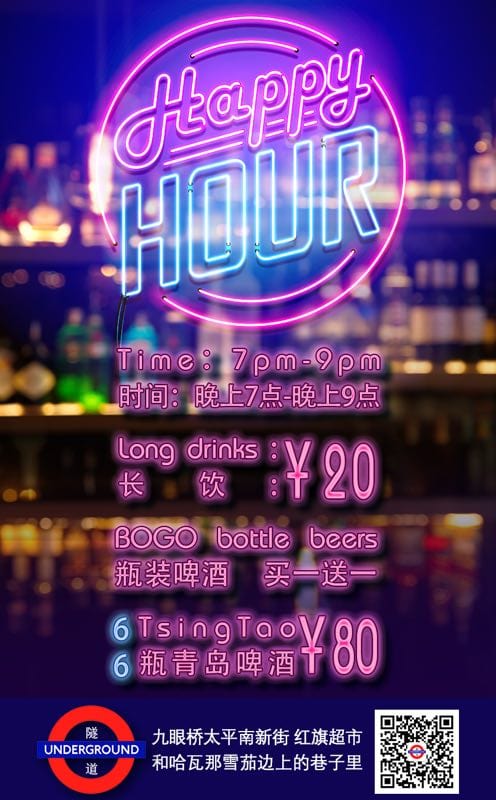 A central located British-style pub with a wide-selection of world beers and great music at a volume you can chat too, featuring regular LGBTQI events and weekly Wednesday Quiz. Join them for great drink deals in their happy hour.
Deal:
Buy 1 get 1 free on bottle beers, 20 Yuan long drinks, 80yuan tsingtao, 7-9pm everyday
Address:
Jiuyanqiao, Taiping nan xin jie. In the tunnel next to Havana Cigar and the Hong Qi shop. 九眼桥,太平南新街,红旗超市和哈瓦那雪茄旁的巷子里
Opened in February 2018, Kathmandu is run by Nepalese American with Tibetan heritage aimed to serve Chengduers with fine Himalayan and Italian fusion.Kathmandu offers customers a 
multi-cuisine
food with the best of Indian, Nepalese, Tibetan and Italian fusion. Born in Kathmandu and lived in New York for many years have inspired the owner to create Himalayan and Italian fusion. Get Happy Hour to add to the flavour.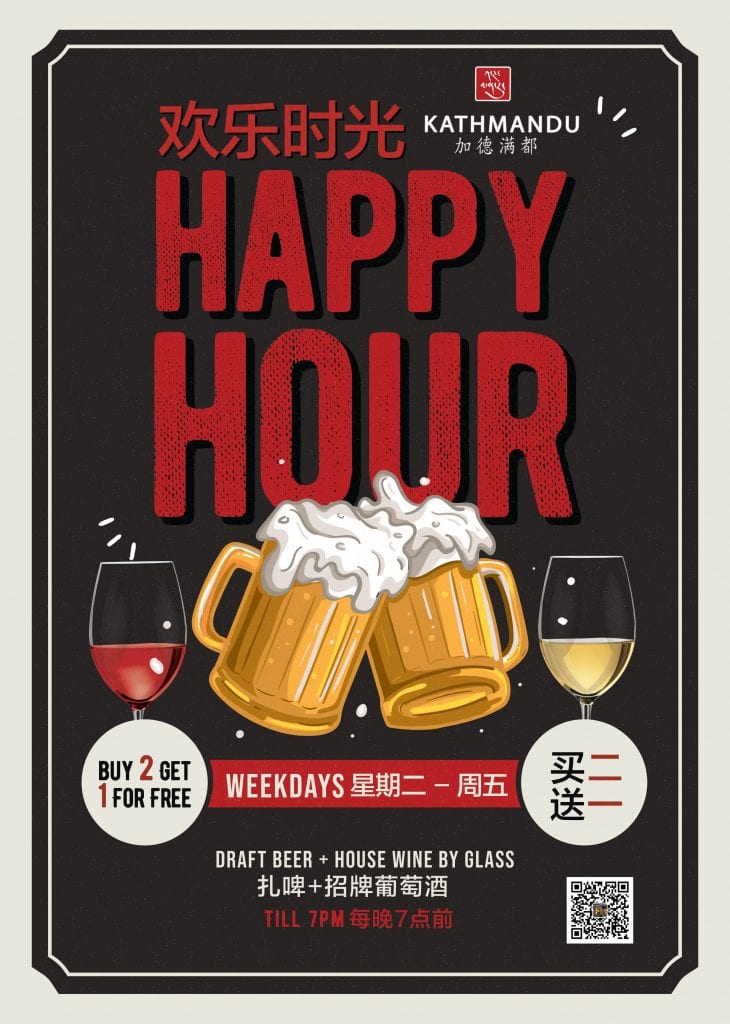 Deal:
 Happy Hours till 7pm (Tueday- Friday)
Buy 2 Get 1 Free on Draft 🍺 & House
🍷
Address:
99 Huan Jin Road, Qing Yang District, Chengdu 成都市青羊区浣锦路99号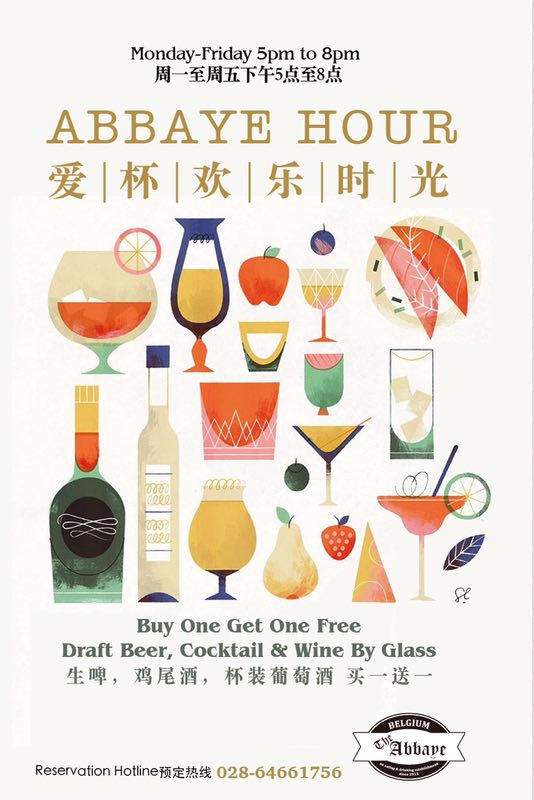 The Abbaye is a modern restaurant & bar concept situated in Taikoo Li Majia Alley, the Buddha hall was established by the end of Qing Dynasty and the beginning of the Republic to house the Buddhists who came to pay respects to Daci Temple. The hall is a three-section house in a unique structure with lobby and wing rooms. They offer a wide selection of Belgian and International beers. The list ranges from famous Abbaye and Trappiste ales of Belgium to a selection of craft brews and lighter fruit beers that offer something for all palates. The food menu is influenced by traditional Belgian and Western cuisine. Amazing craft cocktail & a wide spirit list carefully selected. Enjoy Happy Hour cocktail deals.
Deal:
Buy One Get One Free Draft Beer, Cocktail & Wine By Glass, Monday – Friday 5pm – 8pm
Address:
1337, 1/F, Sino-Ocean Taikoo Li, 8 Middle Shamao St. 远洋太古里一层1337号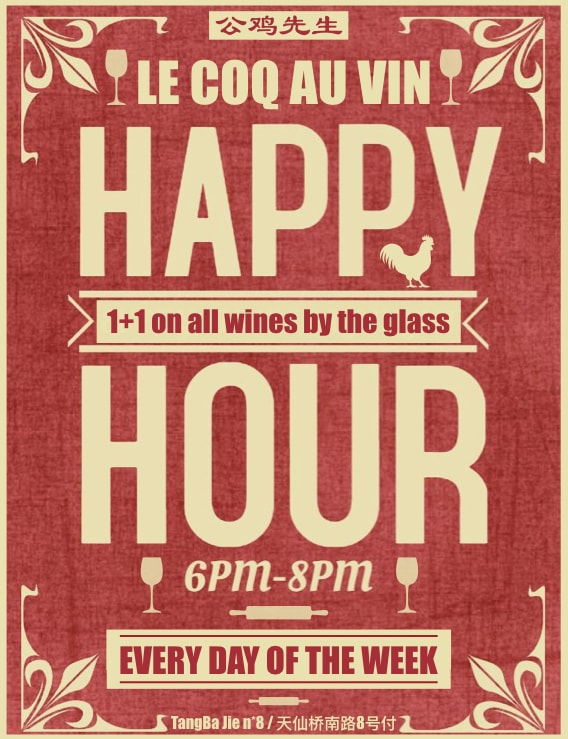 Le Coq au vin is not just the famous French recipe anymore but also a trendy wine bar in Chengdu. The comfortable bistro offers first-rate wines, superb food platters, combined with a relaxed elegant atmosphere. The French owners bring an authentic touch to the place, will always help you choose wisely, or simply teaching you how to drink French fluently. Basically the perfect venue for any kind of night! Enjoy some great prices at their happy hour.
Opening Time: 18:00-02:00
Deal:
Buy One Get One Free on all wines – Every day of the week 6pm – 8pm
Address:
No.8 South of Tianxian Road, Tangba Street 锦江区镗钯街,天仙桥南路8号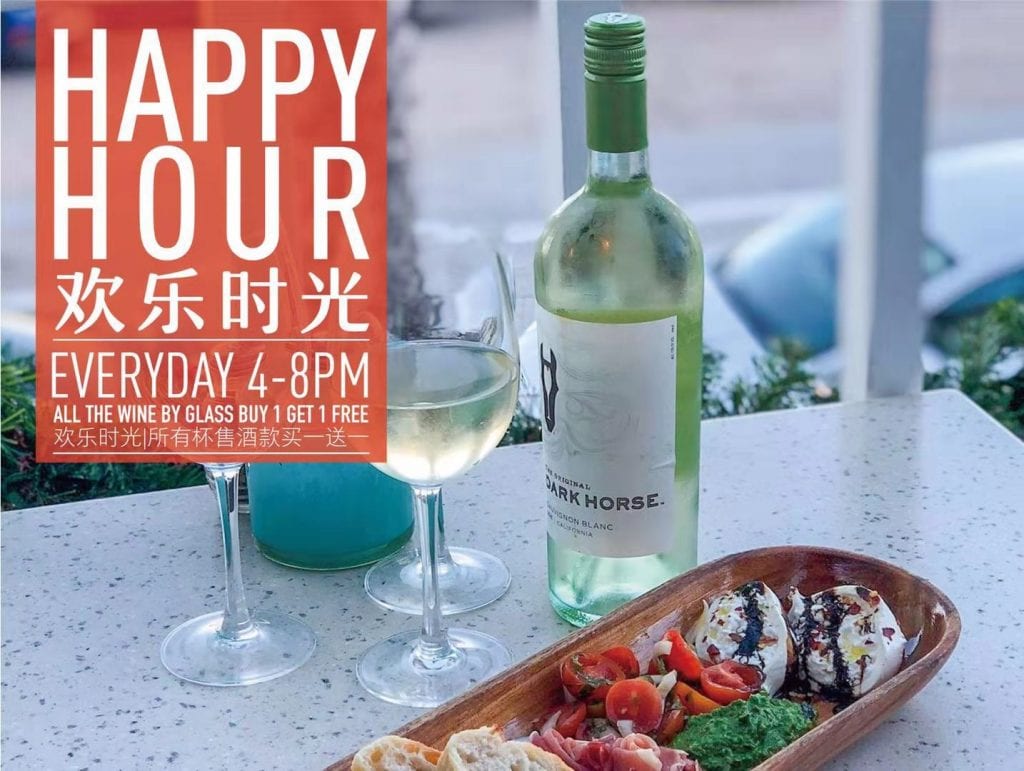 Vinoteka Chengdu, Wine Bar And Boutique, is a modern and cozy wine bar that serves western food to accompany their wide selection of wines from all over the world. Daily Happy Hour from 16:00 to 20:00. Homemade tapas, platters and desserts; get your fix of imported beef fillet, ham, cheese, foie gras and much more. Friendly English speaking staffs will welcome you everyday from 10:00 to 02:00. Frequent live jazz concerts.
Deal:
All The Wine By Glass, Buy One Get One Free – Everyday  4pm – 8pm
Address:
F1 IFS [opposite TaiKoo Li, right left of the IFS entrance/ Niccolo Kitchen]四川省成都市锦江区金玉街IFS商场L20商铺1层6号门