Profile
Starting November 30, with a Reception Party from 7:00pm to 10:00pm, The Secret Heat is a new group photography exhibition in the U37 area. It will be displaying collections of work from various photographers up until December 16, every day from 9am to 8pm.
The Reception Party will feature wine, music, limited edition prints on sale, and a screening of several short films from the Secret Heat members.
Description:
"The Secret Heat is a collective metaphor. It stands for the minute but ever-present possibility of the fantastical, absurd, and extraordinary moments existing behind the façade of everyday life.
The Secret Heat is varied and disparate. Our members inhabit multiple genres and geographies. Intuitive and unbidden, we seek out intangible traces of truth (or untruth), playing constantly with the form, presentation and constitution of our work.
The Secret Heat cannot be defined. By collaborating and presenting our dissimilar bodies of work as a unified whole, we aim to create something lasting and stronger than the sum of its parts."
The Secret Heat photography collective was born on the internet, and has come together in one of China's most unique cities, Chengdu. On the 30th of November 2018 they will present their first group show.
Made up of seven photographers with unconnected backgrounds and myriad approaches, the Secret Heat might be considered a flexible metaphor, carrying its own meaning for each artist. The name might represent a fleeting possibility, or a truth hidden in plain view.
More than 100 images shot on analogue film will be on display. The medium was chosen to celebrate a slower, considered approach and the show will consist of seven chapters with each member presenting their own personal vision.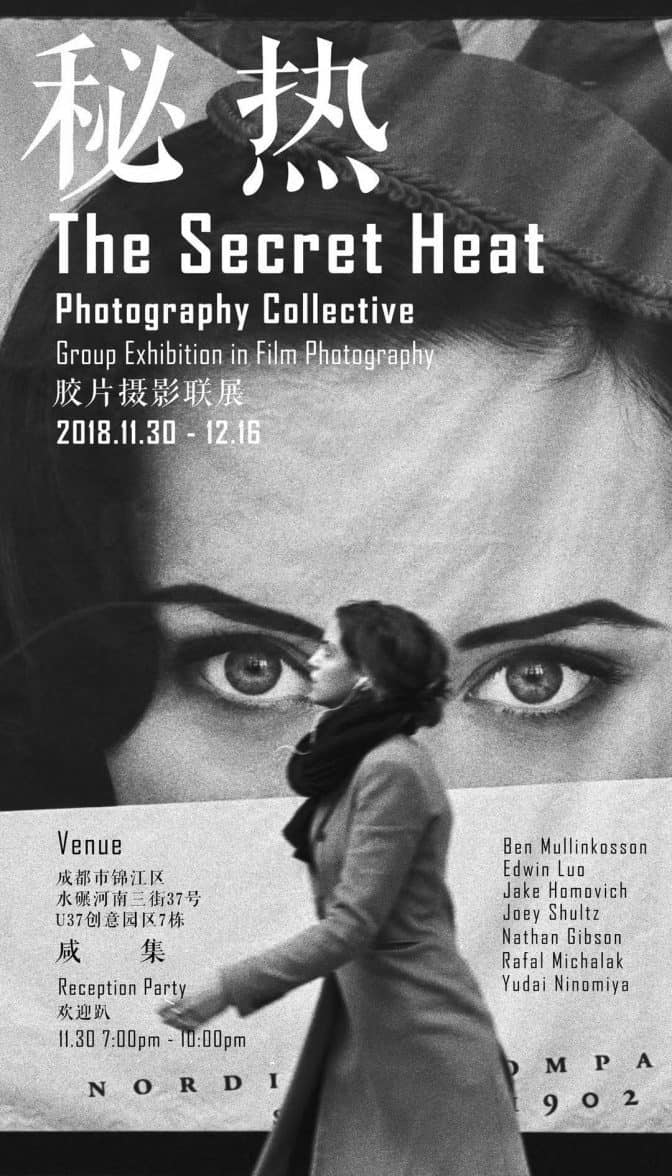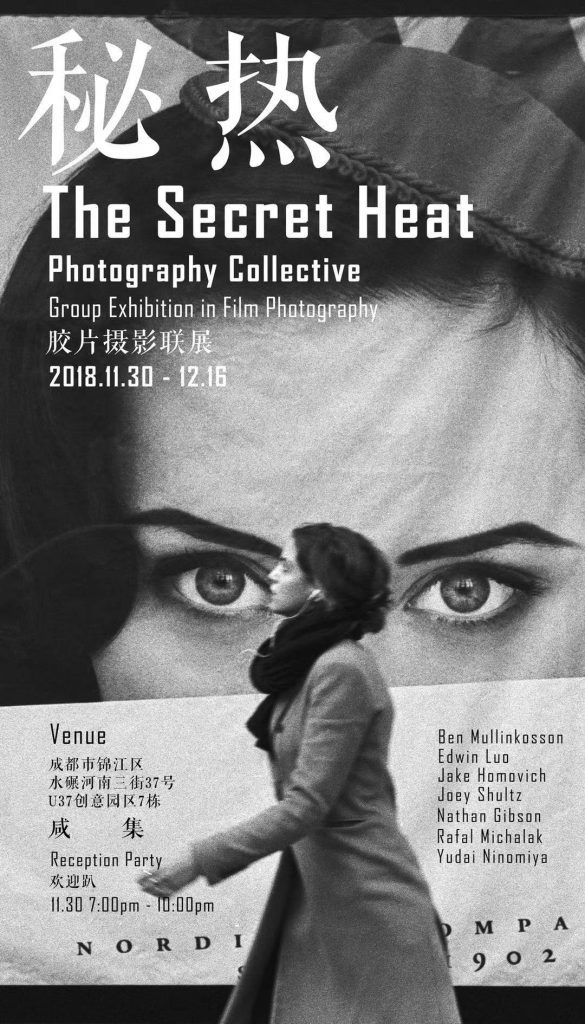 Photographers Collaborating: 
Ben Mullinkosson, Edwin Luo, Jake Homovich, Joey Shultz, Nathan Gibson, Rafal Michalak, Yudai Ninomiya
All the photographers will be meeting up around the city throughout the time that the exhibition is on display.
When?
On display from November 30 to December 16
Where?
Building 7, U37 Creative Park, No. 37, South 3rd Street, Shuimohe, Jinjiang District, Chengdu
成都市锦江区水碾河南三街37号,U37创意园区7栋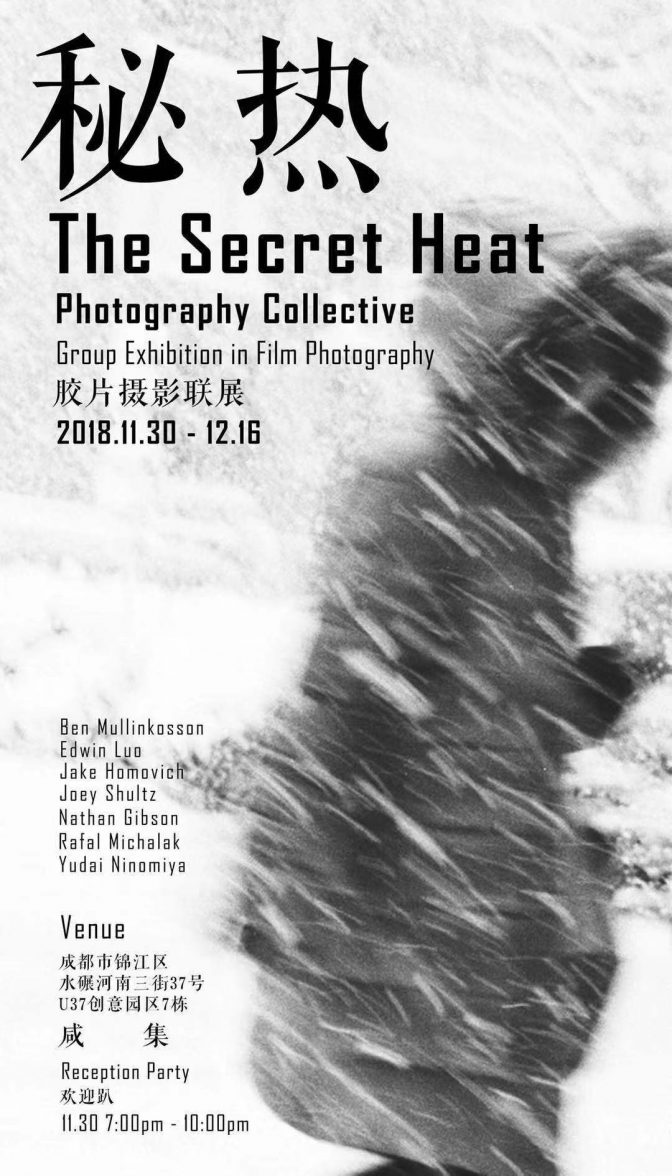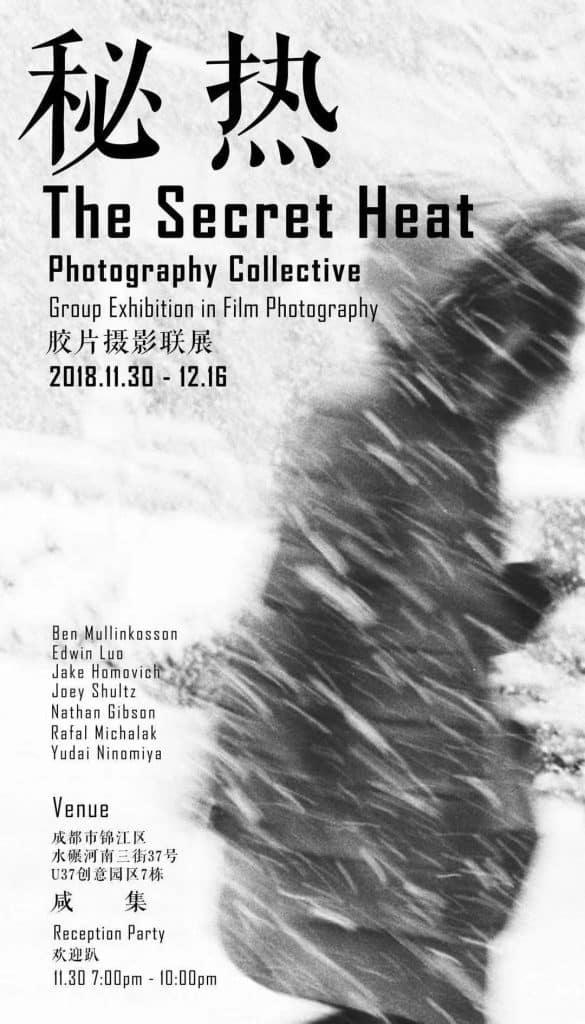 Reviews
More Events
人民南路四段,倪家桥地铁站
Chengdu
Sichuan
March 26, 2023, 12:00 pm
-
6:00 pm
武侯区高升桥东路1号长城金融大厦7楼
Wuhou District
Sichuan
November 18, 2022, 9:30 am
-
March 30, 2023, 6:00 pm
盛邦街铁像寺水街南广场
Chengdu City
Sichuan
March 11, 2023, 11:00 am
-
April 23, 2023, 6:30 pm