Profile
[CLOSED September 2022]
Bucciano, Wine & Dine Italian Restaurant Market
Bucciano 意大利文化餐厅

One of the first things we notice on walking into Bucciano, are the large slabs of salt and herb covered pork belly curing in a chiller. Their in-house charcuterie also includes a few types of fresh sausage that we enjoyed during the dinner. This attention to craft is on display via their antipasto board, which is a great way to start off a meal. It included salami, proscuitto crudo and mortadella, which impressed with their quality and were sided with mushroom and tomato bruschetta and some very interesting fresh Tuscan style fritters that the server instructed us to eat with the proscuitto. The housemade ciabatta and flat bread tasted very authentic and were very good with their house olive oil and vinegar.
 Other Tuscan specialities on the menu make Bucciano one of the few Italian restaurants in town where we can feel a sense of regionality. We were impressed by the soft and fresh gnocchi in a rich meat sauce; the cheese that was served on the side brought the dish to life. The fresh, fragrant dough of the thin crust pizza was fantastic. The housemade sausages were sided with roasted vegetables and salad that included arugula and were served with house made aioli and mustard.
We also enjoyed a super simple dish of white beans and sausage in a tomato sauce. The porchetta was a really memorable dish; it came as a generous serving of crispy skinned roast pork sided with roasted vegetables. The zuccotto and tiramisu from the dessert menu are both very good; we'd get the tiramisu again first. We were dining with an Italian friend who had been posting some photos of the dishes. She got a call from her mother urging her to eat all she could.
Bucciano also has for sale a selection of imported Italian goods like pasta, oil,vinegar, wine and seasonings. We heard mostly English and Italian spoken in the room, which was very busy the night we were in. Most of menu items are in mid to high two figures; a multi-course meal should run around 200RMB per person. Specials from Tuesday to Saturday make it easy to stop in for a bite and a drink to check the place out.
Enjoy their Brunch on Saturday and Sunday from 10:30 to 13:00. 58RMB for a platter of scrambled eggs, eggs "occhio di bue" style, cold cuts, fresh mozzarella, hand-made sausages, grandma's pie and Italian coffee
Address: GaoXin District, XinJieLi 6 No265 HuiJin Road Building 1, 1st Floor, 1031
四川省成都市高新区新街里6荟锦路265号一幢一楼1031号
Time: 11:30am- 2:00pm 6:00pm- 11:00pm
Tel.: 18583750921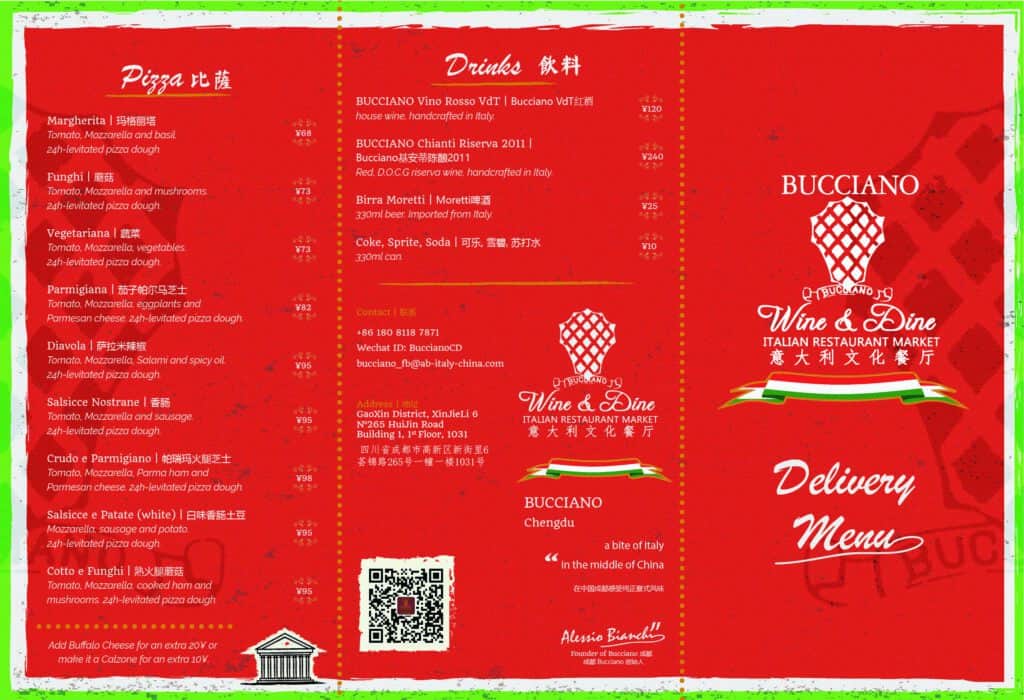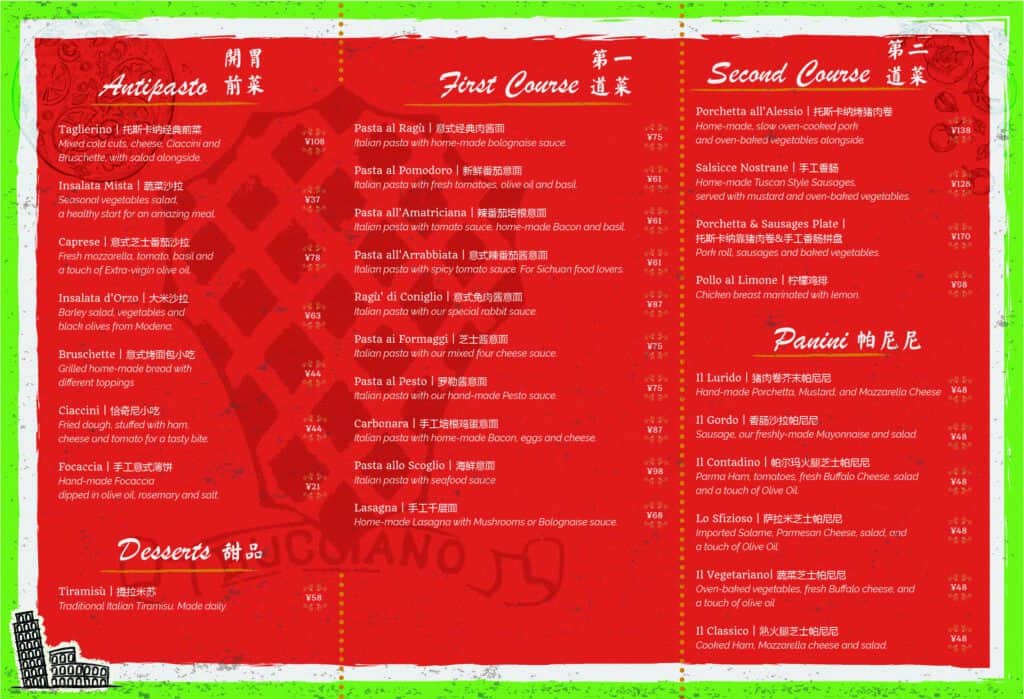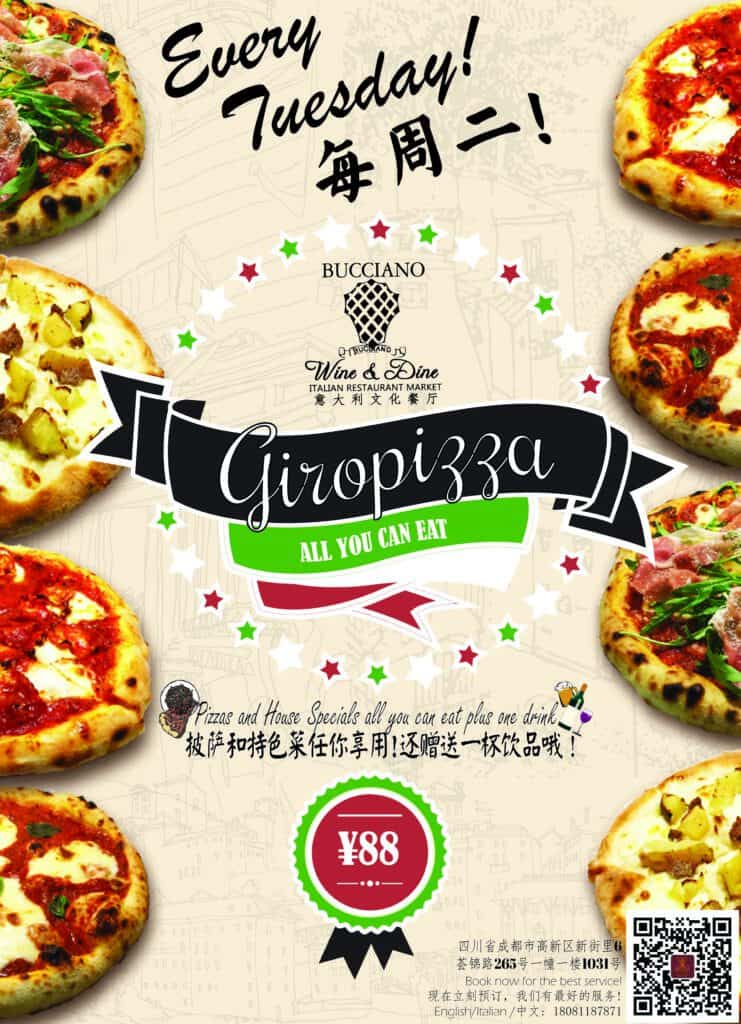 Check out the happy hour they now have:
Every Friday and Saturday 18:00 – 22:00
Buy One get One Free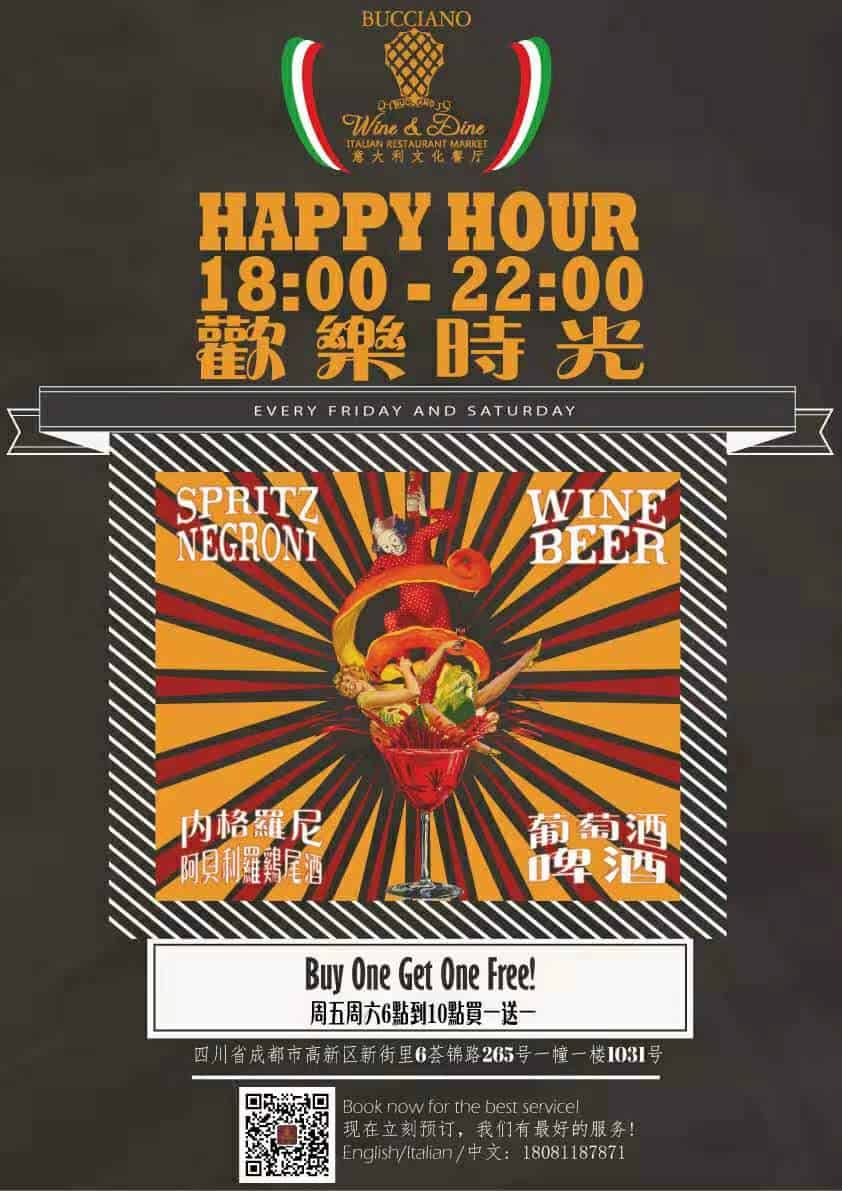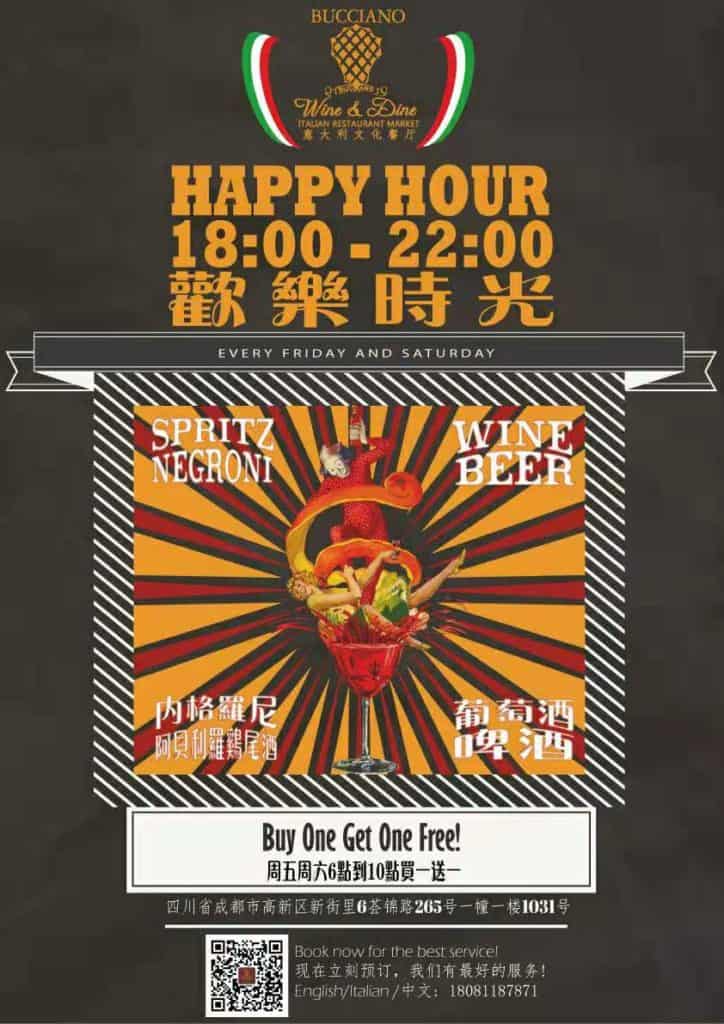 Reviews
Events
高新区新街里6荟锦路265号一幢一楼1031号
Shiyang
Sichuan
August 20, 2022, 2:00 pm
-
4:00 pm
高新区新街里6荟锦路265号一幢一楼1031号
Shiyang
Sichuan
May 16, 2020, 10:00 am
-
May 17, 2020, 6:00 pm
高新区新街里6荟锦路265号一幢一楼1031号
Shiyang
Sichuan
April 5, 2020, 11:30 am
-
1:00 pm
More Locations
高新区富华北路666号UPark公园B栋
Wuhou
Sichuan