Profile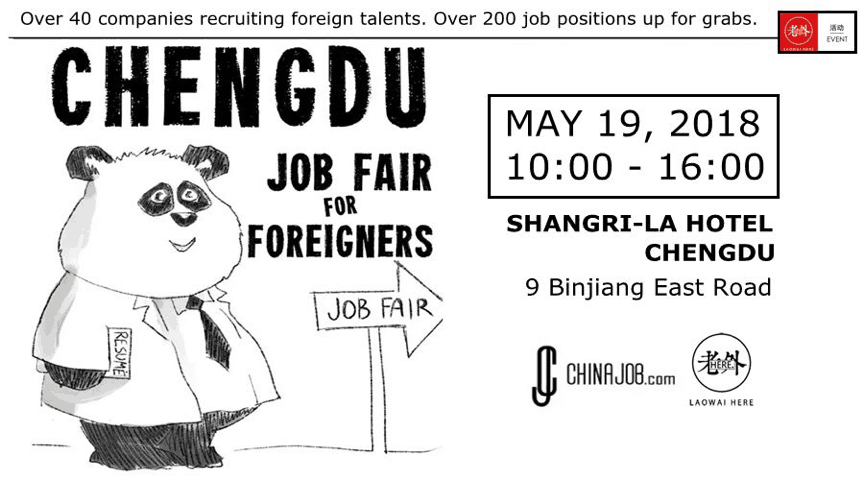 After receiving the approval from the State Administration of Foreign Experts Affairs, a large-scale job fair focused on the recruitment of foreign talents shall be held in Chengdu this May.
Want to get ahead in your career? Time to move up the professional ladder? Check out the jobs in Chengdu that will be on offer at the 2018 Chengdu Job Fair for foreigners. Jobs in media, tech, hospitality, HR, teaching and more at the Shangri-La Hotel.
Over 40 companies recruiting foreign talents, over 200 jobs for grabs.


Sign up here 
Message from Laowai Here
"We are thrilled to announce the full line-up for this year's Job Fair for Foreigners in Chengdu.
Scroll down to browse these fantastic job positions across an extensive range of industries.
Over 40 companies recruiting foreign talents. Over 200 job positions up for grabs.
What are you waiting for? See you at the Shangri-La Hotel on Saturday 19th May!"
—- LAOWAI HERE Team
Consultancy Wechat: herelaowai001
May 19, 10:00-16:00 (Saturday)
Shangri-La Hotel Chengdu
9 Binjiang Dong Road
---
Reasons to Attend the 2018 Chengdu Job Fair for Foreigners:
MAKE CONTACT WITH PEOPLE
You can make valuable contact with people from different backgrounds. Don't miss the chance to expand your network of interpersonal relationship!
DO JOB MARKET RESEARCH
The job fair will offer you precious information on the career opportunities in Chengdu.
GET NEW IDEAS
Face-to-face talks with HR managers and other job-seekers at the scene will give you new perspectives and information. And you might meet someone who will inspire you to try something new!
GAIN EXPERIENCE
You can talk to potential employers, which gets you better prepared in the job market in the future.
---
Company & Positions List
HR & Manufacturing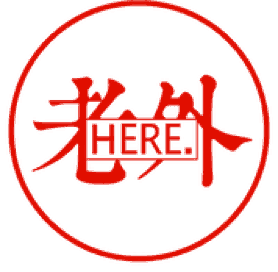 Laowai Here
Positions across Human Resources & Recruitment, IT, Hospitality, Medicine, Engineering, Science, Education, Finance, Design industries and more, including:
Assistant Consultant
Marketing (New Social Media) Coordinator
Risk Control Manager
Business Development Manager
Industrial Design Director
R&D Director
International Kindergarten Principle
Academic Manager – High School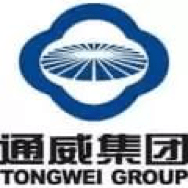 Tongwei Group
Supplier Manager
International Marketing Manager
R&D Engineer
R&D Manager
Senior Process Engineer
Chlorine Product Development Engineer
Aero HR Holding

Y&J Industries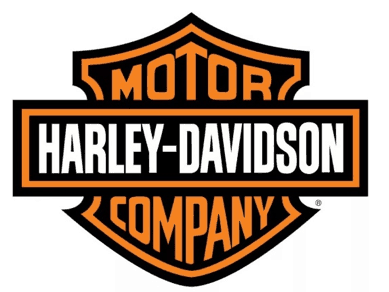 Harley-Davidson
General Manager
Technician


Honghua Group Limited
Sales Engineering
Technology Manufacturing – Oil & Gas Equipment

Foreign HR
Positions in Teaching, Marketing, Media, Finance, Engineering, R&D and Technology (50 positions) Including:
Senior Consultant (education)
ESL Teacher
Library Coach
English Literature Teacher
Kindergarten& Primary Teachers
Junior High English Teacher
Marketing Manager – Australia, Philippines, Pakistan, Russia, South Africa, Nigeria, Kazakhstan, Tunisia, Vietnam, Indonesia, Taiwan, Colombia (construction, mining, energy equipment)
Regional Manager – S America/SE Asia (plastic piping)
Sales Manager – Russia (plastic piping)
Interpreter – English/Chinese (finance)
Project Manager – IT (automotive)
Foreign Experts Service Center of Shanxi Province
Positions in Technology, Teaching & Translation (50 positions)

Hello Career
Country Manager (Real Estate)
Project Executive Manager
New Product Development Project Manager (Battery-pack)
Sales Manager (Die Casting Machine)
Jiangsu Jiulan New Energy Technology Co.,Ltd.
Director of R&D Project: 2
Director of R&D of aluminum plastic composite film: 2
Chief Engineer of Equipment R & D: 1
Project Director of structural parts: 2

Tap4fun 
Game Community Operator
Game System Designer
Concept Artist

Timemaker Crystal Technology
Future
Overseas Digital Marketing Manager
Google SEO Specialist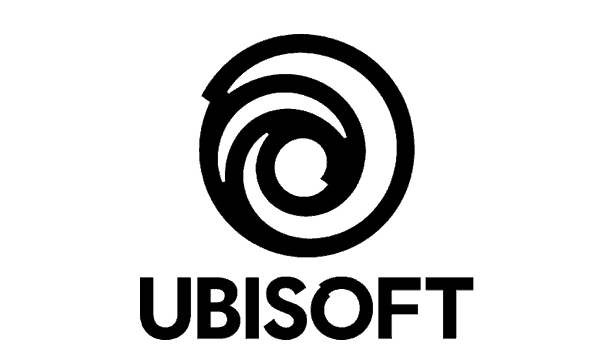 Ubisoft
Data Scientist
Concept Artist
Model Artist
QA Engineer
Technical Animator
Technical Artist
VFX Artist
Animator

 Mercku
Marketing Manager
Brand Manager
Business Development Manager
Advertising Manager
Social Media Manager
Marketing Associate
Brand Associate
Business Development Associate
Advertising Associate
Social Media Associate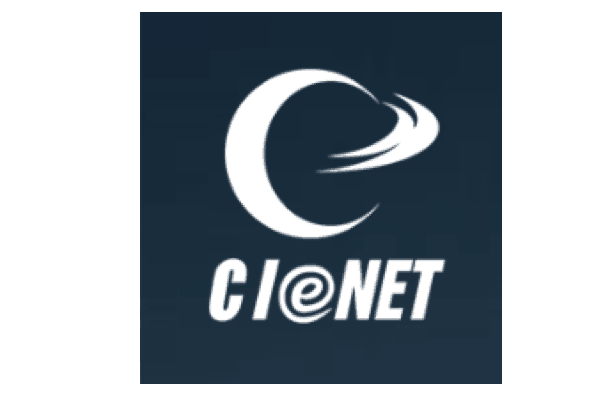 CIeNET Technologies (Beijing)
LTE/5G Software Designer (L1/L2/L3)
Android Designer
C++/QT/Linux Developer
Ruby Developer
Huawei
Multiple positions, global locations.
Account Manager
Product Manager
Channel Retail Manager
Marketing Manager
Network Technology Engineer
Financial Specialist
HR Specialist
Procurement Engineer
Legal Specialist
Supply Chain Management Engineer

BOE Technology Group
Fire Protection Engineer
OLED Array Engineer
OLED Cell Engineer
OLED Even Engineer
Automation Engineer

iLumintel
CTO
R&D Director
Senior Software Architect
Algorithm Engineer
VP – HR & Administration Department
CHO
Administrative Director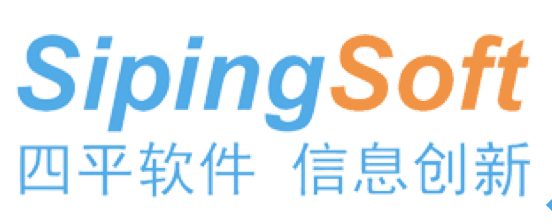 SipingSoft
Sefon Software
Medicine

WestChina-Frontier Pharma Tech
Marketing Manager
Project Director
Quality Assurance Inspectors

HitGen
Associate Director of Medicinal Chemistry
Biologist (Cellular Biology)
Senior Chemist
Chemist
Assistant Chemist
Associate Director
Principle Scientist
Scientist
Assistant Scientist

Brilliant Pharmaceutical
Quality Control Researcher
Formulation Researcher
Hospitality & Other
Neptune Hotel
Restaurant Guest Relation Office
Yagao Meihua Hotel
Guest Service Manager
Guest Service Officer – Internship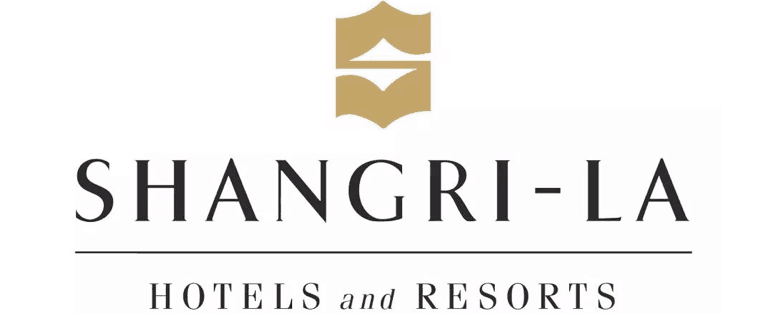 Shangri-La Hotel

Anbound Consulting


Startupbootcamp
Program Director
Program Manager
Leba Technology
Overseas Market Development Consultant
Overseas Purchasing Manager
English Customer Service
United Innovation Services Corp
DAO·Pureland Cultural Investment
Graphic Designer
Landscape Designer
Urban Planner
Interactive Designer
Public Art Designer
Jiangsu Saintlan Garment Co., Ltd
Media & Education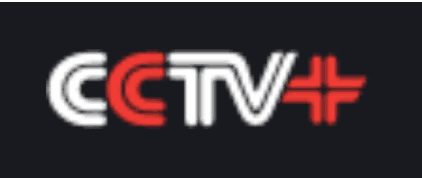 CCTV
Foreign Edition – English & Arabic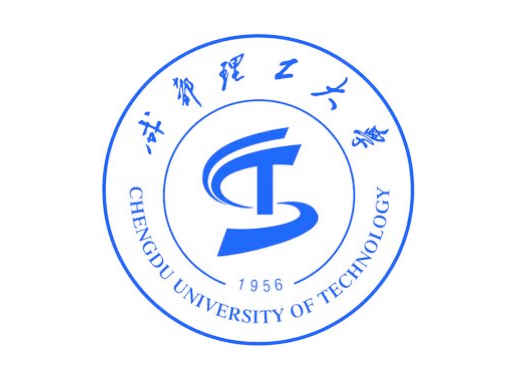 Sino-British Awards at Chengdu University of Technology
Program Award Leader – Accountancy
Business Tutor
English Language/Study Skills Support Tutor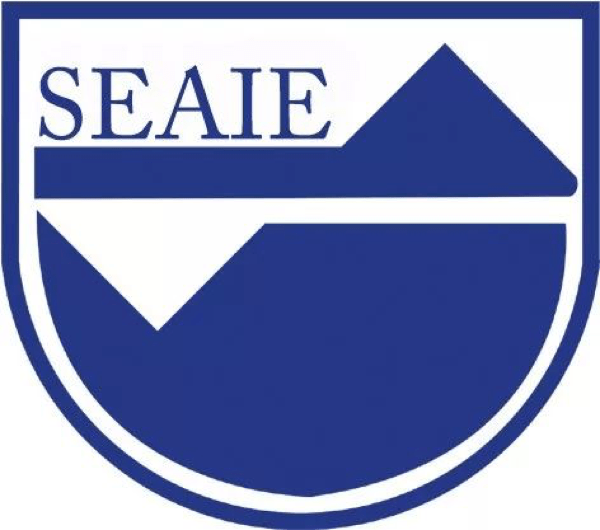 Sichuan Education Association for International Exchange
University Teacher
Primary School Teacher
Kindergarten Teacher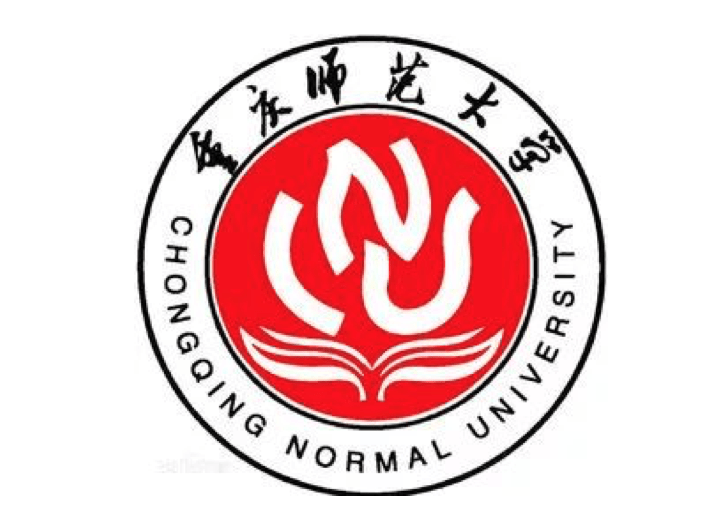 Foreign Trade and Business College of Chongqing Normal University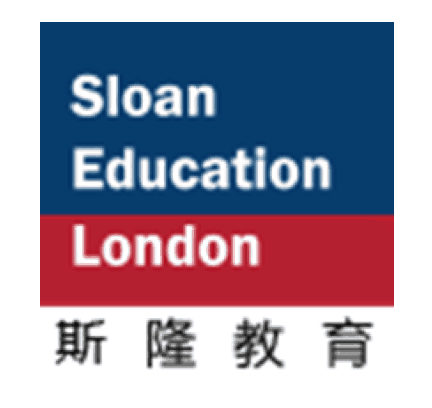 SloanEducation

Cogdel Education Group
Foundations of Business & ESL Teacher
Literature and Social Science Teacher
Chemistry/Physics Teacher
EAP/Academic English Teacher
Economics& Business Teacher
History Teacher
Music/AP Music Theory Teacher
Art/AP Art History Teacher

Montessori Bilingual Kindergarten
Montessori Academy

Montessori School of Shanghai
Campus CEO
Head of School
Academic Director
Montessori Sponsorship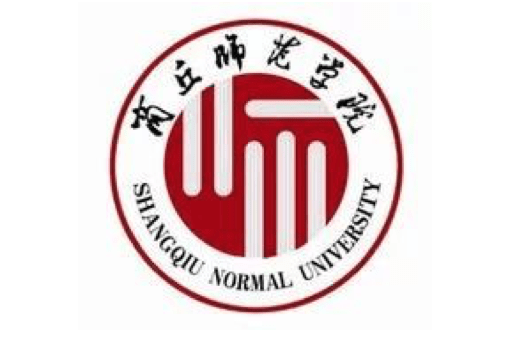 Shangqiu Normal University

International Institute of Education (i2)
Chengdu Neusoft University
Computer Correlation Teacher
Digital Art Teacher
English and/or Japanese Teacher
Economy and/or Marketing Teacher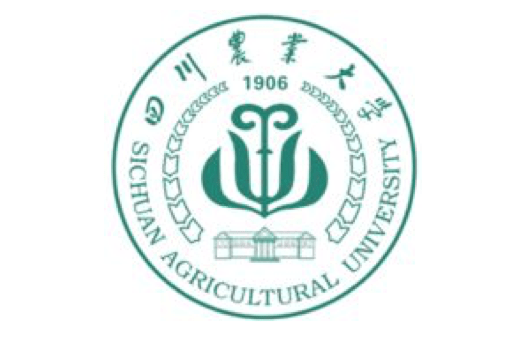 Sichuan Agricultural University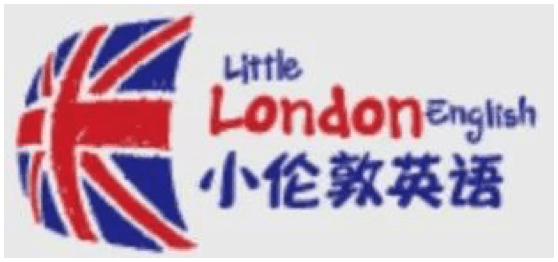 Inner Mongolia Little London English School
Hengbaixuyi Culture Communication
Customer Manager
Copywriter
Graphic Designer
Business Manager
---
The event is being held by the State Administration of Foreign Experts Affairs and Laowai Here – International HR Service Platform in response to the ever-growing demand for foreign talents to work in enterprises across China.
There will also be:
Talks throughout the day on foreign policy analysis, such as visa issues and subsidies available for recruiting foreign talents;
Expert consultants available to help go over any job hunting queries you might have.
Q & A
 Question 1: 
"Hi! I'm a foreign talent looking for new opportunities. How do I sign-up?"
Answer:
Easy. Scan the QR code below and fill in the sign-up form. We will have a registration desk with name lists of registered attendees at the entrance of the event.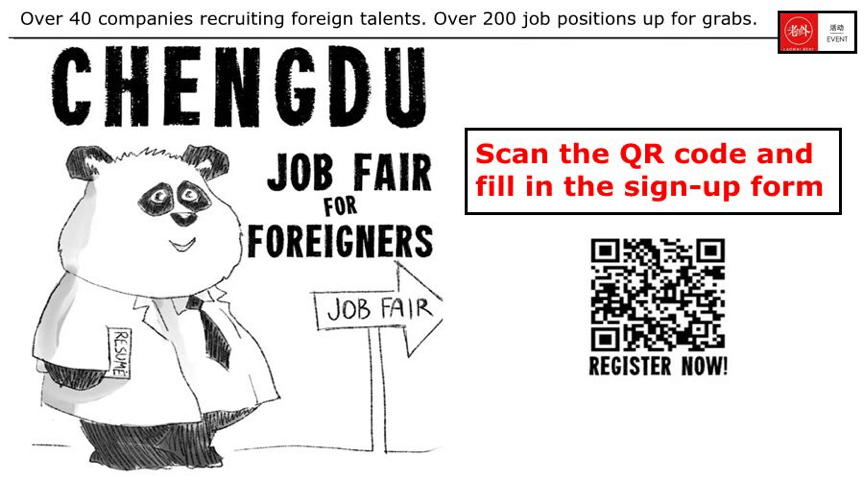 Question 2: 
"Where is the Shangri-La Hotel? How do I get there?"
Answer: 
The exact event location address is:
成都市锦江区滨江东路9号成都香格里拉大酒店

One you enter the hotel, there will be signage and volunteers directing you to the room location.
Here's our little walkthrough on how to get to the event venue!
By Taxi/Didi:
Either copy-and-paste the Chinese address above into your car hailing APP or show the address to a local taxi driver – they shall all be familiar with where to go.
By Metro:
The closest metro station is Line 2's Dongmen Bridge. Shangri-La Hotel is an 800m walk from the metro station (closet exit is Exit B). See the walking route below.
By Bus:
Bus number 92 (toward WuGui Qiao GongJiao Zhan); number 74 (toward XinHong NanLu Zhan); number 82 (toward ChengRen GongJiao Zhan). For all buses, alight at Jiuyanqiao.
---
 Question 3: 
"I'm not in Chengdu. Can I still participate?"
Answer:
If you're not in Chengdu, we still recommend filling in the sign-up form and forwarding your CV. However, companies are looking to meet potential candidates face-to-face, so we advise attending in-person if at all possible.
 Question 4: 
"I don't have a printer, but feel I should bring copies of my CV. Where can I print?"
Answer:
Try and prepare as many copies as you can beforehand (there's a lot of companies!) but rest assured, we will have a complimentary CV printing service at the event. We suggest jazzing-up your CV in preparation, adding any new and relevant job/education experience, and perhaps even catering a few different CVs specifically for some of the job positions shown above. Remember your CV and references are likely to be cross-referenced to ensure authenticity – please avoid falsifying any documents.
REGISTER NOW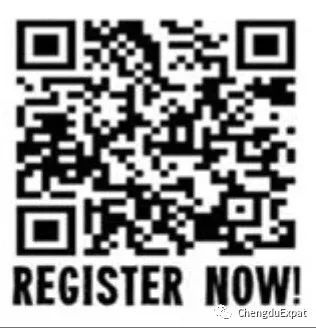 Are you ready for Chengdu's biggest ever foreign talents job fair? Then sign-up now.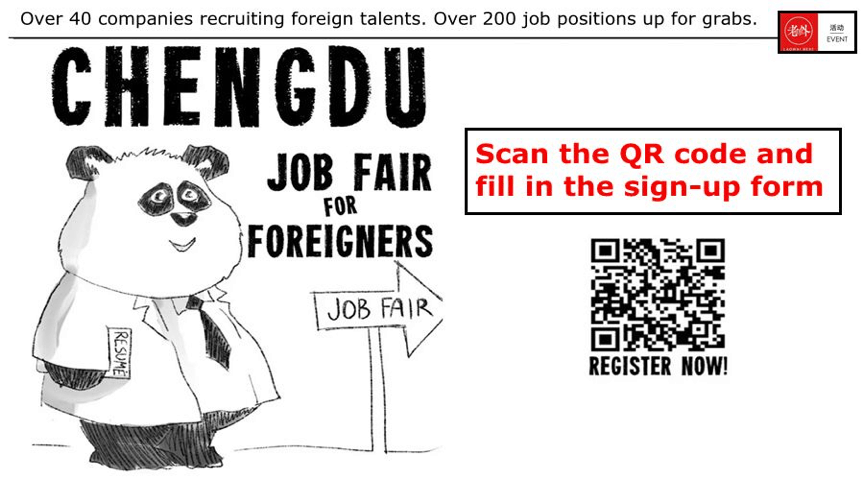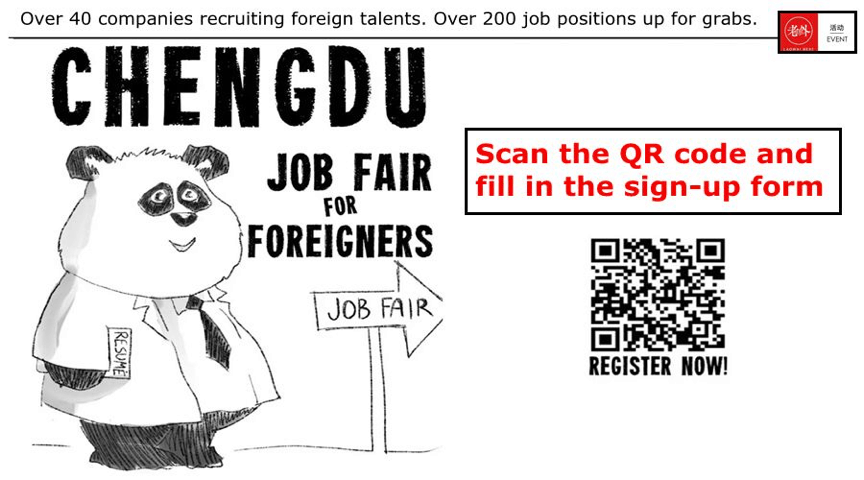 Reviews
More Events