Profile
🚌 Driving Distance: 90 km,About 1.5 hours drive
👣 Hiking Distance: 10 km, Non-Return Route
🔍 Tour Type: Adventurous
🥾 Road Type: Ancient Trek, Mud Road and Pebble Road
⛰️ Highest Altitude: 1503 m
🔝 Climb Distance: 612 m
🏁 Difficulty: ★★★
Songmao Ancient Road is the only passage connecting Songpan and Mao County from the Chengdu Plain. Starting from Dujiangyan and ending at the ancient cities of Songpan and Mao County in Aba Prefecture, this ancient road with a total length of more than 700 miles was once a bustling commercial artery. Merchants from all walks of life used mules and horses to transport fur, tea, and medicinal materials from Tibetan areas in exchange for food, salt, cloth and jade in Dujiangyan. Because mules and horses were used as the primary means of transport, and most of those trade goods were tea and salt, Songmao Ancient Road is also known as the "Tea Horse Road"; it is also known as the "Southern Silk Road" as it is the only commercial passage from the south to Tibetan areas.
BODYCOMBAT is one of the most suitable gym courses for beginners. It uses the simplest punch and kick to achieve athletic effects. No matter men and women, no matter how much exercise you do at ordinary times, no matter whether you have boxing or martial art experience, you can easily start and fight.
07:50 Meet at Exit C, Metro Line 2, Baiguolin and the bus will leave at 08:00 on dot.
08:00-10:00 With our pulses racing, we are loaded into a chartered van for a drive down to Longchi, Dujiangyan and get ready to hike.
10:00-12:00 First off, hike along the country road for a while to the starting point of the Songmao Ancient Road and then continue to hike along the forest dirt trail and pubble road for about 2 hours to Yintai Daoist Temple at the top of the mountain.
12:00-12:30 Lunchtime! The temple can provide vegetarian noodles at 15 RMB/pp at your own cost (reservation needed). Or you can prepare your own lunchbox as well.
12:30-13:20 We'll get some rest after lunch before embracing your inner fighter in a BODYCOMBAT workout.
13:20-14:10 BODYCOMBAT Let's punch and kick the air for about 50 minutes and you'll love every second of it and feel really fit, fierce and powerful.
14:20-16:20 We'll start to go downhill following a different route and passing through forests, streams and pebble roads, and finally get to Yingxiu.
16:20-18:00 Get back to Chengdu.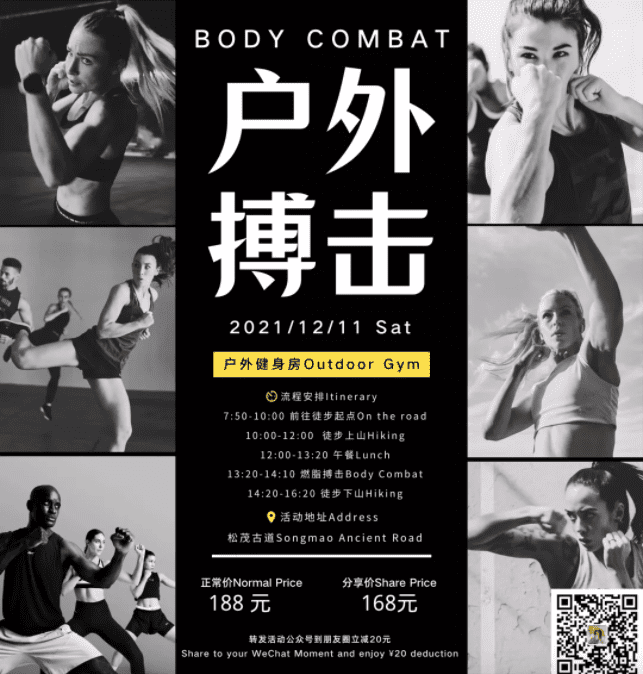 Reviews
More Events