Profile
"What's an Alley Cat?", you ask? Well, alley cat events originated in Toronto, Canada. It was an underground sport organized by a group of messengers in the 1980s. It has since been held in major cities around the world. It's become a popular urban sport integrating cycling, competition, and games. It assesses your familiarity with the streets and alleys, your ability to ride on complex road conditions in the city, and your ability to plan the best route for multiple destinations.
Exciting stuff!  Here's a look at our plan.
↓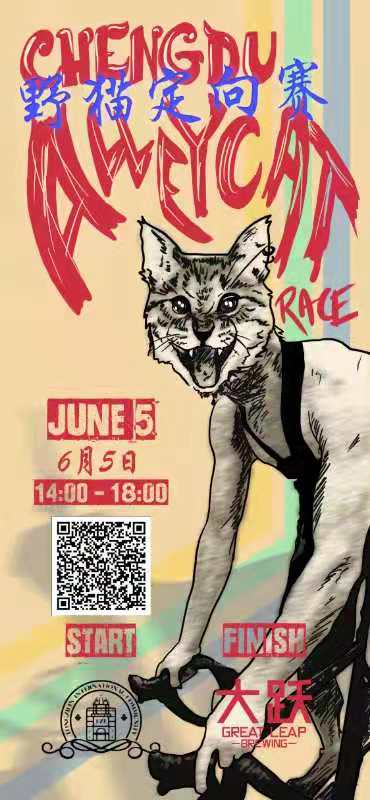 Event arrangement :
Time:   June 5,  2:00 – 7:00 pm
Sign-up time

: 2:00 ~ 2:30 pm

Race time

: 2:30 ~ 6:00 pm

Prize time

: 6:00 ~ 7:00 pm


---
Feel free to hangout and grab a drink with us at Great Leap Brewery after we hand out the prizes!
where to be :
Starting location

:  Tongzilin International Community Neighborhood Center.  No.39 Tongfeng Road, Wuhou District.

Finishing location

: Great Leap Brewery. 2-6, Yujie East Road, Wuhou District.

Other Stop locations

:  We will have about 10, which will be released at the start of the race.  However, keep an eye out for the posters we will be sticking up. They will be in different locations, some which are stops, some maybe not.
Event fee: FREE!
Prizes for all participants who finish the race. We will also have three ranking prizes and four lucky draws!
We recommend participants to purchase accident insurance that is valid on the day of the event.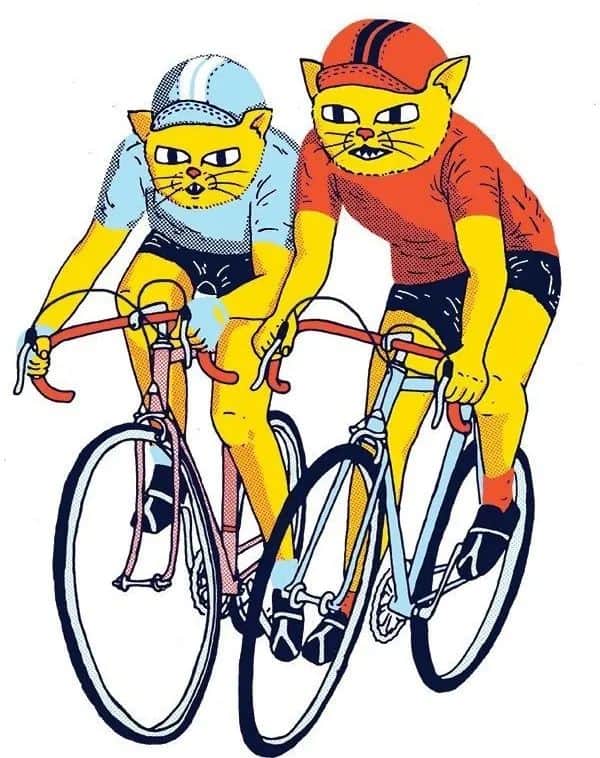 Race process and rules:
a) Participants should bring their own bicycles or shared bicycles to the starting location to register before 2 o'clock. The detailed rules will be introduced at 2 o'clock, and we will answer your questions. Once you sign the liability waiver you will be given a card with all the locations. There will be about 10 locations listed, with the name and detailed address of each. You can find partners and plan routes at this time.
The route (if planned perfectly) will be about 25 KM, but this is on open roads and some places might have people lining up to participate in the challenge at any given stop. So you may opt to hit another stop close by before returning.
b) The race starts around 2:30, you will set off from the starting location and go to each planned stop where you must get your card stamped. Some stops will ask you to do a small task before stamping, such as (maybe) taking a group photo,  standing on one leg and singing a song, anything goes! Also remember the order of the stops are entirely up to you!
We ask everyone to pay attention to safety, heed traffic laws, use safety lights on your bike, and wear protective gear, such as a helmet.
c) The race will end at 6 o'clock at Great Leap where you will hand in your stamped cards. After about 6 o'clock if you are not at the finish we will figure you just gave up and went home.
d) After the race, we will have a lottery draw on-site and prizes will be given.
The Prizes will be for:
1st place "Speed demon"
2nd place "City Ripper"
Last place "Flat Tire"
4 Raffle prizes
Participation prizes
Prizes are from our awesome sponsors, including B Active swag and membership cards, 500rmb of free coffee, bottles of booze, vouchers for bike repair service, cycling gear, and more!
Start:
Tongzilin International Community Neighborhood Center
桐梓林邻里中心
Address/地址:
 成都市武侯区桐凤路39号
Wuhou District, Fenghuang Road No. 39 (next to Kempinski Hotel)
Finish:
Great Leap Brewing Chengdu
Reviews
More Events
Chengdu City
Chengdu City
Sichuan
Shuangliu District, 华阳街道 /Huayang, Tianfu New Area Chengdu DAR
Shuangliu District
Sichuan
June 4, 2023, 4:00 pm
-
7:00 pm