Profile
爱尔眼科四川眼科医院国际医疗部
 International Medical Services of AIER Sichuan Eye Hospital

Chengdu AIER Hospital is one of the specialized eye hospitals under Aier Eye Hospital Group. The International clinic  is dedicated in providing comprehensive eye medical care services in an expatriate-friendly environment. Members with eligible insurance are able to go direct billing without dealing payment.
AIER Ophthalmology is a global ophthalmic medical group with 805 medical institutions worldwide, including Asia, the United States and Europe.
Accessible International Medical Services in Ophthalmology in Chengdu.
Advantages   
| | | |
| --- | --- | --- |
| Whole lifetime ophthalmic medical care | Green channel | Medical directors and specialists team |
| English, Japanese and Spanish available. | Strict privacy protection | Insurance direct billing services |
| One-on-one accompanying service | Multi-Disciplinary Treatment(MDT) mode | Worldwide Follow-ups |
Languages : English, Chinese, Japanese, Spanish
Specialties:
Optometry, pediatric strabismus & amblyopia, refractive surgery, cataract, glaucoma, corneal & orbital disease, oculoplasty, TCM ophthalmology, etc.
Services:
-English, Japanese and Spanish available
-Insurance direct billing services
-Green channel
-One-on-one accompanying service
-Worldwide Follow-ups
-MDT mode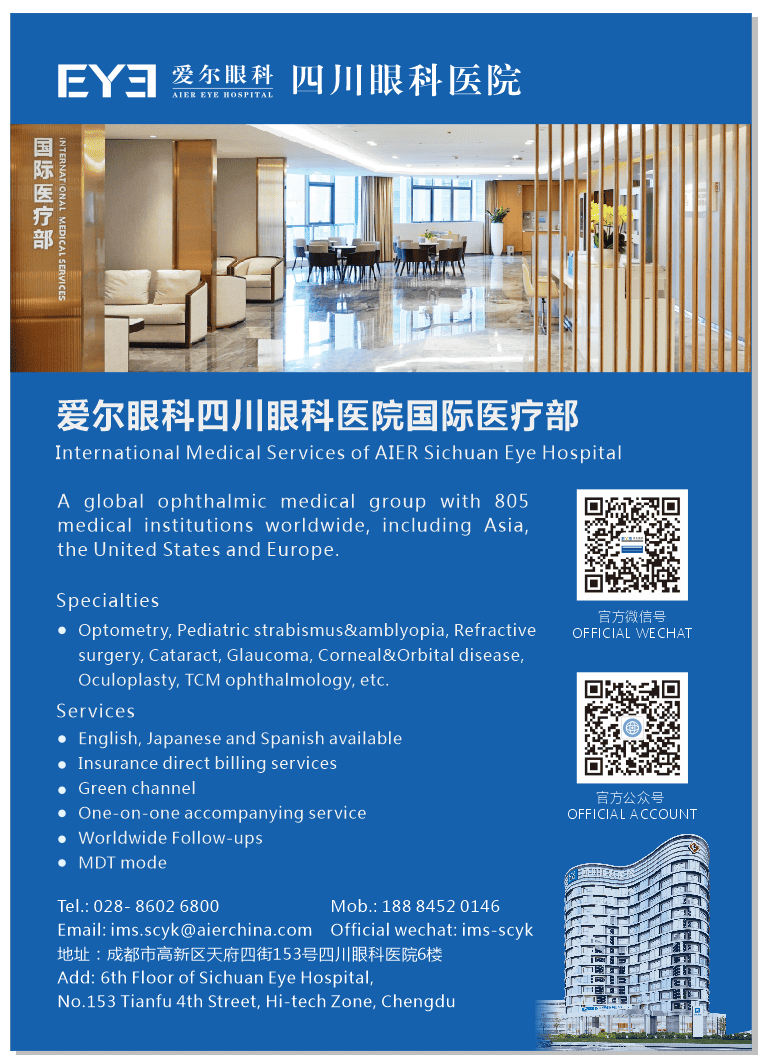 Address:
6th Floor of Sichuan Eye Hospital, No.153 Tianfu 4th Street, Hi-tech Zone, Chengdu
成都市高新区天府四街153号四川眼科医院6楼
Opening Time:

Open Daily
Contact:

Tel.: 028- 8602 6800
Mob.: 188 8452 0146
Email: ims.scyk@aierchina.com
or scan the QR code in the poster
Reviews
More Locations
成都市小天竺街75号财富国际12层
Wuhou
Sichuan