Profile
Burger Austine

Australian Burger Restaurant
Craving a taste of Western burgers here in China? This Aussie burger restaurant has everything you need, from classic burgers to loaded fries, to their fully-loaded special 'The Aussie' burger.
Address
22/9,1F,Tongzilin Nan RD, Wuhou Dist.
Next door to the IRON PIG BBQ
武侯区桐梓林南路9号附22号,铁猪美式烤肉旁边
Price
Approx 60-80RMB per person
Opening Times
11am-2pm,4.30pm-9.30pm
Review
Burger Austine resides in Tongzilin Nan Lu's lively food scene and is wedged between Iron Pig and Gili's. They serve 100% Australian Beef, free from hormones, preservatives and antibiotics. Alongside the dozen or so beef burgers on the menu, they have 2 chicken burgers, a veggie burger and some salads.
The buns are up there with Chengdu's best; light, fluffy and they hold together. The imported beef patties are tasty and generous –  but heavily seasoned with a spice mix which may not please purists.
You'll be sure to notice the Cheesy Cheesy (55RMB) if you stop by, which is usually attached to someone taking a video, wearing a plastic glove as they pour a cheddar cheese sauce over their black bun.
It was the juicy Southern Fried Chicken Burger (48RMB), piled high with crispy, flaky butter milk battered chicken breast with smatterings of blue cheese sauce that really caught our attention. The surprise of the night was how good Burger Austine's veggie burger is. They offer up a portobello mushroom topped with cheese, covered in bread crumbs and deep friend – a la Shake Shack. 
They have a decent bottled beer selection (including Victoria Bitters [35RMB] for the full Aussie experience), and whilst you may not want to hang around for a second or third, Burger Austine is worth stopping by.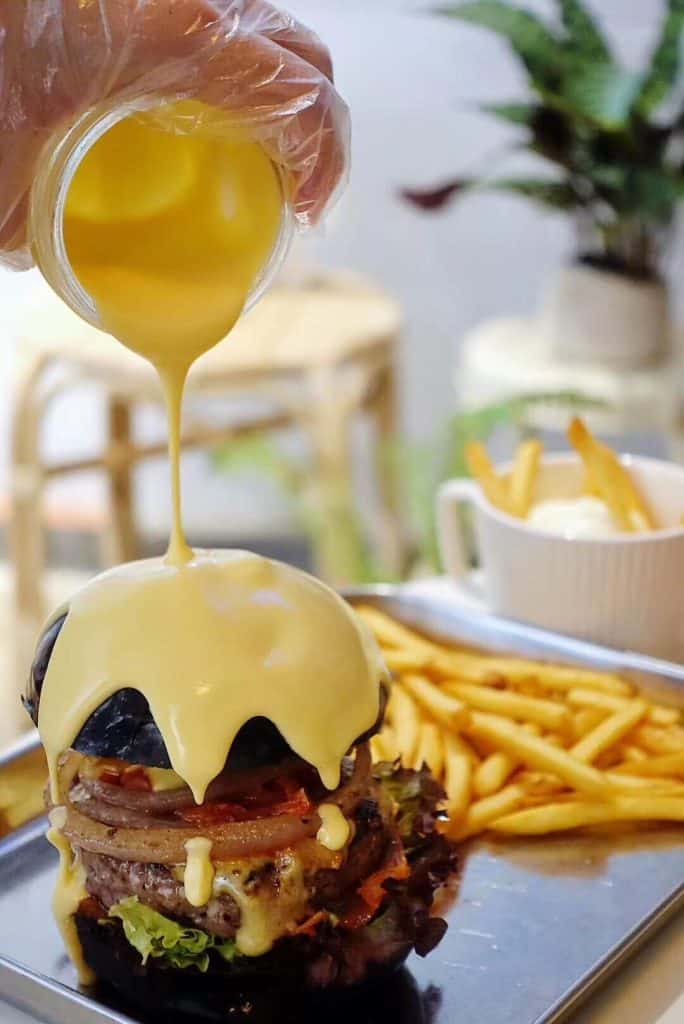 Reviews
More Locations
高新区富华北路666号UPark公园B栋
Wuhou
Sichuan