Profile
Yu Tian 雨田
Fly restaurants are usually modest neighbourhood or working lunch places, but a very good one has the power to transcend its area and become a destination in its own right. Of these, Ming Ting is probably the biggest draw in town, but there are no contenders with Yu Tian for number two. Yu Tian made news earlier this year with plans to close their old location in a building that always seemed about to crumble but still attracted diners from near and far.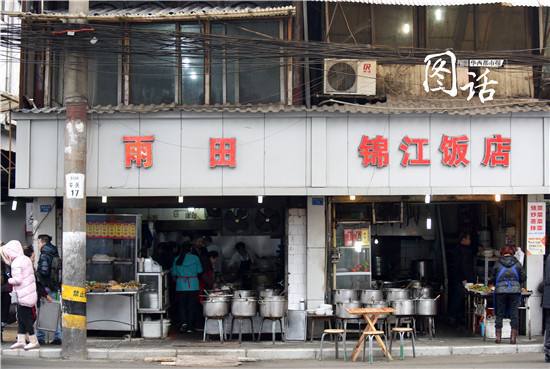 Yu Tian has now reopened about a block down the street. The menu is the same check off style and, we were relieved to note, still offers all of their famous dishes. We asked for recommendations and the staff wavered a bit, trying to tell us it was all good or just to order homestyle food. We finally persuaded someone to list off their best dishes, which narrowed our choices down to lotus leaf steamed pork belly in rice meal (荷叶粉蒸肉),red cooked pork (红烧肉),eggplant in seasoned oil (拌茄子),sweet and sour ribs (糖醋排骨),lotus root soup (藕汤),beef strips in pickled pepper (泡椒牛肉丝),chicken entrails in pickled pepper (泡椒鸡杂),dried bean twice cooked pork (干豇豆回锅),spicy fried pork intestine (火爆肥肠),spicy boiled beef (水煮牛肉),twice cooked fish (回锅鱼),hot pepper chicken (辣子鸡),and pickled radish (泡菜).
The steamed pork belly in rice meal was perfectly seasoned, a rich dish that was not the least bit greasy. The twice cooked pork with dried beans was fantastic. The cold eggplant in seasoned oil was made by heating spicy green peppers in oil, the same as our local friends like to make at home to dip dumplings. The diners at the next table, looking at the dried long beans in our twice cooked pork, said we really were eating local food. It's the kind of place where we don't hear a lot of Mandarin spoken. Our bill for two was 70 yuan.
Address: 华兴东街9号
Tel.: 028-86781582
Time: 10 am to 9:30 pm
Reviews
More Locations
高新区富华北路666号UPark公园B栋
Wuhou
Sichuan