In Chengdu, many of us are now too familiar with the many high-rise apartment blocks and skyscrapers constantly being built around the city. Although, we are extremely aware of the developments happening above the grown, most of us are blissfully unaware of the advancements of the city that are happening just beneath our feet.
If you haven't heard already, there is a new metro line, line 5, opening in Chengdu this December! We have got all the details you need to get excited about the new line coming to our convenience in the very near future.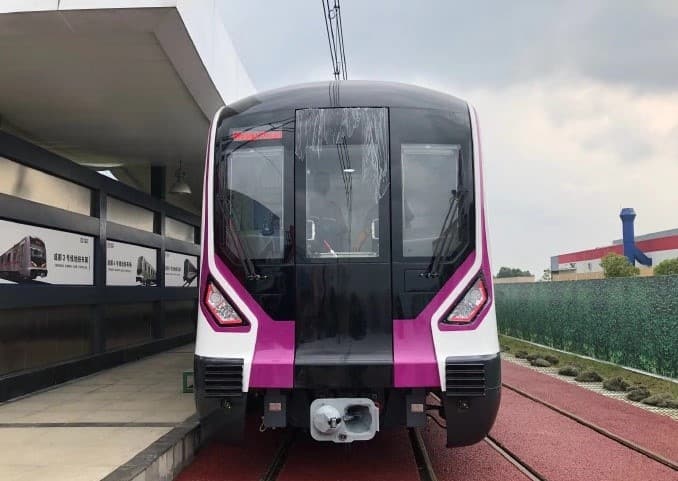 Construction on the line began on the 24th September 2015 and is planned to open on the 25th December 2019. Line 5 will create an abundance of opportunities for people to access less visited areas and may help businesses located near current metro stops to boom. The new line will improve many peoples daily commute, making it easier and quicker to reach destinations around the city, that may have been a hassle to get too before. The opening of the new line strives to relieve the constant rush and busyness of line 1, as line 5 will connect numerous key residential areas and businesses across the city.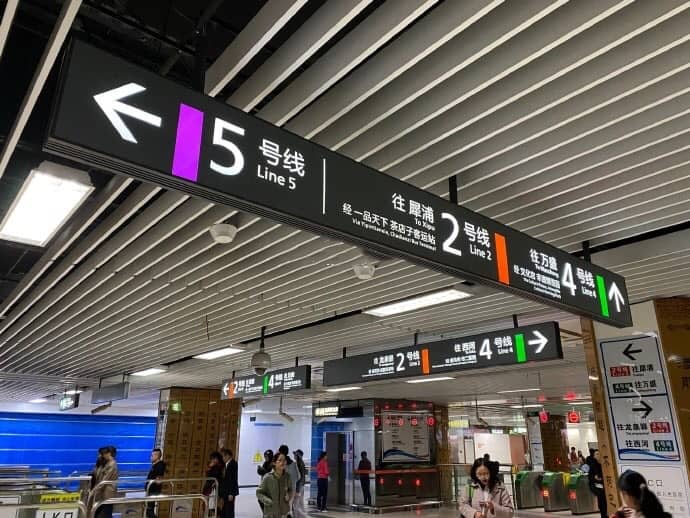 Where will the new metro line go?
The metro line is going to be 30 miles (49.018 Kilometres) long, making it the longest length of one-time construction and the largest amount of rail-laying since the beginning of Chengdu Metro construction, so it is going to cover a wide area of the city! There will be 41 stations starting from northeast to northwest, between Huagui Road Station and Huilong Station.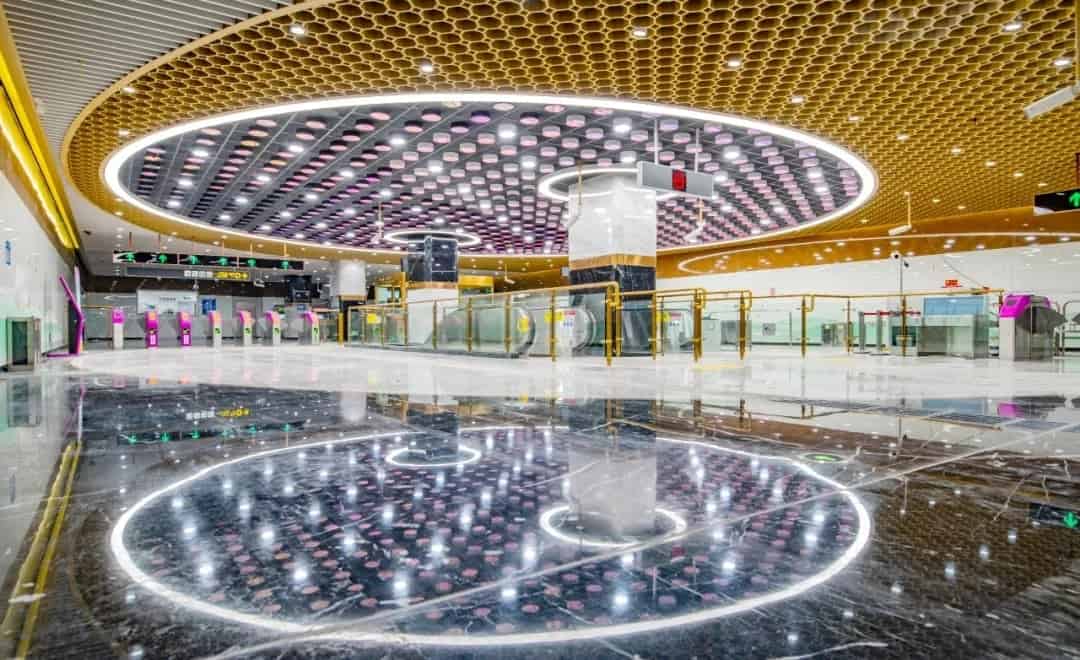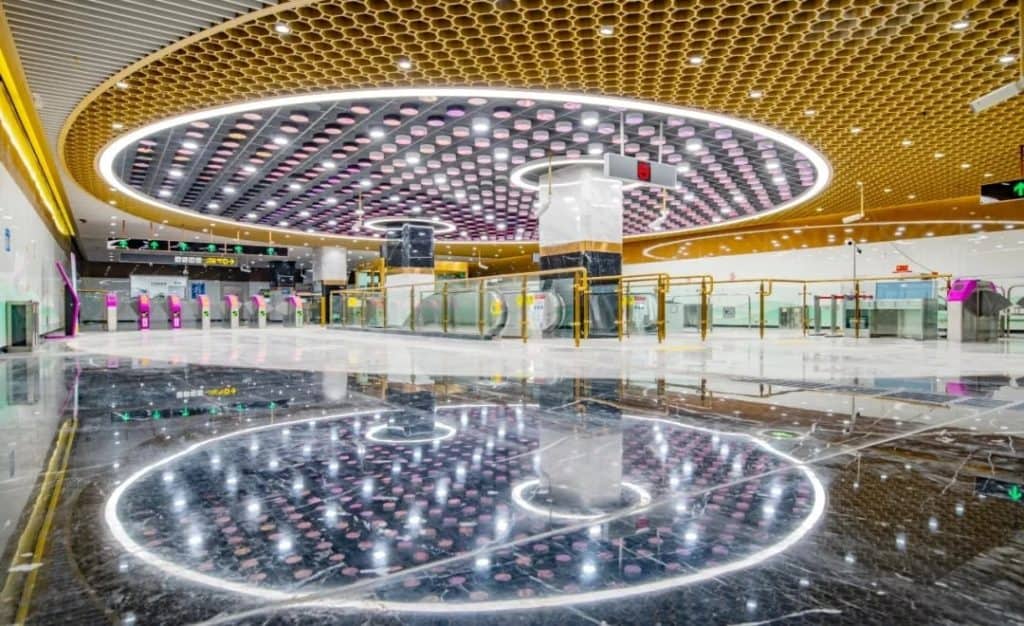 The stops on line 5 will be:
Huagui Road – Baishuichang – Liaojiawan – Chengdu International Trade City – Xingfuqiao – Jiudaoyan – Dujianian – Dafeng – Shixi Park – Huanghuayuan – Lujiaqiao – Quanshui Road – Dongzikou – Funing Road – Wukuaishi – Saiyuntai – 2nd West Beizhan Road – Xibeiqiao – Huapaifang – Fuqin – Chengdu University of TCM & Sichuan Provincial People's Hospital –Qingyang Palace – Sichuan Provincial Orthopaedic Hospital – Gaoshengqiao – Keyuan – Jiuxing Avenue – Shenxianshu – Shiyang Flyover – 1st People's Hospital – Jiaozi Avenue – Jincheng Avenue – Jincheng Lake – Dayuan – Minle – Qilong – Armed Police College – Erjiang Temple – Nanhu Flyover – Gaofeng – Longma Road – Huilong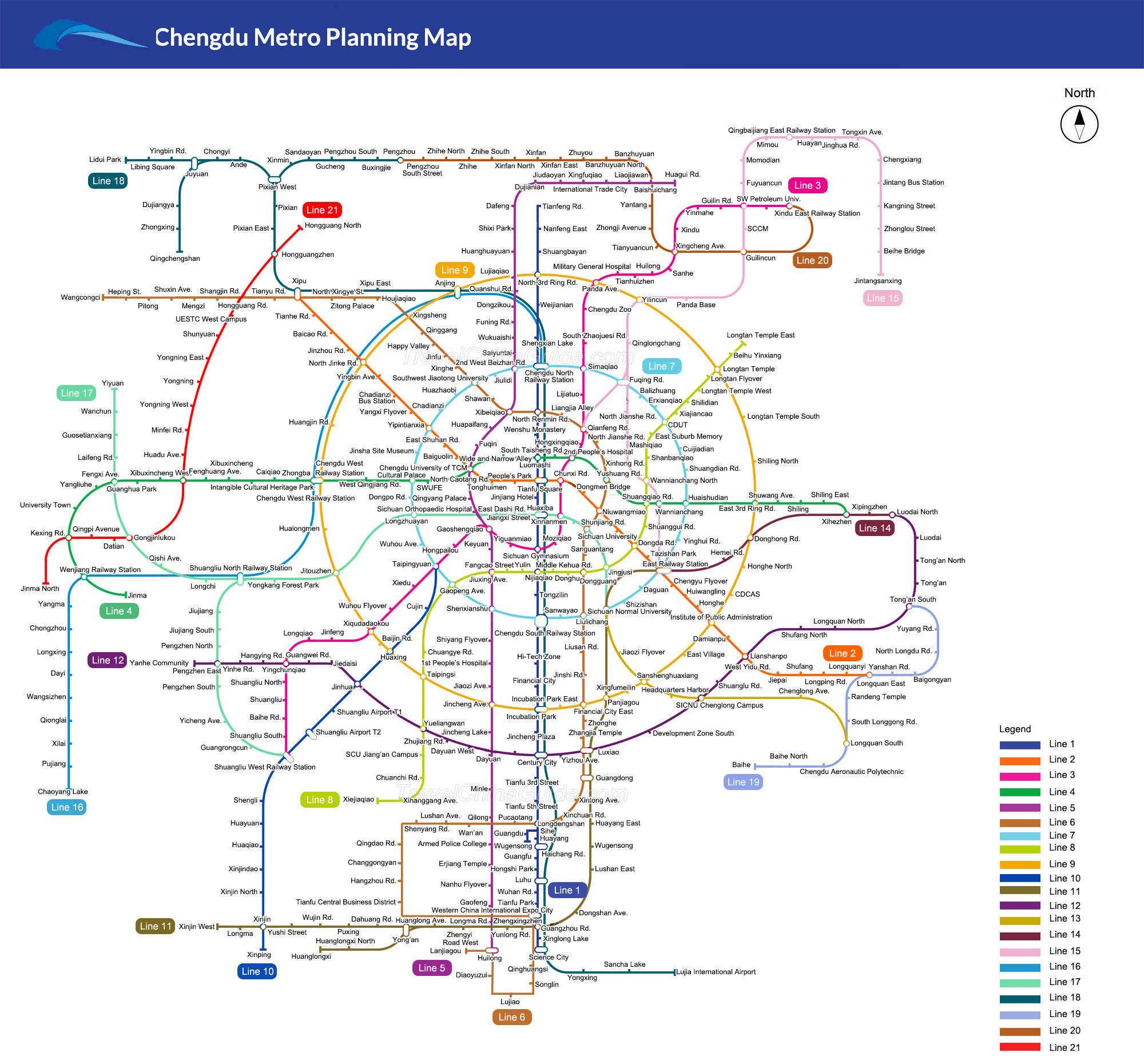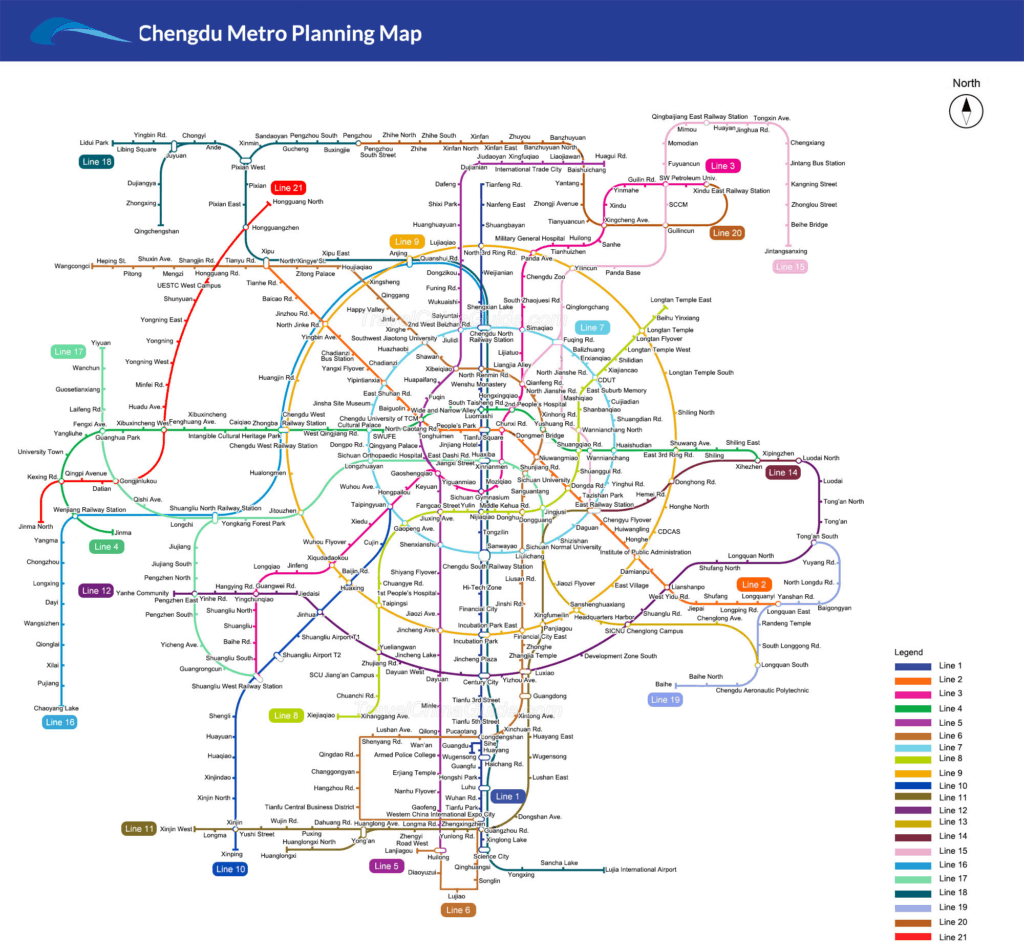 Metro line 5 is purple on the map.
There are a few major stations where passengers can make transfers across different metro lines:
Sichuan Provincial People's Hospital & Chengdu University of TCM &: Transfer with Line 2 and Line 4
Gaoshengqiao: Transfer with Line 3
Huilong: Transfer with Line 6
2nd West Beizhan Road: Transfer with Line 7
Jiuxing Avenue: Transfer with Line 8 and Line 9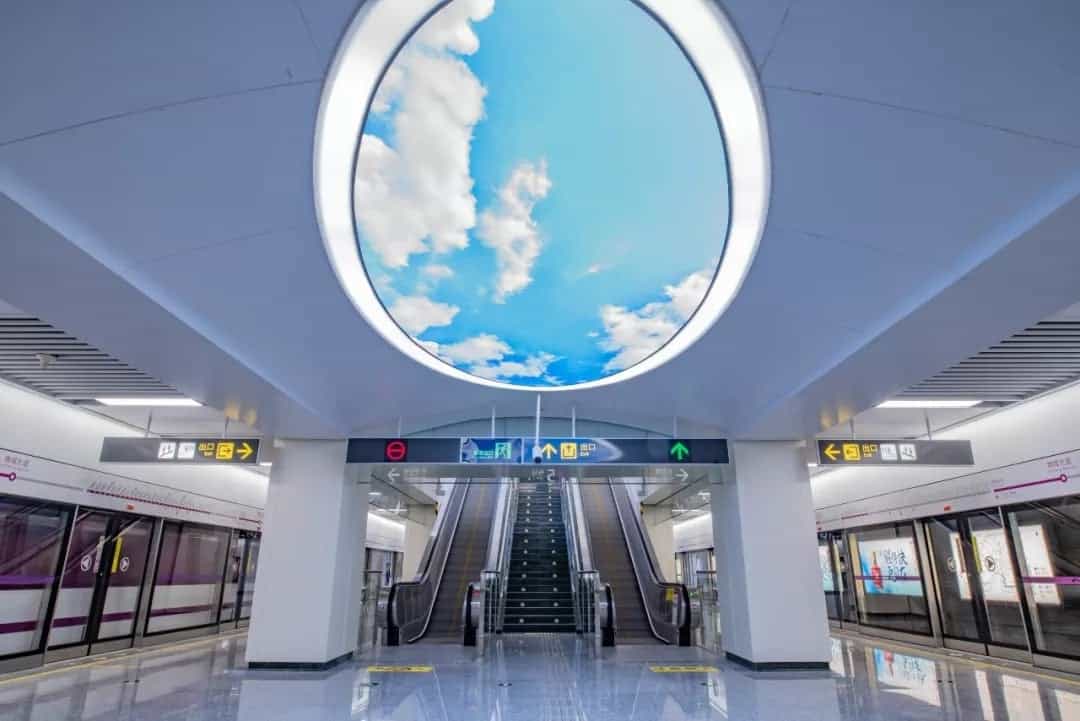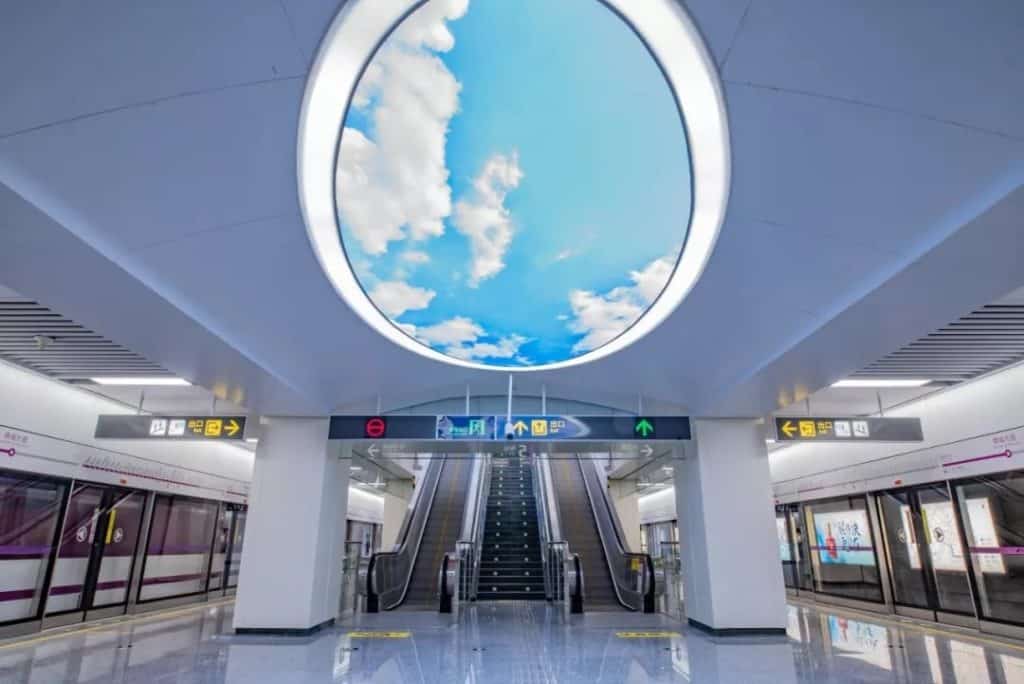 The metro in Chengdu was first opened in 2010 and currently has 7 lines operating Line 1, 2, 3, 4, 7 and 10. There are automatic ticket stations available at each station where passengers can purchase tickets or top up their metro card in Chinese or English. Ticket prices start from 2 yuan for a 0-4km journey up to 10 yuan when going over 50km and more for a return ticket.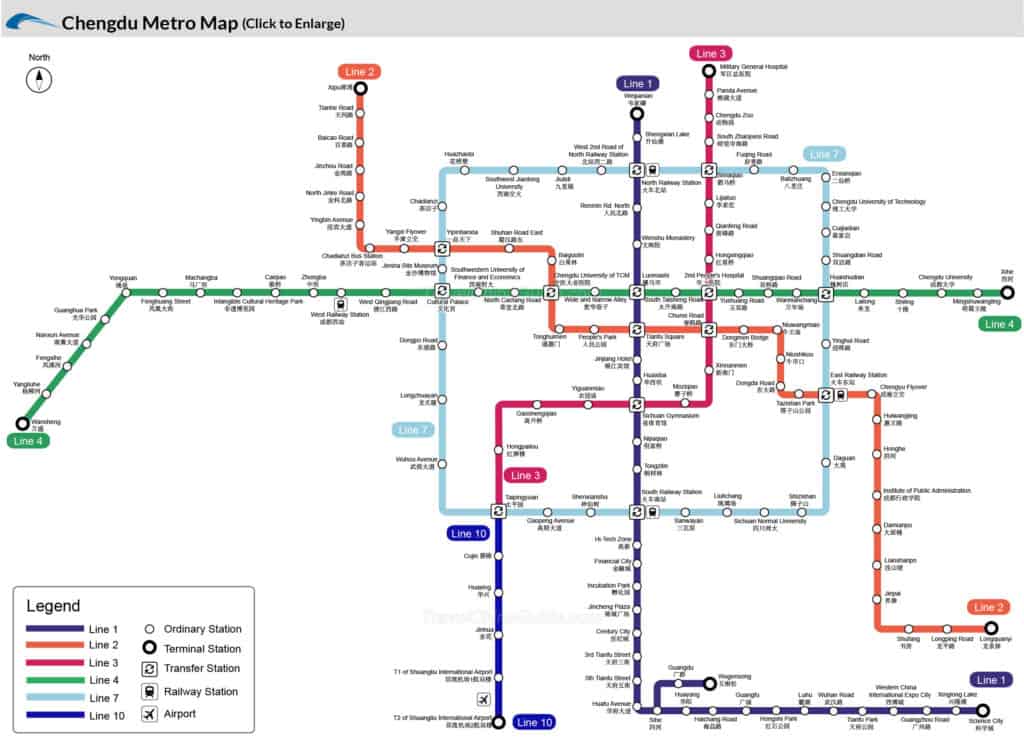 Line 5 is not the only metro line being constructed as there are is a significant amount of lines that are in planning or currently being constructed. In 2020 Lines 6, 8, 17 and 18 are planned to open.
Line 6: Zhengjialin – Taiqing Road
Line 8: Xiejiaqiao – Longtansi East
Line 9: Outer Circle
Line 11: East Railway Station – Xinjin West & Huanglongxi
Line 12: Luodai North – Yanhe Community
Line 13: Sichuan Normal University – Longquan South
Line 14: East Railway Station – Luodai North
Line 15: Jintang Sanxing – East Railway Station & Qianfeng Road
Line 16: North Railway Station – Chaoyang Lake
Line 17: Sichuan Normal University – Shuangliu West Railway Station & Yiyuan
Line 18: Tianfu International Airport – Lidun Park & Mount Qingcheng – Pengzhou
Line 19: Baihe – Yong'an South
Line 20: Xindu East Railway Station – Pengzhou
Line 21: Hongguang North – Jinma North