Profile
April 5-7: 1st Annual Southwest China Hash Run
Hosted by the Chengdu Panda Hash, this is a three-day Hashfest bringing together the kennels of Kunming, Chenggong and hosts, Chengdu. Beginning on Friday from the weekend's Hash meeting place, Shamrock Bar, we will take a one-hour bus ride to LongQuanyi where we will participate in a 10/12km leg stretcher, followed by a Circle and a ride back to town for a traditional Sichuan meal at Tian Tian Restaurant.
Saturday leaves again from Shamrock and this time we are heading to Dayi, the birthplace of Taoism. An"A to A" from the Happiness Commune, there will be a 6/8km walk, a 10/12km run and a 16-20km Ballbuster. Pick your poison. And speaking of poison, this Hash, in addition to the after-run Circle, will see the participants adjourn to a Guogeyao  Hot Pot Restaurant to sample the culinary delights of Sichuan's best-loved cuisine.
If you make it through the first two days, the third will remind you why we are a drinking club with a running problem. For the beer connoisseur, we offer the Craft Beer-Hangover Run. Starting at ground zero at Shamrock, we will drink our first pint, an IPA from Goose Island before following the trail to our first stop, Nanman Craft Beer Bar. There we will have a pint of their Red Ale after which we head to the next stop, Wild West Tap Room for a pint of XXXX beer. The end is now in sight, the last leg takes us home, to Tim's Texas Barbecue, where we will have, what else? A victory pint of XXXX beer. You've made it! Nothing left to do now but enjoy the fellowship of fellow survivors and enjoy the tasty goodness of a nourishing BBQ buffet.
Time:
April 5th to 7th, 10 am to 7.30 pm, 10.30 pm
Price:
 (including drinks and a meal as well as snacks, T-Shirt)
3 days: 600RMB
2days:450RMB
1 day: 200RMB
Address:
15, Sect. 4, South Renmin Rd. 人民南路4段15号
To register or for more information, scan the QR-Code below

Friday, April 5, 2019
10:00 am Shamrock opens
12:00 pm Registration begins
01:00 pm Board bus
02:30 pm Circle/Run/Walk
04:30 pm Circle
06:00 pm Board bus
07:30 pm Dinner at Tian Tian
Saturday, April 6, 2019
10:00 am Shamrock opens
12:00 pm Registration begins
01:00 pm Board bus
03:00 pm Circle/Run/Walk
05:30 pm Circle
07:00 pm Board bus
08:00 pm Dinner at Guogeyao Hotpot
10:30 pm Bus returns to Shamrock
Sunday, April 7, 2019
10:00 am Shamrock opens
11:00 am Circle for Craft Beer Hangover Run (a four-pint drinking Hash)
11:30 am Run/Walk begins
2:00 pm Lunch at Tim's Texas BBQ Tim's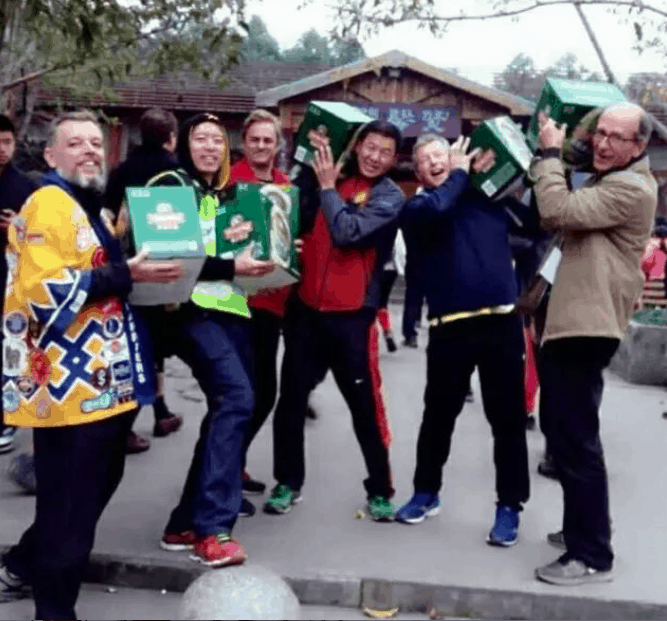 Reviews
More Events
成都市天府新区正兴镇大安路1080号
正兴镇
Sichuan
June 19, 2023, 8:30 am
-
July 15, 2023, 3:30 pm