Profile
Join all-stars Erica Switzer, Simeon Goodson, Dan Roman, Lily Ma and hilarious Chengdu guests for this fantastic laugh fest. Come early for the Happy Hour (BOGO till 8pm), stay for side-splitting laughs on the evening.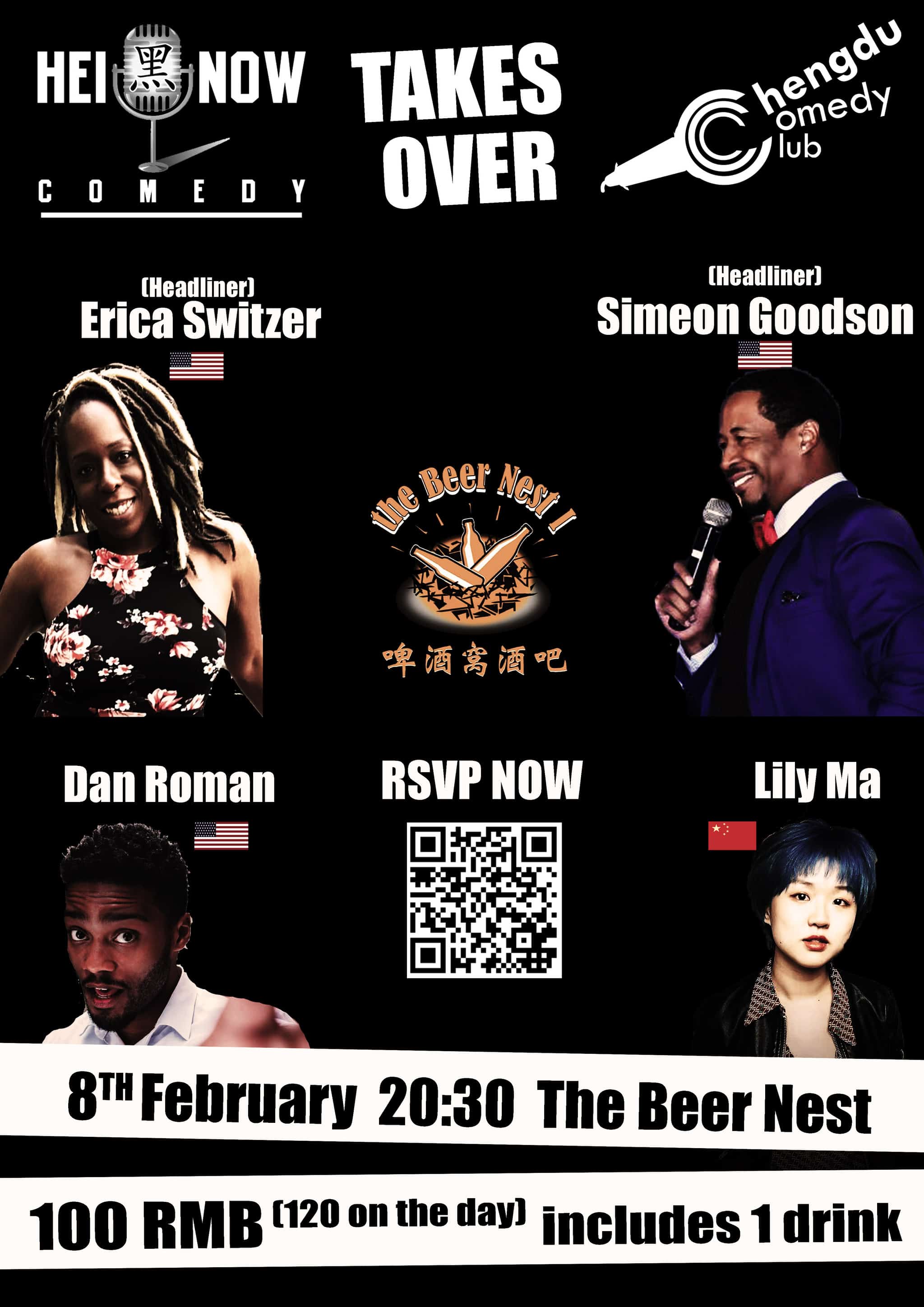 "Simeon Goodson should be a household name in comedy"
-Huffington Post, May 2015
Simeon Goodson is a native of Brooklyn, NY who has been performing in the comedy clubs, bars, and alternative venues of New York City since 2004. He has performed at a variety of world famous venues including Caroline's on Broadway and The Brooklyn Academy of Music. In addition, he has performed across the United States with the "Comedy' Best Kept Secret Tour" and as the opening act on the Hannibal Burress "Comedy Camisado Tour".
In August 2015, Simeon moved with his family to the United Arab Emirates to further expand his worldview. Diving head first into the local comedy scene, he was the winner of the Dubai Comedy Festival's Beat the Gong contest that year and in 2017 filmed for Comedy Central Arabia's Stand Up al Wagif Season 2. 2018 brought Simeon and his family to Wuxi, where he continues to pursue international stardom, this time in the centuries old provinces of China.
Erica is a Chicago-born, Shanghai-based educator, comedian and public speaker. She is a showcase comedian at Shanghai's top clubs known for her unique energy and raw, biting wit. In addition to heading up Hei Now Comedy, Shanghai's premier Black comedy crew, she recently became the first Black comedian to perform in Mongolia at the inaugural Silk Road Comedy Festival.
Dan Roman is a rising star in the Shanghai comedy scene.  He is a founding member of Hei Now Comedy, Shanghai's premier Black comedy crew, and plays with the People's Republic of Comedy Improv.  You can see him in showcases at Shanghai's finest clubs and across Southeast Asia.
Dan Russell: From Boston, USA, Dan Russell performed regularly in NYC before moving to southwest China in 2013, where he has been a mainstay of the local comedy scene. He organized the first English-language comedy shows in Chongqing and is the manager and co-founder of Chengdu Comedy Club and the organizer of Chengdu Roast Battle.  He also spent last year in Shanghai where he was a regular performer and the show-runner of Shanghai Roast Battle.  He is happy to be back home in the Southwest, where yelling is the normal volume of conversation.
Nicole Too Much: Bitterly hilarious stand up across China for several years. Nicole takes a deeper look into the grimy parts of life and teases out the fun.
Come on down!
Buy Tickets on top of this page (No need to print the ticket, your full name is Ok to register on the day)
On the Day: 120RMB
*All tickets include 1 selected drink
*Tickets are not refundable
*Date/ 日期: Sat. Feb. 8th
*Time/ 时间: Starts 8:30pm/ 晚20:30点
*Venue/ 地址: The Beer Nest 啤酒窝
武侯区,锦绣路34号附7号(保利中心平安银行对面,棕北国际楼下) Wuhou District, Jinxiu Road 34-7 (opposite Poly Center Ping'an Bank, below Zongbei International)
Reviews
More Events
Huayan Road, Jinniu Chengdu Sichuan China
Jianyang City
Sichuan
July 16, 2023
-
November 22, 2023
东郊记忆·成都国际时尚产业园记忆长廊1F(成华区建设南支路1号)
Chenghua
Sichuan
July 22, 2023, 6:00 pm
-
October 21, 2023, 10:00 pm
天府新区麓湖中路西段888号麓湖美食岛
Chengdu
Sichuan
September 9, 2023, 11:00 am
-
October 22, 2023, 10:00 pm