Profile
About the course
This course provides deep insight into the photography process.  During these sessions you will learn everything that there is to know about photography, starting from the artistic perspective, mastering the technical part, and finally how to give that finished look to your images through editing.
The three courses have been developed over the last 8 months through the process of working closely with beginner photographers and understanding the needs and difficulties involved in obtaining the required skills to becoming better photographers.
Beginners
This 3 part beginner course will be suitable for those who are interested in photography, but have been afraid to make the first step due to fear of the technical part. The course focuses more on the artistic aspect of photography rather than the technical.
Intermediate
This 4 part intermediate course will take us towards becoming better photographers. Here we will learn everything we need from a technical perspective. We will understand how to control light and motion as well as some more advanced techniques such as HDR and Panorama.
Adobe Lightroom For Photographers 
You captured a beautiful photo and now what? Lightroom will help you give that little extra to make your images stand out.  If you're a photographer who takes your work seriously, or regularly have to process large amounts of photographs or images, Adobe Lightroom is an indispensable tool. A one stop shop for organising and processing images direct from RAW, Lightroom can help you get the most from your images and significantly improve your workflow.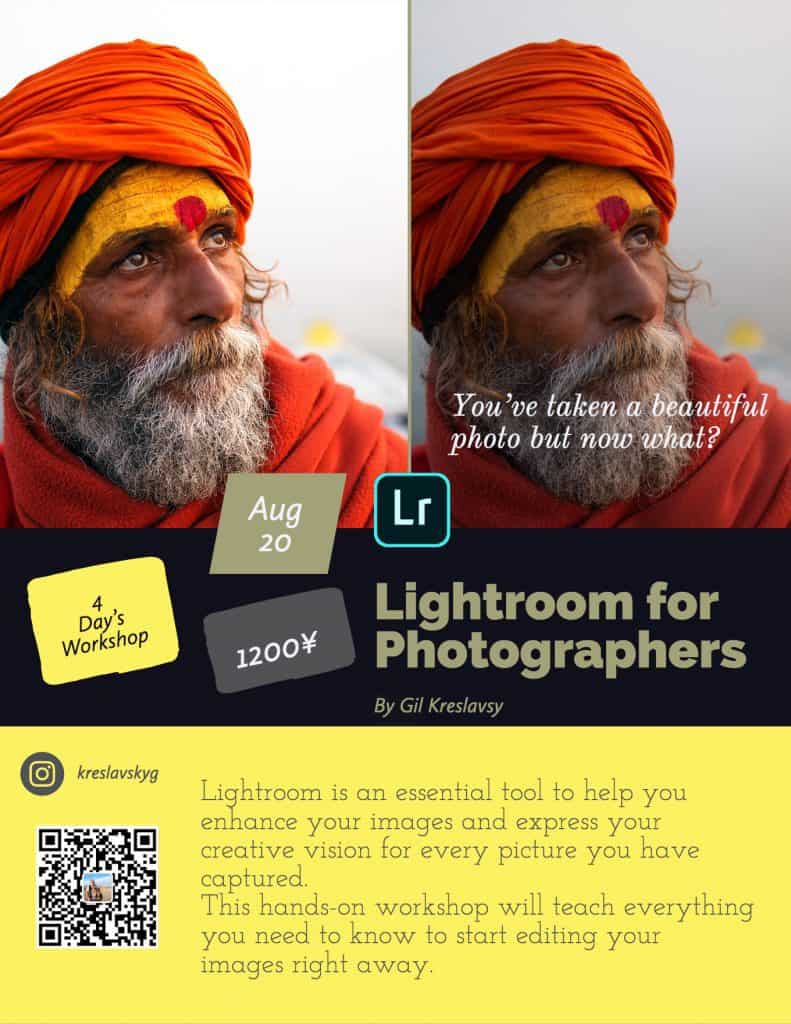 Dates & Price
| | | |
| --- | --- | --- |
| Beginners | (Jul 30 , Aug 1, 3) – 18:00-20:00 | 800RMB |
| Intermediate | (Aug 6, 8, 10, 13) – 18:00-20:00 | 1000RMB |
| Lightroom | (Aug 20,22,24,27) – 18:00-20:00 | 1200RMB |
All three courses 15% discount 
Scan the QR code to apply now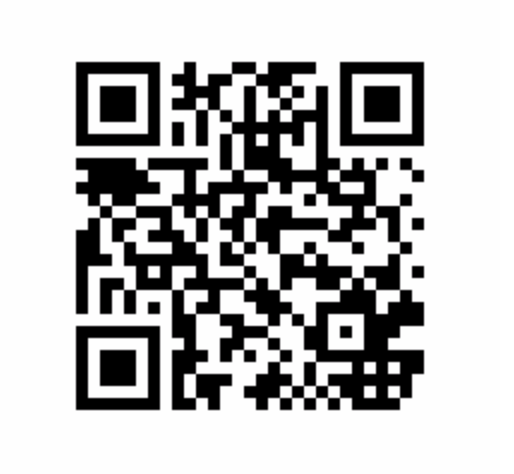 About Gil Kreslavsky
When not taking portraits in his studio or running photography workshops, Gil is traveling the globe documenting people's lives and photographing the human story in its natural element. His constant quest to capture the emotions and faces of people from all cultures, both in remote and populous regions of the world, has led Gil to spend much of his time in South East Asia and Africa.
Gil's calm and friendly demeanor, his artistic eye for detail and his ability to think fast under pressure makes him a perfect problem solver for any shoot. Based in Chengdu, Gil is the founder of the Chengdu Photography Club, the first international photography club in the Sichuan region. He is a public speaker, photography instructor and shoots documentary stories for NGO's. His photos have been shown in travel magazines, exhibitions and are in the private collections of photo lovers around the world. In his free time, when his energy isn't being poured into his craft, Gil can be found riding his motorbike or joining friends for a spicy hotpot dinner.
For more information visit: www.kreslavsky.com
---
Photography Beginners Course
What Will I Learn?
The goal of the beginners course is to teach you how to take better photos regardless of the camera you are using. You can use your phone, small pocket camera or any other medium. What we will learn here applies to all of them.
You will walk away with a complete package of knowledge on all the basic understandings you need in photography.
An overview and explanation of what a good workflow in photography looks like.
A deeper philosophy and understanding of photography.
Module 1 – Introduction to Photography
Many of us want to take better photos, but have very little understanding about what photography is. For many the introduction to photography is a time of wrecked nerves, confusing advice from friends, and frustration as you learn about your new camera. We will put an order in these things and help you understand what photography is really about.
Module 2 – Composition
We will go through the composition rules and how to build a frame to create stronger images. The point of a composition is to pull the eye of the viewer across the photo, taking in individual elements to finally focus on the main feature or focus of the image – this could be anything from subject matter to emotional effects.
Module 3 – Color
Color is a powerful tool in photography. The most important thing about understanding color is knowing how to match different colors. We will learn what to look at in a scene with a photographer's eye. Learn and understand color theory the way painters, designers, and artists of all trades do.
Module 4 – B&W Photography
"When you photograph people in color you photograph their clothes. When you photograph people in black and white, you photograph their souls" is a famous quote by Ted Grant. So we will learn how to look at a scene beyond the colors and shoot with a B&W mindset.
Module 5 – Natural Light Photography
Natural light is one of the basics in photography. If you manage to understand how to work with natural light, this knowledge can later be applied to any genre or style of photography. Photography lighting can be the difference between a breathtaking photo and a terrible one.
Module 6 – Detailed Look at Light
Light is one of the fundamental tools used to shape your image, to give it a feel and the desired look. In order to truly take control over your photography, you have to understand light and how it works. We will go through different types of light and how they can help us to create better images.
Module 7 – Camera Components
Before trying to understand complex camera settings, we need to understand more about the cameras themselves. This course will serve as preparation for our intermediate course.
Pre-Requirements : 
Having conversational English
Inclusions:
Printed learning materials
---
Photography Intermediate Course
What Will I Learn?
The course will be most suitable for those who already have a good understanding of composition, color and light but struggle to control their camera and achieve desired results.
Everything you need to know about camera settings, which ones to use and in which situation to use them.
Advanced focusing techniques to achieve crisp sharp images.
How to create depth in your photos.
How to expose photos accordingly to the lighting conditions and get the result you are looking for. Deep understanding of ISO, Shutter Speed and Aperture.
A deeper understanding of camera Histogram.
Advanced techniques such as HDR and Panorama.
Various tips and tricks and how to avoid common mistakes.
Module 1 – Camera Settings
We will review the most commonly used camera settings, after which we will be ready to choose the right one according to the situation and the light.
Module 2 – Depth of Field "DOF"
This is one of those terms that you are likely to hear quite a lot of and will work with regularly in your photography. Playing with depth of field and the ability to control depth in your images will become an important part of your photography.
Module 3 – Exposure
When we talk about "exposure," the simple meaning is how to brighten or darken a photo.  It seems like it should be simple to capture photos that are correctly exposed, but in reality it can be quite tricky. Although exposure can be adjusted to some extent in post processing there is some reduction of image quality and general overall look. We will learn how to master this right in the camera. Words like ISO, F stop and shutter speed will not frighten or confuse you anymore.
Module 4 – Focusing
Knowing when to use continuous or single focusing mode is the first step of mastering autofocus. Modern cameras have advanced focusing mechanisms, that can capture moving objects, but 100% accuracy is hard to achieve. We will learn how to increase hit rate and focus exactly where we want.
Module 5 – The Histogram
Histogram is a graphic representation of our image. It can be a scary term, but don't worry we will learn how to read it. Learning how to read Histogram is crucial to understanding the exposure of the image even if we have doubts while looking at our camera display.
Module 6 – Look at Accessories
Camera and lens are only a small parts of the photography world. There are various support systems, filters and more. We will take a quick look at these to understand which ones we actually need, and which ones add unnecessary weight to our baggage.
Module 7 – Advanced Photography Techniques
After mastering our photography skills, it is now time to dive a bit deeper and understand how to use HDR and shoot at night and in conditions when the light is not perfect.
Pre-Requirements : 
Having conversational English.
A camera with manual controls , preferably with interchangeable lenses.
Inclusions:
Printed learning materials
---
Adobe Lightroom CC For Photographers
What we will learn? 
Complete overview of the Lightroom interface – menus (top to bottom, left to right)
Importing, managing, sorting and finding your images
Advanced workflow processes, i.e. Smart collections, previews and backup processes
Colour Management
Retouching: Portraits, Landscapes, Architecture, Wildlife
Creating striking Black and White images
Creating and working with presets
Managing your portfolio by using Lightroom's smart tools
Preparing your images for output: printing, and social media
Q&A session
Handouts: exercise files, PDF containing all class material, tutorial videos and free Lightroom presets. The course material is also available as slides in Lightroom.
Module 1 – Introduction to post processing 
While 'over processing' is definitely an issue, post processing is an essential part of photographer workflow and the "post processing" you do yourself is not fundamentally different from the "processing" your camera is doing anyway. Post processing takes the RAW sensor data, applies some Sharpening and Contrast/Color adjustment algorithms and you get the JPEG output.
Before
After
Module 2 – Library and Organizing 
Adobe Lightroom library is a powerful tool to organize your photos. We will learn how to manage the library in a way that ensures as our photo collection grows to thousands of images, we can still quickly find our photos.
Module 3 – Editing Your Photos 
Editing panel overview
Light correction
Color correction
Module 4 – Selective Editing 
Selective editing using brush
Selective editing using radial filters
Editing using graduated filters
Advanced editing tips
Module 5 – Creating Your Workflow 
Going through all steps from importing your photo to the final result.
Importing
Rating and selecting the best images
Editing
Exporting
Module 6 – Panoramas and HDR
In this module we will learn how to stitch multiple images together to create panorama or High Dynamic Range image (HDR).
Module 7 – Presets 
We will learn how to save time by using presets.
Module 8 – Hands on – Editing Landscape
In this lesson we will apply the learned material and try to edit landscape photo.
Module 9 – Hands on – Editing Portrait
In this lesson we will apply the learned material and try to edit portrait photo.
Module 10 – Converting to B&W
We will learn the correct way to convert our photos to black and white.
Module 11 – Exporting Your Photos

In the last module we will learn how to export the final result for printing, web or social media.
Pre-Requirements : 
Having conversational English
You will need a computer or laptop using Mac or Windows with a working copy of Lightroom Classic CC.
Attendees should have basic computer skills and be able to navigate their desktop and file system, copy and paste, select files etc.
At least 15GB free disk space for course material.
Inclusions:
Printed learning materials.
Exercise files.
Reviews
More Events
Huayan Road, Jinniu Chengdu Sichuan China
Jianyang City
Sichuan
July 16, 2023
-
November 22, 2023
东郊记忆·成都国际时尚产业园记忆长廊1F(成华区建设南支路1号)
Chenghua
Sichuan
July 22, 2023, 6:00 pm
-
October 21, 2023, 10:00 pm
天府新区麓湖中路西段888号麓湖美食岛
Chengdu
Sichuan
September 9, 2023, 11:00 am
-
October 22, 2023, 10:00 pm