Profile
Welcome to join the seventh edition of Chengdu Speed Dating. Speed Dating event is for singles to meet face-to-face with like-minded people, to build business, social networks and friendships, as well as possibly relationship.
Sunday June 3rd, 7:30 – 9pm
Location:
啤酒窝2店(餐吧) The Beer Nest II, Bar & Kitchen
Renmin South Road Section 4 – No. 48-32,
Master Commercial Street (F1, behind Country Garden Real estate sales office, close to "AMI Bar" or Bank of China)
人民南路四段48号附32号
首座万里商业街1楼 (碧桂园森林城市售房部后面, AMI酒吧、中国银行附近)
Tickets:
100 RMB per ticket (每张100元)
Discount ticket: 2 for 150rmb (2 張150元)
3 for 200rmb (3 張200元)
Ticket includes one free selected drink.
Scan the QR code below to book your seat.


Event starts on June 3rd at 7:30pm, join us at Beer Nest 2 at 7pm for a welcome drink.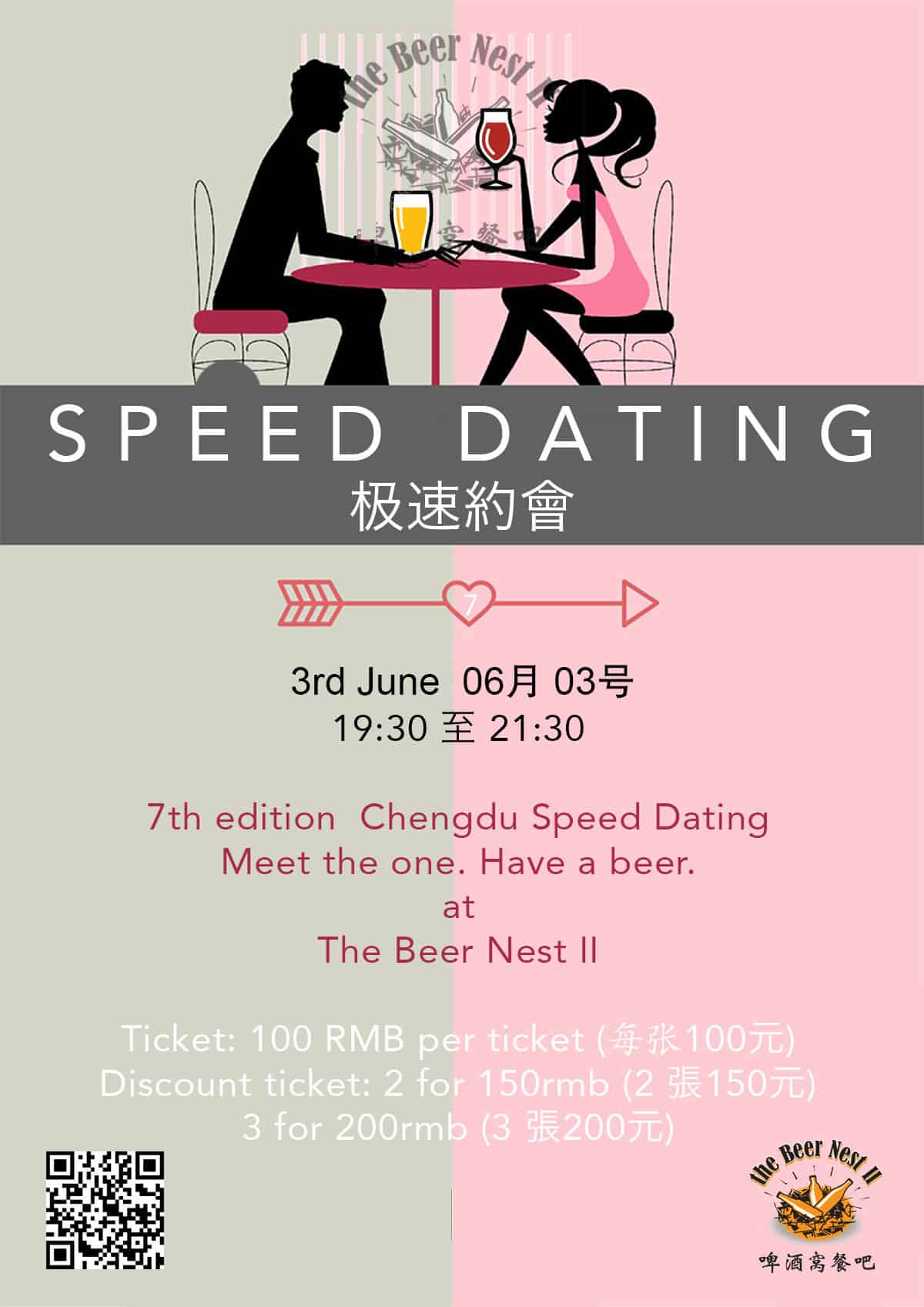 Speed Dating Brief Introduction


Once the Speed Dating event begins, the ladies will be seated in the center rows. gentlemen will be seated in the outer rows.
5 minutes!
Each date lasts for five minutes. After five minutes, the host will annonce "Time is up". Ladies stay seated and men stand up and move toward left, one seat over.
Speed Dating Ticket
After each date, Please fill in the name whom you just talked to. If you like this person, please mark a tick; otherwise mark a cross. Please safe keep your speed dating card. After the event, we will collect everyone's card.
Speed Dating Results
A few days after the speed dating event, we will send you the contact information (you both checked tick)
Reviews
More Events