Profile
Poets of Chengdu bound by insecurity and inexperience, this is your chance to unlock your voice! At Chengdu's first event in the Spittoon Megacity Series, we welcome 10 participants to a poetry performance workshop facilitated by Yu Wenwen (First place winner of Spittoon Chengdu Poetry Slam 1.0), Annie Leonard (5-year member of the Bookworm Creative Writing Group) and other veterans of the Spittoon stage. These veterans will mentor you, providing suggestions to improve your writing and guiding you through exercises to develop your ability to emote and present your poetry to an audience.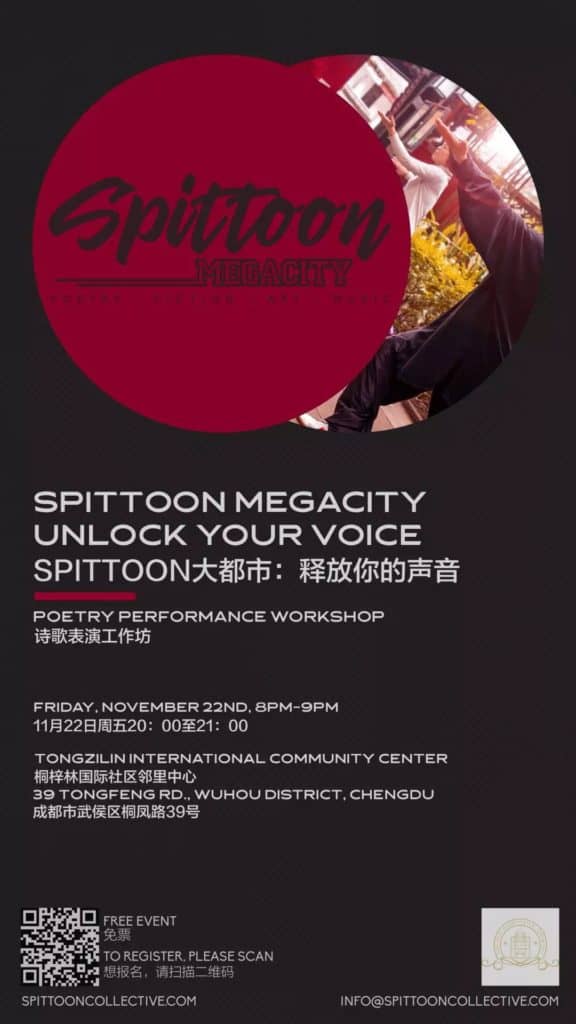 "Unlock Your Voice" is facilitated by bilingual mentors, so you are welcome to bring poetry in English or in Chinese. Participants must prepare at least one original poem to bring to the workshop (printed, on a laptop or on a phone) and register in advance.
Date:
8pm-9pm Friday November 22
Location:
Tongzilin International Community Center
桐梓林邻里中心 I 成都市武侯区桐凤路39号
Wuhou District, Fenghuang Road No. 39 (next to Kempinski Hotel)
Registration:
This is a FREE event but you must register in advance.
Click the following link to register:
https://www.hdb.com/party/7s6ma.html
Reviews
More Events