Profile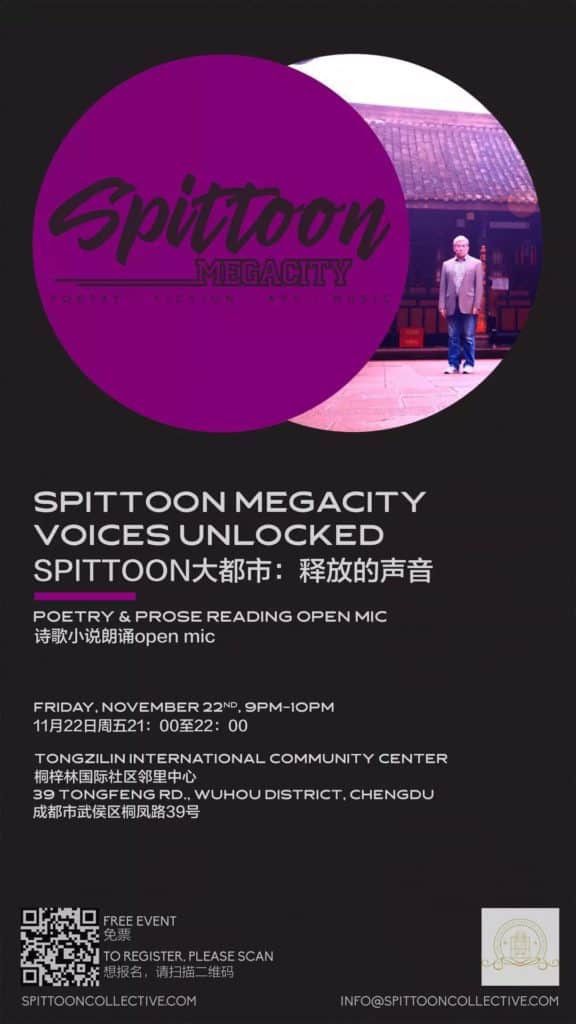 You've seen the posters in WeChat groups calling for poets and writers to take the stage at something called "Spittoon Reading Night," but they couldn't possibly mean you… No, they couldn't possibly want to hear your poetry about greasy Sichuan school lunches, or your fictional guide to post-apocalyptic survival on Qingcheng Mountain. Could they? Could they! They do.
The Spittoon Megacity Series is aimed at exploring the hidden corners of this metropolis known as Chengdu, and that means seeking out fresh faces and even fresher words. "Voices Unlocked," our poetry and prose reading open mic, is open to readers of original works who have never taken the Spittoon stage before – with the veterans out of the way, it's your turn to shine! Sign-ups will be taken on the night, so stick your poem in your pocket, listen to that voice in your heart screaming to be heard, and let your words echo around the tower blocks!
You can also join us in the audience and show your support. Listen to fresh, original poetry while enjoying alcoholic or non-alcoholic beverages provided by Harry's Wizard Catering, available for purchase. Performers will receive one free drink.
Date:
9pm-10pm Friday November 22
Location:
Tongzilin International Community Center
桐梓林邻里中心 I 成都市武侯区桐凤路39号
Wuhou District, Fenghuang Road No. 39 (next to Kempinski Hotel)
Registration:
This is a FREE event but you must register in advance. Scan the QR code on the poster to register.
Reviews
More Events