Profile
Morgan's Steakhouse 摩根扒房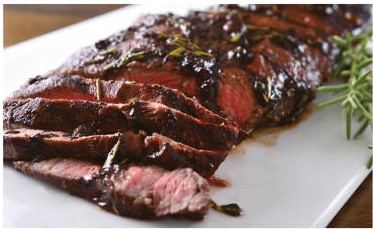 It's all about the meat at Morgan's.
The first dry-aged steak we've found in town. Dry aging is a process where raw beef ages at a fixed temperature, losing moisture and becoming concentrated in flavour. After examining the cuts of meat in their cooler we went for the sirloin. We ordered the meat five tenths done and got something pretty rare, but it was a generous portion that looked much larger than the stated size on the menu. The flavour of the dry aged steak was amazing, the meat and especially the fat infused with gamy, funky, intense beef flavour.
Besides various cuts of steak, both regular and dry-aged, the menu offers familiar steakhouse appetizers like seafood platters and salads along with classic sides like lobster bisque, roasted tomato bisque, mushrooms, creamed spinach, a baked potato, and sauteed mushrooms. The bread was a soft, dense brown loaf covered with baked onions. The creamed spinach had a very high ratio of cream to spinach, the baked potato was fine but covered with unsweetened whipped cream rather than the advertised sour cream, and the salad was a few greens and some tomato and egg covered with blue cheese flavoured dressing. At 25-35 RMB per side our expectations were not through the roof, but we thought the sides could have more worthily complemented the main event. Morgan's also does not offer steak sauce. The servers said a few times their steak was flavourful enough not to need it. We get how they associate boats of sauce with inferior steak, but we still would have enjoyed a bottle of  A-1 or HP.
The room is a masculine, clubby space with white tablecloths, taxidermy, a Sinatra-flavoured oldies and jazz soundrack, and five pieces of cutlery on each table setting.  The other diners in the room were all young to middle aged males digging into their lunch special steak sandwiches. We're in a market where most customers prefer meat very done and without 'xingwei' or a strong animal flavour, so we're not sure how dry aged steak will be appreciated, but we think the meat here is magnificent and hope that places like Morgan's will raise the bar for steak in town. Lunch specials around 50 RMB per person, steaks 200-400 RMB, sides 25-50 RMB.
Morgan's Steakhouse 摩根扒房
Shop 5, No.9 Tongzilin South Road
武侯区, 桐梓林南路9号附5号
Reviews
More Locations
高新区富华北路666号UPark公园B栋
Wuhou
Sichuan