Profile
Qintai Road 琴台路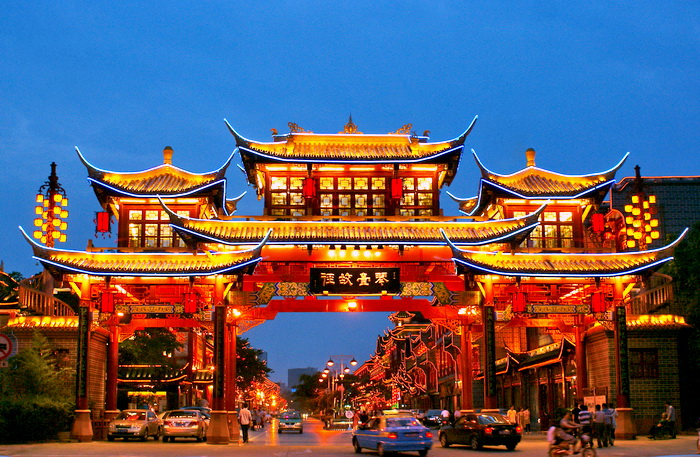 One of the more romantic areas of Chengdu is around the Huan Hua Cultural District in the city's West, with its misty fog, alluring parks and quiet paths lining the Jinjiang River. It also features a number of the city's most popular sites, among them: Qingyang Temple, Dufu's Thatched Cottage, Culture Park, Songxianqiao Art City and Qintai Street – all within walking distance of each other.
Qintai Road, one of the city's several Qing Dynasty themed tourist streets, most literally embodies the area's romance. Illuminated by lanterns and ambient lights in the evening, it's a beautiful street to stroll down.
The street was named for the well-known and romantic love story between Sima Xiangru (179BC – 118BC) and Zhuo Wenjun (175BC – 121BC) which has been handed down from generation to generation. Today, Qintai Road is today a cultural street lined with antique structures and buildings for teahouses, jewelry stores, restaurants and Sichuan Opera theaters (one of the most famous ones called Shufeng Yayun). The most distinctive attraction on the street is a 920-meter-long path paved with bricks carved with the pictures depicting the daily life of the people in the Han Dynasty (206BC – 220AD).
Address: Qintai Road, Qingyang District, Chengdu 成都青羊区琴台路
Daily, early afternoon – late.
Reviews
More Locations
成都市武侯区锦绣路24号附7号
Chengdu
Sichuan