With the "spooky" month finally upon us again, China has given many fun films to distract us from pumpkin carving and costume prepping. In fact, five more than last month.
We get another action blockbuster, another Bollywood teacher flick, a sad Japanese love story, a handful of hit-or-miss cartoons, a couple animal films, and even a cheeky female comedy from Hollywood :: WHAT IS HAPPENING!?
Monday, October 1, 2018
---
New Cinderella
《新灰姑娘》
xīn huī gū niáng
aka Cinderella and the Secret Prince
aka Cinderella 3D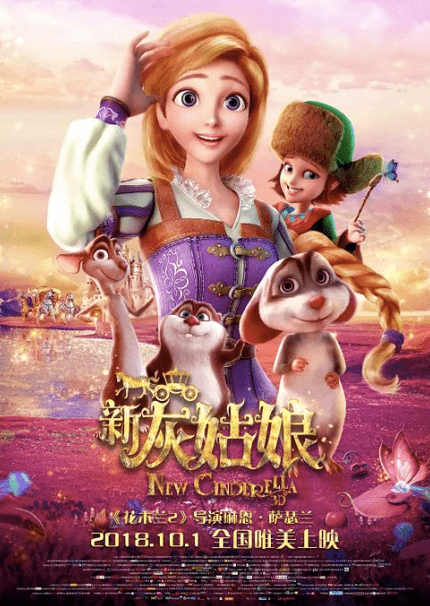 Director: Lynne Southerland
Actors: Kirsten Day, Stephanie Sanditz
China Release Date: Monday, October 1, 2018
During the Royal Ball, Cinderella and her mice fellows discover a secret that could shake their world: the real prince has turned into a mouse by the evil witch, and the "Prince" from the Royal Ball is in fact a fraud.
Now, Cinderella and her friends are going to begin a whole new adventure to save the real Prince, and help him defeat the evil force.
If it sounds boring and looks like horrible animation, you wouldn't be wrong… but then again, we're sure all the youngins will like it.
Friday, October 12, 2018
---
March of the Penguins 2:
The Next Step
《帝企鹅日记2:召唤》
dì qǐ é rì jì èr:zhào huàn
aka L'empereur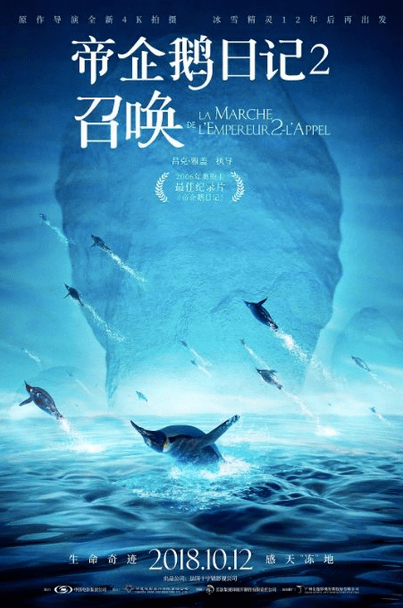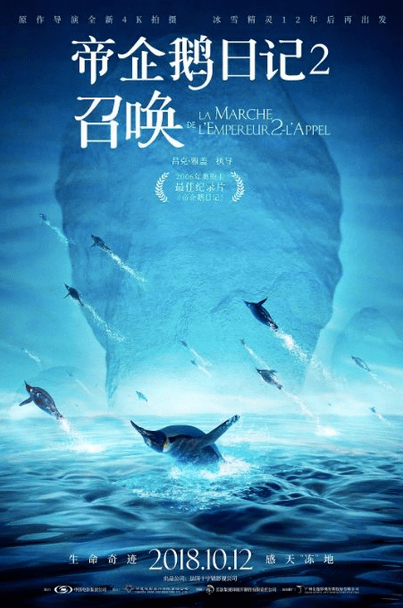 Director: Luc Jacquet
Actors: Lambert Wilson, Thomas Acda, Morgan Freeman
China Release Date: Friday, October 12, 2018
Note: this documentary will probably be shown in French with Chinese subtitles
And didn't this one come out last year? Anyways, a young penguin, driven by his instinct, embarks on his first major trip to an unknown destination. The March of the Penguins 2 is the sequel to the highly entertaining Oscar-nominated The March of the Penguins documentary that was first released in 2005.
The film is the rare retread that actually very much works but also just a fun and highly heartwarming film that is filled with cute penguins but also showcases their lives and their everyday routine as a whole.
Friday, October 12, 2018
---
Hiccup
《嗝嗝老师》
gé gé lǎo shī
aka Hichki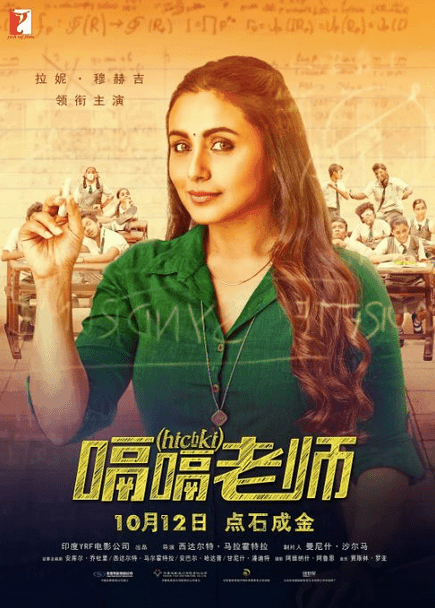 Director: Siddharth P. Malhotra
Actors: Rani Mukerji, Supriya Pilgaonkar, Neeraj Kabi, Harsh Mayar, Vikrant Soni
China Release Date: Friday, October 12, 2018
Note: this movie is in Hindi with Chinese subtitles
An Indian film in China without Aamir or Salman Khan! This is big time. Still about the education system, though, so it should definitely still resonate with audiences here.
A good teacher can change your life. The movies have always understood that. And now we have Hiccup – about a teacher who suffers from Tourette's Syndrome. And it's actually a remake of the rather forgettable Hollywood film Front of the Class which came out about 10 years ago.
Teacher films generally follow a set formula, which positions the teacher as a redeemer who unlocks the hidden potential of his or her lackluster students. Hiccup is no different except that here, the teacher is also struggling with her own hurdle – a neurological condition, which causes motor tics.
Oh, and don't forget awesome Bollywood dance routines~
Friday, October 12, 2018
---
The Titan
《超能泰坦》
chāo néng tài tǎn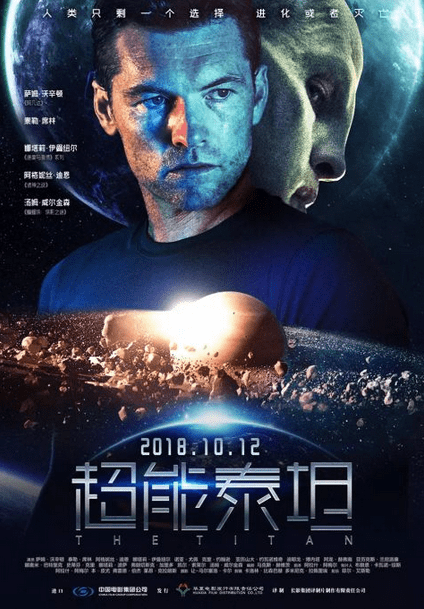 Director: Lennart Ruff
Actors: Sam Worthington, Taylor Schilling, Tom Wilkinson, Nathalie Emmanuel
China Release Date: Friday, October 12, 2018
Yes, this came out over 6 months ago and probably all movie fans in China have already downloaded it, but hey… it's got the guy from Avatar and that one girl from Game of Thrones… let's throw it in the cinemas and see what happens.
Here's the gist, a military family takes part in a ground-breaking secret experiment of genetic evolution and space exploration. Mutants are born but the earth is not saved, only made worse.
We're gonna be honest with you here – this movie is bad. Even for fans of sci-fi and "enhanced" humans this one is unbearable. Save your time and money and go watch some cuddly penguins instead.
Friday, October 12, 2018
---
Maya the Bee Movie
《玛雅蜜蜂历险记》
mǎ yǎ mì fēng lì xiǎn jì
aka La grande aventure de Maja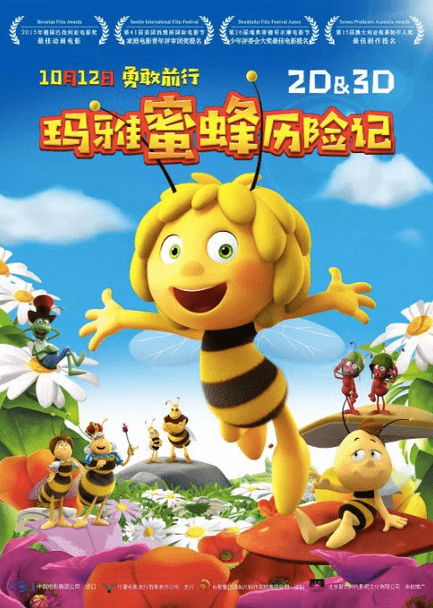 Director: Alexs Stadermann
Actors: Kodi Smit-McPhee, Noah Taylor, Richard Roxburgh
China Release Date: Friday, October 12, 2018
Note: this might be in Chinese with Chinese subtitles, check your tickets before purchase.
And yes, this is the same movie that came out back in 2014 and was original slated for a July 2018 release. We guess October is a better month for bees.
Freshly hatched bee Maya is a little whirlwind and won't follow the rules of the hive. One of these rules is not to trust the hornets that live beyond the meadow. When the Royal Jelly is stolen, the hornets are suspected and Maya is thought to be their accomplice.
No one believes that she is the innocent victim and no one will stand by her except for her good-natured and best friend Willy. After a long and eventful journey to the hornets hive Maya and Willy soon discover the true culprit and the two friends finally bond with the other residents of the opulent meadow.
The kiddos might like it.
Friday, October 19, 2018
---
The Spy Who Dumped Me
《我的间谍前男友》
wǒ de jiān dié qián nán yǒu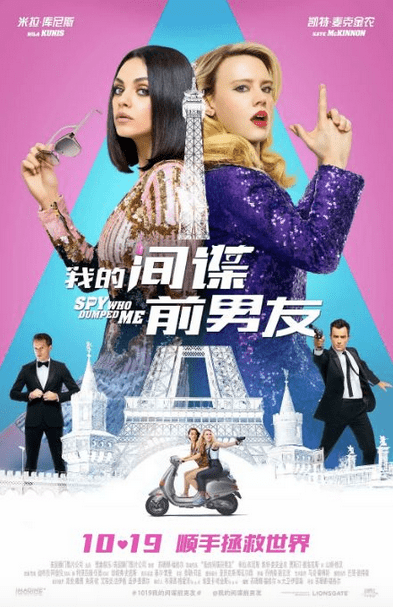 Director: Susanna Fogel
Actors: Mila Kunis, Kate McKinnon, Justin Theroux, Blanka Györfi-Tóth, Vilma Szécsi
China Release Date: Friday, October 19, 2018
In a rare Hollywood comedy appearing in China (let alone a female comedy), this time we get a big-budget production with comediennes Mila Kunis & Kate McKinnon.
Audrey (Kunis) and Morgan (McKinnon), two thirty-year-old best friends in Los Angeles, are thrust unexpectedly into an international conspiracy when Audrey's ex-boyfriend shows up at their apartment with a team of deadly assassins on his trail.
Surprising even themselves, the duo jump into action, on the run throughout Europe from assassins and a suspicious-but-charming British agent, as they hatch a plan to save the world.
Friday, October 19, 2018
---
The 8 Year Engagement
《跨越8年的新娘》
kuà yuè bā nián de xīn niáng
aka 8年越しの花嫁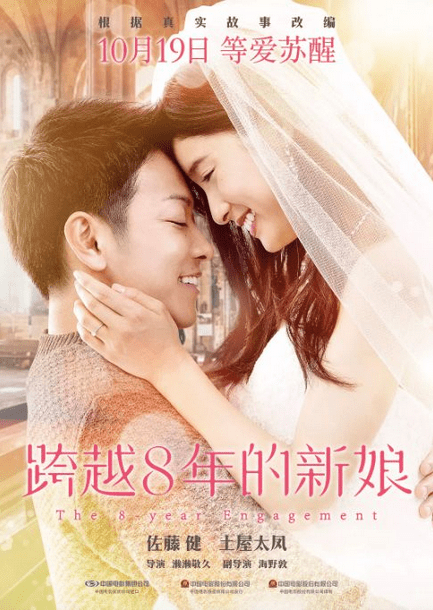 Director: Takahisa Zeze
Actors: Tao Tsuchiya, Kanji Furutachi, Kenta Hamano
China Release Date: Friday, October 19, 2018
Note: this film is in Japanese with Chinese subtitles
Twenty-somethings Hisashi and Mai are engaged. When suddenly Mai's heart stops and she falls into a coma all Hisashi can do is remain by her side, albeit without knowing whether she might improve.
Things look up when Mai finally comes out of the coma and becomes conscious again, but she has suffered brain damage and cannot remember her man.
Classic love story gone awry.
Friday, October 19, 2018
---
Early Man
《无敌原始人》
wú dí yuán shǐ rén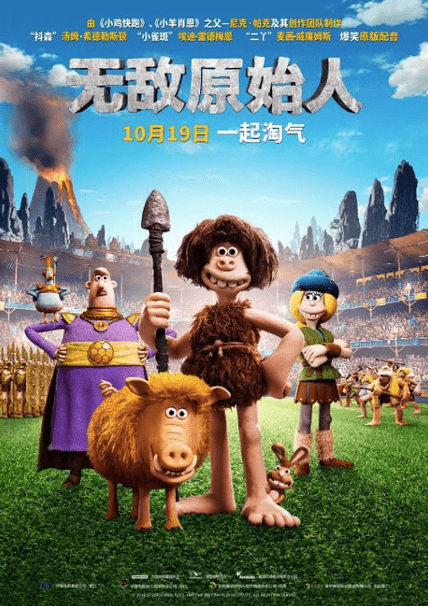 Director: Nick Park
Actors: Eddie Redmayne, Tom Hiddleston, Maisie Williams, Richard Ayoade
China Release Date: Friday, October 19, 2018
Set at the dawn of time, when prehistoric creatures and woolly mammoths roamed the earth, Early Man tells the story of plucky character Dug, along with sidekick Hognob as they unite his tribe against a mighty enemy Lord Nooth and his Bronze Age City to save their home.
This stop-motion animated historical sports comedy is sure to please adults and pre-adults alike!
Friday, October 19, 2018
---
Smallfoot
《雪怪大冒险》
xuě guài dà mào xiǎn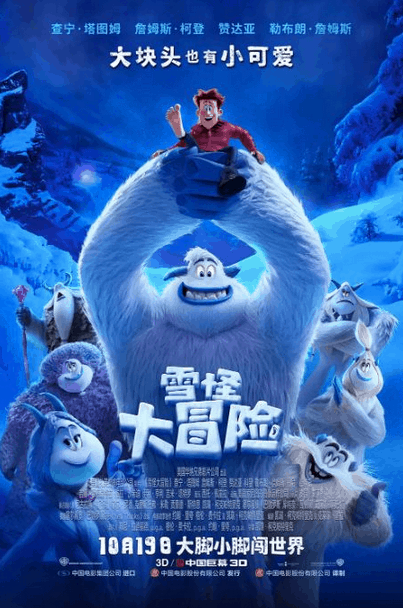 Directors: Karey Kirkpatrick, Jason Reisig
Actors: Channing Tatum, James Corden, Zendaya, Common, Lebron James, Danny Devito
China Release Date: Friday, October 19, 2018
Yet another cartoon this month… at least a small part of our families will be entertained!
A Yeti named Migo is convinced that a human known only as "Smallfoot" (get it!?) is real and has to prove to his tribe that it does exist with the help of Meechee and the S.E.S – Smallfoot Evidentiary Society.
Shenanigans ensue.
Friday, October 26, 2018
---
The Predator
《铁血战士》
tiě xuè zhàn shì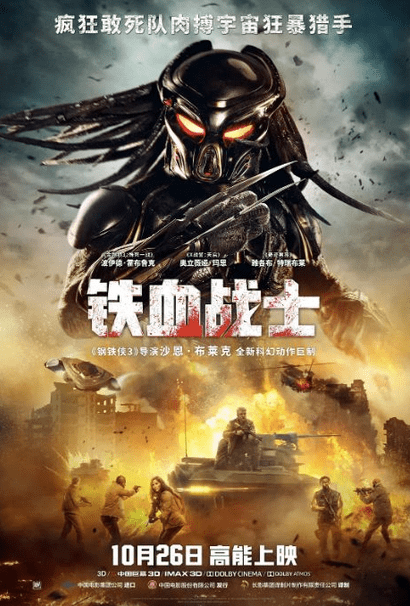 Director: Shane Black
Actors: Sterling K. Brown, Olivia Munn, Boyd Holbrook, Trevante Rhodes, Jacob Tremblay, Keegan-Michael Key
China Release Date: Friday, October 26, 2018
We knew this one would make its way to China… and only a month late! This action-packed remake will bring in huge numbers all over the Mainland. Get your tickets early. Or pro tip: wait a week or two and go in the middle of the night.
From the outer reaches of space to the small-town streets of suburbia, the hunt comes home. Now, the universe's most lethal hunters are stronger, smarter and deadlier than ever before, having genetically upgraded themselves with DNA from other species.
When a young boy accidentally triggers their return to Earth, only a ragtag crew of ex-soldiers and a disgruntled science teacher can prevent the end of the human race.
Friday, October 26, 2018
---
Midnight Dreamers
《暮光·巴黎》
mù guāng bā lí
aka Lumière Amoureuse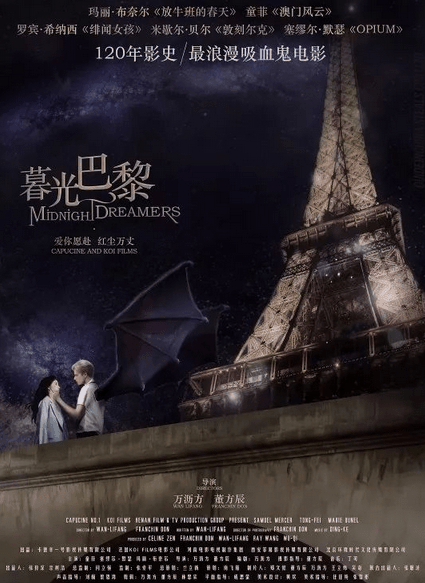 Director: Lifang Wan
Actors: Samuel Mercer, Fei Tong, Éric Bougnon, Roby Schinasi
China Release Date: Friday, October 26, 2018
Note: this movie is in French with Chinese subtitles
Also note: we've lost count of how many times we've posted this one because it keeps getting cancelled 
This might be the best movie we've ever told you about. It's the self-proclaimed "most romantic vampire movie in the histroy" (sic).
In France, a movie production company directed by the mysterious K family employs actors to participate in film shoots. Their screenplays are conceived to exacerbate and fulfil the desires of the family's members, who turn out to be vampires that feed off the blood of their victims.
But twenty years earlier, François, the film director in the K family, fell in love with a young Chinese woman. He never got over losing her and when her daughter, who is his spitting image, arrives for an audition, his life will be turned upside down.
Friday, October 26, 2018
---
Brothers of the Wind
《追鹰日记》
zhuī yīng rì jì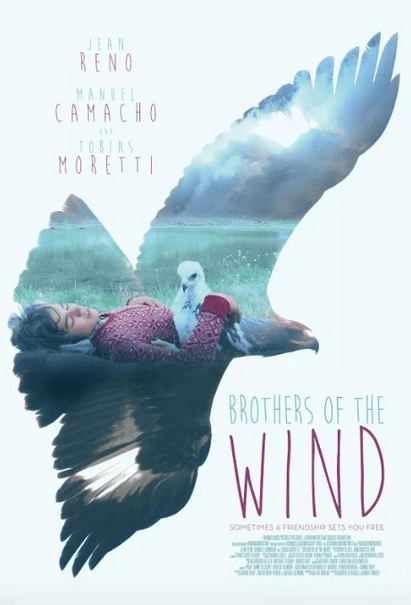 Directors: Gerardo Olivares, Otmar Penker
Actors: Jean Reno, Manuel Camacho, Tobias Moretti
China Release Date: Friday, October 26, 2018
Reaching way back to 2015 with this one, China pulls an as-of-yet unseen Jean Reno flick for the masses. The cinematography is legit, though.
In a world where it takes courage to fly, a young boy nurtures a baby eagle into adulthood. Searching for their place in the world, they bond over their desire to be free.
Really, if you haven't seen this one, it's one of the better bird movies ever made.
---
With thanks to the team at  Culturability. They consistently write useful content. Follow their WeChat platform by scanning below:
↓

Buy Tickets
You can buy cinema tickets through AliPay and your WeChat Wallet, often with a discount.