9 Foreign Movies to China in May 2018
Happy May Day holiday, our loyal readers! Without mentioning last month's box office flops, let's keep an optimisitic positive attitude and focus on the future. It's the least we can do. And only then can we take a long hard look at this month's list…
We have two massive releases from Hollywood, a Bollywood sequel, a Japanese romance, and a handful of artsy dramas. There's literally something for everyone (except children) during this month to kick off the summer movie season…
Friday, May 4, 2018
Baahubali 2: The Conclusion
《巴霍巴利王2:终结》
bā huò bā lì wáng èr:zhōng jié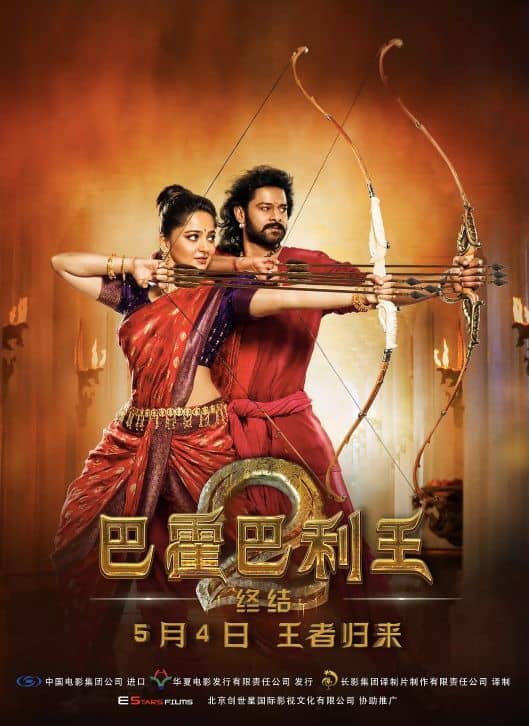 Director: S.S. Rajamouli
Actors: Prabhas, Rana Daggubati, Anushka Shetty, Tamannaah Bhatia, Sathyaraj
China Release Date: Friday, May 4, 2018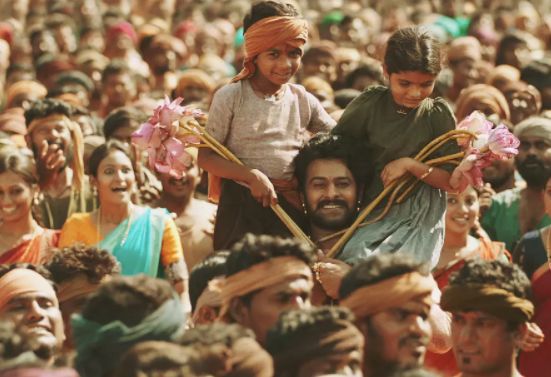 Note: this movie is in Hindi with Chinese subtitles
Seems like we're getting a flick from India almost every month now! We love this trend and hope it continues for months to come.
When Shiva, the son of Baahubali, learns about his heritage, he begins to look for answers. His story is juxtaposed with past events that unfolded in the Mahishmati Kingdom. With tons of special effects and mythology!
While we recommend watching the first one first, this endearing story should also keep you on the edge of your seat. And we can't guarantee there won't be any China pandering in this one either.
Saturday, May 5, 2018
The Young Karl Marx
《青年马克思》
qīng nián mǎ kè sī
aka Le jeune Karl Marx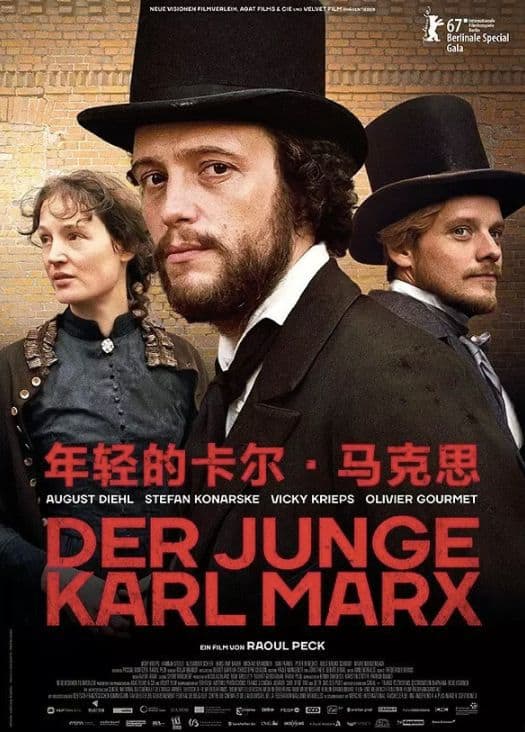 Director: Raoul Peck
Actors: August Diehl, Stefan Konarske, Vicky Krieps
China Release Date: Saturday, May 5, 2018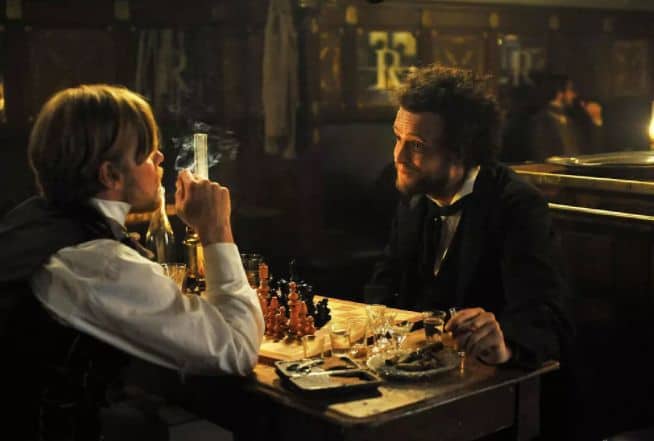 Note: this movie is in German, French, and English, with Chinese subtitles (some theaters will have English subs)
26 year-old Karl Marx embarks with his wife, Jenny, on the road to exile. In 1844 Paris, he meets Friedrich Engels, an industrialist's son, who investigated the sordid birth of the British working-class.
Engels, the dandy, provides the last piece of the puzzle to the young Karl Marx's new vision of the world. Together, between censorship and the police's repression, riots and political upheavals, they will lead the labor movement during its development into a modern era.
Bring a comfortable pillow.
Friday, May 11, 2018
Avengers: Infinity War
《复仇者联盟3:无限战争》
fù chóu zhě lián méng sān:wú xiàn zhàn zhēng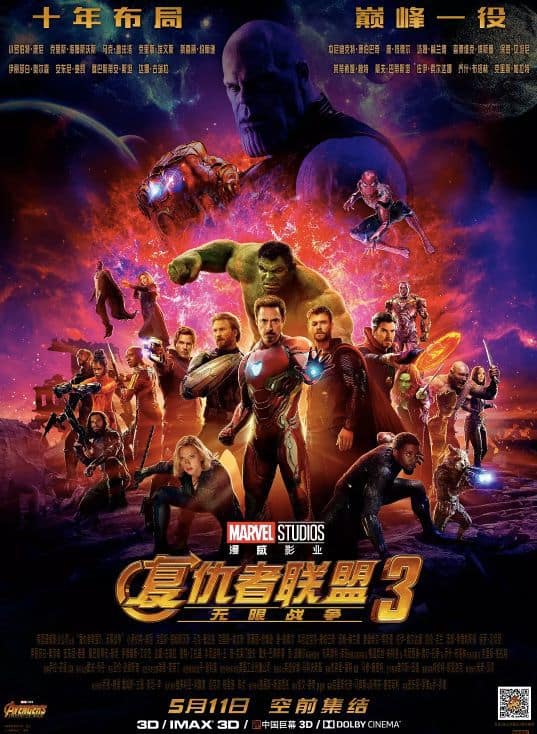 Directors: Anthony Russo, Joe Russo
Actors: Robert Downey Jr., Chris Hemsworth, Mark Ruffalo, Chris Evans, Scarlett Johansson, Benedict Cumberbatch, et al, etc
China Release Date: Friday, May 11, 2018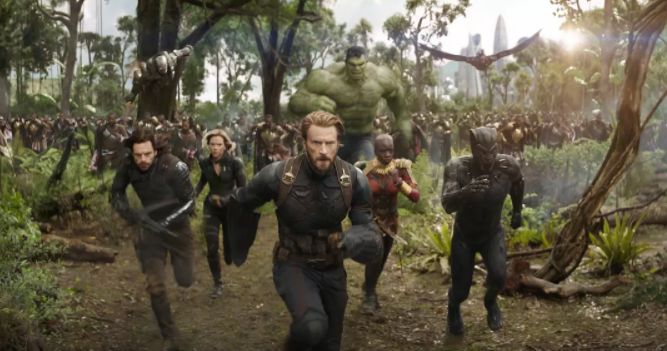 As the Avengers, Guardians of the Galaxy, and their allies have continued to protect the world from threats too large for any one hero to handle, a new danger has finally emerged from the cosmic shadows: Thanos. The one we've all been waiting for.
A despot of intergalactic infamy, Thanos has one goal: collect all six Infinity Stones. They are artifacts of unimaginable power, and use them to inflict his twisted will on all of reality. Everything the Avengers have fought for has led up to this moment – the fate of Earth and existence itself has never been more uncertain.
Nerd or not, we will all be seeing this huge movie in the theaters.
Friday, May 11, 2018
Megan Leavey
《战犬瑞克斯》
zhàn quǎn ruì kè sī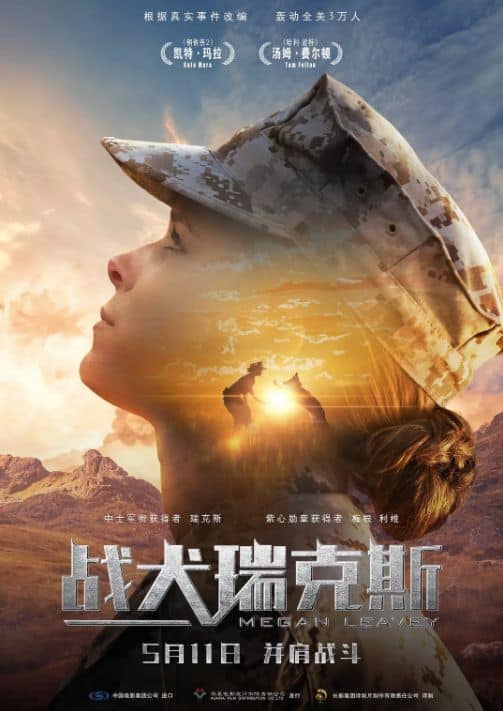 Director: Gabriela Cowperthwaite
Actors: Kate Mara, Ramon Rodriguez, Tom Felton
China Release Date: Friday, May 11, 2018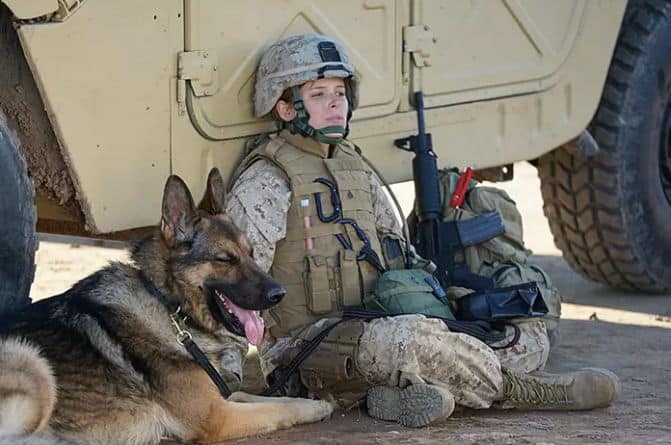 Based on the true life story of a young Marine corporal, Megan, whose unique discipline and bond with her military combat dog, Rex, saved many lives during their deployment in Iraq.
Yes, it came out last summer in the USA, so might be smart just to stream or download this one.
Friday, May 18, 2018
A Quiet Place
《寂静之地》
jì jìng zhī dì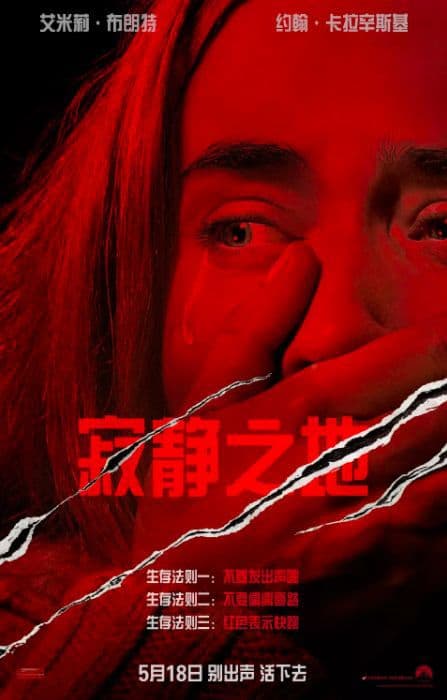 Director: John Krasinski
Actors: Emily Blunt, John Krasinski, Millicent Simmonds, Noah Jupe
China Release Date: Friday, May 18, 2018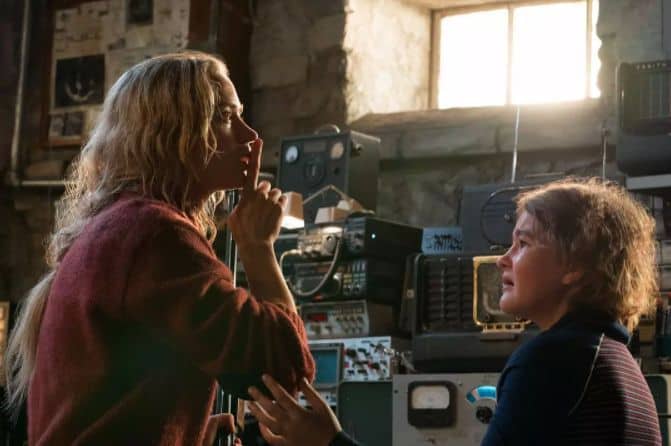 In a post-apocalyptic world, keeping quiet is the only way to stay alive.
Two parents do what it takes to keep their children and soon to be newborn safe in a world full of creatures hunting every sound they can hear. Not a sound can be heard from the family hiding in silence, but all it takes is one little noise and everything can go wrong.
It might be obvious, but don't take your kiddos to this one.
Friday, May 18, 2018
Hirugao
《昼颜》
zhòu yán

Director: Hiroshi Nishitani
Actors: Aya Ueto, Takumi Saitoh, Ayumi Itô
China Release Date: Friday, May 18, 2018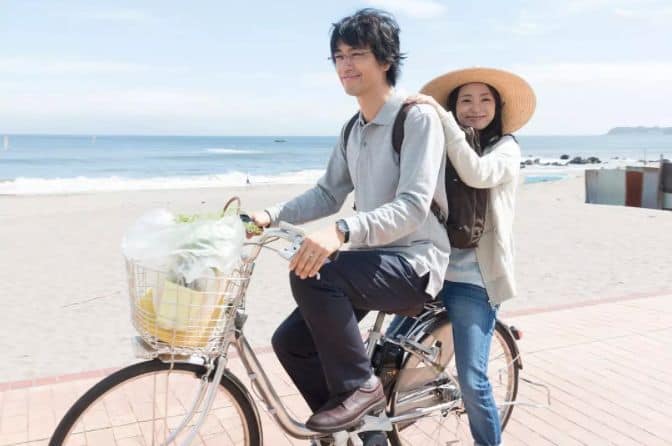 Note: this movie is in Japanese with Chinese subtitles
When a Japanese housewife has an affair while her husband is hard at work providing for the family the phrase goes 'heijitsu hirugao tsuma.' When a Japanese woman sleeps with a married teacher she is shunned and shamed and has to change her name and residence. yet, that is not their end. There is more to come.
Friday, May 25, 2018
Perfect Strangers
《完美陌生人》
wán měi mò shēng rén
aka Perfetti sconosciuti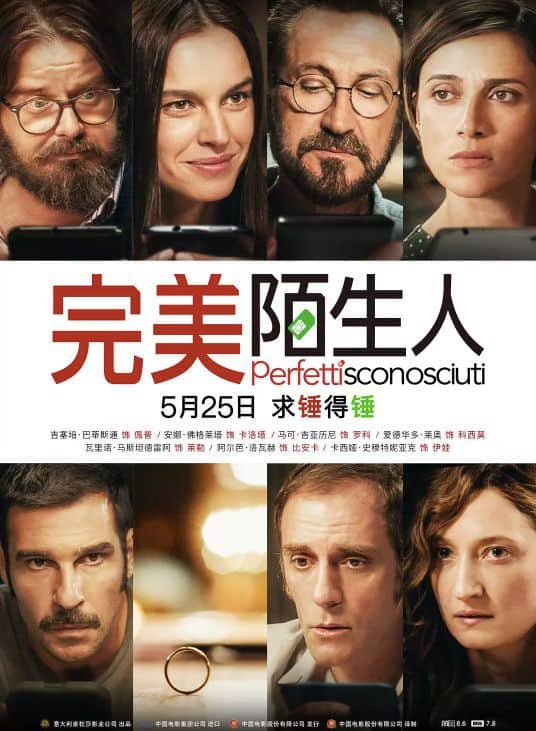 Director: Paolo Genovese
Actors: Giuseppe Battiston, Anna Foglietta, Marco Giallini
China Release Date: Friday, May 25, 2018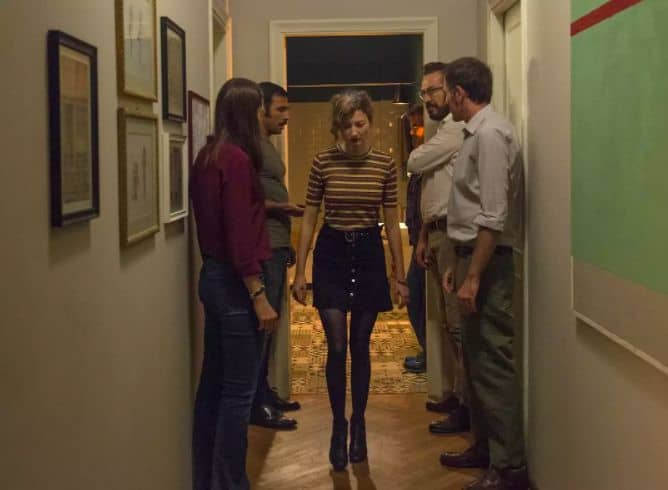 Note: this movie is in Italian with Chinese subtitles
And yes, it's the same comedy/drama from 2016… Here's the plot:
On a warm summer evening, the loving couple of Rocco, a plastic surgeon, and Eva, a therapist, are expecting their good friends to share a pleasant evening over dinner. Everything is in order: The first course is ready, the roast is in the oven, the table is set, and without a doubt, this is going to be a gathering of true friends.
Before long, the group will begin the feast; however, in this nice but somewhat ordinary dinner, there's certainly something missing. Perhaps, if everyone placed their mobile phones on the table–and like a dangerous Russian roulette–shared whatever arrived (texts, WhatsApp messages and calls), it would spice things up.
Clearly, this uncommon truth-or-dare game has no point among friends who share everything with each other; nevertheless, when the phones start ringing, who will be the one with the sweatiest palms?
Friday, May 25, 2018
Solo: A Star Wars Story
《游侠索罗:星球大战外传》
yóu xiá suǒ luó:xīng qiú dà zhàn wài chuán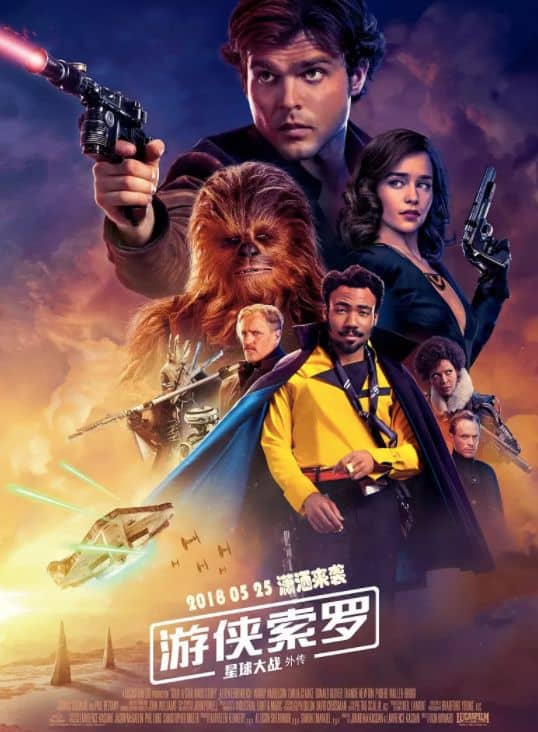 Director: Ron Howard
Actors: Alden Ehrenreich, Thandie Newton, Emilia Clarke, Paul Bettany, Donald Glover, Woody Harrelson
China Release Date: Friday, May 25, 2018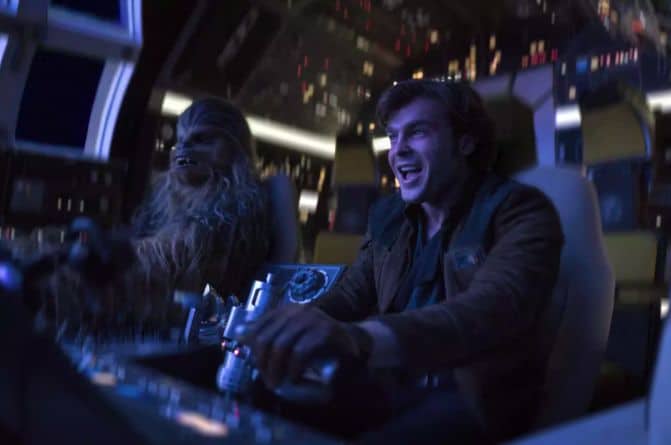 Lucky for us (wait, shouldn't this be normal!?), we get a same-day release for the next Star Wars! No more waiting 20+ days and avoiding all forms of Internet. But it's for Solo. The odds for this film doing well are pretty low. I know, never tell you the odds.
But here we go. Board the Millennium Falcon and journey to a galaxy far, far away in 'Solo: A Star Wars Story,' an adventure with the most beloved scoundrel in the galaxy.
Through a series of daring escapades deep within a dark and dangerous criminal underworld, Han Solo meets his mighty future copilot Chewbacca and encounters the notorious gambler Lando Calrissian, in a journey that will set the course of one of the Star Wars saga's most unlikely heroes.
Friday, May 25, 2018
Midnight Dreamers
《暮光·巴黎》
mù guāng bā lí
aka Lumière Amoureuse

Director: Lifang Wan
Actors: Samuel Mercer, Fei Tong, Éric Bougnon, Roby Schinasi
China Release Date: Friday, May 25, 2018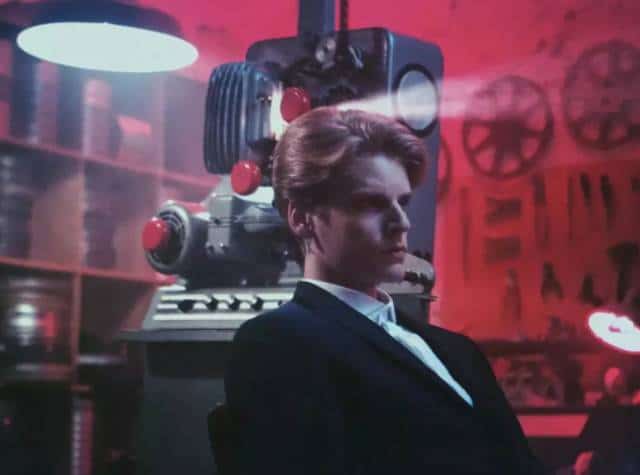 Note: this movie is in French with Chinese subtitles
Also note: this is the THIRD time we've posted this because it's been cancelled twice already 😂
This might be the best movie we've ever told you about. It's the self-proclaimed "most romantic vampire movie in the histroy" (sic) – and we believe you will drop everything to extract the QR code below and watch the trailer. (Don't.)
In France, a movie production company directed by the mysterious K family employs actors to participate in film shoots. Their screenplays are conceived to exacerbate and fulfil the desires of the family's members, who turn out to be vampires that feed off the blood of their victims.
But twenty years earlier, François, the film director in the K family, fell in love with a young Chinese woman. He never got over losing her and when her daughter, who is his spitting image, arrives for an audition, his life will be turned upside down.
---
Chengdu Film Society
Sunday nights from 8pm
Berlin Haus
SOHO Building A 1203, 60 Kehua Bei Lu 科华北路60号费城A座1203
Silver Keen 
Sunday nights from 9.30pm
Mike's Pizza Kitchen 
2-3 East Yujie St., 28, Sect. 4, South Renmin Rd. 人民南路四段28号玉洁东街2号附3号
The Bookworm
Frequent cultural film nights held
2-3 East Yujie St., 28, Sect. 4, South Renmin Rd. 人民南路四段28号玉洁东街2号附3号