Profile
Chengdu Comedy Club Showcase
Chengdu Comedy Club is back with its own local showcase, this time with no fewer than 7 local acts, and Professor Dave headlining!
For the extremely low price of 60RMB pre-sale (including a drink) you can't go wrong. We have sold out every one of these that we have ever done, so get your tickets whilst you can!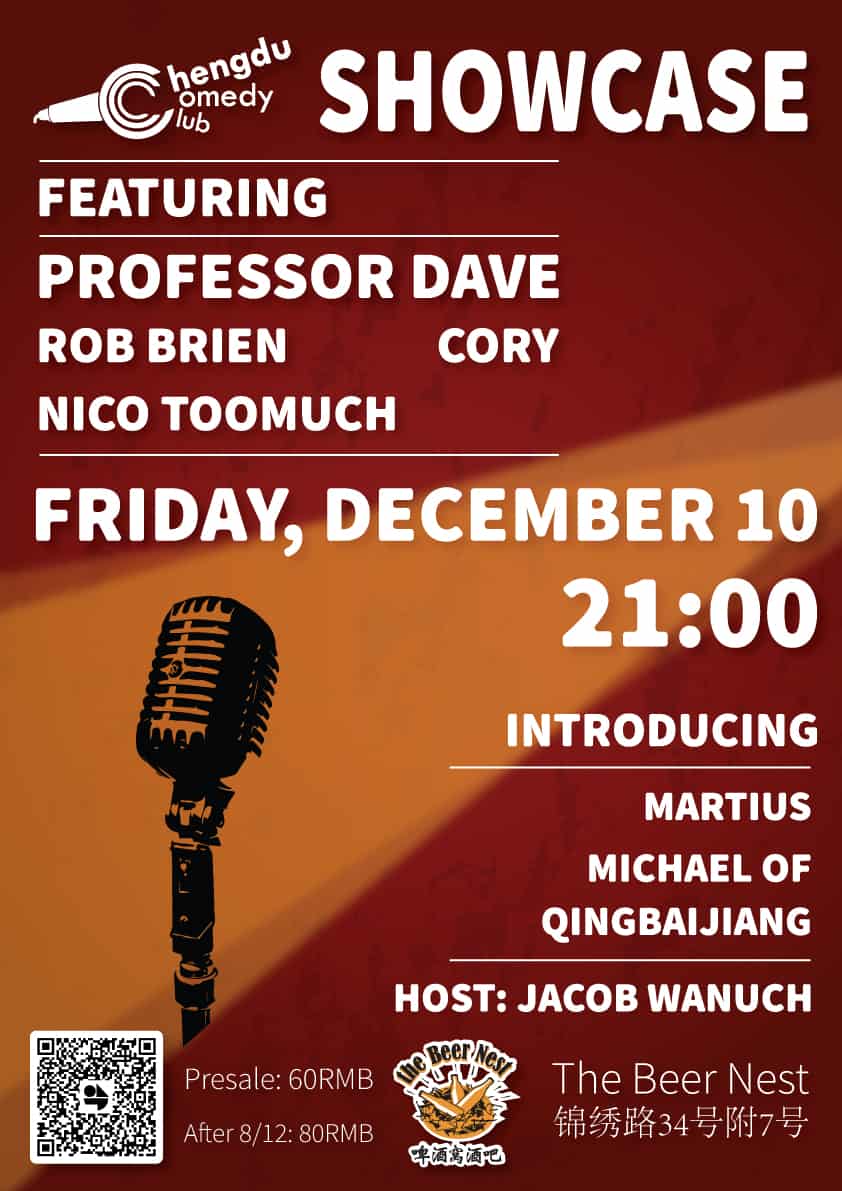 Professor Dave [Host]. While diligently working on his PhD dissertation, "Bear Cannot Live By Bamboo Alone: An Examination of Christianity in the Panda Community," Professor Dave still finds time to perform in chuan chuan restaurants all over Chengdu. Locals often compare his style of comedy with raw chicken gizzards. [insert any actual relevant information about me]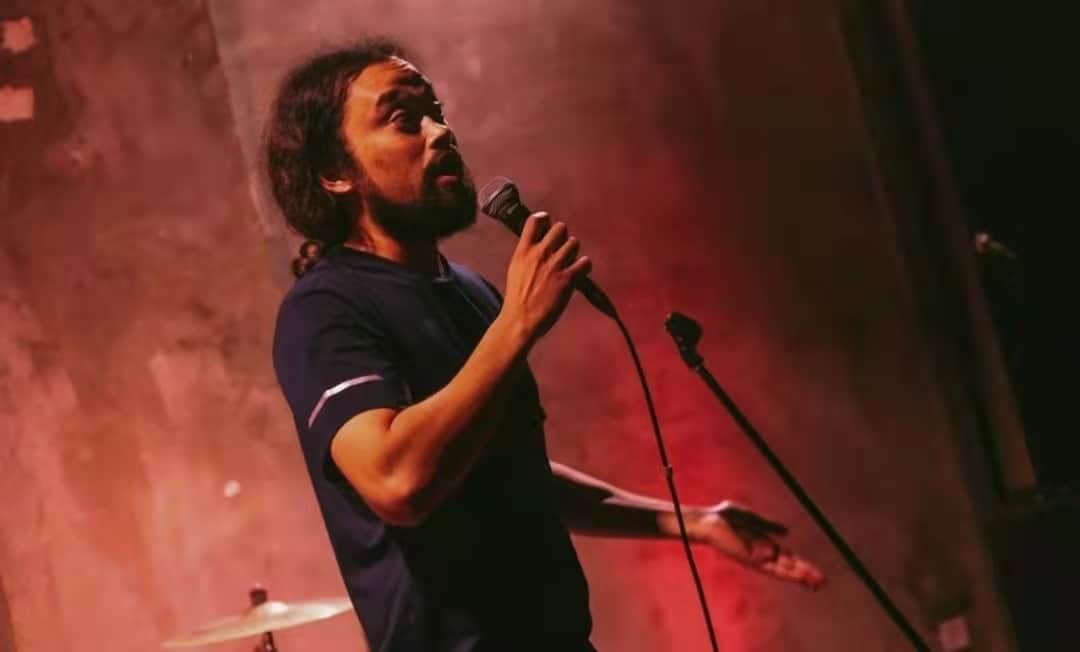 Rob Brien – has been a part of building Chengdu's comedy scene up from the ground. Since 2012, when he became the first English-speaking comic to perform in the city, he has hosted and performed on hundreds of shows and acted as MC and opener for many years for headline international acts on tour in China. He has performed at the Hong Kong Comedy festival, headlined in multiple cities and opened for Des Bishop, Will Sylvince, Glenn Wool, Kurt Metzger, Brad Williams, Mark Normand and many more!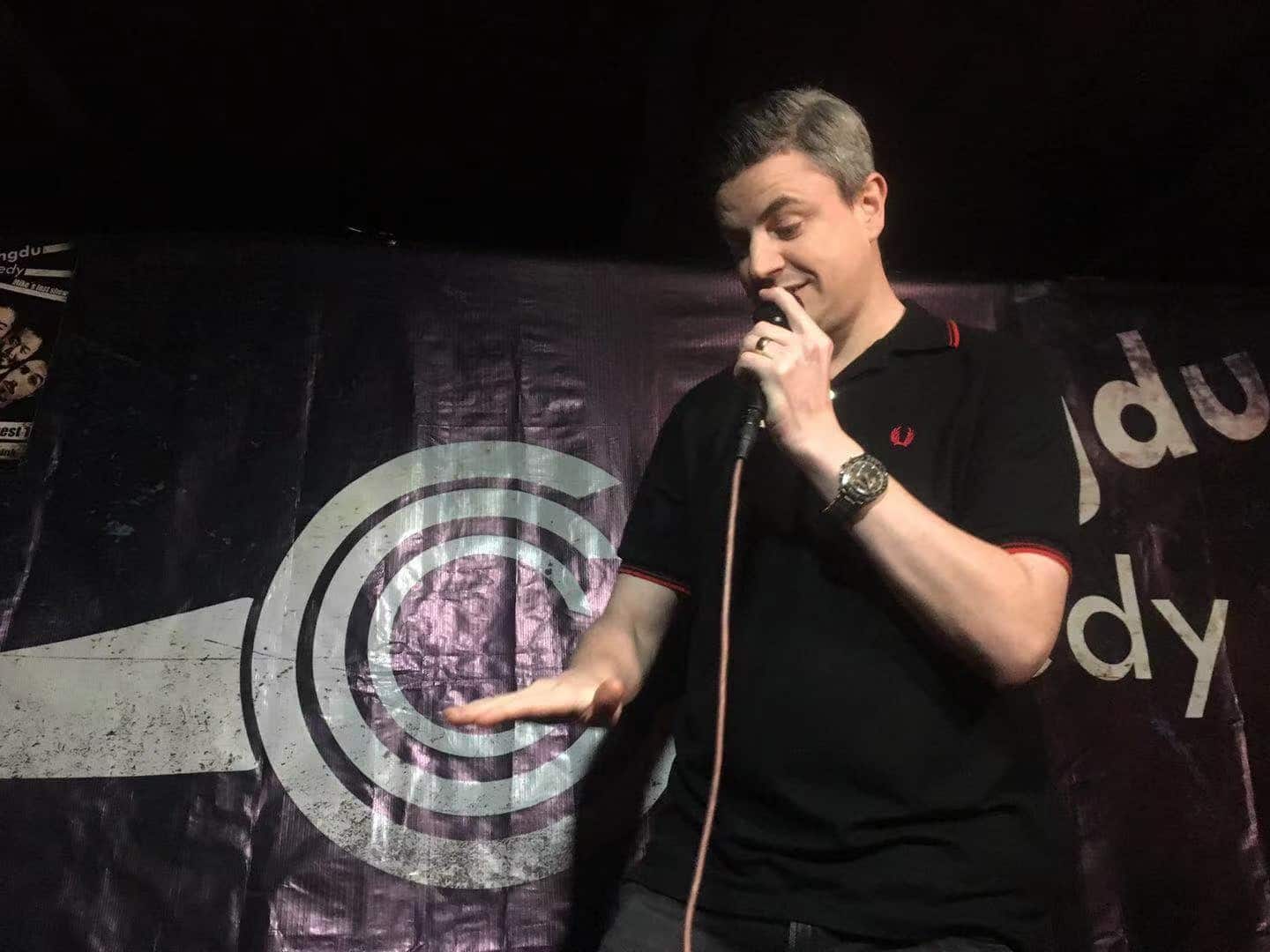 Nicole TooMuch has performed bitterly hilarious standup across China for many years. She takes a deeper look into the grim parts of life and teases out the fun. When not on stage she enjoys luring people into traps, watching them squirm awkwardly, and talking to stray cats. The subject of more than one documentary film, she has been described by fans as 'real'.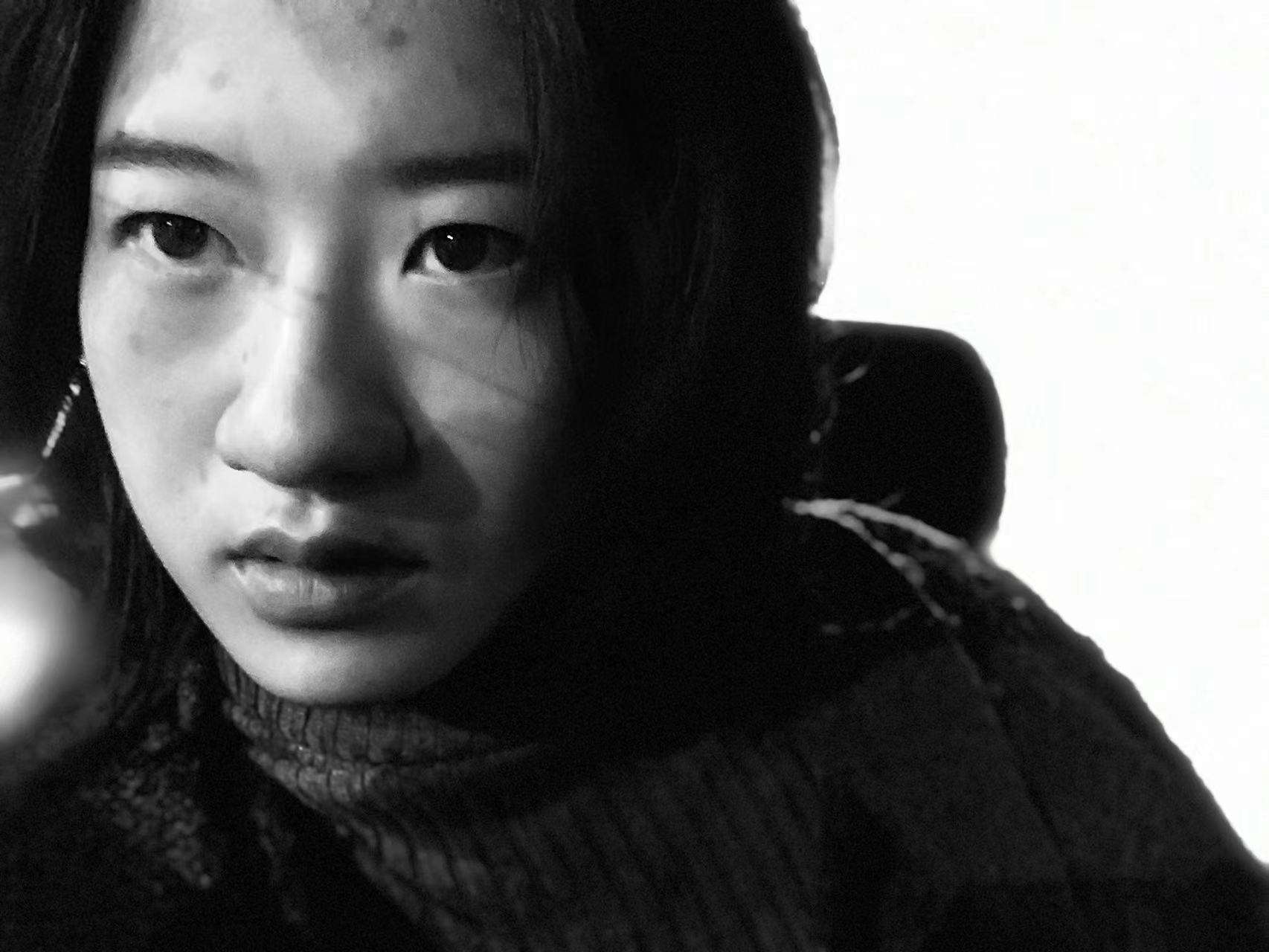 Cory's dream in life was to work a 996 job and marry a woman who complains all the time. In his free time, he gives free vasectomies to the homeless and tries to raise money for a charity he started, proctologists without borders. Many people have commented that he looks like a young Barack Obama.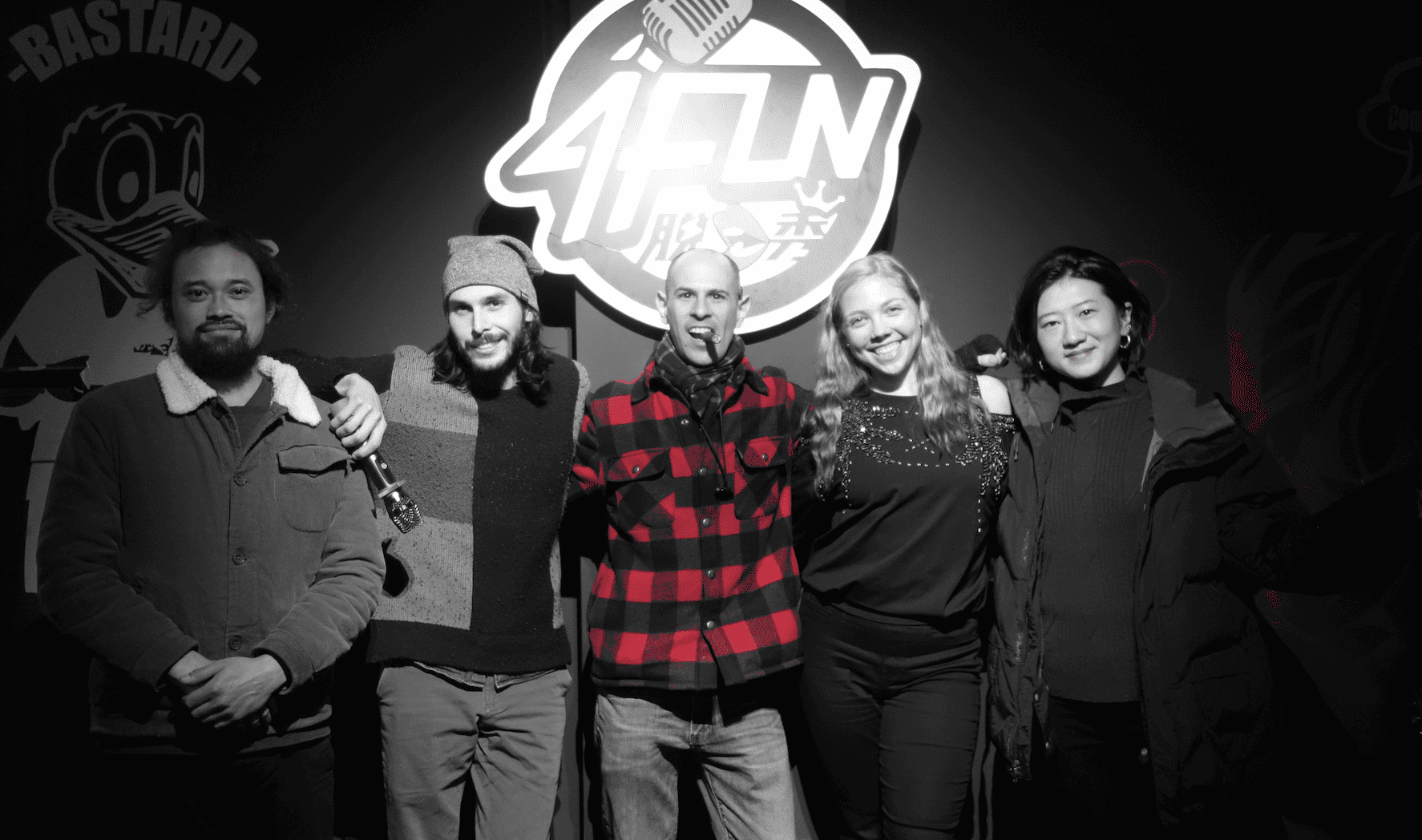 Jacob Wanuch has been doing comedy since before the pandemic when people told him not to bother writing covid jokes because the virus would be gone in a few months.
His puns have been described as a crime against language and humanity. But he refuses to stop punishing his audience who seem to like it for some twisted reason.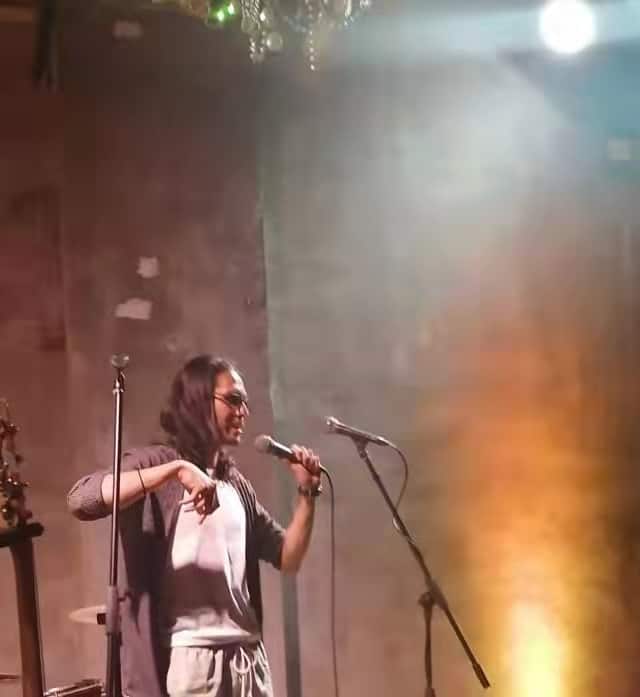 Martius speaks with a lisp and he is a stutter from time to time. As your average fat man, he couldn't stop consuming coke and cakes. At the age of 25, he learned how to dress properly from a British beggar. Now he is doing stand-up comedy to learn and practice English.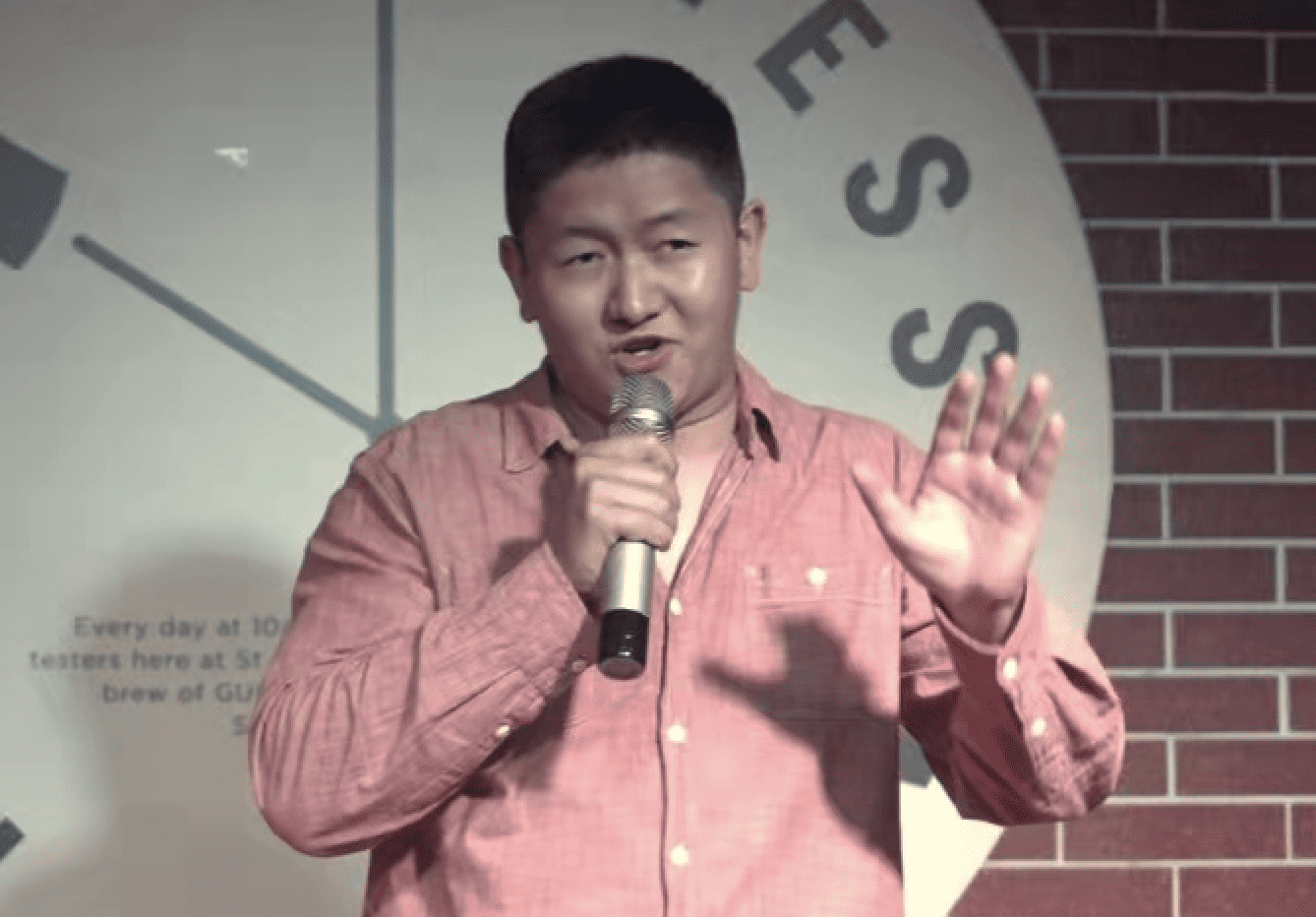 Michael of Qingbaijiang-has been doing stand-up comedy for a year, He often performs in Shanghai, Nanchang, Changsha and Chengdu. He opened for a very famous Chinese comic Chizi. He likes to dance, and there are a lot of funny physical movements in his comedy performances.
---
Date: Friday  December 10
Time: Starts at 9:00pm
Venue: The Beer Nest 啤酒窝
Address: Wuhou District, Jinxiu Road 34-7 武侯区,锦绣路34号附7号
Ticket: 60 RMB until December 8th, 80 RMB after December 9th
All tickets include 1 selected drink.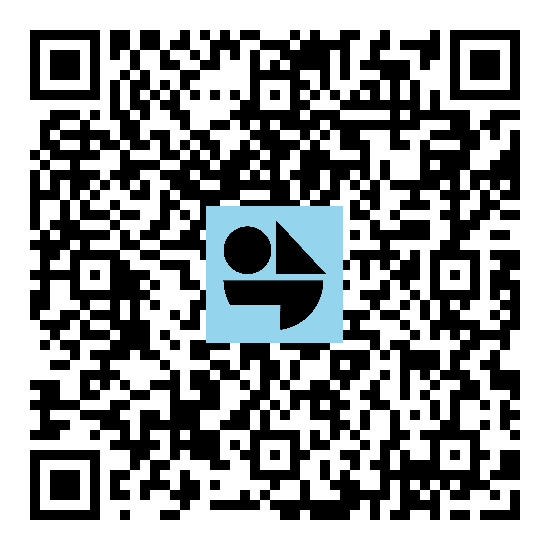 Reviews
More Events
成都远洋太古里西院落,锦江区中纱帽街8号
Jinjiang District
Sichuan
November 1, 2021, 10:00 am
-
February 20, 2022, 9:00 pm
青羊区青华路5号
Qingyang District
Sichuan
September 28, 2021, 9:00 am
-
January 3, 2022, 5:00 pm