Tibet Vacation are giving you the chance to experience the most significant festival in the Tibetan calendar as well as witnessing some of Tibet's other stunning sights this May. On May 21st 2018 they are organizing a comprehensive 15 Days Mount Kailash Saga Dawa Festival tour. It proves to be an all-encompassing event, with people from all over Tibet gathering to replace the Tarboche Flagpole at the foot of Mt. Kailash and attach their own prayer flags. Join the masses of pilgrims and trek the famous mountain.
Mt.Kailash is a world famous mountain that holds incredible religious significance in four religions – Hinduism, Buddhism, Bön and Jainism. This makes Mt. Kailash (also known as Kangrinboqê) a very sacred destination for pilgrims and adventure explorers across the world, with thousands making the pilgrimage every year for generations.
The mountain is located in northern Ngari area, about 1300km's away from Lhasa, and 6638 meters above sea level. Around Mt. Kailash, there are two kora routes (paths of pilgrimage.) The main one is 56 kilometers' long, which takes three days to complete for most tourists but locals can finish it within one or two days. A devout believer however will even take 15 to 20 days, performing body-length prostrations to accomplish this feat. It's believed that circumambulating Mt. Kailash on foot can wash away sin and thus bring good fortune.
The Saga Dawa Festival falls on the 15th day (full moon) of the fourth Tibetan lunar month, it's celebrating Buddha's birth, enlightenment and parinirvana. During this festival. Tibetans will perform the kora around sacred sites or objects, worshiping the buddhas, freeing captive animals (also avoid eating meat), and doing meritorious deeds as it is believed that all positive and negative actions are multiplied during Saga Dawa. In Kailash, you can join pilgrims and celebrate the renewal of Tarboche flagpole.
The tour starts in Lhasa where you can experience the wonder of Mt. Everest before continuing on to Ngari. After visiting Lake Manasarovar the tour will reach Darchen on 28th. On the early morning of the next day the group will have the chance to view the yearly ritual flagpole-changing ceremony before starting the 3 days trek around Kailash, to complete your once-in-a-lifetime kora.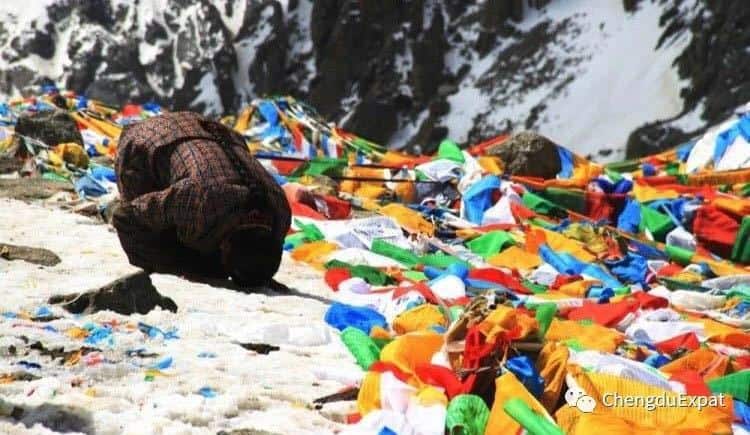 Day 1 (21st, May, 2018): 
---
Arrive in Lhasa
Day 2 (22nd, May, 2018): 
---
Lhasa city tour
Highlights: Potala Palace, Johkang Temple, Barkhor Street
Day 3 (23rd, May, 2018): 
---
Lhasa city tour
Highlights: Drepung Monastery, Sera Monastery
Day 4 (24th, May, 2018):
---
 Lhasa / Gyantse[3980m] / Shigatse[3840m], 360km, 7-8hrs
Highlights: Yamdrok Lake, Pelchor Monastery, Karo-la Glacier, Gyantse Pelkor
Day 5 (25th, May, 2018):
---
 Shigatse / Tingri[4300m], 230km, 5-6hrs
Highlights: Tashilumpo Monastery
Day 6 (26th, May, 2018): 
---
Tingri / Everest Base Camp[5200m], 100km, 3hrs,
Highlights: Rongbuk Monastery, Everest Base Camp
Day 7 (27th, May, 2018):
---
 Everest Base Camp / Saga [4500m] 300km, 8-9hrs
Day 8 (28th, May, 2018):
---
Saga / Lake Manasarovar / Darchen [4680m] 500km, 9-10hrs
Highlights: Lake Manasarovar
Day 9 (29th, May, 2018):
---
 Trek Day One – Darchen to Drirapuk [4920m] 20km,7-8hrs
Highlights: Saga Dawa Festival Ceremony, Kailash Trekking
Day 10 (30th, May, 2018):
---
 Trek Day two – Drirapuk to Dzultripuk 18km, 6-7hrs
Day 11 (31th, May, 2018):
---
 Trek Day three- Dzultripuk to Darchen 11km, 3hrs
Day 12 (1st, June, 2018): 
---
 Darchen / Saga 500km, 9-10hrs
Day 13 (2nd, June, 2018): 
---
 Saga / Shigatse 460km, 8-9hrs
Day 14 (3rd, June, 2018):
---
 Shigatse / Lhasa 270km, 6hrs drive
Day 15 (4th, June, 2018): 
---
Depart from Lhasa
(This tour can also arrange tourists to pass Gyirong Border to Nepal after visiting Mt. Kailash; Vehicle fee from Gyirong Border to Kathmandu is around RMB200/USD32pp in a car: 9-10 hours)
Price: RMB10899pp 
Note: shared accommodation, + RMB840pp
Services Included:
1. Airport or train station pick-up (Airport -09:30AM,13:30PM,16:00PM; Railway – Any time)
2. Airport or train station see-off (Airport- 06:30AM, 08:30AM,12:30PM; Railway – Any time)
3. All necessary permits to Tibet, including Entry Permit, Alien'stravel permit, Military permit
4. Entrance fees of all tourist sites listed in the itinerary
5. Mainly Breakfast in Lhasa, Shigatse and Tingri(B)
6. Local tour Transfers, Mini Van or Tourist Bus according toGroup Size and seasons
7. Local Tibetan English-speaking guide
8. Accommodations:
-Economy/Comfortable hotel sharing twin room basis in majorcities: Lhasa/Shigatse/Tingri
-Dorm-bed guesthouse in remote area or while trekking
9.   Welcome Tibetan Style Dinner in localrestaurant
10. Drinking Water
11. Necessary oxygen provided
12. Tourist accident/casualty insurance
Services Excluded:
1. Tips to tour guide and driver, suggested to tip them 5-10 USD/day
2. Meals not specified above (USD3-15 per person per meal)
3. Full board during the trekking
4. Porters, trekking animals (yaks) during the trekking
Please scan the QR code below to find out more about how you can book the trip of a lifetime. You can also click read more to be redirected to their website.