1 Day Wonders – Day Trips Around Chengdu
One of the best things about living in Chengdu, is how easy it is to hop on a train or a bus, and in a few hours be somewhere beautiful. Western Sichuan has some stunning hikes, and scenic spots – and whilst some of them require long bus rides through hilly highways, here are some places to escape to, just for the day;
Leshan 乐山
Leshan is best known for its Giant Buddha, but it's also home to interesting temples and an epic local food scene. Set off from Chengdu as early as possible so you can explore the Giant Buddha scenic area at a leisurely pace and still have time to chow down on some local beef. By car, Leshan is about two hours away from Chengdu. Tickets to the Giant Buddha park are 80RMB, and 40RMB  for concessions.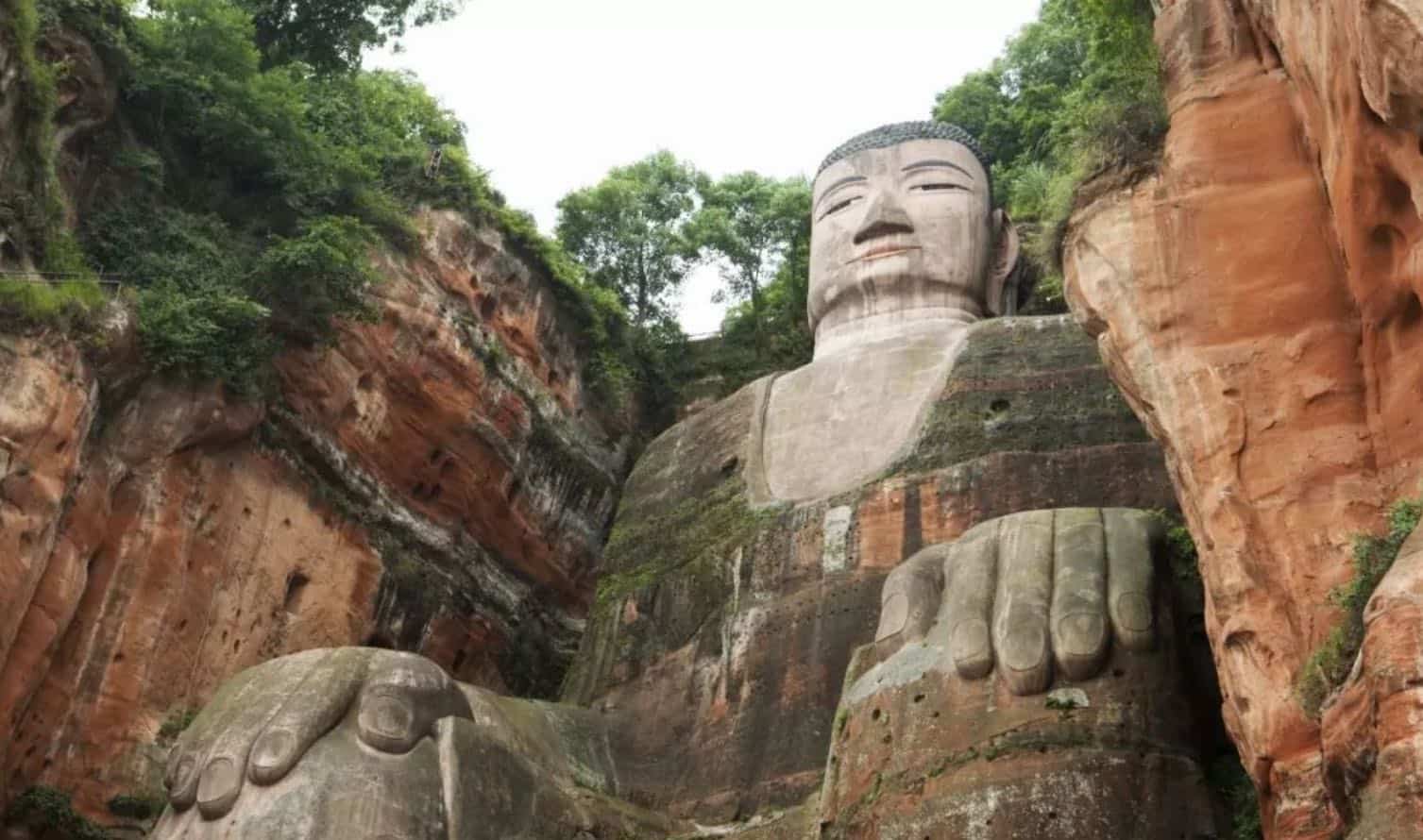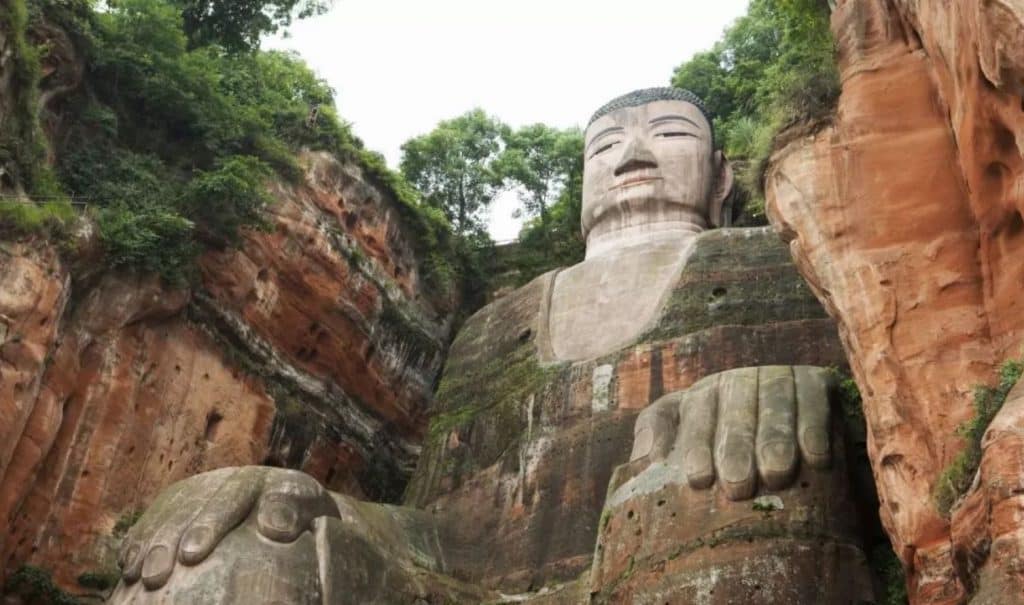 Once you make it to the recently restored Giant Buddha, you will have to queue for a while to walk down the narrow path from the top to the bottom – on weekends this can take hours. If you want an unobstructed view, hop on one of the tourist boats over the river. After you've got your pictures with the big guy, spend some time exploring the temples and gardens inside the park.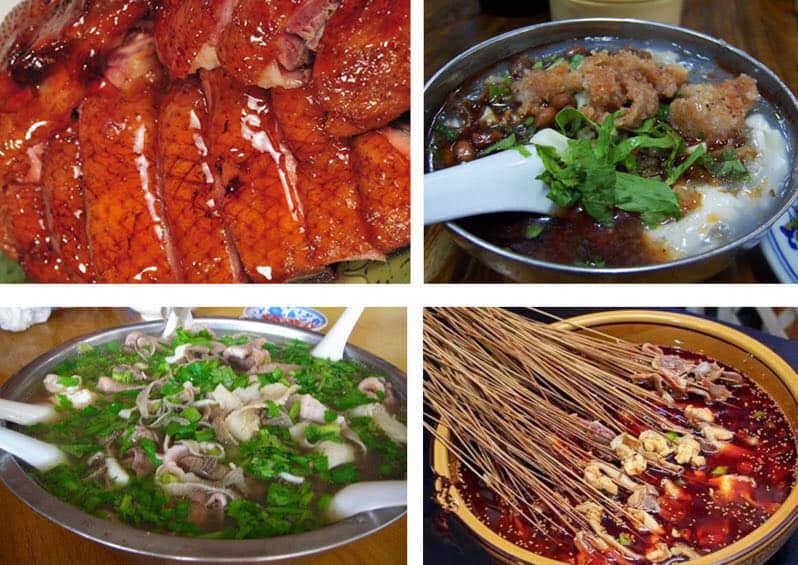 Don't miss out on some of Sichuan's best snacks: 翘脚牛肉 – Leshan beef soup, 豆腐脑 – Soft tofu with crunchy toppings, 钵钵鸡 – similar to chuanchuan served cold in chili oil,and 甜皮鸭 sweet skin Leshan duck. Mmm!
How to get there from Chengdu:
You can get a coach to Leshan from Xinnanmen Bus Station (take Metro Line 3 to Xinnanmen Metro Station). The coach costs 46RMB each way and leaves every 30-60 minutes until the early evening. You'll arrive at Leshan Xiaoba Bus Station and from there take the number 13 bus (13路) to Leshan Giant Buddha stop (乐山大佛). The coach back to Chengdu leaves from Xiaoba Bus Station every 30-60 minutes and the last bus is at 7pm.
The most hassle-free way is to get the fast train from Chengdu East Railway Station to Leshan and back again, which costs 65RMB/54RMB (1st class/2nd class) each way. It's best to book ahead, and make sure you bring your passport.
Hotels
Leshan golden leaf, Chanyi Resort Hotel
Address: Area A, Jiading Square, Leshan Giant Buddha Scenic Spot
(7.5 km straight from Leshan Station, 10.9 km drive, about 34 minutes)
Price: From 611RMB/ Day
TEL: 2113122/0833-2119222
Chaton International Youth Hostel
Address: Leshan Normal College, No. 59 Renmin South Road
(6.8 km straight from Leshan Station, 9.7 km drive, about 27 minutes)
Price:From 48RMB/ Day
TEL: 18080665068/0833-2090999
Longchen Hotel
Address: Leshan Normal University, 180 East Street
(it's 7.5 km from Leshan station, 10.2 km by car, about 26 minutes)
Price:From 135RMB/ Day
TEL: 2375222/0833-2375666
Emei Shan 峨眉山
Located outside Chengdu in Sichuan province, this glorious mountain is  home to China's very first Buddhist temple that was built in the first century CE at the summit of Mt. Emei. At an altitude of 3,000 meters, the Huazang temple is both tremendously beautiful and historically significant. 
Mt Emei is home to around 30 temples that vary in historic age and this is what resulted in the scenic areas and nearby Leshan Buddha becoming a combined UNESCO World Heritage Site in 1996. In order for you to experience this beautiful site to its full potential, we recommend taking at least one full day to explore!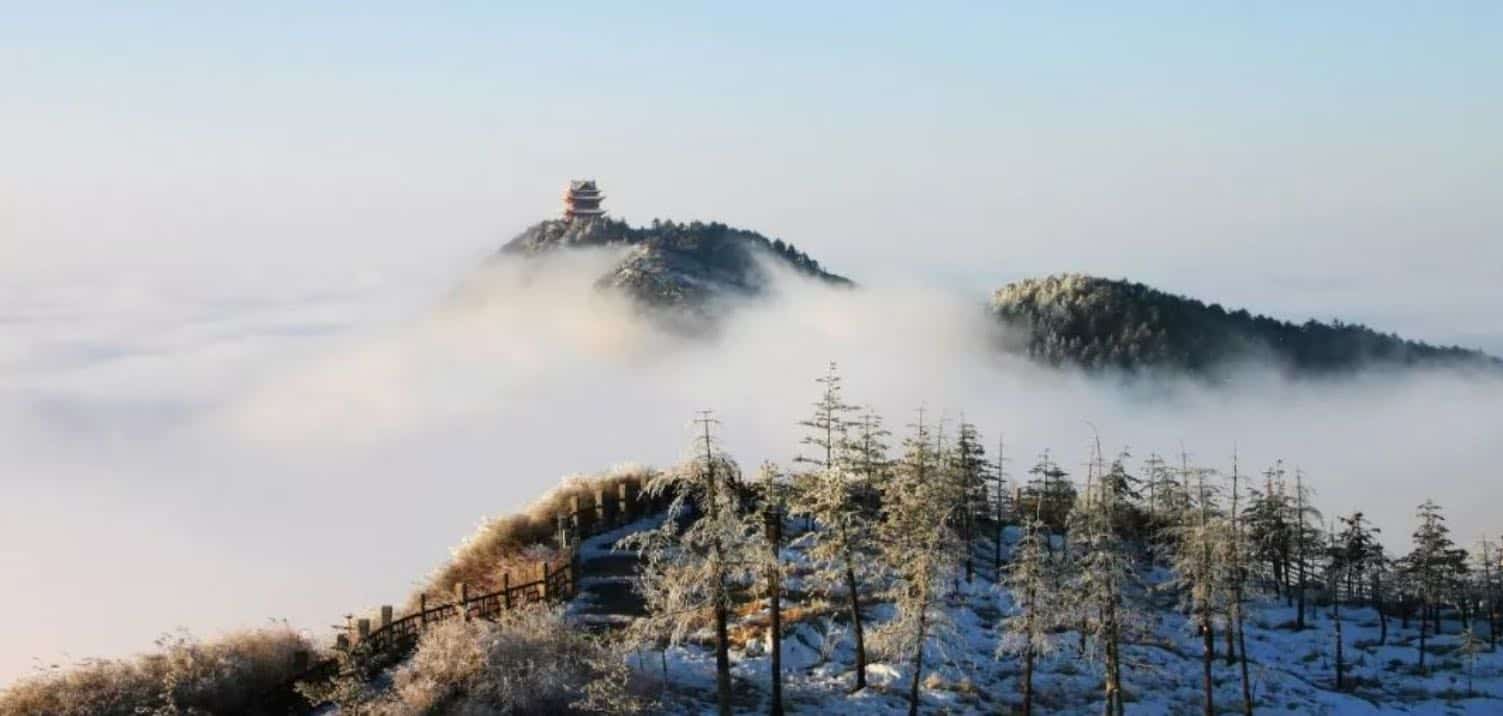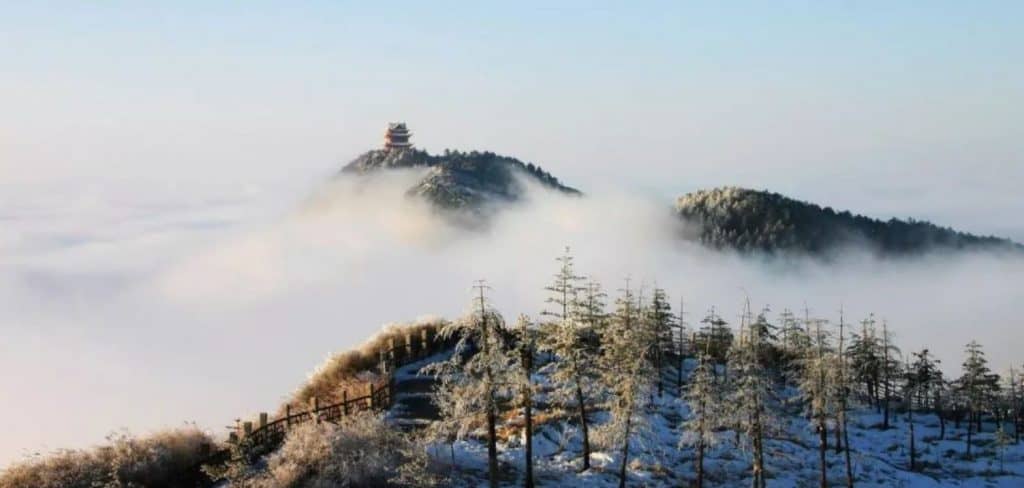 One must-see spot along your travels is the Baoguo Temple upon which is a ticket office and a tourist centre, with sightseeing buses that can take you to different destinations along the mountain. The prices of these bus journeys do vary depending on where you are wanting to travel but the prices vary from around RMB185 per person (peak-time) and RMB110 (off-season).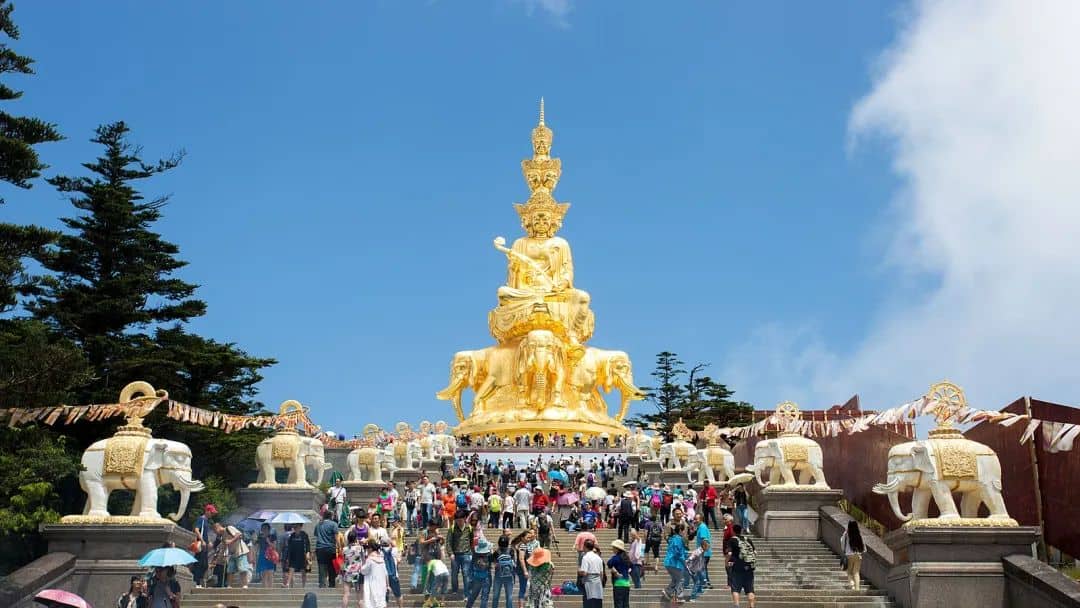 Very near to the Baoguo Temple is the natural hot springs where travellers can immerse themselves in the rich water that the mountain provides. Along the temple area are different resorts and hotels that can offer swimming as well as yoga and spa treatments. It is also worth noting that the Lingxiu hot spring is open until midnight where guests can enter until 11pm. With the ticket price only RMB138 it is a great way for guests and travellers to unwind after a hard day of exploring the mountain surroundings.
How to get there from Chengdu:
You can get a train from Chengdu East Railway Station to Emeishan for 78RMB/65RMB (1st class/2nd class). The new Emei Shan train station is about a 50-minute walk from the entrance of the park, and the station is also connected by bus to Baoguo temple, which is the departing point for buses going up Mount Emei and also the starting point for trekking.
Driving from the Sichuan capital to Mt. Emei will take roughly three hours (longer on holiday weekends). Hiring a private car and driver is the most expensive option but might be ideal for a group of up to seven people if comfort and convenience are a top priority.
You can also get a coach to Emei Town from Chengdu East Railway Station Bus Passenger Transport Station (take Metro Line 7 to Chengdu East Bus Station Stop). The coach costs 43RMB each way and leaves at 7:20 am, 10:00 am, 15:00 am, and 16:20 am every day, arriving at Emei Town Main Bus Station.
There are also many local and tourist buses that take travelers from Emeishan Station to the major tourist starting points. In 30 minutes, the number 12 bus will take you to Baoguo Temple at the eastern foot of the mountain. A taxi will make the same trip in ten minutes.
Hotels
Mount Emei Juan Shutang Resort Hotel
Address:339 Wenquan Avenue
Price:From 169RMB
TEL:6175000/0833-6176000
Emei Shan Yuanda Restaurant
Address:In leidongping scenic area of huangwan Township
Price:From 228RMB/Night
TEL:15680264777/0833-5098039
Hongzhushan Hotel – Emeishan
Address:Huangwan Township Baoguo Temple Scenic Area
Price:From 659RMB
TEL:0833-5525777
Flower Town 三圣花乡
'Flower town' as it's known locally, is a group of villages that used to sell flowers, but has slowly become a mini-getaway for city dwellers looking to experience the countryside, but still sleep in the comfort of their own beds at the end of the day. The narrow, hilly roads make a welcome change from Chengdu's grey concrete highways and for a few hours you can get lost in the idea that you're outside of the third ring road.
There are plenty of little cafes, bars, and restaurants where you can relax and enjoy the relative calm of the town, or alternatively rent bikes. There are lots of BBQ restaurants, to invite big groups to, with free flow beer, so gather your friends! Across from the Modern Art Museum, you can also buy cheap flowers and plants at the market.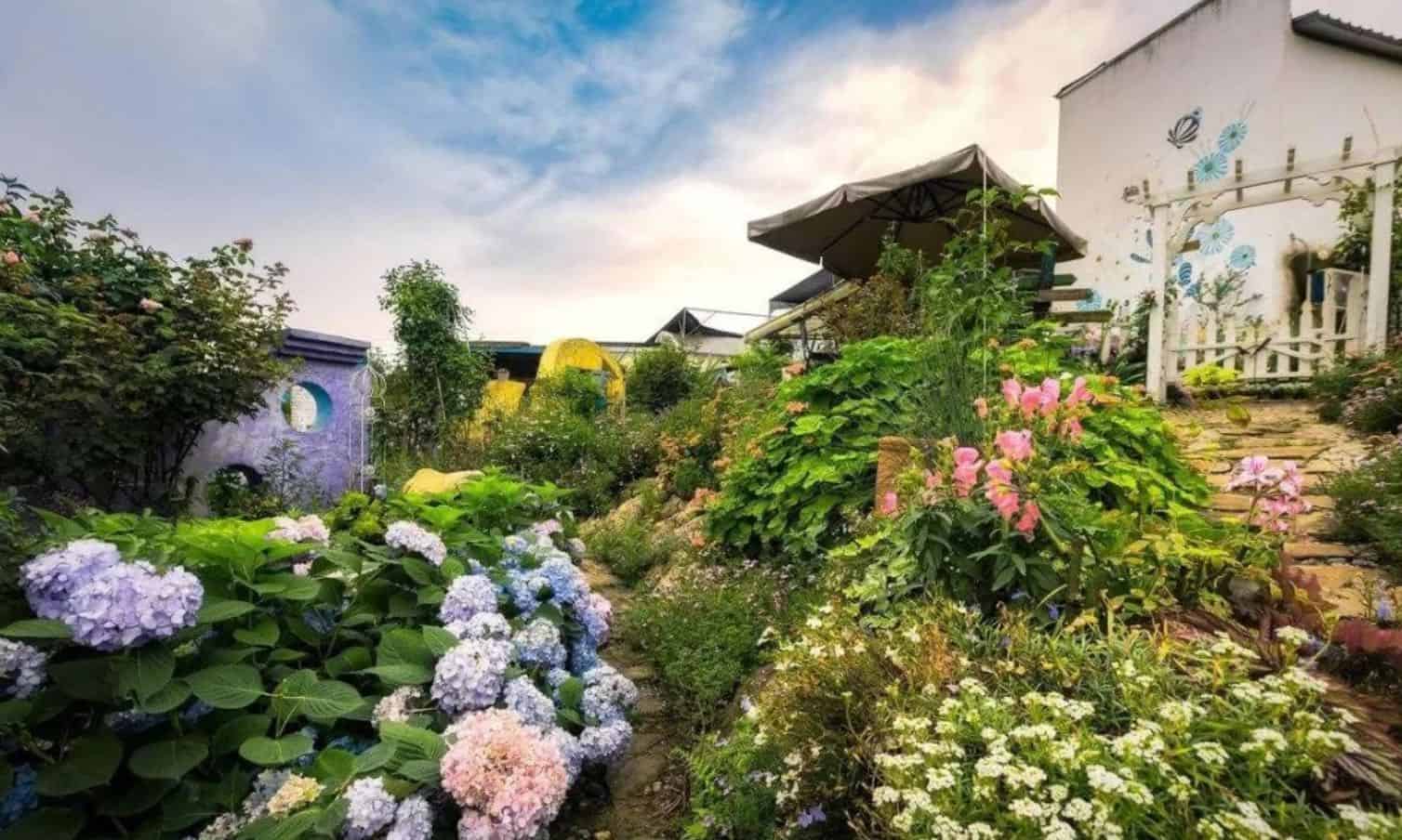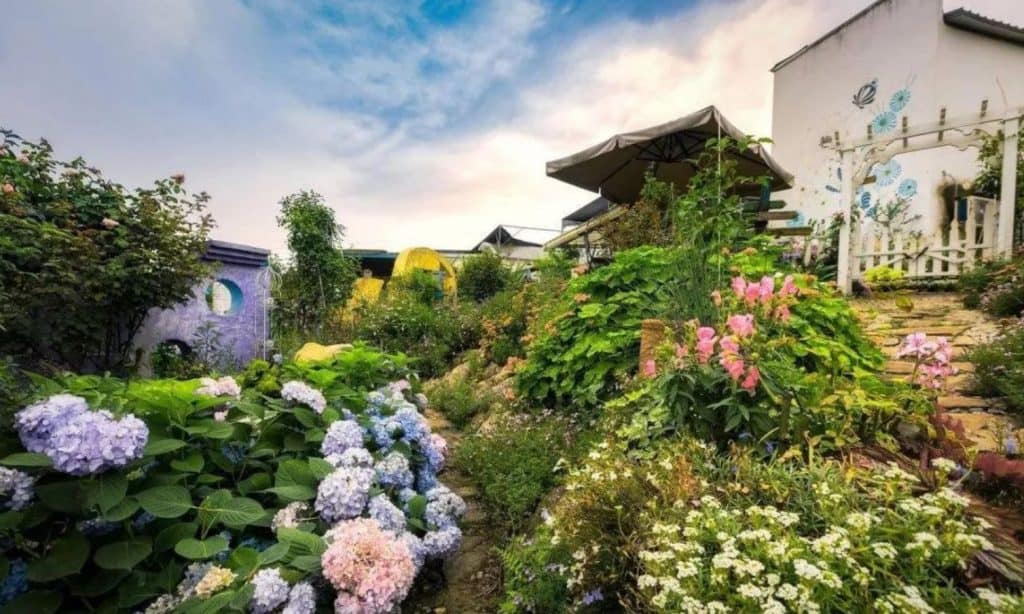 How to get there from Chengdu:
Flower town is technically in Chengdu, so it's a doddle to get to. A DiDi or taxi is the easiest way (30-50RMB) – It's pronounced sān shèng huā xiāng 三圣花乡. There are also buses (the 899 from Chengdong Passenger Transport Center to Louwailou Stop) or Metro line 2 to 红河地铁站 Honghe Station Exit A1.
Hotels
Jinjiang Lanan Hotel
Address:No. 318, Group 4, Yinglong Village, Zhonghe Town
Price:From 289RMB/Night
TEL:028-85679777
Chengdu Wheat Tian Yue Hotel
Address:No.15, West Section, South Railway Station, Middle Ring Road
Price:From 367RMB/Night
TEL:028-85215555
Freya Hotel chengdu
Address:No.8 East Railway Station Road
Price:From 209RMB/Night
TEL:028-87060000/028-87046890
Huanglongxi Ancient Town 黄龙溪镇
Huanglongxi is an 'ancient town' with a history that dates back to the Han Dynasty. Located in nearby Shuangliu County to the southeast of Chengdu, Huanglongxi is known for its natural scenery and 'ancient architecture'. The town has seven ancient streets which were constructed during the Ming and Qing Dynasties… or so they say.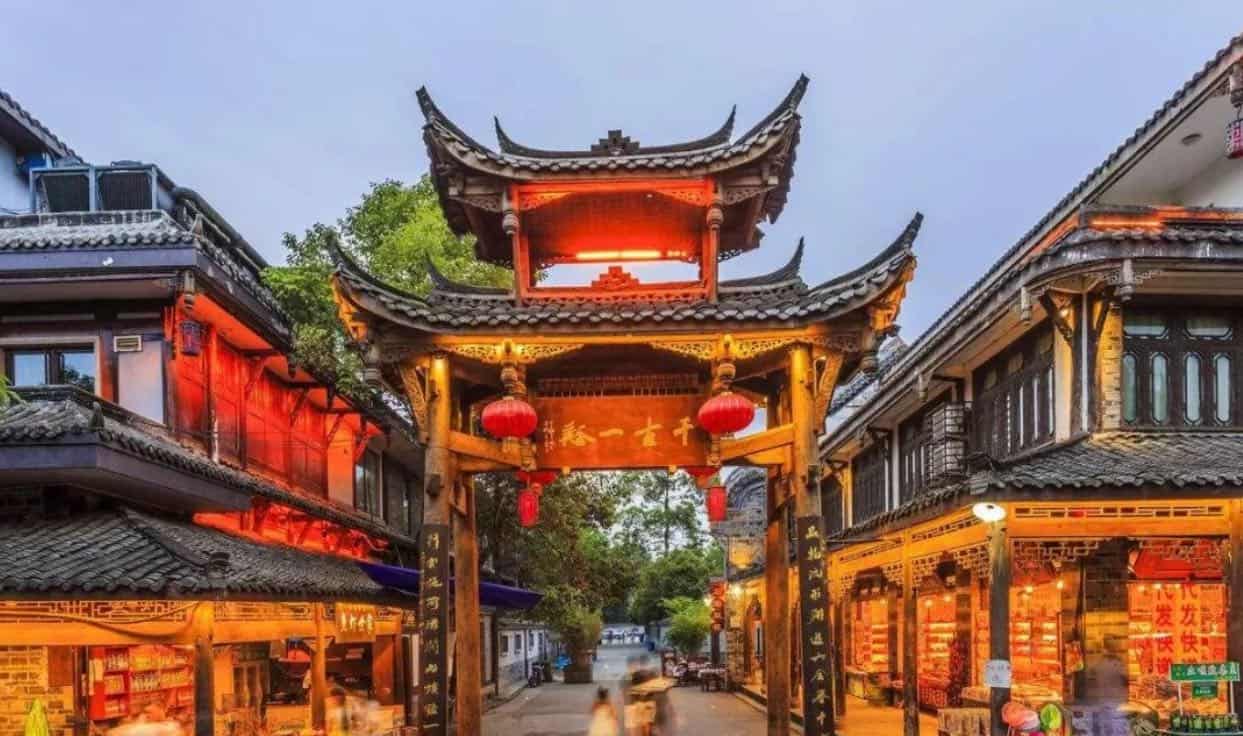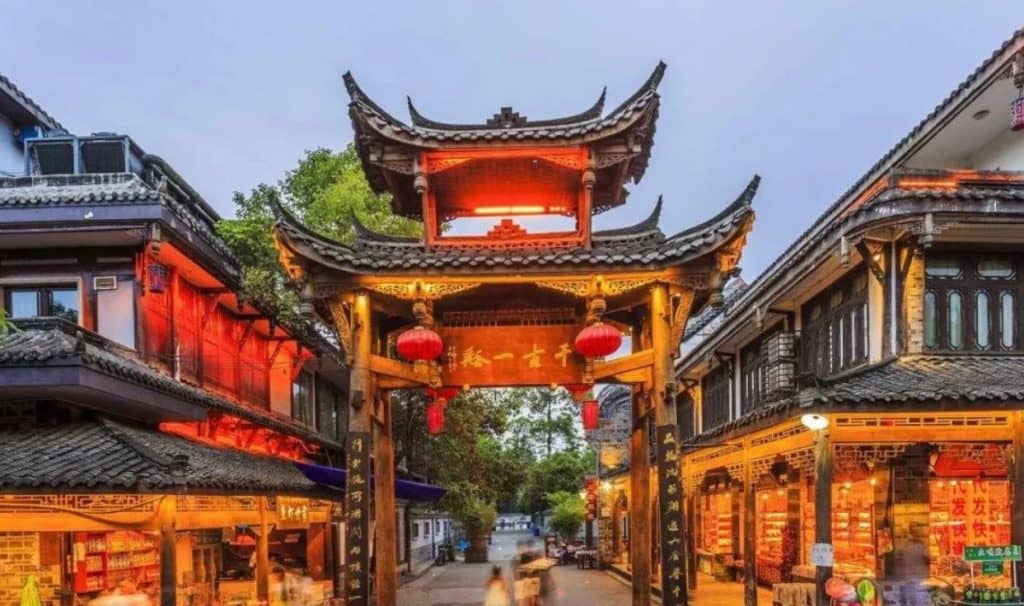 There are temples along the town's central street, or you can take a river cruise and admire the stilt houses and beautiful scenery. It has recently been used to as the backdrop in many historical dramas – so prepare to fend off teenagers in hanfu. You can also play mahjong along the river or go fishing.
How to get there from Chengdu:
Take the bus from Chengdu East Railway Station Bus Passenger Transport Station. Buses leave every 30-60 minutes until around 6:30pm. The journey to Huanglongxi takes about ninety minutes and it costs 16RMB each way.
Hotels
Chengdu Keston Huanglong Hotel
Address:38 Longjie, Zhenzhen, Huanglongxi Town
Price:From 418RMB/Night
TEL:028-61900888
JOYUS Light Luxury Art Hotel chengdu
Address:No. 55 crescent Street, Huanglongxi Ancient Town
Price:From 338RMB/Night
TEL:028-62155127
Huanglong Lijing Hotel
Address:45 Yueya Street, Huanglongxi Town
Price:From 305RMB?Night
TEL:028-69286699
Qingcheng Shan 青城山
Qingchengshan is one of the ancient 'cradles' of Taoism in China. The mountain area contain Taoist and Buddhist temples as you ascend to the peak, and it's a really nice day out. Skip the front mountrain, and head to 后山 – the back mountain, which is much quieter. The entrance fee for Qingchengshan on its own is 78RMB (half price with a student card) and the combined ticket for both mountains and the Dujiangyanirigation system is 156RMB.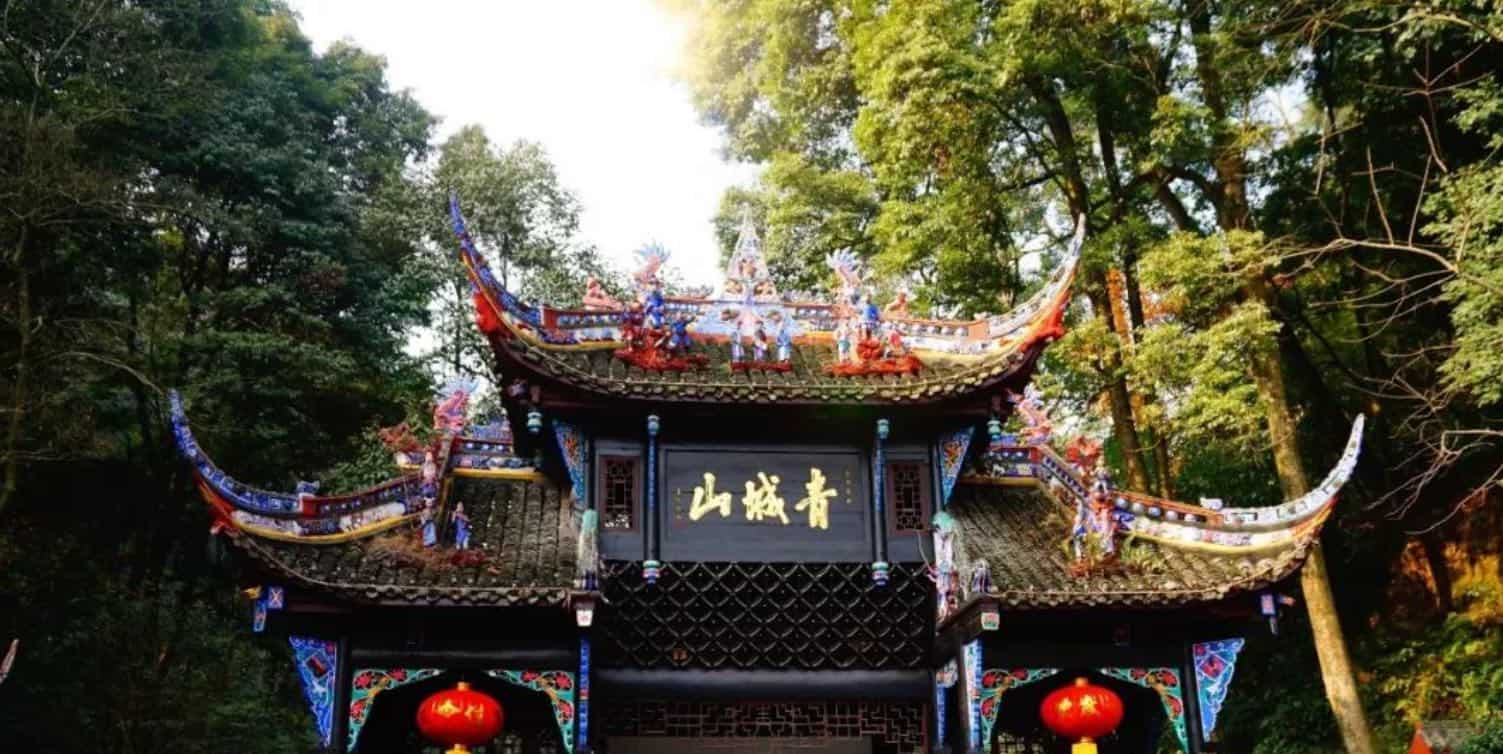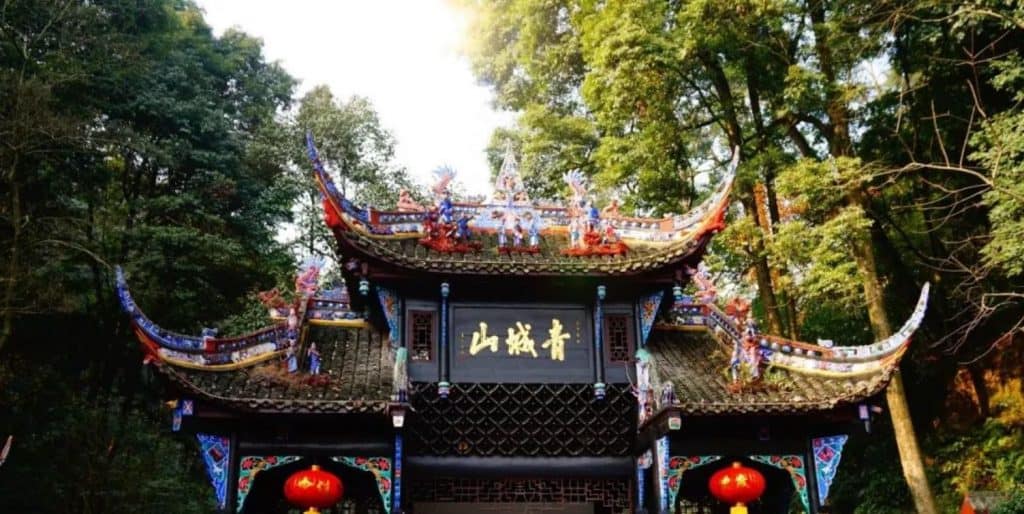 It takes around 3 hours to get to Laojun temple at the summit of the mountain, with the cable car (80RMB) – but if you carry on walking, instead of taking the cable car back down, it's a lovely route and will take you back to where you started. If you stay in the area overnight be sure to check out the Dujiangyan irrigation system nearby.
How to get there from Chengdu:
Take the fast train from Xipu Train Station (Metro line 2) to Qingchengshan Highspeed Station which takes roughly 35 minutes and costs 10RMB each way. Remember you will need your passport, both to book and to take the train.  At Qingchengshan train station, take bus number 101 or 102 to get to the start of the walking trails.
Alternatively, you can get a bus to Qingchengshan from the Wide and Narrow Allies 宽窄巷子which takes 1-2 hours, and also stops at Dujiangyan bus station. The buses leave at every hour, and especially frequently from 7 am to 8 am every day. Buses from Kuanzhaixiangzi will stop directly at the parking lot of Qingchengshan ticket office.
Hotels
Homestay at Banshan
Address:No.37, group 2, Jianfeng community, Qingchengshan Road, Qingchengshan town
Price:From 780RMB/Night
TEL:028-83333618/17318907681
Qingcheng Spring Mountain Village Inn
Address:No.12, group 2, Jianfeng village, Qingcheng Mountain Scenic Spot
Price:From 268RMB/Night
TEL:18982157109
Yunli Mountain House
Address:Tai'an town Yidao Street Qingcheng Houshan tourist center
Price:From 110RMB/Night
TEL:18349299867
Luodai Ancient Town 洛带镇
Roughly 20km away from downtown Chengdu, this old town is home to the largest Hakka population in Sichuan (90% of the town's population is Hakka), and the town seeks to preserve this culture. Walking down the town's main street you can see some fantastic examples of traditional Chinese architecture.
Luodai has a Hakka museum and a spacious park dotted with teahouses. The four guild halls which date all the way back to the Qing Dynasty.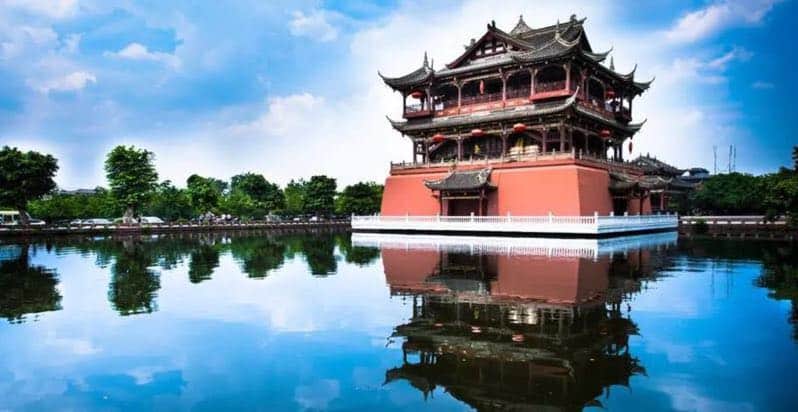 How to get there from Chengdu:
You can take bus line 1024 from Xihe station 西河地铁站 (Metro line 4 to Xihe Station) to Luodai or catch a bus from Xinnanmen Bus Station straight to Luodai Bus Passenger Transport Center Ancient Town. It will take roughly 1h 45 min to get the scenic spots.
Hotels
Jiudian Yiku Hotel
Address:199 san'e street, Luodai Ancient Town
Price: From 249RMB /Night
TEL: 028-84844999
Taihuaju, Chengdu
Address:Unit 704, unit 1, building 3, Yudai Huayuan, No. 85, zhangjiajingzhong street, Luodai town
Price:From 396RMB
TEL:13348802341
Supply and marketing Club Inn
Address:No.4, xiajie, Luodai Ancient Town
Price:From 45RMB/Night
TEL:028-84638337
Xiling Canyon Water Rafting
Situated in a 4A graded tourist area (!!!!!), Xiling Canyon is famous for skiing in the winter and rafting in the summer. The course a few hours to navigate, with drops of up to 100 meters along the way, but it's mostly quite a tame affair. There are over 15 different rafting areas to choose from in Xiling Canyon, and the rafts can fit 3-4 people so bring your friends.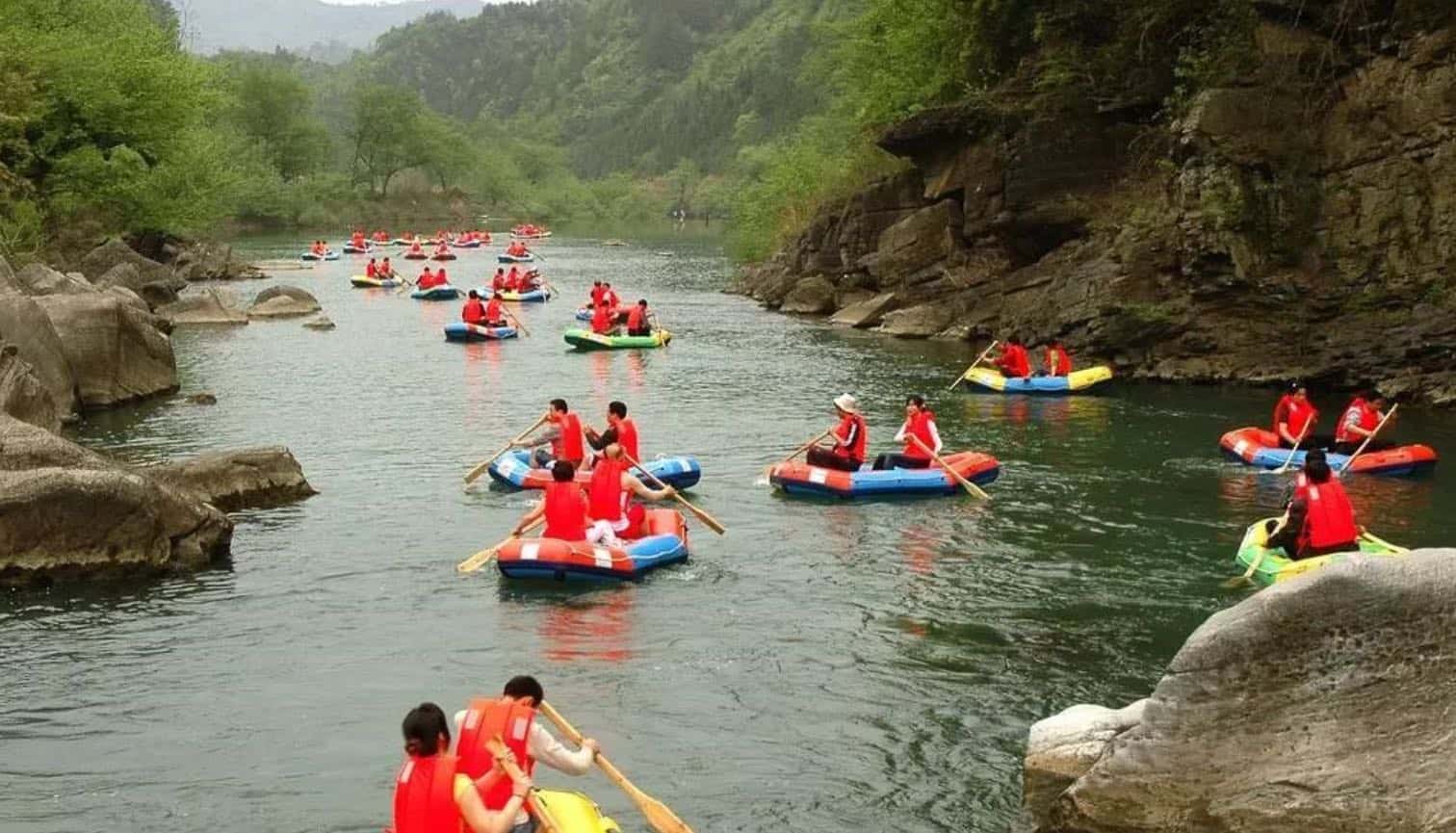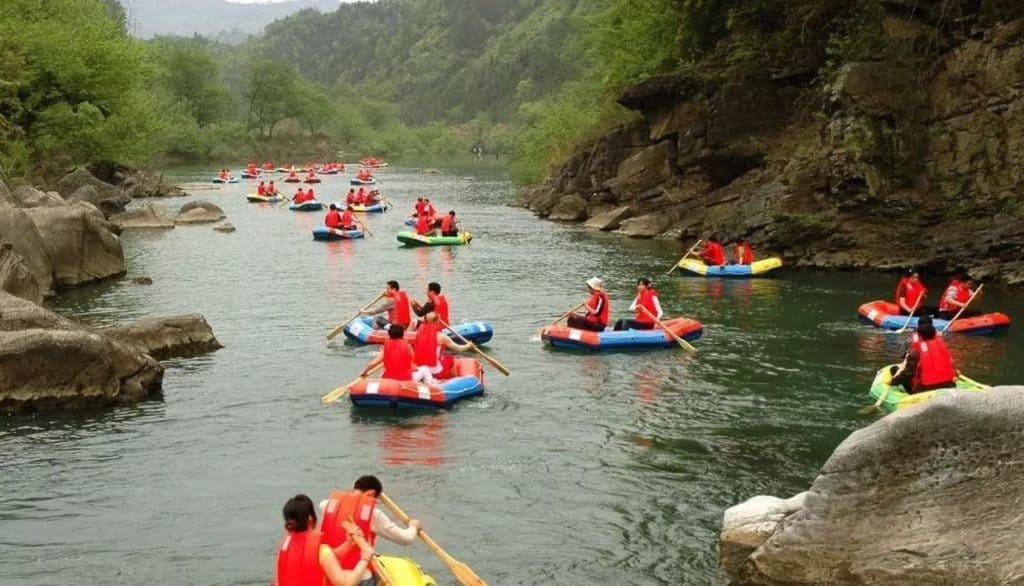 How to get there from Chengdu:
From Chadianzi Station 茶店子汽车站 take the bus towards Dayi County Station 大邑站 which costs 20 RMB. From Dayi County Station take the bus to Xilingxueshan for 7.5 RMB  and get off at Yunhua Village.
Hotels
Kaixue Hotel
Address:Group 1, Yunhua Village, Xiling Town
Price: From 81RMB/ Day
TEL:15308208226
Jinyu Hotel, Xiling Snow Mountain
Address;Opposite to parking lot 1 of Xiling Snow Mountain Ski Resort in Xiling town
Price:From 122 RMB/ Day
TEL:18081149058
Huashuiwan first village forest Hot Spring Hotel
Address:136 Wenquan South Street, Huashuiwan town
Price:From 369RMB/ Day
TEL:028-68380006
The Wenshu Monastery
The Buddhist Wenshu Monastery was constructed in 1961 and consists of five separate temples built from wood and stone. It has ten statues of Buddhist guardian gods and more than 100 sculptures of Buddhas.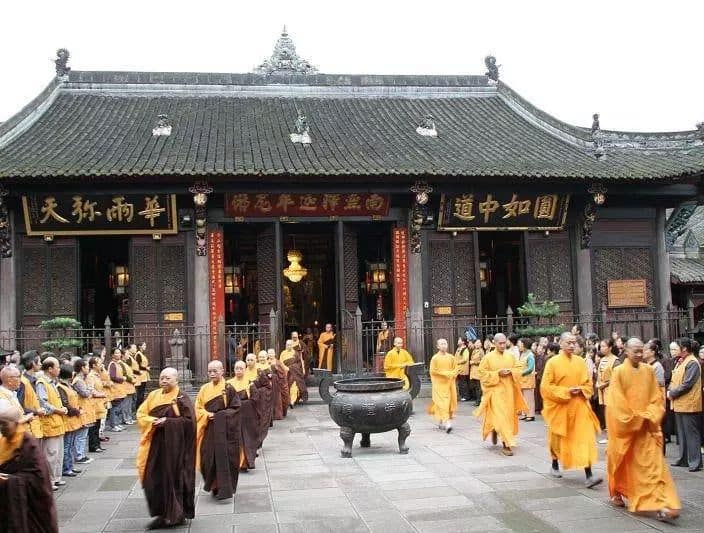 How to get there from Chengdu:
Take Metro Line 1 and get off at the stop Wenshu Monastery.
Hotels
Old Chengdu Inn
Address:29 Zongfu Road
Price:From 151RMB/ Day
TEL:028-65523996
Loft International Youth Hostel Chengdu
Address:Inside Beijing Roast Duck Restaurant, 1 / F, Chunxi Shopping Plaza, 18 Zongfu Road
Price:From 43RMB/ Day
TEL:028-61292346
Chengdu Vuitton Hotel
Address:89 North Second Street, Sunsocks
Price:From 126RMB/ Day
TEL:028-86009555