Films this January When all is said and done, January is looking pretty sweet, too! We have 14 scheduled films, which is the most foreign films in one month yet, and finally including STAR WARS.
We have a couple cartoons, Russians in space, a Jumanji reboot/remake, a few action adventures, one about a Brazlian artist (in Portuguese), an Oscar nomination from last year, another Aamir Khan flick from India, and a random old horror movie on a Tuesday.
Friday, January 5, 2018
Star Wars: Episode VIII
The Last Jedi
《星球大战8:最后的绝地武士》
xīng qiú dà zhàn bā:zuì hòu de jué dì wǔ shì
Director: Rian Johnson
Actors: Daisy Ridley, John Boyega, Mark Hamill, Carrie Fisher, Adam Driver, Oscar Isaac
China Release Date: Friday, January 5, 2018
We know, you're going to see this one. You can't not see it. And to be completely fair, we already have our midnight showing tickets, so see you there!
What can we expect? Rey develops her newly discovered force abilities with the guidance of Jedi Master Luke Skywalker, who might finally say something. Meanwhile, the Resistance, led by "Princess" Leia, prepares for battle with Kylo Ren and the First Order.
Friday, January 5, 2018
Nise – The Heart
of Madness
《尼斯·疯狂的心》
ní sī ·fēng kuáng de xīn
Director: Roberto Berliner
Actors: Julio Adrião, Flavio Bauraqui, Fabrício Boliveira
China Release Date: Friday, January 5, 2018
Note: this movie is in Portuguese with Chinese subtitles
A miracle happened in Brazil on the 1950's. Renowned modern art museums opened their doors to artists nobody ever heard of. Many critics pointed out that theses exhibitions revealed painters that should be ranked amongst the best Brazillian artists of the century.
It was written that this explosion of art and beauty was a sign that something comparable to the renaissance was happening in Rio de Janeiro. Behind this miracle there was no art academy, patron or dealer, only a psychiatrist, ridiculed by her colleagues, and a painting studio at a mental hospital, in the outskirts of town. The artists were schizophrenic, poor, hospitalized for several decades, abandoned by their families and hopeless according to their doctors.
This film tells the story of this "miracle" and the life of this rebellious, frail, and engaging psychiatrist: Dr. Nise da Silveira.
Friday, January 12, 2018
Jumanji:
Welcome to the Jungle
《勇敢者游戏:决战丛林》
yǒng gǎn zhě yóu xì :jué zhàn cóng lín
Director: Jake Kasdan
Actors: Dwayne "The Rock" Johnson, Karen Gillan, Kevin Hart, Jack Black
China Release Date: Friday, January 12, 2018
In a brand new Jumanji adventure (NOT a sequel to the 90s cult classic with Robin Williams), four high school kids discover an old video game console and are drawn into the game's jungle setting, literally becoming the adult avatars they chose. What they discover is that you don't just play Jumanji – you must survive it.
To beat the game and return to the real world, they'll have to go on the most dangerous adventure of their lives, discover what Alan Parrish (Williams) left 20 years ago, and change the way they think about themselves – or they'll be stuck in the game forever, to be played by others without break.
Friday, January 12, 2018
Suburbicon
《迷镇凶案》
mí zhèn xiōng àn
Director: George Clooney
Actors:  Matt Damon, Julianne Moore, Oscar Isaac
China Release Date: Friday, January 12, 2018
In the heart of Suburbicon, a family-centred, all-white utopia of manicured lawns and friendly locals, a simmering tension is brewing, as the first African-American family moves in the idyllic community, in the hot summer of 1959.
However, as the patriarch Gardner Lodge and his family start catching a few disturbing glimpses of the once welcoming neighbourhood's dark underbelly, acts of unprecedented violence paired with a gruesome death will inevitably blemish Suburbicon's picture-perfect facade. Who would have thought that darkness resides even in Paradise?
Looks like an interesting look into suburb problems in the USA in the '50s, which are still quite relevant today. We might go see it just because of the name. But how did this one get past the censors!?
Friday, January 12, 2018
Salyut 7
《太空救援》
tài kōng jiù yuán
aka Салют-7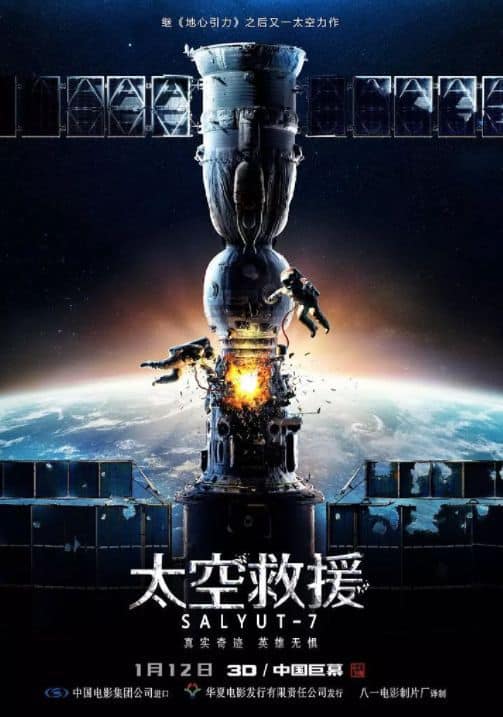 Director: Klim Shipenko
Actors: Lyubov Aksyonova, Ilya Andryukov, Pavel Derevyanko
China Release Date: Friday, January 12, 2018
Note: this one is in Russian with Chinese subtitles~ (The trailer is poorly dubbed in English, though)
The year is 1985. The unmanned Soviet space station Salyut 7, which is in low Earth orbit, suddenly stops responding to commands from the Control Center. If the space station – the pride of Soviet space engineering – falls from the sky, not only will it damage the image of the country, it will also be a disaster bringing untold casualties.
To investigate the failure and prevent the catastrophe, people must be sent to the station. Yet no one in history has ever attempted to dock an uncontrolled vehicle in space. To this day, this mission is considered to be the most technically challenging in the history of space exploration.
Friday, January 19, 2018
Jackie
《第一夫人》
dì yī fū rén
Director: Pablo Larraín
Actors: Natalie Portman, Peter Sarsgaard, Greta Gerwig
China Release Date: Friday, January 19, 2018
Jackie is a portrait of one of the most important and tragic moments in American history, seen through the eyes of the iconic First Lady, then Jacqueline Kennedy. Jackie places us in her world during the days immediately following her husband's assassination.
Known for her extraordinary dignity and poise, here we see a portrait of the First Lady as she fights to establish her husband's legacy and the world of "Camelot" that she created and loved so well.
If you didn't see this already, we highly recommend it, not for the slow-moving story that everybody knows, but for Portman's acting.
Friday, January 19, 2018
Wonder
《奇迹男孩》
qí jì nán hái
Director: Stephen Chbosky
Actors: Jacob Tremblay, Owen Wilson, Izabela Vidovic, Julia Roberts
China Release Date: Friday, January 19, 2018
Based on the New York Times bestseller, WONDER tells the incredibly inspiring and heartwarming story of August Pullman. Born with facial differences that, up until now, have prevented him from going to a mainstream school, Auggie becomes the most unlikely of heroes when he enters the local fifth grade.
As his family, his new classmates, and the larger community all struggle to discover their compassion and acceptance, Auggie's extraordinary journey will unite them all and prove you can't blend in when you were born to stand out.
Looks like a heart tugger…
Friday, January 19, 2018
Secret Superstar
《神秘巨星》
shén mì jù xīng
Director: Advait Chandan
Actors:  Aamir Khan, Zaira Wasim, Meher Vij, Raj Arjun
China Release Date: Friday, January 19, 2018
Note: this movie is in Hindi with Chinese subtitles!
Will China welcome back Aamir Khan like they did for last year's Dangal?
In this movie, Insia is very passionate about singing but she belongs to a very conservative family. Her father doesn't let her develop her talent but her mother secretly lets her follow her passion for singing.
She begins anonymously posting her songs over the internet and gains nation wide fame including people from the music industry. The movie shows her journey to break free and follow her dream of being a singer.
Yep, China will eat that up!
Friday, January 19, 2018
Guardians of the Tomb
《谜巢》
mí cháo
aka Nest
Director: Kimble Rendall
Actors: Kelsey Grammer, Kellan Lutz, Bingbing Li
China Release Date: Friday, January 19, 2018
We hesitated to post this one at first, but hey, it's got Kelsey Grammar and Li Bingbing! It can't be that bad, can it?
Plot: An innocent discovery of a well-preserved mummified Emperor from 200 BC China unearths a 2000 year old nightmare – a secret that should have remained buried.
Sounds like a cross between National Treasure and The Mummy. Yawn.
Friday, January 19, 2018
Ferdinand
《公牛历险记》
gōng niú lì xiǎn jì
Director: Carlos Saldanha
Actors: John Cena, Kate McKinnon, Bobby Cannavale
China Release Date: Friday, January 19, 2018
Ferdinand, is a a giant bull with a big heart. he is mistaken for a dangerous beast and is captured and torn from his home and family. Determined to return to his family, he rallies a misfit team for the ultimate adventure. Set in Spain, Ferdinand proves you can't judge a bull by its cover.
Not only will your kids enjoy this one, sounds like a lot of innuendos for the adults to laugh at, too~
Friday, January 26, 2018
Maze Runner: The Death Cure
《移动迷宫3:死亡解药》
yí dòng mí gōng sān:sǐ wáng jiě yào
Director: Wes Ball
Actors: Rosa Salazar, Thomas Brodie-Sangster, Dylan O'Brien
China Release Date: Friday, January 26, 2018
Of all the pre-teen and teenage "series" out there these days, this one might be the worst. Good to see it's coming to a glorious end.
In the epic finale to The Maze Runner Saga, Thomas leads his group of escaped Gladers on their final and most dangerous mission yet. To save their friends, they must break into the legendary last city, a WCKD controlled labyrinth that may turn out to be the deadliest maze of all.
Anyone who makes it out alive will get the answers to the questions the Gladers have been asking since they first arrived in the maze. Will Thomas and the crew make it out alive? Or will Ava Paige get her way? Yes, it's a movie.
Friday, January 26, 2018
24 Hours to Live
《24小时:末路重生》
èr shí sì xiǎo shí:mò lù zhòng shēng
Director: Brian Smrz
Actors: Tanya van Graan, Paul Anderson, Ethan Hawke
China Release Date: Friday, January 26, 2018
How does China find these movies!? Some say we will never know.
Making a rare foray into rock 'em, sock 'em action territory, Hawke plays a CIA agent who sacrifices everything for his employers, including his family and, ultimately, his own life. No sooner has he shuffled off this mortal coil, though, than he finds himself mysteriously resurrected for one last mission that's timed to last exactly 24 hours.
Once the countdown clock embedded in his arm reaches zero, he'll once again nod off into an eternal slumber if he hasn't completed his task. Before that happens, expect him to wreak bloody havoc on both his targets and his former CIA minders.
Saturday, January 27, 2018
Duck Duck Goose
《妈妈咪鸭》
mā mā mī yā
Director: Christopher Jenkins
Actors: Jim Gaffigan, Zendaya, Lance Lim, Greg Proops
China Release Date: Saturday, January 27, 2018
In a rare early opening for China (this one won't release in the US until April), this cartoon about funny ducklings will delight the kiddos!
Peng is a freewheeling bachelor goose who'd rather do anything than practice for the upcoming migration. He thinks he's better than everyone else and spends his time attempting crazy stunts at even crazier speeds.
In one such stunt, Peng flies too near the ground, hits a flock of ducklings and separates brother and sister, Chao and Chi, from the rest. In this unlikely meeting, Peng will begin a journey that will break his wing and nearly break his heart as he grows to understand the power of unconditional love in the form of two ducklings, who likewise grow to see him as the best father they could ever have.
Those names sound eerily similar to Chinese names. Hmm… Thanks, Wanda.
Tuesday, January 30, 2018
Happy Death Day
《忌日快乐》
jì rì kuài lè
Director: Christopher Landon
Actors: Jessica Rothe, Israel Broussard, Ruby Modine
China Release Date: Tuesday, January 30, 2018
Why is a random teen horror movie from last Halloween releasing on a Tuesday in January? Don't ask questions, this is China.
A teenage girl, trying to enjoy her birthday, soon realizes that this is her final one. That is, if she can figure out who her killer is. She must relive that day, over and over again, dying in a different way each time. Can she solve her own murder?
You have our permission to skip this one.
Chengdu Film Society
Sunday nights from 8pm
Berlin Haus
SOHO Building A 1203, 60 Kehua Bei Lu 科华北路60号费城A座1203
Silver Keen 
Sunday nights from 9.30pm
Mike's Pizza Kitchen 
2-3 East Yujie St., 28, Sect. 4, South Renmin Rd. 人民南路四段28号玉洁东街2号附3号
The Bookworm
Frequent cultural film nights held
2-3 East Yujie St., 28, Sect. 4, South Renmin Rd. 人民南路四段28号玉洁东街2号附3号