Camping Near Chengdu
When most people think of Chengdu, they picture pandas chomping on bamboo, endless lajiao and hectic driving – not tents, campfires and three-day-old underwear. However, no far from the city, especially in western Sichuan, there's no shortage of unique hiking routes, pretty vistas, and camping locations.
We have picked 7 nearby camping spots for you to help you escape the city…
都江堰·安缇缦生态旅游度假区
With each tent (2-person) Andaman provides two sleeping bags, a sleeping pad, and a camping light. There is also a public bathroom, toilets, a water boiler, and WIFI at the campsite. You will need to bring your own toiletries, as well as a towel, toothbrush, slippers.
Prices
During check-in, you'll need to pay a deposit of 100 RMB. You will be given a deposit receipt, which you'll need to get camping equipment from the coach. The deposit will be refunded when you check out.
2-Person Tent:
200 RMB(Off-peak day)
280RMB (Weekend day)
Breakfast Bag (need to be reserved): 30 RMB per person
Hotel Breakfast (can pay directly at the Rock Bar): 88 RMB per person
Check-in: 4:30 pm at the Front Office
Check-out: 12:00pm
Address:
188, Lotus lake tourist highway, Dujiangyan, Chengdu:  四川省成都都江堰市莲花湖旅游公路188号
You can reach Dujiangyan by high-speed train from Chengdu (north) Railway Station or Xi Pu Station.
成都火车站 – 都江堰站
It takes 30 minutes and they run frequently.
宝山风景区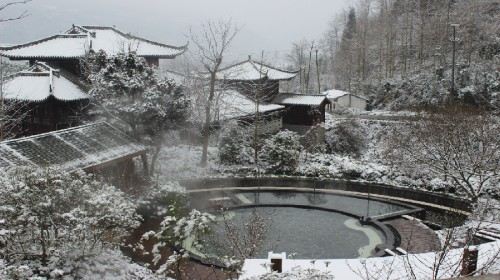 About 5 kilometres away from Xiaoyudong Camping Park is Baoshan Tourist Scenic Spot. Here is the best choice to enjoy hot springs. Compared with Xiaoyudong Town, the supporting facilities here are more mature. The scenic area is divided into three areas: Baoshan Hot Spring Resort, Baoshan Rural Tourist Area, and Taiyangwan scenic area.
Prices:
470 yuan/room (standard room)
970 yuan/room (suite) holiday prices may increase.
Address:
Baoshan Village, Longmenshan Town, Pengzhou City
成都市彭州市龙门山镇宝山村
成都棕榈世界房车露营地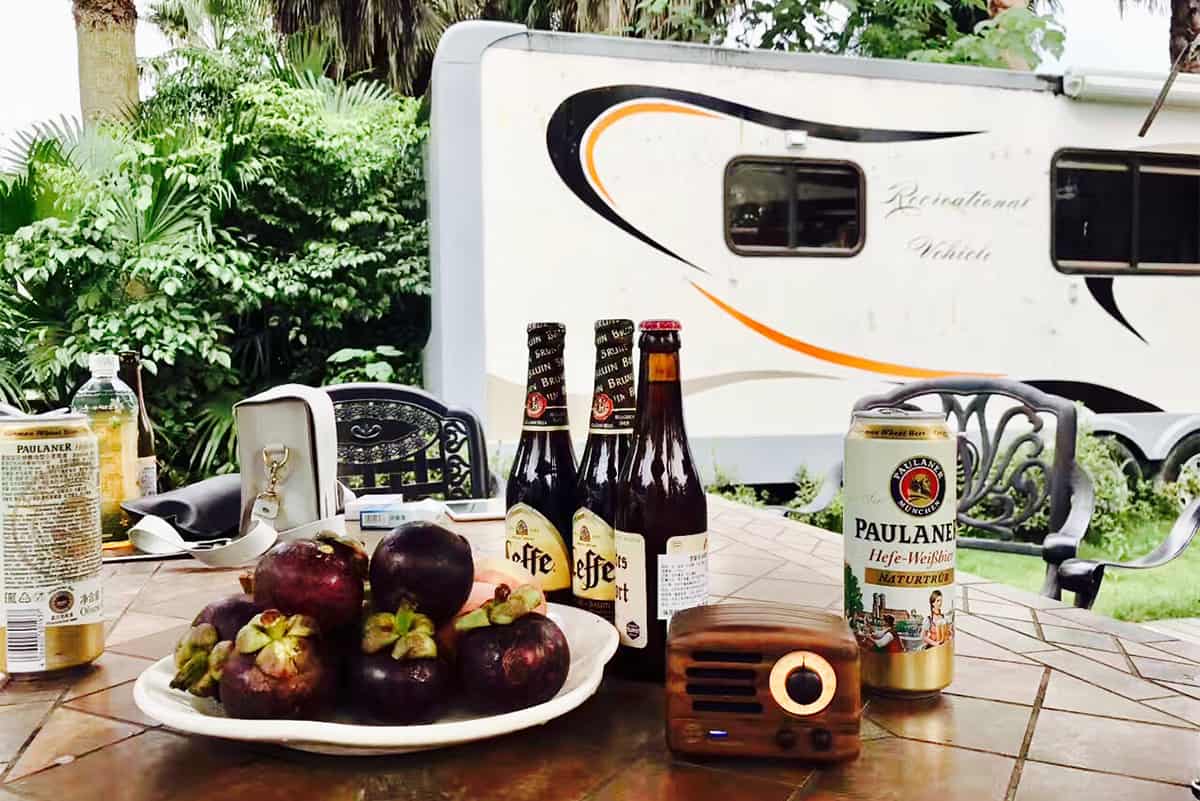 Chengdu Palm World RV Campground is currently the largest outdoor, fully equipped, green and safe RV campground in Sichuan. The camp started operation in June 2015, covers an area of 70 acres, has 36 RVs and 30 ecological RV camps. Restaurants, barbecues, theme parties,  garden sightseeing, ecological bars and other business and service facilities are complete; the camp area implements full intelligent management, including WIFI, electronic monitoring, to provide all aspects of services.
Price:
Lowest price: 168 yuan
Address:
No. 8, Section 2, Xiyuan Avenue, Pidu District, Chengdu City, Sichuan Province
四川省成都市郫都区友爱镇西源大道
Jiguan Mountain, Chongzhou
崇州鸡冠山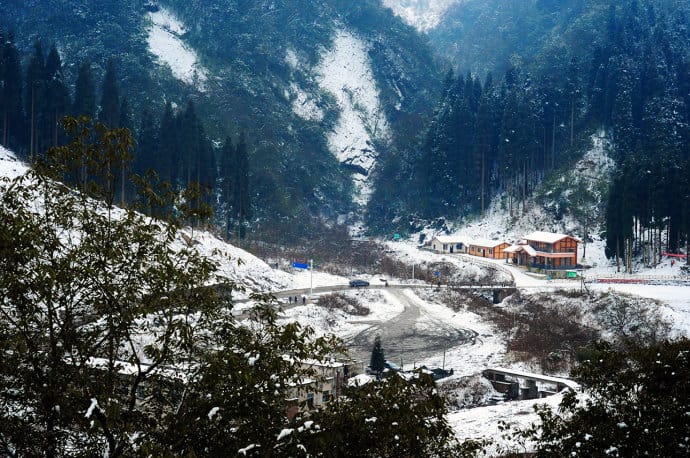 Jiguanshan is not far away from Dutongyan mentioned above. The area was previously planted with trees for the timber trade, so now the whole area is covered with trees and meadow flowers. Sunrise is supposed to be especially beautiful here – but we recommend you visit in the winter time – when the whole area is covered by snow. You can't camp inside the park, but on the way there from Chongzhou, there is an official campsite.
Address:
Wandan Hill, Jiguan Mountain, Chongzhou City
崇州市鸡冠山万担坪
There are several buses from Chengdu to Chongzhou mentioned above. Once in  Chongzhou, you can take a local bus or taxi to Jiguan Mountain.
​Little Green Earth Arts Campground
小
绿

球大地艺术营地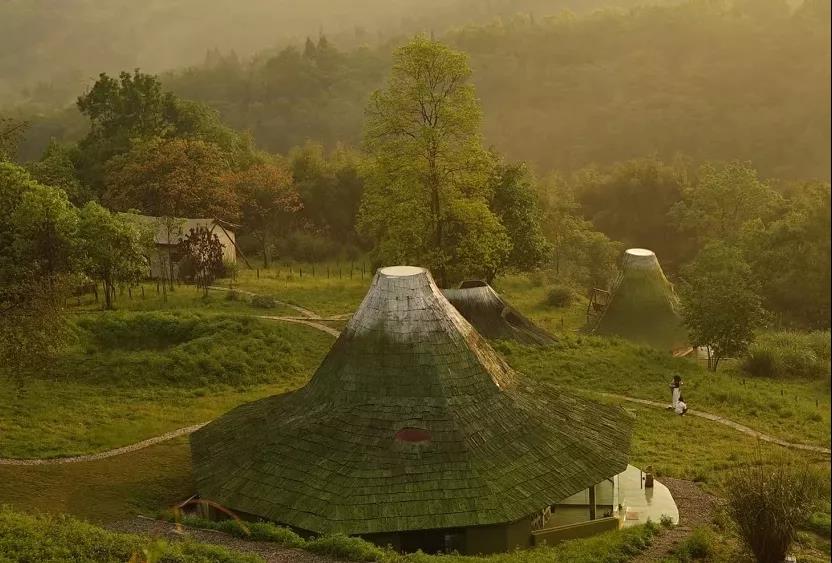 A new campsite that just opened this year, both the environment and installations are very pleasing to the eyes.
The site is surrounded by mountains and there are only five tents available, ensuring that "less (people) is more (space)".
Tents are situated at different locations, like in the middle of the forest or on a cliff's edge, characterized by either the cliffside view or sunset view. The internal space of a tent is about 24 to 30 m3, and matching facilities are rather adequate.
May is prime time for wild daisies, and this valley is the perfect place for appreciating those little dainty beauties.
Price:
RMB 1,280 – 1,680/night, depending on tent type.
Address:
Yingtao Valley, Daoming Town, Chongzhou
崇州市道明镇樱桃沟
Longwozi, Dayi County
大邑县龙窝子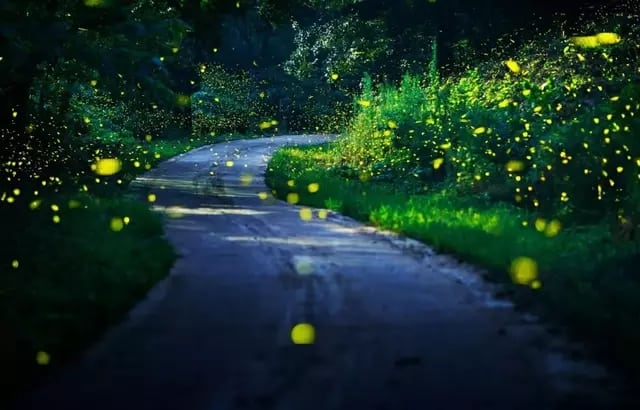 Longwozi, is Dayi County's hidden gem. There are few settlements here, with quiet streams supposedly flowing with clear drinkable water – but the real attraction is the fireflies that are supposed to light up the night skies. This is a place to pack your rucksack with supplies, switch off your mobile and connect with the outdoors.
Address:
Qinglong Village, Dayi County
大邑县青龙村
There are several buses from Chengdu to Dayi (mentioned above)  – after you reach Dayi, you can take a local bus or taxi to Longwozi 龙窝子.
 Mountain, Pengzhou
 彭州葛仙山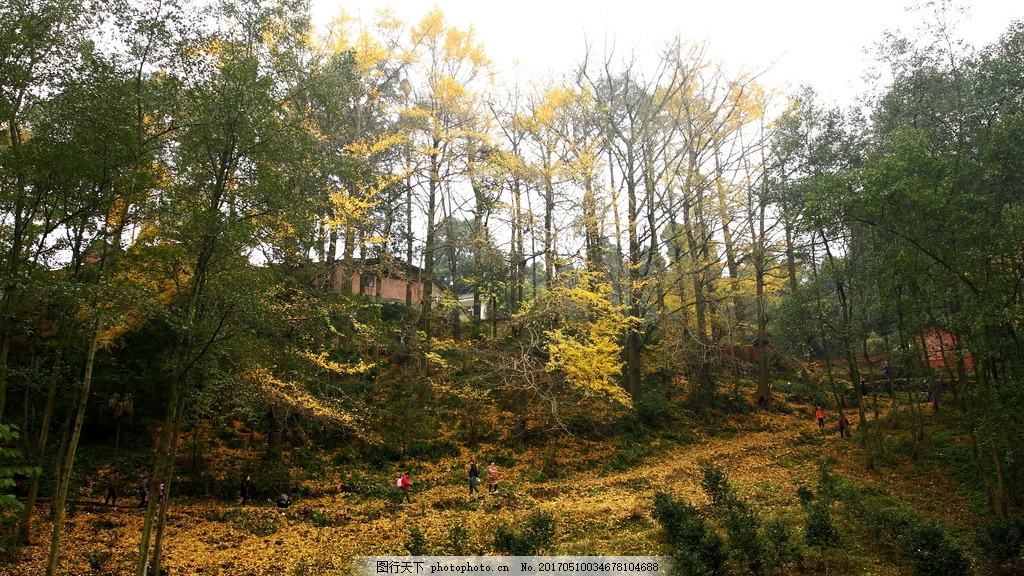 Gexian Mountain is located in Pengzhou, 45km away from Chengdu. It has a rough hiking trail that from start to finish is 5-7 hours – and is perfect for orienteering. It is also close to a geological park, so you can check out some amazing caves formations. You can pitch a tent on the route – but keep in mind there are no official facilities.
Address:
Gexian Mountain Town, Pengzhou City
彭州市葛仙山镇
There are several buses from Chengdu to Pengzhou: you can take a bus from Xinnanmen Bus Station(新南门车站), Huayang Bus Station(华阳客运中心), Wukuaishi Bus Station(五块石客运站) and Longquan Bus Station(龙泉汽车总站).  It will cost you roughly 23 RMB and take around 45 mins to get there. You can also take a train from Chengdu Station (成都站)for 99 RMB. Once you reach Penzhou, you can take a local bus or taxi to Gexian Mountain Town (葛仙山镇).
Qionglai Mountain, Dayi County
大邑县邛崃山中段
There are several buses from Chengdu to Dayi: you can take a bus from Shiyangchang Bus Station (石羊场客运中心), Chadianzi Bus Station (茶店子客运站) and East Bus Station(东站客运中心). It will cost you around 20 RMB and take you between 70 – 90 mins to get there. After you reach Dayi, you can take a local bus or taxi to Heishuihe.
蜀国鹃都露营地
Shuguo Juandu Campsite is located in a modern ecological agricultural park integrating azalea planting, viewing, tourism and leisure.
In the Rhododendron Garden, there are 4 independent tents and 26 tents hidden among the azaleas. In addition, there are thousands of ordinary tents available for rent. At the same time, it also provides supporting camping equipment and service stations to solve the problems of eating, lodging and washing in wild camping, so that you can camp more conveniently in beautiful nature.
Address:
No. 88, Taiping Village 1
太平村1社88号
彭州小鱼洞国际露营公园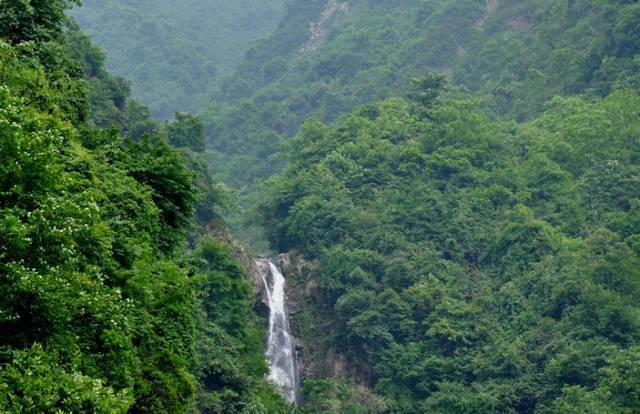 Xiaoyudong is home to one of the biggest waterfalls in Sichuan. It provides a great backdrop for a hike, where you can enjoy the fresh air, tall trees and the sound of rushing crystal clear(ish) water. You can pitch your own tent, or there are also some wood cabins and motorhomes available for rent. People come from far and wide for the fresh bamboo here, so it is a little touristy.
Price:
Red wooden house: 480 yuan / room,
white wooden house: 380 yuan / room (room prices will increase by about 100 yuan on weekends or holidays);
Camping enthusiasts can bring their own tents but need to pay a management fee of 50 yuan.
Novices can rent tents, sleeping bags, air-cushion beds, pillows and tent lights for 120 yuan for unlimited time.
Address:
彭州小鱼洞国际露营公园
Xiaoyudong International Camping Park, Pengzhou
There are several ways to get to Penzhou, as mentioned above. Once you reach Pengzhou, you can take a local bus or taxi to Xiaoyudong Town.
玉屏山露营地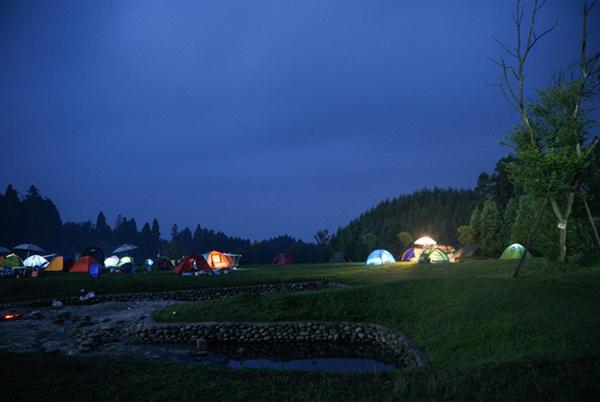 Yupingshan camping has several advantages. 1. Convenient transportation, the car can be parked on the lawn road, which is convenient for taking things at any time. 2. With safety guarantee, the camp is an open lawn on the top of the mountain, without the danger of landslides; beside the resort, there are staff patrolling. 3. With logistic guarantee, you can get water, wash, hot water bath, and public toilet in the resort hotel. 4. The resort has outdoor development training, there are tennis courts, basketball courts, table tennis, etc.
Address:
四川省眉山市洪雅县玉屏山景区
Yuping Mountain Scenic Area, Hongya County, Meishan City, Sichuan Province
Camping in Sichuan
Don't forget to bring essentials with you, like toilet paper, hand sanitizer (if that sort of thing worries you), bug spray and battery packs – but most things (like instant hot pot) can be picked up in transit from the bigger towns. Most importantly, take everything with you when you leave. 
Where to get Camping gear?
Decathlon 迪卡侬
1. Gaoxin District Branch
199 Duhui Road
199 都会路
2. Mix City Branch
B1 Mix City, 8 Shuangqing Road, Chenghua District
成华区双庆路8号万象城B1层
3. Qingyang Branch
B1, 78 Fourth East Guanghua Road, Qingyang District
青羊区光华东四路78号B1楼