Yes. They can. 
Are you and your kids looking for a unique experience coming summer?
We present you an 8 days dance camp to enhance your children's creativity, foster personality development, make new friends, and have fun together.
Suggested Ages:
10 – 12 years
Adults are recommended to supervise them throughout the week
12 – 18 years
Solo boarding encouraged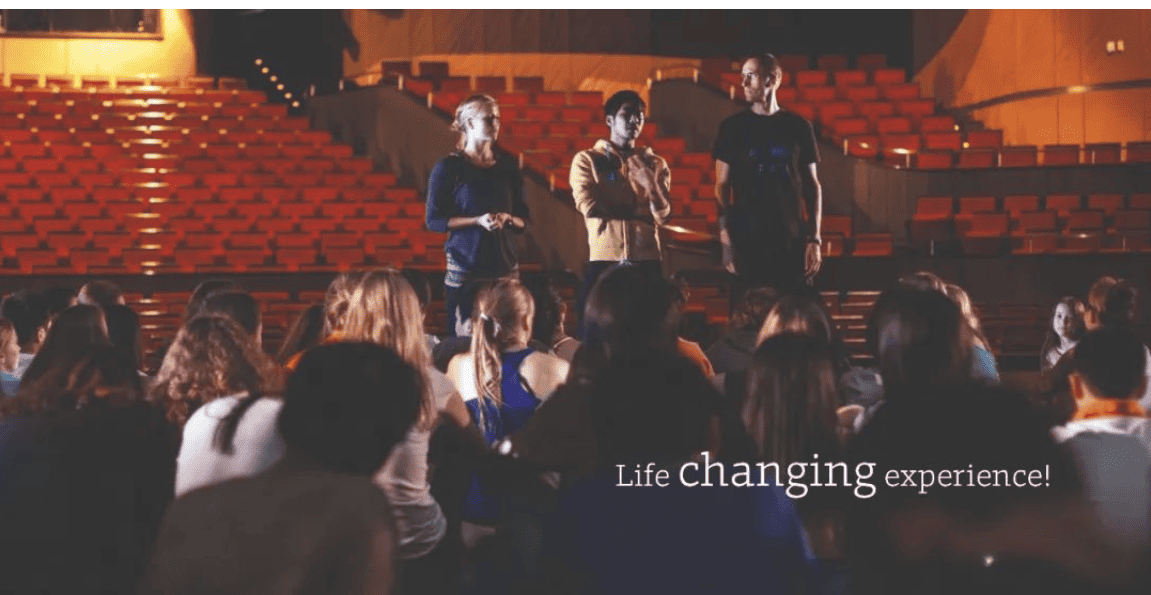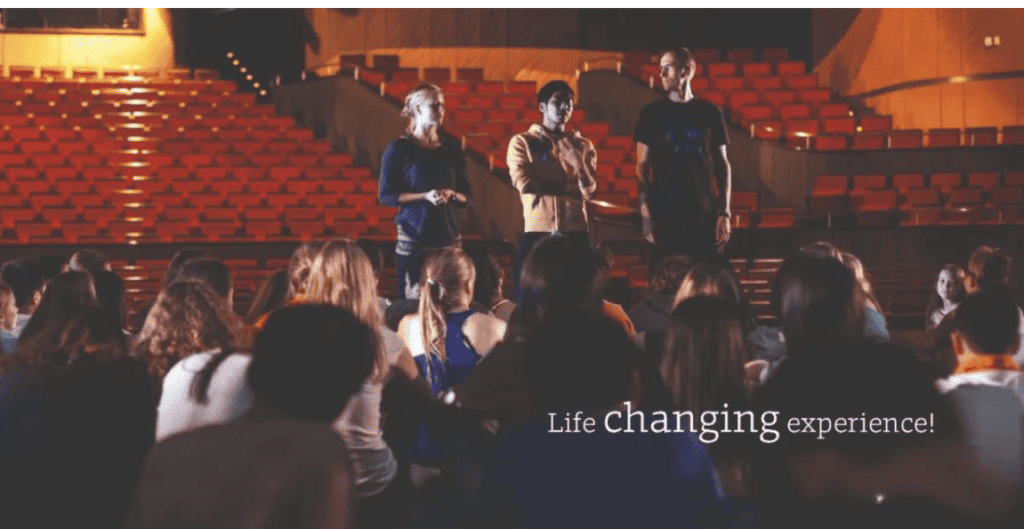 Harmony Shanghai Production 2014 – Le Sacre du Printemps
​8 Days Dance Camp
We are inviting you and your kids to join our 8 days Community Dance CAMP in Chengdu from 16-23 July 2021.
Community Dance is accessible to anyone – independent of age, gender, and cultural, social or economic background. No previous dance experience or formal dance training is required. It is also a precious chance to dance on the same stage with professional dancers, since it involves participants in creating dance as well as highly skilled dance practitioners. Community Dance is as much about art and creativity as it is about a wider range of benefits such as gaining self-confidence, overcoming timidity and reaffirming communality.
It is our goal to bring young people of different cultures together through dancing where they can learn from each other, respect each other and most important they make friendship with students from other countries.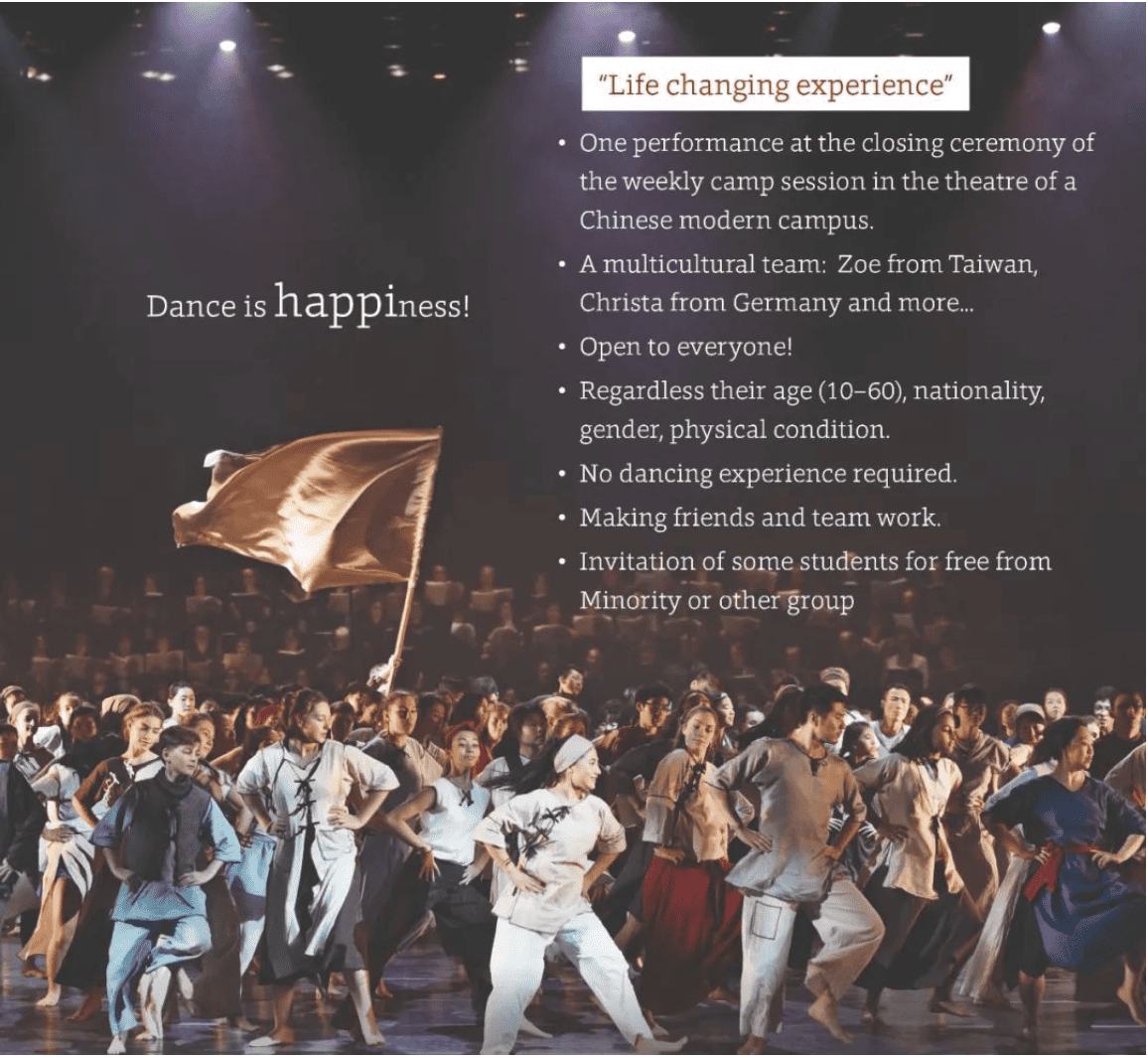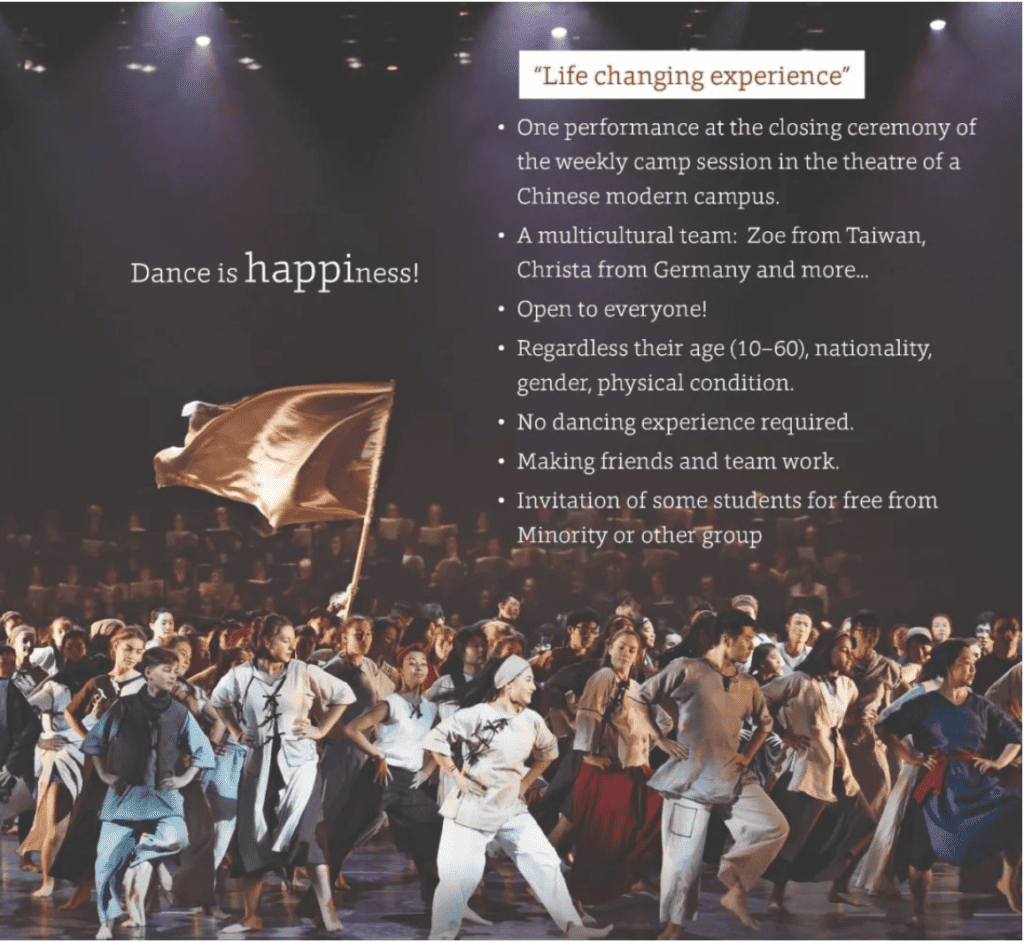 Why Choose our Camp?
1. Boutique Experience; 40-60 people
2. Not soley rehersal based: 40 planned hours
3. Tailored for all levels; zero experience needed
The final 20min performance (without orchestra) on a campus stage or a small theatre.
Other perks: 
Obtain a certificate
Priority for joining the 2022 grand Community Dance Project.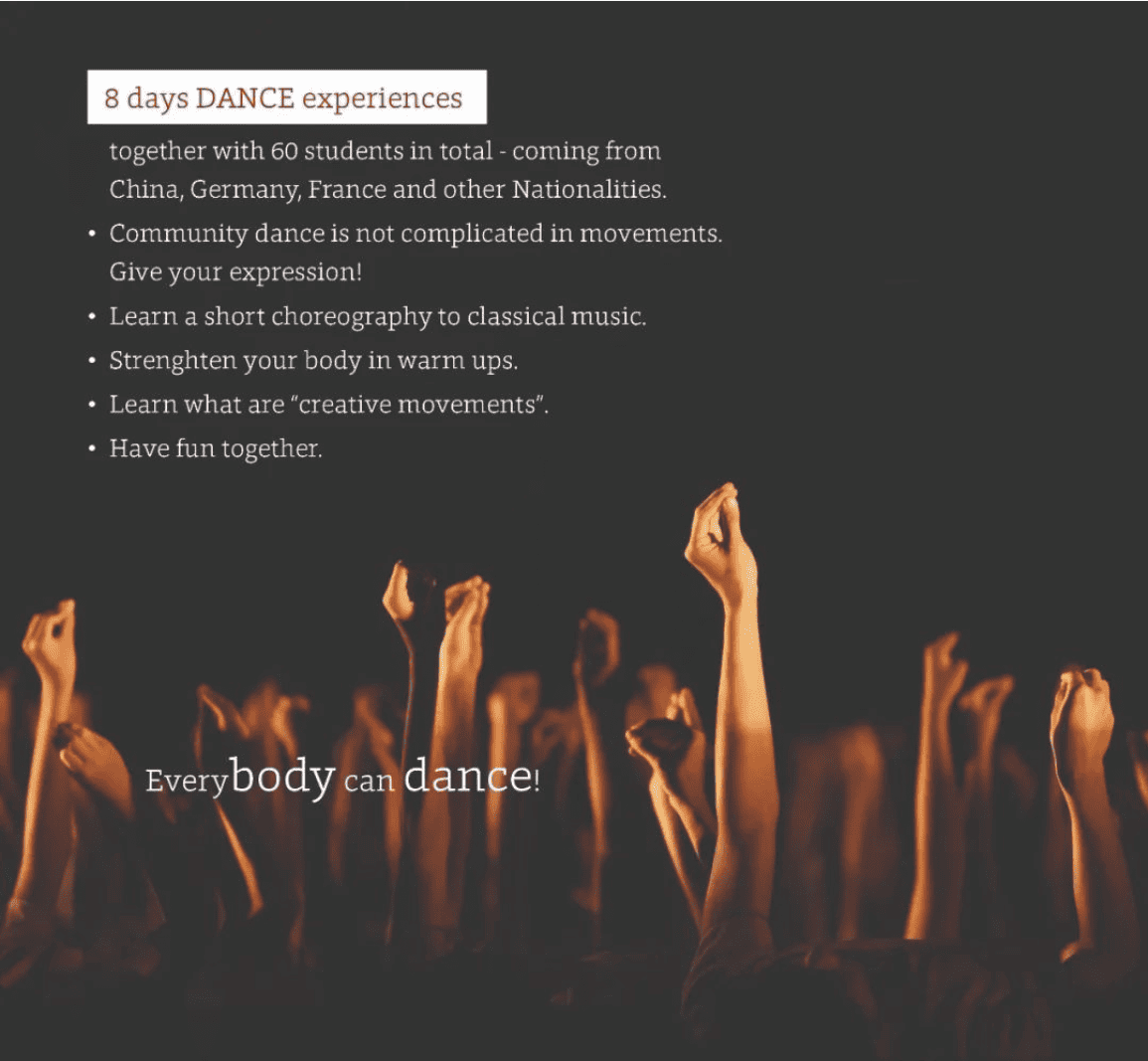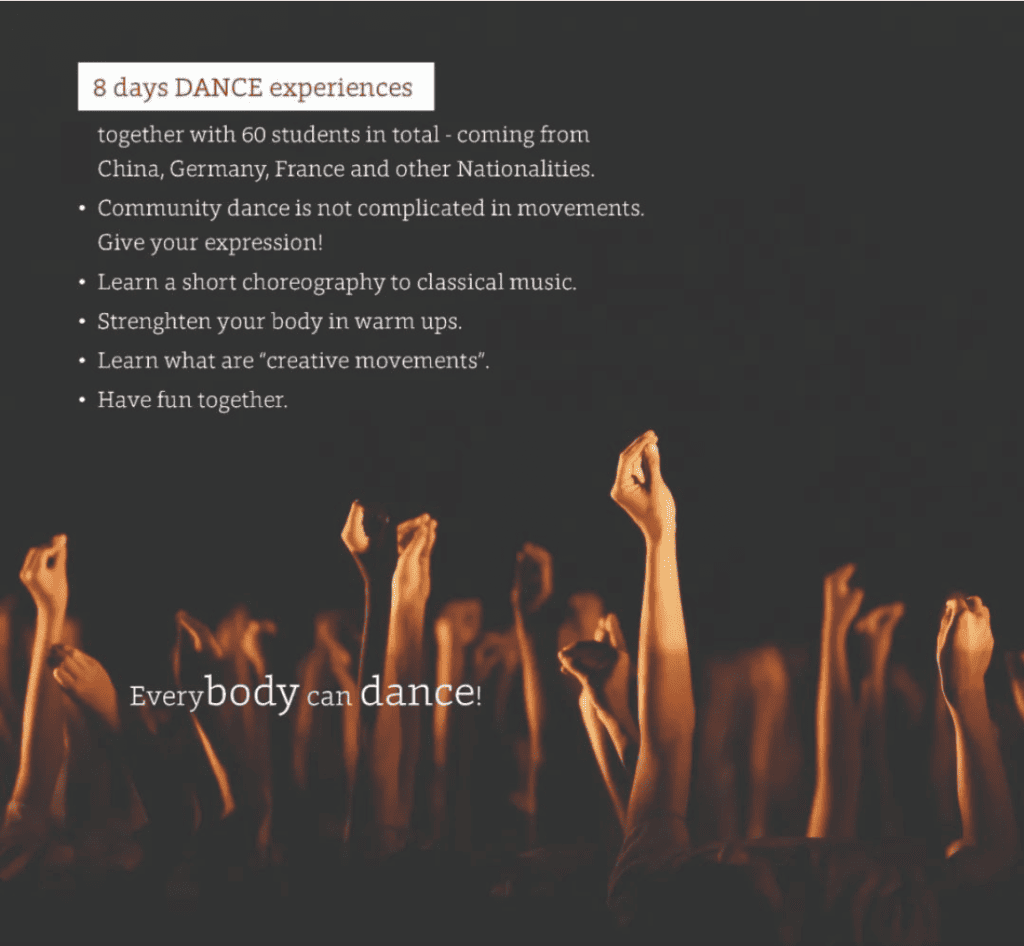 Camp schedule
July 16th, 14:00:
Check-in followed by the camp opening ceremony and meeting with Harmony team
July 17th-22nd:
Rehearsal with whole group- 6 hours a day!
Evening is free for activities and games as a group/
July 23rd:
Performance on a campus stage or threatre setting, followed by the camp closing ceremony.
Add Claire's WeChat for prices and all other information.
Special promotion on June 18th!
⇣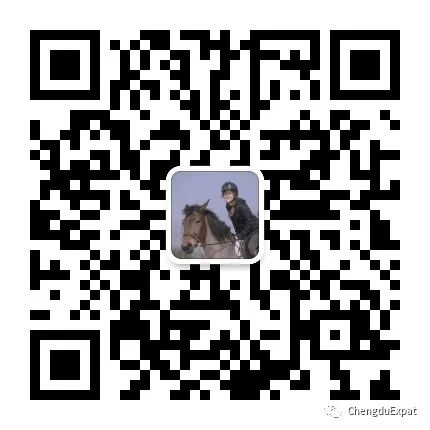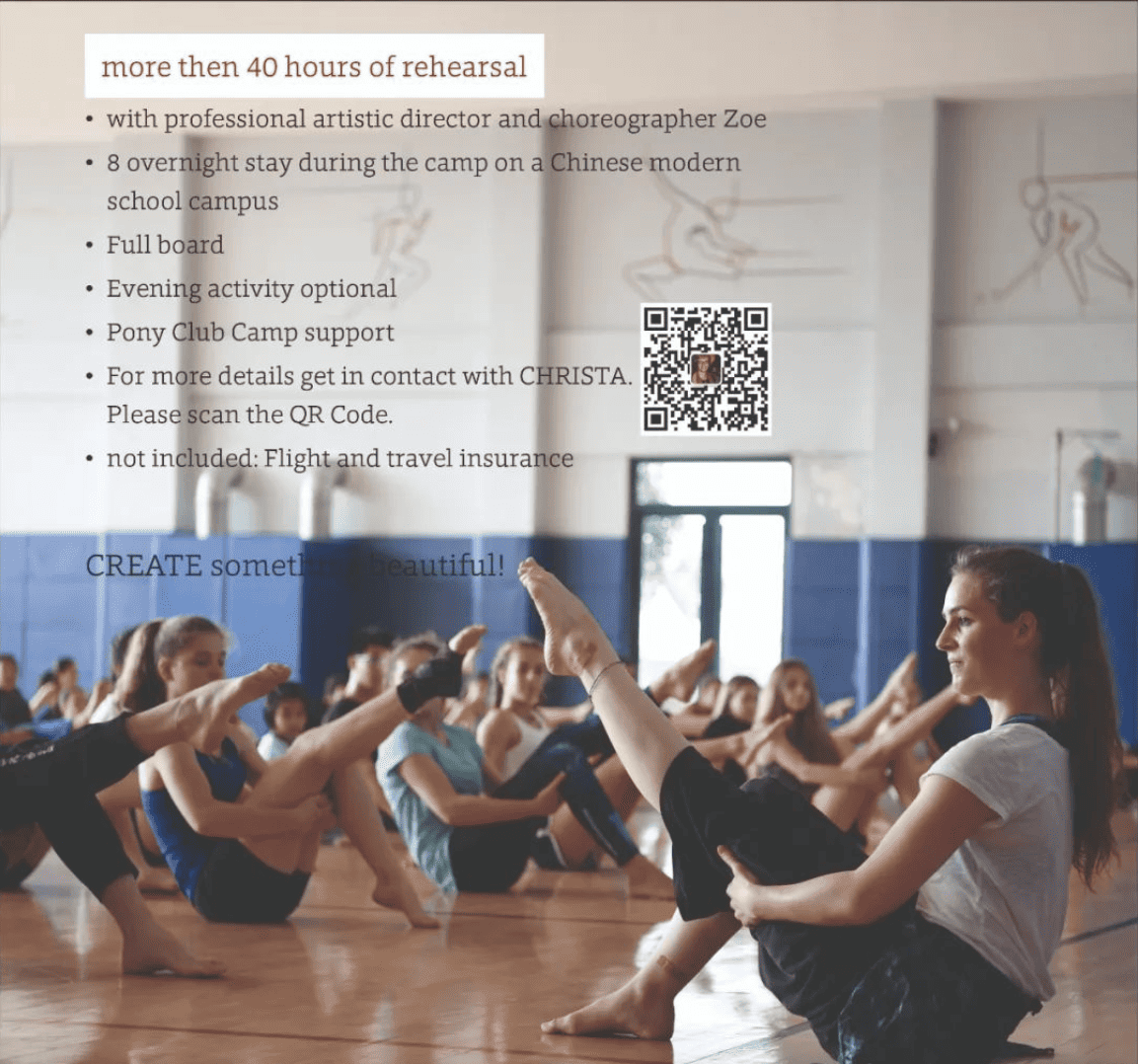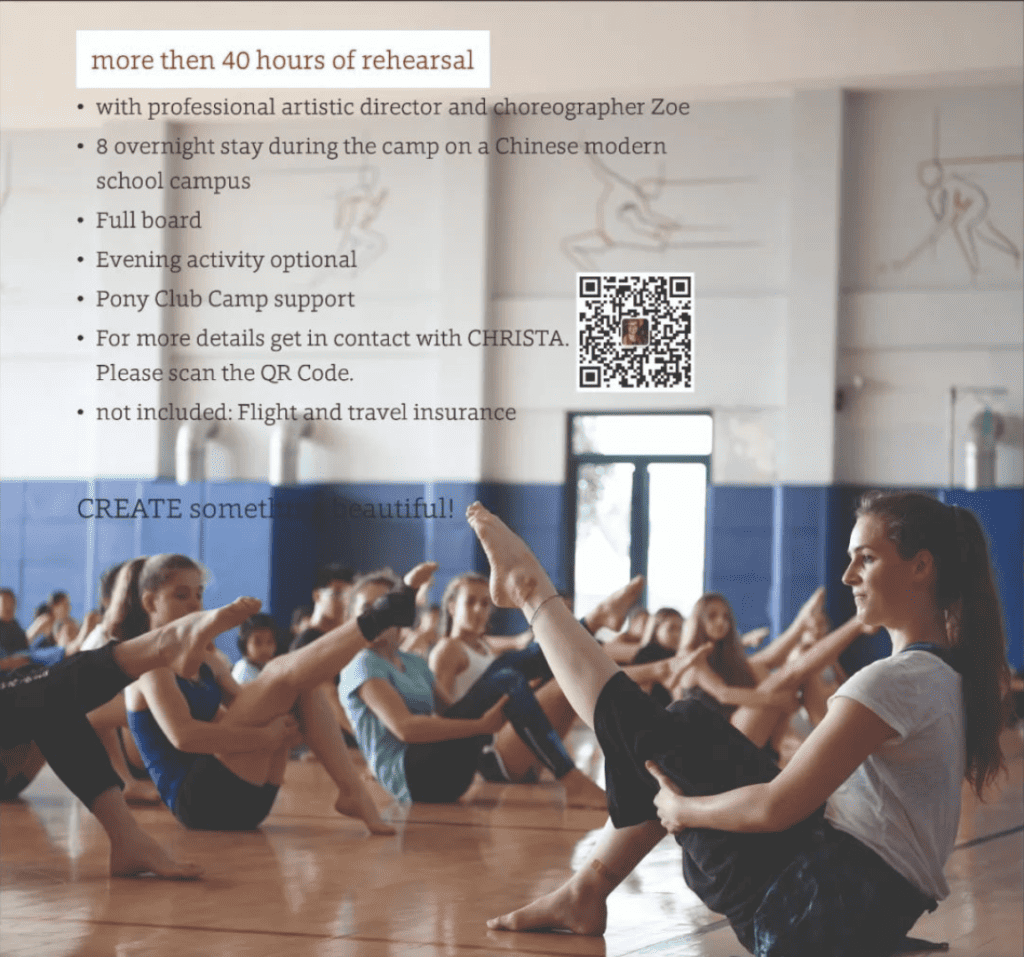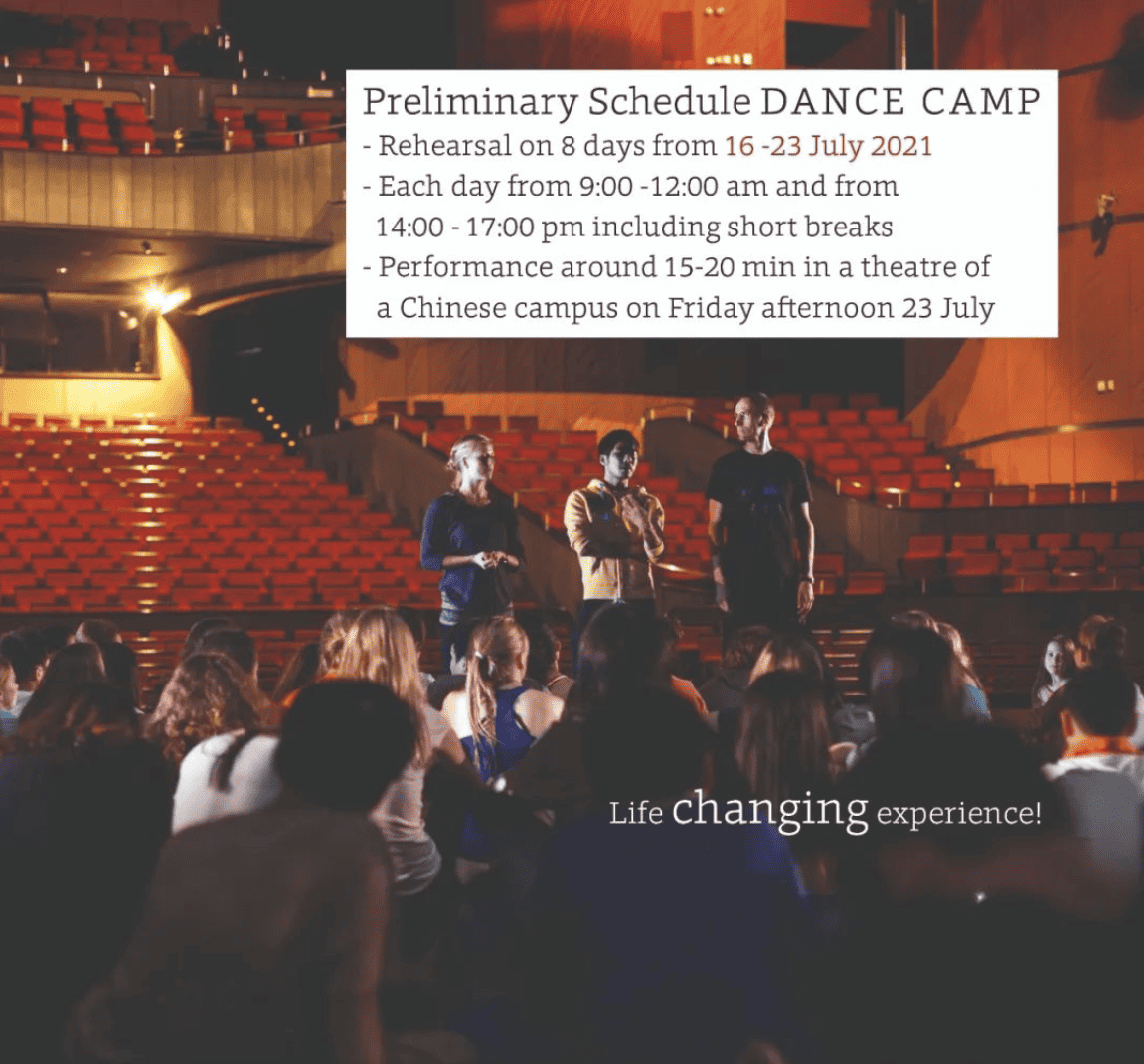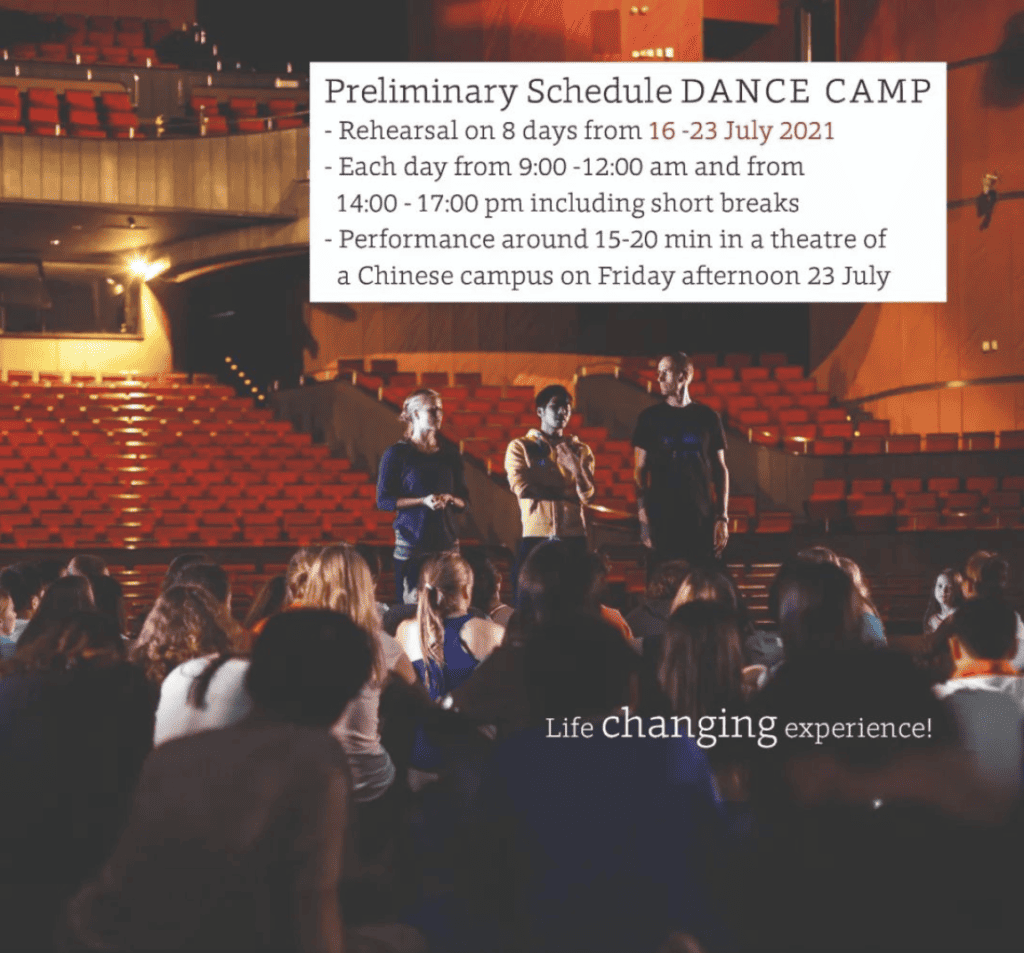 Organizers Introduction
PONY CLUB International Youth Educational Institution is one of the earliest International Experiential Education Institutions for character education of the youth at school age in Southwest China. We let children stay with their peers, face every challenge, every problem and let them fully experience themselves. The sense of accomplishment, the joy of cooperation, and the warmth of caring also makes them capable for facing any frustration, conflict, or difficulty. We believe that good character needs to be repeatedly practiced!
In Chengdu they found a partnership with Harmony Shanghai in 2020 to focus on the development, organisation and training of youth character education experiential courses.  It is a non profit company, founded in 2013 to establish Community Dance. It is our mission to bring young people from different cultures together through dancing where they can learn from each other, respect each other and most important they make friends with students from other countries around the world.
Harmony Shanghai was established and acts as the production company for the international community dance projects. It is dedicated to enhancing the opportunity for real encounters between young people from different cultural backgrounds, and to foster the personality development of young people through personal, social and artistic discovery.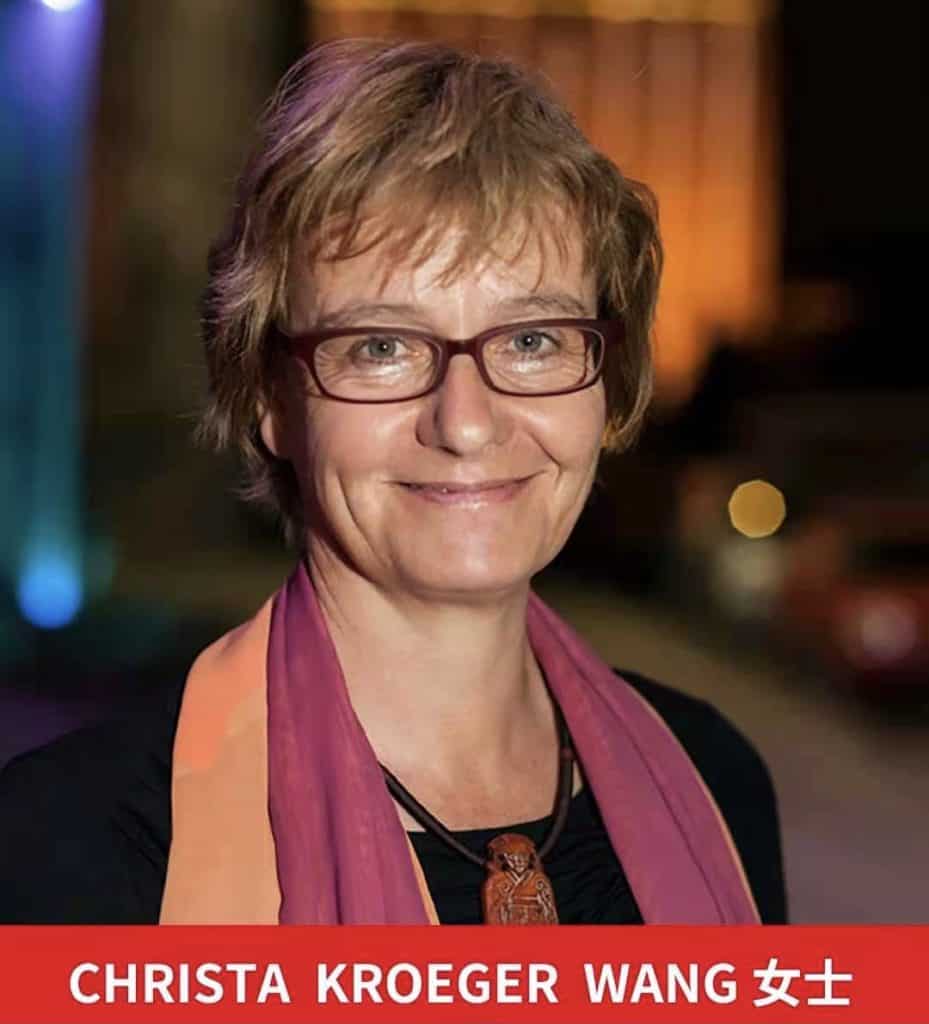 Founder of the company, Christa Kröger-Wang, was initially inspired by the documentary 'Rhythm is it' as well as Royston Maldoom's biography 'Tanz um Dein Leben', and Christa Kröger-Wang established initial contact with Maldoom's office in 2012. The invitation acceptance of the award winner, the British choreographer, marks the beginning of Community Dance in Shanghai China with the successful project of Firebird by Igor Stravinsky in Shanghai Grand Theatre, October 2012.
Want to find out more? For more details, please refer to our website: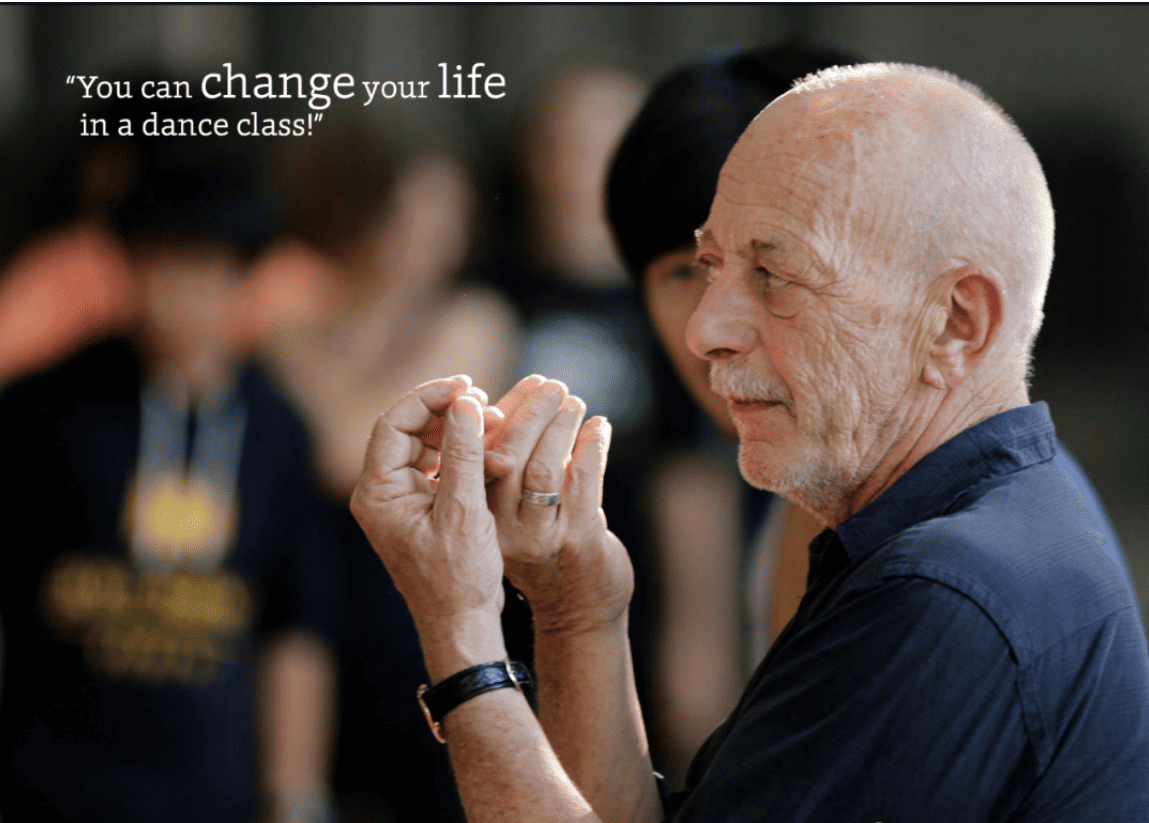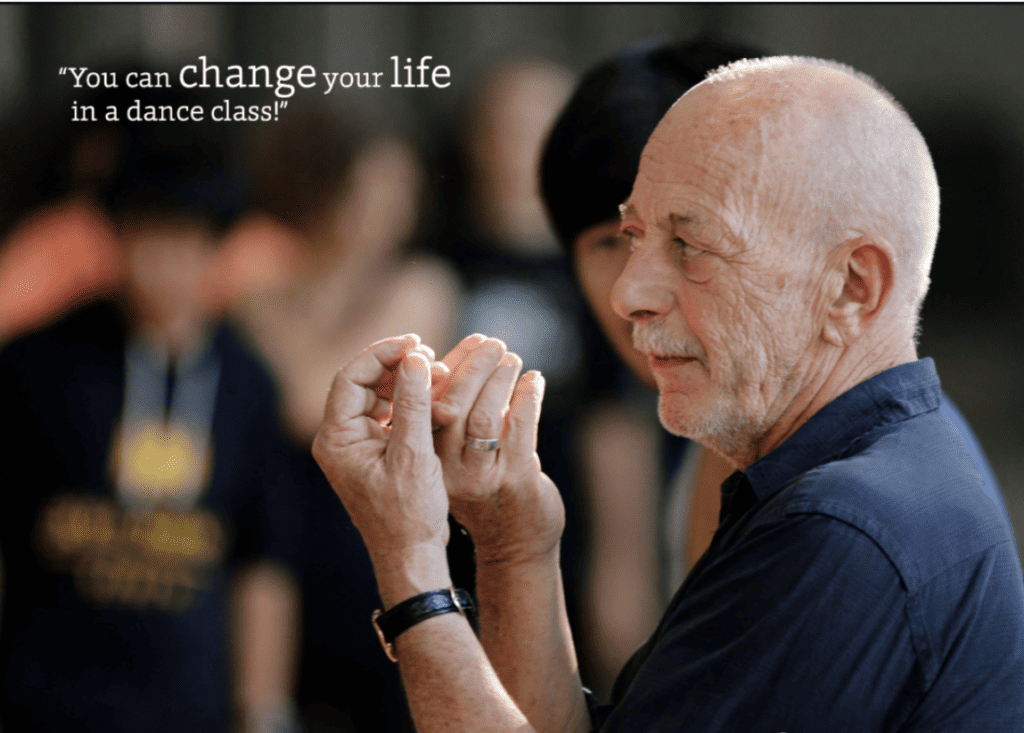 Camp Location
Chengdu Tianli School, Longquanyi District
成都天立学校(龙泉校区)
⇣
Contact
Claire (Liu Yanling)
Project manager
Pony Club International Experiential Educational Institution
Telephone: 13808199941
Email: 943449956@qq.com
Contact Claire for prices and all other information.
⇣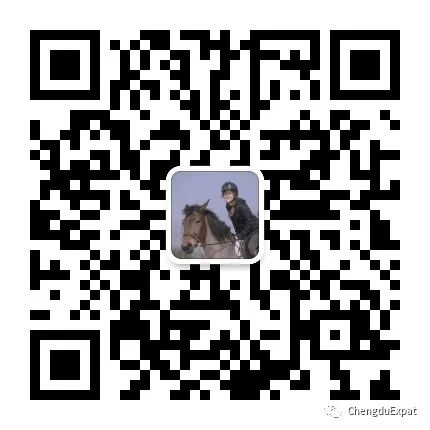 Foreigner volunteer & part-time coaching opportunities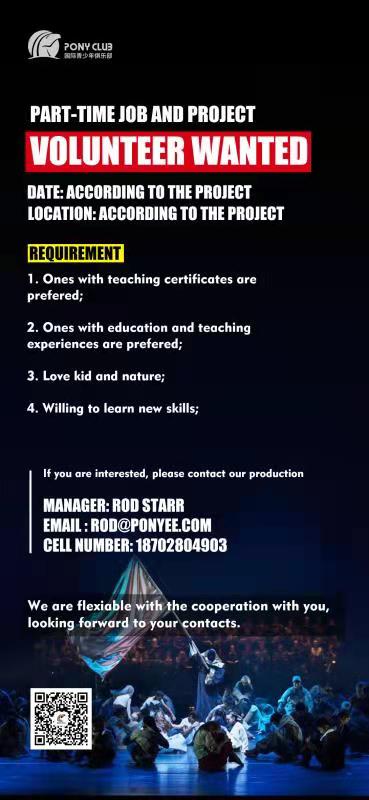 ↑
More outdoor camps from Pony Club,
please contact Production manager Rod Starr​