[:en]After years of work Metro Line 4 opened on December 26th
China is implementing its highly ambitious project to build an all-new metro system in Chengdu and other cities.
High-speed, light rail and metro rail projects are all high priorities in China, which is particularly keen to exploit the mass transit capacities of metro networks to reduce huge congestion and pollution issues that exist within many major population centres.
The metro project was incorporated into infrastructure planning by the local government in 2001, with the combined aim of upgrading urban infrastructure & improving the standard of living.
With the opening of subway line 1 on 27th September, 2010, Chengdu has become the first city with a metro system in western China. Line 2 started operation 16th September, 2012, and all stations had been opened by 26th October, 2014.
Another 8 lines are developing in the city, of which line 4 opened on December 26th, 2015.

The new Metro Line, with a length of >22km and colored green, currently has 16 stops that connect Chengdu from  East to West ???
Initial operation time is from 6:30am until 11:40pm. One-way running time takes approximately 34 minutes. The interval between 2 trains is about 4 minutes and maximum speed of trains around 80 km/h.
The biggest benefit will be for the citizens of Wenjiang county (around 500,000 inhabitants) and Qingjang Chengdu district (around 800,000 inhabitants), who's main connection to Chengdu center is Chengwen Road (成温路).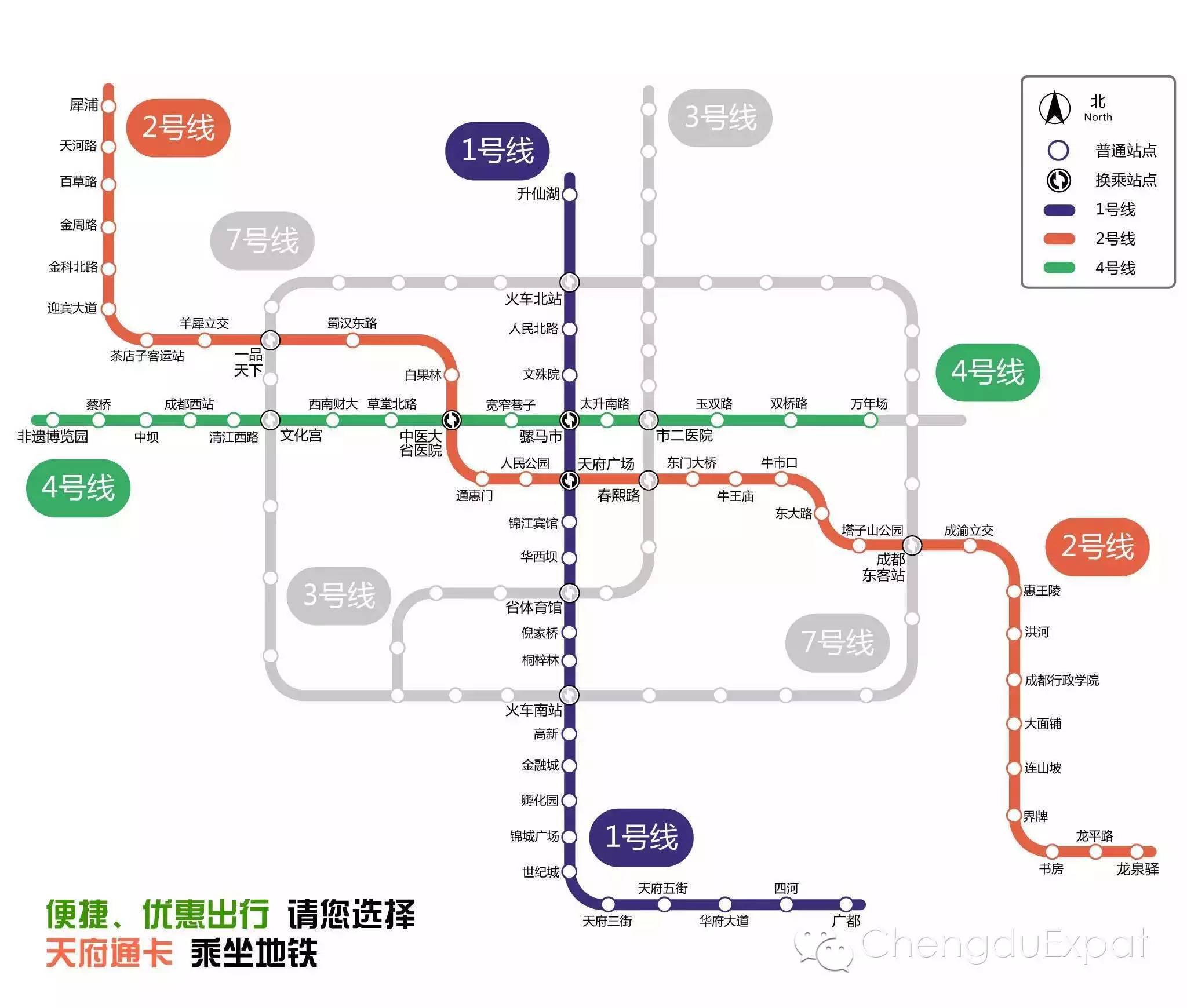 Chengdu Line 4:

Total Length: 22.105 km
Station Number: 16
Stations (West – East):
*Intangible Cultural Heritage Park 非遗博览园
*Cai Bridge 蔡桥
*Zhongba 中坝
*Chengdu West Station 成都西站
*Qinjiang West Rd 清江西路
*Cultural Palace 文化宫
*Southwestern University of Finance and Economics 西南财大
*Provincial People's Hospital 中医学院 (transfer with line 2 and later line 5)
*Kuanzhai Street 宽窄巷子
*Luomashi 骡马市 (transfer with line 1)
*Taisheng South Road  太升南路
*12th Hospital 市二医院
*Yushuang Road 玉双路
*Shuangqiao Road 双桥路
*Wannianchang 万年场
[:]