Craving some sweet treats or some freshly made bread?
As much as we all love Sichuan food sometimes we need to satisfy our cravings, and it can be difficult to find some good quality Bakery's in such a large City.
We've narrowed down a list of all the best bakery's in the city to give you a helping hand.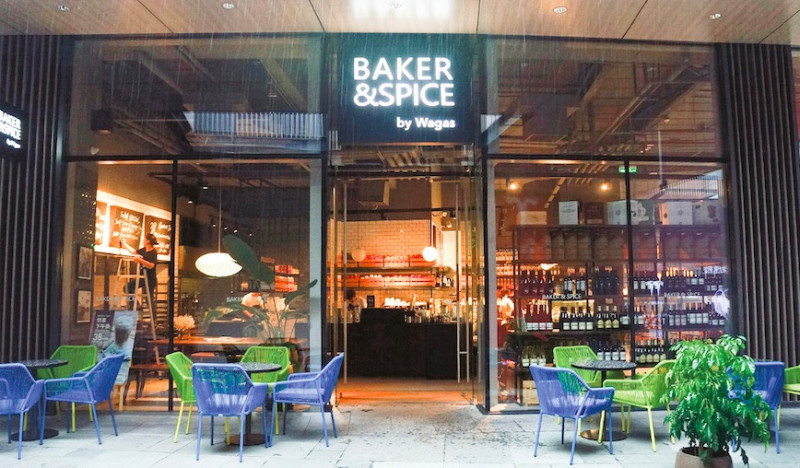 Handmade sourdoughs, Danish rye bread, pastries and their signature carrot cake are just a few of the bakery treats on offer. Baker & Spice also offer coffee, regular food such as salads, sandwiches, Thai green curry, and Pho. They also import wines from Europe and Australia!
Address: 1345, Sino-Ocean Taikoo Li Chengdu, 8 Central Shamao St. 纱帽街远洋太古里东里一层1345近翠园
Time: 8am-10pm,
Tel.: 8652 3176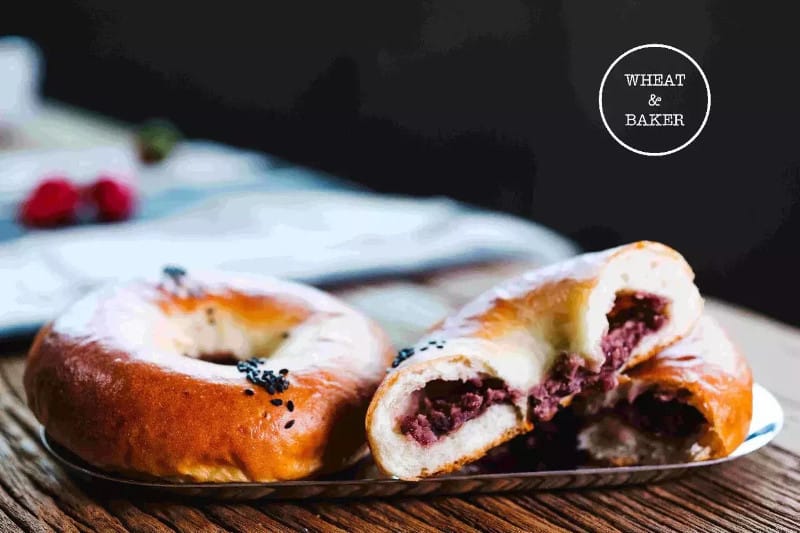 This bakery has one of the better looking pastry cases we've come across recently, filled with sandwiches, eclairs, several kinds of bread, focaccia, quiches and caneles. Customers can also call ahead and ask for a specific type of bread. All the staff we've interacted with have been very polite and knowledgeable about the products and ingredients, both in English and Chinese. Loaves of bread 28-35RMB; coffee and sandwich or pastry 30-50RMB.
Address 1: 1F Raffles City, Ascott Apartments entrance #3, South Sect. 4th, South Renmin Rd.
人民南路四段3号来福士广场塔三, 雅诗阁1楼
Address 2: 1F MixC, 8 Shuangqing Rd., 2nd Ring Road East Section
双庆路8号万象城一楼外围132商铺
Time: 7:30am – 9:45pm
Tel.: 85599863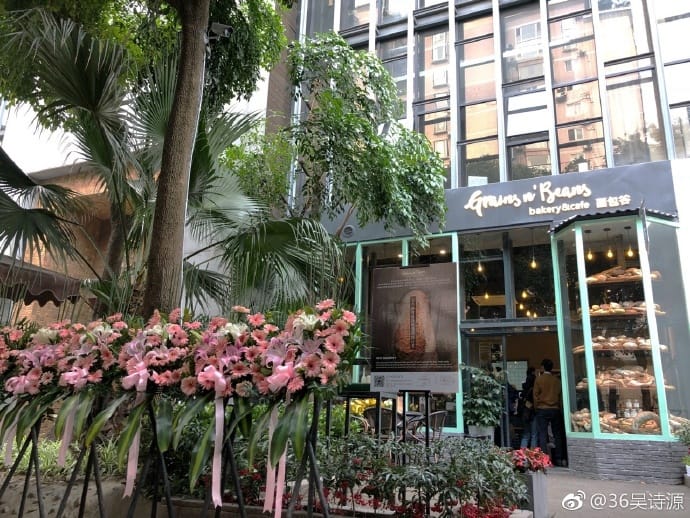 European style bread store serving fresh bread, bagels and other treats.
Address: No.8 South Tongzilin Road 桐梓林南路8号
Situated between Niuwangmiao station and Waterfront & Waitan the Sense Desert is in the perfect location for commuters wanting to grab some in house baked bread or some French style pastries.
Address: Hongjizhong Rd, No.194, Jinjiang DIstrict, near Niuwangmiao metro station 锦江区宏济中路194号(近地铁2号线,牛王庙地铁站)
Tel: 028-86655747
Tous Les Jours is well known South-Korean franchise of bakeries. They have a huge selection of breads including: pan bread, pastry, pie's, and European classic loafs. They also have a wide verity of cakes including: Fresh cream cakes, Butter cakes, Mousse cakes, sliced cakes and special occasion cakes.
Address: M2a Tai Koo Li, 8 Middle Shamao St. 中纱帽街8号远洋太古里MB1楼M002a
The bakery offers a range of bread on different days including: sourdough, whole wheat and fresh white loaf. Their in house Chef was trained in France and this is reflected in the style of pastries. With freshly baked croissants everyday and their famous profiteroles are piled high with cream. They also have a small shop which has a small selection of organic products such as jams, seasonings, nuts, gluten free baking powder, agar-agar and maple syrup for you to purchase. The staff can all speak English and answer questions about products.
Opening Hours: 7:30am – 10pm
Address: 桐梓林中路8号附8号
Tel: 028-87662637
Run by two American families Origins is not only well known for its amazing coffee but for its sweet treats. Their baked goods are all made in house and made with the highest quality ingredients. Daily selections include: biscuits, muffins, generously frosted cupcakes, and pancake-sized cookies.
Address: No. 14 Zijing East Road 紫荆东路14号
Opening Hours: Tues-Sun 9-7pm
Les Delices de Patou offers a pre-order service that offers both sweet and savoury treats. Sweet Pastries include: Pineapple cake, apple pie, Brioche, Chocolate cake, Crepes and Upside-down cake (coconut and caramel) Savoury Pastries include: Foie gras (Half-mourning), Pork terrin, and Easter meat.
Pre Order Service Only: 18681353670
The Temple Cafe is a French inspired cafe restaurant that comprises a range or freshly made selection of French pastries. You can also purchase freshly made white and granary bread. You can enjoy them in house or purchase to take away.
Address: The Temple House, 81 Bitieshi Street, Jinjiang District, 锦江区笔帖式街81号,62974191
Opening Hours:
Breakfast: 6:30am – 11am;
Lunch: 11:30am – 2:30;
Afternoon Tea: 2pm – 5:30pm;
Dinner: 5:30pm – 9:30pm
 Cheesecake Love
Made for delivery  Cheesecake Love offers its customers a huge and unique range of favored cheesecakes ranging from the classic New York Cheesecake to the beautiful Rainbow Cheesecake. Cakes are available by the slice, 6, 8 and 9 inch and range from 190-350 yuan.
Orders can be placed between 10:30-18:30 daily either by QR or via telephone.
Tel: 15982009920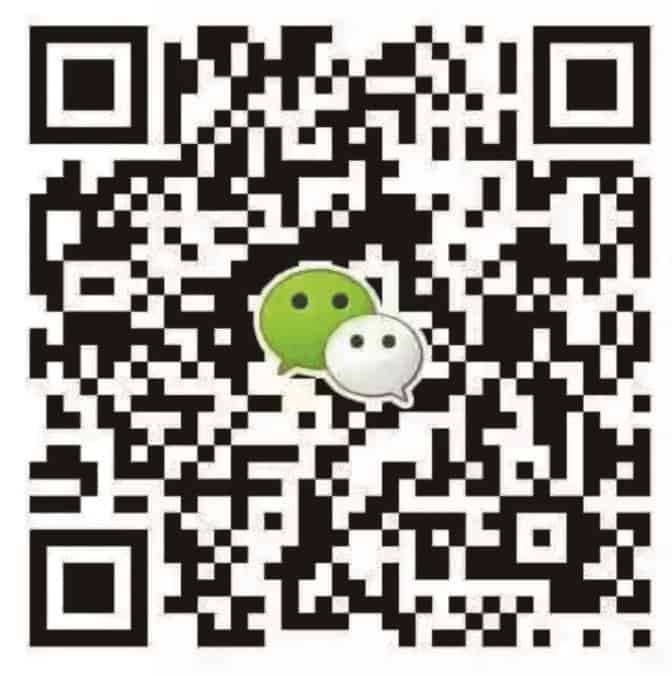 Paris Baguette
Situated in MiXc shopping Mall Paris Baguette offers a wide range of freshly made breads and a wide range of French pastries. Their selection of doughs, pastries, breads and cakes are a made to be more airy and less sweet than the traditional ones you'll find in the city.
Address: MiXc, 8 Shaungqing Rd., East Sect. 3rd, Ring 2nd Rd. 二环路东三段双庆路8号
Lan's Patisserie offers beautifully complex and impressive cakes and pastries. With over 20 varieties on sale each day you can choose from beautifully hand finished pastries which are all made in house.
Address:  No.99 Jinronghui Shopping mall 1st floor.东大街99号晶融汇购物广场1楼113号
Bobcat Bakery accepts small events such as birthday parties, anniversary, movie group events etc.
Address: Poly center Building B, 12th floor, 1218 保利中心B座1218
Tel.: 13518147574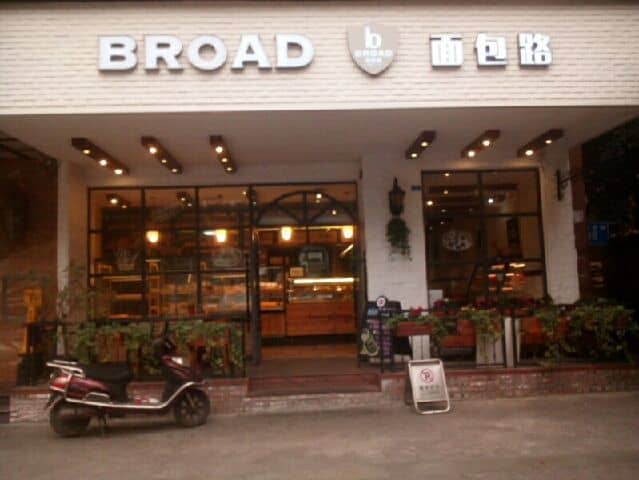 Broad is a bakery chain with locations in several Chengdu neighbourhoods, but the branch that recently opened in Yulin is pretty unique, serving fresh European style breads, sandwiches pastas and coffee.
Address: 98 Yulin West Rd. 玉林西路98号,
Opening hours: 7:30am-10pm,
Tel. 87574568
Address: No. 2-6 East Gaoshengqiao Rd. 高升桥东路2-6号(罗马假日广场),
Opening hours: 7:30am-10pm
Address: No. 687 Second Tianfu St.,  Wuhou District 成都武侯区天府二街687号(近复地雍湖湾)
Opening hours: 7:30am-10pm
Tel. 85328256
Other Bakeries:
La Sirene