Chengdu is hosting a huge amount of exhibitions, so here's a handy summary of where, when and what to help you make the most of all these events.
November 16-30: Chengdu Polish Photography Week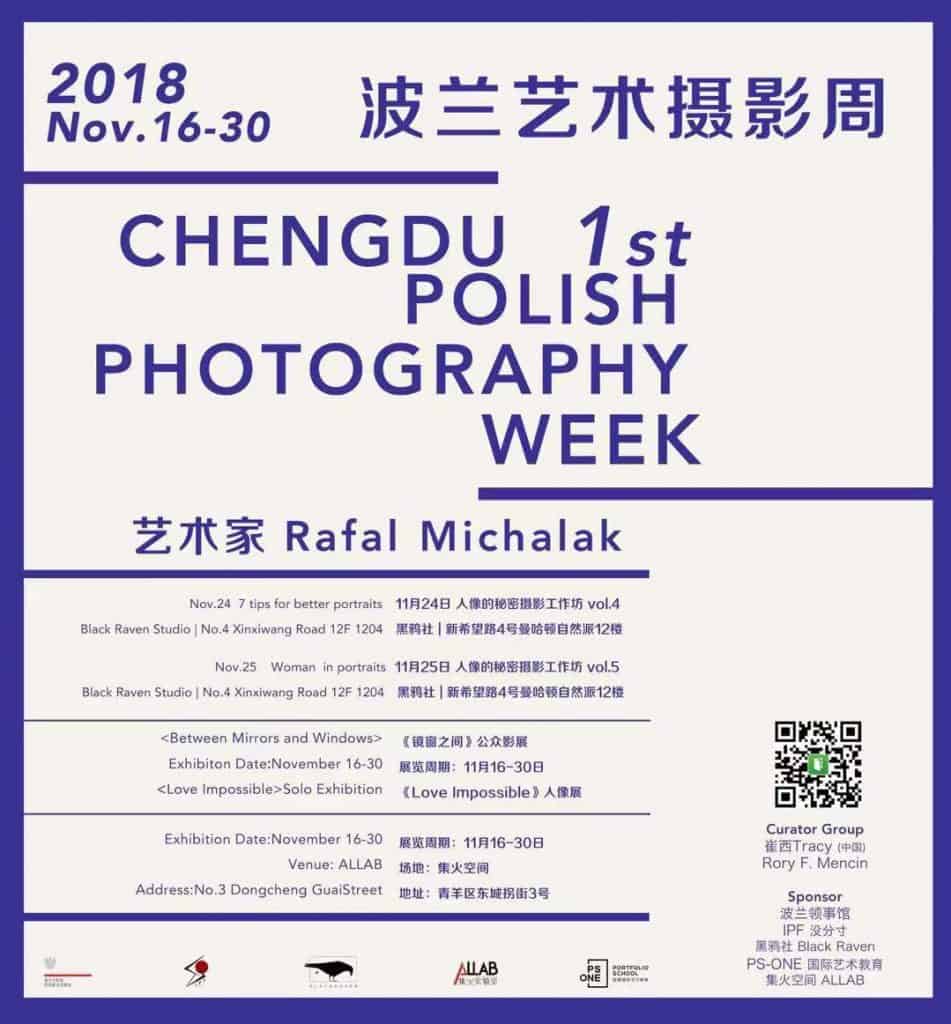 Polish Photography Week, hosted by Rafal Michalak, will run until November 30th and features an exhibition in ALLAB in the Qinyang District. Head over there to try out some Polish photography.
Open until November 30th
Address: No.3 Dongchengguai Street, Qingyang District
集火空间, 青羊区东城拐街3号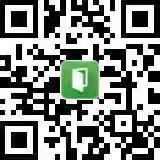 November 27 – December 7: Love Impossible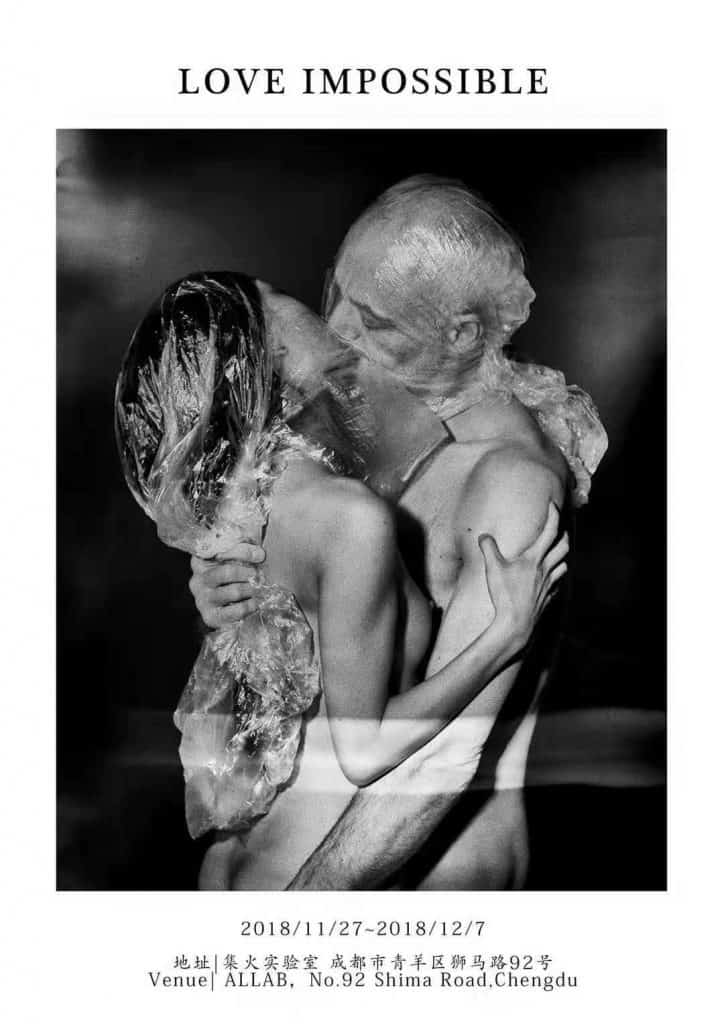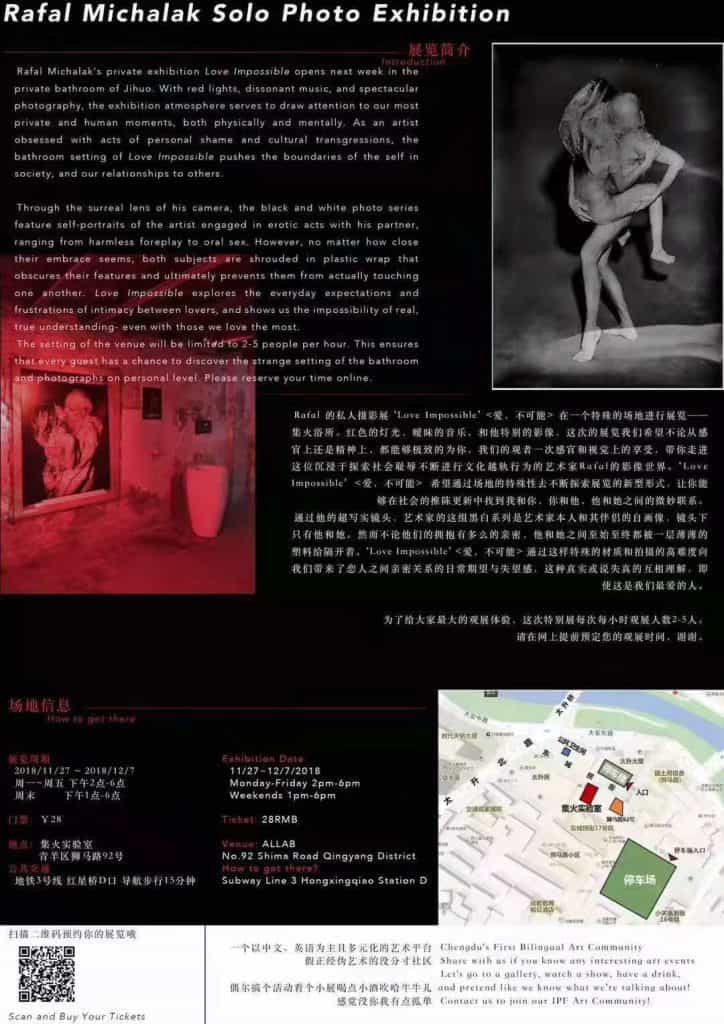 Possible to see until December 7
Address: ALLAB
No.92 Shima Road, Qingyang District
集火实验室, 成都市青羊区狮马路92号
Scan QR Code in poster to buy tickets (28RMB)
November 30 – December 16: The Secret Heat Photography Exhibition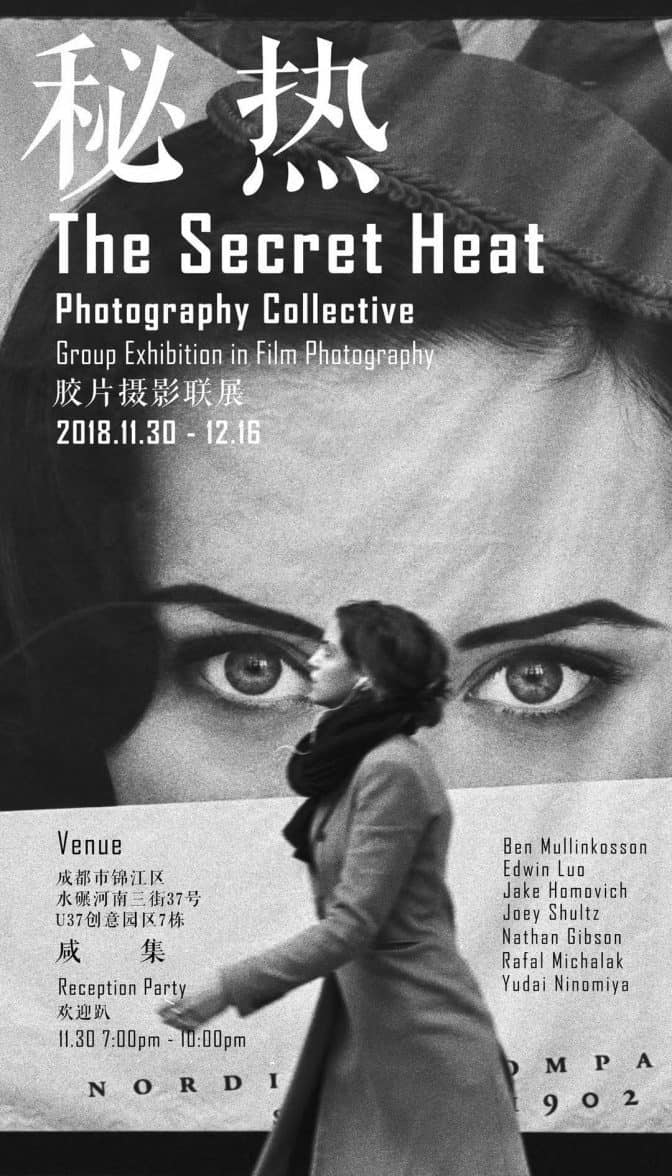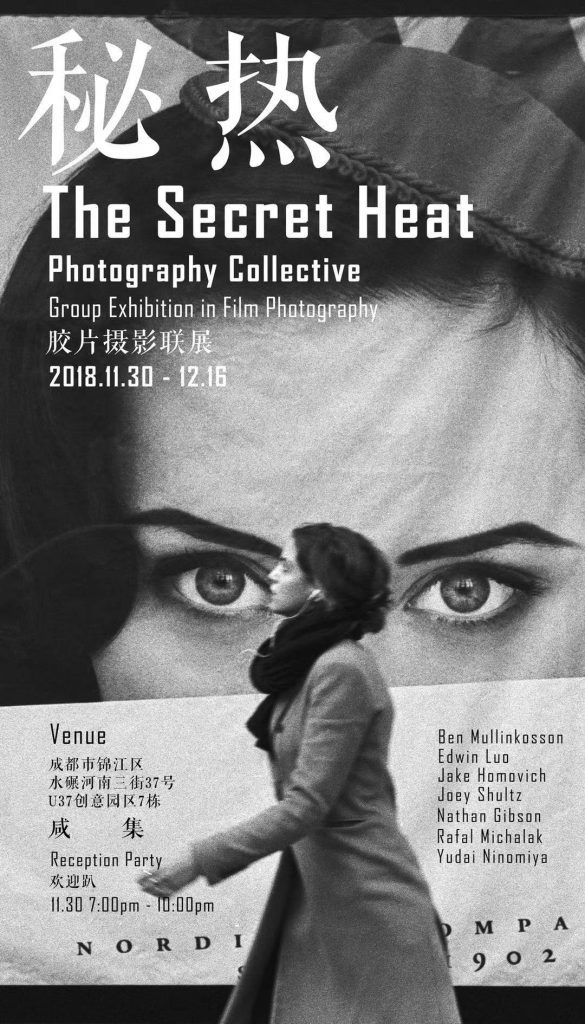 The Secret Heat is a new collaborative exhibit, showcasing various photographers' works together until December 16 from 9am to 8pm every day. Every artist is unique, their work joining to create a more broad, flexible blend of styles and approaches. Check it out by heading down to U37.
From the official description: "The Secret Heat cannot be defined. By collaborating and presenting our dissimilar bodies of work as a unified whole, we aim to create something lasting and stronger than the sum of its parts."
Click Here for more info
In Chengdu until December 16
Address: 
Building 7, U37 Creative Park, No. 37, South 3rd Street, Shuimohe, Jinjiang District, Chengdu
成都市锦江区水碾河南三街37号,U37创意园区7栋
November 6 – December 18: Hidden Portrait 隐匿的肖像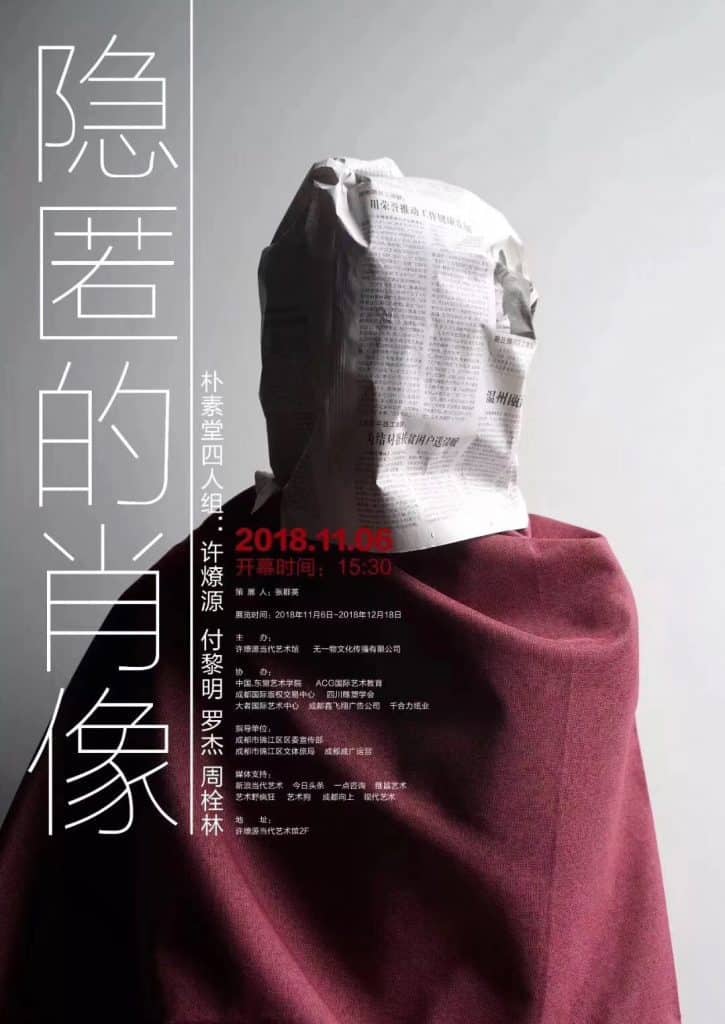 Leaving next, Hidden Portrait is a new, mysterious exhibition focused on contemporary visual art. Click Here for more information, but this seems like an intriguing collection of photography.
On Display until December 18
Address: Shuijing Square Hongsha Village, Sanshengxiang, Jingjiang District
成都市锦江区三圣乡红砂村水景广场
Tel:028-84678585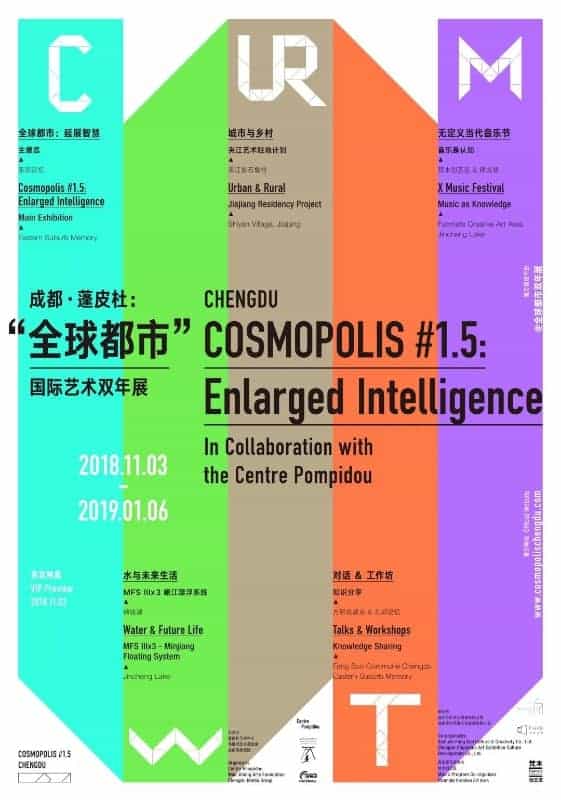 One exhibition being raved over already is Cosmopolis #1.5: Enlarged Intelligence.
Opening November 3rd in Chengdu, Cosmopolis presents artworks and programs by almost 60 artists from more than 20 countries and regions across the world. Their work explores the effects of rapid technological reforms on metropolitan life, and how it is reshaping cities and rural areas. These works aim to envision a way of drawing on these technological advancements, as well as on ecology, to advance social values and help progress through them. A fascinating concept which has produced some equally fascinating work.
Outside of the main exhibition area, there will be several other exhibitions dotted around Chengdu and Leshan.
In Chengdu Until Jan 6th
Main Exhibition:  Eastern Sururb Memory, 4 Middle Section South Jianshe Rd, Chenghua District
东郊记忆, 成华区建设南路中段4号东郊记忆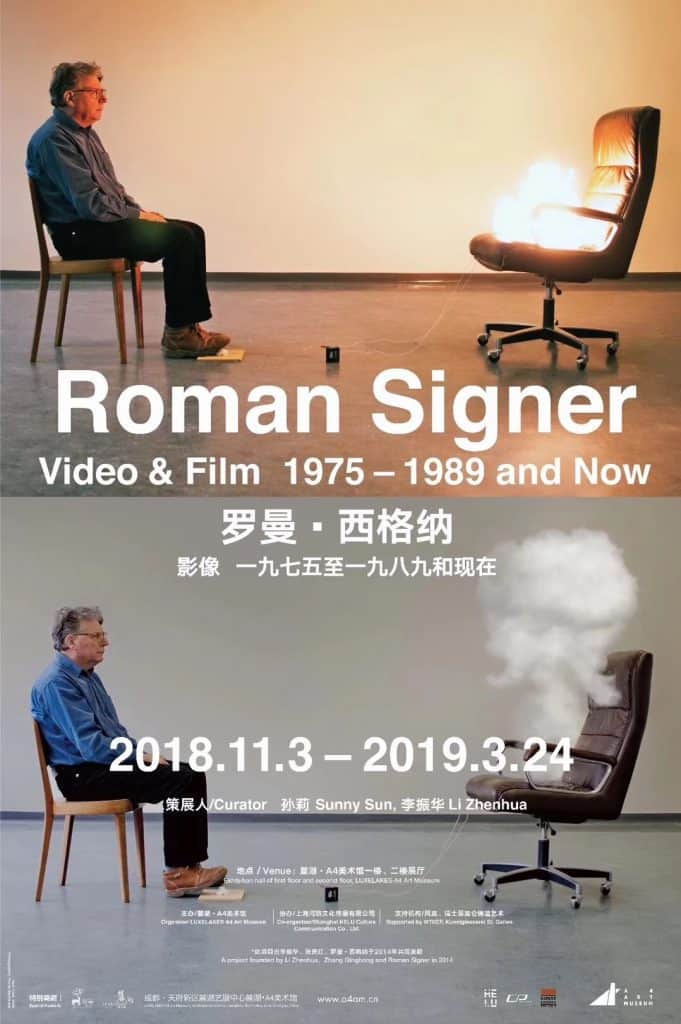 Highly praised and prestigious artist Roman Signer's new exhibition will be in Chengdu for a while, but is well worth checking out.
Roman Signer Video & Film 1975-1989 and now  opened on Nov. 3 and will last until Mar. 24, 2019 at the A4 Art Museum in Luxelakes, showcasing 205 visual pieces created by Swiss visual artist Roman Signer since 1975. The artist's only public art work created in China will be displayed on the lakefront around the museum.
Signer's experimental art has covered road trips, object studies, and more. It can either be conventional or border on the scientific through its experimentation. His work is fascinating, humorous and one of a kind.
Available Until March 24, open 10am-6pm
Address: Luxelakes A4 Gallery 麓湖·A4美术馆 
 18 Luzhen, Sect. 2nd, Lushan Ave.,South Extension South Renmin Rd. / 双流麓山大道二段十八号麓镇A4当代艺术中心
Tickets: 60RMB, Free on Tuesday, Tel.: 85761265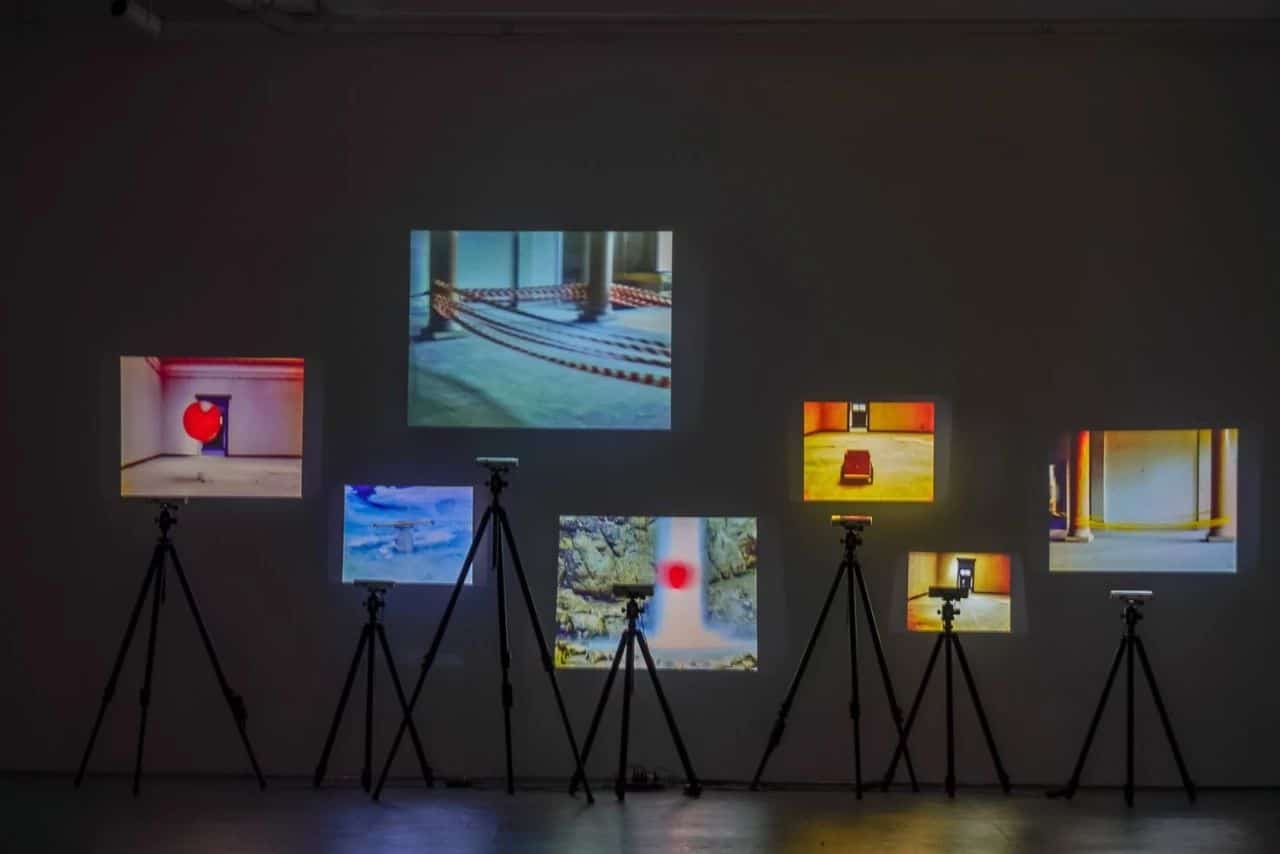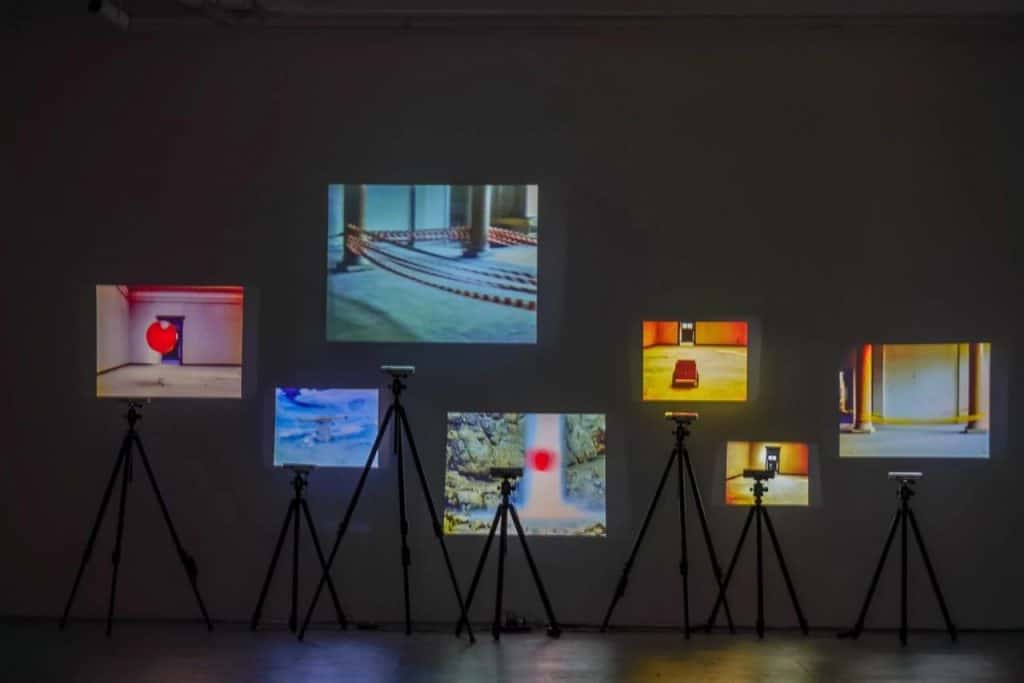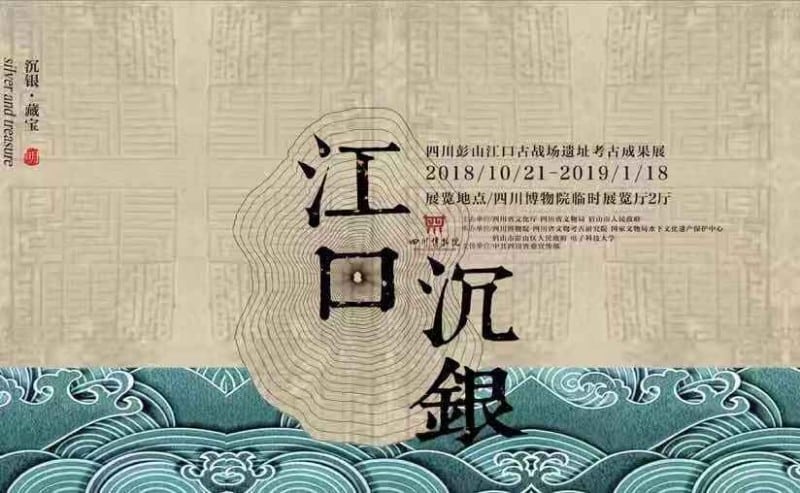 Looking for something more historical?
521 cultural relics from an underwater site are being displayed in Sichuan Museum. From jewels to iron weapons, the exhibit showcases the findings unearthed at the Minjiang River in Jiangkou Town, believed to be owned by the peasant uprising leader Zhang Xianzhong (1606-1647) during the late Ming Dynasty (1368-1644).
The exhibition includes two parts; one displaying the actual treasure and another showing the archaeological methods and techniques used during the excavation.
On Display Until January 18
Address: Sichuan Museum 四川博物馆
251 South Huanhua Rd. 浣花南路251号