Profile
Jamaica Charity brunch
Your greatness is not what you have but what you can give, your act of kindness no matter how small is never wasted 🙏 With that being said let's JAM FOR CHARITY!! 🇯🇲🖤💚💛
Come and join us for an afternoon/evening of some great Jamaican cuisines and some fantastic entertainment.
The brunch will start at 1:00pm however we will also be catering to the folks who work on the weekend so serving will be done in waves because somethings are best served hot.
Scan the Qr code to reserve your spot and send a message to Nakia or Harry with your time of arrival and payment.
Remember: We Rise by Lifting Others
See poster for details.
Venue: Harry's Wizard Cafe
Address: 3rd Floor, Building 3,  No. 315, No. 8, Hualing Third Street, Chenghua District
成华区 华林三街8号附315号,中国铁建广场3号楼3楼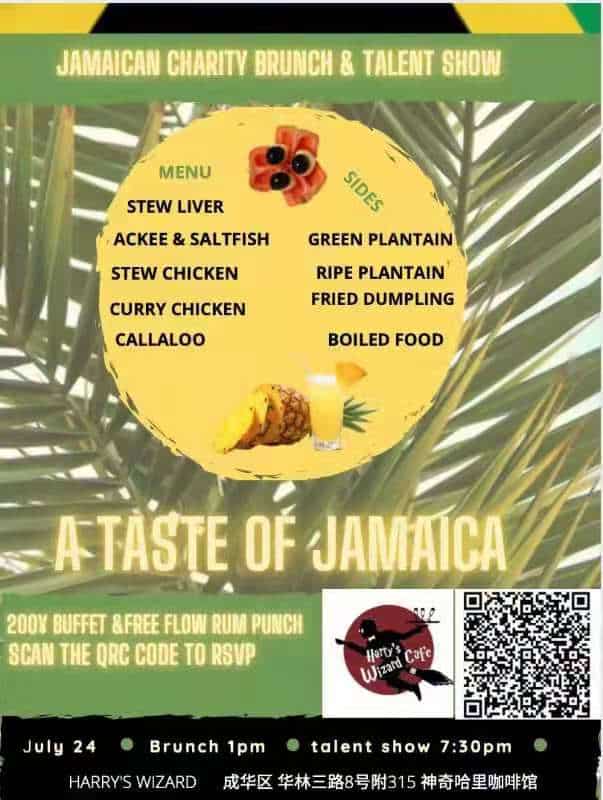 Reviews
Place
More Events
 锦绣路1号保利中心东区商铺附36, 37号
Chengdu
Sichuan
January 20, 2022, 8:30 pm
-
10:00 pm