Chengdu has one of China's coolest emerging music scenes.
Whilst it forges ahead as the epicenter of Chinese rap music, with thanks to big names like the Higher Brothers  – the underground live music scene is becoming a formidable platform to launch good local artists and draw the attention of foreign indie bands.
Lots of music scenes are coming up all over Chengdu. From rock to jazz, punk to reggae..there is a lot to offer! Live music spots can be found all over the city with talented people coming from all walks of life to perform. Local and international musicians alike can be found in one of the spots listed below.
"All sorts of subcultures are developing here – part of it is that the pace of life in Chengdu is slower than China's big cities, so people have time to practice the arts." [sic] – Chengdu rapper TSD.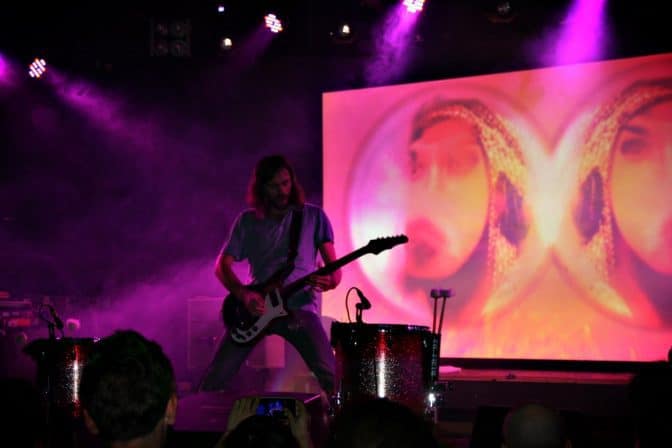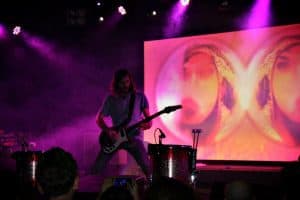 With that being said, Chengdu still has a long way to come if you compare it to Shanghai or Beijing – with festivals cancelled and gigs hard to find or poorly attended – and underground haunts like Dojo and much of the Poly Centre a thing of the past.
If you'd like to find live music on a random night, we'd advise to check out the bar strip at Yulin West Road 玉林西路, located around the original Little Bar.
Nevertheless they're always something cooking, here some of the best music bars for jam sessions, live performances and reggae nights in the city:
I'll start where it all began for me in Chengdu… Jah Bar. This reggae joint is on the south side of Jinjiang district near 'the big ship'. Jah is run by painter Judy Chu and her husband. On most nights there are jam sessions and live performances.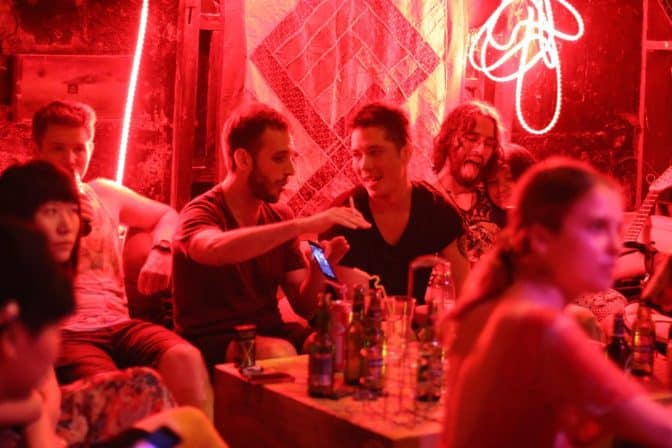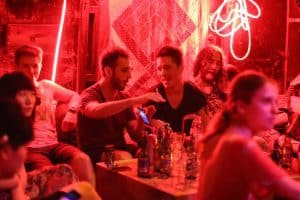 Even on a weekday night the place is often packed, with people spilling out onto the terrace that almost overlooks the river. The tables are filled with an eclectic bunch in faded retro-patterned shirts taking in sessions by a newly formed indie get up, a jazz trio from Mauritius, and a Sichuan bongo ensemble with dreads.
The atmosphere is sticky, smokey and egalitarian. Going through the tattered lanterns and driftwood doors you are welcomed by a stage, which holds a drum kit, guitars and amplifiers.
When I was a little younger and a little dumber I attempted to pick up the guitar here once or twice, and no one complained too much – but with spontaneous jam sessions every night, you never know who you might see mount the stage.
Jah Bar has become a popular spot for cheap drinks and unrehearsed jam sessions. Jazz, Reggae, Blues, and Rock & Roll performances occur most nights of the week out of the blue. Located on the riverside near Laonanmen Bridge, this is definitely a good spot to go to chat with your friends or maybe even play some of the music instruments and have you own little jam session.
'One good thing about music, when it hits you, you feel no pain'- Bob Marley.

Old South Bridge, Hongmen Street – Huang Gate Road #36-118
成都老南门大桥黉门街36号附118号
The birth of underground music in Chengdu is widely attributed to Little Bar – which cracked open the scene almost 20 years ago. Due to it's success, the original little bar has since been retired for live music leaving way for 'New Little Bar' to hold more events and mid sized gigs. New Little Bar is a small live bar in Yulin with a capacity of around 100 people. It has made a name for itself as the home for Punk and Rock music with performances from local bands taking place every Friday and Saturday around 8pm. You'll find plenty of university students and young adults here rocking out to the music but you better get there early as the place fills up pretty quickly with people often overflowing onto the street!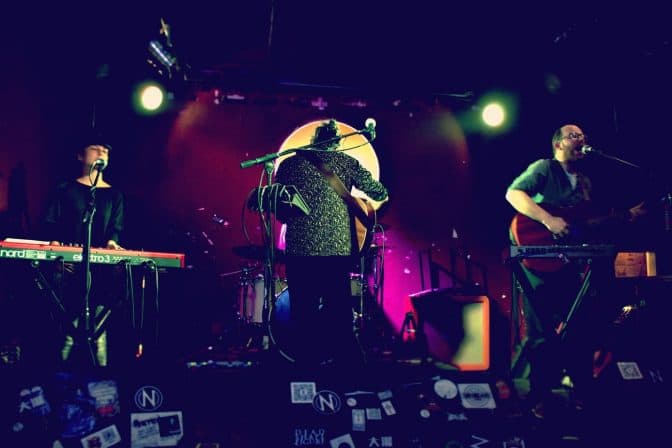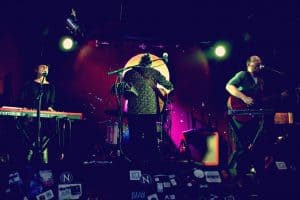 With two decades of building a cult following, the atmosphere is electric and they brings great names to the city. As you can probably guess, it is fairly small, but the alcohol is genuine and so is the music. This is the place to get down and dirty in the mosh pit,  leap off the stage into the crowd or if you're lucky – witness the vocalist of 'While She Sleeps' dive from the balcony. The gig with mentioned English band, was honestly one of the best live shows I've ever seen.
The small venue creates an intimate atmosphere allowing you to get up close, sweaty and personal with the band.  New Little Bar – open 7 days a week in the evenings. Live shows Fridays and Saturdays.

87 Fang Qin Jie, Yulin Shang Wu Gang, Chengdu
成都芳沁街87号附5号丰尚玉林商务港1楼
Little Bar Space is the third and largest of the Little Bar group – in the MixC mall and is designed for large-scale concerts. The venue has an opened plan warehouse vibe and can fit more than 800 people.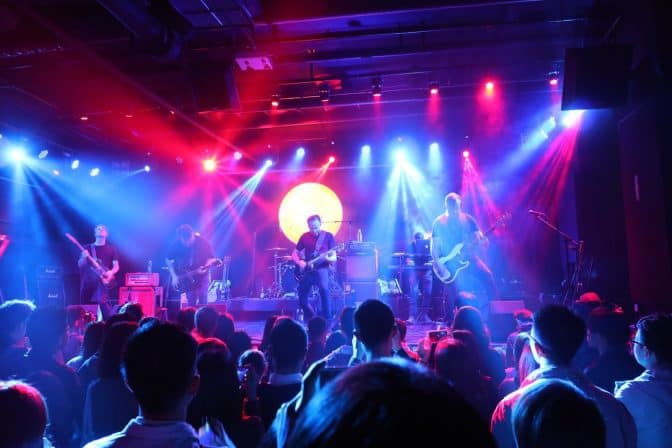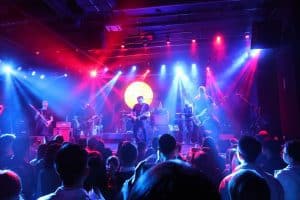 Despite the large scale space –  it still manages to hold onto that intimate Little Bar atmosphere we know and love. It draws some great bands from both China and the rest of the world and helps to put Chengdu on the indie music map.
Click here for Little Bar's upcoming gigs.
You are almost guaranteed to wake up with a banging headache and a sore neck but you'll have had a excellent night.
The second time In Chengdu I saw 'While She Sleeps' was here and I managed to make my own way off the balcony into the crowd! Health and safety you say….What's that?
'The worlds most famous and popular language is music'- PSY

Little Bar The Space (MiXC City), 8 Shaungqing Rd., East Sect. 3rd, Ring 2nd Rd.
二环路东三段双庆路8号小酒馆空间
NU Space, just around the corner from Wide & Narrow Alleys and is a part of the growing artist community MiNTOWN 明堂, started out as a simple coffee place with a focus on art in an area of Chengdu renown for its cultural vibrancy. In recent times it's evolved into a venue with a greater focus on live music. Bringing in and hosting acclaimed performers from across China and the globe, NU space is a great venue to head to for an entertaining evening. The original Nu Space has been open a few years and previously hosted NuArt Festival – but has recently opened up a bigger live music venue (400 people) and are giving Little Bar a real run for their money.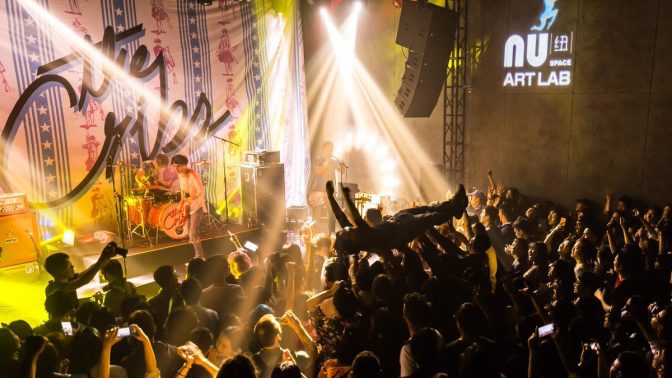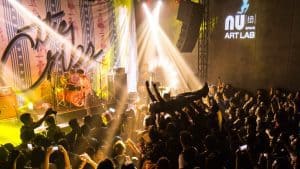 Combining all things creative, they are establishing themselves as the sub-culture centre of Chengdu, giving stage to many emerging musicians, electronic performers and hybrid audiovisual performances from visual artists.
They are also bringing big international names like The Cribs and local heroes Higher Brothers to the city. Listings are published weekly on their official WeChat.
The venue has an epic sound system that will knock your hat off. The surrounding neighborhoods are where some of Chengdu's best local food is, so leave time before (or after) the gig for dinner.
'It's never too late to do anything new when it comes to music'- Kygo.

9 Kuixinglou Street, Qingyang
成都市青羊区奎星楼街9号 NU SPACE
With a total area of 950 square meters, MAO Livehouse Chengdu has two sections for live music shows, with a "Livehouse" and "Club", where great shows happened.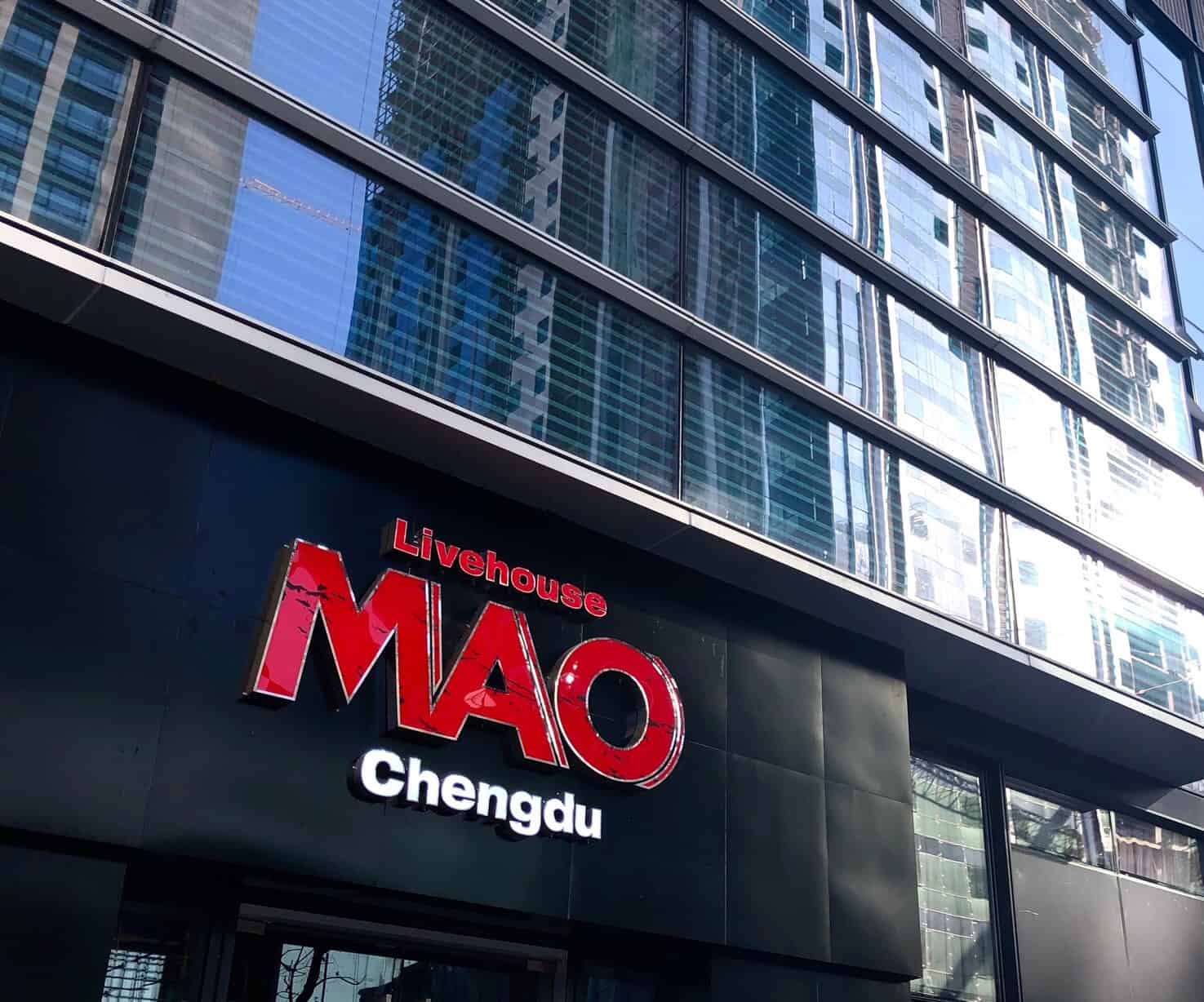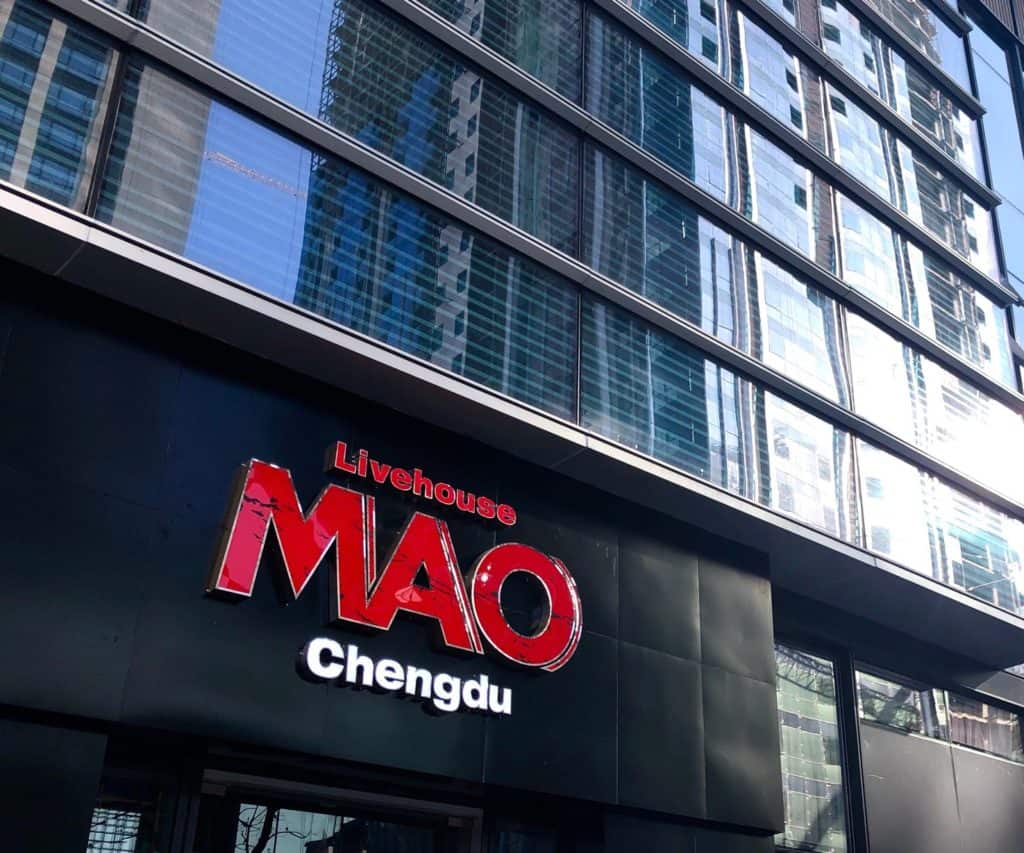 Address
MAO Livehouse
成都市成华区建设南支路与杉板桥路交汇口
Crosssings between Jianshenan Road and Banshanqiao Road.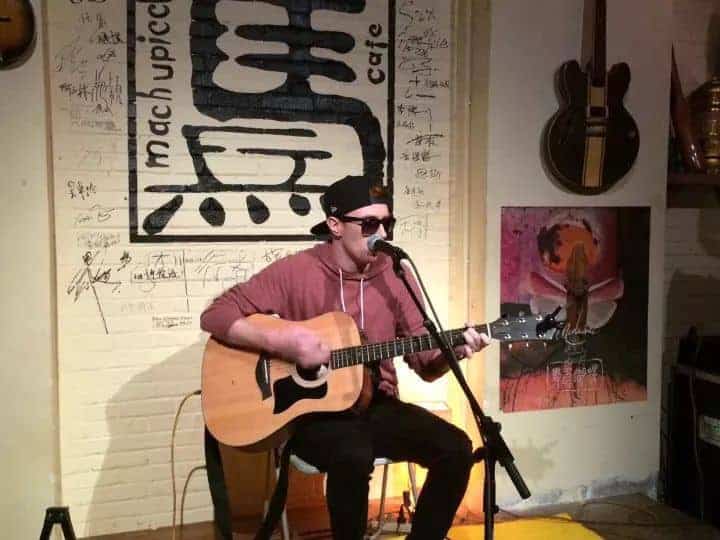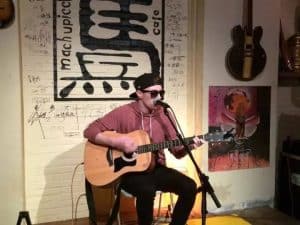 Machu Picchu is another small bar in Yulin with performers taking to the stage at night as well as a weekly open-mic night for you to test your singing skills! The bar is a great place to hang out and play a board game or foosball while you enjoy the chilled ambiance of people mingling and having a good time.
The Machu Picchu cafe is softly lit with rustic Himalayan furniture and eclectic musical instruments adorning the walls. Open mic night is every Thursday from 9pm where infamous jam sessions have taken place on the small stage near the rear of the bar. They also host acoustic, jazz, electronic and experimental music performances.
Whilst the original Machu Picchu closed in October 2016, and was loved by many – the new, larger venue has managed to hold onto it's integrity and spontaneous energy. The quirky cafe and bar stock a selection of decent beers, at reasonable prices. If you're not their on a night with scheduled performances, grab a board game and settle in… you never know who might pluck a guitar off the wall.
'I like beautiful melodies telling me terrible things' Tom Waits.

No.1, Yulin Street North, 1/F Yulin Pinshang, Chengdu.
成都玉林北街1号1栋附5号(玉林品上临街商铺)
Jazz
Riverside Jazz Club is an independent theatre-style building, located in Lna Kwai Fong. The club is dedicated to presenting professional jazz performances of the highest quality to the eagerly awaiting audience every night!

#16, Building 1, No.1 Shuijin Street, Jinjiang District
成都市锦江区水津街1号1栋附16号
Oak Nose Jazz Club

1F, Shangri-La Hotel, No.9 Binjiang Road
滨江路9号香格里拉中心商场1F
This hostel and bar provides not only studio space and lodgings for visiting acts to Chengdu but is also a relaxed space for spontanious jam sessions – it has a small stage, surrounded by whirling lights and art instalations.

30 Wuhouci Street
武侯祠大街30号
Chinese Style Live Music Houses
Jiu Yan Qiao has a number of Chinese style live houses, which occasionally see decent acts and usually have a good atmosphere. Warning: You may have to endure Hotel California:
808 Live House

(next to Jiuyan bridge) 丝管路1号(九眼桥旁)
Long Live House

Jiuyan Bridge 九眼桥, 太平南街

Several venues in Chengdu, with the most popular one in the South
兰桂坊
Yue

East