The Temple Café Launches New Menu. Inspired by the Timeless Fresh Bistro Experience.
In October 2016, The Temple Café has launched a brand new concept menu created by French chef Jerome Merlo. Embracing a wholesome "Farm to Table" concept, the new menu will comprise a tempting range of pastries and classic French dishes with an emphasis on carefully sourced ingredients.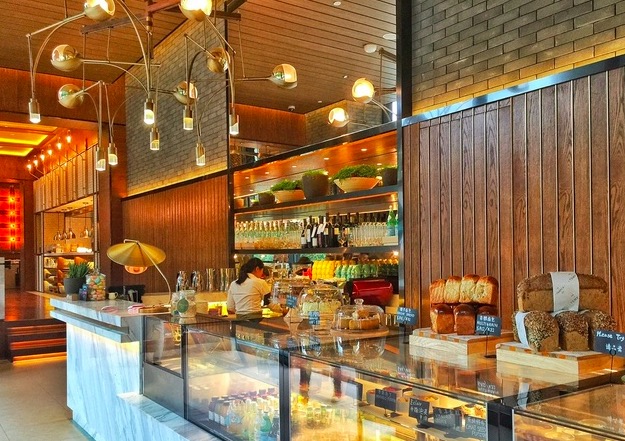 Inspired by France's iconic all-day bistros, yet styled with a distinctly fresh and modern setting, The Temple Café offers guests a dining experience that is casual yet sophisticated. Chef Jerome, who hails from France's Bordeaux region, believes the highest purpose of creating good food is so it can be enjoyed by those who love food. This ethos has clearly shaped The Temple Café's new menu, which features simple yet comforting items that define the timeless bistro experience.
New signature entrees include classic French dishes such as the delightfully moreish Pan Fried Duck Liver with Balsamic Vinegar and Brioche Sticks, House Smoked and Fresh Salmon Tartare with Whipped Cream and Greens, and the irresistibly tender and aromatic 7-Hour Lamb, slow-cooked to juicy perfection and served with leeks, Portobello mushroom, roasted garlic and a demi-glace sauce. After a satisfying main course, guests may round out their meal with a Café gourmand, a popular French dish with assorted desserts.
There will also be daily set lunch offers so guests may take a break from their hectic work schedule to treat themselves to a relaxed French bistro meal. As the lunch menu will be seasonally refreshed every week, there is always something new to discover at The Temple Café.
The Temple Café
Breakfast: 06:30 – 11:00
Lunch: 11:30 – 14:30
Afternoon Tea: 14:00 – 17:30
Dinner: 17:30 – 21:30
About The Temple House
The Temple House is located in the heart of the city within the Sino-Ocean Taikoo Li Chengdu. The 100-room hotel and its 42 adjoining serviced apartments form an integral part of the city government's conservation project to preserve the surrounding heritage buildings next to the thousand-year-old Daci Temple. The three-dimensional woven façade combines modern design with the traditional Chengdu architectural elements of timber, brick and step stones. Elegant bamboo trees frame the hotel's entrance, which is set in a beautifully restored hundred-year-old Chinese courtyard building first built in the Qing Dynasty. The Temple House also offers a dynamic collection of outlets including The Temple Café – the all-day dining restaurant, TIVANO – an authentic Italian restaurant, Jing Bar featuring live DJs, MIXUN Spa and Teahouse.
The Temple House博舍
028 6636 9999
No.81 Bitieshi Street, Jinjiang District, Chengdu 成都市锦江区笔帖式街81号
www.thetemplehousehotel.com