Check out what's new in the 'Du this month
[:en]Anantara Emei Resort & Spa Thai Food Festival
On 20th August 2015, a themed 'Lost in Thai Food' cultural and food festival embarked on Anantara Emei Resort & Spa. The invited guest chefs from Anantara Si Kao Resort & Spa in Thailand Mr. Anak and his team meticulously prepare all kinds of authentic Thai Food. This event was supported by Leshan Government, and Mr. Zhong Weiji, the Chairman of Leshan Foreign Friendship Association, and Mr. Komate, the Thai Consul General of the Chengdu Office, delivered the opening speeches for the event.
The Beer Nest II & Iron Pig BBQ & BEER Saturday's Sessions
Satisfy your cravings for ribs, pulled pork, brisket and huli huli chicken (all prepared in a huge smoker) combined with homemade sauces, side dishes and craft wheat beer. Every Saturday from 6–8pm, all you can eat & drink BBQ & BEER, RMB 200 per person. The Beer Nest II (Bar & Kitchen), South Renmin Rd. Section 4, Master Commercial St. 1F, 48 – 32 [Behind Bank of China].
Introducing Women's health services at ParkwayHealth
Comprehensive women's services are available at ParkwayHealth Chengdu Medical Center. Dr. Jenny Gao, their OB/GYN, has more than 10 years' working experience and specializes in preventive gynecology care including cancer prevention and screening, reproductive endocrine disorders, family planning, and various gynecological problems. The clinic also offers a comprehensive range of Family Medicine, Pediatrics, Physical Therapy and Psychology & Counseling services provided by bilingual and qualified Physicians. ParkwayHealth Medical Center in Chengdu is open every day (from 9am to 6pm on weekdays and from 9am to 5pm on weekend).
Address: Chengdu No.1 People's Hospital, 18 Wan Xiang North Rd.
Appointment Service Center: 8531-7899 (24-hour)
Website: www.parkwayhealth.cn
MOKA Bros Breakfast
MOKA Bros makes healthy lifestyle choices quick, easy and affordable. After filling every seat in the house with their daily menu, MOKA Bro's are adding something for the early risers: breakfast! MOKA Bros new wholesome breakfast menu is inspired by Chef Daniel's mornings in South America and China. The menu has something for everyone including filling South American breakfast wraps, simple sunny side ups, classic Cantonese rice porridge, healthy house-baked granola with our own yoghurt & berries, and of course MOKA Bro's signature fresh smoothies and juices. The WIFI is humming, music turned down and whether its productive breakfast business meetings, caffeine-induced concentration for on-deadline freelancers or office workers who simply want to grab and go: MOKA Bros is now open from 8am to 10:30am Monday till Sunday.锦江区中纱帽街8号,成都远洋太古里1243. Sino-Ocean Taikoo Li, Shop 1243, Middle Shamao Street 8, Jinjiang District
Niccolo Chengdu's Successful Taxi Campaign
August 25, 2015 – Earlier this month, Niccolo Chengdu organized a one-week "Explore with Signatures" taxi campaign to help build more awareness of the hotel by giving out personalized bento boxes with fresh juice to the city's hard-working taxi drivers. This campaign covered three main taxi companies in Chengdu, reaching more than 3,000 drivers. Since the Mid-Autumn Festival is approaching, the hotel also gave exquisite moon cake boxes to the lucky number 88, 188, 288 and 366 taxi drivers as an added delight. By the end of the campaign, Niccolo Chengdu provided 400 bento boxes. The campaign generated a large number of positive comments from the taxi drivers.
Direct flight to link Chengdu with Paris
Air China announced that a direct flight linking Chengdu with Paris will be starting January 28th, 2016. An airbus A330-200 will fly the new route three times a week on Monday, Thursday and Saturday. It will shorten the one way travel time to about 11 hours. Previously, no direct flight linked the two cities, and travelers from Chengdu were required to take a connecting flight in cities such as Beijing and Shanghai. It will become Air China's second direct route linking Chengdu with a European city. The first direct air route linking Chengdu with Frankfurt was launched in 2013.
Monthly Chengdu Entrepreneurship Meet up
For more than two years, the Chengdu Entrepreneurship Meet Up has been held every 3rd Wednesday of the month starting at 7:30pm. It's a free event for anybody interested in entrepreneurship and operating a business and includes presentations, idea pitches, Q&A and networking. Feel free to join and hear the stories of trailblazing and building businesses in Chengdu! Organized every 3rd Wednesday of the month @ The Beer Nest II, Bar & Kitchen.
Ascott opens its new Lifestyle Galleria 21, August 2015
Ascott officially opened its Lifestyle Galleria, a carefully curated selection of arts, culture, food and fashion, where residents can easily indulge in life's passions. A few oversea General Consulates and media partners together with Ascott residents were invited to the event to celebrate the opening together.
Twin Female Panda Cubs Born in Chengdu
Seven-year-old panda Ni Ni gave birth to twin female cubs at the Chengdu Research Base of Giant Panda Breeding on August 7. They are the fifth twin cubs born at the base this year. "The two cubs weigh 145.6 grams and 204.1 grams respectively. Both the mother and her cubs are in good condition," said a researcher from the base. The base revealed that 11 cubs were born there this year, among which five are twin cubs including two male twin cubs and three female twin cubs.
Growing trend of wearing hair sprouts in Chengdu
Recently, a new fashion trend of people in China wearing small plastic sprouts clipped into their hair has spring up. The most popular type seems to be a classic "pea shoot," although hundreds of different designs of colorful plants and flowers are available. They are sold for 5 yuan by street vendors but can be found online for as little as 0.3RMB. Most people seem to wear the hairpins because they think they make them look cute.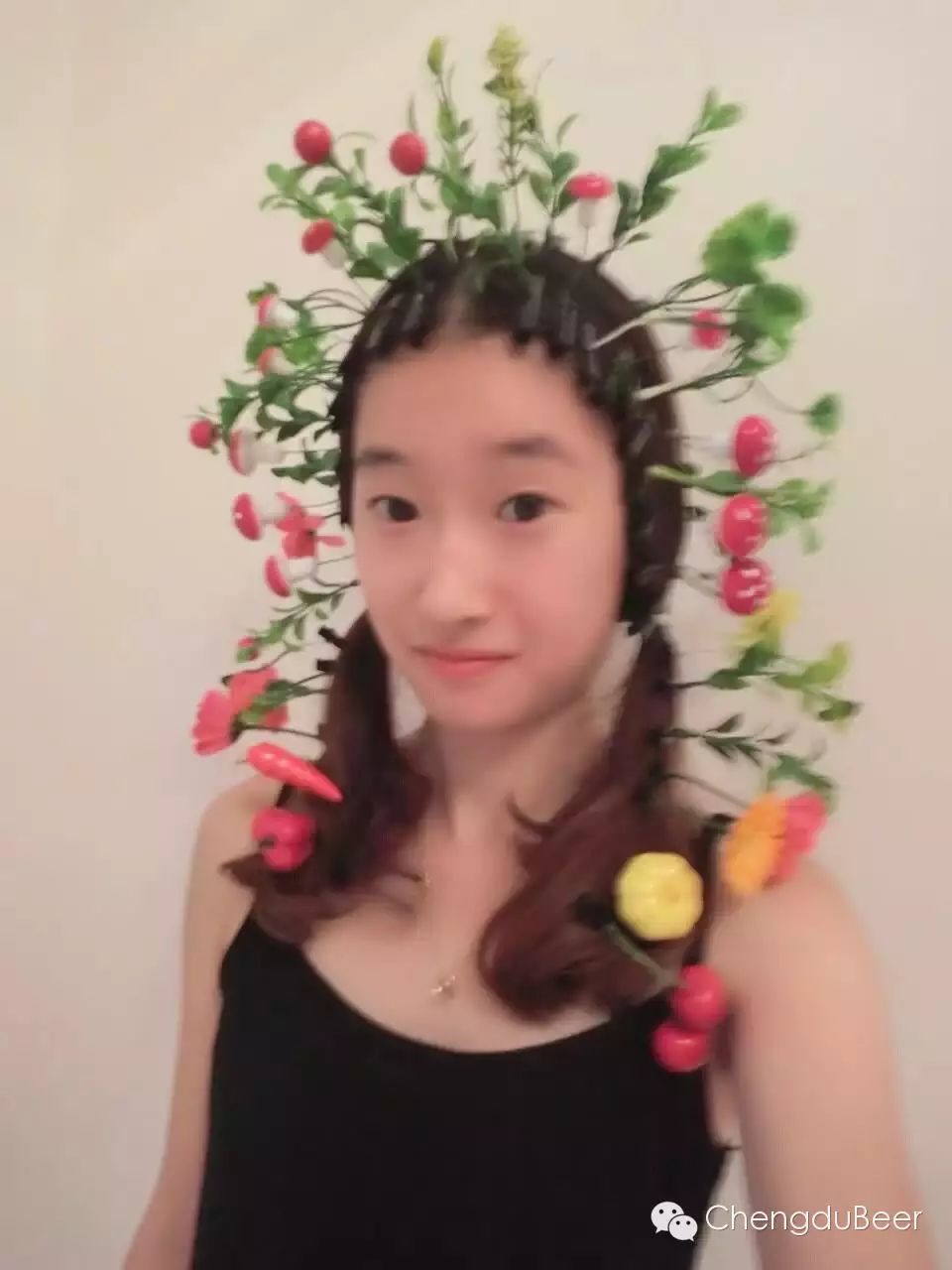 [:zh]
[:]