Lesbian, Gay, Bisexual and Transgender Pride Month (LGBT Pride Month) is celebrated each year in the month of June.
The origins for Pride Month are often cited in the Stonewall Riots that taken place in New York, June 1969.  Stonewall is the name of a rather unassuming pub in Manhattan that in some ways sparked a movement, especially in a US context but had a global impact too.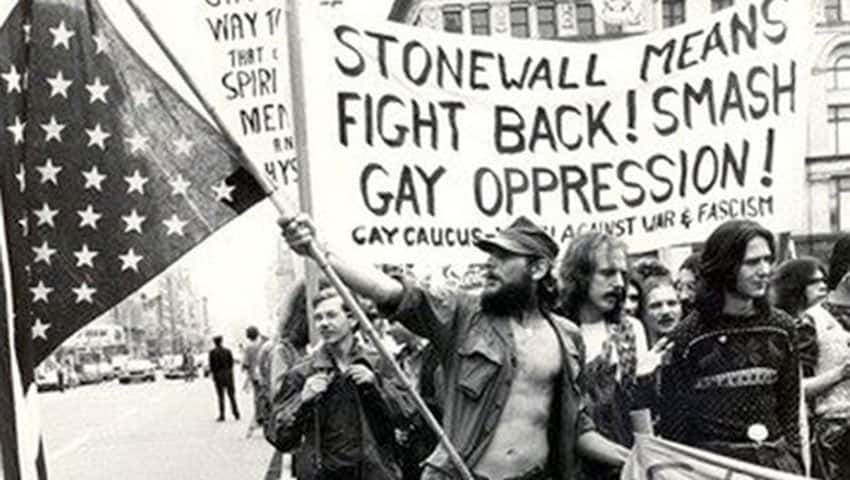 On June 28th, 1969 at The Stonewall Inn, there was a police raid (which was a common occurrence). These police sought their usual arrests, hoping to take people off in wagons to the station to be booked.  Only, this day was different because the wagons were late. The police were held up in the pub for 45 minutes. Word spread, and people gathered outside. The crowds witnessed first-hand what many in the LGBT community had known and suffered for a long time:  harassment, beatings and persecution.
Stormé DeLarverie, a well-known, half African American, half Caucasian singer, bouncer and drag king, was in handcuffs.  As the police made that walk to one of the wagons, she escaped and fought with police for almost ten minutes.  At one point she called upon the people watching for help.  As she was put into the van the crowd erupted and the riots ensued. That night has been dubbed by some as "The birth of gay power".  This was the beginning of the gay movement.  The Stonewall Riots lasted for five days.  But Stormé characterized it differently.
"It was a rebellion, it was an uprising, it was a civil rights disobedience – it wasn't no damn riot."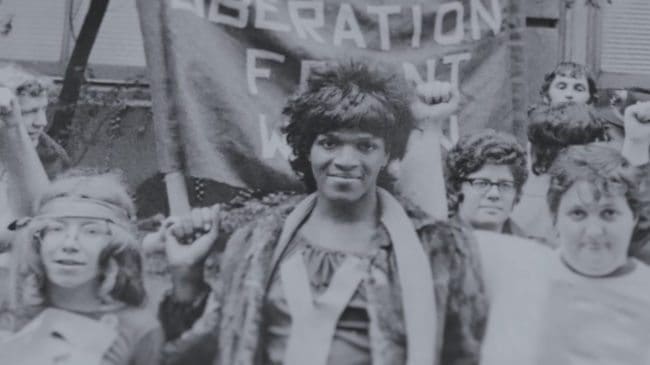 One year later, to mark the LGBT fightback, Manhattan, held its first 'Gay Liberation Day' march. This public demonstration, however, was not confined to New York or even the US. As well as San Francisco, Washington, Chicago, for example, that year also seen LGBT protests in London, Paris, Stockholm and West Berlin.
Skipping almost half a century of history, Pride today has its roots in these angry and political protests. The term, Pride, emerged as LGBT parade committees started to be taken over by less political people who transformed the gatherings into their nowadays more familiar carnivals and parties. Les we forget, however, that while for many in the West, life for LGBT people is much easier (though not necessarily easy), there are still many countries that outlaw, execute, persecute LGBT people and many more countries that still deny us basic rights.
Everyone, including LGBT people, need to know that we did not even have the the right to walk the streets and that many still cannot.  Therefore, Pride throughout the year in many countries) is still a call to action as well as a celebration. It is and an act of pride.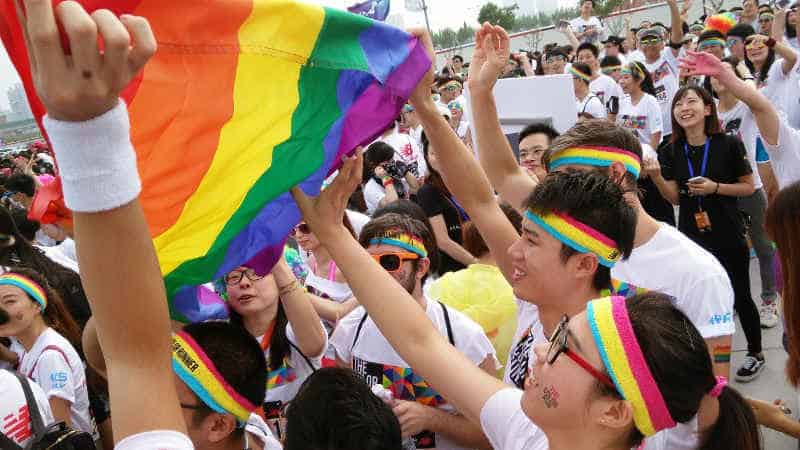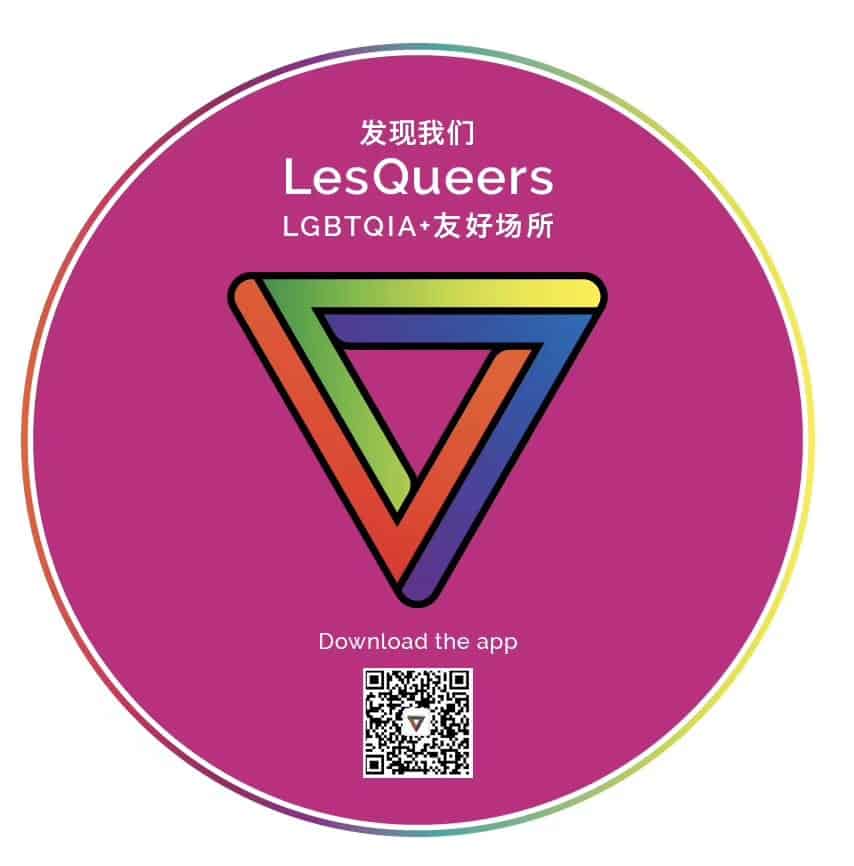 Who's out in Chengdu?
The LGBT main groups here in Chengdu are Chengdu Pride, LesQueers, AiBai, Tongle, Pflag and Milk. Chengdu Pride was founded in 2015 and organises activities for the LGBT community. It aims to raise awareness and visibility, and to promote self-acceptance and acceptance for the LGBT community through sports, cultural, and social activities. LesQueers (LQ) is a hub for the queer women community in Chengdu. LQ Chengdu is a new community, which have meet ups to get together to eat, play and socialize.
How can we share this time?  

Thanks to the hard work of Chengdu Pride we have a Pride Festival this month for you to revel in your gayness.  Join those around you in an act of solidarity, celebration and of course, Pride.  Starting this weekend:
June 14th – Underground Prom Night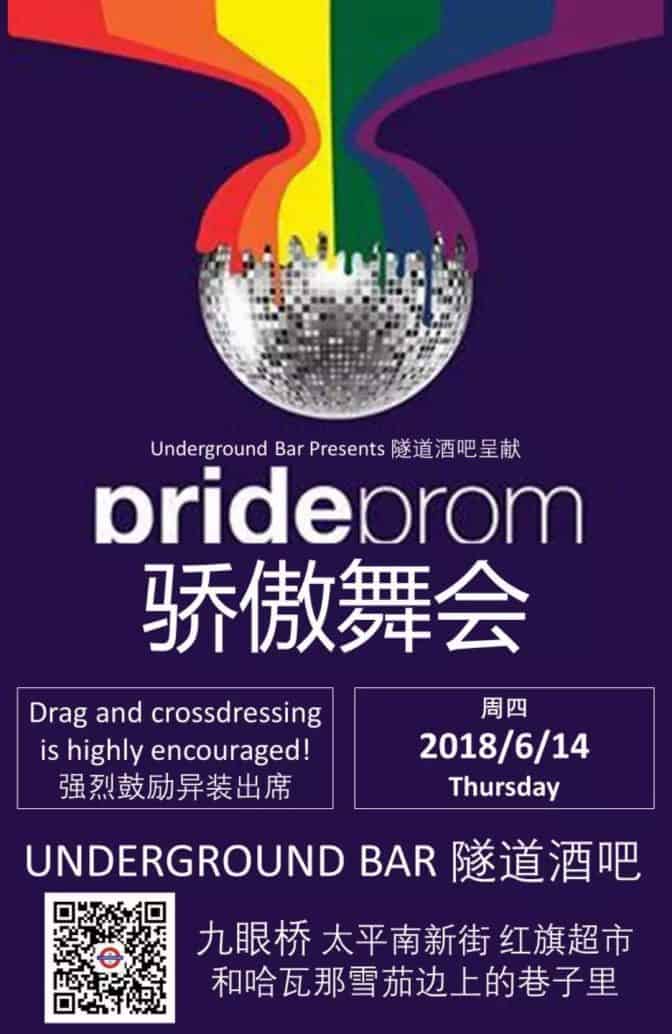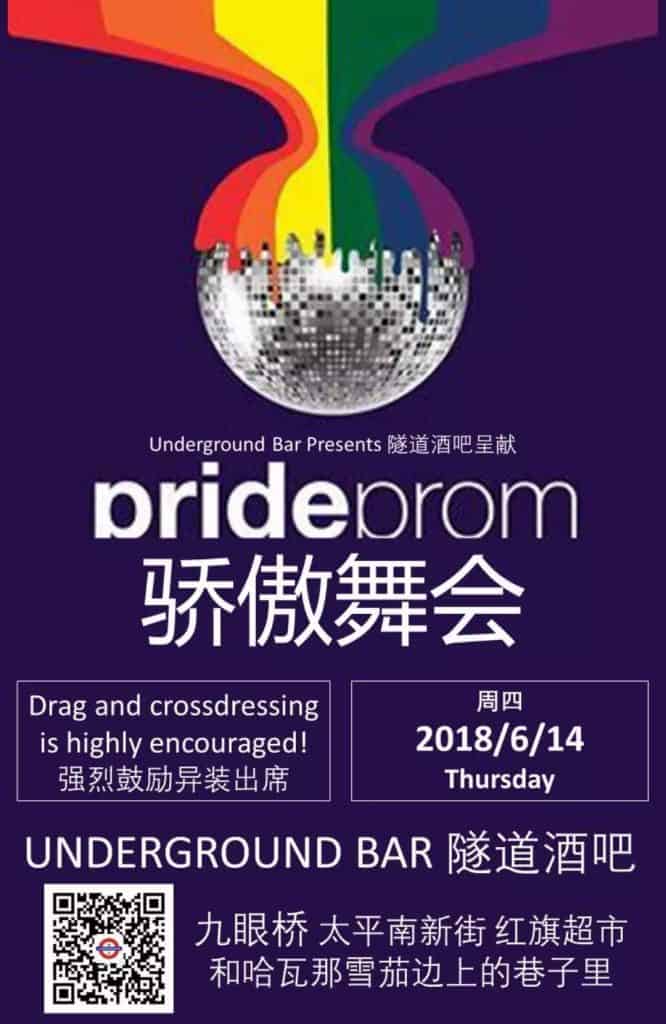 June 17th – Berlin House Movie Night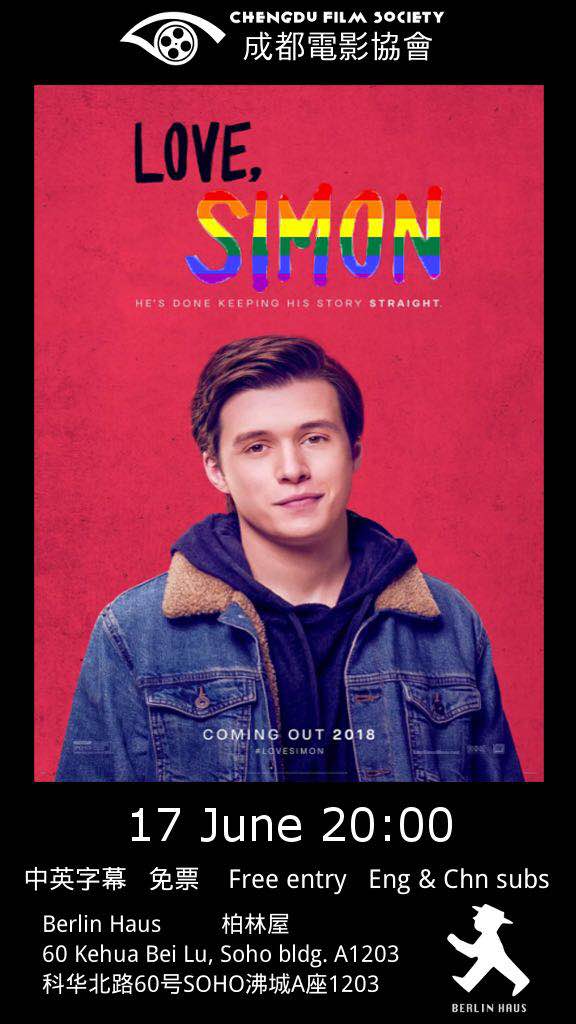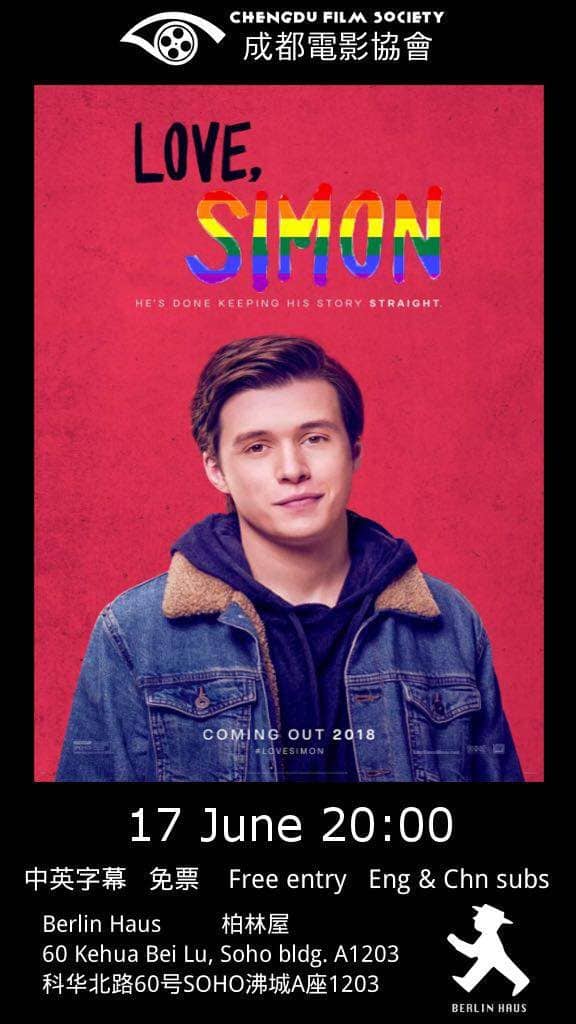 June 19th – Jellyfish XL Pride Night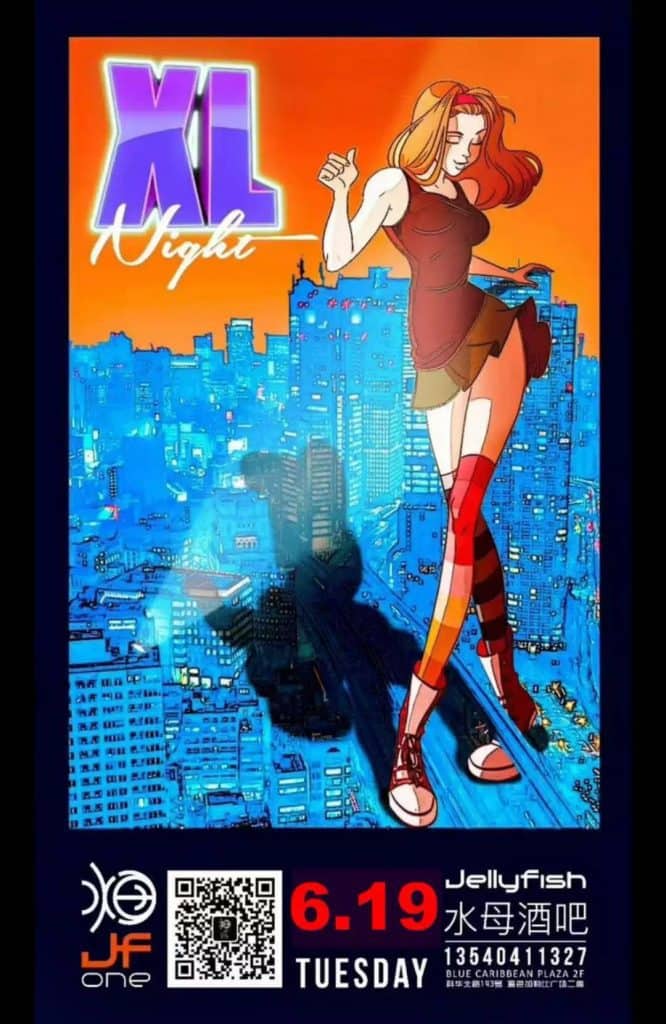 June 21st – Underground Graffiti Night
June 23rd – Mr/Ms Pride Chengdu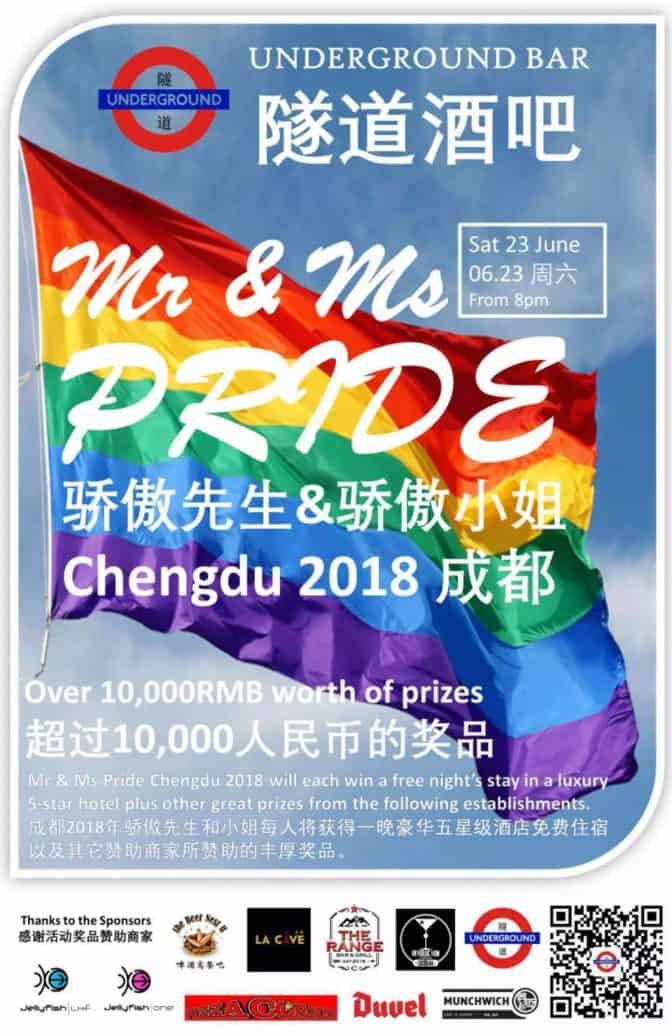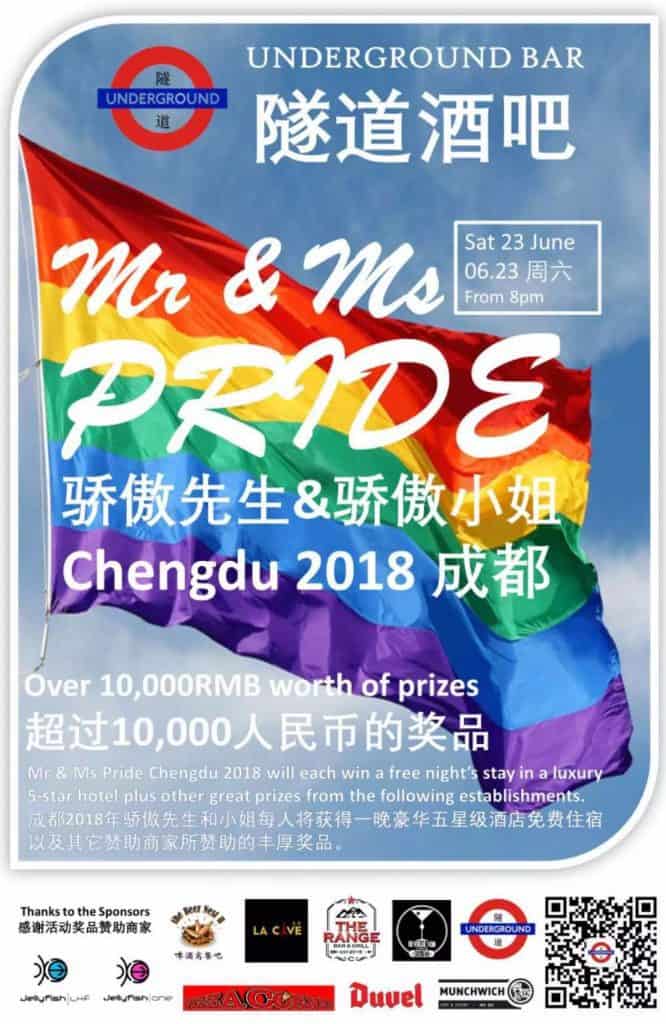 June 24th – Temple House Poolside Brunch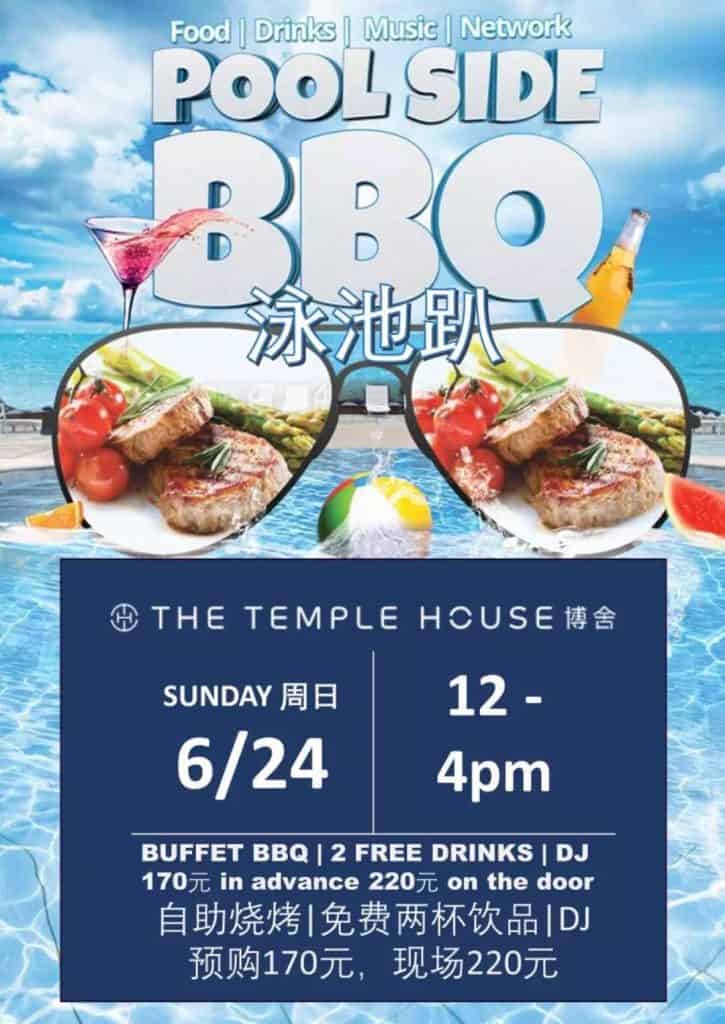 We hope to see you there.
To find out more information about the LGBT groups here in Chengdu feel free to contact Armanni or Gary. WeChat ID: marnie2014 or gary2784