As the world's largest producer, consumer, and exporter of textiles, China is responsible for a staggering quantity of textile waste. Every year, families throw away approximately 26 million tons of clothing, and the nation's accumulation of textile waste amounts to nearly 100 million tons. Less than 1 percent of this is reused.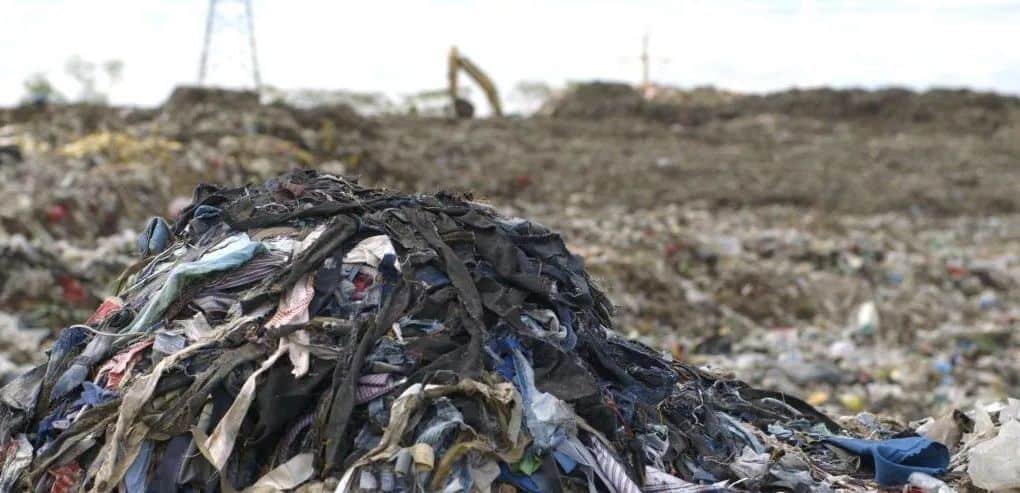 In Chengdu, even though many of us arrived with just a suitcase, it's amazing how quickly  we can accumulate clothes – and when moving, leaving or having a clear out we aren't sure what to do with them.  Aside from trusty buy and sell groups and the annual Winter Clothing Drive there are a few hassle free ways in the city to recycle or donate clothes to charity:
FeiMaYi  飞蚂蚁 (which means flying ant) is a WeChat account which accept all clothing items, shoes, and bags, in any condition. The good stuff will go to charity and the not-so-good stuff will be kindly recycled. The best part of all, they come right to your door, take your donation, and it's free. Here's how to use it:
1. Follow FeiMaYi
Service Account
Scan the QR code below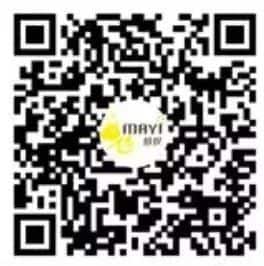 Wechat ID: feimayi90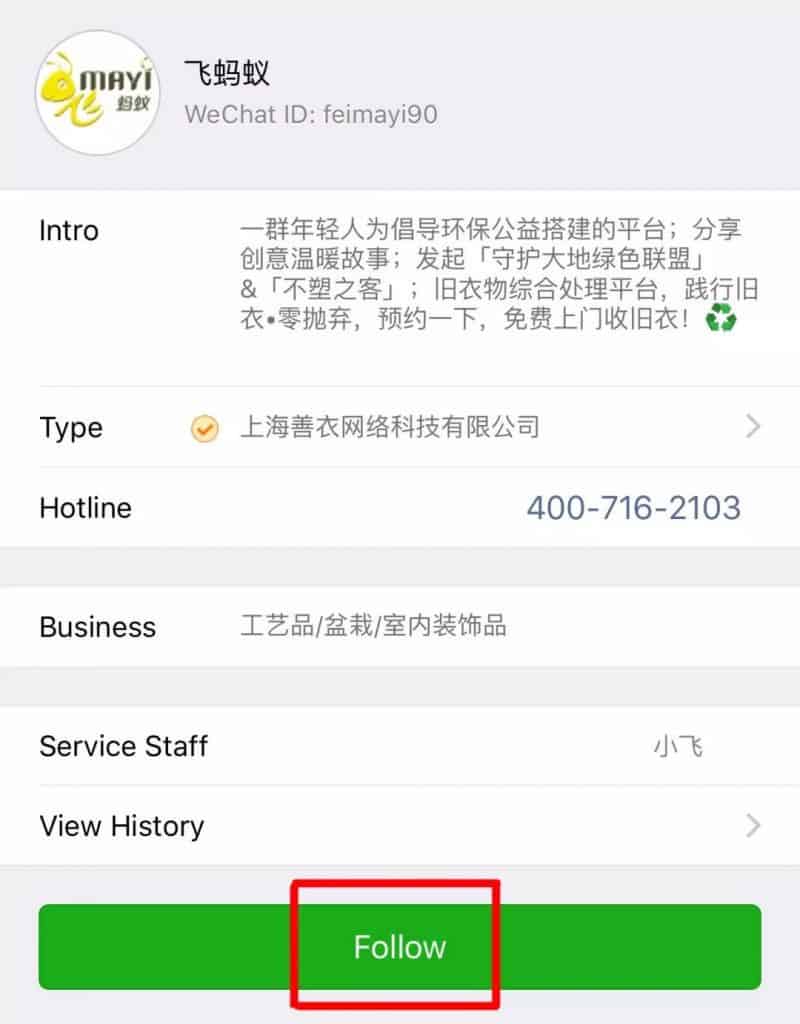 The automatic welcome message includes a link right to the reservation page… It's the first of the blue links, in Chinese 预约收衣: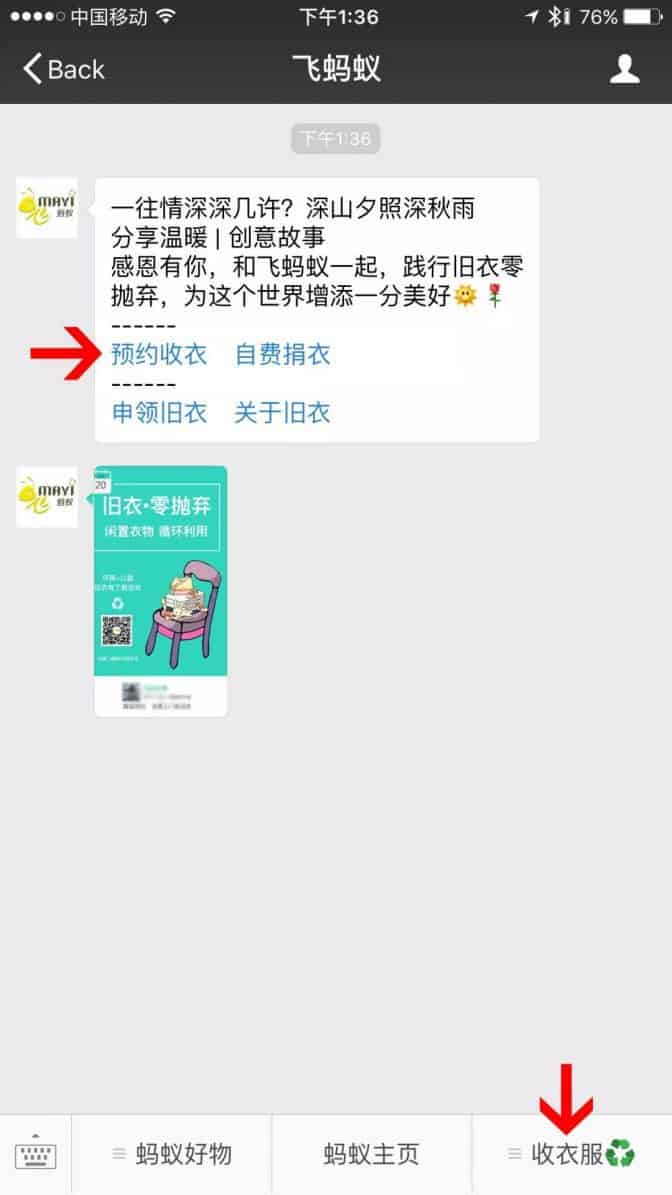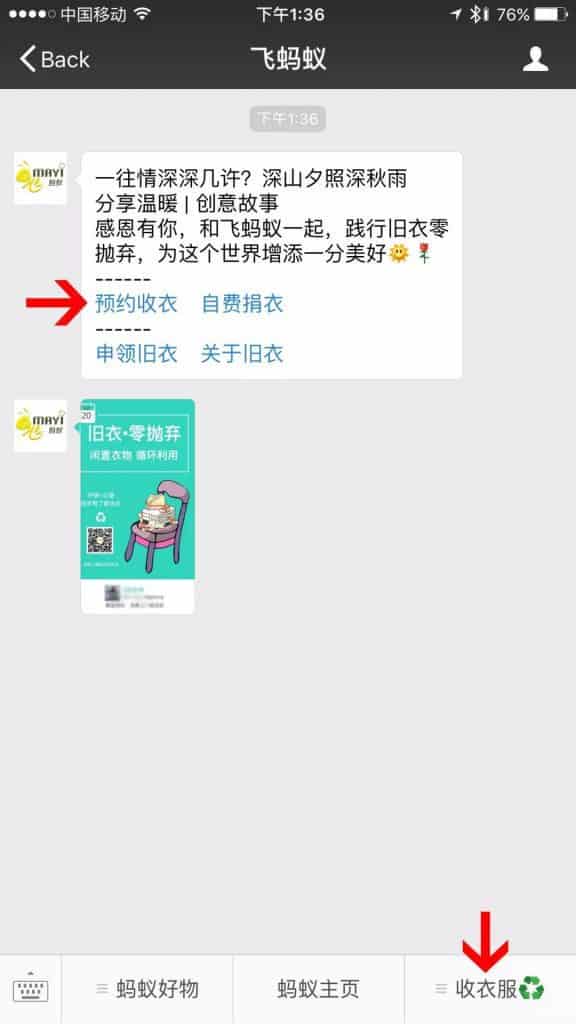 They also have the link in the menu!
3. Begin entering your information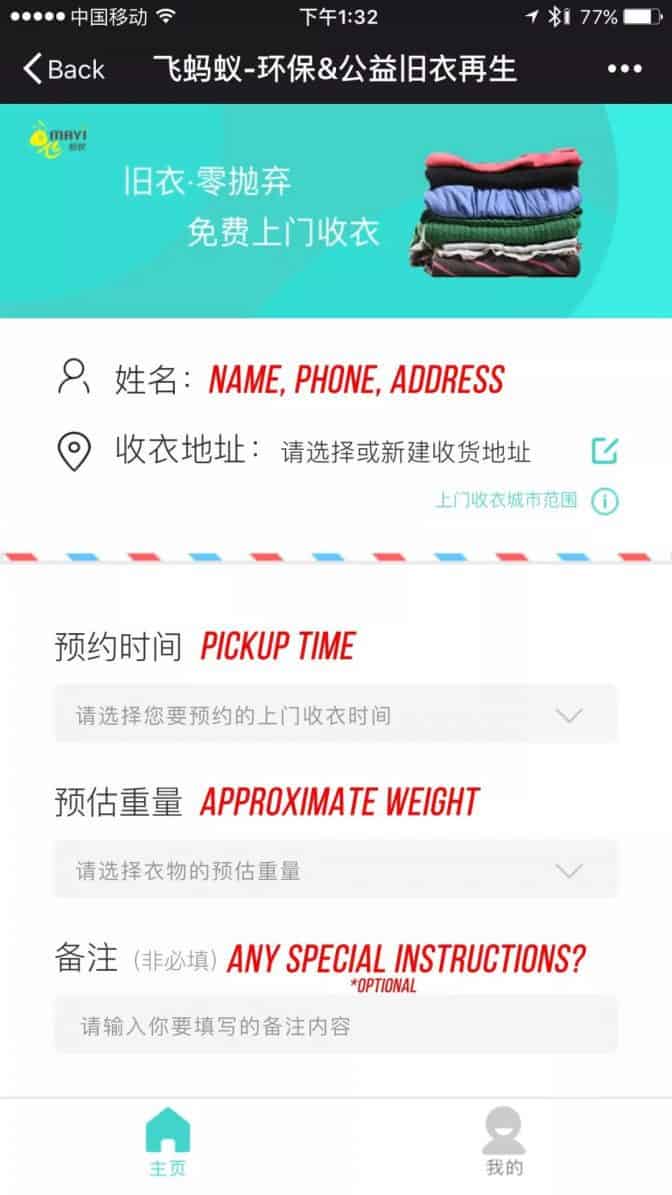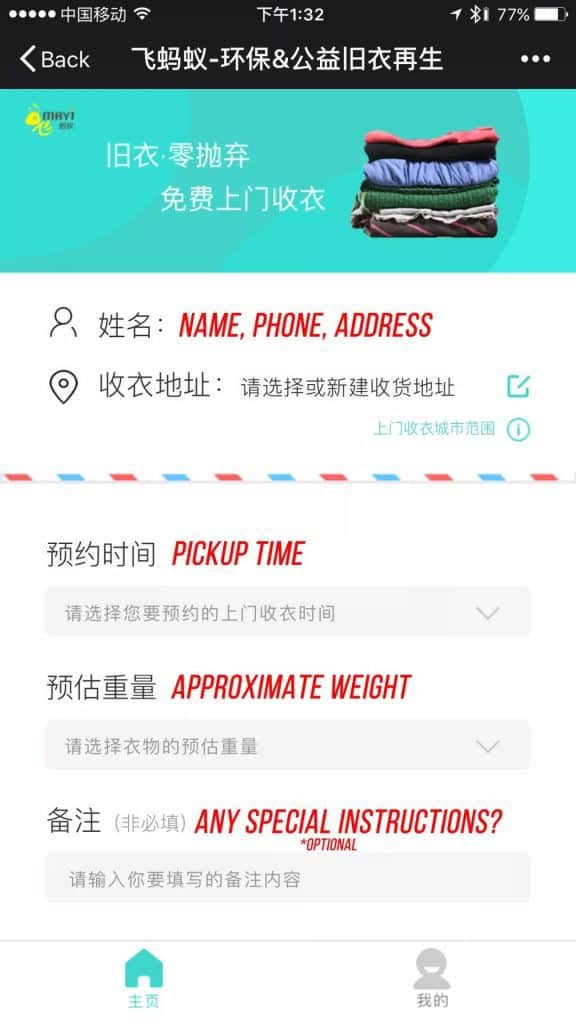 Here's a simple overview of what they need from you… 
The good news is that they can pick up your donation in almost every major Tier 1 -Tier 3 city in China!
4. Your Name, Contact, Number, and Address
Tap the top section to enter your contact information, including name, phone number, and detailed address for pickup…
Some people have been known to use a Chinese-speaking friend's information. Just don't forget to tell them of your situation.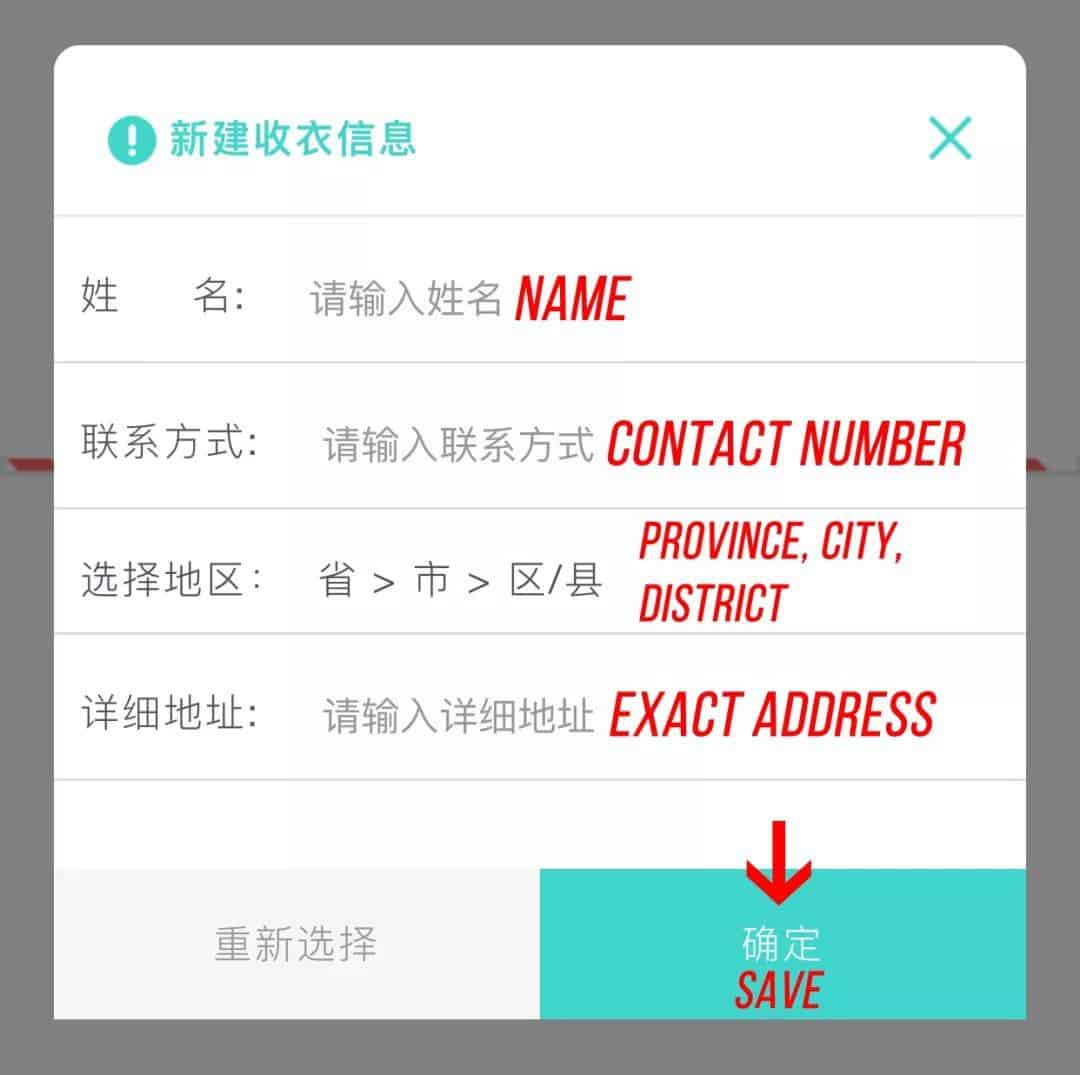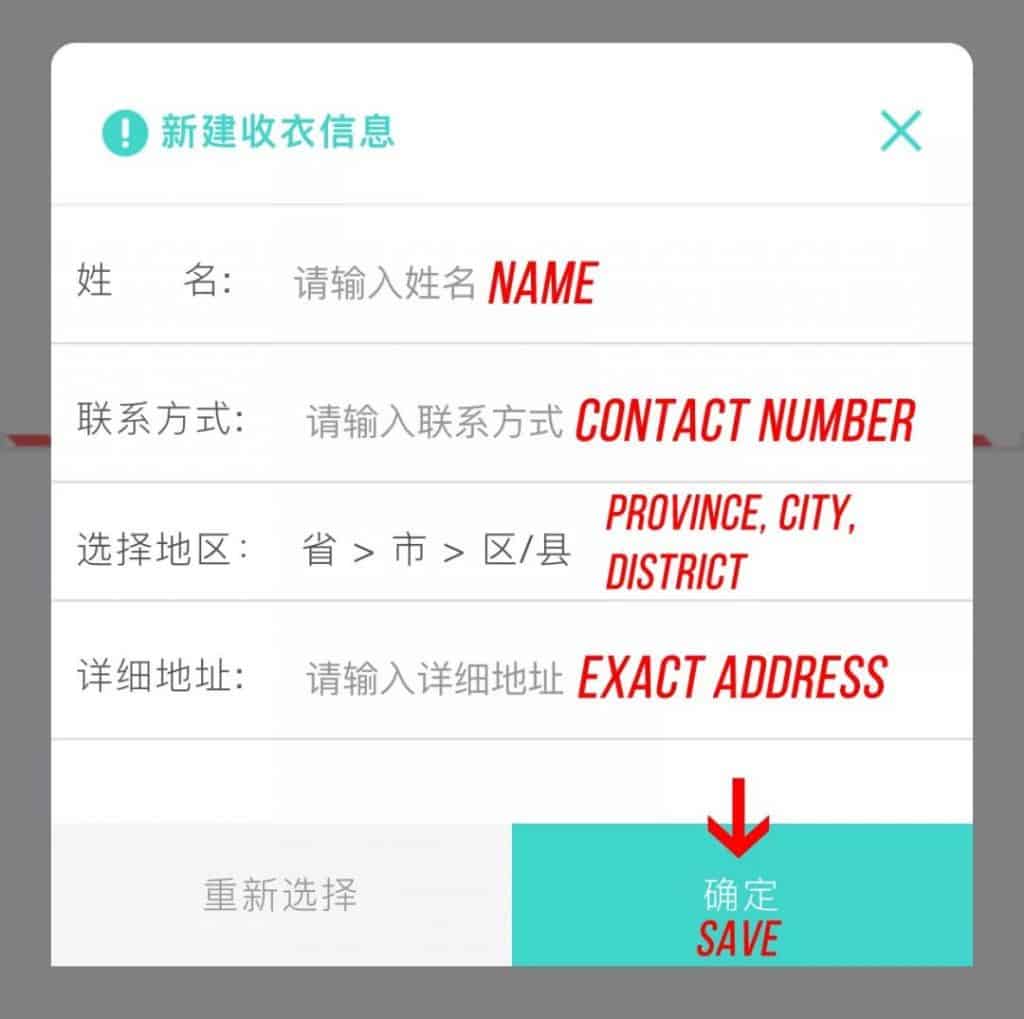 Don't forget to save it!
5. Choose the pickup date
It says 预约时间 "Pickup Time" but really you just need to choose the day… we recommend a date where you know for certain someone will be home all day!
(The delivery guy will call your given contact number that morning and you will decide the best time together…)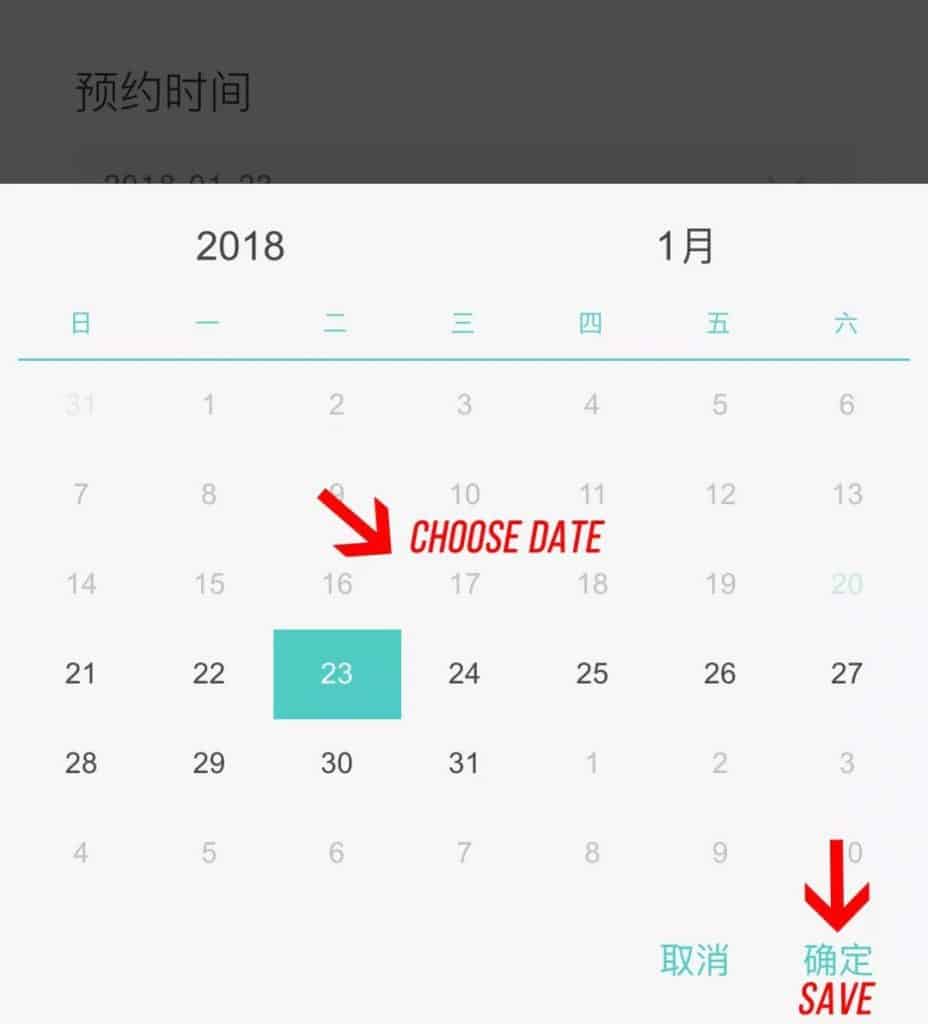 6. Select approximate donation weight
They need an approximate estimate for how many clothes you're donating.
Feel free to guess or use an electric scale or if you're a travel pro – a luggage scale…
Really, they just want a general idea. Select one: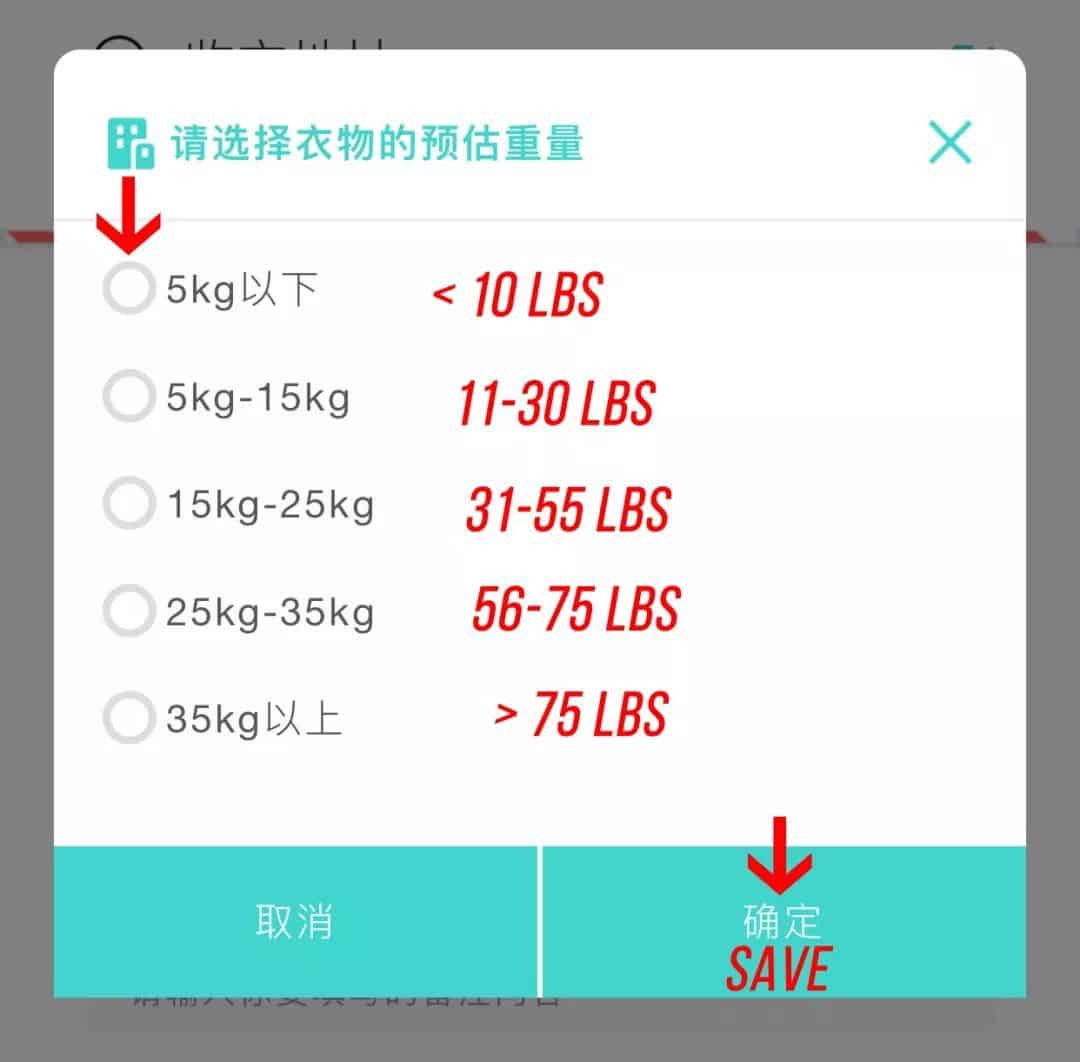 Finally, after all of your correct information is entered, submit your form~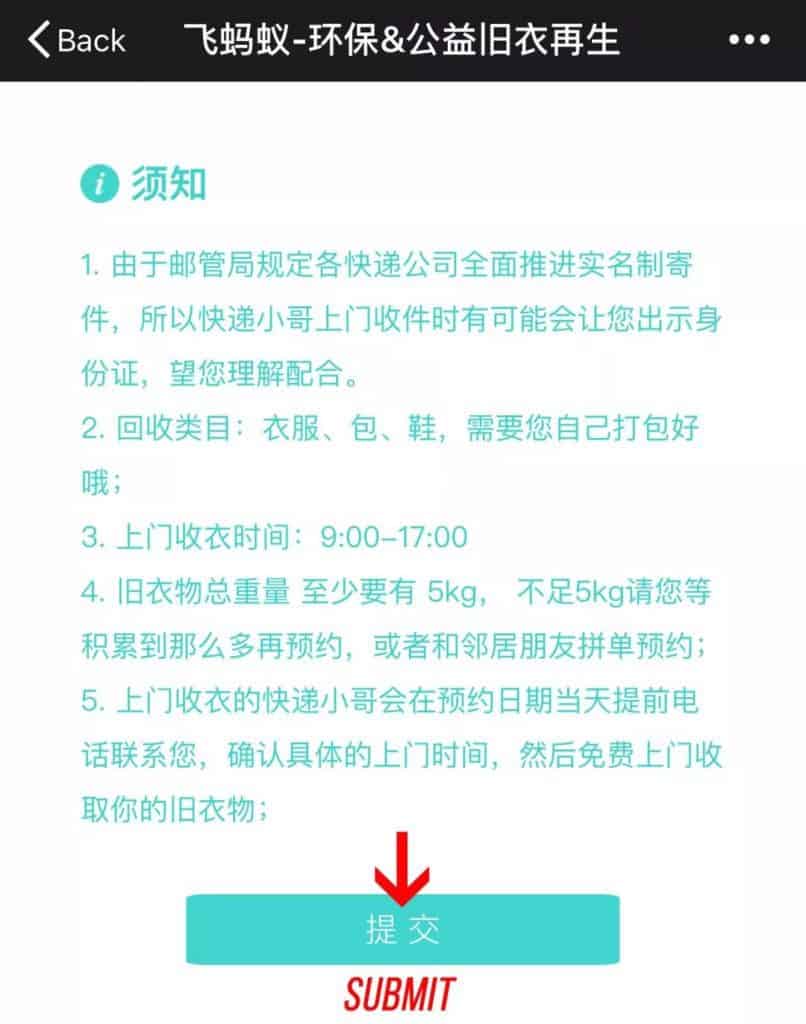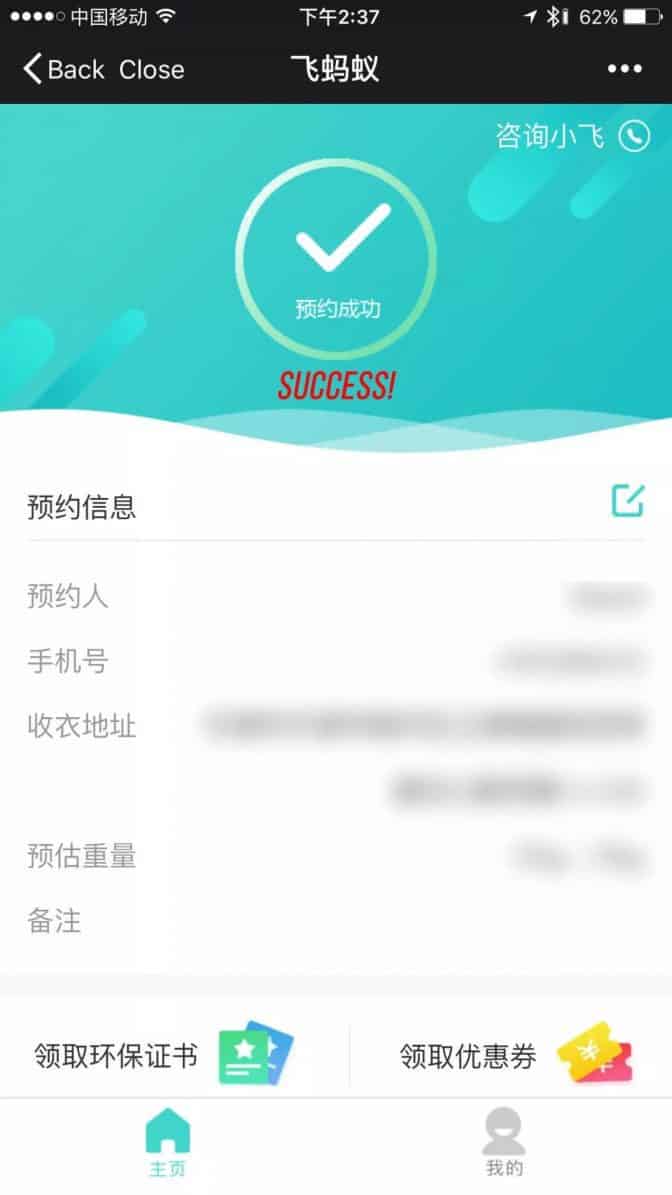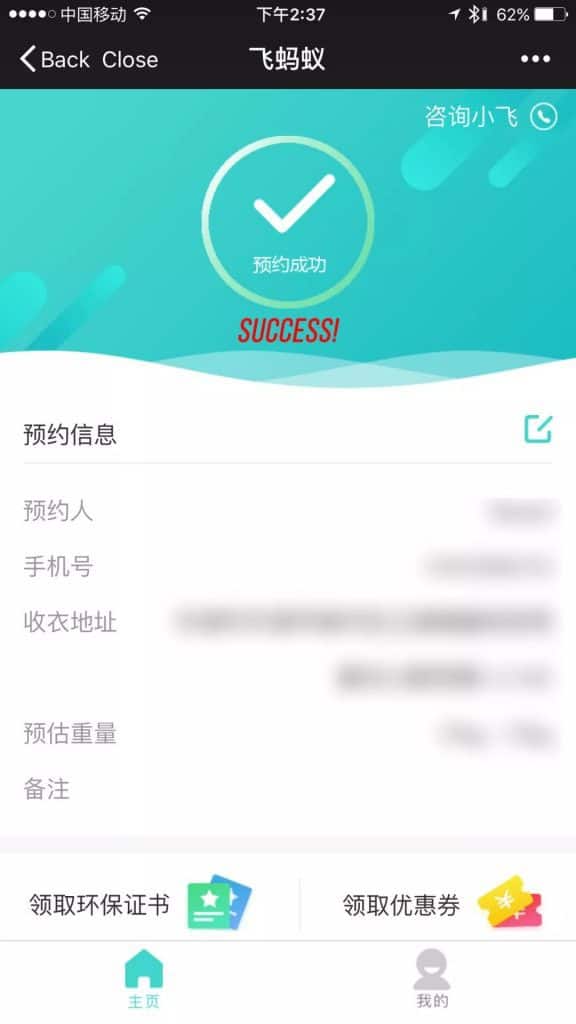 8. Get your donations ready
It's expected that everything you give them has already been washed. Place in a plastic bag or box and wait for pickup!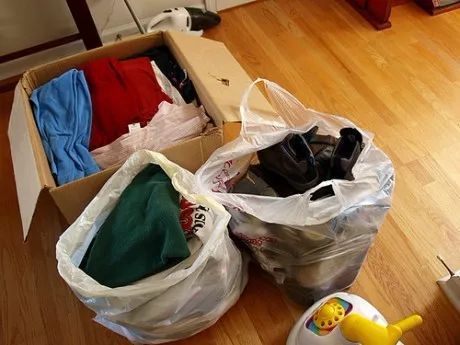 Once you send off your donation, take a moment to cherish your newfound closet space and think about the nice strangers you are helping.
---
Aobag.com
Another company worth mentioning is Chengdu based Aobag.com. Through their website, mini-app and official WeChat they provide bags that are categorized with QR codes for you to sort your garbage. They then arrange collection and log how much you are recycling on their website (aobag.com). It's not as simple to use as Mayi, but their mini program is quite sleek. Their services are more geared towards organizations or businesses and you have to pay for collection – but what they are doing is definitely worth checking out.
WeChat ID: aobagcom
www.aobag.com
---
With thanks to Sixth Tone for the statistics. Also to the team at  Culturability for the great info on how to use FeiMaYi. They consistantly write useful content. Follow their WeChat platform by scanning below: