If you're spending Christmas in Chengdu this year then you're in luck, as there is an abundance of events, parties, restaurant offers and delicious hotel dinners for you to get involved in in the city over the festive season.
December 13-14 : 2019 Chengdu Christmas Fair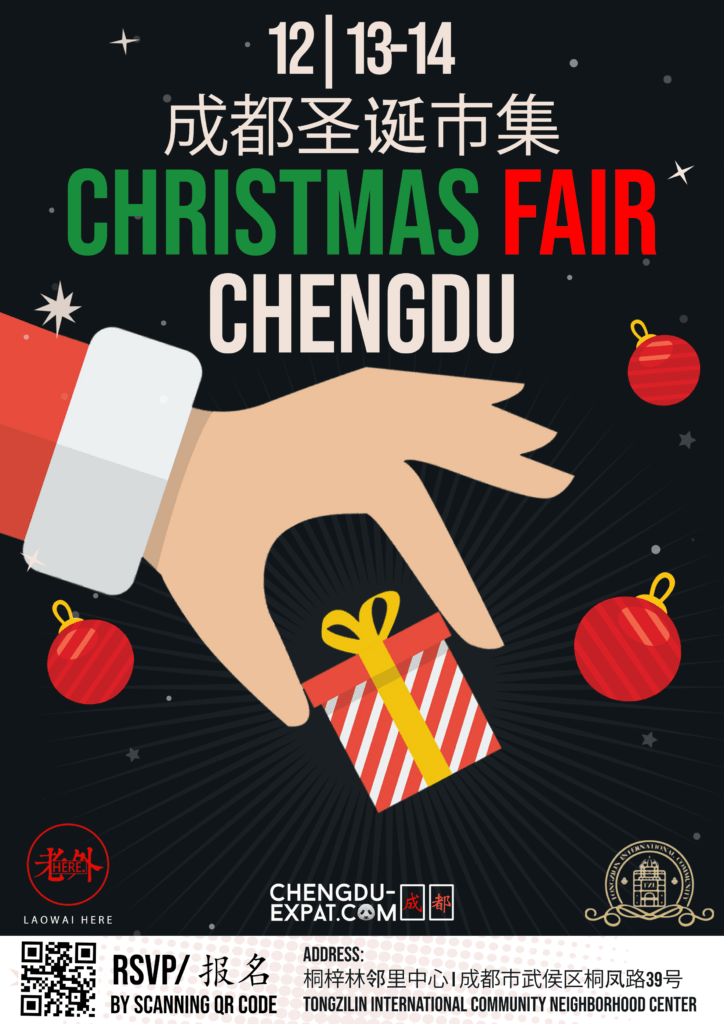 Get ready to celebrate Christmas with friends and family for a day full of fun, family-friendly activities, local artisans, handmade gifts, mulled wine, Christmas festive feels, music and more!
During the daytime, there will be fun games for children to play alongside local crafts people and expatriates selling handicrafts and gifts. In the night-time, the focus will be on seasonal food, drinks, and performances. You don't want to miss this event!
Date & Time:
 Fri-Sat Dec. 13th& 14th
12.13 18:00-22:00
Location:
桐梓林国际社区邻里中心
Tongzilin International Community Neighborhood Center
武侯区人民南路四段桐凤路39号
39 Renmin Nanlu, Wuhou District
Organizers:
 Chengdu-Expat &Laowai Here
Registration:
FREE
Highlights:
🎄The very 1st Christmas Market in TZL
🎄Large-scale Christmas Decorations
🎄Lots of family-friendly fun activities
🎄Christmas performances
Scan the QR code below to register: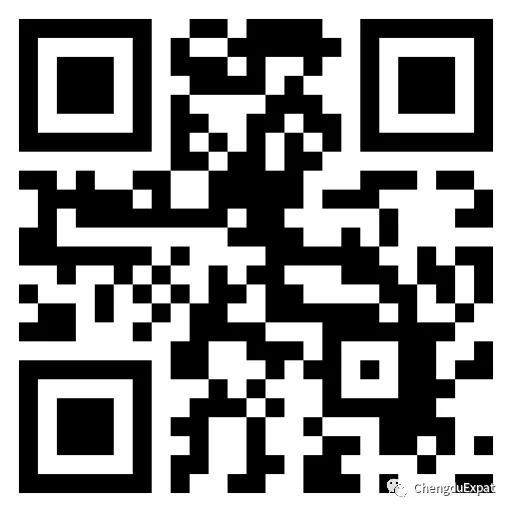 Find out more about the Christmas fair here:
December 13-14 | 2019 Chengdu Christmas Fair
1. 酒店/ Hotels
December 24th & 25th: The Ritz – Carlton Festive Celebration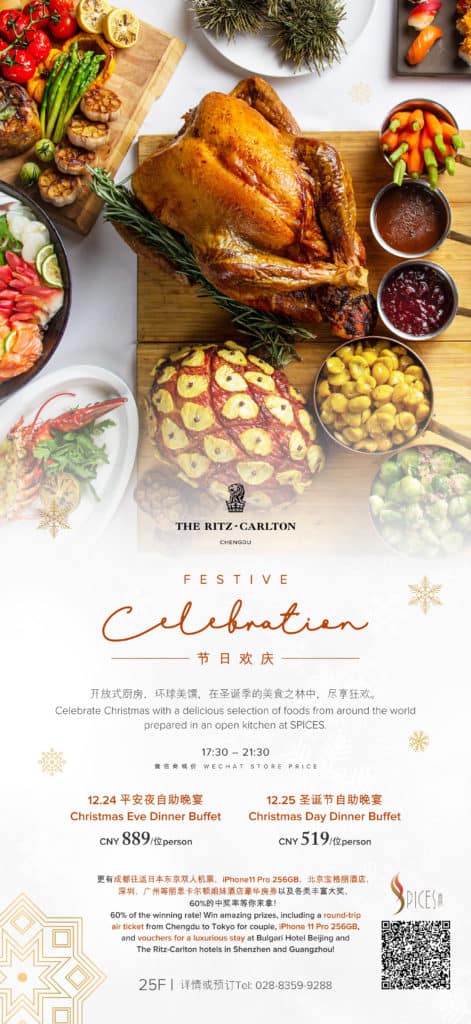 It's time to plan Christmas for loved ones. Celebrate Christmas with a delicious selection of foods from around the world prepared in an open kitchen at SPICES.
Date: 17:30 – 21:30 12.24 & 12.25 December
Address: SPICES The Ritz – Carlton  25/F, 269 Shuncheng Ave. 顺城大街269号
Price: Christmas Eve Dinner Buffet CNY 889 per person
Christmas Day Dinner Buffer
December 24: Dinosaur Park Dinner Buffet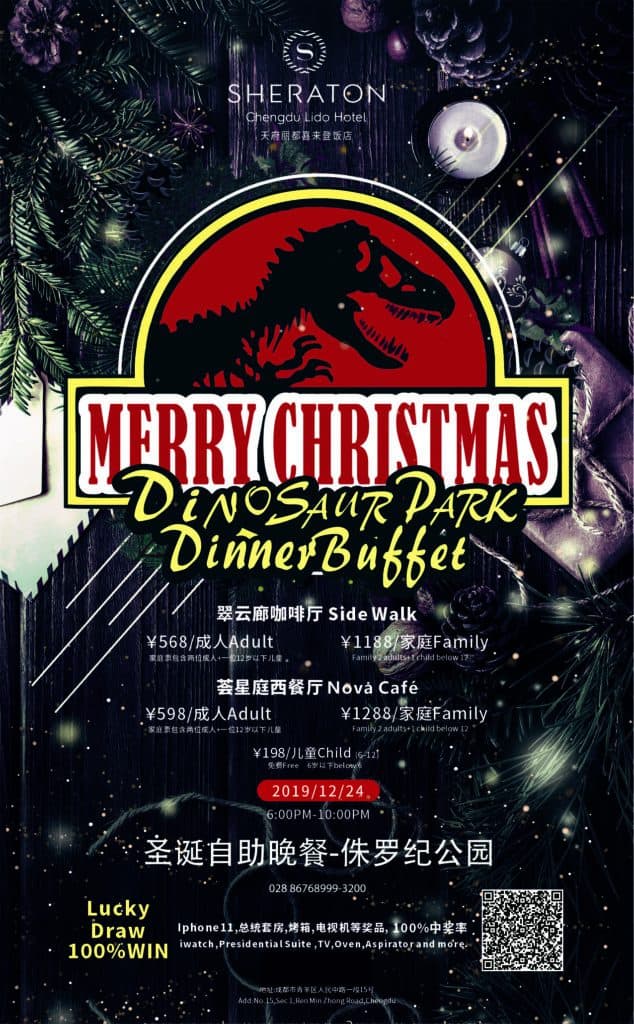 Date: 6:00pm – 10:00pm 2019/12/24
Address: Sheraton Chengdu Lido Hotel 15 Middle Renmin Rd. 人民中路15号
Price: Side walk 568 RMB per Adult & 1188 RMB per family, Nova café 598 RMB per adult & 1288 RMB per family
Registration: Scan the QR code on the poster
December 24th: Christmas Eve Carnival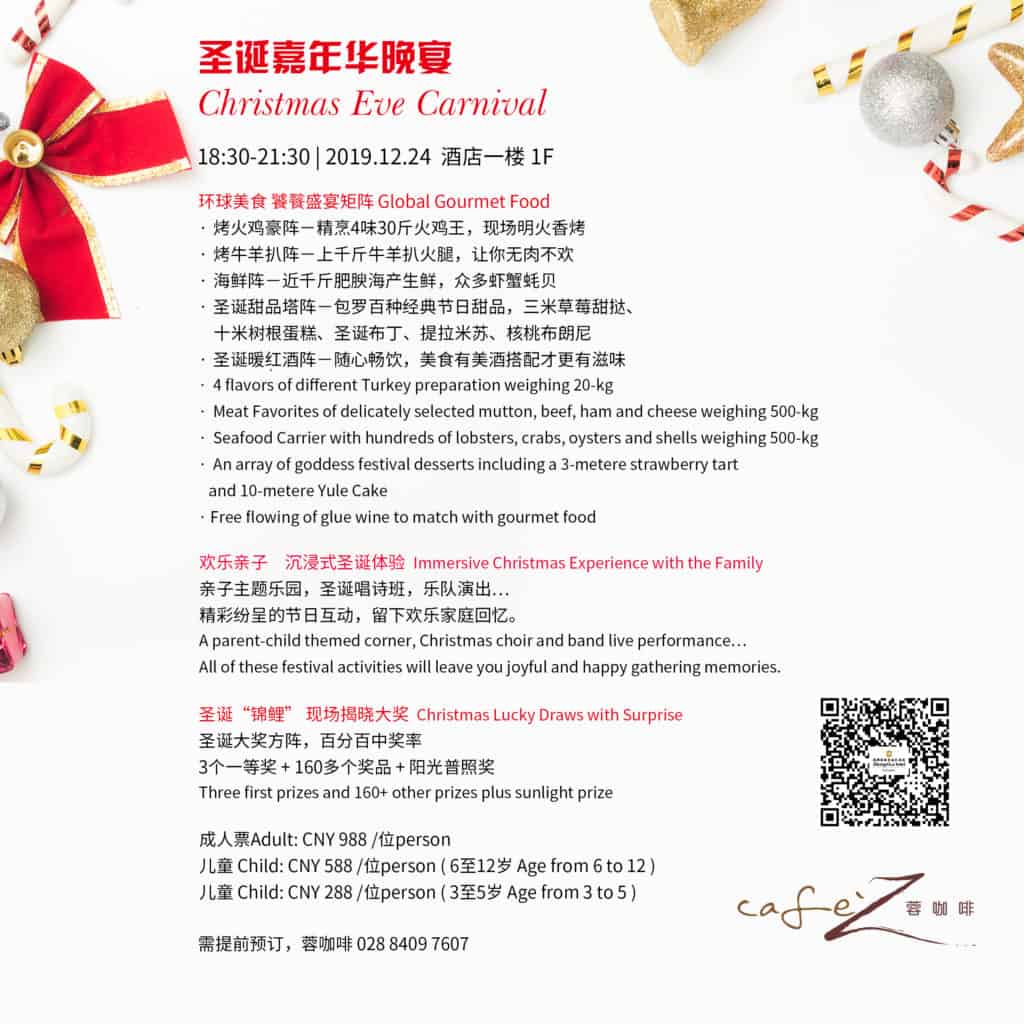 Date: 18:30 – 21:30 2019.12.24
Address: Café Z, Shangri-La Hotel Chengdu 9 East Binjiang Rd. 滨江东路9号
Price: Adult 988 CYN, Child (Age 6 – 12 years old) 588 CNY & Child (Age 3 – 5 years old) 288 CNY
Registration: scan the QR code on the poster to register
2. 餐厅/ Restaurants
December 15th: Vegan Christmas Lunch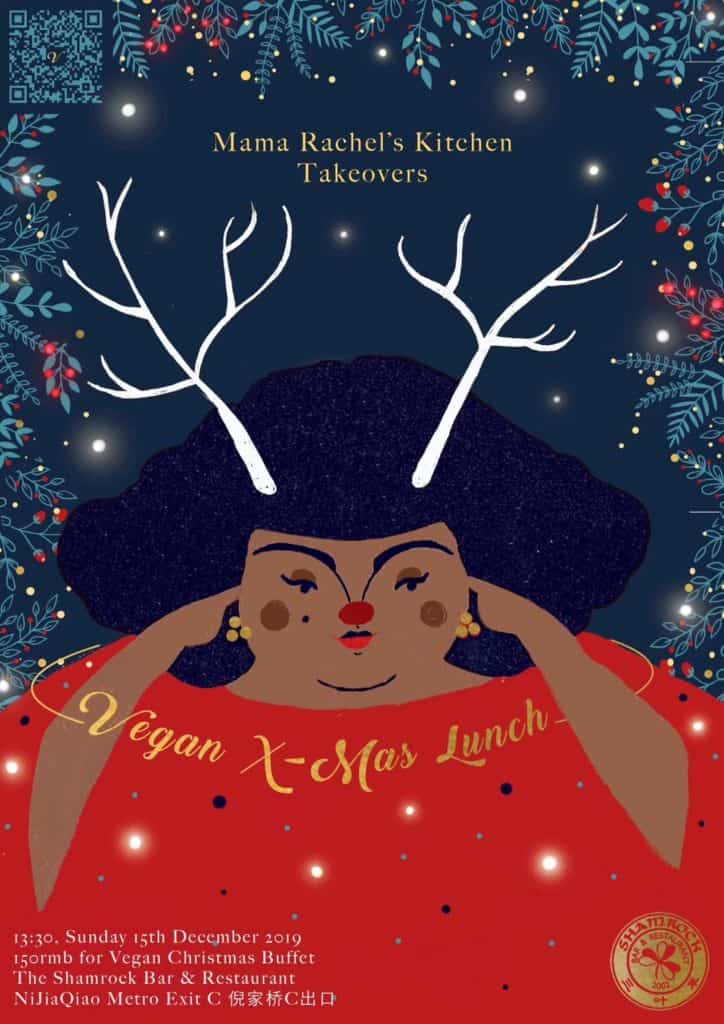 Join the Mama Rachel take over for a Vegan Christmas lunch buffet.
Date: Sunday 15th December 2019
Address: The Shamrock Bar & Restaurant, NijiaQiao Metro Exit C
Price: 150 RMB
Reservation: Scan the QR code on the poster below
December 24th-31st: Gili's Restaurant and Bar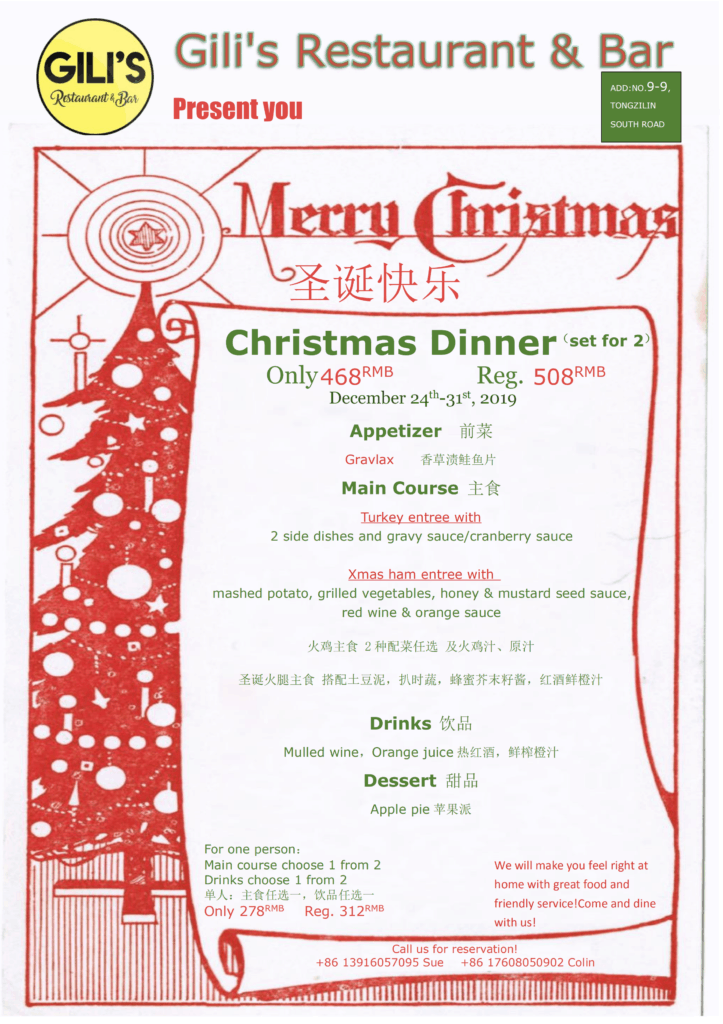 With Christmas just around the corner, treat yourself a warm hearty Christmas Dinners at Gili's Restaurant & Bar! Drool over our special Christmas menu which accompanied with signature fixings and sauce. Visit Gili's or contact them to find out more about our Xmas Special!
Date: 24th-31st December
Location: Gili's Bar and Restaurant   9 South Tongzilin Road, Wuhou District 武侯区,桐梓林南路9号
Price: from 38 RMB to 312 RMB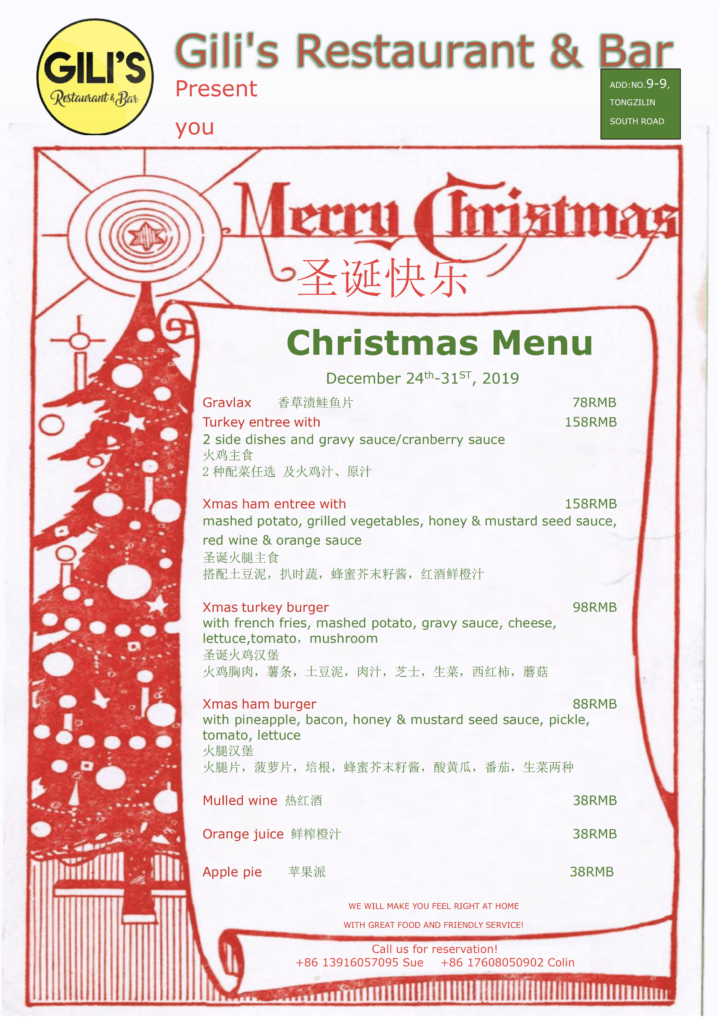 December 25th: Shamrock bar & restaurant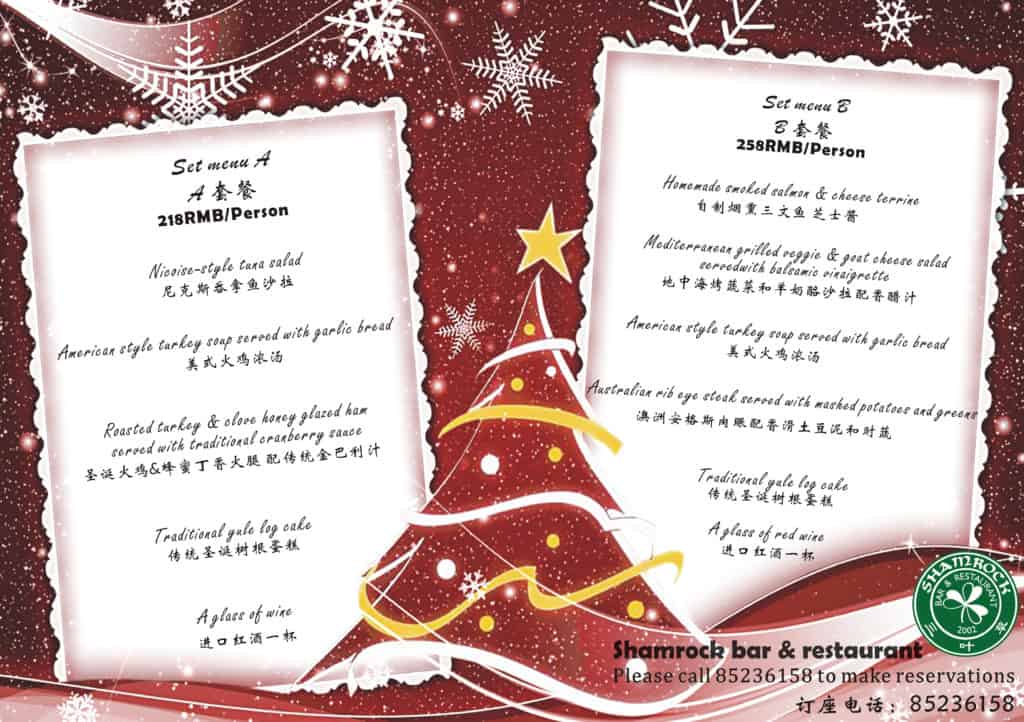 Date: 25th December 2019
Address: Shamrock bar & restaurant 17, Sect. 4, South Renmin Rd. 人民南路4段17号
Price: 218 RMB – 258 RMB per person for a set menu
Reservations: Please call 85236158
December 25th: SAFAR Dubai Middle Eastern Resturant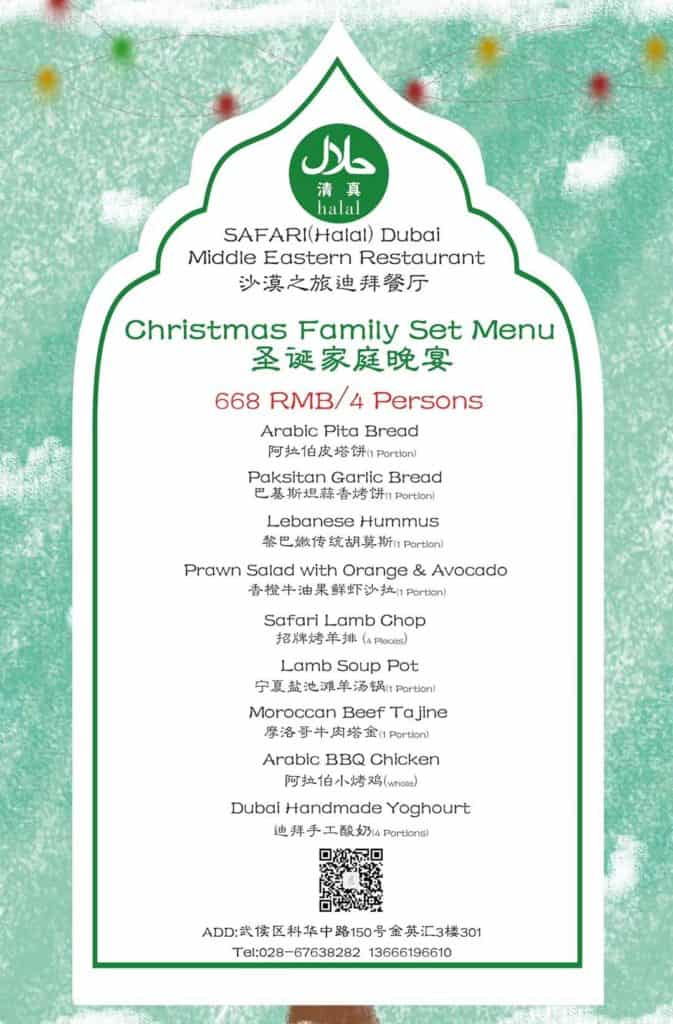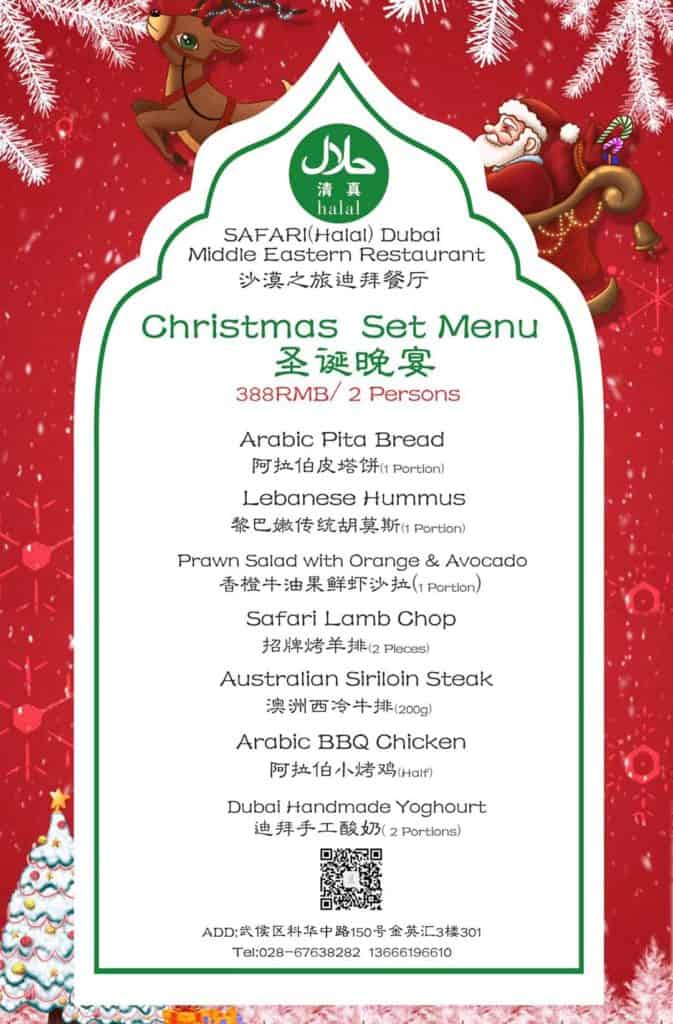 Date: 25th December 2019
Address: Safari Dubai Restaurant 沙漠之旅迪拜餐厅 3-301, Jinyinhui, 150 Central Kehua Rd. 科华中路新150号金英汇3栋301
Price: Christmas Family Set Menu 388 RMB for 4 people
Christmas Set Menu 388 RMB for 2 people
Reservation: Scan the QR code on the poster
December: Kathmandu Winter Special

Address: Kathmandu 99 Huan Jin Road, Qing Yang District, Chengdu 成都市青羊区浣锦路99号
Price: Mulled wine 35 RMB, Kathmandu Hot Spiced rum 38 RMB
3. 其他/ Other
December 12th: Xmas Party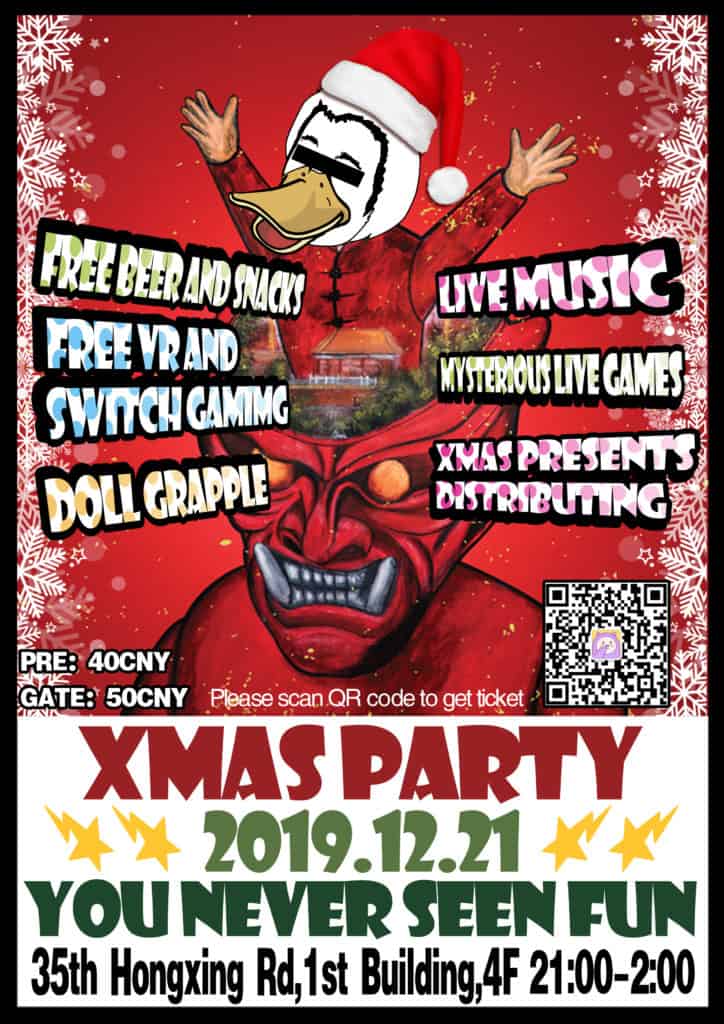 Date: 2019.12.21
Address: 35th Hongxing Rd, 1st Building, 4F
Price: Pre-sale 50 CNY, on the gate: 50 CNY