The Chengdu International Education Summit 2023 and Chat GPT Innovation Summit – Dialogue with Bigshot, an international cultural exchange event initiated by Parents School International Community, will be held on Saturday, May 27th , 2023, from 9am to 6pm at the Global Theater of Chengdu Kai Xin Ma Hua.
For more information and registration, contact:
↓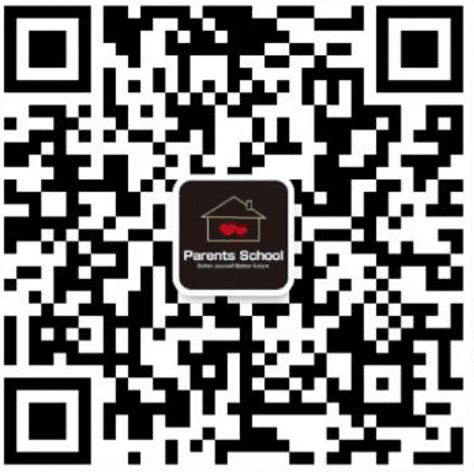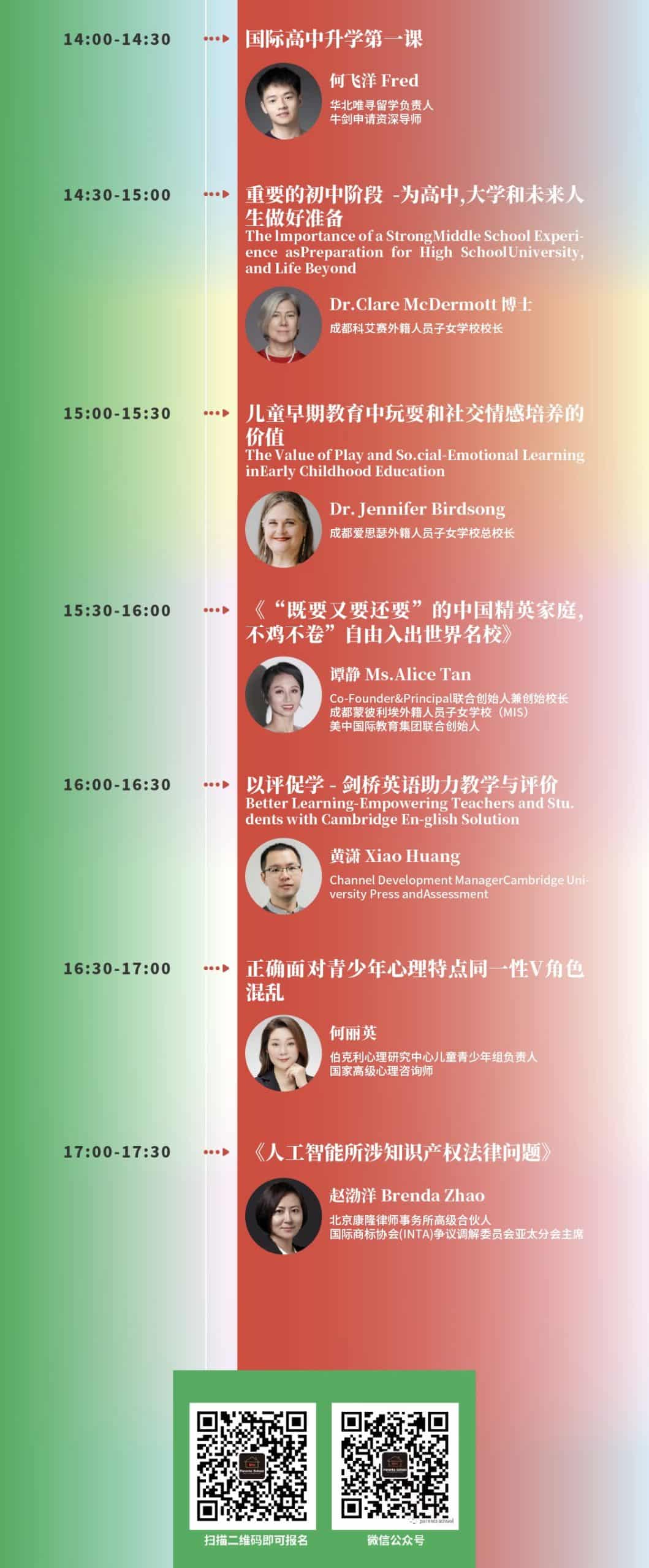 A huge thanks to the support of the European Union Chamber of Commerce (EUCCC) – the event will be free of charge for all EUCCC members. Also our heartfelt thanks to the great support from:
Global Theater of Chengdu Kai Xin Ma Hua, Chengdu International School (CDIS), QSI International School of Chengdu, Chengdu Montpellier International School, Chengdu Longquanyi Beanstalk School, Chengdu Longquanyi Beanstalk School, Malvern Chengdu, Chengdu Meishi International School, Chengdu 21st Century School (21st CIS), Wanhui Academy Dujiangyan, Huaai Preparatory Academy, COGDEL School Chengdu, Griffin International Academy; international departments from Chengdu No.7 High School, Golden Apple Jincheng No.1 Secondary School, Experimental Class of Xin Jin Foreign Languages School Chengdu (Innovation District), Chengdu Foreign Languages School Xin Jin, Chengdu JiaXiang Foreign Languages School, Chengdu Shu De Middle School, International Division of Chengdu No.7 Wanda High School, Chengdu Shi Shi High School, Chengdu Experimental Foreign Languages School, Sichuan University Affiliated Middle School, Chengdu Weiming School, UESTC's A-LEVEL; Cambridge English, National Geography, GreatChina Intl, Vision Academy, New Channel – Chengdu, New Oriental Sphinx Art, NewStudy, HUAYING, International Education Center of First City Experimental School Chengdu, China Operation Center for Finland's Tuition Free High School Project, Nano Squash, Advanced Dental, Berkeley Psychological, Global Commercial Real Estate Services CBRE China, Corner Stone&Partners (Beijing), among others.
And thanks to the following media: Tencent Education, Sina Education, Jinri Toutiao Education, Sina Education, TouTiao.Com, along with media and short video live platforms including Huo Dong Xing, WeChat Channel, DouYin, Xiao Hong Shu, WeiBo and Bilibili.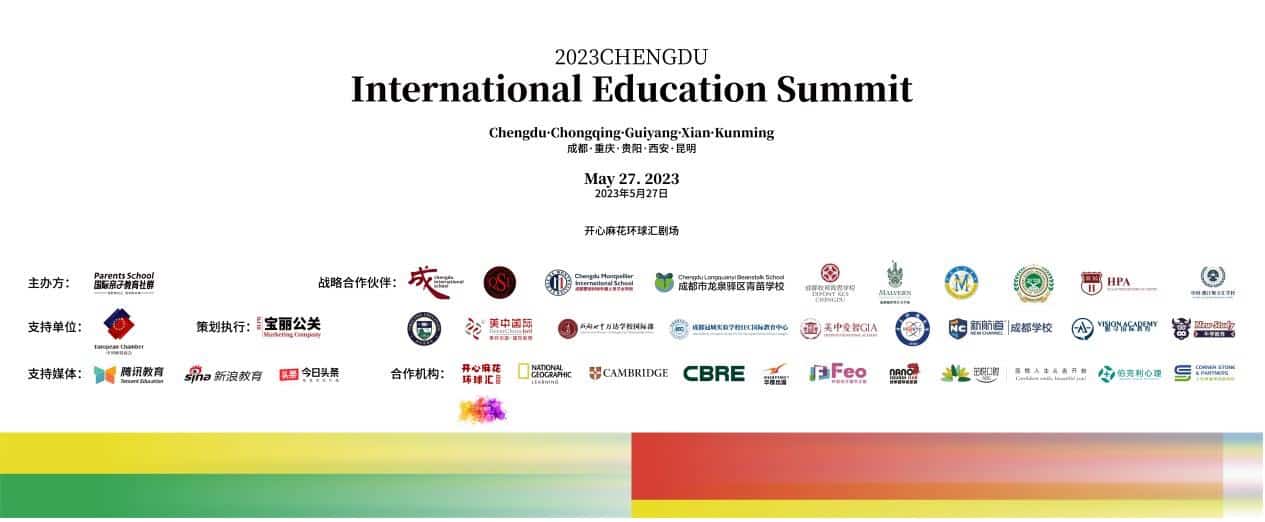 This summit is recruiting eight young curators to help out with the organization on the day, from 8am to 6pm; we will have summit staff conduct meetings and training for our curators. Through the specific work content of this summit, our curators get to be trained with skills like communication, execution, coordination, planning and arrangement, and problem solving, etc.
Volunteers will receive a remuneration and the Chengdu International Education Summit 2023 "Research Honor Certificate".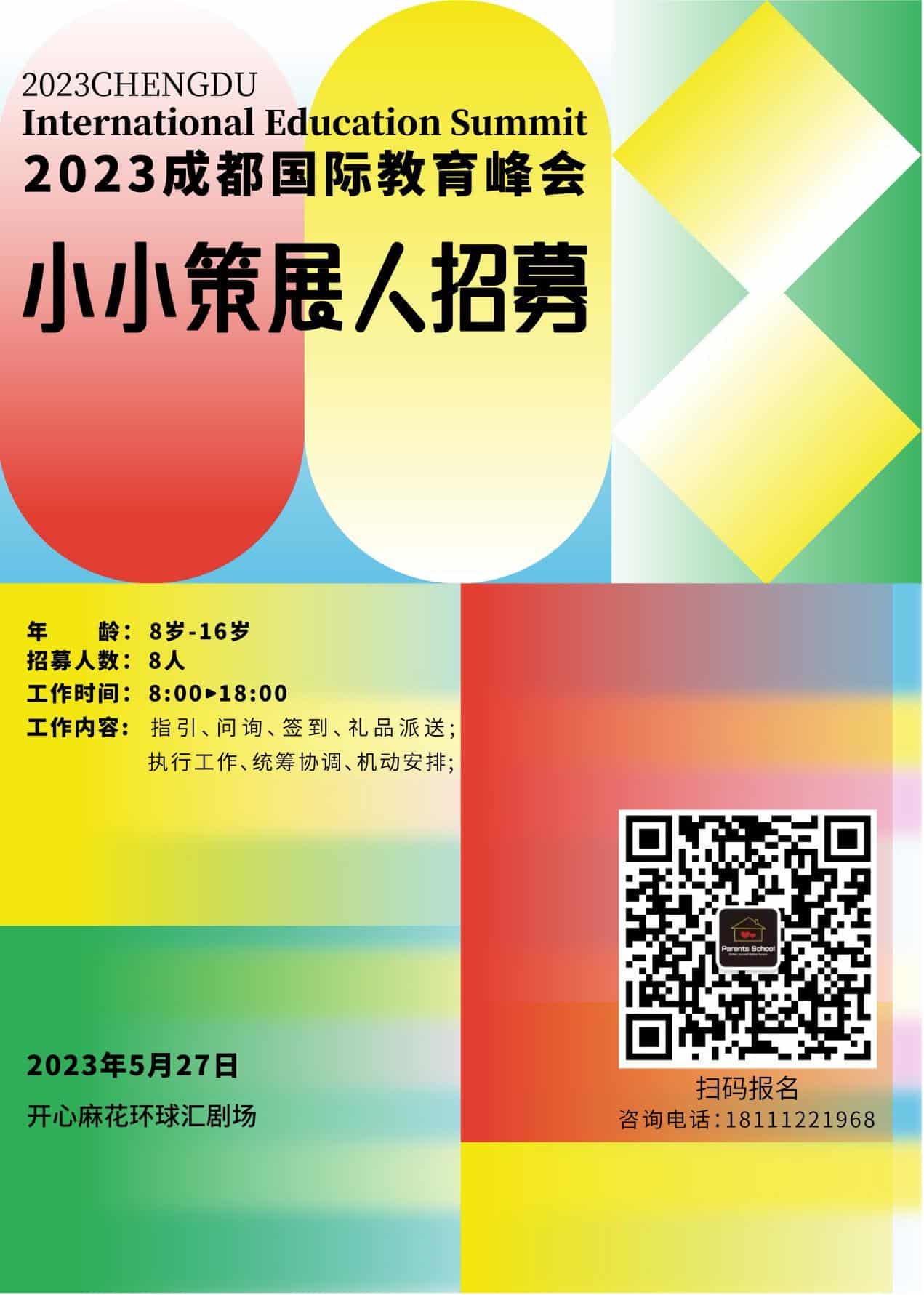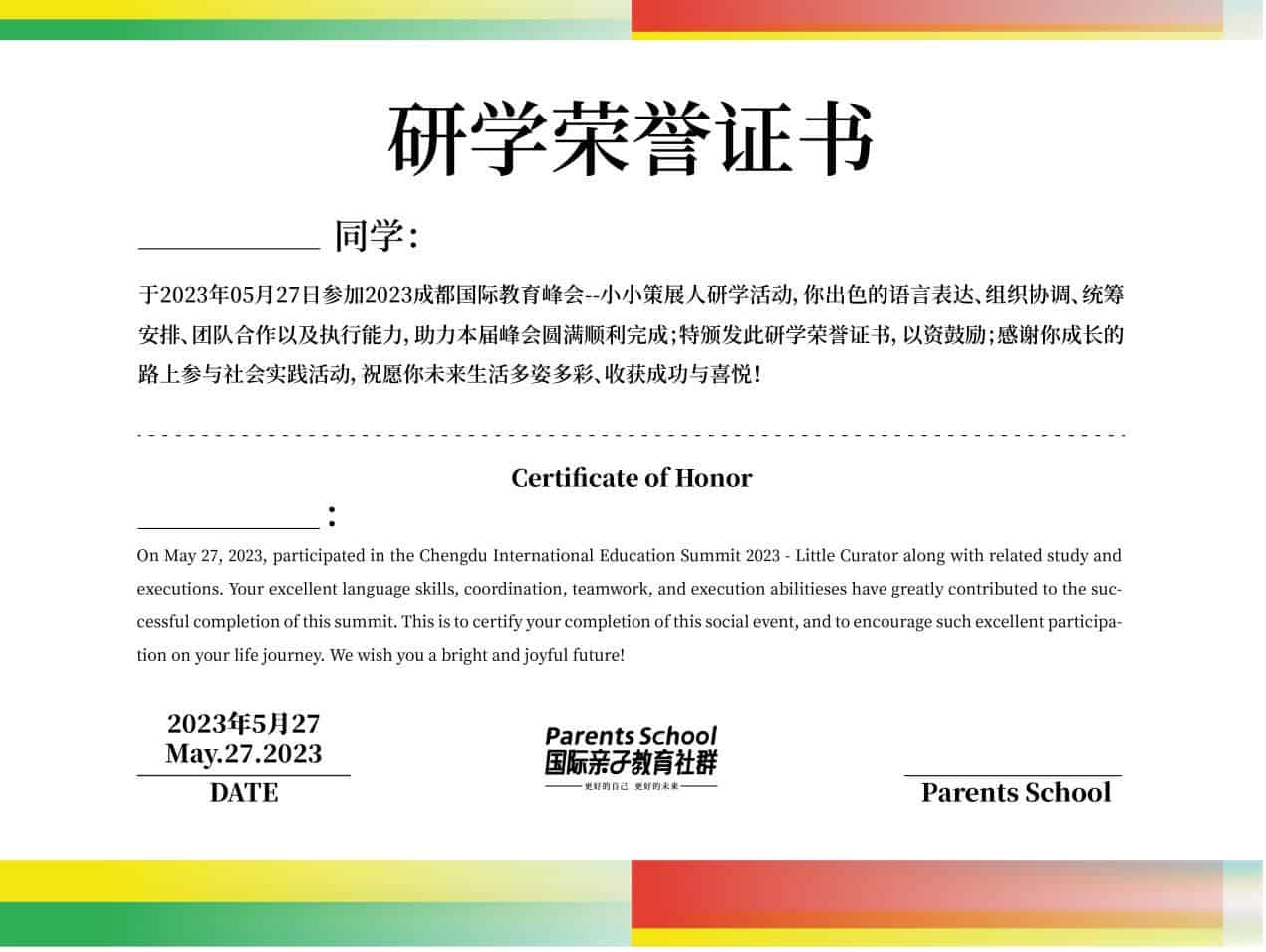 Property Management Partners
Supportive partners of this summit are the property managements of Luxe Lake Community, Luxehills International Community, LA CADIERE, Mu Ma Shan Community, Zhonghai International Community, OCT Community, Egret Island International Community, Yu Feng Community, RenHe Town, Cheng Nan Yi Hao Community, Jin Sha Yuan Community, Tongzilin Community, Evergrande Community, Hua Run Community, Yanlord Riverview Community, COFCO, among others.
If you live in one of the communities listed above, you are entitled to 5 FREE tickets (until they run out) when reposting this or other Education Summit posts on social media, and sending a screenshot to the community assistant below:

↓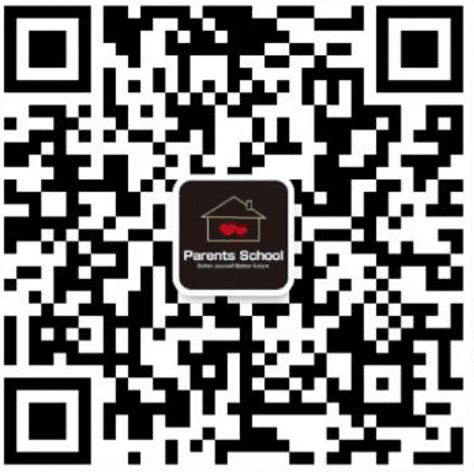 The Organizer: Parents School
Focusing on international youth education planning and career planning, Parents School International Parent-Child Education Community pools together education resources from various countries including China, the United Kingdom, the United States, Singapore, Japan, South Korea, Thailand, France, Canada, Germany, Denmark, Finland, Switzerland and Australia.

We are dedicated to providing parents and teenagers with a communication platform incorporating international visions. In addition, we allow professionals, educators, parents and teenagers to jointly explore the future education and career where families, schools and society coexist. Besides, we will also hold cultural exchange events such as international parent-child education salons, forums and summits, and share diversified family education, international education, art education, elite education, quality education, vocational education and other information with parents and teenagers. As a result, parents and teenagers are able to better consider education modes suitable for their families. Additionally, other cultural exchange events and exhibitions related to fashion, art, technology, sports and music will be held as well. Therefore, through joint efforts of families, schools and society, we can deepen teenagers' understanding of society and career. Furthermore, based on varied events and research courses, it is possible for us to improve teenagers' capabilities in terms of communication, concentration, learning, execution, decision-making, anti-frustration, as well as problem-solving, and build up their perseverance and endurance. Moreover, we are committed to fostering teenagers' comprehensive competence in EQ, AQ, FQ and IQ, and assisting them to discover their interest and tap their potential. Generally speaking, our aim is to realize the vision of "Better ourselves, better future"!
Info and Tickets
Date/ Time:
Saturday May 27th
9am – 6pm
Address
Dongda Road No. 246-23, Jinjiang District (200m from Dongda Metro Exit A)
锦江区东大路246号附23号(东大路地铁站A口步行240米)
Venue/ Address:
Kai Xin Ma Hua Global Theater
开心麻花·环球汇剧场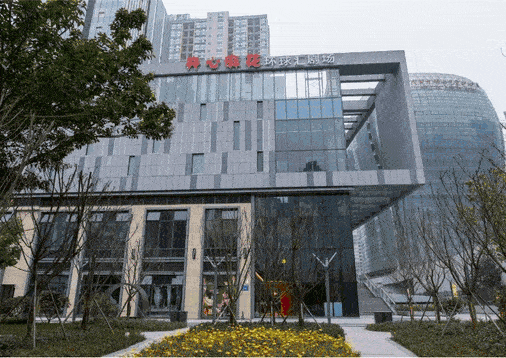 Tickets:
FREE when reposting on social media
Contact
↓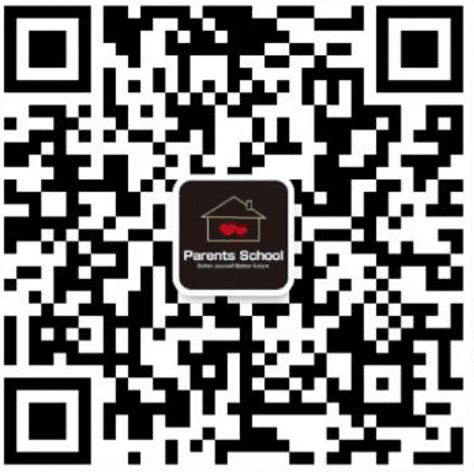 Follow for more information
⇣