"Thunderstorms in the southwest" was the reason I was given at Beijing Capital International Airport for the delay for my flight to Yunnan's provincial capital, Kunming, on Wednesday, May 31. The plane bobbed in the turbulence not too far from Kunming Changshui International Airport. All in all, it was a comfortable flight.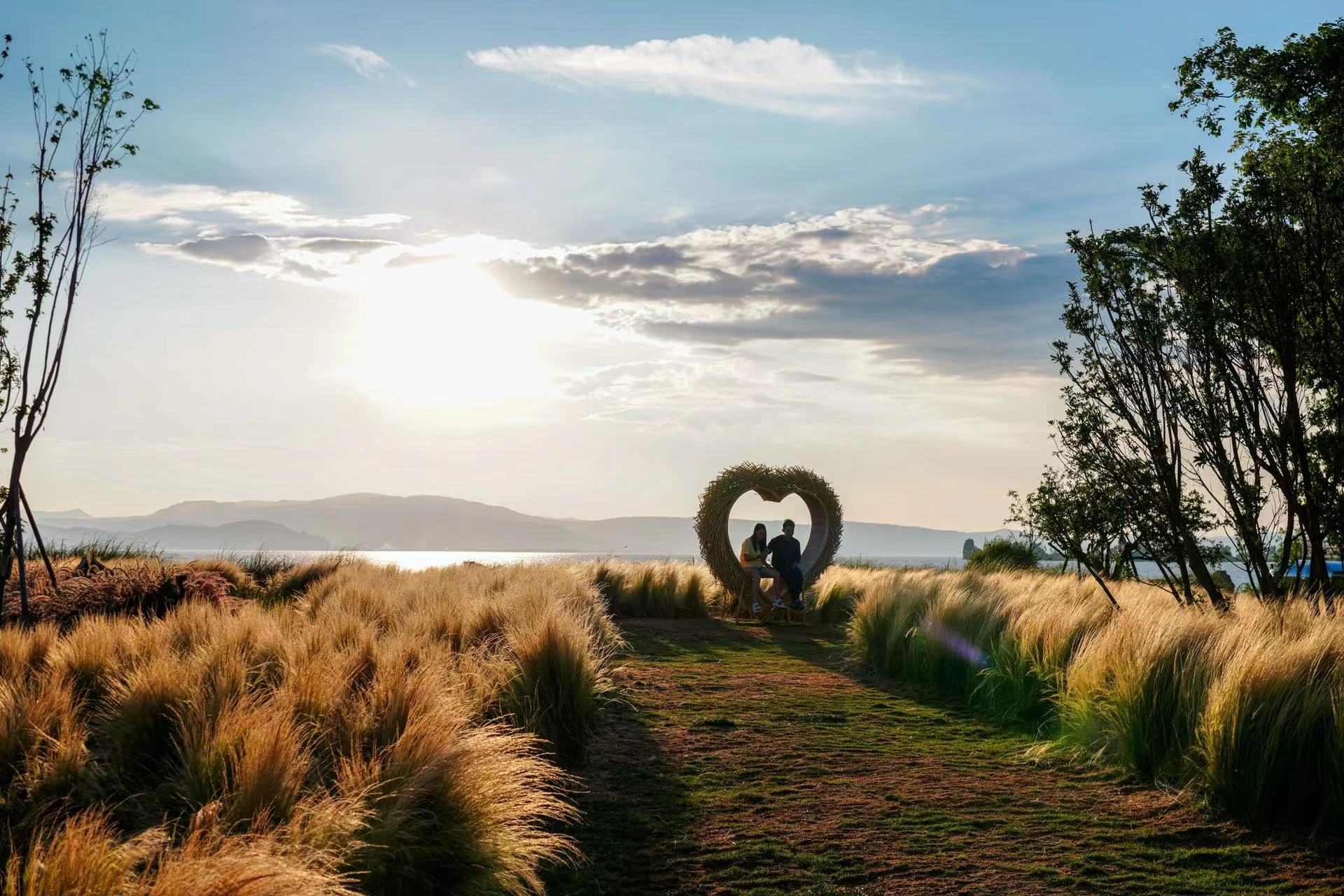 Love takes many forms on Dianchi Lake, Jinning
I arrived in Kunming well after 3:00 in the morning. En route to the hotel, I stopped by Barfly, a local watering hole and wished a buddy, "Happy Birthday." I arrived soon after at the exquisite Moon&Chalice Hotel (若安对月楼酒店) in the heart of Kunming. It is a lovely boutique hotel near the corner of Guanghua Jie (光华街) and Wuyi Lu (五一路) in the the historic downtown of Yunnan's provincial capital. The hospitable manager was there to greet me and made me feel right at home. The lobby is stylish and welcoming and the rooms are very comfortable. It is the nicest hotel I have stayed at in China.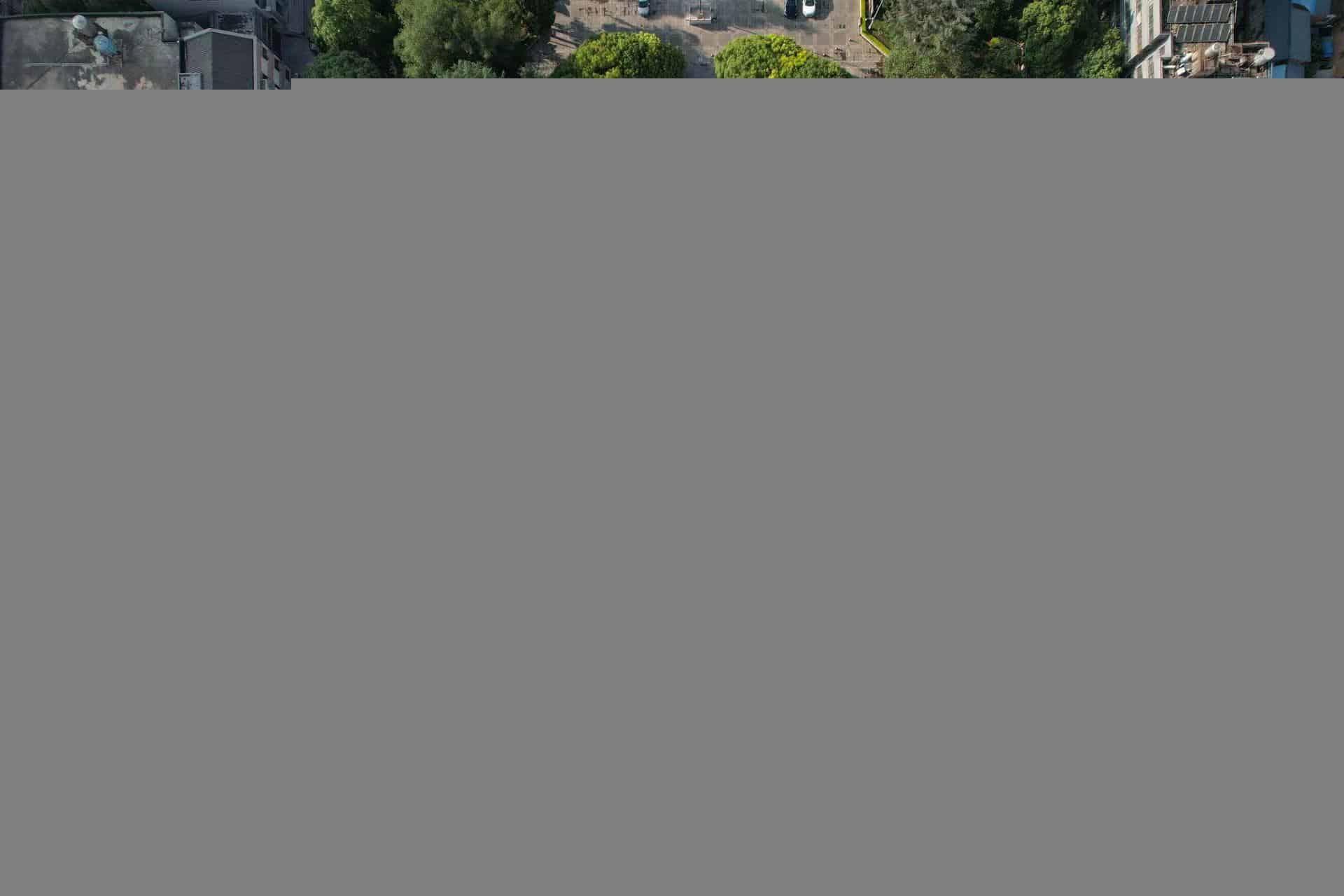 Bird's eye view of Moon & Chalice Hotel and area at Wuyi Lu and Guanghua Lu
Due to my late arrival, I slept in and took full advantage of the large bed, overhead fan, and complimentary tea, coffee, and water. Even though I missed the first morning of the tour, I am already very familiar with central Kunming. I had lived in Wuhua District in two separate flats. The first apartment was on Sujiatang Lu (苏家塘路) for eleven months from 2018 to 2019 and the second one was on Dongfengxi Lu (东风西路) for nearly two and a half years from 2020 to 2022.  I used to walk and jog around Green Lake, buy local fruits, vegetables and meat from a nearby market, and frequent the local coffee shops, bars, and restaurants. The Upland Hostel and Yunnan University were some of the first places I hung out at when I first moved to Kunming. The first square dance I saw in Kunming was also around Green Lake.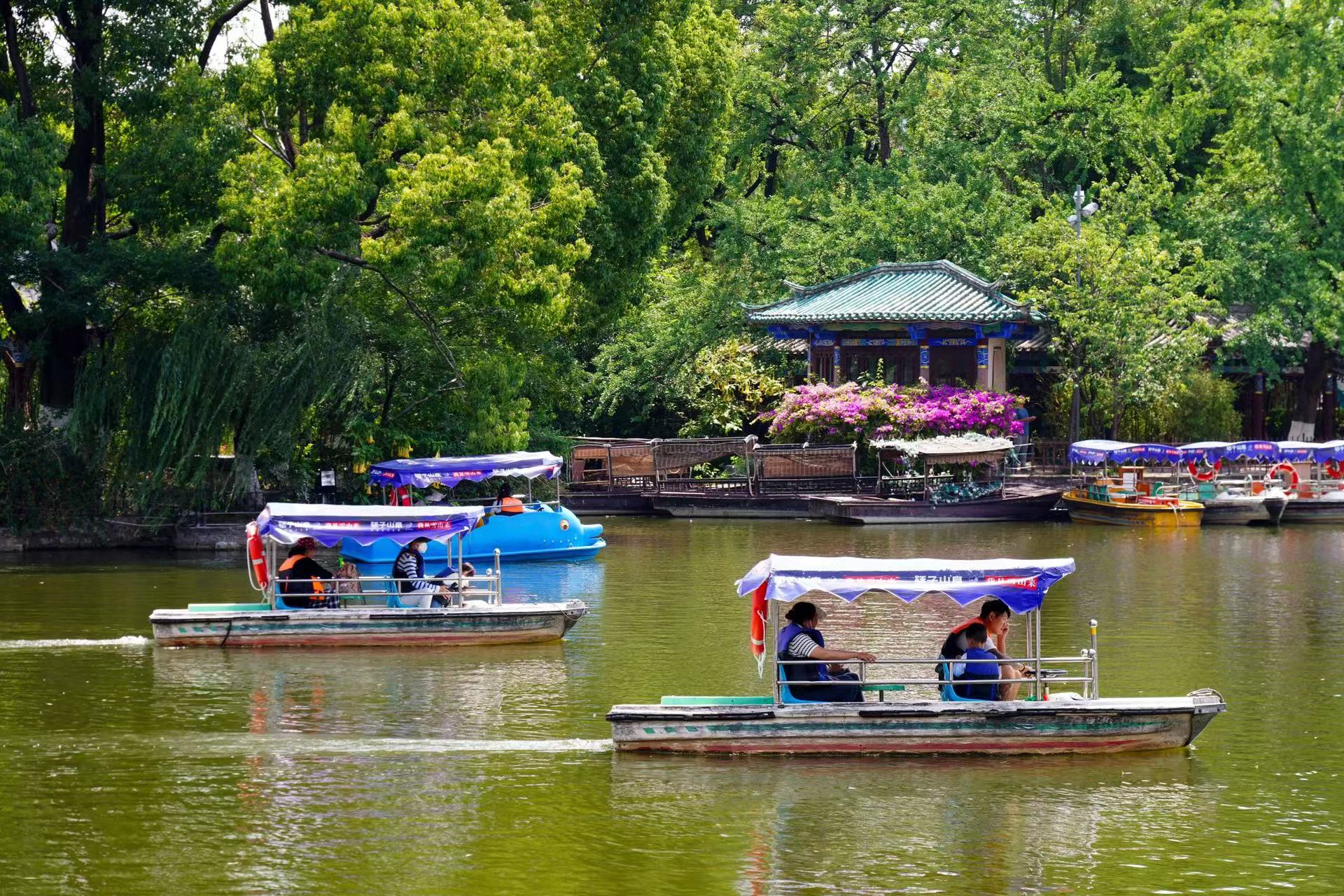 Residents and visitors alike enjoy taking a break from life at Green Lake in central Kunming
Green Lake is indeed "Jade in Kunming." The former reservoir is now a park, which consists of four small sub-lakes. During my time in Kunming, a very convenient running and walking path was built, which loops the lake. Green Lake is a very pleasant place to take in especially in the morning and evening. During the winter, black-headed gulls from Siberia migrate there and folks welcome them with bread and selfies. Folks perform a variety of exercises including badminton, cardio, dancing, resistance exercises and tai chi (太极). The sounds of traditional instruments and speakers occupy the ears of passersby. Speaking of music, the statue of Nie Er (聂耳), the composer of China's national anthem is there. Green Lake is a nice reprieve from the stress of everyday life.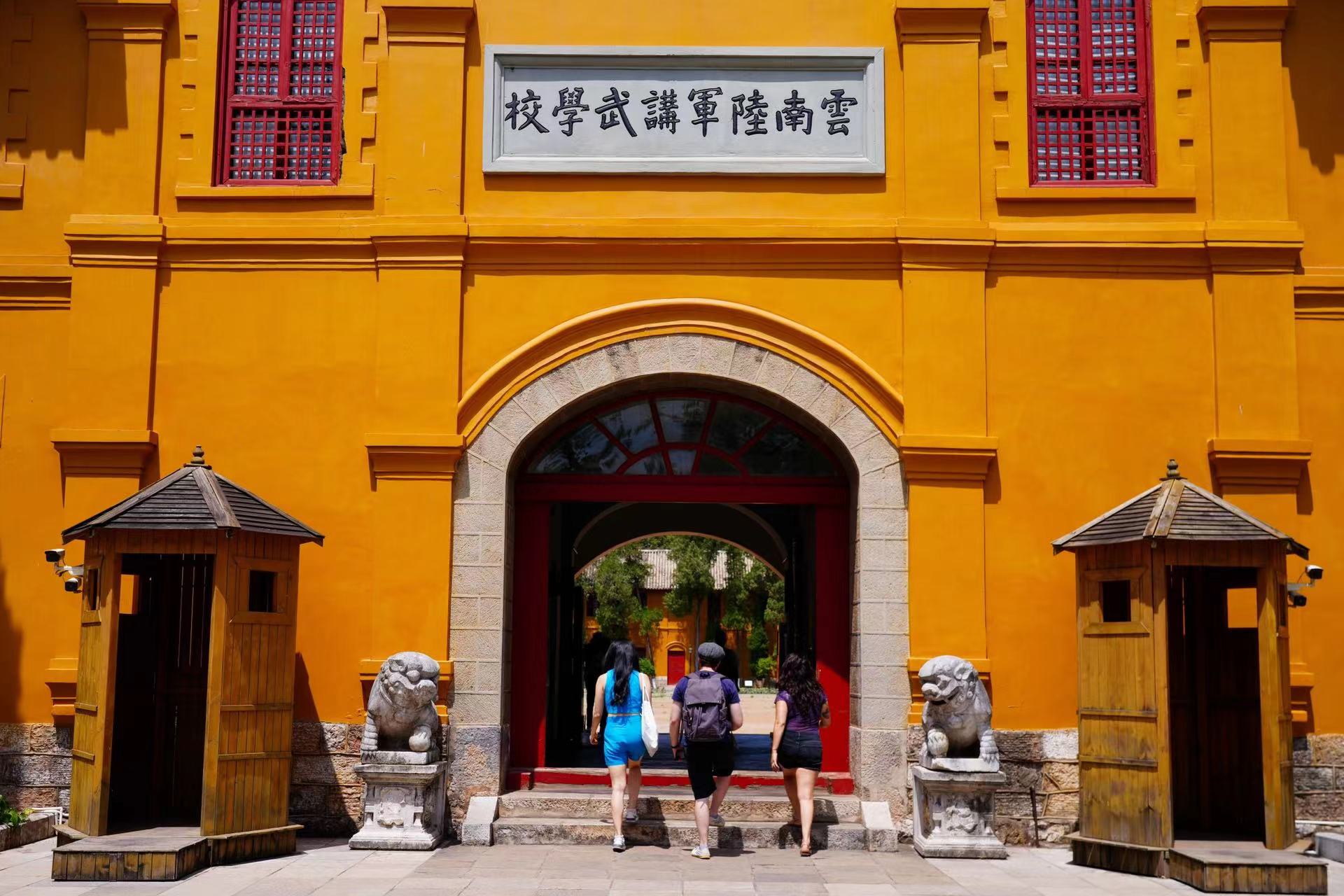 The military academy is one of the best forms of architecture in Kunming
Arguably, the most famous site around Green Lake is the Yunnan Military Academy. Its distinctive yellow color stands out and it is one of the architectural wonders of Kunming. During the late Qing Dynasty and the early days of the Republic of China, this academy was one of the top military schools in all of China. It was active from 1909 to 1926. Over 9000 students were educated there via 22 classes. The Second Sino-Japanese War put an end to the Yunnan Military Academy due to demand for its teachers and students. Famous participants in the war include graduates from this academy. Zhu De (朱德) taught there and his home is now a museum nearby. Zhou Baozhong (周保中), commander during the Chinese Civil War and Vice Chairperson of Yunnan People's Government, and Ye Jianying (叶剑英), Marshall of the People's Liberation Army, are notable graduates. Chinese language, cannons, mathematics, and military drills (via a German drill book) were taught there and the academy integrated both traditional and Western education practices.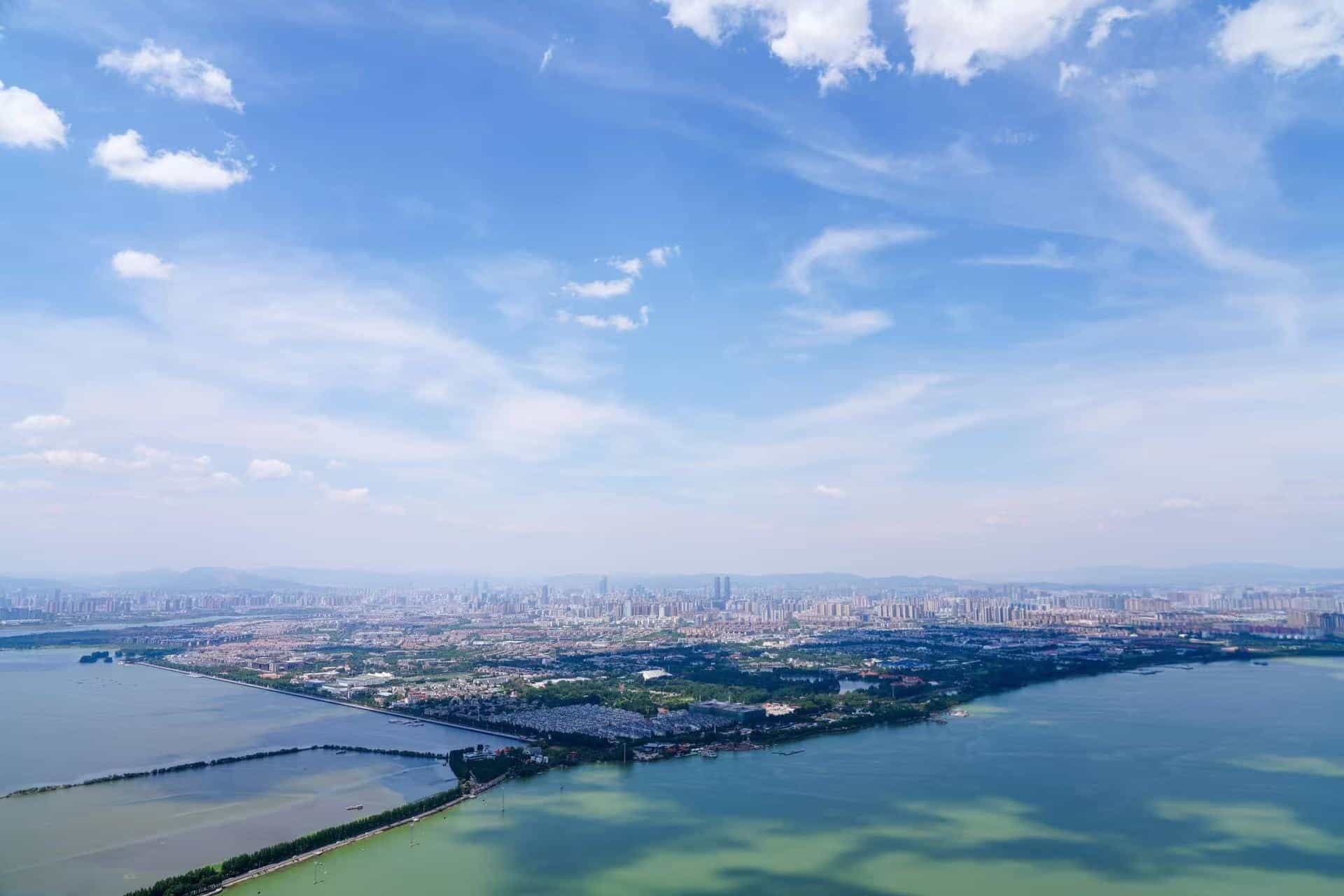 Stunning view of Dianchi Lake at Longmen, Xishan
On the afternoon of the 1st of June, after a divine lunch of Yunnan local cuisine at Heavenly Manna (吗哪) on Wenhua Alley (文化巷) (right beside Salvador's) by Wenlin Jie (文林街), we went to Western Hills (西山).  Despite the many times I have been there, I never grow tired of the view. There is something inherently majestic about seeing the cliff face on your right side and Dianchi Lake on your left side. Every other time I have been up there, I have hiked it. Once, I jogged it. The hike up at night time is especially lovely with the bright moon and stars between the tall trees. This time, we ascended by van and chairlift.
A Xishan cliff face provides fantastic views
Longmen (龙门) is the main attraction on Western Hills. The panorama is especially compelling when you take into account the hard work and craftsmanship of the whole Longmen site. The Longmen Grottoes were carved into the cliffs during the Qing dynasty between 1781 and 1835. The Dragon Gate Scenic Area is composed of pavilions and temples imbued with both Taoist and Buddhist influences from pre-Qing and Qing times. Colorful incense sticks add to the visuals of this geological and cultural wonder. Afterwards, we had an amazing Dai meal at a restaurant near Dianchi Lake. It truly was "to Dai for."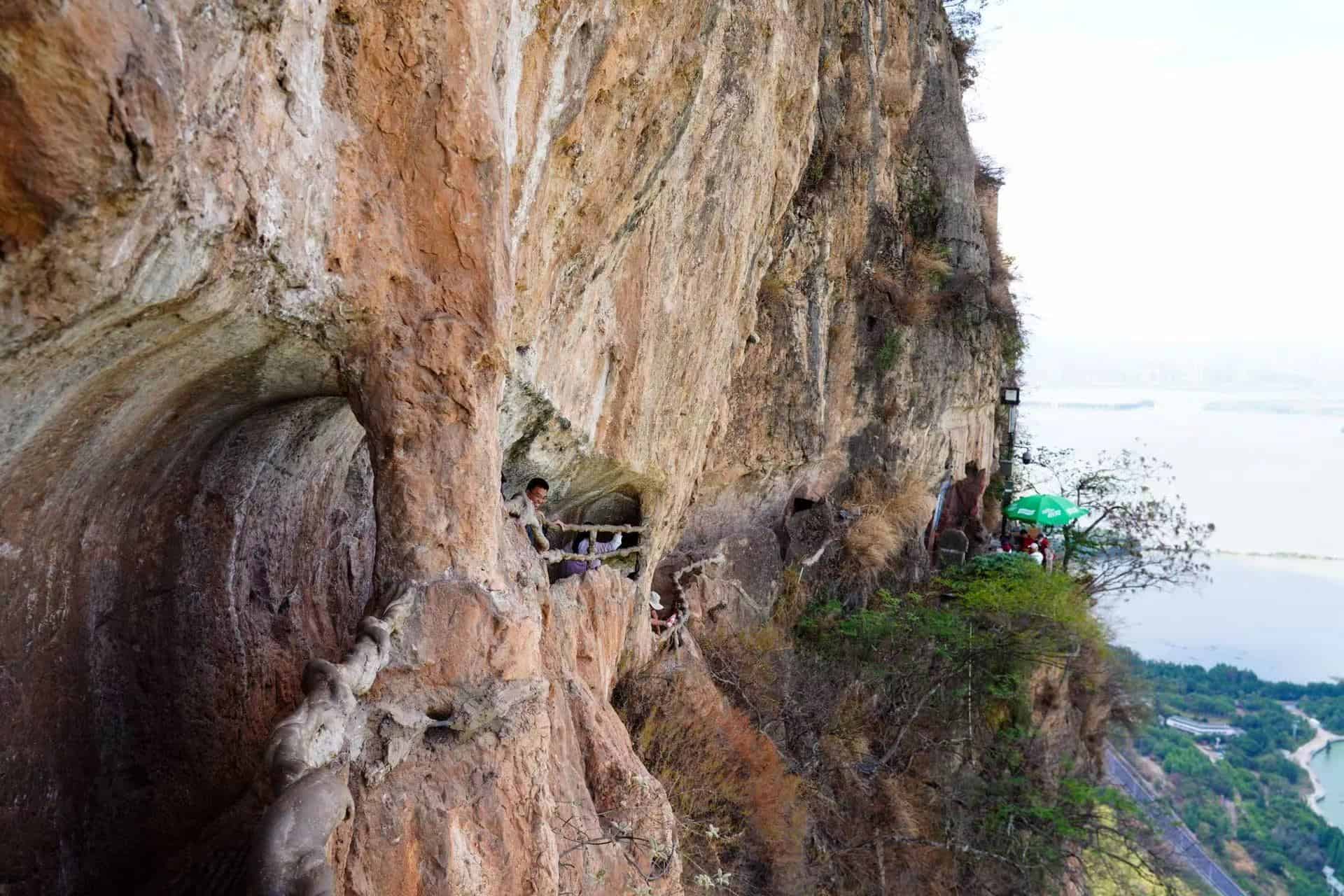 The various shapes at Naigu invoke mythical names
Western Hills was a great introduction to the key draw of Yunnan, its diverse and wondrous geography. After all, Yunnan is a gem in the Southeast Asian Massif. The province is filled with mountains, valleys, lakes, rivers, and other fascinating formations. On the morning of the 2nd of June, we drove east from Kunming to Naigu Stone Forest (乃古石林). Most folks visiting Yunnan are familiar with Shilin (石林), a remarkably similar stone formation nearby. Unlike Shilin, Naigu draws far fewer visitors and some folks prefer it to its well-known dolomitic cousin ten kilometers away. In local Yi Sani dialect, "Naigu" means "black" and "old."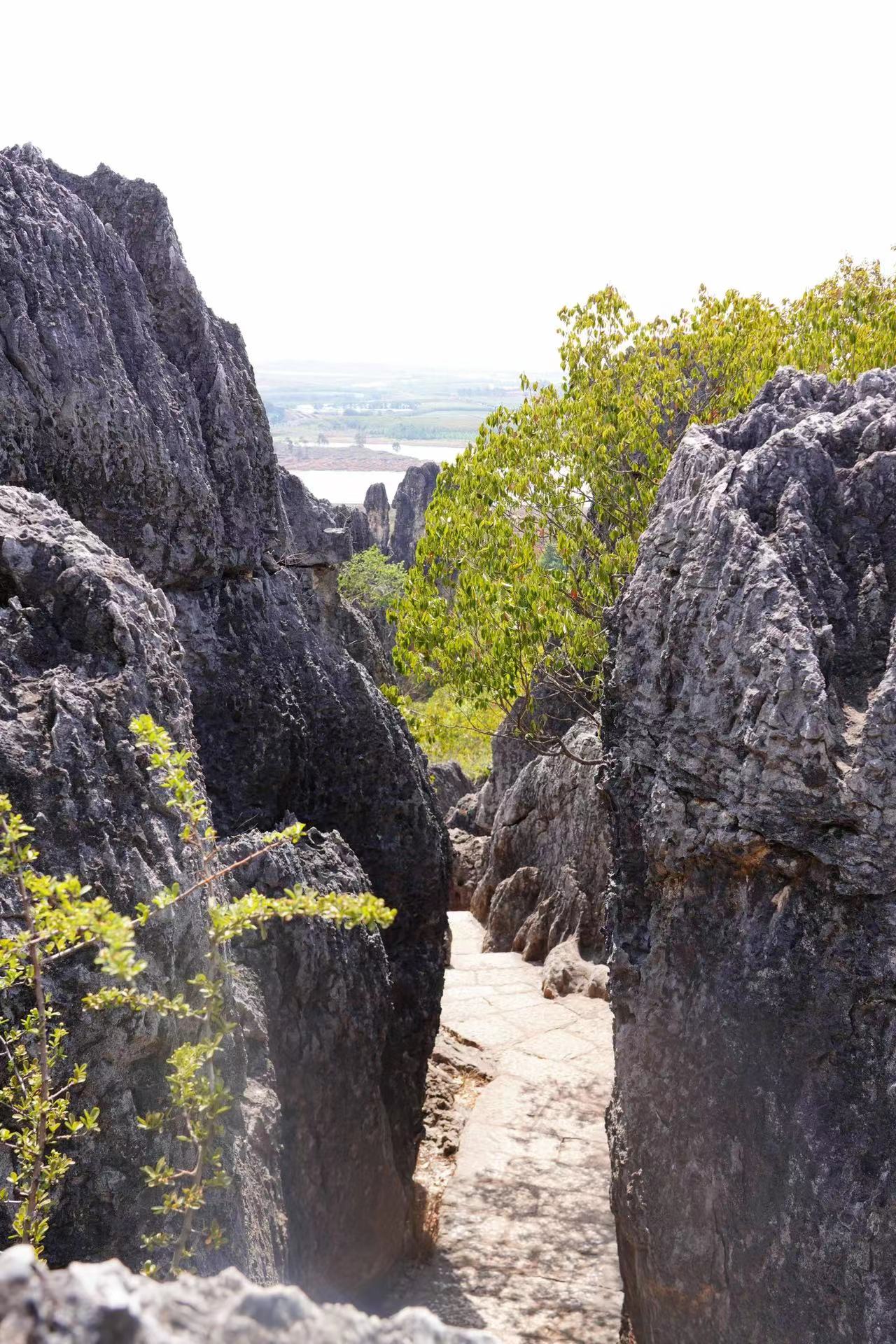 Dolomitic limestone formations are the attraction at Naigu
The surrounding area is riddled with caves and lakes and epic stories to go with them. The formations at Naigu were formed by limestone becoming compressed and fractured followed by water eroding the subsequent joints to form pillars. What is left is a lovely array of black dolomitic limestone figures with fitting names like "The Good Will Gate", "Romeo and Juliet", "Butterfly Lovers Dating", "Siddhartha Gautama", and "Two Lions in Love". It is not surprising there are many references to love in such a pretty place.
On the way back to Kunming, we had a scrumptious Yi meal at a restaurant on the side of the highway called "Xiaoqing Flavor Restaurant (小箐味道)". This was a pit-stop en route to our next two destinations, markets. The delicious and diverse food of Yunnan is also indicative of its geography and this is why the markets are a must-see. The Yunnan-Guizhou Plateau creates the ideal climate and topography for rich biodiversity. This means a wide range of agricultural and horticultural production. It is no wonder that Yunnan is the source of a lot of organic food in China.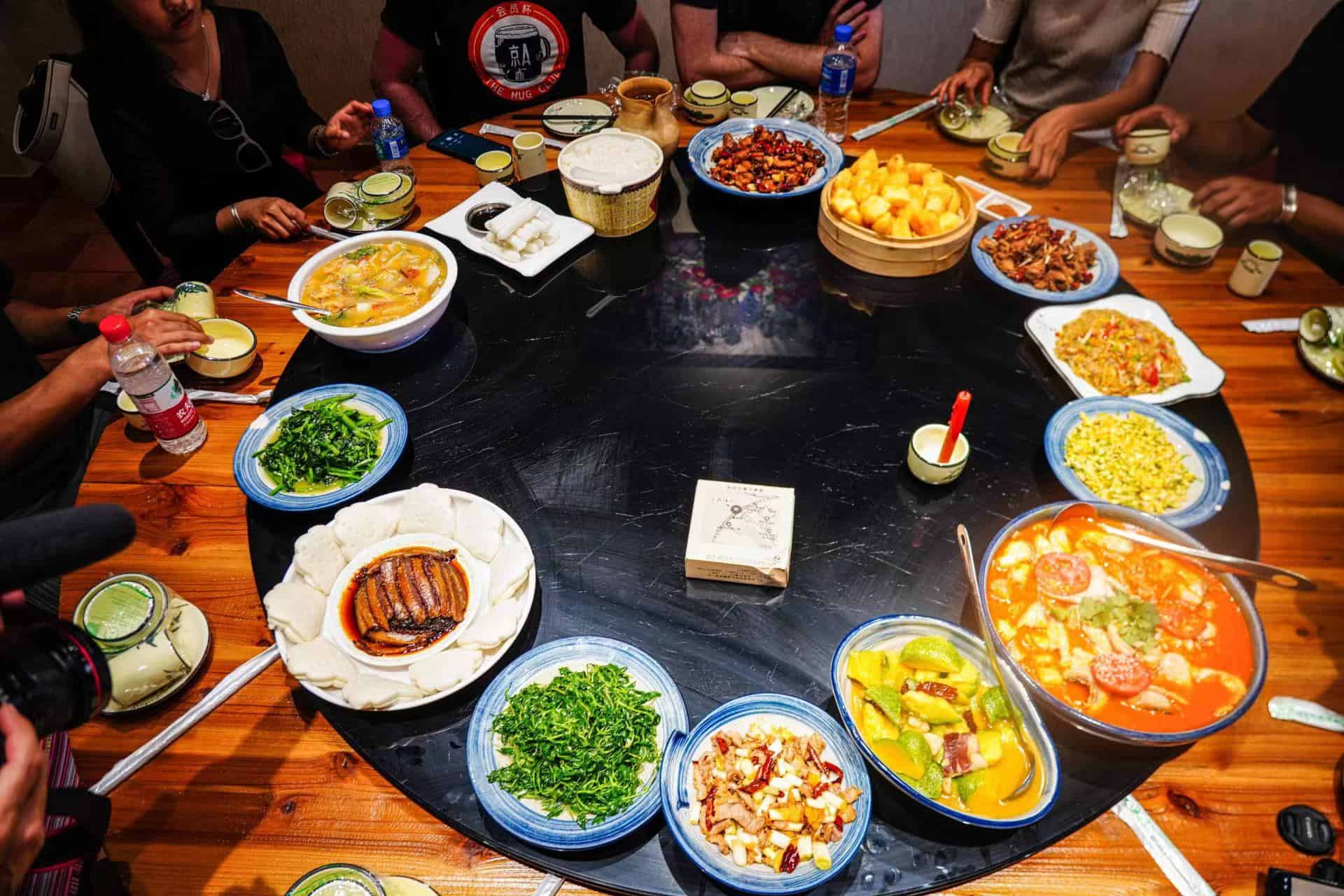 "to Dai for" cuisine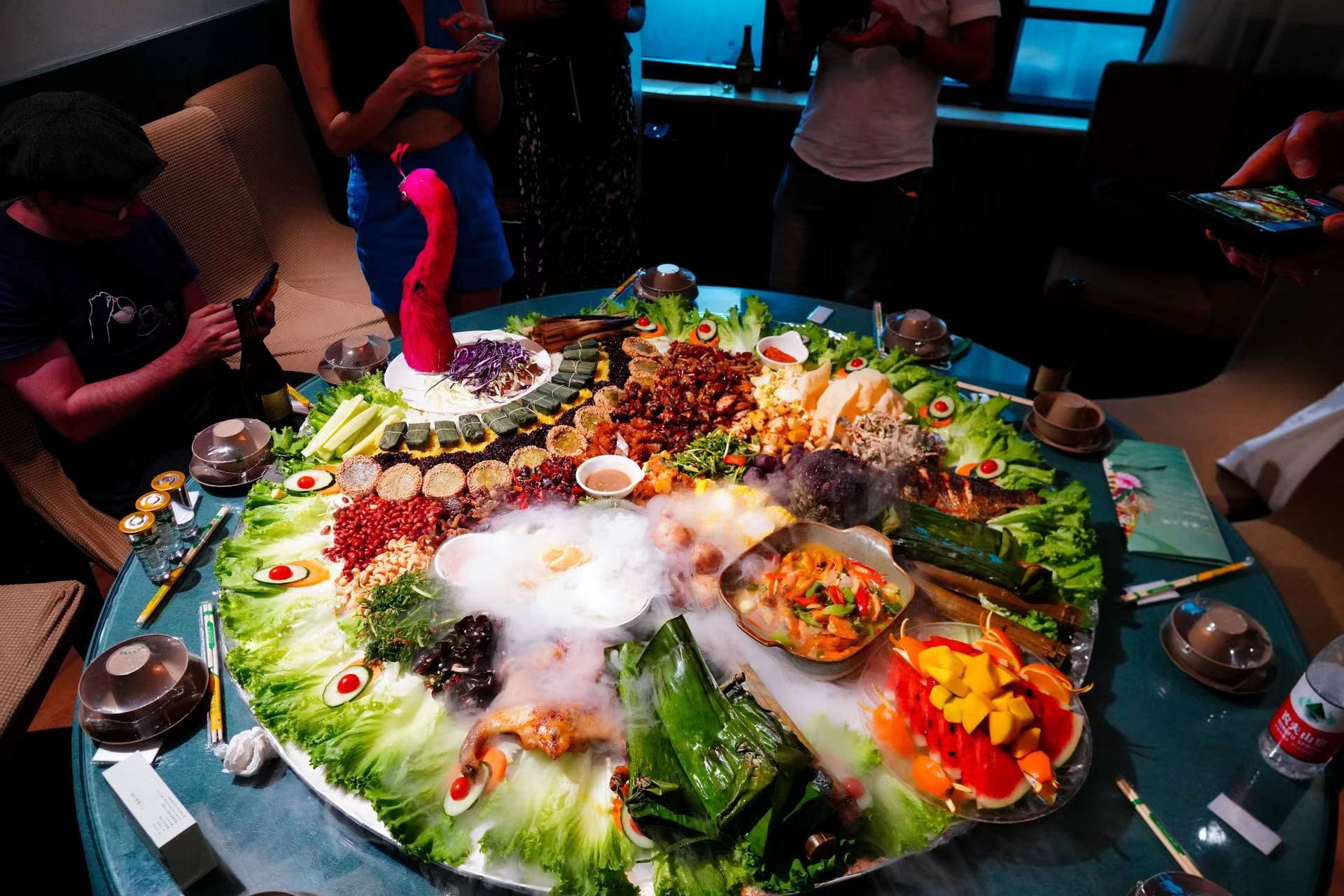 Yunnan is known for its diverse cuisine
The first market we stopped at was not far from the centre of Kunming. It is called "Zhuanxin Market (篆新农贸市场)". On the ground level, there is a myriad of aisles and stalls containing a wide selection of local edible animals, fungi, and plants. Products ranged from raw produce to prepared meals and snacks. When the cold rain came, customers and vendors huddled under awnings and umbrellas and watched as torrents of water overwhelm weak points in the infrastructure.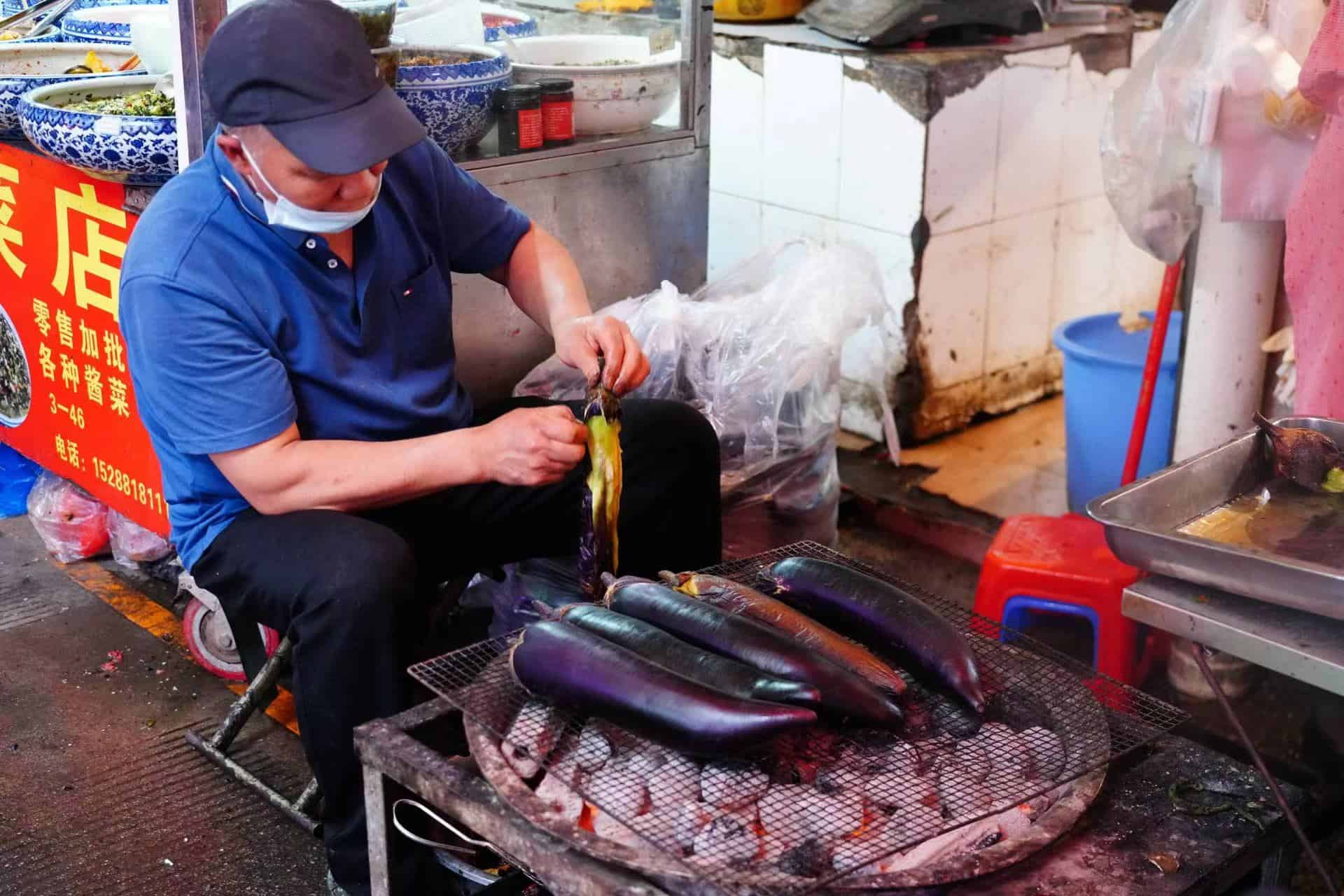 Zhuanxin Market has much of what Yunnan offers in food produce and prepared meals
The second market we visited was in Chenggong (呈贡), a community in the south part of Kunming's jurisdiction. This was the Dounan Flower Market (斗南花卉市场), the largest flower market in Asia. It really is a sight to behold. Customers can purchase individual flowers, customize bouquets, order pre-arrangements, and export flowers to global markets. Customers, vendors, and delivery drivers on tuk-tuks scurried about and labored like the bees that help make this flower industry possible.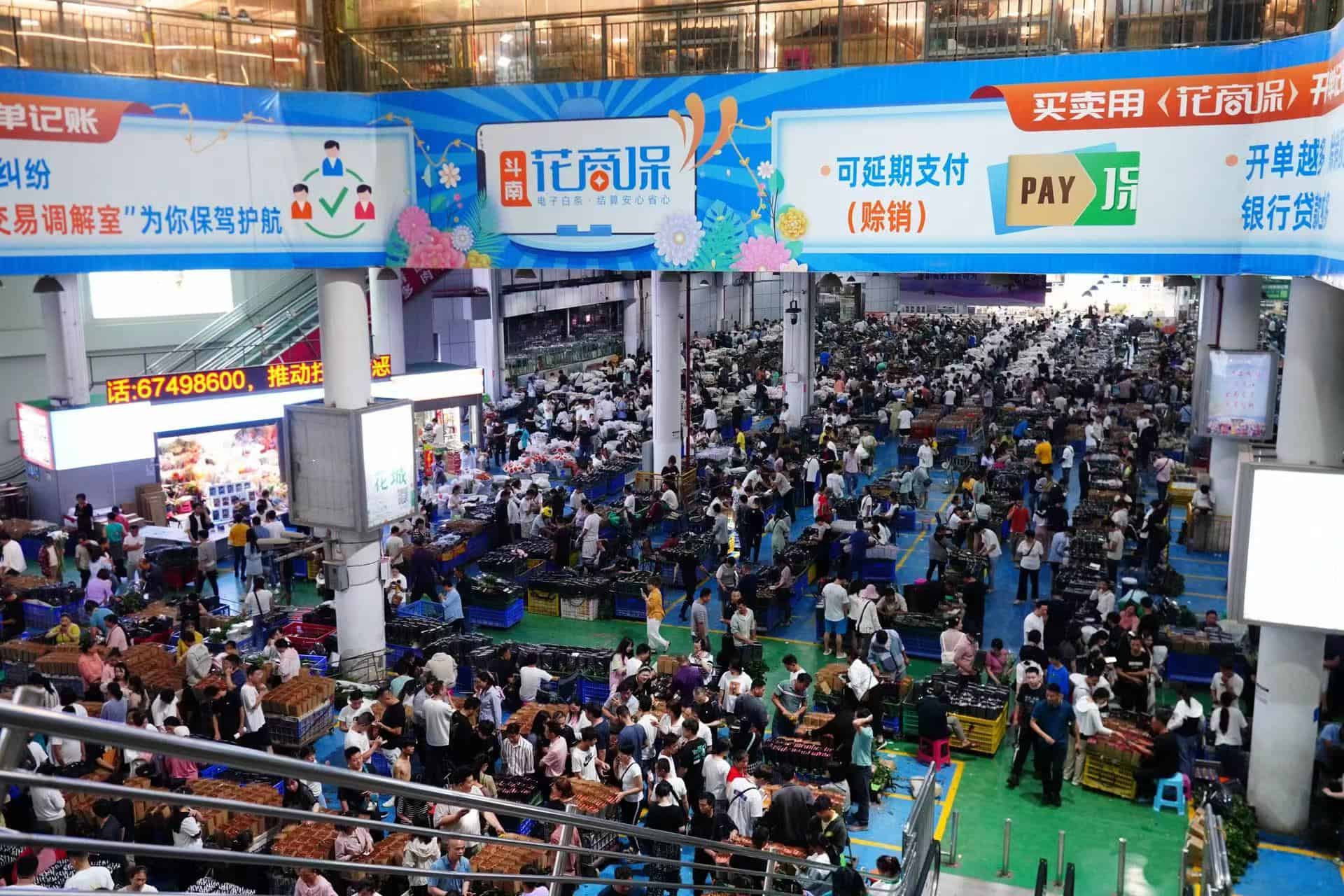 Dounan Flower Market is the largest flower market in Asia
The 3rd of June took us into the northwest of Kunming. The van took us up into a higher spot and we parked near other landmarks of Yunnan, windmill turbines. Due to the shape and elevation of its land, Yunnan is rich with wind energy. We hiked down to a tunnel that had been blasted out and served as a short cut to a splendid lookout. We ate lunch in the forest nearby. Afterwards, we drove to Jinning (晋宁) on the southwest corner of Dianchi Lake. We had a fantastic dinner at Xiaoyu Fishing Village (小渔村) with two tourist officials from the Yunnan government. Jinning and the surrounding area provide beautiful views of the lake and the sunset is especially stunning.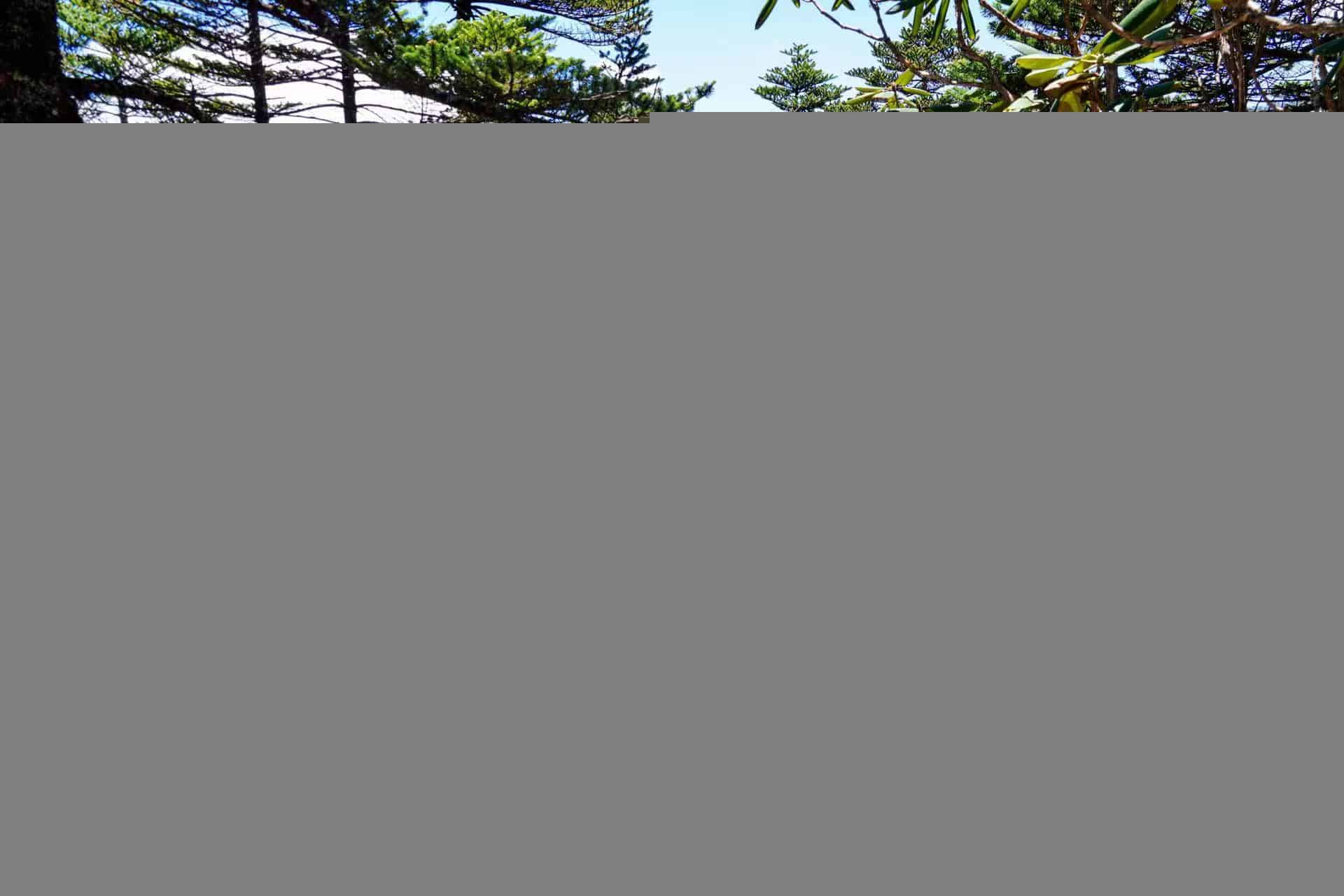 A well maintained walkway at Jiaozi Snow Mountain
Due to an unforeseen sickness, on the 4th of June, I missed the trip to Jiaozi Snow Mountain (轿子雪山). Having said that, I am no stranger to the mountains of Yunnan. I had hiked, camped on and summitted Haba Snow Mountain with three friends in July 2022. The mountains of Yunnan are among the most impressive natural locales in all of China. The really nice thing about Jiaozi Snow Mountain is that it is only 155 kilometers from Kunming. It can be experienced in a day. While it is not nearly among the highest mountains in Yunnan, Jiaozi Snow Mountain is the highest mountain in the central region of the province. Its main peak is 4247 meters high. Due to its geomorphology, its glaciers have a uniquely low latitude compared to other snow mountains in the region. It is a wonder of scenery. Arguably, the best time to visit the mountain is during the spring and summer when the azalea flowers are in bloom with the Wumeng (乌蒙杜鹃) variety being the most unique. But, if snow and ice are your thing, be sure to visit in the late fall, winter and early spring to take in the cascades and glacier.
The tour was a comprehensive and marvelous sneak peak at what Kunming has to offer. Naturally, Kunming has a lot to see so it is highly encouraged to give yourself at least a week in this beautiful New Tier 1 city. Nonetheless, if you have a few days to travel in Kunming, you can experience these few sites with relative ease.
by Stephen Weedon
Stephen Weedon is a teacher and writer living in Beijing, China. He holds a Master in Public Administration from Tsinghua University in Beijing, China and a Bachelor of Arts from the University of Winnipeg in Winnipeg, Canada. He has lived in Canada, China, Myanmar and Uganda and has travelled to many more countries on five continents.