This new GILI'S has a pretty unique location
• The city is being treated to another new GILI'S location, this time in Chengdu's South; GILI'S Waterfront! Located in the middle of 'Gourmet Island' in Luxelakes Eco-city. You might have seen their cracking masquerade opening party, on your moments.
• This location is perfect for when you want to escape the hustle and bustle of the city – as the mini-island is surrounded by water, with lots of lovely outdoor seating, and open areas to hang out.
• The green environment, and large capacity (both indoors & outdoors) make it the perfect destination to spend a day away from the city – or have birthday, anniversary, or farewell parties. There are also lots of games and activities nearby to keep the kids busy – so is well worth checking out!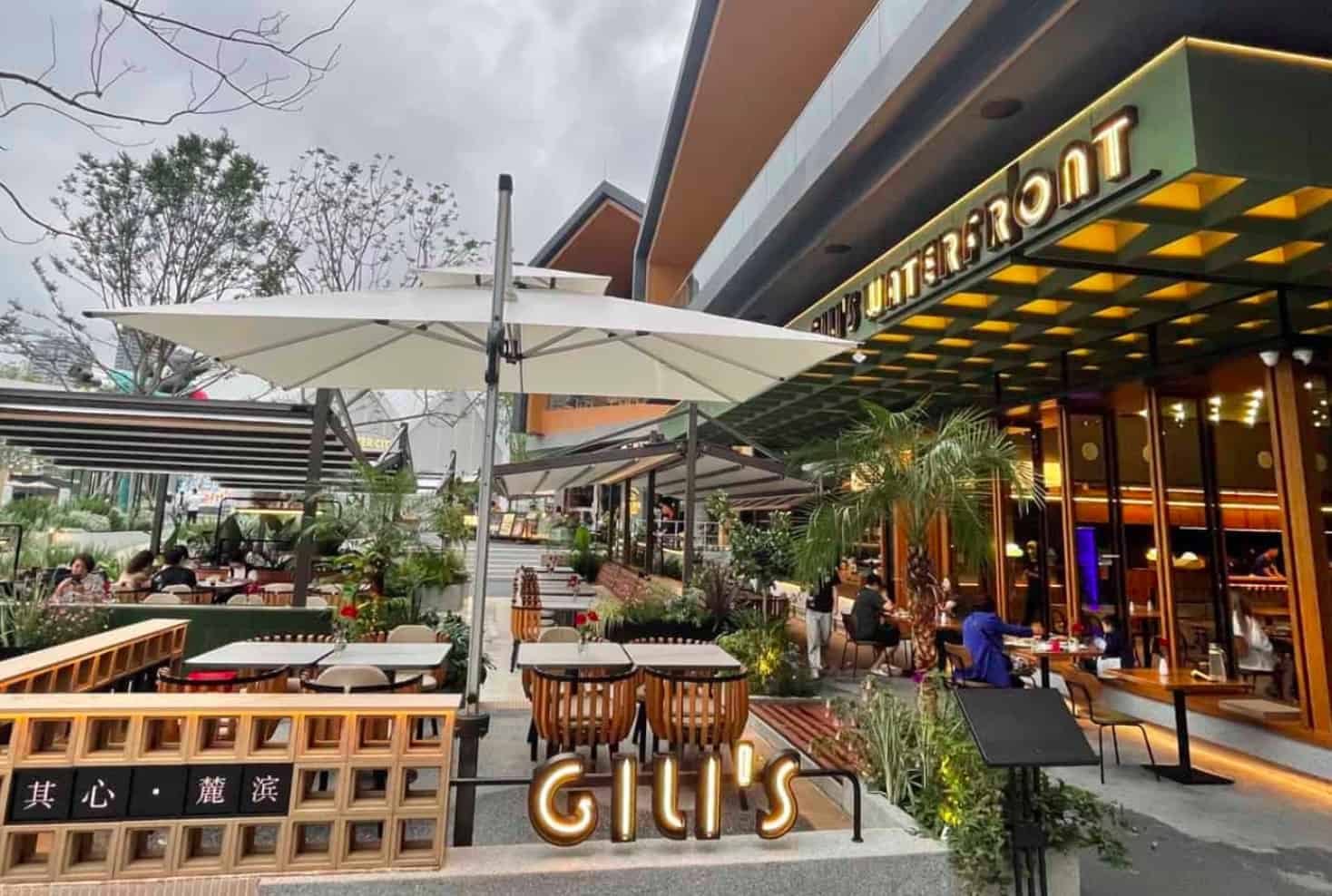 The newest GILI'S has some tasty new menu items too, alongside the classic bistro favourites they serve at the other branches. GILI'S Waterfront have supersized their new menu with more cocktails, a bigger wine list, and a big selection of grilled meats, paellas, and other tasty offerings.
Besides the usual pastas, salads, pizzas and desserts options, they also have various paella options and BIG sharing platters of roast and grilled meats/ kebabs and smoked BBQ meat options, which are served with sauces and sides. They're BIG and ready for sharing, as a part of a big feast.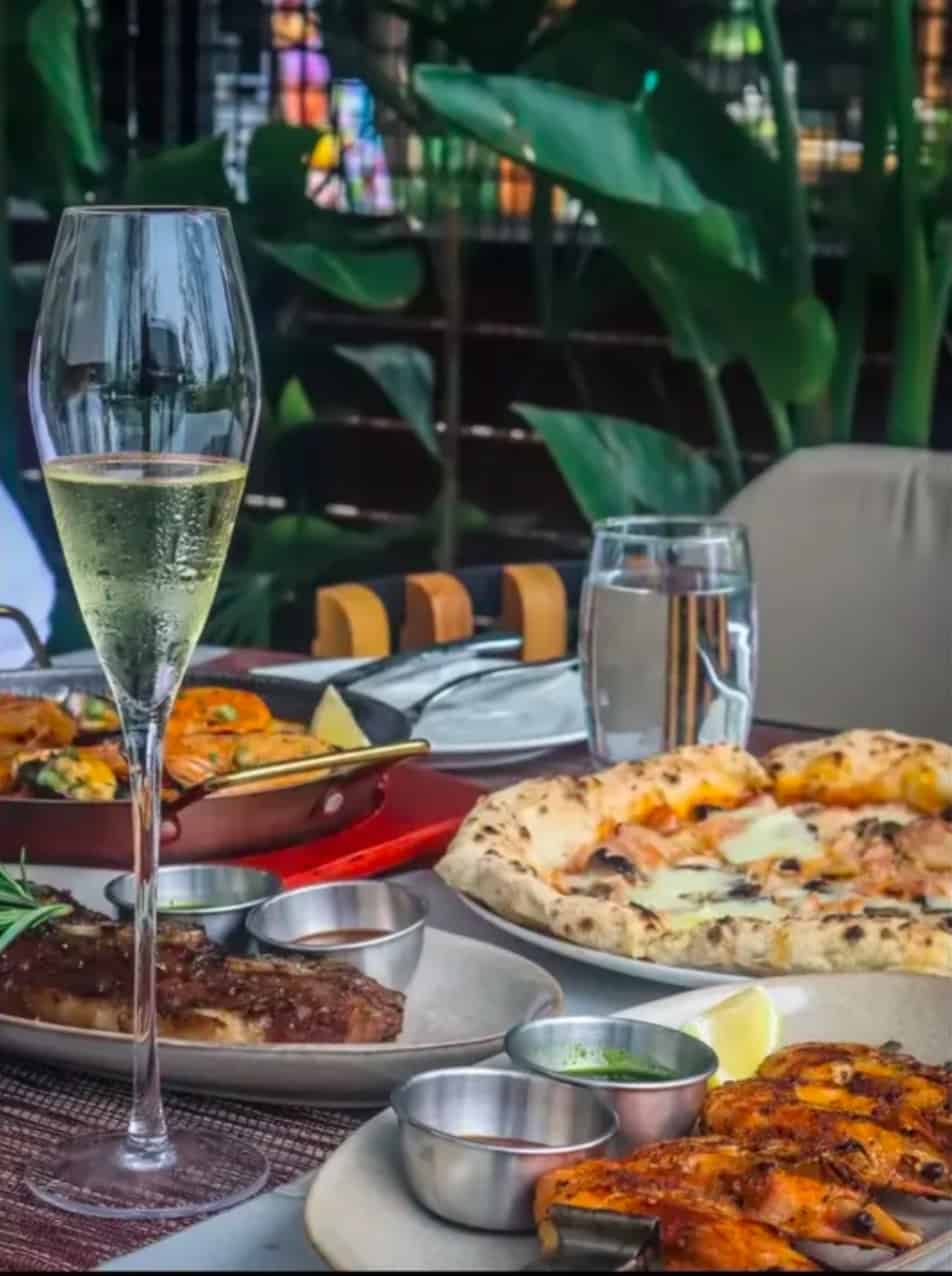 We had the M5+ Sirloin steak (with black pepper and mushroom) and a Lamb Rack Kebab (with chimichurri and barbecue sauce), and added fries and grilled asparagus, now we're talking!
On top of all this delicious food, the new GILI'S is fully kitted out with an indoor stage where a live band perform weekly (Friday to Sunday, dinner time), and mummy and baby room if you need to feed the little one. Combined with GILI'S famous customer service – GILI'S really is hard not to love; great food, great service, warm vibes – and now more space, so you can always get a table.
This venue is well set-up for large events, children's parties, corporate dinners, offsite days away, farewells, and welcome backs! Scan below for group deals, bookings and MOOOOORE!
Contact Vicky for Bookings
↓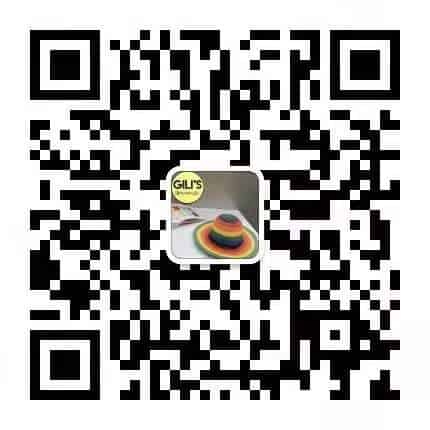 📍
GILI'S Waterfront 其心•麓滨
Daily, 11am-10pm (kitchen 11am-9pm)
Luhu Middle Road West No. 888, Luxelakes Eco City, Luxelakes Gourmet Island Phase II-A2, Tianfu New District
麓湖中路888号麓湖生态城天府美食岛二期1层A-2号
And if you'd like to visit any of the other GILI'S Restaurant & Bars, check out the locations below:
📍
GILI'S Tongzilin 其心•桐梓林
Daily, 11am-11pm (kitchen 11am-10pm)
9 South Tongzilin Road, Wuhou District
武侯区,桐梓林南路9号
📍
GILI'S Luxe Lakes 麓坊中心
Daily, 11am-10pm (kitchen 11am-9pm)
180 Jiazhou Road, Shuangliu District
双流区,嘉州路168号
📍
G's Bistro & Brunch Bar 其悦咖啡吧
Daily, 11am-9pm (kitchen 11am-8pm)
18 Zijing East Road, Gaoxin District
高新区,紫荆东路18号
📍
GILI'S TieXiang Temple 其心•铁像寺水街
Daily, 11am-11pm (kitchen 11am-9pm)
NO. 116 Shenghua North Rd., Gaoxin District
Tiexiang Temple Riverfront Phase 2
高新区盛华北路116号铁像寺水街2期2栋108号