Summer has officially left us and the rain is here. But there's still been plenty happening in and around Chengdu. Here's whats up:
Neijiang Earthquake
A 5.4 magnitude earthquake jolted Weiyan County, Neijiang, Sichuan province, at 6:42 am on Sunday, one person was killed, and 63 others were injured, of the injured three, are in critical condition. The epicenter of the earthquake was 12km from Weiyuan 26km from Neijiang and 141 km from Chengdu. Thirty-six seconds before the waves reached Chengdu, residents there received the early warning. A real-time system providing warnings seconds after a quake can save lives because the warnings are transmitted via radio waves traveling faster than seismic waves.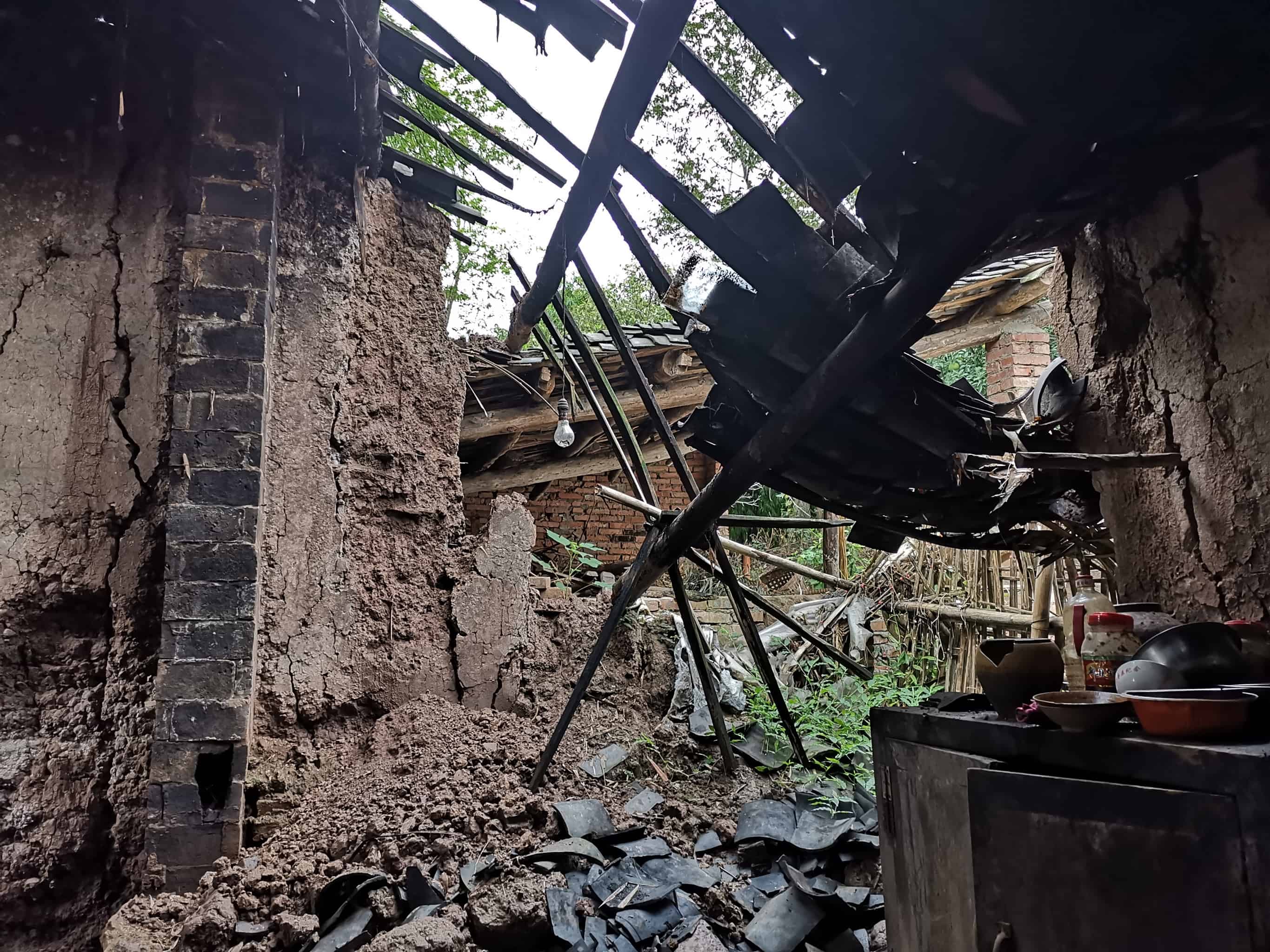 Sixty-three towns were affected by the earthquake, 161 houses were severely damaged and another 4,880 had slight damage, overall 10,883 people were affected by the earthquake. Ma Bo, Party chief of Neijiang, said the city had sent 4,781 people to assist in rescue operations, including militiamen, policemen, firefighters, and medical workers.
9.9 Charity Day 
September 9 has been named the annual charity day in China since 2015, with the aim of calling on more and more netizens to participate in public welfare through interactive online activities. Internet giant Tencent Holdings Ltd pledged to jointly build a rational public welfare ecosystem and focus on long-term connections between donors, charitable organizations and recipients, so as to establish long-term trust and enhance the efficiency of charity programs.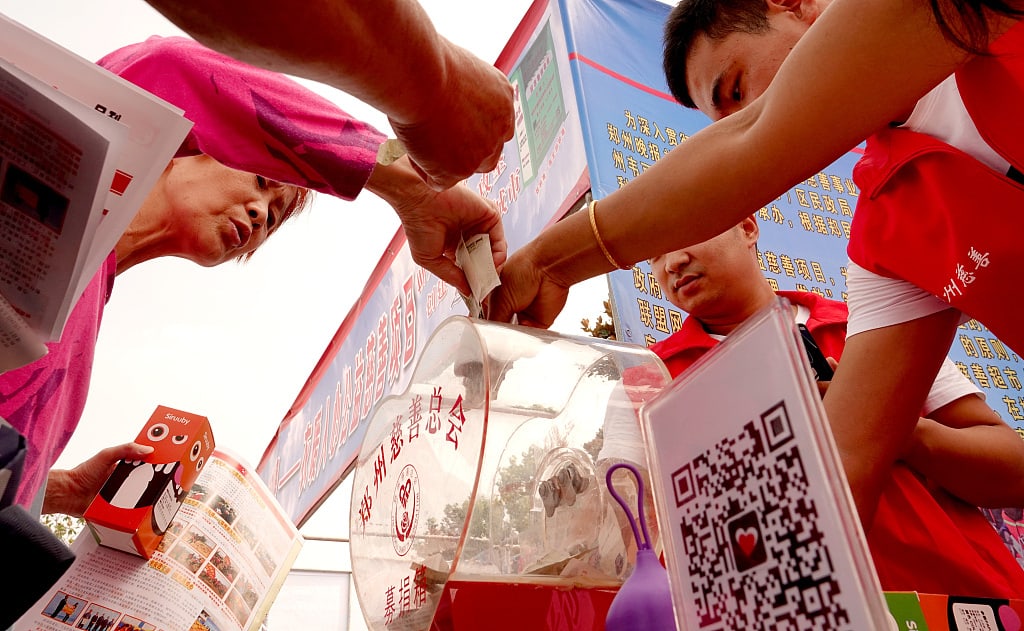 This year's theme is "Charity focused on poverty alleviation and working together to create a better life." The campaign carries the message of "doing good in reasonable ways." Over the past four years, the number of individual donations increased from 2.05 million in 2015 to 28 million in 2018, with the total donation amount surging from 228 million RMB to more than 1.4 billion RMB.
Holiday Bazaar 2019
Mark your calendars, the 13th annual Holiday Bazaar will be held on November 23rd! Once again hosted at Chengdu International School, planning for Chengdu's biggest international event of the year is already underway. A dedicated committee of volunteers is excited to kick off the season of giving and do something for the wonderful province we all call home.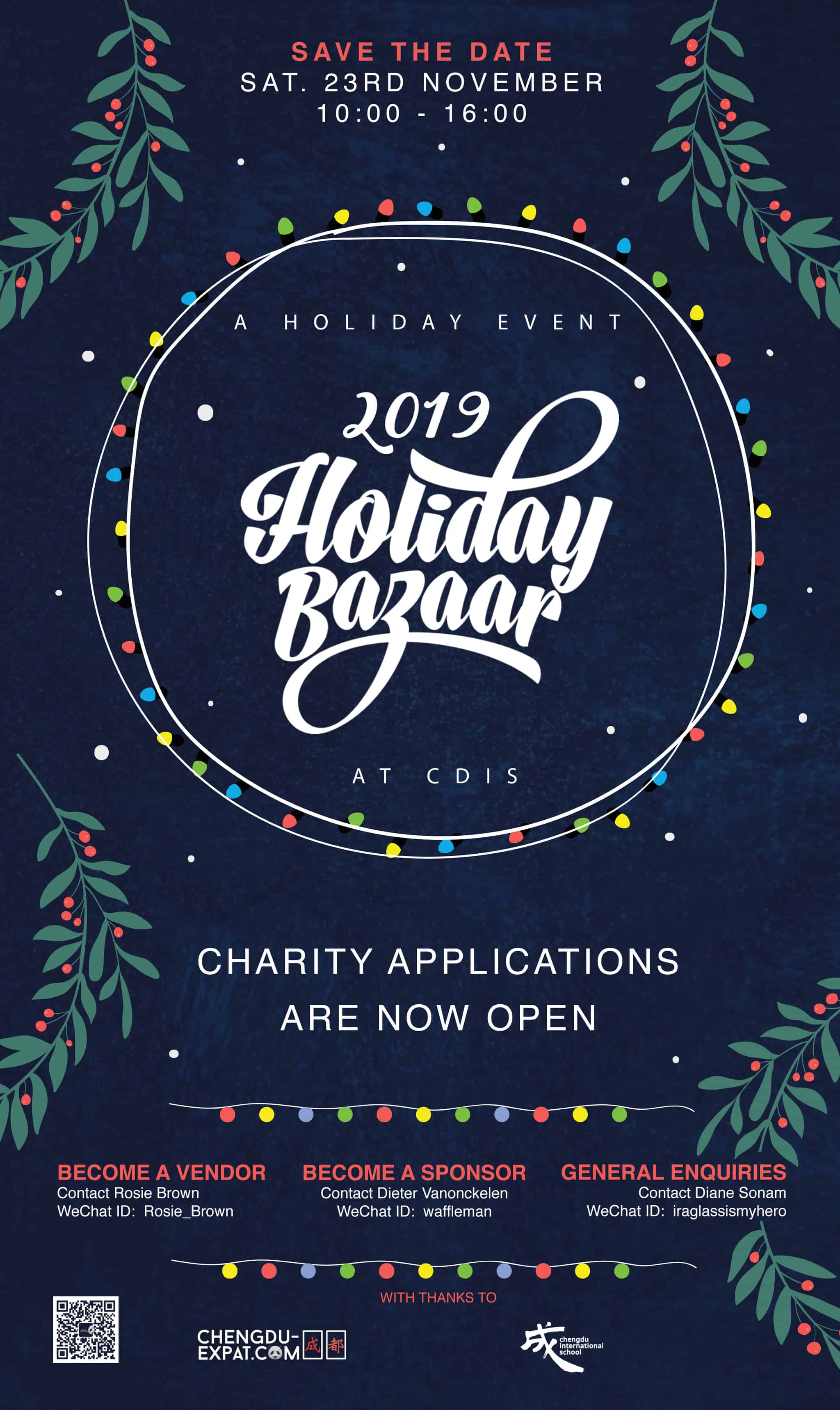 Right now, the committee is taking applications from organizations that do meaningful work to aid needy women and children in Sichuan. If you know an organization that fits the bill, get in touch! The deadline for applications is Monday, September 16th. You can contact the charities coordinator:
Richard Beach
on We Chat ID: RichardBeach
The committee is also inviting sponsors to pitch in! If you want to improve your company's CSR profile and be actively engaged with the expat community, please contact the sponsorships coordinator.
Sponsorships Coordinator
Dieter Vanonckelen at
WeChat ID: Waffleman
2019 Chengdu Motor Show
The 22nd Chengdu Motor show this year is taking place Sept. 5 – 14, 2019 at Western China International Expo City. With the presence of over 130 auto brands from Germany, the US, France, Japan, South Korea, China, as well as other countries and regions around the globe bringing over 1,600 exhibited vehicles. The exhibition venue will cover 200, 000 square meters.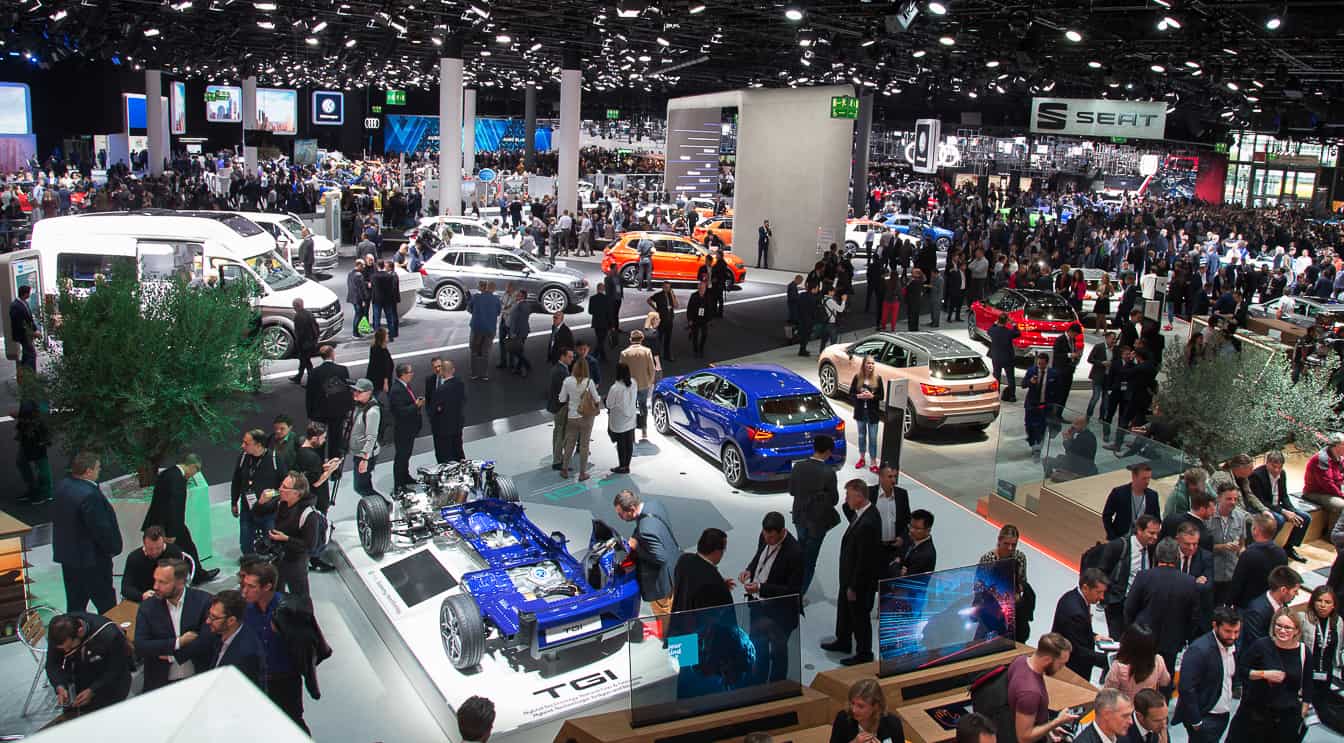 Luxury brands, including Ferrari, Porsche, McLaren, Lamborghini, Aston Martin, Bentley, and Rolls Royce, will be at the show. Maserati Levante Trofeo, Rolls-Royce Phantom Bespoke, McLaren 600LT, as well as the products of world-famous brands such as Mercedes-Benz, BMW, Audi, Cadillac, Volvo, and Lexus will be showcased during the event. Geely, Great Wall and other self-owned brands of China will bring a number of new models and innovative technologies to the show.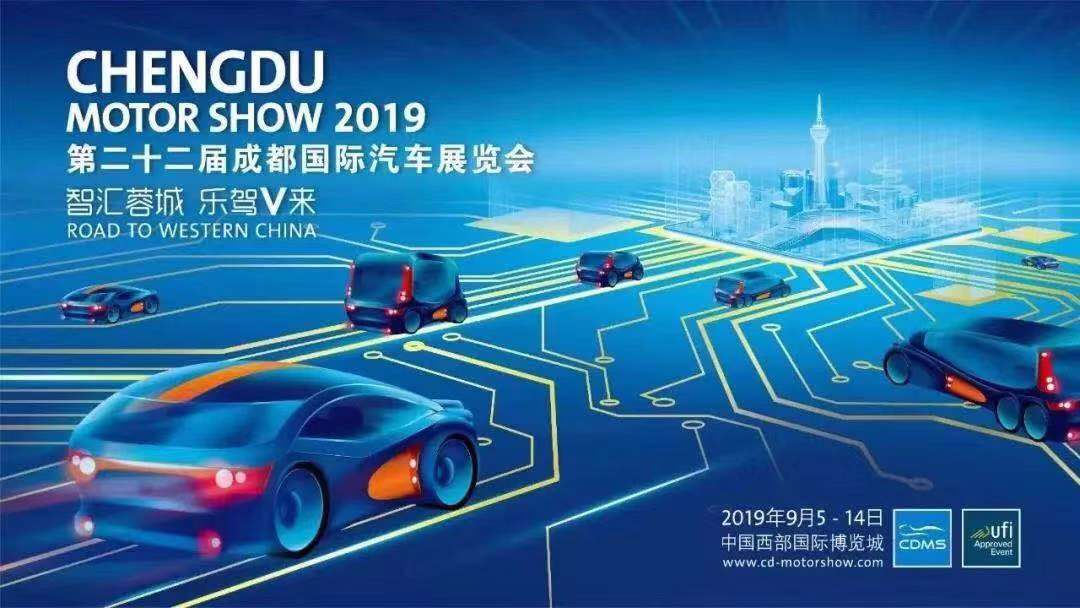 Mysterious Scaffolding 
You may have noticed this week and questioned why many buildings around Chengdu have scaffolding attached to them. On October 1st China will be celebrating the 70th anniversary of the founding of the People's Republic of China. Despite most of the celebrations being held in Beijing, this hasn't stopped Chengdu from getting into the spirit with attempts to prettify buildings well underway in the city ready for the annual celebrations.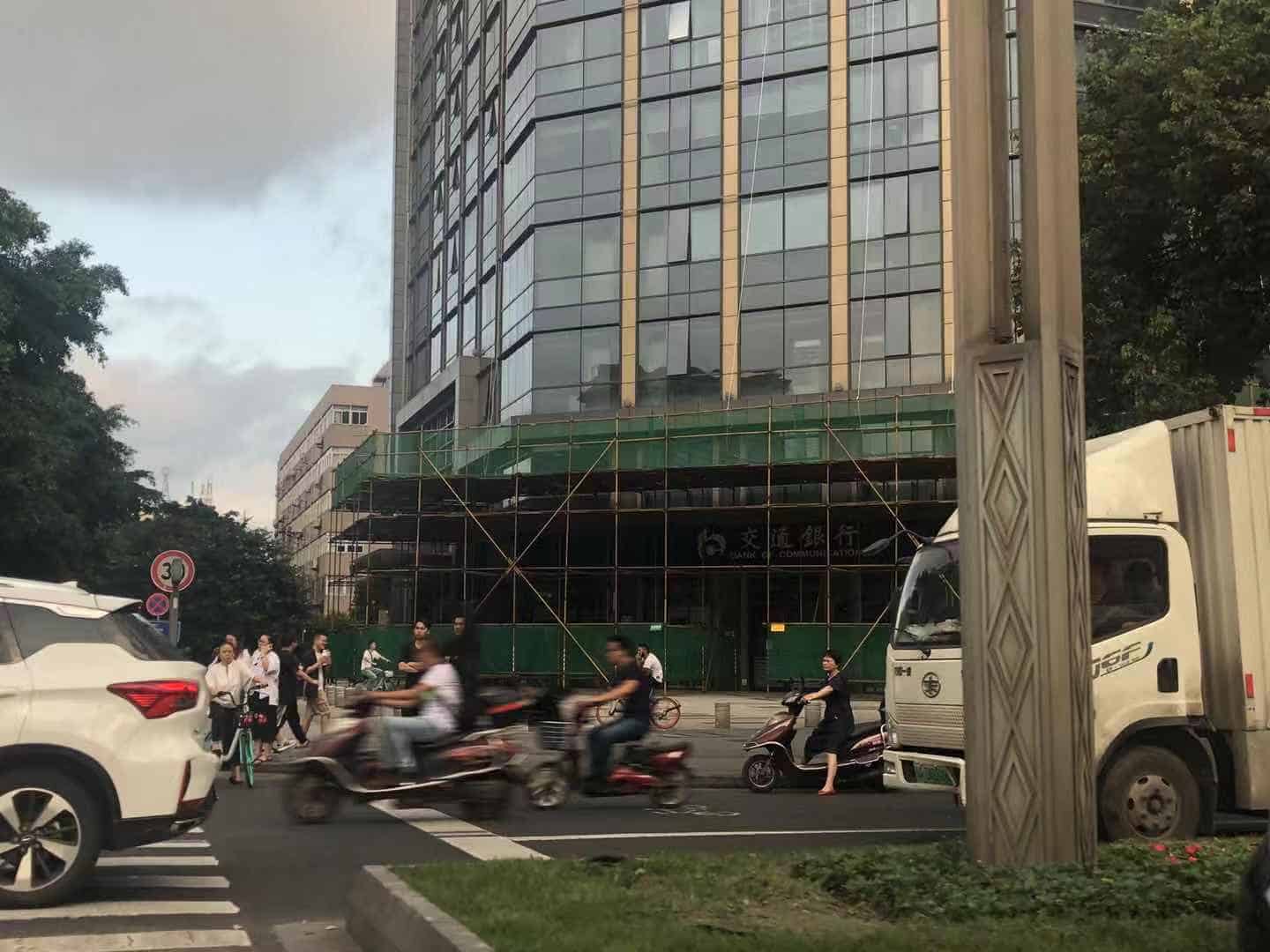 International F&B News
The Temple House New Brunch Menu
Rise and shine this weekend with a brunch to kick-start that lazy weekend feeling. Indulge in The Temple House semi-buffet brunch available every Saturday and Sunday. Brunch offers a delicious spread of local and international favourites including chilled seafood, live BBQ and noodle stations, sweet treats, and a made-to-order main courses.
Time:
Saturday and Sundays: 11:30 – 14:30
Address:
B1 The Temple House, 81 Bitieshi Street
锦江区笔帖式街81号
Price:
Starting price 248 RMB (scan QR code on poster)
% Arabica
Arabica is a world-class coffee brand , so a store opening in Chengdu was exciting news for most. Arabica originated in the southwestern highlands of Ethiopia and is the most popular kind of coffee worldwide – making up 60% or more of coffee production in the world. The first Chengdu Arabica store is located in TaiKoo Li and opened its doors on August 21. However, the opening of the store left many of its customers walking away disappointed. The store was not ready to serve its customers at the planned opening time and the coffee is arguably overpriced, ranging from 40-50 RMB suggesting it is mainly targeted at a high-end crowd. However, be sure to check out the store for yourself!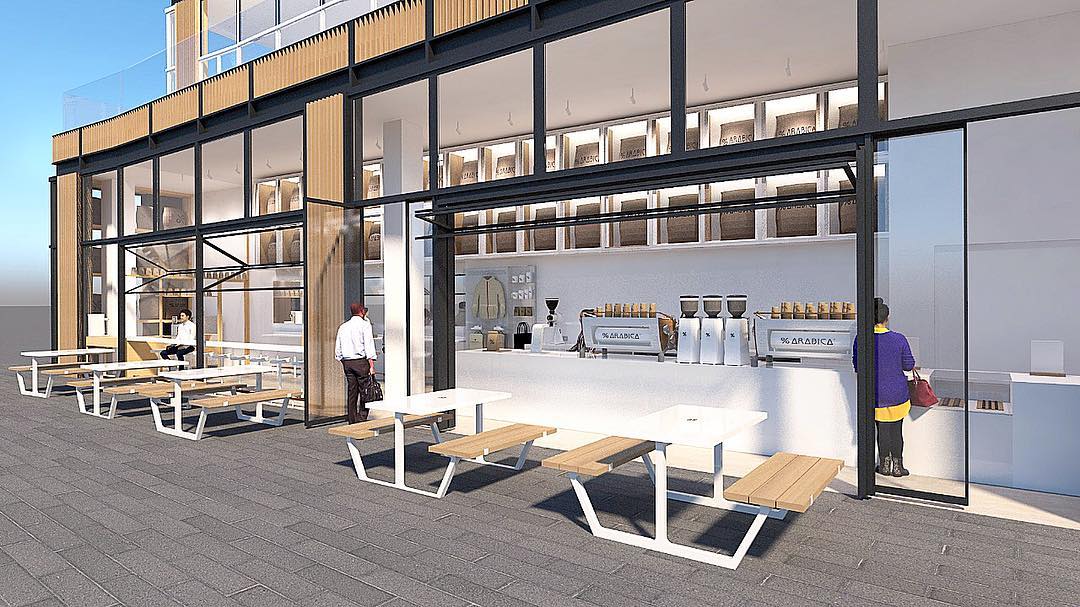 Address:
No.1115 Taikoo Li, 8 Middle Shamao Street, Jinjiang Qu
成都市锦江区中纱帽街8号,成都远洋太古里一层1115。
Opening Times:
Daily 10 am – 10 pm