Chengdu 2020 Metro Expansion
The Chengdu Metro seems to be being built at lightening speed, into each and every spare inch of the city. Long gone are the days where the only intersection was between lines 1 and 2 was at Tianfu Square. Now multiple lines intersect all over Chengdu.
There are currently 389km of subway lines under construction so far in 2020. By the end of 2020, we will see the opening of lines 6, 8, 9 and 17. If all stays on schedule, the metro line length will increase to 555km.
So, what's the latest news on these lines?
Metro Line 6
Line 6 (brown color) will open 3 phases at once, making it the longest stretch of subway to be opened at once in China. It starts at Wangcong Temple and ends at Lanjiagou. The total length is 72.9 km (45.3 mi), with 56 stations. In meanwhile, most of the stations have been closed in.​
Transfers of Chengdu Subway Line 9:
• Line 4: West Railway Station
• Line 3: South Wuqing Road
• Line 10: Huaxing
• Line 5: Jincheng Avenue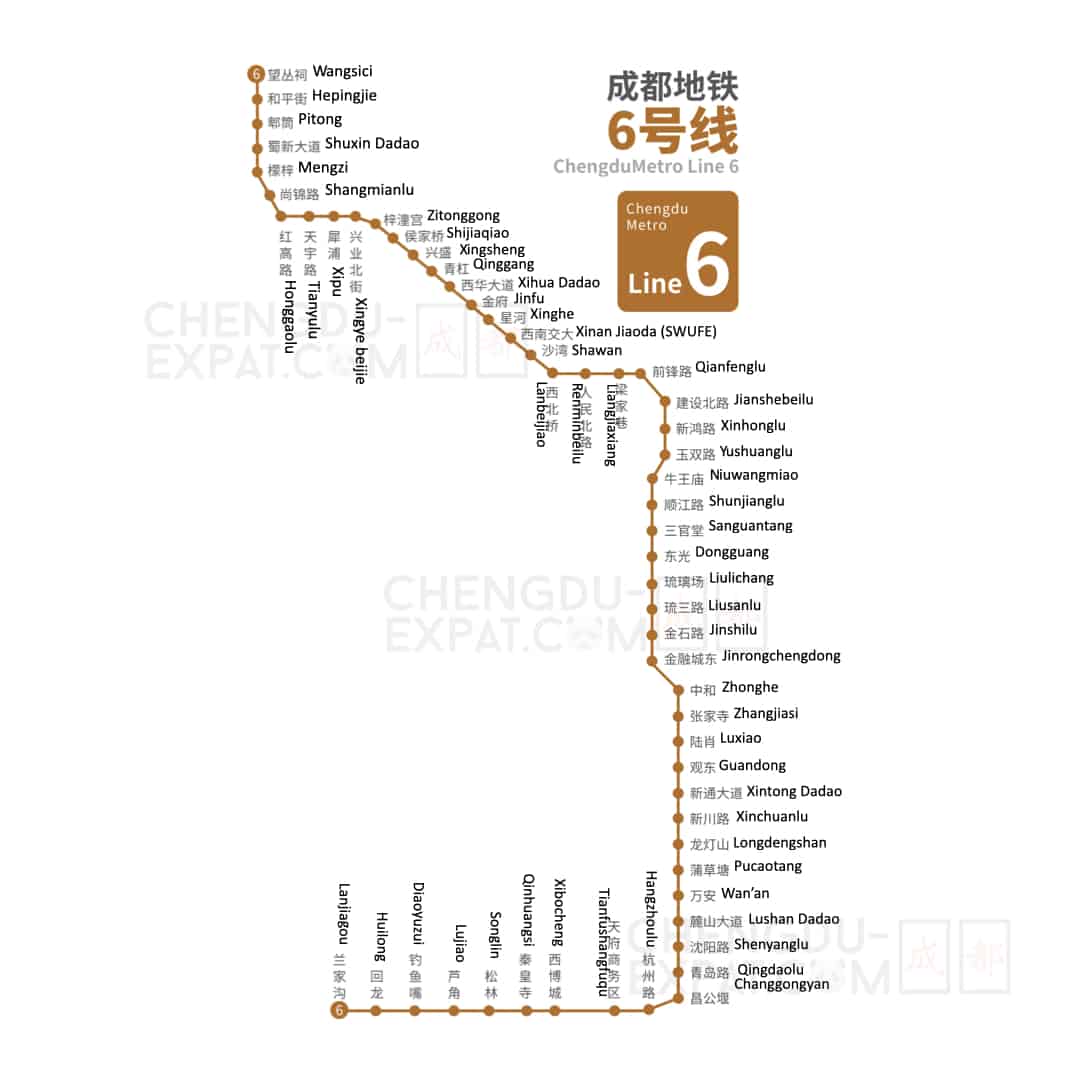 Metro Line 8
Most of the stations of Line 8 (lime green color), running from southwest to northeast, have been closed in the meanwhile. Covering Jinjiang, Wuhou, Shuangliu Districts and High and New Tech Development Zone, this subway line will pass Sichuan University, Zhujiang Road, Donghu Park and Jingju Temple. Its total lengths will be 29 kilometers (18 miles) with 25 metro stations. In the near future, the second phase of Chengdu metro line 8 from Shengdeng Park to Longtan Temple East will be built.​
Transfers of Chengdu Metro Line 8:
• Line 7: Gaopeng Avenue & Chengdu University of Technology
• Line 5: Jiuxing Avenue
• Line 1: Nijiaqiao
• Line 2: Dongda Road
• Line 4: Shuangqiao Road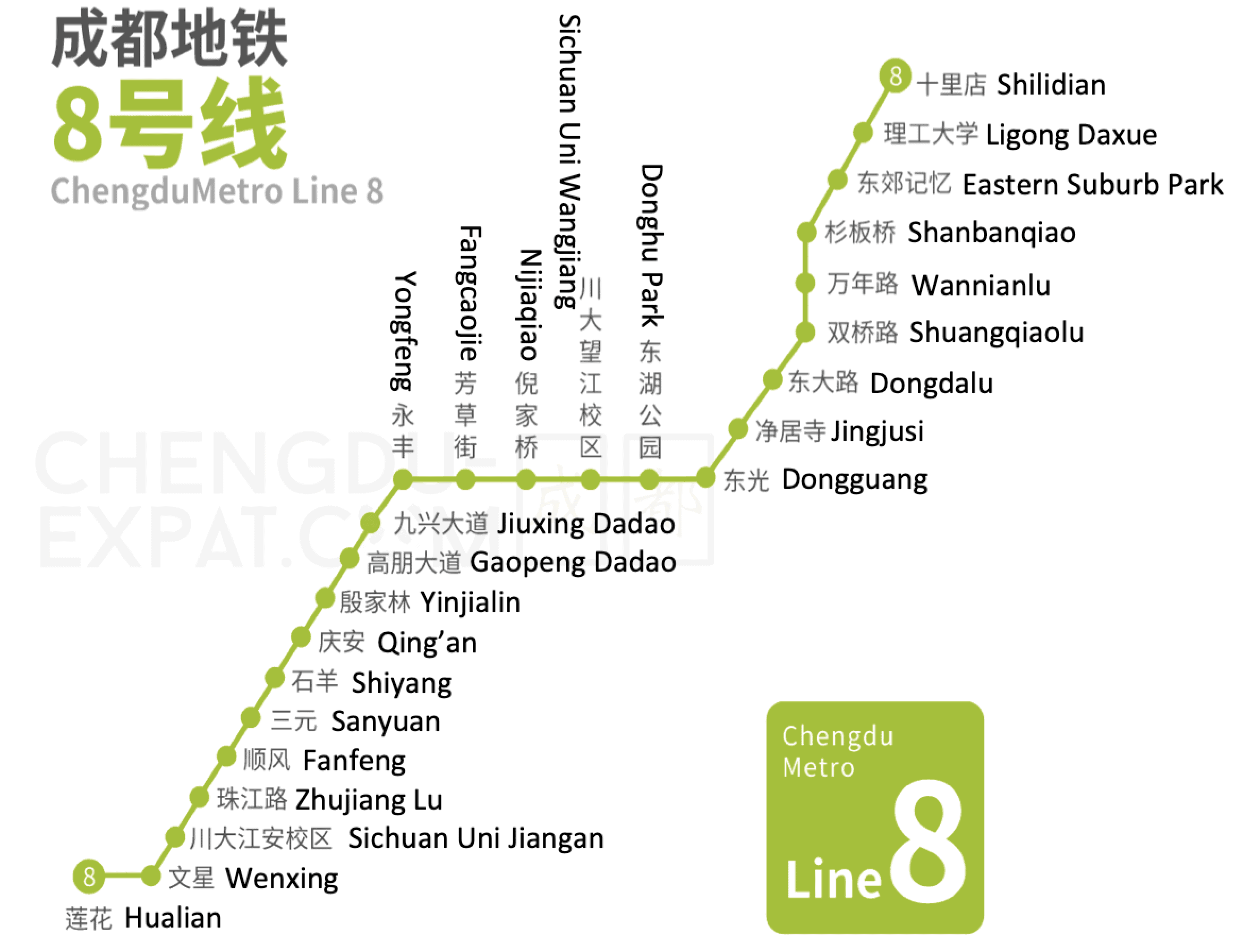 Metro Line 9
Line 9 (bright orange) phase one runs from Huangtianba in Qingyang District and Financial City East in Jinjiang District and is envisioned to be the second loop line in Chengdu (after Line 7) in the future. With the total length of about 22 kilometers (14 miles), Chengdu subway line 9 will pass West Railway Station, Taiping Temple and Jincheng Avenue via 13 stations. After the opening, passengers can transfer with line 3, 4, 5 and 10 conveniently.
It will be the first-ever fully automated ATO GoA 4 metro line in Chengdu. Furthermore, Line 9 uses high capacity Type A 8-car trains.
Transfers of Chengdu Metro Line 9:
• Line 4: West Railway Station:
• Line 3: South Wuqing Road
• Line 10: Huaxing
• Line 5: Jincheng Avenue
​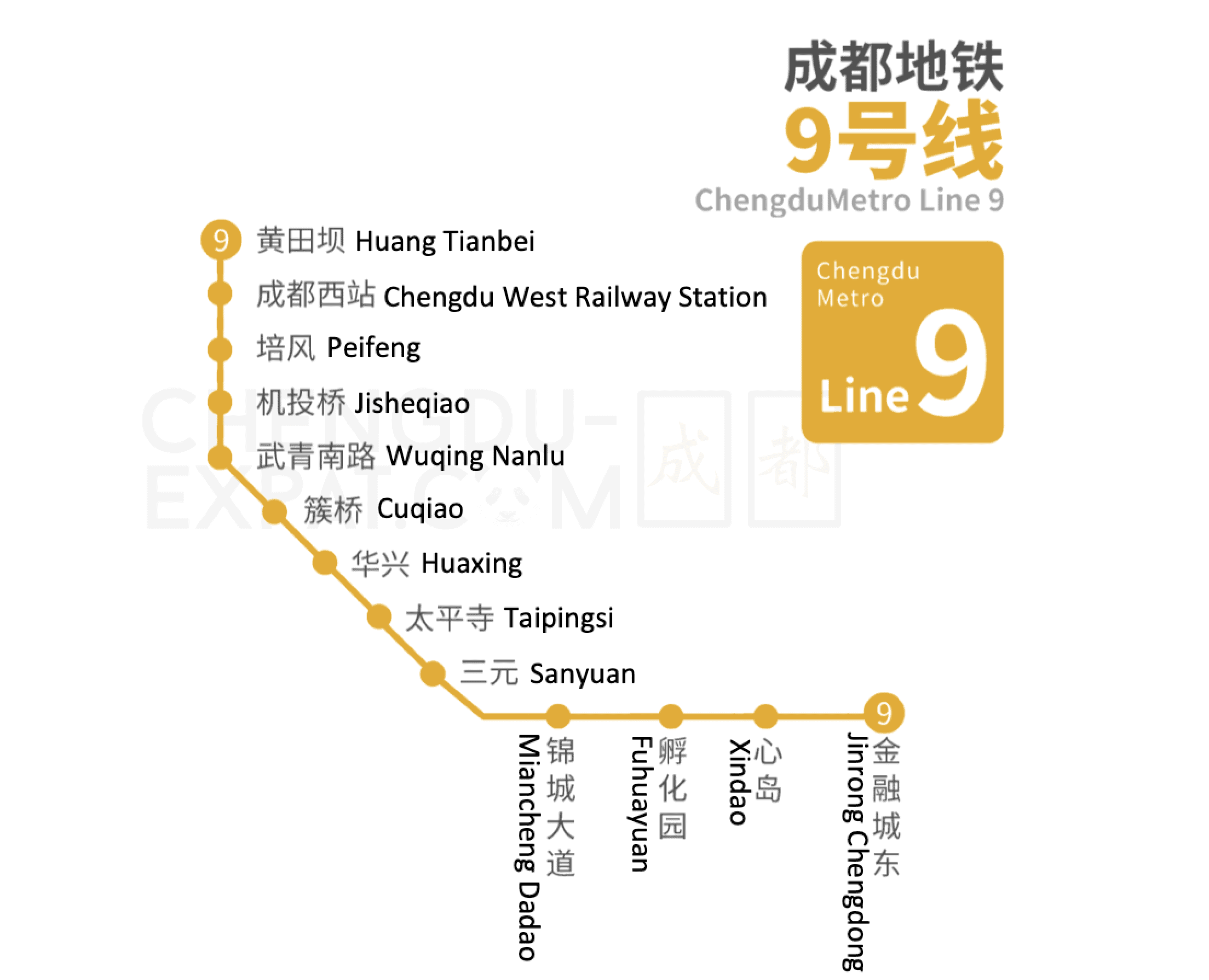 Metro Line 17
Line 17 (pea green) has entered the test phase. From May 10th and 11th, the Yongyi section of the first phase of Line 17 completed the two-day test successfully. (The test pass rate is 97.78%)
The total length of the first phase of Line 17 is 26.15 kilometers. There are 9 stations in total, including 2 elevated stations and 7 underground stations.
Transfers of Chengdu Metro Line 17:
• Line 4: Fengxihe
• Line 9: Jitouqiao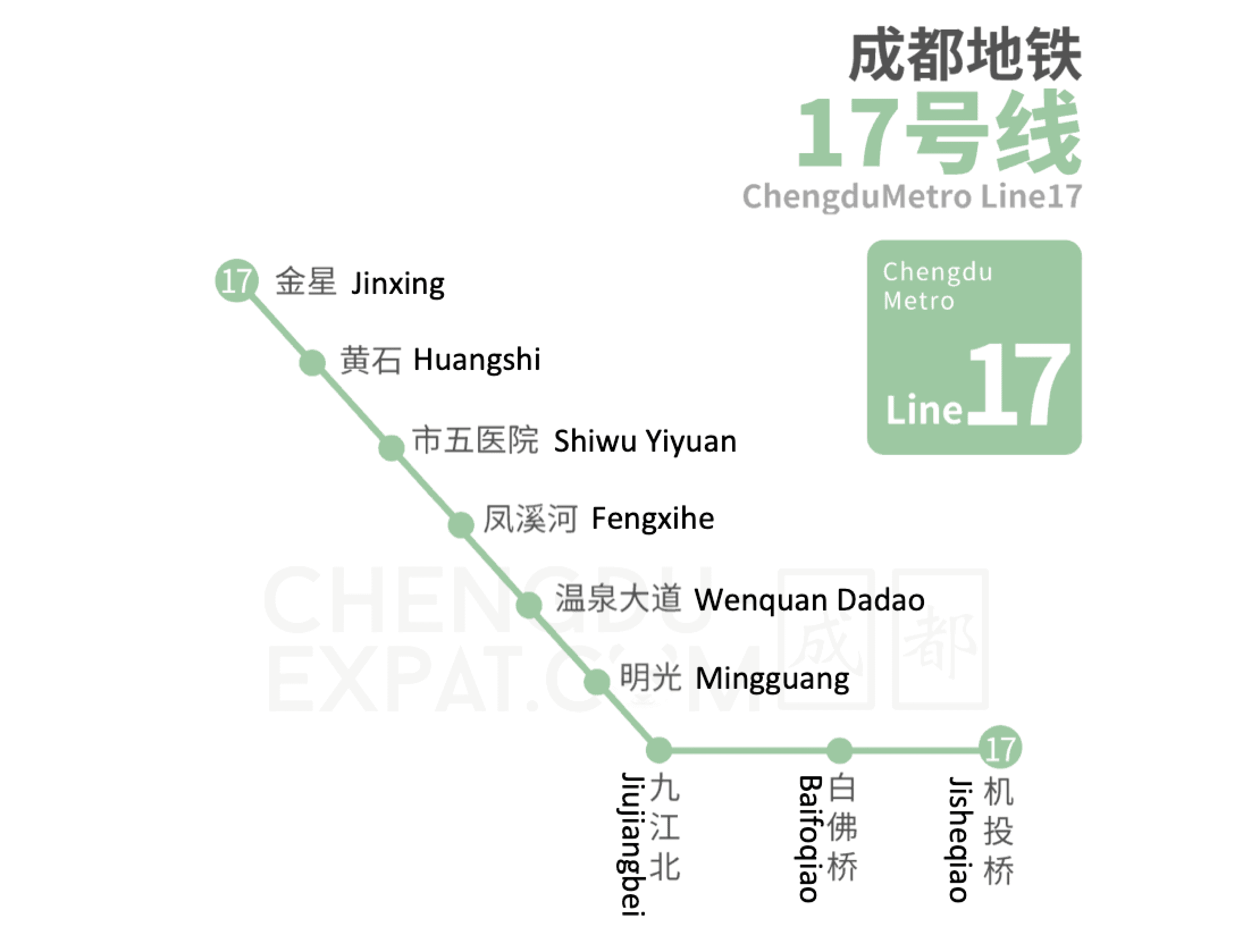 Metro Line 18
Phase one of Line 18 (teal color) running from North to South, South Railway Station to Xinglong, was opened at the end of September 2020.
Phase two, expected to be in operation by the end of 2020, will connect Chengdu's urban area with the new Chengdu Tianfu International Airport. It aims to complete a trip between Chengdu South Railway Station to Chengdu Tianfu International Airport in 35 minutes. The total length of phase 1 and 2 is 66.2 km (41.1 mi), and 10 stations in total. . The line will feature distinct express and local services using passing tracks at selected stations with an express service stopping only at 4 intermediate stations. The local service will stop at all stations on Line 18 and will complete the trip in 40 to 50 minutes.
Phase three and four are for 2021, and include a North extension, an even more South extension and a connection to Jianyang South Railway Station.