• You'll have seen the big yellow billboards, the countdowns, and even a message from the Chinese Space Station – about an event, that you likely wouldn't have heard of before 2020 – The Summer World University Games.

• Today, 28th February 2023, it is exactly 150 days to go that the Chengdu 2021 World University Games will take place (July 28 to August 8). Chengdu will be the third Chinese city to host the Summer Universiade, after Beijing in 2001 and Shenzhen in 2011.

• The new countdown poster describes the Games as a "Grand International Event with Chinese Characteristics" – we're about the find out what that means!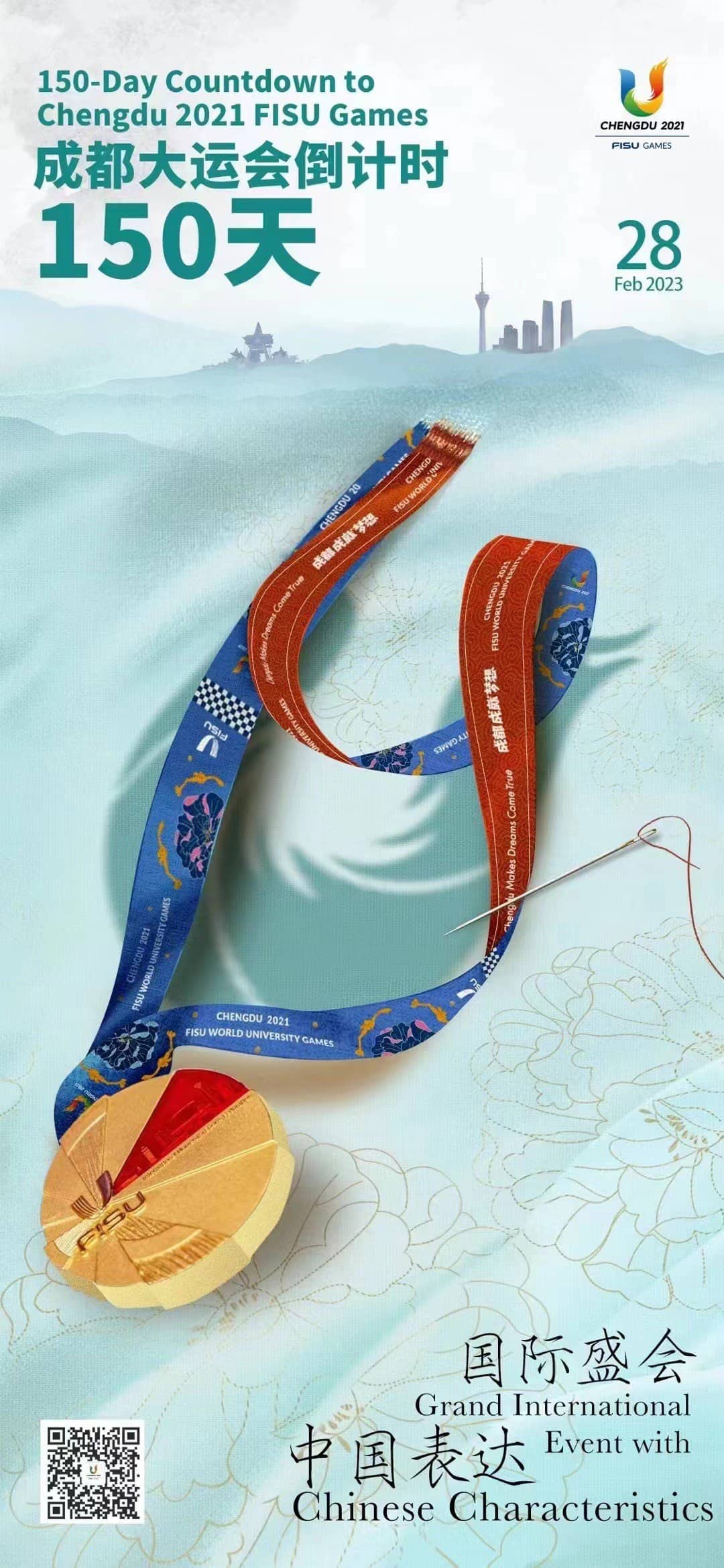 The official FISU 150 days countdown poster
FISU World University Games
The FISU World University Games or Summer Universiade is an international sporting and cultural festival, which is (supposed to be) staged every two years in a different city. This celebration of international university sports and culture draws many thousands of student-athletes together to compete, making it among the world's largest and most prestigious multi-sport events. The name of the international sports event is a combination of two words, which are 'University' and 'Olympiad.'
The twelve-day FISU World University Games competition programme includes fifteen compulsory sports. To stay at the forefront of sports development and innovation, organisers may also include up to three optional sports from the FISU Recognised Sports list and the FISU World University Championships programme into their event.
As the first world-class sports event to take place in western China, the 31st Summer World University Games is already helping usher an even-more invigorated sports and university vibe into Chengdu. It is said that the city has already taken advantage of hosting the event by boosting its own sports IP as Chengdu builds itself into a  city of sports events. The 31st edition of FISU Summer Universiade had initially been scheduled for the summer of 2021 but were delayed twice.