You may have started to notice the tide of red beginning to wash through the city.
As the country and city gears up for the biggest event on the Chinese calendar it can be hard, as an expat, to find things to do. Locals tend to pack up shop and head home.
But fear not, we've collected some handy tips and info that might make your Chinese New Year much more fun. 
The start of the Lunar New Year festival falls on the 5th of February for 2019 and welcomes the year of the Pig.
Year of the Pig? What does that mean, you ask? 
A Little Recap of Chinese Zodiac:
Chinese Zodiac sets out a 12 year cycle in which each year is represented by an animal. The twelfth of all Zodiac Animals, the pig is a symbol of wealth and are often blessed with good fortune. The Pig is said to attract success and fortune in many ways, so expect an all round auspicious year.
Events during Chinese New Year
Spring Shopping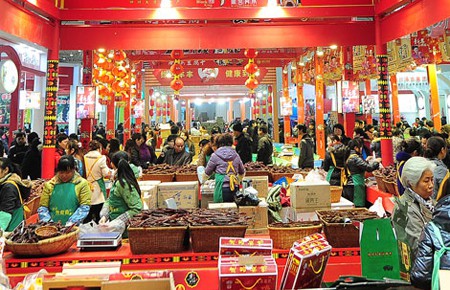 In the lead up, you've got the Chinese New Year Shopping Festival holding court at the Centre City New International Convention and Exhibition Centre. From Jan 25th through to Feb 1st you can shop around for jewellery, gifts, leather goods, and tasty snacks til your hearts content.
Jinjiang River Tour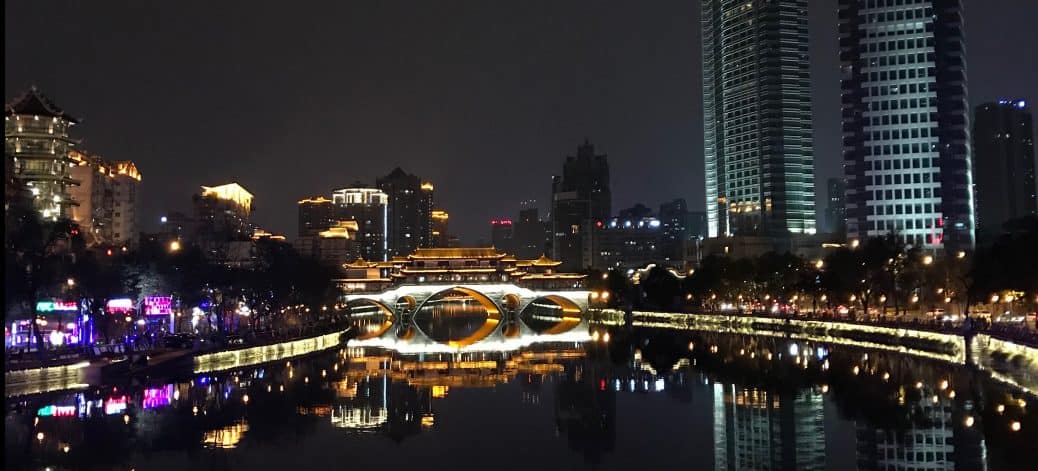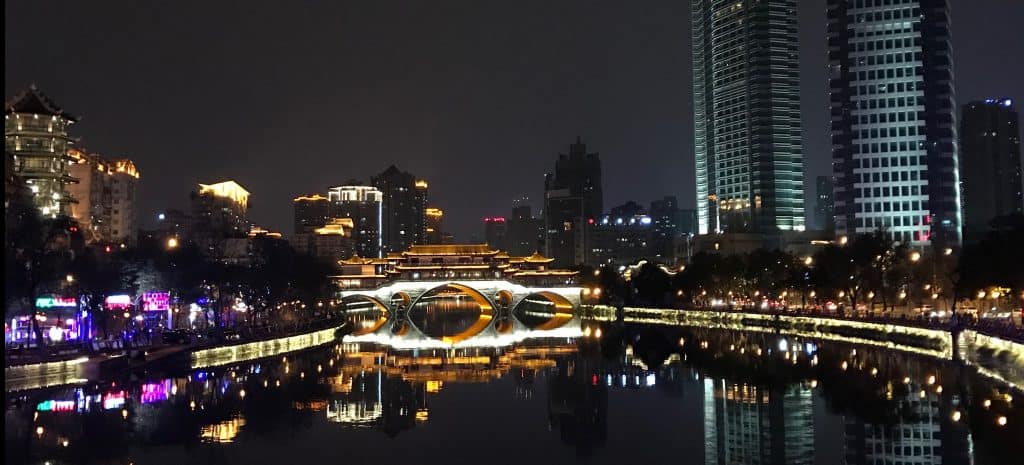 Just announced, the Jinjiang River boat tour will be back during the month of February so locals and tourists alike can take in some of Chengdu's best sights, dressed in red, from the water. A roughly 4km route will take you past landmarks such as the TV tower, lit-up Dongmen Bridge and more. 
Flower Exhibitions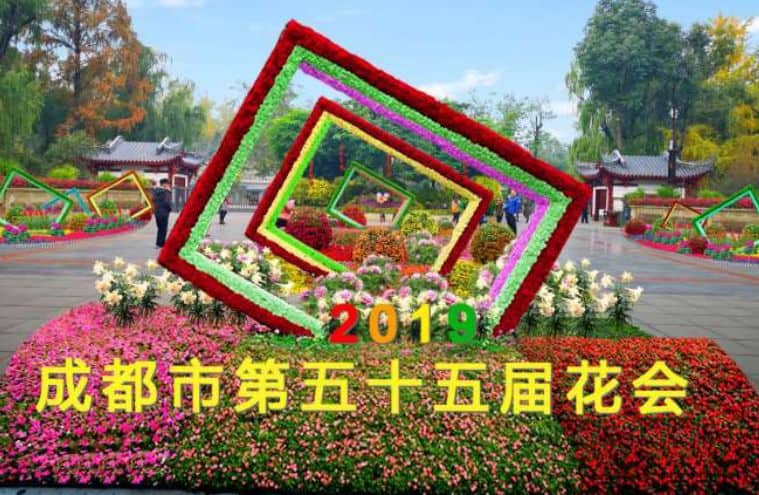 This year Chengdu is to act as the main host for the Spring Festival Flower Show. From the end of January to the beginning of May, Chengdu will display 130 different viewing areas, parks and floral sculptures. All together covering about 500,000 square meters of Chengdu, in a 100 different kinds of flowers.
The main display is at Tianfu Yingchun Flower Market, but other public participating parks include Cultural Park, People's Park, Baihuatan Park, Xinhua Park, Guixi Ecological Park.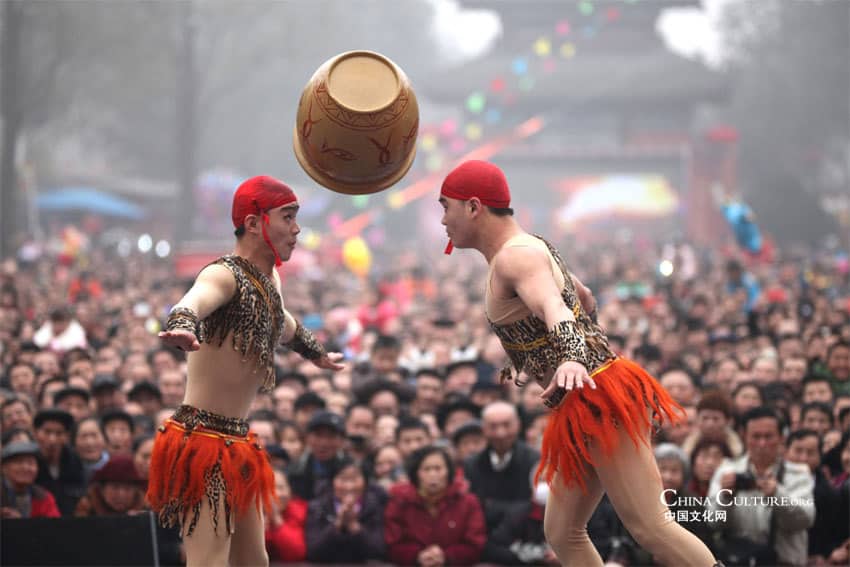 The 2019 Chengdu Grand Temple Fair of Wuhou Temple and the Jihai Tour runs from Feb 3rd to Feb 10th. Including activities like an amusement park, opera, dance and aerobatic performances, the fair is bound to make you feel alive with Chinese spirit. An array of unique handicrafts and delicious food and snacks will also be available throughout the fair.
The most exciting part, though, is the Lantern Festival, set to get an upgrade to include the traditional Zodiac lanterns and Three Kingdoms themed lanterns, as well as new flower lanterns, waterfall lanterns and animal lanterns.
Date:Feb. 3-10
Ticket:30RMB
Location: Wuhou Temple 武侯祠, Wuhou Street No. 231/ 武侯街231号
How to get there? Line 3 • Gaoshengqiao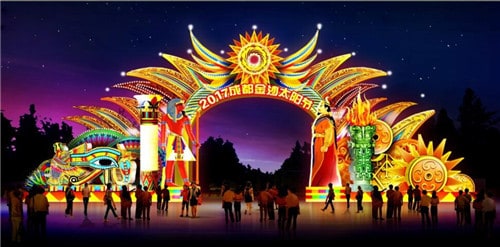 Celebrating both Tianfu culture and Chengdu's ritual of sun worship, the festival also includes a look at the ancient Maya Civilisation's religion. The 2019 addition of the Chengdu Jinsha Sun Festival will take place at the Jinsha Site Museum on Feb. 3-20. With a lantern show being the main draw card, expect to see cultural elements of the Shu Kingdom and Maya.
Time: till February 20
Tickets: 40RMB till Feb. 20, afterwards 70RMB (incl. Forces of Nature – Maya Exhibition)
Location:
Jinsha Museum 金沙博物馆
No.2, Jinsha Yizhi Road (Qing Yang Avenue)
金沙遗址博物馆, 金沙遗址路2号 (青羊大道227号)
How to get there?
Line 7 • Jinsha Site Museum
Line 4 • Cultural Palace & Line 2 Yipintianxia are also within walking distance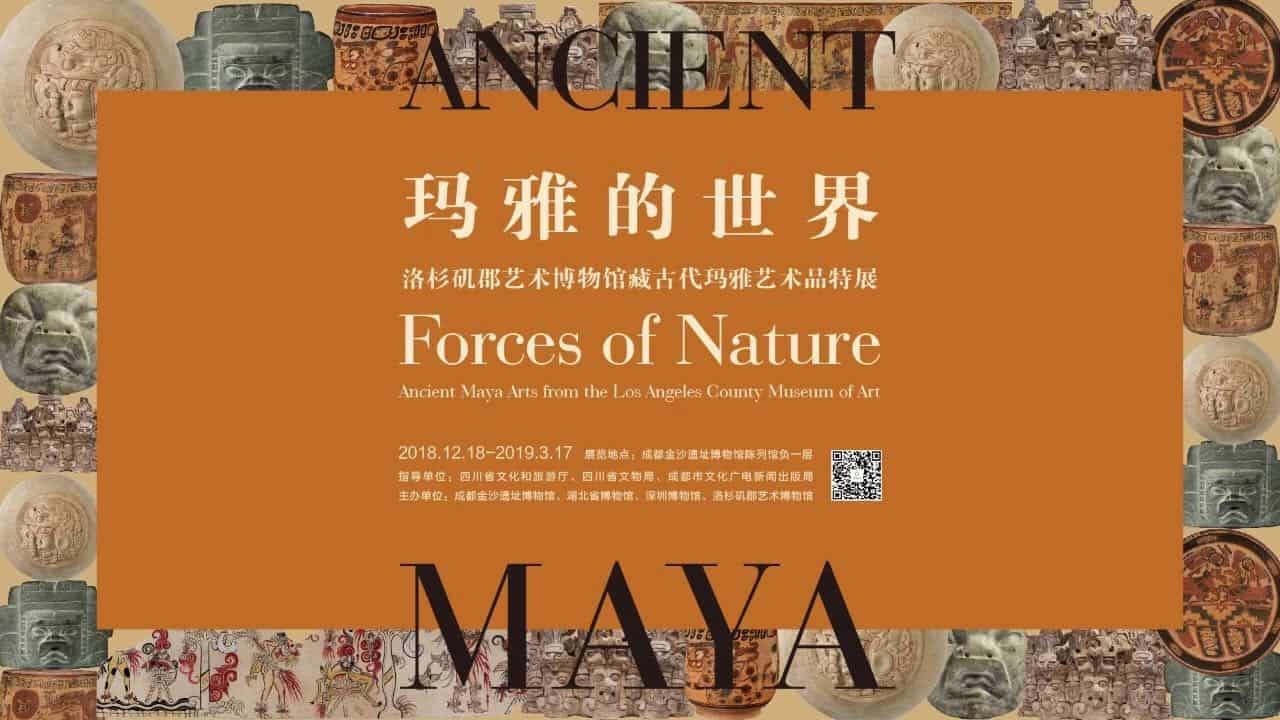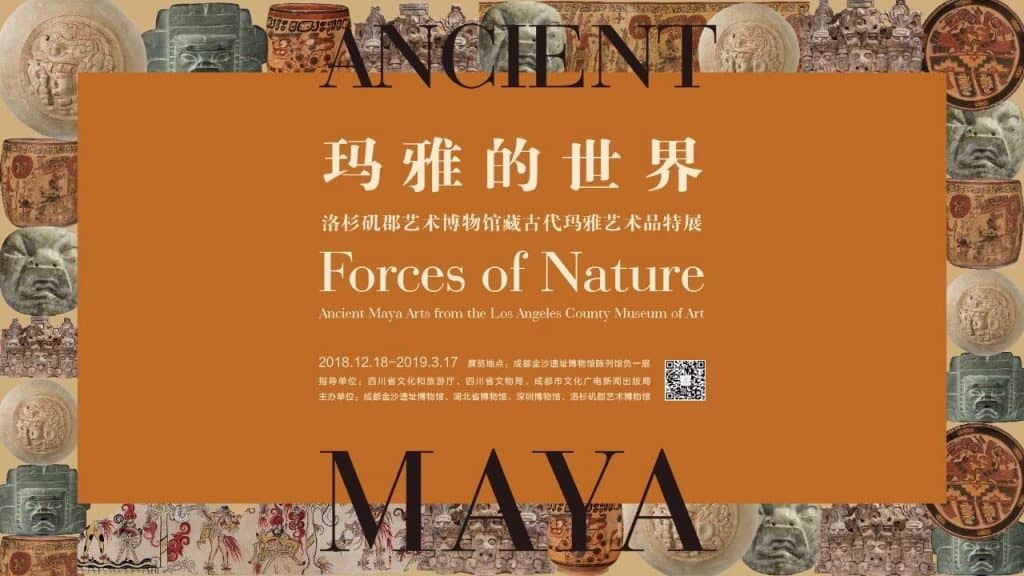 As mentioned above, the Jinsha Museum will be hosting Mayan art and artefacts. The exhibition in the Museum includes 214 works of ancient Central American art, spanning over a period of 2000 years. This is rare opportunity to see such historical artifacts in China. Running daily from 8 a.m. – 6.30 p.m., the exhibition finishes March 17, 2019.
Time:
Until March 17th, 8am-6.30pm
Tickets:
30RMB till Feb. 20, afterwards 70RMB
(incl. Sun Festival)
Location:
Jinsha Museum 金沙博物馆
227 Qingyang Ave. 2 Jinsha Site Road, Qingyang District
金沙遗址博物馆, 金沙遗址路2号 (青羊大道227号)
A4 Art Museum Exhibition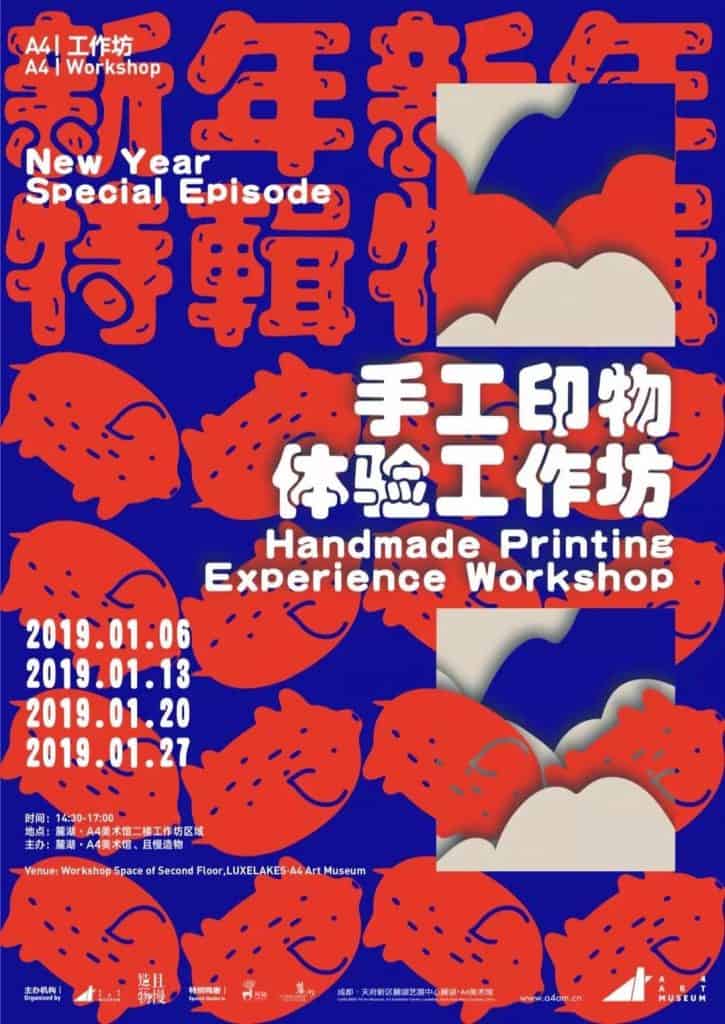 If art is more up your ally, why not check out the A4 Art Museum's new year special event. The last Handmade Printing Experience workshop of the year is on the 27th (this Sunday).
Contact their telephone, to see if any spots are still open at: 86-28-85761265
麓湖·A4美术馆
Located at the Luxelakes Arts Exhibition Center.
天府大道南延线·麓湖生态城·艺展中心
South Extension Tianfu Avenue, Tianfu New Area
Happy Valley New Year Special
Time: 5th February -19th February
Location: Happy Valley
Chengdu Happy Valley and your "year" together. Shining cute pig festival, fire dragon steel flower year, all nationalities singing and dancing, as well as Xianglong play beads dance dragon and lion, one stroke and one style all contain the meaning of blessing, thrilling lion dance pray for the next year. 


Ocean Temple Fair

Time: February 1-18

Location : Haichang Ocean Park

The Ocean Temple Fair will be held from 5th to 19th of February 2019. experience the traditional taste of the year, but also see the limited-time marine animal New Year show. Dolphins, beluga whales and sea lions will be sent to the New Year in a unique way in the marine science show; sharks and mermaids are infested In the waters, during the Spring Festival, the "Sea Bottom Dragon Show" will be staged. I really want to know… During the Great Ocean Temple, there will be occasional inspiration, face-to-face fire, and lion dance show in the park. Among them, "There is a red wall in the responsive network" is already in place, just waiting for you to make a wish !

The Mixc spring festival

Time: 18th January-19th February

Location: The Mixc
In the past years of China, The golden bamboo is bright, the spring water is wide, the distant mountains are faint, and the white gull is a beautiful New Year scroll. The ubiquitous Chinese element outlines the good year of good fortune and beauty. The Mixc has prepared a lot of Chinese New Year's Plays for you, and there are more parent-child activities and fun temples to play with, so that this Spring Festival is different. What is different from the past is that this time The Mixc will also be traditional art and trend. Fashion cross-border combination, and cooperation with the new illustrator, not only the modern fan, but also the designer's careful thinking ~
Chinese New Year Food
As the food capital of China, the best way to immerse yourself in Chengdu and Sichuan culture is through your stomach. For information about the best foods during Chinese New Year take a look at our guide, here.
If you're planning on eating out, a quick reminder to always contact the place on WeChat before making any concrete plans.
Outside of Chengdu
For more lantern festivals, one prettiest sights, and pandas China has to offer, you may have to travel a little way out of Chengdu. Here's some we think are worth while:
Panda Day – New Year Special
Want to do something different this new year?  So do these cuddly guys! Join Unchartered Sichuan to visit the pandas, at Dujiangyan, this coming Saturday (26.01.2019).
The scenery around the sanctuary, especially Doaming Village, near Mt. Qingcheng is almost worth the trip by itself. It's a great idea if you wanted to do something out the box this year.

25th International Dinosaur Lantern Festival 自贡恐龙灯会
The theme of this year's Zingong Lantern Festival is "Great America, China and Colourful Zigong".
The impressive colourful arrangement creates a magnificent abstract picture of mountains and rivers 30m high in the air.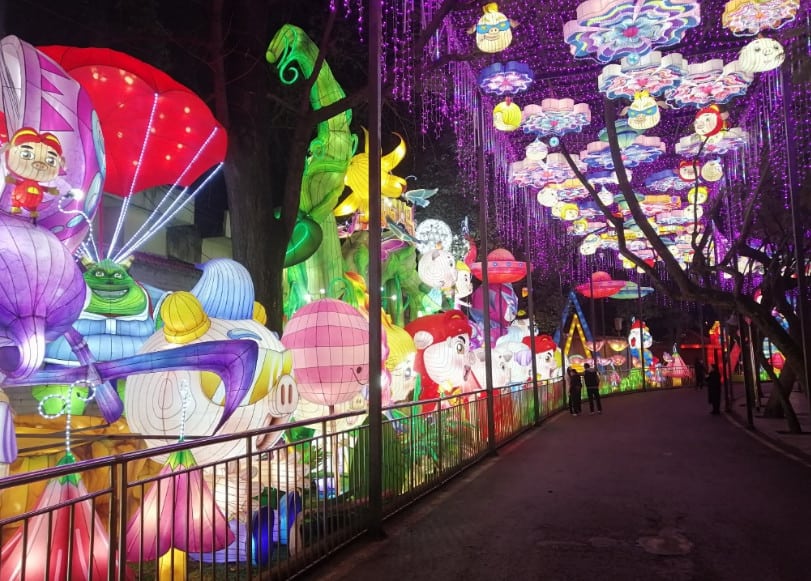 Address: No. 6 Park Road, Ziliujing District, Zigong City
Time: Opening on January 21 and pre-sale tickets on January 15
Prices:
Monday to Thursday: 60 yuan per person
Friday to Sunday: 90 yuan per person
New Year's Day to 15th:, 130 yuan per person
Reporters, soldiers, disabled people, the elderly over 70 years old and children under 1.3 meters are all ticket-free groups.
Wenjiang Grand Temple Fair 温江大庙会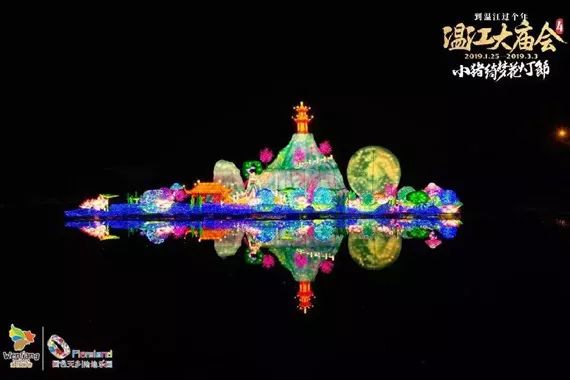 Time: Till March 3rd
Tickets: 59.9RMB
Location:
Floraland 国色天乡陆地公园
No. 88 2nd Stage of Tianxiang Road, Wanchun Town, Wenjiang District [West Chengdu]
温江区万春镇天乡路2期88号
How to get there?
Didi cost around 80RMB from Chengdu city center
Suining International Lotus Lantern Festival
This year the Suining Lotus Lantern Club is divided into five themes to tell Suining stories through brilliant light arrangements, building a dream auspicious paradise with lotus flowers.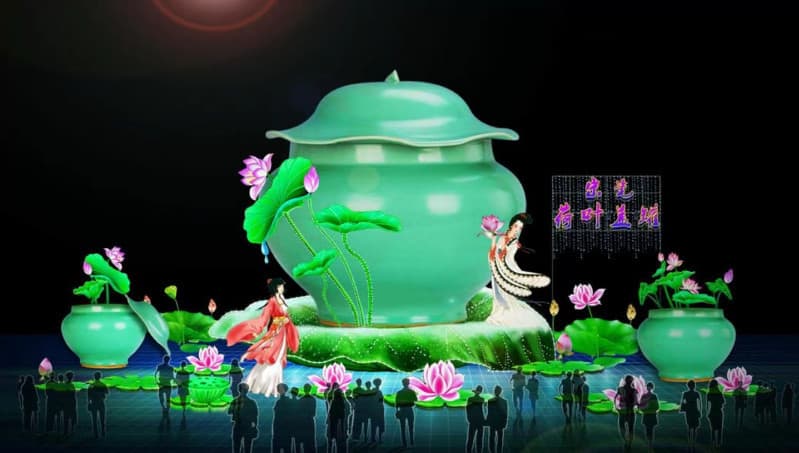 Address: Inner Lake of Shenglian Island, Chuanshan District, Suining City
Time: 24 January – 10 March 2019
Tibetan New Year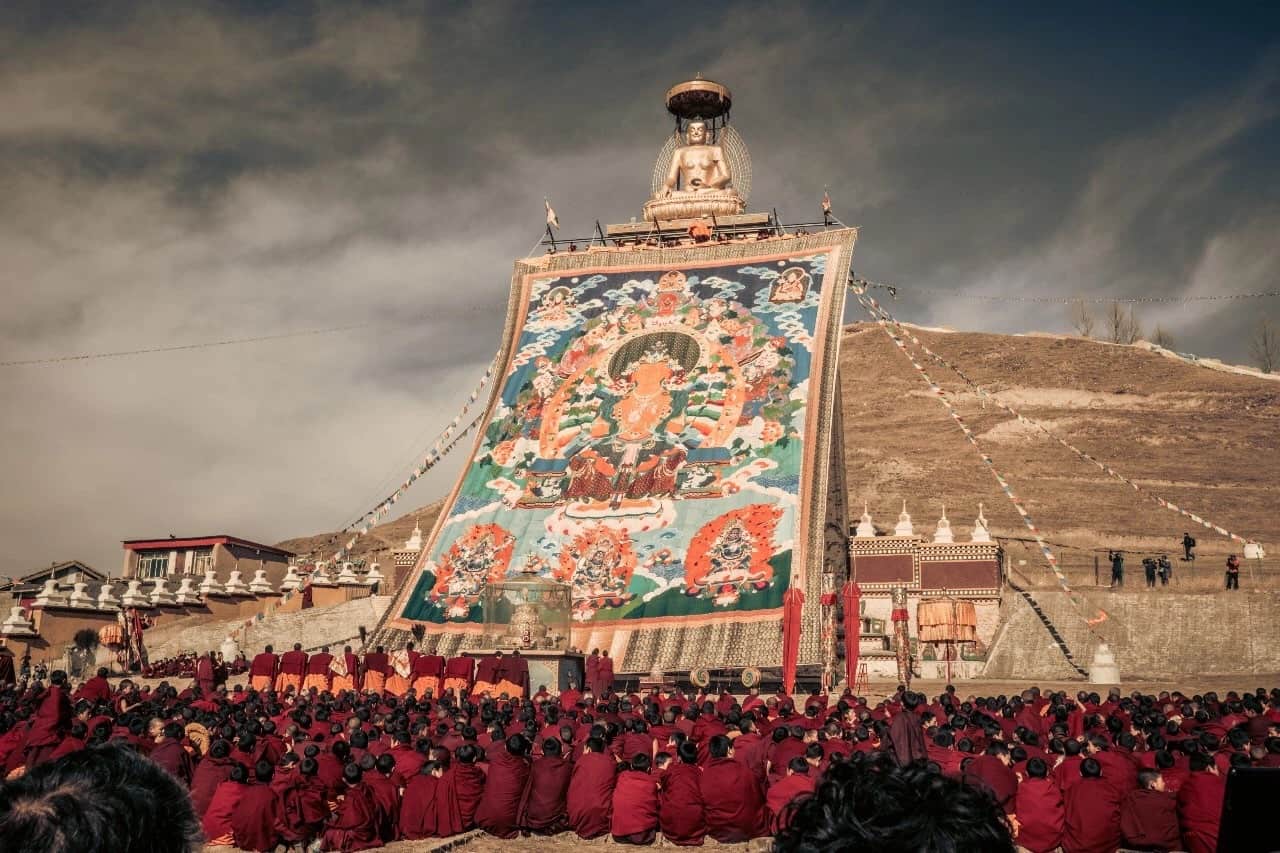 If you're looking for an adventure, Chinese New Year also happens to coincide with Losar, the Tibetan New Year. Because of this WalkingBook is offering a once in a life time tour through the Tibetan region to celebrate Losar/Chinese New Year.
One of the most enlightened and untouched cultures and places in the world this trip is sure to provide magnificent scenery. There are 2 packages on offer and costs range from 3680 RMB to 1180 RMB, which include a 7 day and 3 day tour, respectively.
Scan the QR below to get more details and check out the itinerary.