The weather in Chengdu is already reaching the steamy heights of 35 degrees, and whilst ducking into 7/eleven and opening the fridge doors feels real good, there are other options…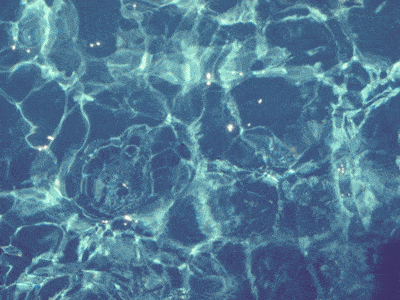 There is no shortage of outdoor swimming pools here, but most of which are tucked away in residential compounds or in five-star hotels, so can be a little hard to find. They range from lap pools, and children's paddling pools, to the city's much loved leisure piscines, best enjoyed with a margarita in hand…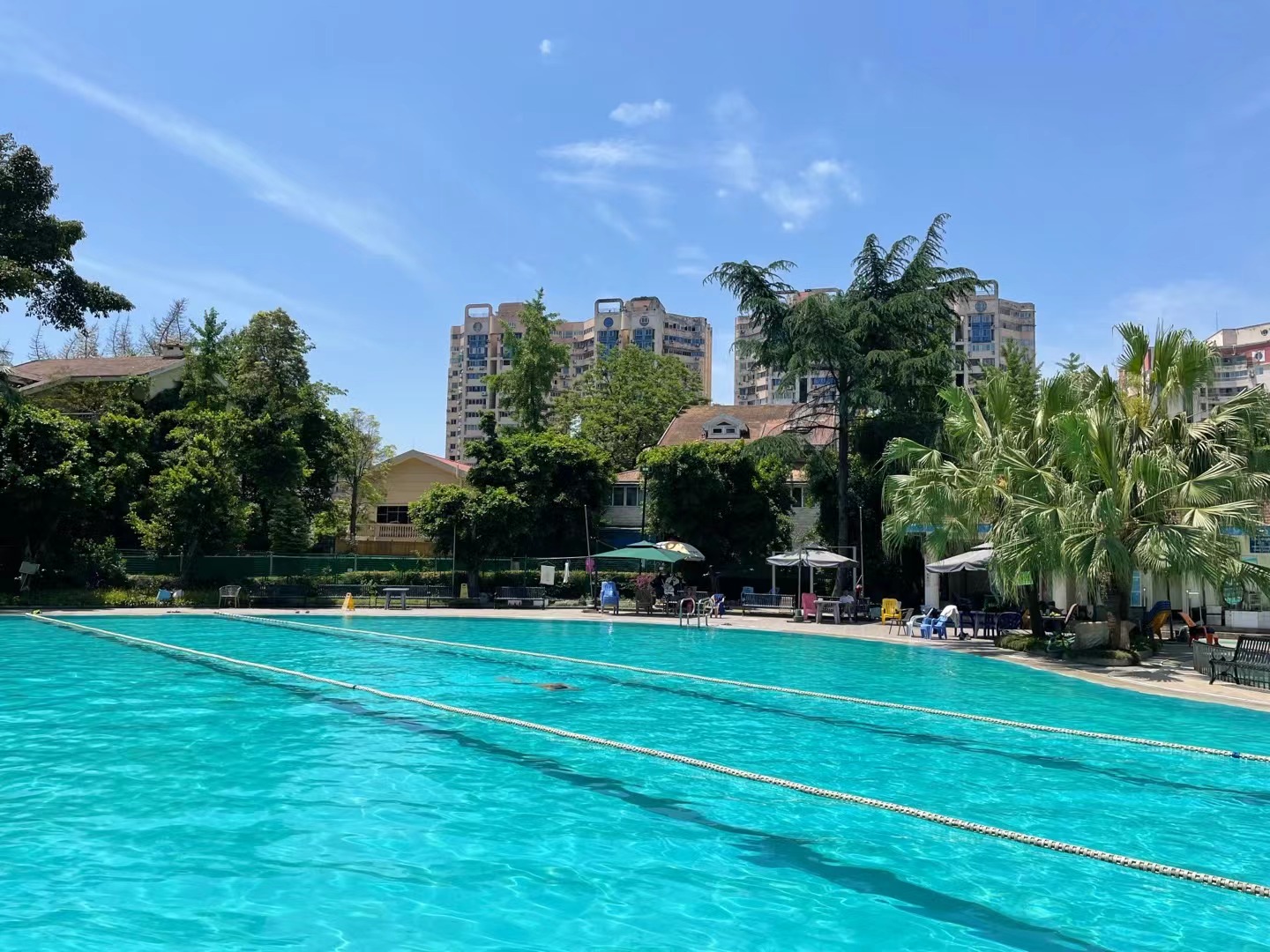 There's a fenced in shallow children's pool, and the larger lap pool which is 1.7 meters at it's deepest. There are very basic toilets and showers on site, and they're quite relaxed about bringing in your own food – although their shop has started to stock some decent beers like Corona. So pack up your picnic, pull up a blue plastic chair, summer has arrived!
Address: South Renmin Road Section 4, No. 46 (next to Master compound), inside East block of Orchard Villa (Singapore lion statues at both sides of the main gate). 人民南路四段46号锦绣花园东区内
Side entrance on East Tongzilin Road No. 3小门桐梓林东路3号
Metro: Tongzilin Exit B 桐梓林地铁B口
Opening Time: Daily, 10:00 – 21:30
Admission: ¥40 Adults, ¥20 Children
Just next door Orchard Villa in Tongzilin is the Fang Cao Di compound, which also has a big outdoor pool. Enter through (gate 1) which is on Tongzilin Middle Road. This spacious, square pool has giant inflatables and rubber rings for the kids to play. There are gazeebos if you'd like to stay in the shade and some of the pool is sectioned off for lane swimming.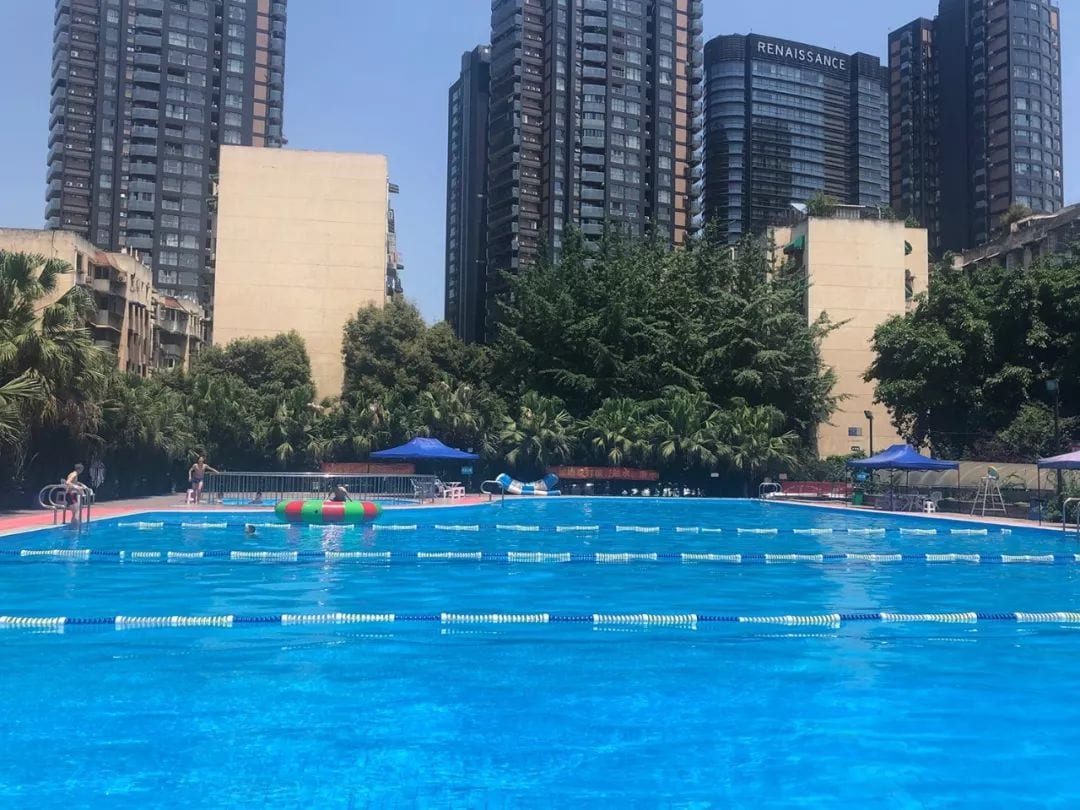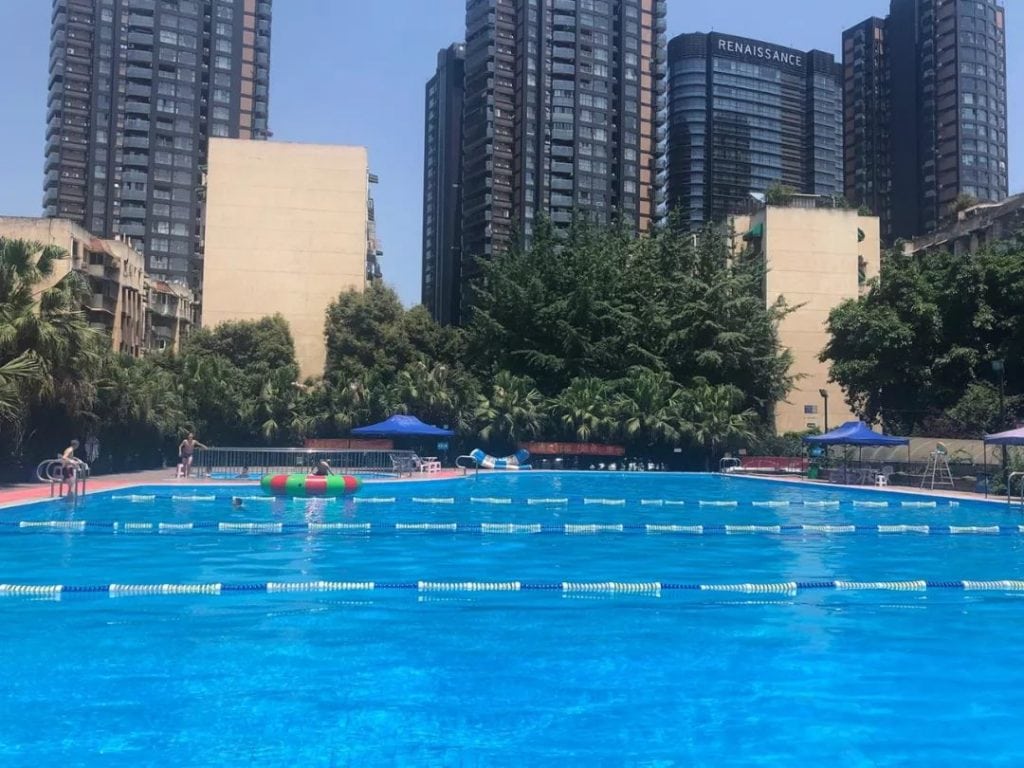 They have quite a few lifeguards on duty, and lockers for your belongings – although the toilets and shower facilities are very basic. You can buy swimsuits and goggles at the entrance.  This well managed,  family-friendly pool, is a lesser-known Chengdu treat!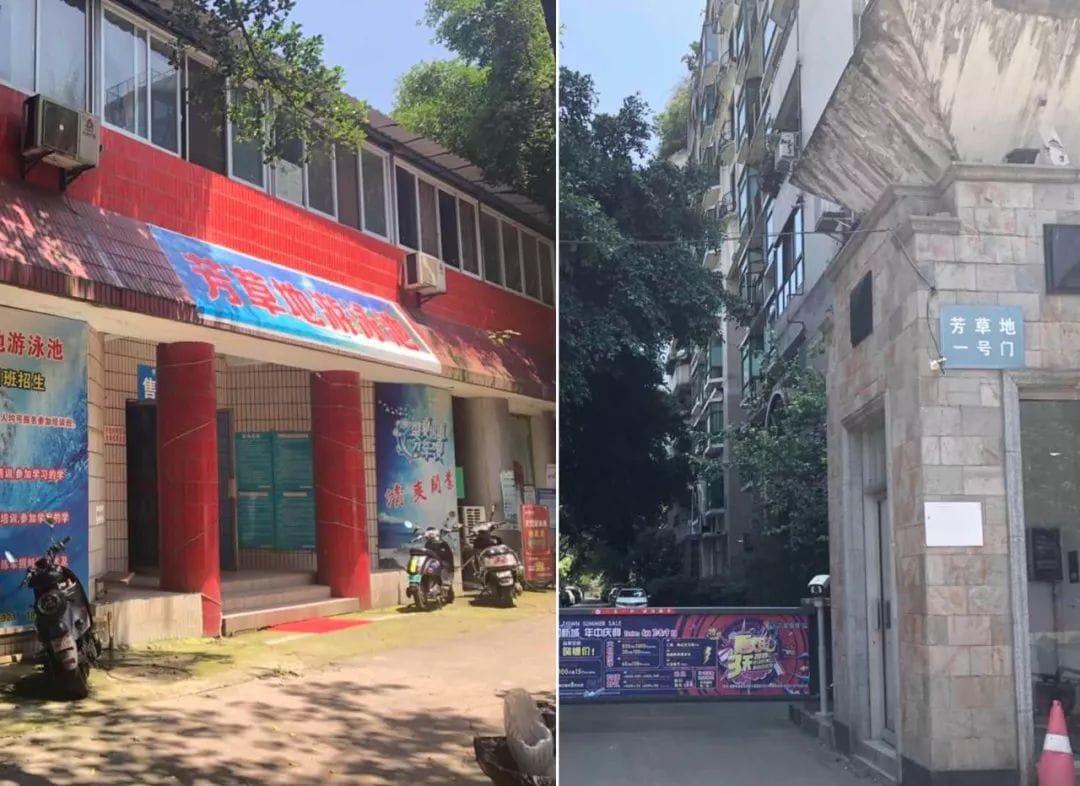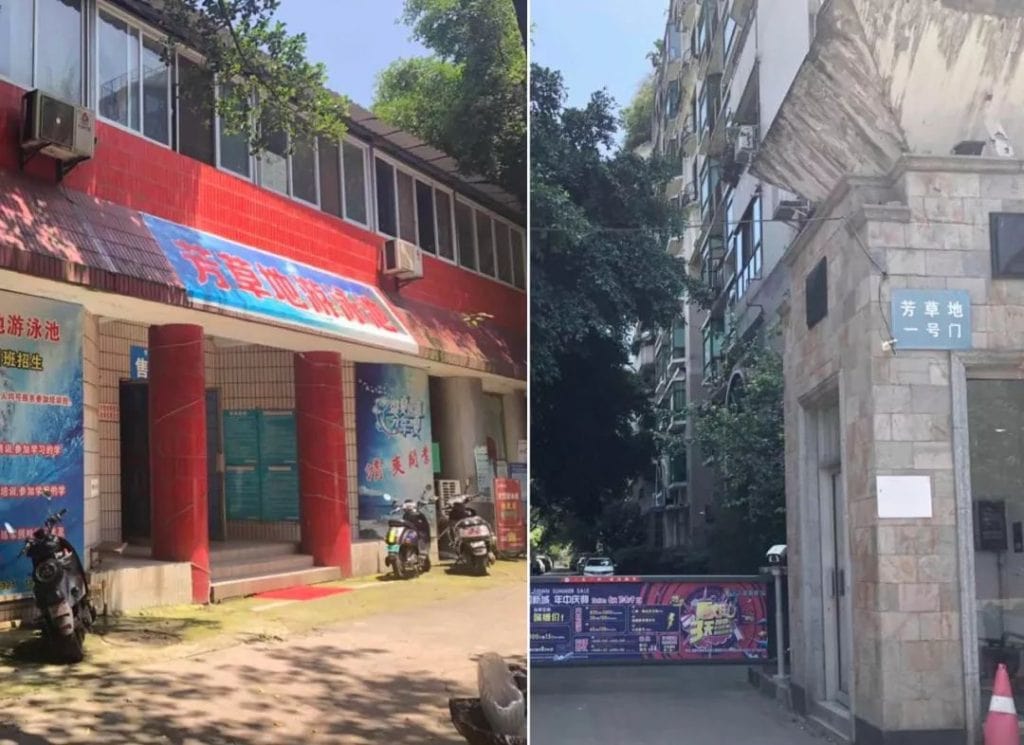 Take Tongzilin Metro Station Exit B
Addresss: Fancao Di, Gate 1, Tongzilin Middle Road
Opening Time: Monday – Sunday 9:30 – 21:30
Admission: Adults: 28RMB Children: 23RMB
Open from April through September, the outdoor pool at the St Regis Chengdu, offers city views and a little slice of urban luxe. Unlike other big Asian cities, there aren't many 5 star hotels here with outdoor pools, but this sixth-floor gem is a pretty good shout; with an outdoor bar, lounge chairs and views of downtown Chengdu.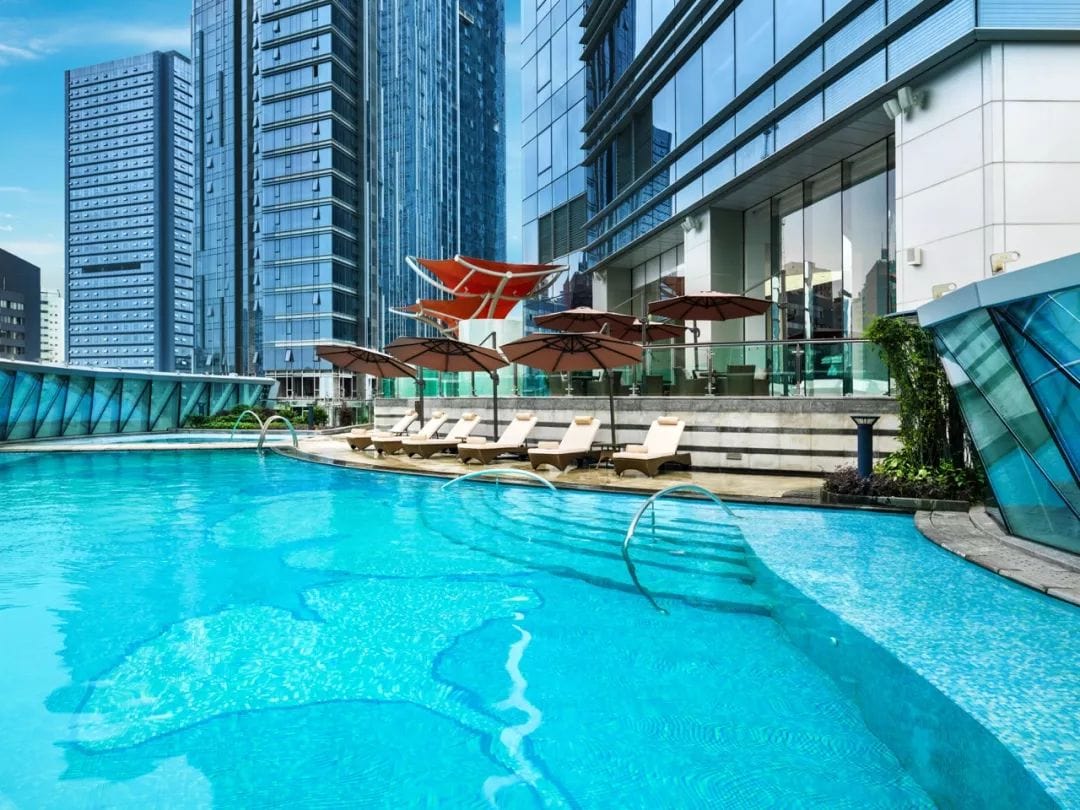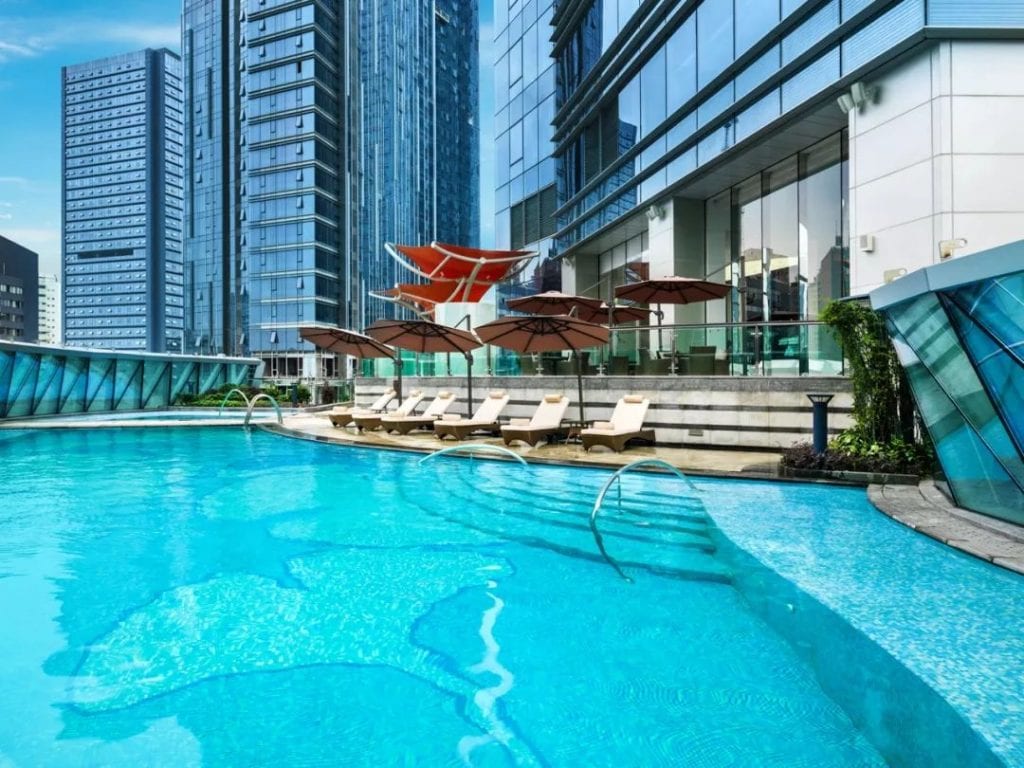 The admission fee here also gets you a day pass to the St. Regis Athletic Club, if you feel like a full day of R&R.
Address: The St. Regis, Chengdu 6F, TaiSheng South Road No.88, Qingyang District
Tianfu Square Station, Exit East
Opening Time: June – September
Daily 6:00 – 22:00
   Admission: 220RMB for a day pass
including entry to the St. Regis Athletic Club
Children Under 1.4m swim for free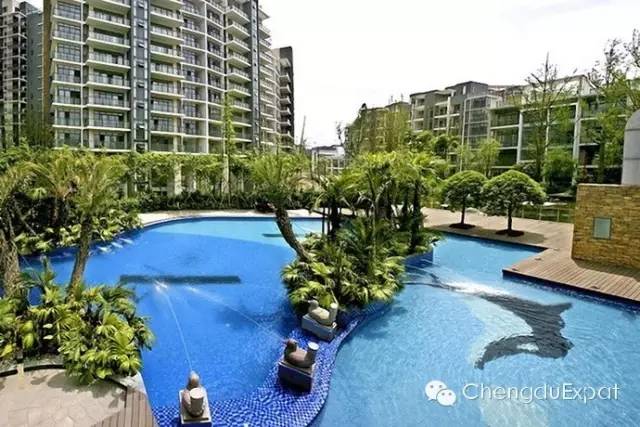 If you're based in the west of Chengdu, the Egret International Community is not far from the new line 7 station Wuhou Dadao and has pretty good facilities. There's a small heated indoor pool, a sauna, steam room and a large outdoor pool, which at it's deepest is 1.7 meters.
Address: Egret Island Block 1, Gate 1, 33 Egret Island Road
A fifteen-minute walk from Wuhou Dadao station metro station, Exit B (Line 7)
Opening Time: 10:00 – 21:30 daily 18140153158
Admission: 40RMB for adults, 30RMB for children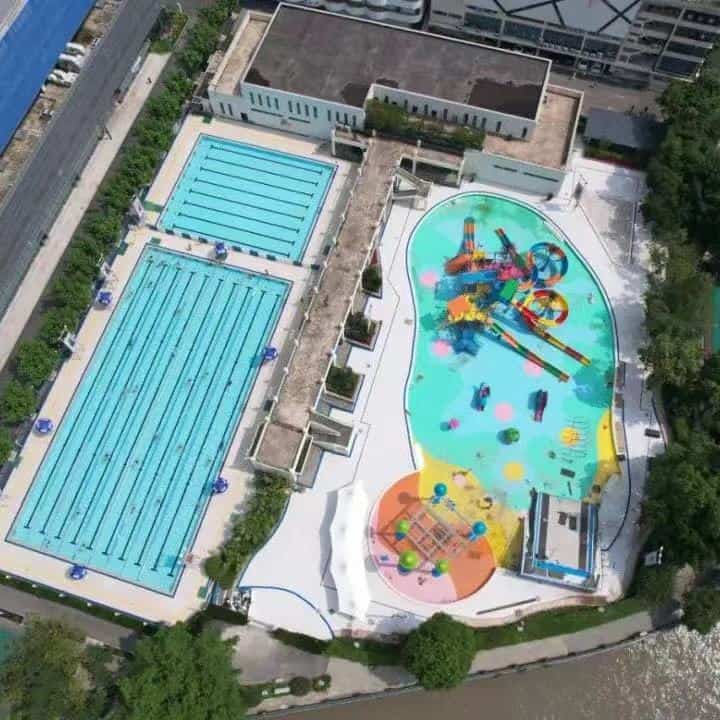 Mengzhuiwan has 3 swimming pools: inside/ outside standard swimming pools (depth 2m) and one shallow pool (1m).
Huaxing Road No.1 华星路1号(近猛追湾街)
No. 33、46、60
⌚️ 6:30am-9:30pm
RMB 20 6:30am – 5:30pm
RMB 25 5:30pm – 9:30pm
 Deep Pool: 6:30 – 17:30
      Shallow Pool: 12:30 – 17:30 (Mon-Fri), 10:00 – 17:30pm (Sat,Sun)
      Heated Pool:(Daytime)6:30 – 13:45 (Mon-Fri), 6:30 – 11:45 (Sat, Sun)
                              (Nighttime)19:45pm – 21:45pm (Mon-Sun)
20 – 40RMB
☎️ 028-86912004, 028-86950626
Other Pools Worth Mentioning
Huge series of leisure pools in the South (ask Andy)
不二 Luxelakes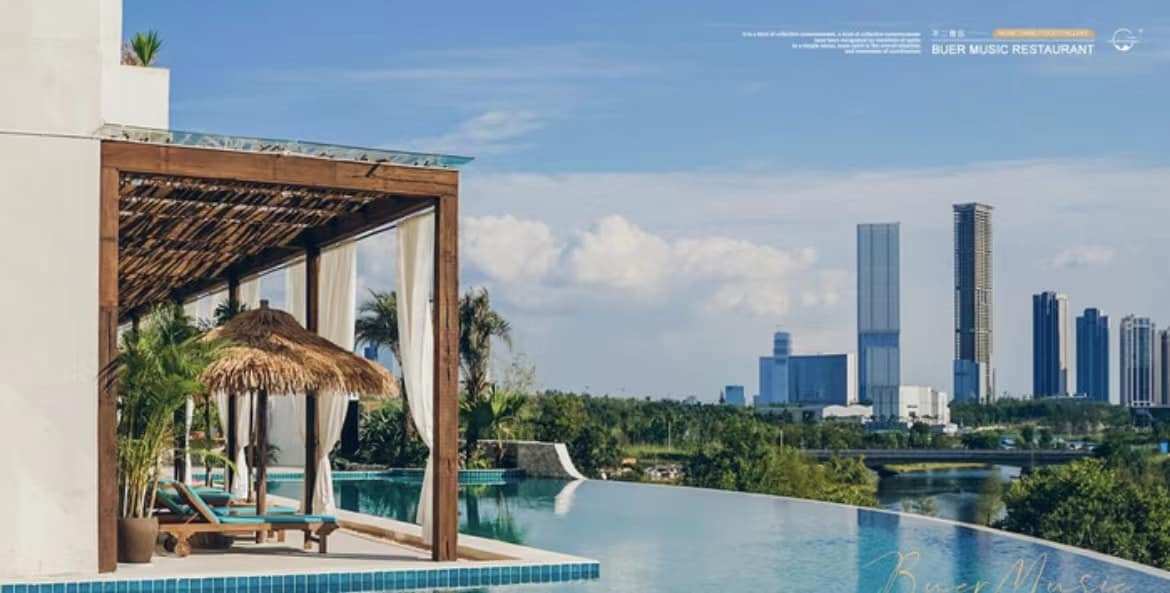 Address: Luhu Middle Road West Section 888 No. 10 Building No. 1
麓湖中路西段888号10栋1号
Opening Time: 11am-2am
Admission: RMB153/p
Tel: 028-89768886
Indulge in South Asia Forest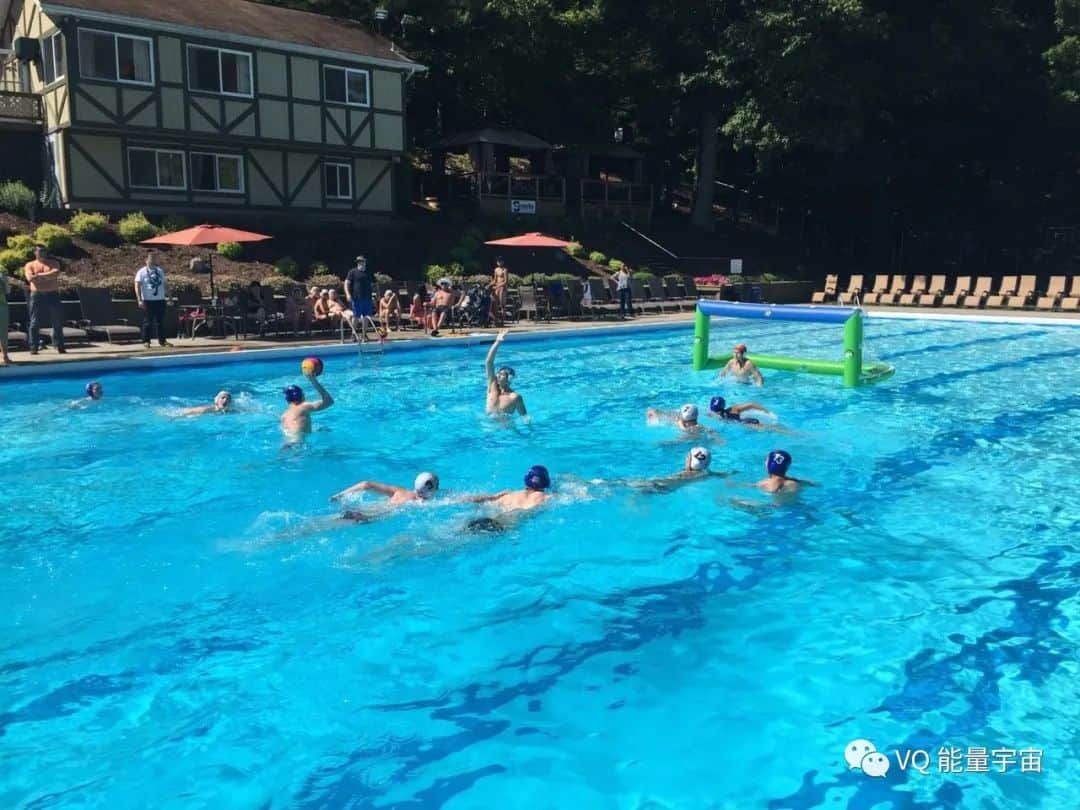 Address: Landscape Road, Jinniu District
金牛区景观路
Opening Time: 10am-11pm
Admission: RMB119
Tel: 028-87630666
Homeland Hotel
Former home of the Jellyfish Pool Parties, the Homeland Hotel has a selection of large outdoor pools – and is a good shout if you live near QSI. There are a few shallow pools for chilling out, and paddling with the kids. There are sun loungers, and decent shower and toilet facilities.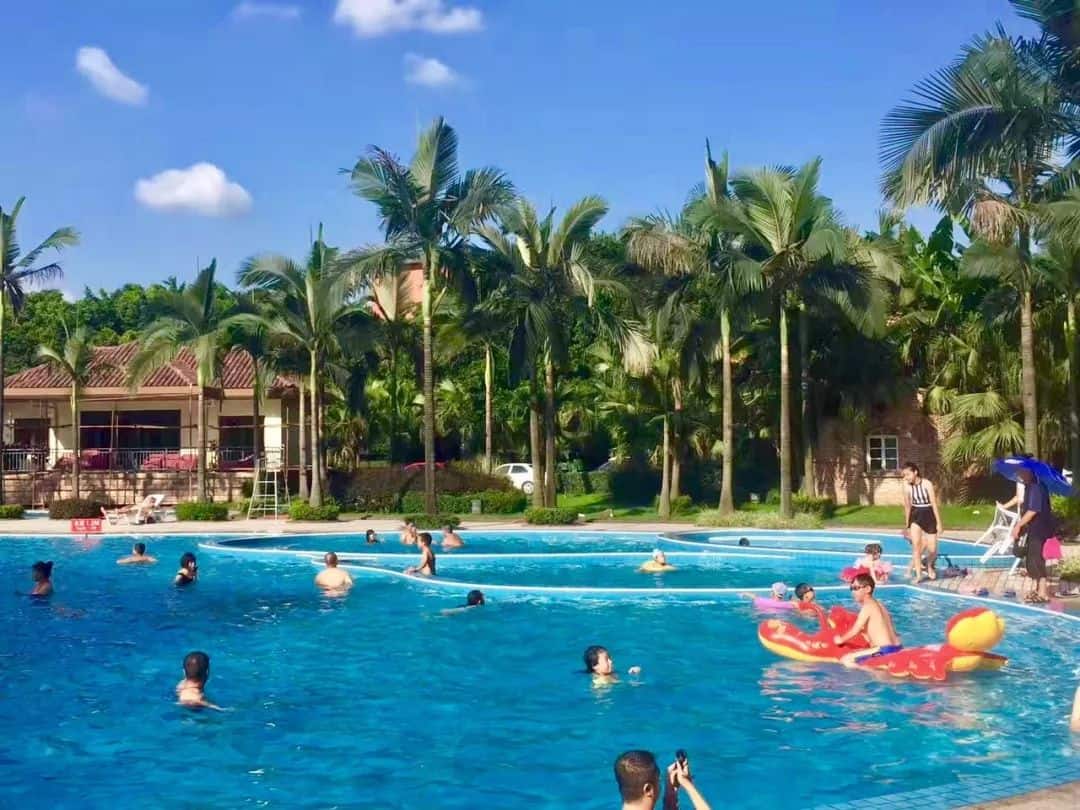 Address: No.181 of Meihao Yard, Shuangliu village
 家园国际酒店
双流县机场路181号美好花园旁边
Opening Time: Monday – Sunday  10:00 – 22:00
This pool is only open in peak summer months, please check before visiting.
Tel: 028-82936666
JiangTan Park Swimming Pool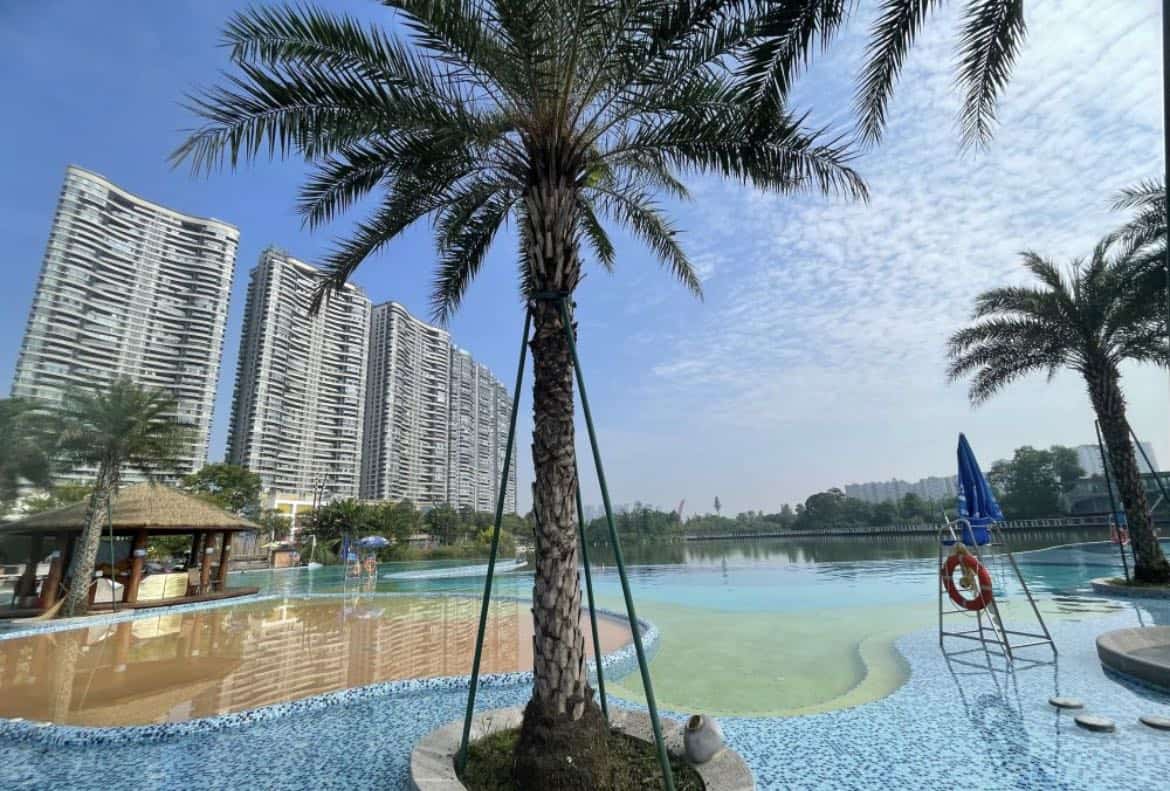 Address: ShiYang Street
 石羊街道
Opening Time: Monday – Friday  9:00am – 11:30am, 1:30pm-8:30pm
Saturday – Sunday 10:00am-9:00pm
 Price: 40RMB/adult, 30RMB/children
---
Outdoor Pools around Chengdu
InterContinental Heilong Lake
InterContinental Heilong Lake is located in Meishan, Sichuan. It has South Tower and North Tower with total 401 rooms. Elegantly furnished with local designs and contemporary fittings. Each room presents a relaxing stay with a digital entertainment system, ergonomic work space and high speed Internet. 
Address: Meishan Renshou County Heilongtan Long Island Paradise InterContinental Hotel minus second floor
眉山市仁寿县黑龙滩长岛天堂洲际酒店内负二楼
Opening Time: 11am-8pm
Admission: ¥168
Fanxiang Kangxi Hotel
Fanxiang Kangxi is a boutique hotel at the foot of Qingcheng Mountain – one of the best nature reserves in Sichuan. The hotel owns a huge private garden full of all kinds of plants. The area used to belong to an antiques collector. Here you can start an adventure in the yard and search for treasures date back to Tang Dynasty. The 3 outdoor spring pools here, soaked with 20+ kinds of Chinese herbal medicine, are the best comfort in the evening.
Address: No. 31 Taoyuan Road, QingchengShan Town
青城山镇桃园路31号
Opening Time: 11am-8pm
Admission: Free
Tel: 17723346936
Minjiang Xinhao Hotel is located at the core area of Dujiangyan city. It offers its guests comfortable stay and great entertainments. The hotel has various hot spring pools and a few outdoor swimming pools. It is a great choice for those who plan to visit the ancient city of Dujiangyan, or simply want to get away from Chengdu for a little  break.
Address: 388 Dujiangyan Avenue
都江堰大道388号
Opening Time: 11am-8pm
Admission: Free
Tel: 028-87266666
Set in Emeishan, Samatha Lodge Emei offers accommodation with a restaurant, free private parking, an outdoor swimming pool and a shared lounge. Featuring a kids' club, this property also provides guests with a children's playground. The accommodation provides a 24-hour front desk, a shuttle service, room service and free Wi-Fi throughout the property.
The 1st Resort of Huashuiwan Hot Spring
The 1st Resort of Huashuiwan Hot Spring at Dayi is located at the foot of snow-capped Xiling Mountains. Huashuiwan is famous for its hot springs. The water, clear and transparent, contains a number of trace elements including H2S, fluorine, strontium, lithium, metaboric acid, metasilicate and iodine which are beneficial to the human body. Apart from the hot spring pools, its outdoor swimming pool also offers its guests a cool & fun experience.
Address: Onsen South Street No. 138
温泉南街138号
Opening Time: 11am-8pm
Admission:
Tel: 028-68380006
Leshan Chanyi Jiading Courtyard Hotel, facing the magnificent three rivers (Minjiang River, Qingyi River and Dadu River) and is very close to the Leshan Giant Buddha. The theme of the hotel is 'Zen' – a philosophy of calm reminiscent of that of the Buddhist denomination. The hotel provides its guests an escape from modern life and an experience of Zen cultures – calm and peace. 
Address: West of the intersection of Lingyun Road and Bishan RoadOnsen South Street No. 138
凌云路与碧山路交叉口路西
Opening Time: 9am-9pm
Admission: RMB545
Tel: 0833-2118222
Ramada Guergou Hotel
Ramada Guergou Spring Holiday Hotel is located at Aba Tibetan & Qiang Autonomous Prefecture, surrounded by incredible natural features like Bippengou and the Miyaluo National Scenic Protection Area. The hotel provides accommodation with a garden and a terrace, hot spring pools and an amazing outdoor swimming pool facing snow mountains.