Cheap Things To Do in Chengdu
If you know where to look, you get by in Chengdu for a lot less than you'd think.
Step in to the past – Wangjiang Lou Park 望江楼公园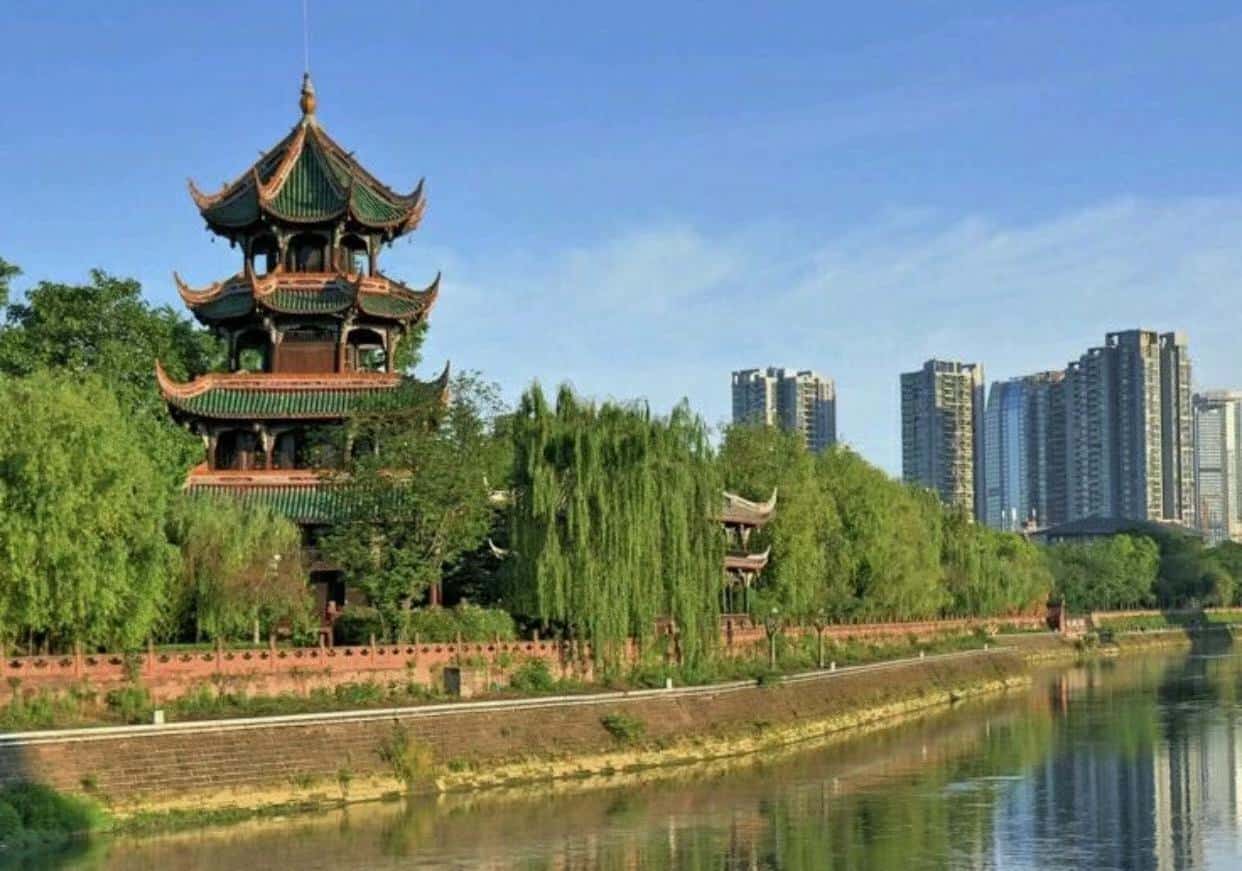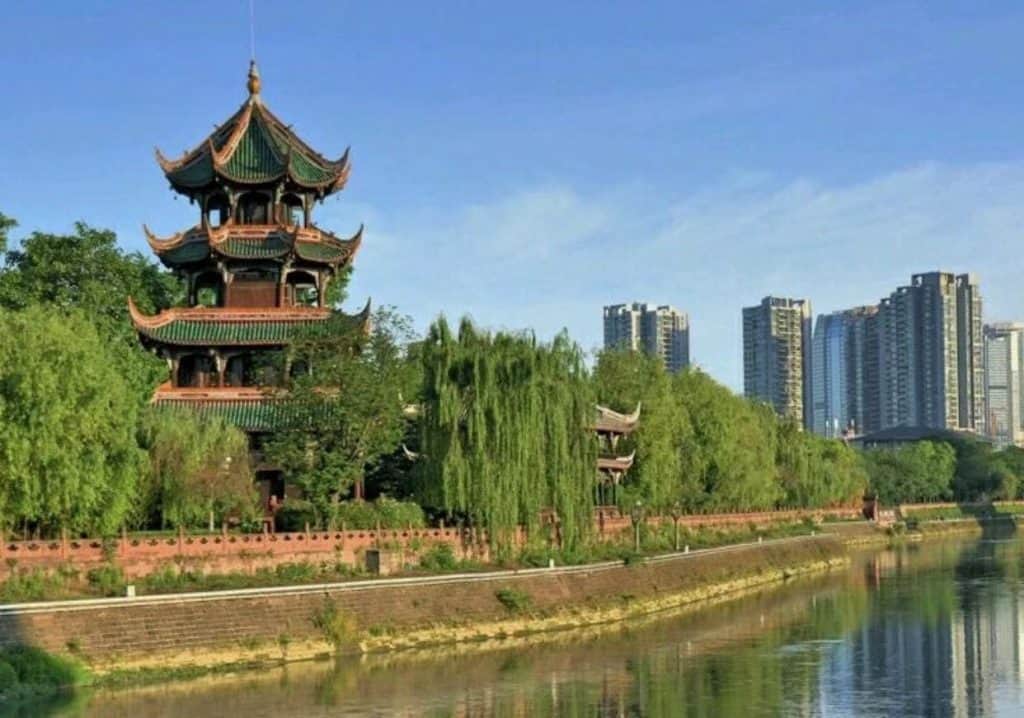 Not that famous as People's Park but equally beautiful is the Wangjiang Lou Park, located right to Jinjiang Riverside. The park was designed to honour the female poet Xue Tao. Besides enjoying nature, the park also offers a tea house, lovely pagodas and the River View Tower or gaze at the skyline of the city. You can take bus 35 or 335 and get off at Wangjiang Lou Park 望江楼公园 or bus 18 or 82, get off at Shunjiang Road Station 顺江路站 and walk to the park.
Opening Time:
The tower: 08:00-18:00
Free open area: 06:00-21:00
Price:
Entry to the tower is 20 yuan but the open area is free.
Address:
South bank of Jinjiang River, 300 Jiuyan Bridge, Wangjiang Road, Wuhou District.
It is close to the east gate of Sichuan University 武侯区望江路300号九眼桥锦江南岸 (近四川大学东门)
Stroll alongside Jin-River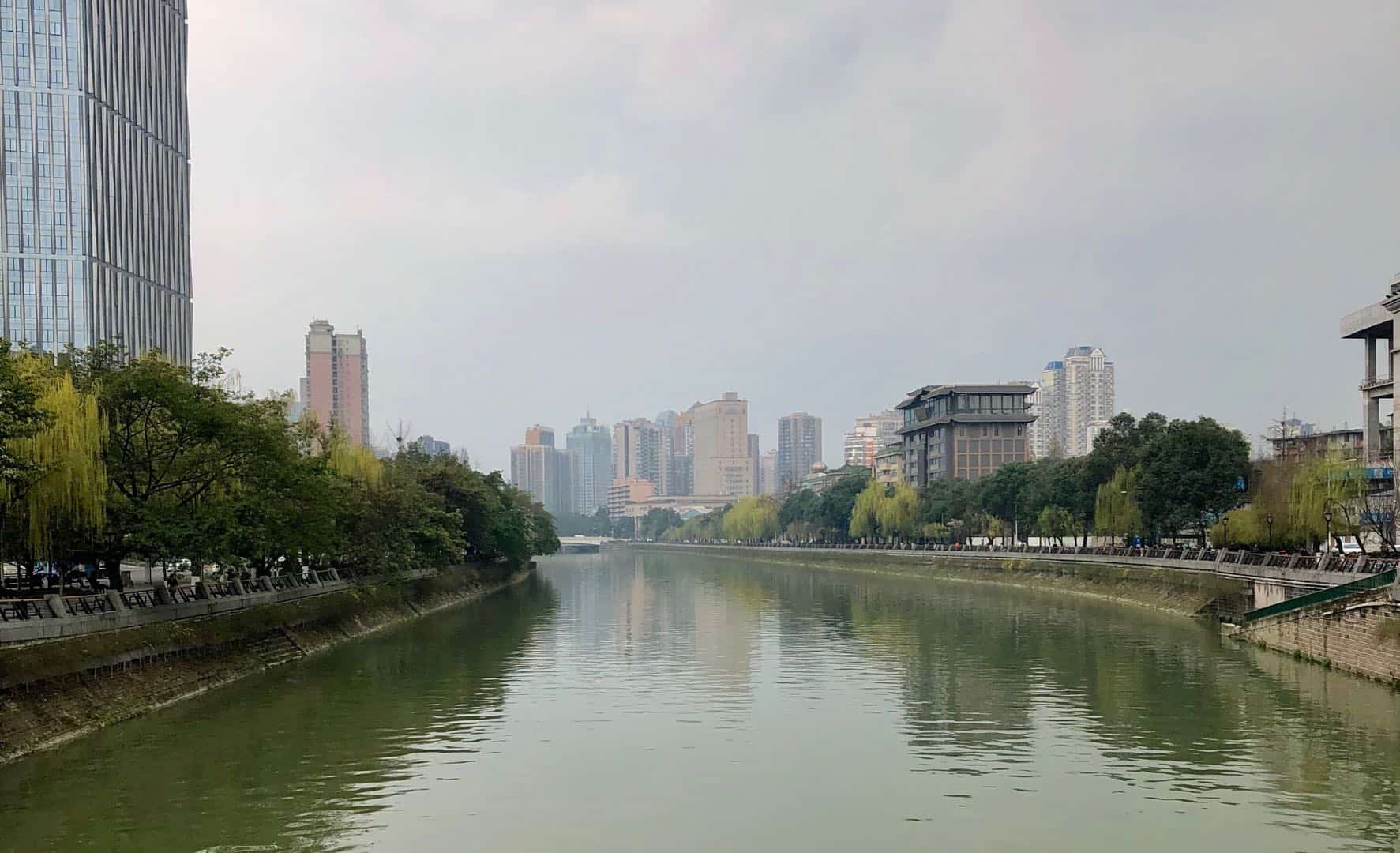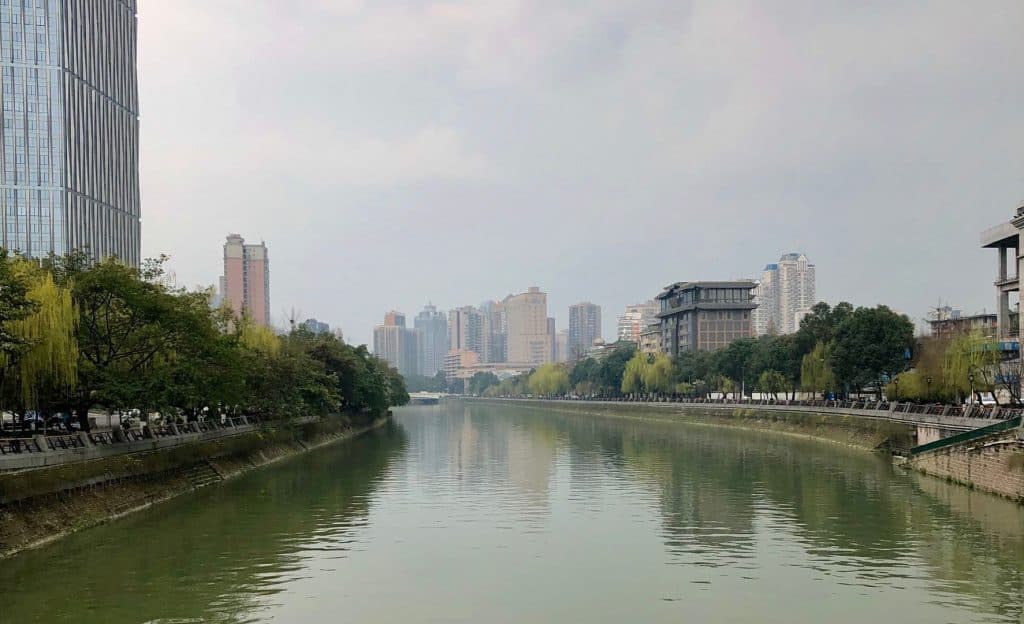 Being next to water has a relaxing and even healing effect of some people. After exploring the bustling city, walking alongside Chengdu's river is probably the best way to calm down and enjoy nature. The river is flowing through Sichuan province and meets Min Jiang at Pengshan. While wandering around have a look at some of the sculptures next to the river. And you can even find yourself enjoying to watch old Ladies and Men practising sport, typical Chinese dances or singing songs from old times.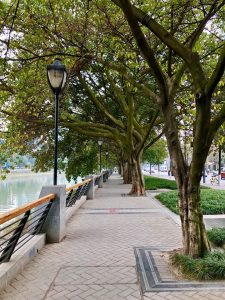 Try Chengdu's best 蛋烘糕 (danhonggao)
When in Chengdu there is no way to not taste one of the cities famous "danhonggao". Comparable to western pancakes this desert has several fillings from meat to red beans. As the food is loved by Sichuan's people you will find a place selling these treasures around every corner. Don't hesitate to ask someone on the streets. Maybe a local? Wouldn't this be a good combination? Eating local food and meeting local people?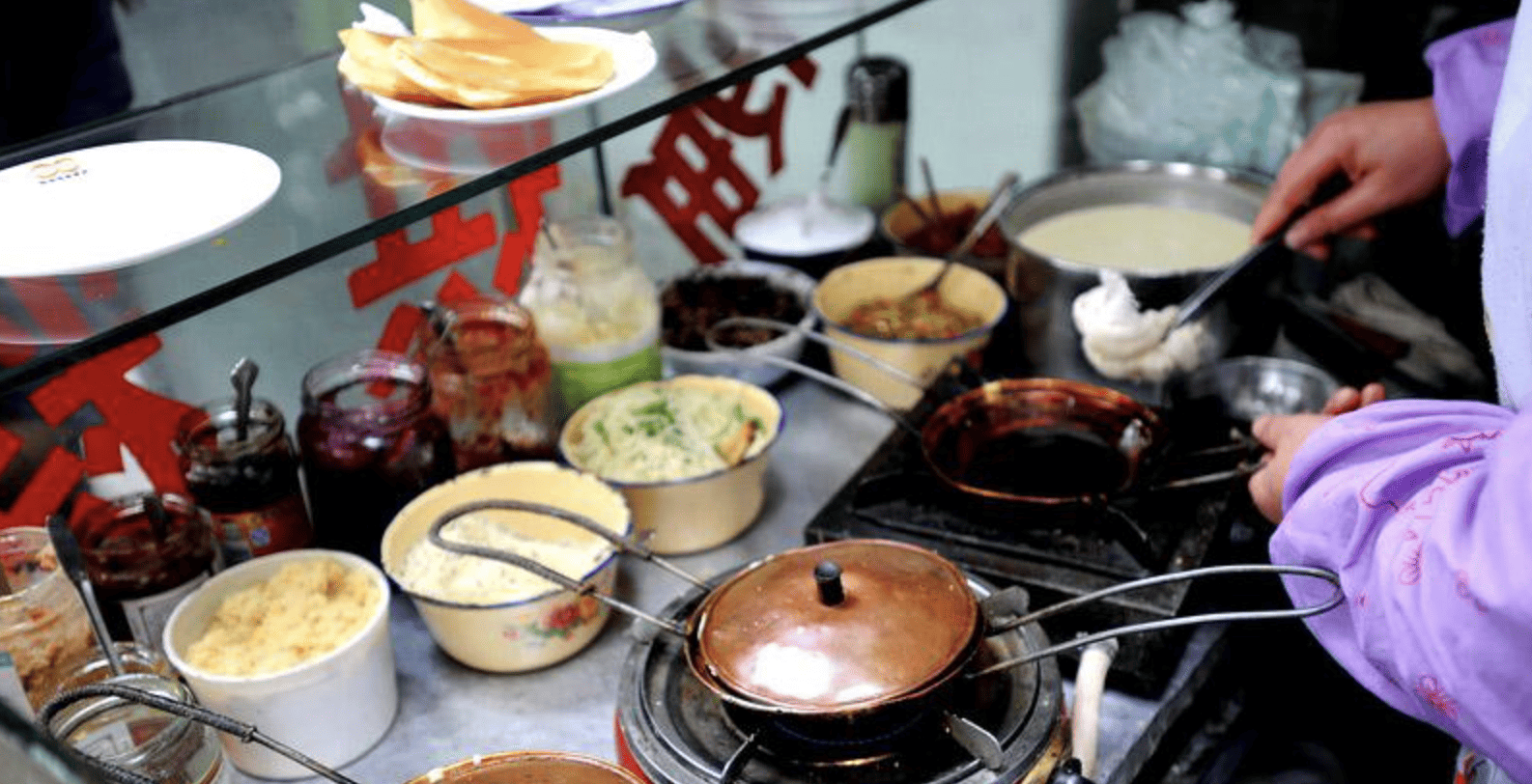 Chinas Poetry Legends – Huanhuaxi Park 浣花溪公园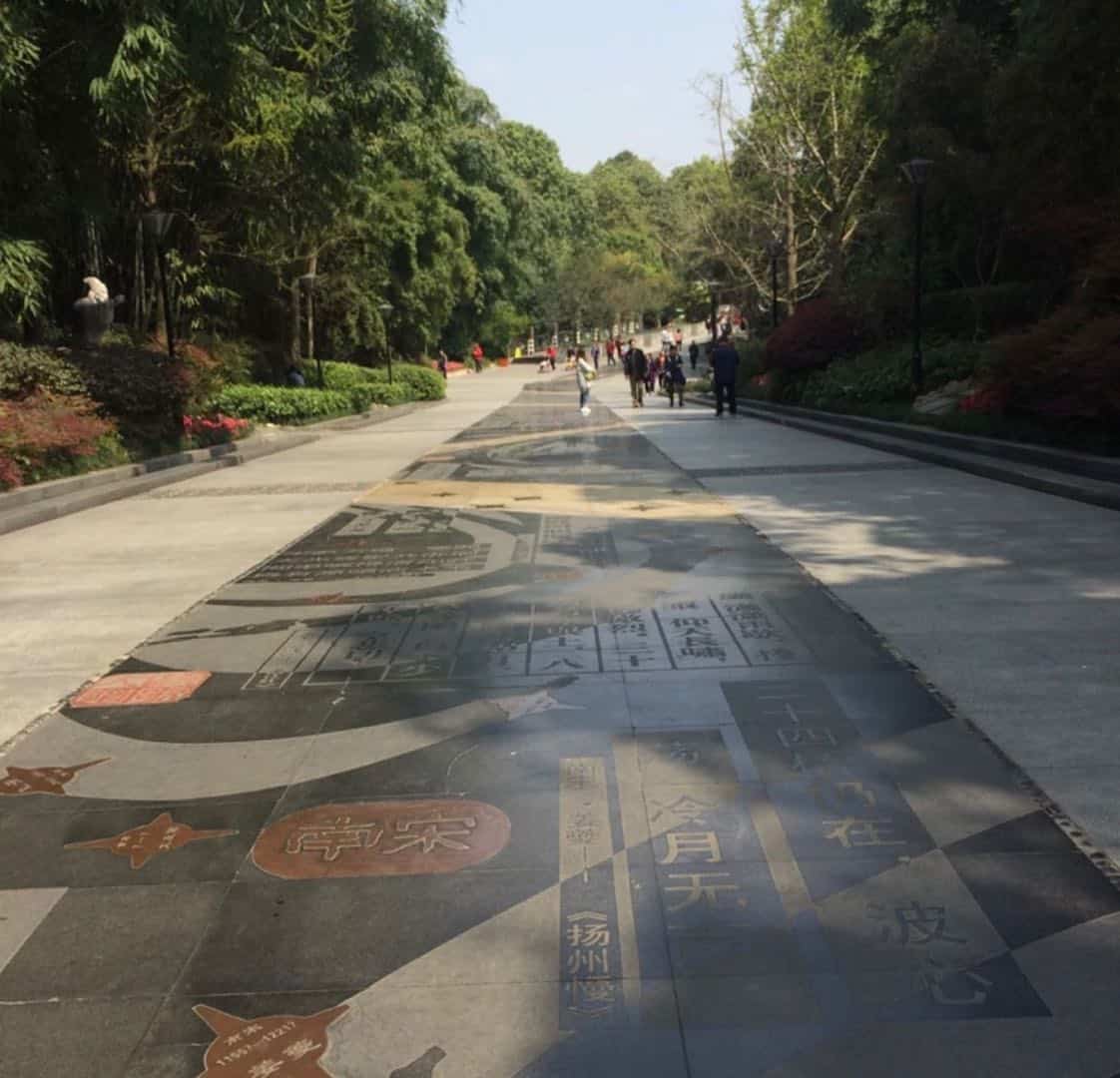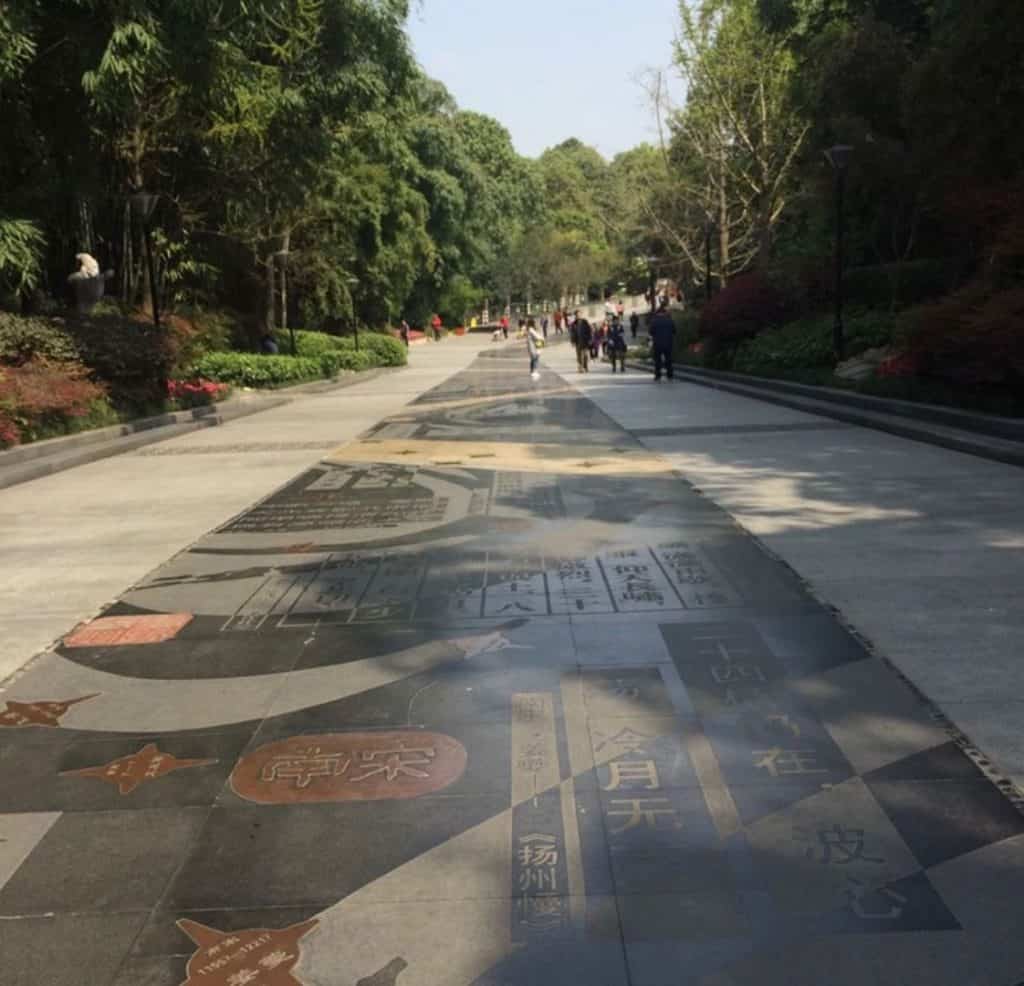 Huanhuaxi Park is the largest, most invested historical, cultural and scenic park in Chengdu. The park wants to honour China's most famouse poets. Next to the park is the Sichuan Provincial Museum and the Dufu Thatched Cottage located. The area also is a nice place to have a run in the morning, when the city is still quiet and the bustling traffic fare away.
You can take bus k1a or k1 and get off at Qingshuihe station 清水河站 or take bus 165, 170, 19, 309, 319, 35, 407, 47, 58, 59, 82 or 88 get off at Songxian Bridge Station, walk the rest to the park.
Opening time:
Park: 6am to 10pm
Dufu Thatched Cottage: Mai- Sep.: 8 am to 8 pm; Okt.- April: 8am to 6:30pm
Price:
The park is free, Dufu Thatched Cottage: 60 RMB
Address:
9 Qinhua Road, Qingyang District, Chengdu.
It is next to Qingyangzheng Street 成都市青羊区青华路9号 (近青羊正街)
River Boat Tours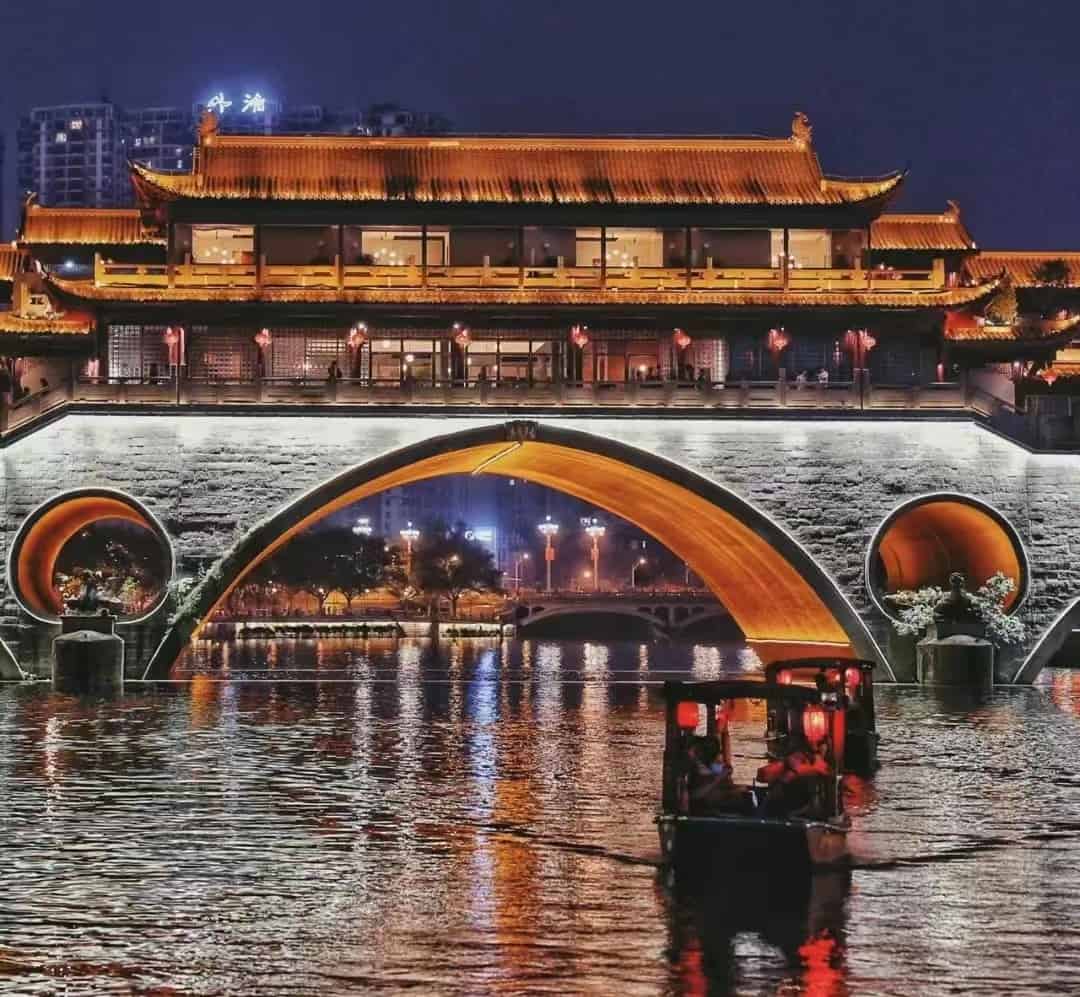 Currently there are two routes in use, with more coming in the future.
Each river cruises takes around 40 minutes. You can just show up at the piers, purchase a ticket, and jump in one of the boats (you can't choose the kind of boat, or will have to wait). The small boats can carry 6-8 people, and the bigger boats can carry up to 30 people. You won't usually have to wait more than 15 minutes before setting off.
Both cruises are on every night, for you enjoy to enjoy ride and several light shows. There also seems to be an afternoon option, but when we asked the company, we got a very Sichuan "not sure which day" answer to that question…
Dongmen Wharf ↔ Anshun Bridge
东门码头 ↔ 安顺廊桥
A roughly 2.5km route from Dongmen wharf to Anshun Bridge and back will take you past landmarks such as the lit-up Dongmen Bridge, Lan Kwai Fong, Hejiang pavillion and more.
Operating time:
Monday to Sunday
19:45 – 22:00
Children under 1 meter: Free
Tickets:
On-site purchase
98RMB/ pp
Location:
Dongmen Wharf, Binhe Road, Jinjiang District
(near Dongmen Bridge Station of Metro Line exit D)
锦江区天仙桥滨河, 东门码头 (九眼桥)
东门码头文创集市
位置:
四川省成都市锦江区天仙桥滨河路临1号(东门大桥地铁站D2口步行190米)
Music Wharf ↔ Dongmen Wharf
音乐码头 ↔ 东门码头
A roughly 2.5km route from Music wharf, passing by Anshun bridge, Lan Kwai Fong to Dongmen wharf and back.
Operating time:
Monday to Sunday
19:45 – 22:00
Children under 1 meter: Free
Tickets:
On-site purchase
98RMB/ pp
Location:
Music Wharf, near Sizhu road bus stop, Jinjiang District
锦江区丝竹路公交站, 音乐码头
夜游锦江(音乐码头)
位置:
四川省成都市武侯区夜游锦江音乐码头售票处
Monk's Life – Wenshu Park 文殊院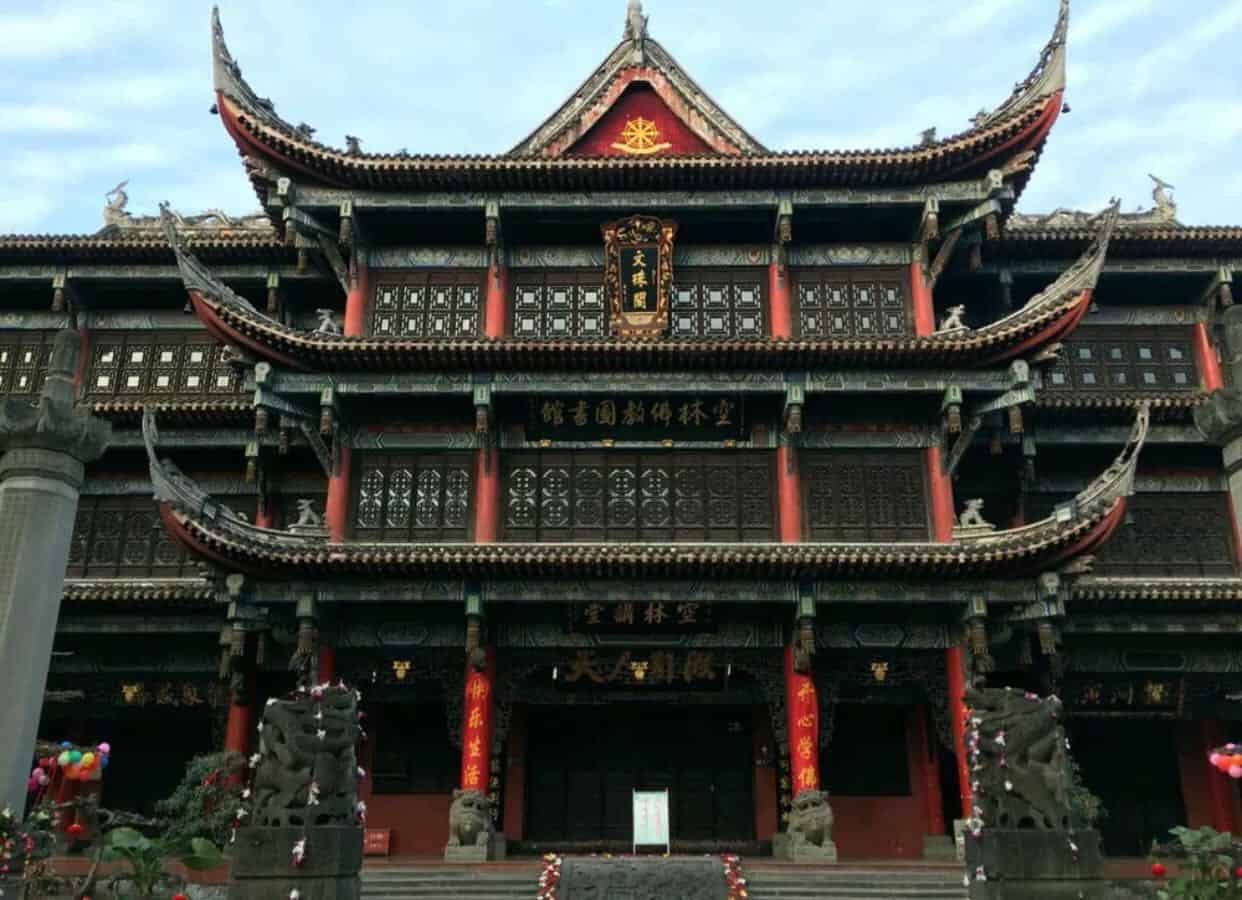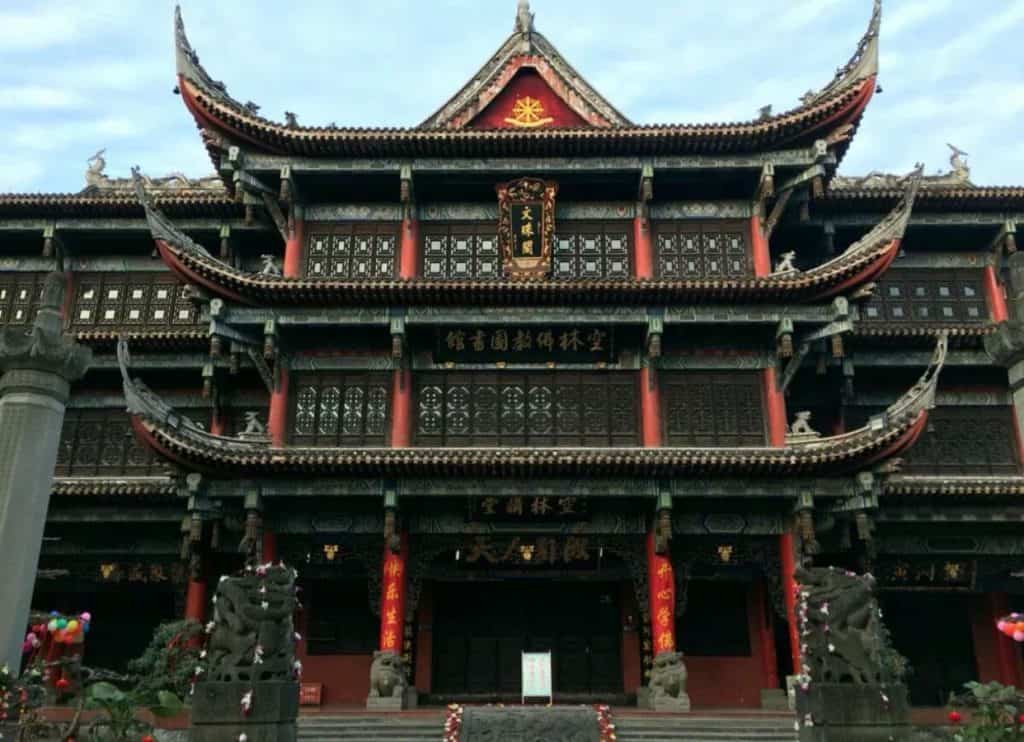 The Wenshu Monastery is the largest well-preserved Buddhist temple in downtown Chengdu. It was built in the Tang Dynasty (618 – 907) and is dedicated to Wenshu (Manjushri, the God of Wisdom). It is famous for abundant precious cultural relics, paintings and calligraphic works. Over 500 pieces of paintings and calligraphies by famous artists (including Zhang Daqian, Zheng Banqiao and Feng Zikai) have been stored here since the Tang and Song dynasties. You can take the metro line 1 and get off at Wenshu Park station 文殊院.
Opening Time:
9 am to 5 pm
Price:
Entry is free
Address:
15 Wenshuyuan St. 文殊院街15号
Trip to Tibet
Well, not quite Tibet, but nearly. Just around the corner to Wuhou Temple is Chengdu's colourful Tibet quarter. Also called Little Lhasa will bring the taste of Tibet to you for little money. Stroll through the streets and besides smelling the Tibetan flavours find some souvenirs, for example, yak butter or Buddhist religious icons. Feeling tired after walking and gazing, treat yourself at one of the Tibetan restaurants.
No more walking, please | Bike Tour in Chengdu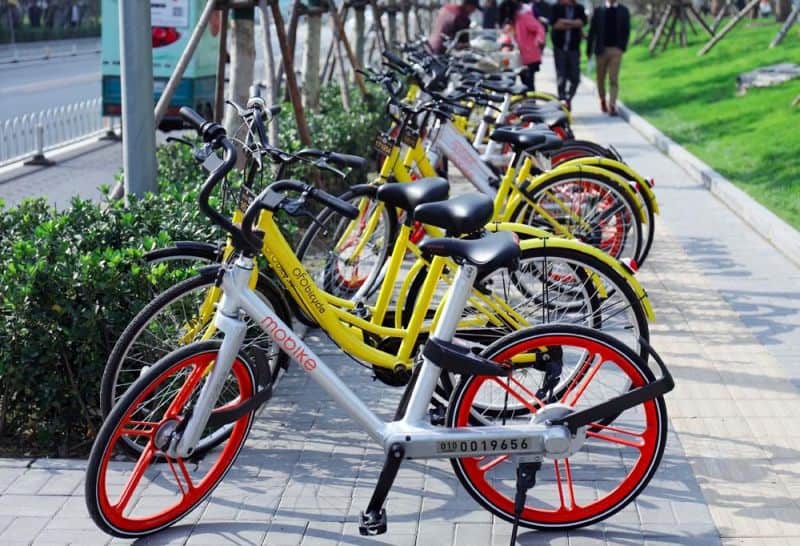 Chengdu certainly is a bike city. Bikes are everywhere, on the streets or standing next to it, just waiting to be used. Riding a bike to explore the city is not only cheap but also a great way to get to know many spots in a short time. And while the big streets are quite busy with cars and electro bikes, you can explore the quiet and hidden parts of Chengdu. There are several apps you can use to rent a bike. Just scan the QR-Code, login in and pay. Therefore you need to have WeChat or Alipay. Or you find yourself a bike rental service.
Hanging out in the Future – Tianfu New District

In the new Shuangliu district 双流区 in the south of Chengdu is Xinglong Lake 兴隆湖. The place offers a perfect day trip, to enjoy nature and get some fresh air after the cold winter days. The area also has some nice parks, such as Tianfu Science City Mountainous Park or Tianfu Park.
Address:
Chengdu, Shuangliu district
The lake is reachable by metro line 1 to Xinglong Lake station.
Feel the spirit of the city – Sansheng Street 三圣街 and Tangba Street 镋钯街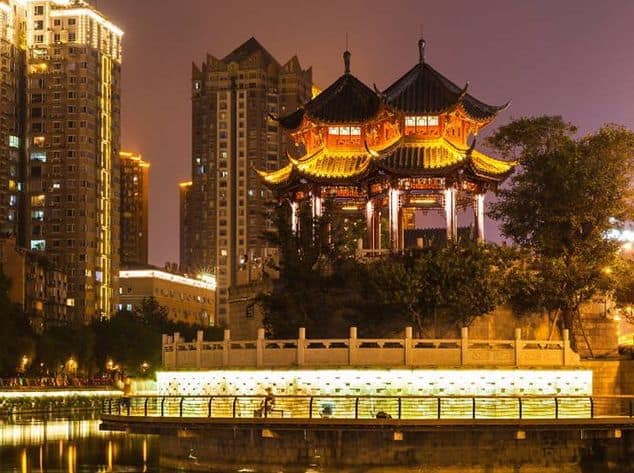 The two streets are located next to Tai Koo Li and Kangshi Street but still, have their very own flair. The streets are flanked by cute little coffee shops such as Let's Grind and noodles places. It is also the place to find some of the most famous Hot Pot restaurants in Chengdu but also, chuanchuan or western cuisine (Good Good, Yalla Yalla, etc). For a quite break of bustling streets and the smell of food, The Winshare House Bookstore offers a homely place to relaxes. Tangba Street was also listed by Times Out 19th of the "coolest 50 city blocks in the world", having a vibrant atmosphere at prime hours.
Address:
Tangba Street 镋钯街; Sansheng Street 三圣街
You can take Metro Line 2 and 3 to Chunxi Road and walk the rest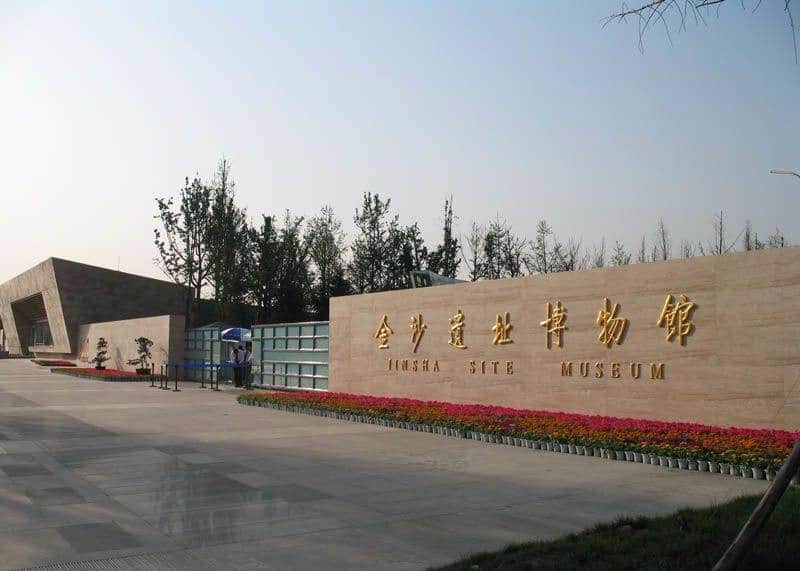 For many centuries, the Chinese have considered the Yellow River the cradle of Chinese civilization. But this began to change in 1986, when archaeological discoveries in Guanghan, about 40 minutes north of Chengdu, uncovered the Sanxingdui civilization, part of the mysterious Shu kingdom of the Shang dynasty, dating back some 3,000 years. In 2001, the ancient settlement of Jinsha was discovered during real estate construction, offering similarly rich discoveries. The state of the art museum, which now sits at the site, offers an elegantly displayed treasury of artefacts.
Opening time:
8am – 6:30pm; until Feb. 20th 2019 8am-10pm
Price:
70RMB
Address:
2 Jinsha Yizhi Rd. (Qingyang Ave.) 金沙遗址路2号(青羊大道)
You get there by Metro Line 7 to Jinsha Site Museum 金沙博物馆
Tel.:
87303522
Grafitti up your selfies
Into Chengdu's Hipster Scene – Kuixinglou Street 奎星楼街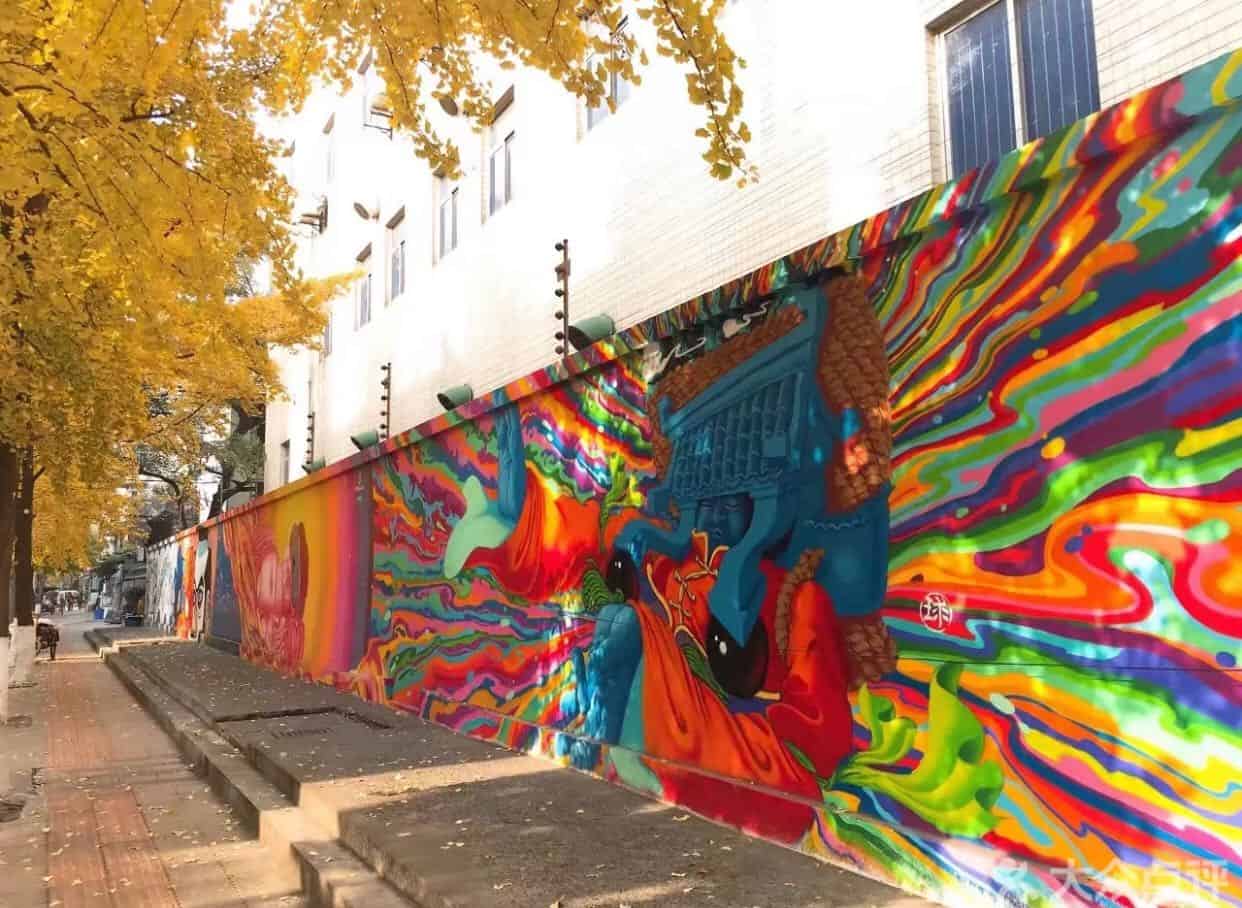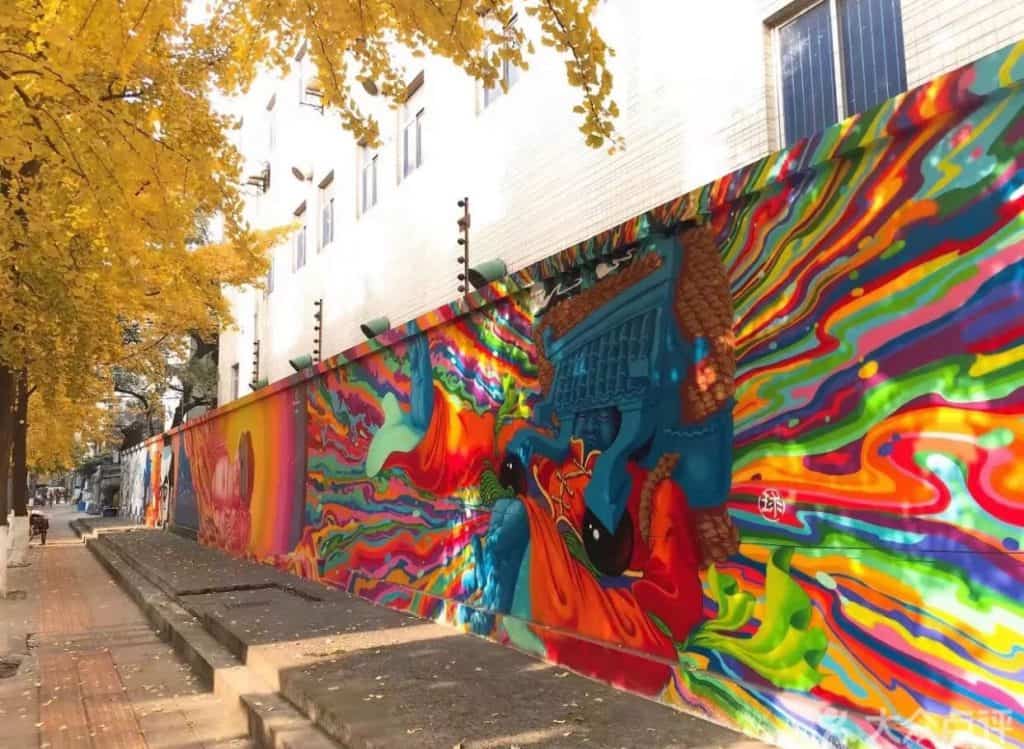 Kuixinglou Street is the place to appreciate urban art and local food. The by locals called "Min Town" is a touristic street in Chengdu not far from People's Park and the haunt for Chengdu's hipsters. Expect from gingko trees and graffiti painted walls you can taste local food, shop in "online-celebrity" stores and have a drink in the international Nu Café and No Cats Coffee. And don't forget to use colourful Graffiti-Walls for some stylish photos.
Address:
Kuixinglou Street, Qingyang District; 青羊区奎星楼街
Metro Line 1 to Luomashi Station 骡马市站, or change to Metro Line 4 and get off at Kuanzhai Alley Station, 宽窄巷子站, walk the rest.
A place full of art – Nu Space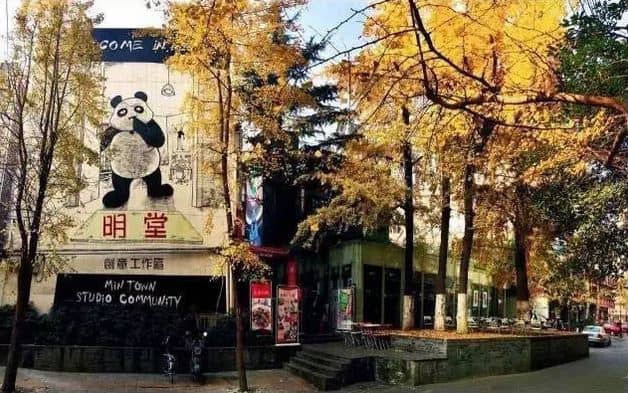 For something new, something different the Nu Space Chengdu is always the right place to go.
Just around the corner from Wide & Narrow Alleys and is a part of the growing artist community MiNTOWN 明堂, started out as a coffee/ working place with a focus on art in an area of Chengdu renown for its cultural vibrancy. In 2016, this evolved into a second venue (down the street) with offices, bookstore and a greater focus on live music. Bringing in and hosting acclaimed performers from across China and the globe, NU space is a great venue to head to for an entertaining evening. The original Nu Space has been open a few years and previously hosted NuArt Festival – but has recently opened up a bigger live music venue (400 people) and are giving Little Bar a real run for their money.
To check new latest events scan the QR-Code:

Address:
55 Kuixinglou Street, Qingyang District, 成都市青羊区奎星楼街55号 NU SPACE
Metro Line 1 to Luomashi Station 骡马市站, or change to Metro Line 4 and get off at Kuanzhai Alley Station, 宽窄巷子站, walk the rest.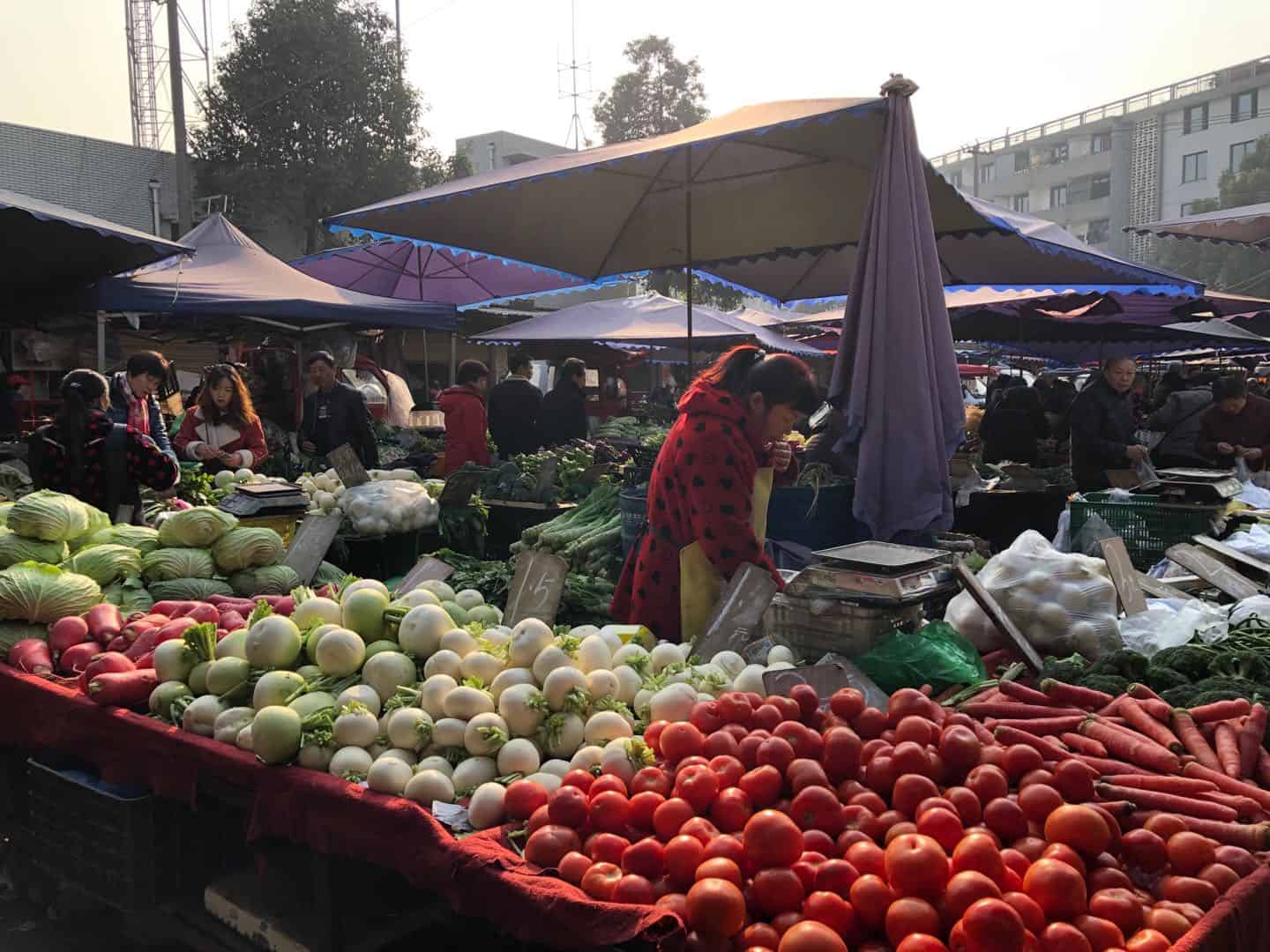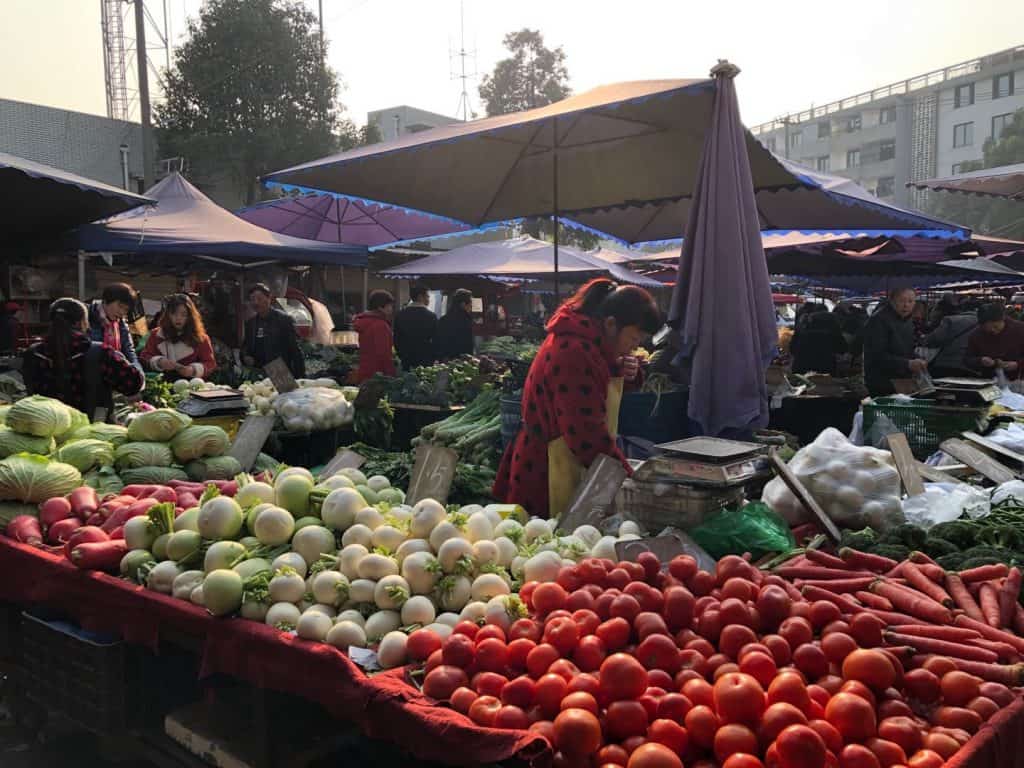 For those who love adventures food experiences, Supo Farmer Market is the place to go to. The market is a typical Chinese farmer market, offering spices such as Sichuan pepper, self-made noodles and jiaozi (Chinese dumplings) but also roasted duck and other food ready to be cooked in a Chinese kitchen. The atmosphere is bustling and gives you experiences to tell friends and family later. But keep in mind that this market is totally different from those we might know from Europe, North-America or Australia.
Opening Time:
The best time to come, is around 8:30/9am
Address:
Qingyang Qu Supo Nongmao Shichang; 成都市青羊区苏坡农贸市场内
Take Metro Line 4 to Qingjiang West Road Station, 清江西路站, walk the rest to the market
The paths of the history of Chengdu – Chengdu Museum 成都博物馆


A museum only about Chengdu's part in Chinas history is located on the East side of the central Tianfu Square. On several floors, the development of civilization in Chengdu and Sichuan are presented, as well as ongoing and temporary exhibitions. In addition, there is the possibility to purchase traditional Chinese gifts as a souvenir of an amazing time in a wonderful city.
Opening time: 9:00am- 8:00pm, closed on Monday's
Price: free, you have to show an ID
Address: Qingyang District, West Yu Street No. 4 [futuristic new building on the West side of Tianfu Square]
青羊区西御街4号[天府广场旁边]
The museum is next to Metro Line 1 Tian Fu Square station, 天府广场
Walking on air – 339 TV Tower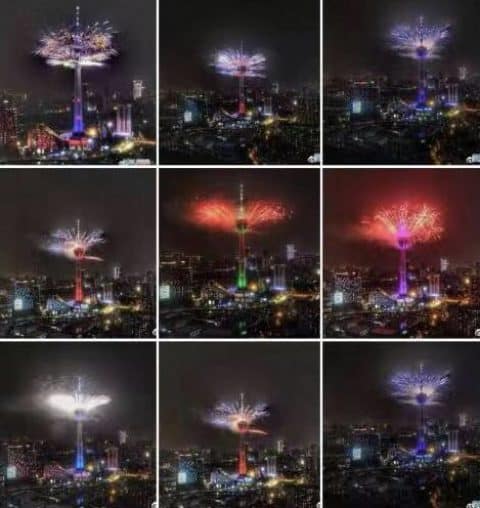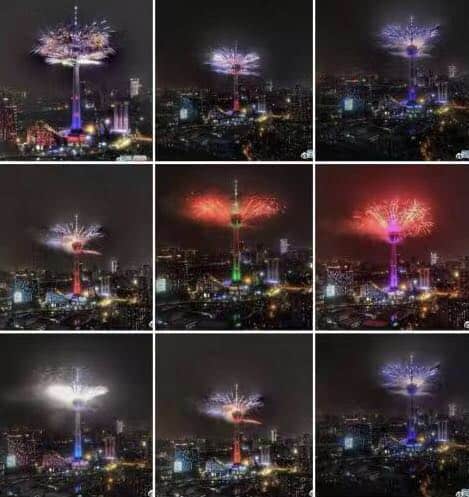 Like in every other Chinese metropolis, you can't miss the cities highest tower. With a height of 339m, the 339 TV Tower is one of western China highest TV buildings. The Tower has an observatory deck in 218m high which gives an amazing view of the city. Our Tip, go in the evenings to see Chengdu's sea of lights at night. And don't miss the area where you walk in glass and can see what is happening under your feet!
Time: 10am to 8pm
Price: 70RMB, student discount is 35RMB
Address: 168 Mengzhuiwan, Chengdu. 成都市猛追湾168号四川广播电视塔景区门口
Rolling through the city – Bus Ride on the Ring road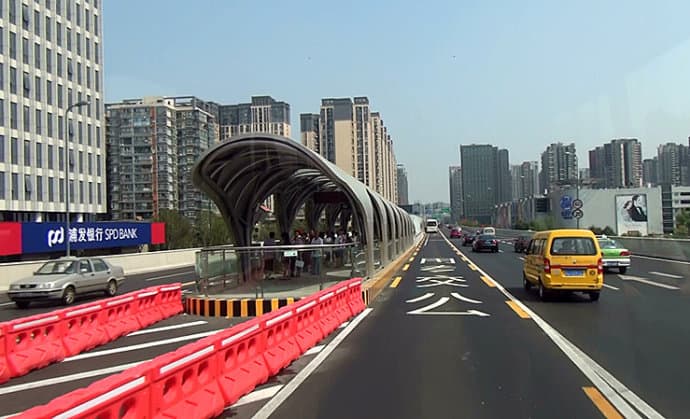 When Chengdu's rush hour is full on, and the streets are stuffed with taxis, cars, scooters and hard-working bikers, there is one alternative to go for. Chengdu's busses. But not all of them, there is a special rout running on an extra bus line on the second ring road, passing the traffic. The buses are not only cheap (2RMB) but also give a great opportunity to discover Chengdu. Driving next to skyscrapers and catch a blink through some of the windows you will pass. There are few better ways to catch the feeling and the atmosphere of this city. Take on of the stops along the ring road, you can pay with the Metro Card or cash, but only with coins. The route is operated by Bus k1 and k2.
Chengdu Urban Planning Exhibition Hall
Chengdu Urban Planning Exhibition Hall gives you a great overview of the history of Chengdu's urban planning. Located on the second floor, the exhibition starts with a look into the past of Chengdu's urban planning and the history of the region. The exhibition is in Chinese, however, every section has a QR-code that leads to further information (written and radio) in English and Chinese. The third floor has a model of the city and the surrounding and gives insight into ongoing and future projects of Chengdu. The museum tells you about even more exciting places in Chengdu to explore!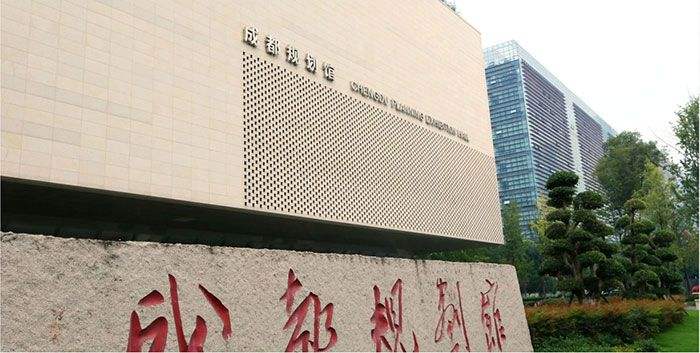 Opening Time: 
Monday to Saturday from 10 am to 5 pm
Price: 
The entry is free, you have to show a copy, a picture of your passport
📍
69 West ShuXiu Rd., Gaoxin District
高新区蜀绣西路69号成都规划馆
Transport: 
Take metro line 1 toFinancial City Exit A, 金融城 A出口, walk the rest to the museum
Happy Hour
Chengdu brings about a fantastic array of bars with themes ranging from French wine houses to craft beer houses to award winning cocktail bars and everything in-between. An even better way to enjoy these bars is to enjoy some of the great happy hour deals they offer. Click here to check out the list!
Gaming Club
Not far from Chunxi Road is a Chinese club called 康康桌游吧 (Kangkang zhou youba). It's a place to come to with friends and play unknown and familiar board games. The club is open the whole day, but when you want to get in tough with local Chengdu players the best time to go is evening and weekend.
Bargain Hunters
On different days a week some restaurants in Chengdu also offer a special discount on their menu. Check Chengdu-Expat latest news to keep on track where to ear like a king for a small budget.