As the days grow shorter, colder, and a little more glum – we're all in need of a little pick me up. Brunch with your favorite friends? Eggs all ways? Prices that aren't going to break the bank? Yes, yes, yes. G's Bistro & Brunch might just have the answer.
If the menu looks familiar, it's because G's is the brainchild of Sue, from Gili's – and in fact, it's just a stone throw from the old Gili's on the Tongzilin South Road – on the foreign food strip.
What's the difference I hear you ask? Well, G's will focus on cafe-style all-day brunches, lunches, and brinners, and most excitingly deliver freshly baked paninis all day – something to fill the something-wich sized hole in Chengdu's delivery scene. The kitchen will close just after brinner (at 8pm). After that it will transition into a bar until late.
Sue's new gaff, is maybe her prettiest – sitting neatly in craft beer bar Periodic Table's old spot – opposite 23Eatery, on Zijing East road. There's street-side seating, to have a coffee and watch the world go by, or bar seating, by a large folding window, which would be the perfect place to do a spot of work.
The inside is clad with exposed brick, and is warm, and bright, and friendly. We had freshly squeezed orange juice, shakshuka (46RMB) (eggs poached in a rich spicy tomato sauce), served with toasted bread, eggs Benedict (46RMB) with salmon (also available with pepper, or ham), pancakes with berry compote (38RMB), and a beautifully crispy, crunch, rich Prosciutto sandwich (58RMB) – which we loved. Ordered for delivery, this would be the perfect, decadent, office lunch.
They also offer combinations of full, cooked breakfasts, omeletes, waffles, French toast, and salads. But there was a limit to how much two people could order, without getting too many funny looks.  We really like this place. It is slightly confusingly close to the old Gili's and with a fair bit of cross-over on their menu, it might leave people unsure of which one to go to. But worry not, if something isn't on the new menu, that you liked at Gili's (read cheese board), they're pretty appeasing and will hop across the road, and grab it.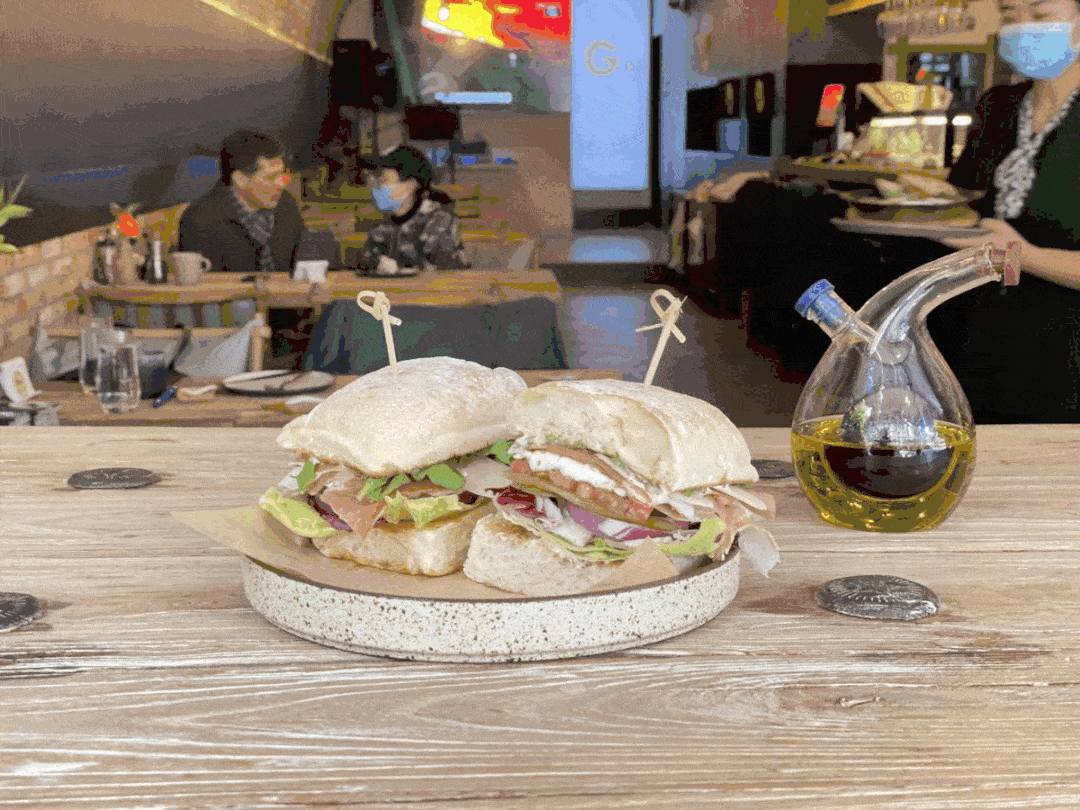 It's a fairly big place, so you'll probably be okay just rocking up for brunch – but you can contact Vicky, by scanning the QR below for bookings, and to place delivery orders. Try their paninis. They are GREAT.
Scan For Info & Delivery Menu
↓
Daily, 11:00 – 24:00
Serving food 11:00 -20:00
18 Zijing East Road